Looking for some of the best gifts for beauty lovers? Maybe you need some self care fun for yourself? Well listen up, ladies. I've got you covered! Here are some tried and true beauty products I've loved.
Christmas is coming!! Yay! Often times as I start shopping for Christmas presents I get overwhelmed with all of the amazing options out there.
Also, let's be real. Women can be hard to shop for. You can check out even more gift ideas for women or keep going for some of my favorite beauty and self care products!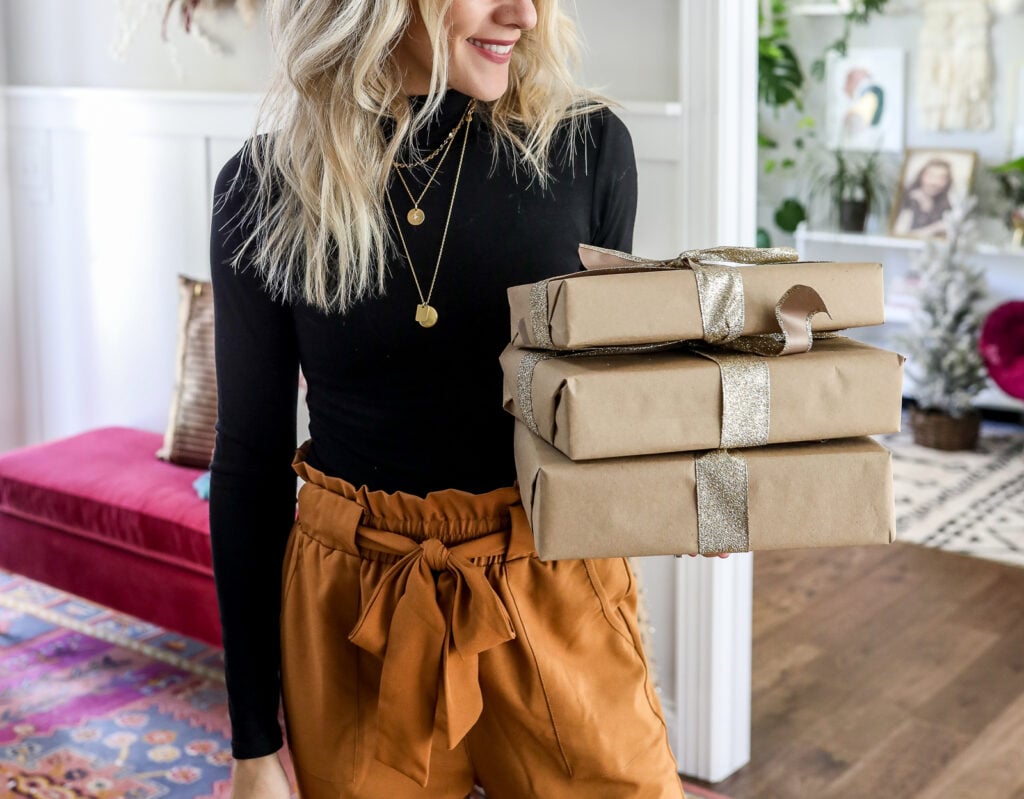 This post contains affiliate links.
I've tried a ton of different makeup and beauty products over the past few years. Between BirchBox, recommendations from friends and trial and error, I've come across a few amazing products that I love and will use for ever and ever (or at least for a couple years!).
If you have someone on your list who is makeup obsessed or loves beauty gifts, this gift guide is for you! Check out the list below for some great beauty gifts!
Best Beauty Gifts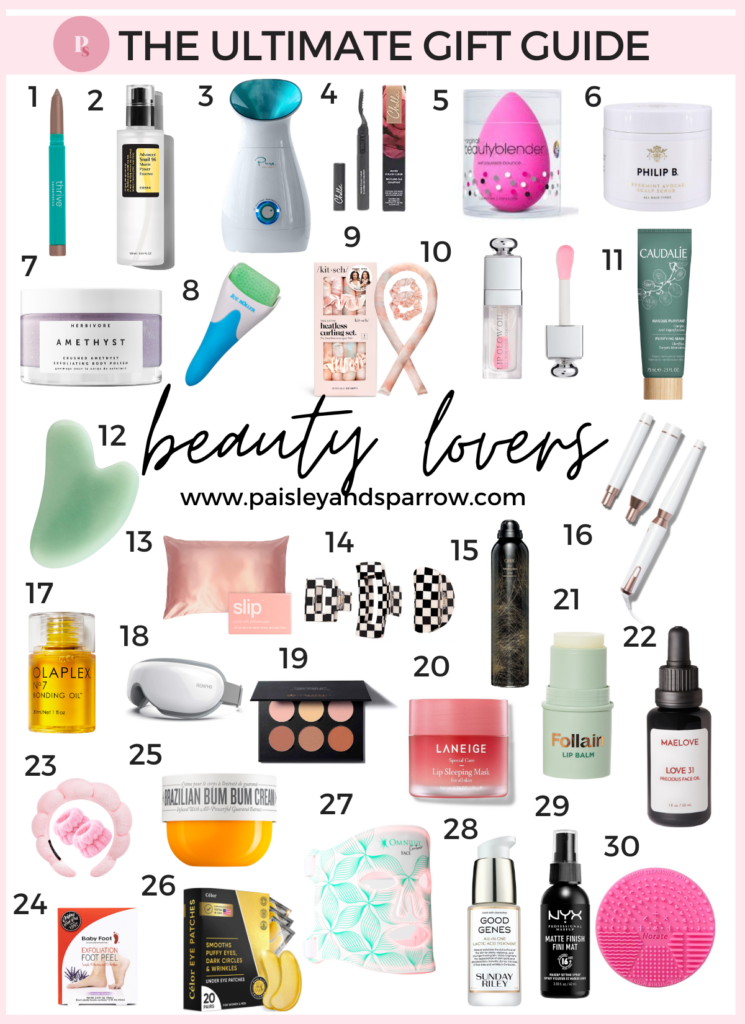 This easy-to-use eye brightener is perfect for every skin tone, with 13 shades to choose from. Eyes will pop, and you'll look like you're way more well-rested than you are!
Ok this one may seem gross but it is one of the most sought after-viral products of the year! This Koren skincare product has over 55,000 positive reviews and is loved by most everyone who tries it! It feels a little bit more slimy than most serums that I've tried but overall it's great!
If you have a skincare enthusiast on your list, they will love this new part of their routine.
This Amazon top-rated steamer uses nano-ionic steam, which is 10 times more effective at penetrating the surface of the skin. It also includes five skin tools to help with the extraction of blackheads and whiteheads.
The steamer also has two other amazing functions, which makes DIY facials a breeze.
If your friend loves dramatic lashes, a heated eyelash curler is a great gift! The Chella is portable and travel-friendly so your beauty lover never has to be without it. This is the one I personally have, and I love it.
Reviewers report that it heats up quickly and the results last longer than a traditional curler, and it's just $22.
5. The Original BeautyBlender ($20)
The BeautyBlender is a makeup lovers best friend! They're exactly what you need for perfectly blended makeup!
If you don't own a BeautyBlender here's the details. Get this little sponge wet and use it to blend just about everything – foundation, concealer, bronzer. It works like magic!
Chances are the lady on your list that you're shopping for already owns one of these. But take a look at it….does it look old and gross? You'll look like a boss when you gift her one and tell her you noticed that hers was looking a bit dull. 😉
6. Philip B. Peppermint Avocado Scalp Scrub
I'm always on the hunt for the best ways to get fuller hair, and a scalp scrub is a great (and luxurious feeling) way to get it. This Philip B. scrub smells amazing and feels even better. Close your eyes and you might think you're treating yourself to a spa day.
Release stress with this indulgent body scrub, made from crushed amethyst gemstone and epsom salt. Clinical tests found it makes skin instantly softer and smooths away dryness and flakiness.
Facial rollers all the rage but not just any roller, an ice roller! I got one of these this year and love it. I can almost guarantee you that the lady you're shopping for has wanted to try one of these. This simple tool is easy to use — you simply keep it in the freezer and roll over your face in an outward direction for a relaxing facial massage, leaving skin radiant.
I carry a ton of tension in my face so when I'm feeling stressed I roll it out with my ice roller and immediately feel more relaxed! This gift is great for oil lovers (putting a drop of an oil on this before rolling is amazing I've heard!) or anyone who is stressed out (haha!).
This viral curling set actually works! While it's not the most comfortable thing to sleep in, not having to do your hair in the morning makes it totally worth it. With over 8k reviews (and 30k purchases in the last month!!) you can be sure this is a well loved gift!
I've been using this lip oil for a few months now and it's amazing! It's made with 97% natural-origin ingredients and enhances your natural lip color. It's not drying at all and leaves your lips feeling super moisturized. I love the applicator too – it's wide but not too wide and easy to apply!
This mask is good for girls who are prone to breakouts (you don't have to mention that to her, of course!) or love trying new masks. This Caudalie Instant Detox Mask is my guilty pleasure. It's a plant-based purifying clay mask that cleanses and tightens your pores! This mask has a light texture that feels so good.
I love doing masks because they force me to sit and chill out for a bit. Bonus is this makes your face look and feel amazing afterwards!
Also check out this post for a few other masks I love!
12. Gua Sha Facial Lifting Tool
I have friends who swear by this funny looking stone! The practice of Gua Sha visibly lifts and contours your face — plus it's basically a daily facial massage!
Any makeup lover would be thrilled to get this Slip Silk Pillowcase as a gift! This silk pillowcase is perfect for anyone who who has hair breakage, concerned about wrinkles or…sleeps (haha!).
I got this a few years ago and love it! There are so many benefits to silk pillowcases like less wrinkles, less hair breakage and overall feeling like a QUEEN.
Replace their plain bobby pins and hair ties with trendy claw clips! They instantly add some interest to any outfit.
Or you can get her pearl headbands!
This Oribe Dry Texturizing Spray is great for women who have fine hair or who love big, thick hair and fun hairstyles!
This is by far my favorite texturizing spray! I bought it for all of my girlfriends last year to get them obsessed as well. I've shared about it here if you want some additional tips!
This T3 Micro Curling Wand Trio is a splurge but you (or whoever you're shopping for) deserves to be splurged on, right? This is perfect for anyone who loves curling or styling their hair!
I splurged on this about a year ago and am SO glad I did. My hair looks so much better when I curl it and there's so many things I can do with these 3 pieces.
You can check out my full T3 Curling iron review here!
If there's someone on your list who styles their hair a lot with heat products or just wants healthier looking hair, this is great! I use this almost every day. It is a heat protectant which is great for blow drying and styling and also adds shine, softness and color vibrancy.
I have to put heat on my eye to prevent stys (and other fun things) and discovered this this year. It's an eye massager with heat! It is SO relaxing and is perfect for a pre-bedtime ritual.
Ok this one has been on this list for years because it has been in my makeup drawer for yeras! This Anastasia Beverly Hills Contour Kit is perfect for anyone who travels (bronzer + highlighter in one!), loves simplicity with their products or loves to contour!
This contour kit has 5 beautiful shades that you can use for sculpting and defining features or just doing easy shading! Each shade is removable and refillable so you can fill what you want when you want. I've been using these for over years and love them!
I picked up a jar of Laneige's lip sleeping mask a few months ago and don't know how I ever slept without it! It's a super hydrating leave-on mask that both soothes and moisturizes your lips overnight.
This is the perfect stocking stuffer for your wife or a sweet little add on for your favorite babysitter.
Got a natural beauty in your life who doesn't use much more than Chapstick? Give them a little upgrade with this lip balm! It's wonderfully creamy and all natural.
I started using this earlier this year and have fallen in love with it. It smells beautiful, goes on well and my face looks and feels fresh and amazing after I put it on!
Over 90 versions went in to perfecting this produce so you know it's made to perfection!
Find even more about Maelove here!
If your beauty loving gal doesn't own one of these spa headbands, now is the perfect time to get one! I love mine for washing my face to keep my hair out of the water and to prevent the dreaded water stream from flowing down my arms.
Give her an excuse to put her feet up! Baby Foot products are miracle workers for rough dry feet. Wear this exfoliating peel for an hour and get soft smooth feet within a week as dead skin cells peel off.
I did this (and so did my husband) this past spring and it really works! Just be warned – your feet peel for about a week so make sure she doesn't use it right before a beach vaca!
25. Sol De Janeiro Brazilian Bum Bum Cream
If you haven't tried Bum Bum Cream yet you're missing out! I've been using it for months and absolutely love it. My kids always try to steal it from me because they prefer it to theirs! The smell is great, it absorbs easily and is incredibly moisturizing.
The quickest way to feel pampered is to take care of puffy tired eyes! These fan favorite eye gels from Amazon de-puff, soothe and brighten.
I've been using the Omnilux Contour red light for a year now (thanks to Amanda at Skin Standard) and love it! These masks do all sorts of things – they reduce fine lines and wrinkles, help reduce redness and pigmentation, promote healthier, younger looking skin and more.
This is a splurge item but it's a splurge item that's worth it!
Perfect for anyone with oily skin, this affordable makeup setting spray will keep your look in place all day long.
This serum is one of the serums that I've used the longest and for good reason! It is an all in one lactic acid treatment that plumps wrinkle lines, brightens the appearance of dark spots and gives your skin a glow.
It is not irritating in the least bit and is one product that I truly notice a difference!
This is a great stocking stuffer, friend gift, or addition to a bigger beauty present, because everyone needs to clean their brushes! Practical and affordable! I use this every time I clean my brushes and it is magic at how clean it gets them!
I'm crossing my fingers that Rishi picks up that weighted eye mask for me. What are you hoping is under your tree this year?
I hope this helps you find some gifts for makeup lover (or for yourself!)! Be sure to check out my Plant Lovers Gift Guide or all of my gift guides that give back!
The Ultimate Gift Guide List
Want even more gift ideas for everyone on your list? Head to one of these!
Gift Guides for Grown Ups
Gift Guides for Kids, Tweens & Teens
Age Specific Gift Guides
Product Specific Gift Guides for Babies & Toddlers
Special Interest Gift Guides
Want FREE Christmas gift tags? I created 64 beautiful gift tags that can be used not only for Christmas but every holiday! They're free to download!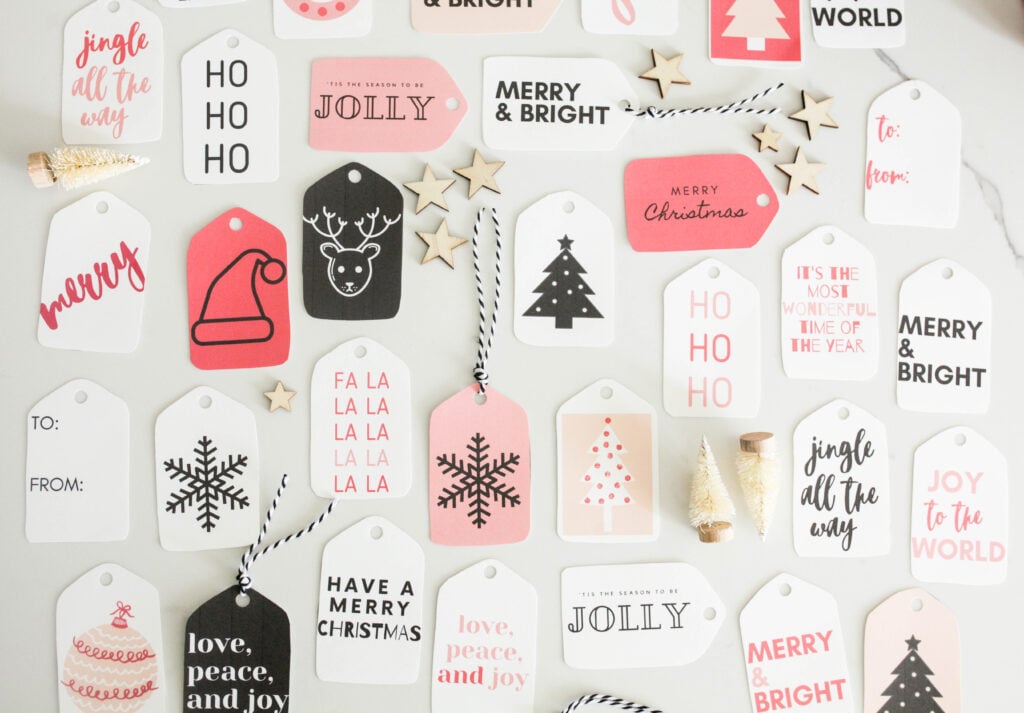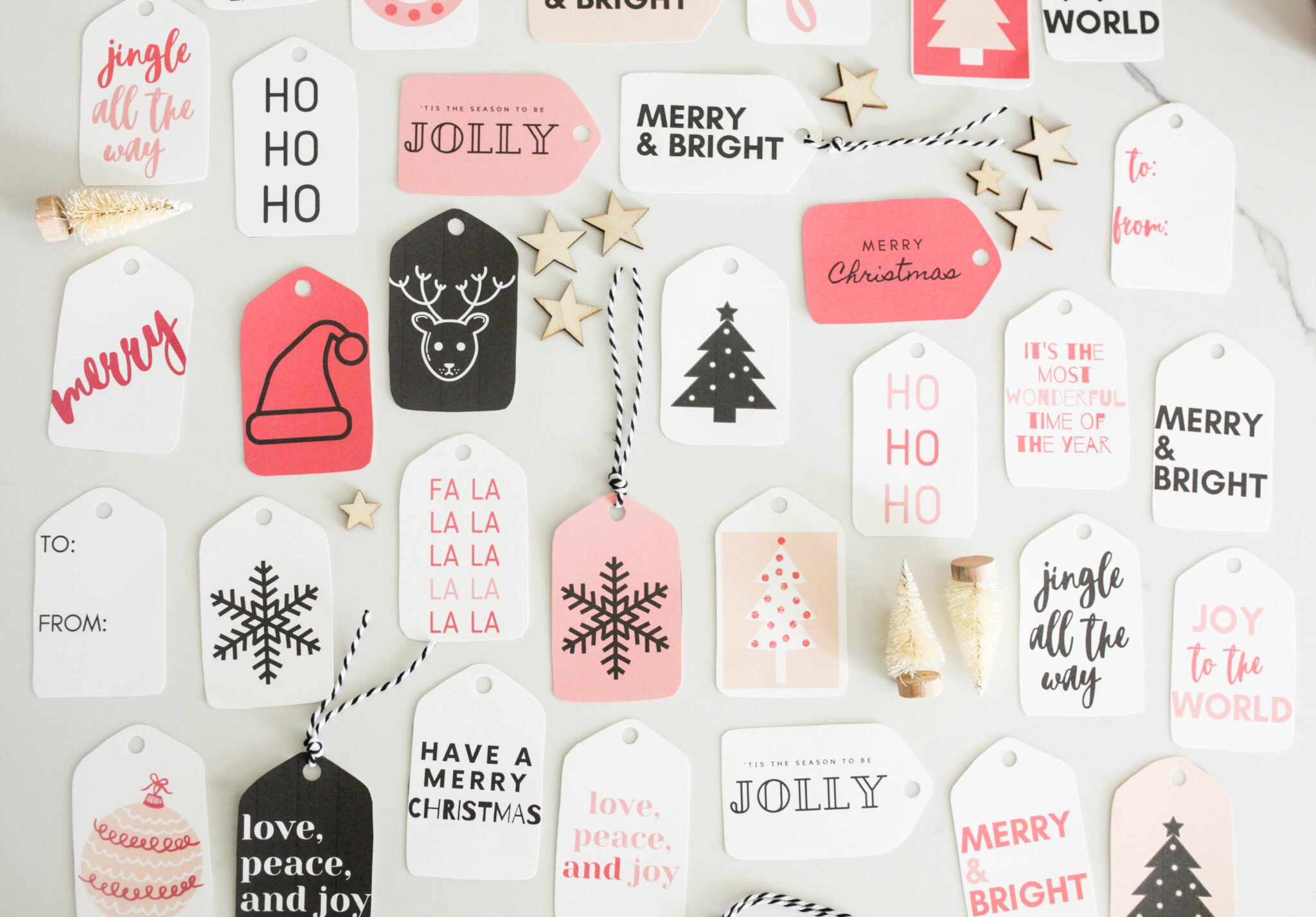 Get your gift cards in your inbox!
Enjoy!
As always, thanks for reading!
With love,
Jen