Have an elementary age or tween girl in your life that you need a gift for? Whether it's Christmas or birthday or just because, we've scoured stores, as well as the bedrooms (and minds!) of my nieces and friends' daughters to curate the best gift ideas for girls possible.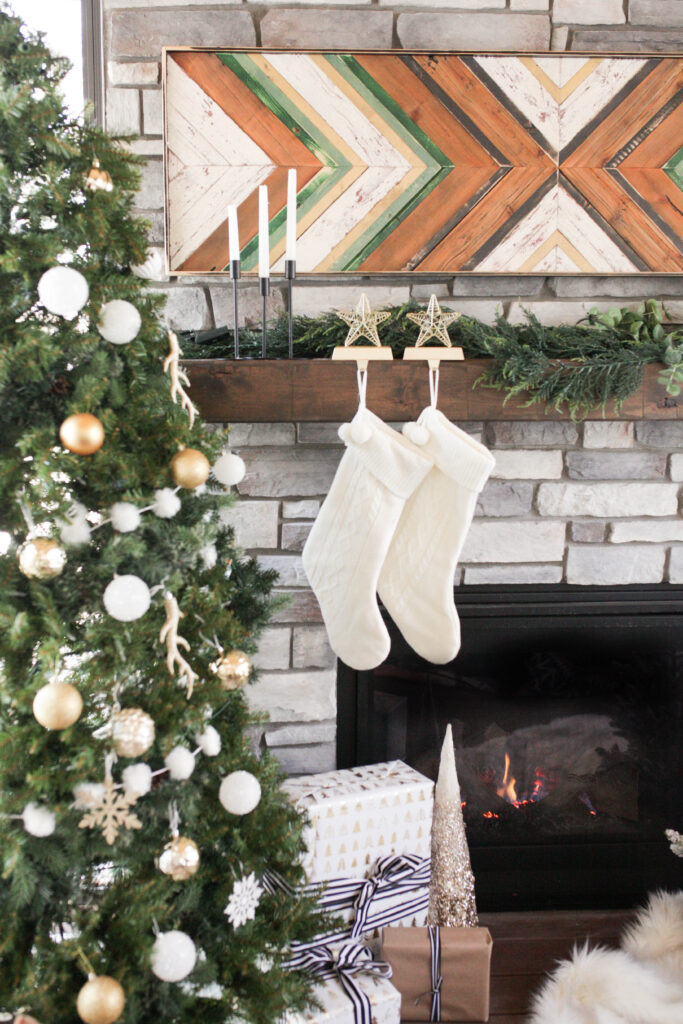 Today we're sharing all of the most on trend, unique gifts for girls that any little lady, no matter her interests, will love.
This list was created by talking to actual elementary-aged and tween girls in my life. They shared some of their favorite items they own as well as things on their wishlist.
Girls can be a picky bunch so I'm sharing a bit more info about each product to help you figure out what's the best gift to get for your girls!
And as a note, many of the items below are also included in my gift guide for boys. These aren't gender specific, just ideas I've heard from girls in my life!
20 Best Gift Ideas for Girls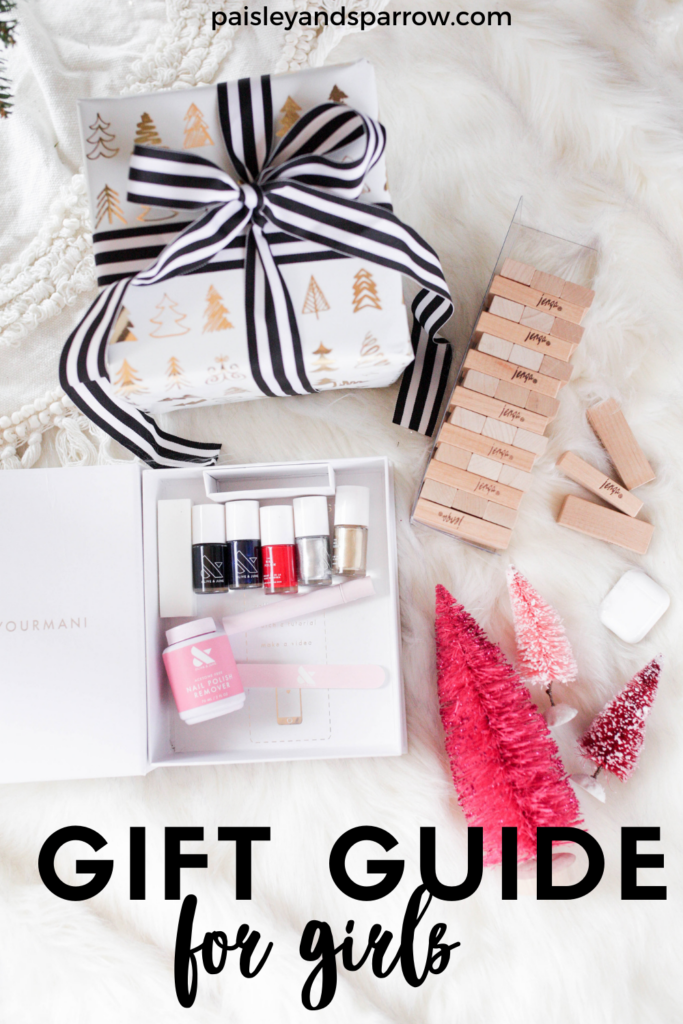 There's two ways to use this guide. One is to simply shop using the links below. Like an idea you see? Click the link to learn more and purchase.
Want a few more details on what something is? Keep scrolling for additional details. Either way I hope this gift guide helps make gift buying a breeze for you and that the little ladies on your list love what they receive.
Paisley + Sparrow is a participant in the Amazon Services LLC Associates Program. This post may include affiliate links, which means I may earn a small commission if you shop using the links below at no additional cost to you. Thank you for supporting me and this blog!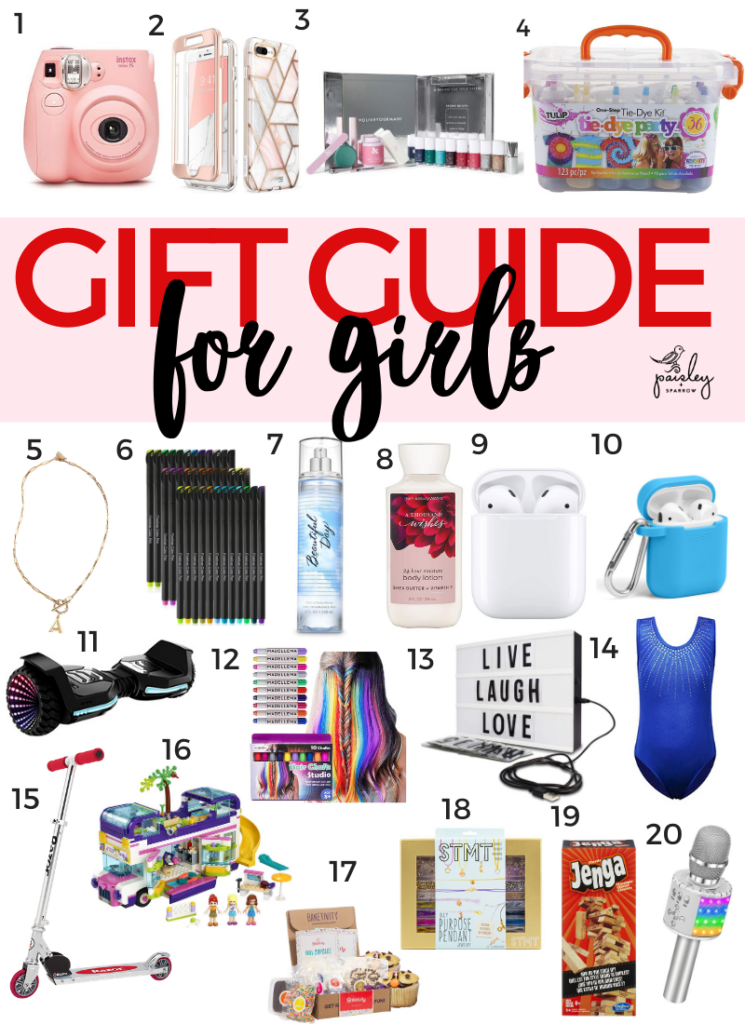 1. Instax Mini 7S Instant Camera, Fujifilm // 2. Cosmo Glitter Clear Bumper Case, Amazon // 3. Nail Polish, Olive and June // 4. Tie-Dye Kit Party, Amazon // 5. Chain Link Letter Necklace, Anthropologie // 6. 36 Color Pens, Amazon // 7. Beautiful Day Perfume, Bath and Body Works // 8. A Thousand Wishes Body Lotion, Bath and Body Works // 9. Apple AirPods, Apple // 10. Airpods Case, Amazon // 11. Hoverboard, SISIGAD // 12. Hair Chalk, Amazon // 13. Lightbox, Northpoint Store // 14. Leotards, Amazon // 15. Razor Scooter // 16. LEGO Friends Friendship Bus // 17. Kids Baking DIY Activity Kit , Baketivity // 18. DIY Personalized Accessories Kit // 19. Jenga // 20. Wireless Bluetooth Karaoke Microphone
This is a fantastic camera for any girl starting to show an interest in photography or just capturing memories, especially with the selfie mirror. Be sure to gift extra film too, because this camera is sure to be an immediate hit.
This phone case has pink and gray marbling that your teen daughter will love! Bonus for you? She will love this case so much she will probably take better care of her phone.
3. For the Always Polished One: Nail Polish
It is so disappointing to get cute nail polish as a gift, put it on, and realize it is cheap and instantly chips off or clumps up. Your daughter will love this Olive and June nail polish! Her nails will look great, she can get creative with the colors and – best of all – no nail polish frustration.
P.S. Use the code JenB20 for 20% off any system!
A quick walk through the stores or browsing online and you know that tie dye is in. Any girl will love creating her own tie-dyed t-shirts, sweatshirts and more with this tie dye kit. She will be able to customize the colors and designs to exactly what she wants – how cool is that?
This is a gift that your daughter will love for years to come. A necklace with her initial on it is both meaningful and trendy. Any girl will love to wear this necklace with causal t-shirts or paired with a dressy outfit.
This one is so beautiful you could get matching mama/daughter necklaces!
6. For the Writer or Artist: 36 Color Pens
Your gals love to journal or draw? This 36-piece set of pens is for her.
Girls love to wear perfume, so introduce your girl to the wonderful world of scents with this refreshing fragrance from Bath and Body Works. She will love to spritz this on her skin and you will love that you aren't spending a fortune on expensive perfume.
Both my nieces have this lotion, and they have opposite personalities so chances are the little ladies in your life will like this scent too!
This is a gift for the older girl on your list! Teens will love to be gifted with these AirPods to listen to their favorite music or for FaceTiming with their friends.
10. For the Careful Chick: Airpods Case
Have a girl that takes good care of her stuff? (Lucky you.) Encourage that even more by getting her an AirPods case. Not only will this help protect the pods, but the carabiner will help her keep track of it by being able to clip the case inside her purse or backpack.
11. For the Mover and Shaker: Hoverboard
This is a great gift for a late elementary-age girl! A hoverboard provides fun year round as it can be used both indoors and outdoors. The battery on this particular model lasts for hours, so you will be able to go for 2+ mile walks (or, um, rides!) no problem.
12. For the Hair Girl: Hair Chalk
Temporary hair color is a winning gift for any girl! My elementary-age niece and middle school-age niece both love having fun colors in their hair, and the fact that these wash out gives them endless chances to try different colors.
13. For the Home Decor Diva: Lightbox
This light box is a fun addition to a bedroom for any girl, from mid elementary on up.
14. For the Gymnast: Leotards
Leotards are a great gift for a gymnast or dancer, or a girl who might dream of being one someday. Your daughter doesn't have to be enrolled in formal lessons to enjoy dancing and cartwheeling around in a leotard! This is a great gift for early to mid elementary age girls.
15. For the Girl Who Likes To Go Fast: Razor Scooter
Scooters are a fantastic gift for any elementary-age child. They encourage exercise and motor skills, which is good for you and good for them. Razor scooters are great quality and will last for years.
Legos are such a fantastic gift for any age girl who loves to build and create. Legos are categorized by age so you can find one that fits the exact ages of your child. The lego themes are truly endless: choose a Lego Friends set for younger elementary age girls and complex Disney or Star Wars sets for older girls.
These all-in-one Baketivity kits are a great gift for your little helper in the kitchen. This kit includes everything you need – recipe, ingredients, etc. – and a bonus fun learning activity to complete while the cupcakes are baking! This is geared towards later elementary age kids who are learning the basics of baking.
This kit is perfect for older elementary and middle school kids who are starting to learn how to make their own jewelry and hair clips. Kits like these are such a great tool to give your kids the basics they need for an activity. If you find they like accessory making, take a trip to the craft store to stock up on more specific supplies!
19. For the Gamer: Jenga
Jenga is a classic family game for a reason: it's fun for everyone! Your daughter will enjoy playing this game with her friends and you will love having a fun family game night.
Got a superstar on your gift list? This wireless microphone is a perfect gift for any elementary (or older) age girl who memorizes all the lyrics to her favorite Frozen or Taylor Swift songs.
And there you go! I hope this gift guide for girls helps you discover a gift or two for any little lady on your list.
Don't forget to check out all of my other gift guides, like gifts for her (think MIL, sister, wife), him (husband, brother, dad), fair trade, toddlers and more here!