Plant lovers can be the hardest to buy for, especially if you aren't into plants yourself! Today your resident crazy plant lady is here to share 36 perfect gifts for plant lovers – I promise they'll be well loved by every plant parent on your list!
Anyone else know someone who is a little plant obsessed? Maybe it's you, maybe it's your roommate (lucky you!) or possibly your boss.
What in the world do you buy someone who has a deep love for plants when you have no idea what kind of plant to buy them that they don't already own? Well, these gifts for plant lovers are just for that kind of plant parent!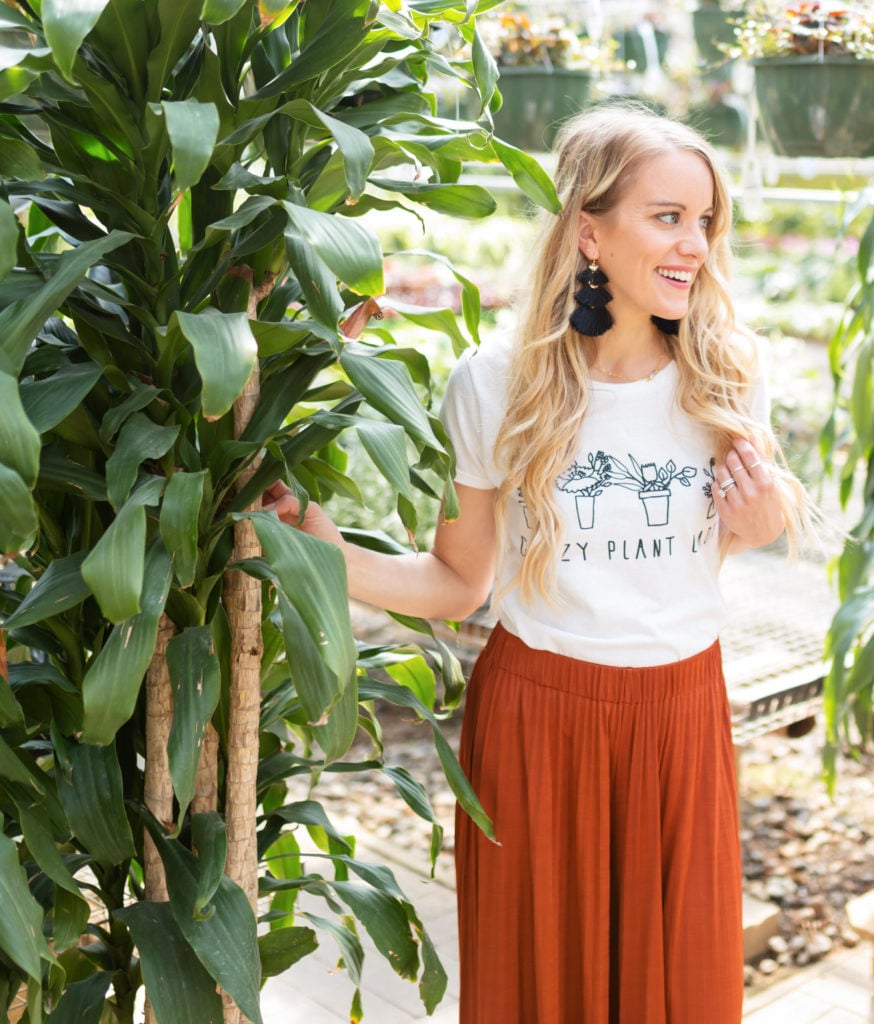 Often times plant lovers don't need more plants, but they WOULD love anything plant related! From tees to books to pins to sweatshirts, this is the ultimate gift guide for plant lovers!
Use this however you want, just know they're all plant lover approved!
36 Perfect Gifts for Plant Lovers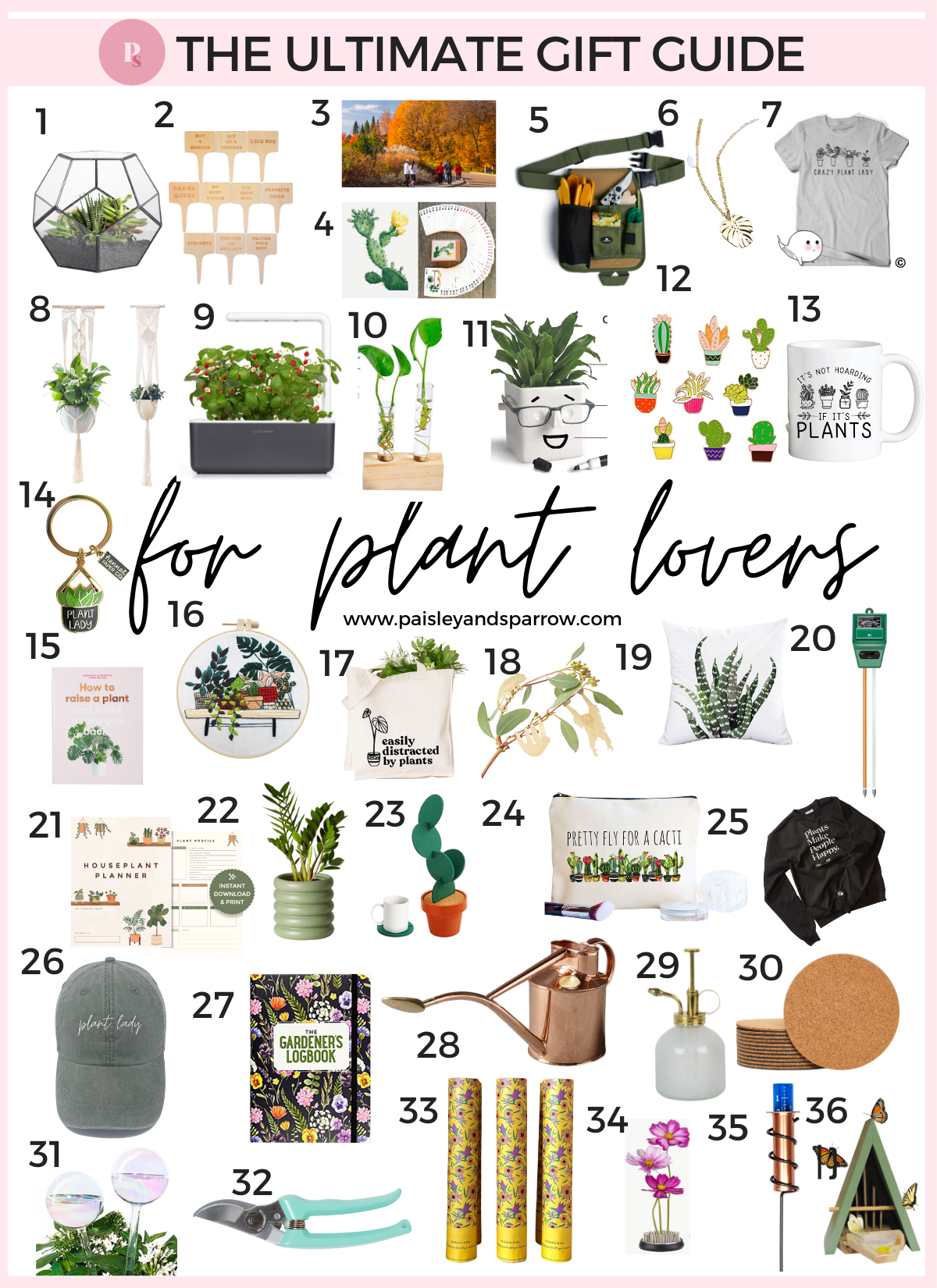 This post contains affiliate links.
Terrariums are a fun home decor accent and a must-have for anyone who loves succulents, air plants or any plant that loves humidity and indirect light. They're a fun way to build a little green world for yourself!
If the plant lover in your life has a sense of humor, they'll love these punny stakes. They've got phrases like "bit of a creeper," "I dig you," and "my next victim," which make gardening or tending to your houseplants just that much more fun.
3. Membership to a Local Botanical Garden
I love experience gifts! They don't clutter up your house and provide your loved ones with lots of memories.
For the plant lover, a membership to their local arboretum or botanical garden is a thoughtful and useful present! They'll think of you every time they go, all year long.
Bring their love for plants to game night with these gorgeous playing cards. Each one has an illustration of a different houseplant and a fact about them.
This handy tool organizer will save gardeners' backs by keeping all their essential tools within arms reach.
Who knew plant inspired jewelry can be classy! Stay on trend with this dainty gold Monstera Leaf Necklace that's perfect for layering!
I personally own this necklace and love it! It's easy to get on and off, it's great for layering and a perfect dainty gold necklace!
Next, a Crazy Plant Lady Tee! You can never have too many graphic tees, especially one that describes your love for plants so perfectly.
I've owned this plant lady tee for years and it's still one of my favorites! It fits tts and comes in multiple colors.
One problem most plant lovers have is where to put more plants!! You likely have them on tables, shelves, window sills and every other flat surface in your home. If that sounds like you and you're running out of shelf space, move to the walls!
I own these Macrame Plant Hangers (from Amazon!!) and they're amazing! In addition to being beautiful, they're super easy to hang and I love how they look against my blue wall.
Or better yet – make your own! I full a full macrame plant hanger tutorial here. It's super simple and even cheaper than buying them!
This NASA inspired Self Watering Station makes sure that your plants not only get enough water but also the right amount of oxygen and nutrients! Special LED grow lights provide them with the energy they need to thrive.
This is a great gift for plant lovers who travel a lot, are branching into herbs or just need a fun new plant related gadget! 😉
Every plant parent needs a Propagation Station or two! The plant lover on your list is likely propagating plants left and right so get them a beautiful way to display those plant clippings!
The Propagation Station shown above is from Amazon (I own it and love it!). Or check out this full propagation station post for tons of different options!
Is your planty friend always losing their glasses? Need a spot for their blue light glasses after they blog the night away?
This fun Face Pot is perfect for them! I own this pot and use it in my bathroom to hold my glasses when I'm wearing my contacts. It's a fun way to display any time of glasses!
Jazz up your favorite denim jacket, your diaper bag or your clothes with these cute enamel Plant Pins from Amazon!
You can split these up and share them with all your plant loving friends.
Next on the list, a fun Plants Mug! A plant lovers biggest problem is having a million plants but always wanting more (and trying to figure out where to put them haha!).
But nobody wants to be told they're a hoarder! We can all agree it's not hoarding if it's plants. If you're my friend, know that I need this mug! 😉
Have a friend who's always losing her keys or has a storage area FULL of all her amazing pots, soil and gardening supplies? This is for them!
Never lose your keys again and remind everyone who sees them what kind of lady you actually are — a plant lady!
Coffee table books are a great gift for just about anyone and this fun How To Raise A Plant Book will make all your plant mom friends smile!
In addition to being beautiful, it's useful! It's full of practical plant tips, such as propagation tips, so it's great for new plant parents!
Embroidered hoops are the perfect addition to any gallery wall, especially in a room full of plants! I love the added texture they add and this fun Houseplant Embroidery Hoop is so cute.
Can you go wrong with a tote bag? Canvas totes are great for just about everything — carrying your gym clothes, you lunch, your computer or anything else! This canvas Plant Tote has fun sketched plants on it that will make any plant lover smile!
You could even use it as the wrapping! Fill it with a new watering can or any of the gifts on this list. It's a double duty gift!
This gift wins for most unique!! There's a VERY good chance your plant loving friend has never seen such a fun plant related gift before! I never knew these Plant Hanging Animals were a thing but I think they're so fun!
You could even pick up a new plant for your friend and attach these to it. Wait and see how long it takes for them to discover them!
Next up, a fun set of Plant Pillows! This fun set up pillows can be split up around your home or left together to show your love of plants!
Snake plants (the top left ones) are one of my favorite plants to have in my house (check out my snake plant care tips here). I love how vibrant this pillow is.
Even the most expert of plant parents could benefit from this Plant Probe. Help them take their plant expertise to the next level with this perfect, inexpensive tool!
This simple to use plant probe tests soil moisture, pH value and sunlight level of plant to properly take care of their precious babies!
New to plants, have high maintenance plants or just forgetful? This fun Plant Care Tracker is ideal for keeping your plants hydrated!
Print off your own plant tracker, keep it handy and watch your plants thrive!
What do plant lovers need? More plants!! This fun Plant Subscription Box is the perfect gift for your plant loving friend!
Keep the joy of giving last longer than one day with a 3 month subscription of plants delivered to their doorstep!
These Cactus Coasters are so cute! They come in a set of 6 and can be built into a paddle cactus when not in use. They're heat and water resistant, which makes them perfect for coffee, wine or a can of La Croix.
These coasters come with a little pot that can be used for storage, and it all arrives in an adorable cactus pattern box so the wrapping is done for you! Pair it with a bottle of wine or a 6 pack of their favorite drink and you just made someone VERY happy! 😉
Next up, a "Pretty Fly for a Cacti" Makeup Bag! You can use this cute cactus bag for whatever you need it for – makeup, your daily essentials (wallet, keys, phone), pens, or whatever!
Finally, a cozy plant sweatshirt! Let's be real, plants DO make people happy! This is the perfect cozy sweatshirt for the winter months! This sweatshirt is going on my wish list for sure!
Perfect for running to the farmers market or taking care of outdoor plants, this baseball cap is cute, comfortable and on brand for all the plant ladies in your life.
Every plant lover knows that gardening or tending houseplants can come with a learning curve. This logbook gives them a place to plan out their gardens, make notes of what they do each year, and see what works and what doesn't.
This gorgeous watering can is both practical and decorative. The classic Haws "watering pot" shape has been used since 1886 in English gardens.
Chances are that your plant-loving friend has some houseplants that require misting. Instead of letting them use a boring plastic spray bottle, gift them this sleek brass and glass mister with a vintage feel.
You know every plant lover really just wants places to put more plants! Pair these cork mats with a new plant or adorable pot for a very practical gift!
Give the gift of time with a watering system. It lets you miss a few scheduled waterings while still letting your plant thrive. This simple glass bulb is perfect, but there are also lots of fun shapes and animals out there to choose from.
When it's time to take cuttings or prune your plants to keep them healthy, good sharp pruning shears are essential. These pruners are cute and easy to use.
These bright tubes turn any day into a celebration! These cannons shoot out bits of paper embedded with wildflower seeds, so you can party now and then again when the wildflowers bloom.
If your loved one has a garden and likes to cut flowers for the house (or has a kid that likes to pick them!), these flower frogs will come in handy. You put them in the bottom of a vase or other vessel and they hold the flowers in position, so you can make an arrangement even if you don't have a full bouquet.
35. Rain Gauge
For outdoor gardeners, it's important to know how much rain you're getting! This easy-to-read rain gauge keeps your friend up to date so they can give their plants exactly what they need.
Bring the butterflies to your friend's garden with these adorable little house and feeder. The butterflies will be happy and so will the plants!
I hope this list of fun plant related gifts for plant lovers helps you out with your shopping (or creating your wish list)!
Be sure to check out my fair trade gift guide for even more gift ideas or one of my many plant posts (like 7 plants that purify your air!).
Want FREE Christmas gift tags? I created 64 beautiful gift tags that can be used not only for Christmas but every holiday! They're free to download!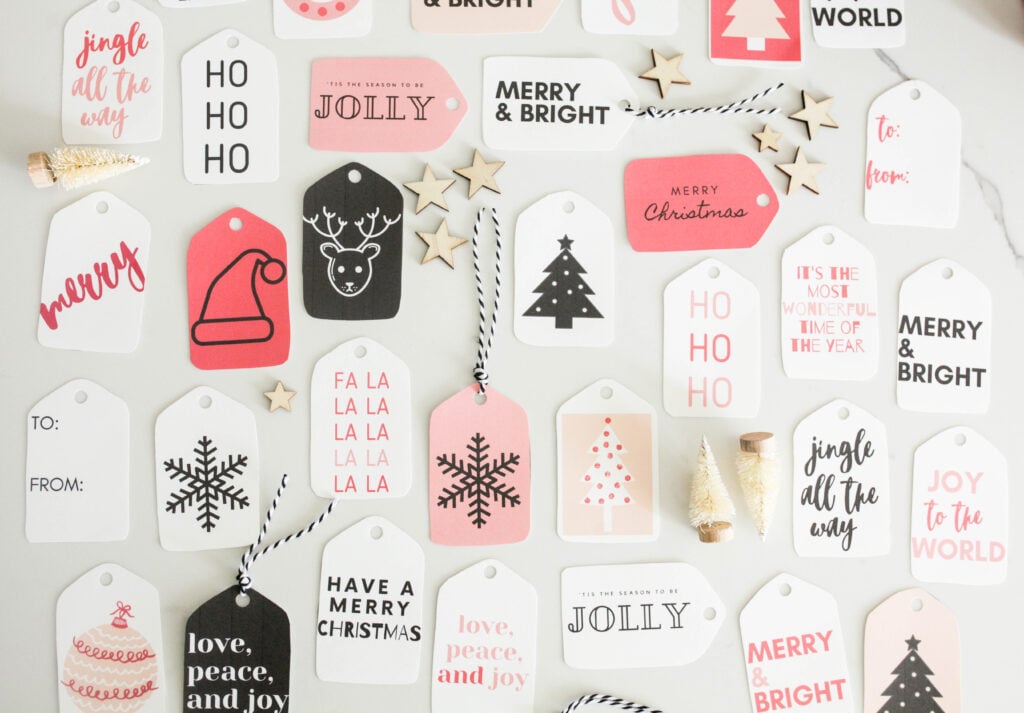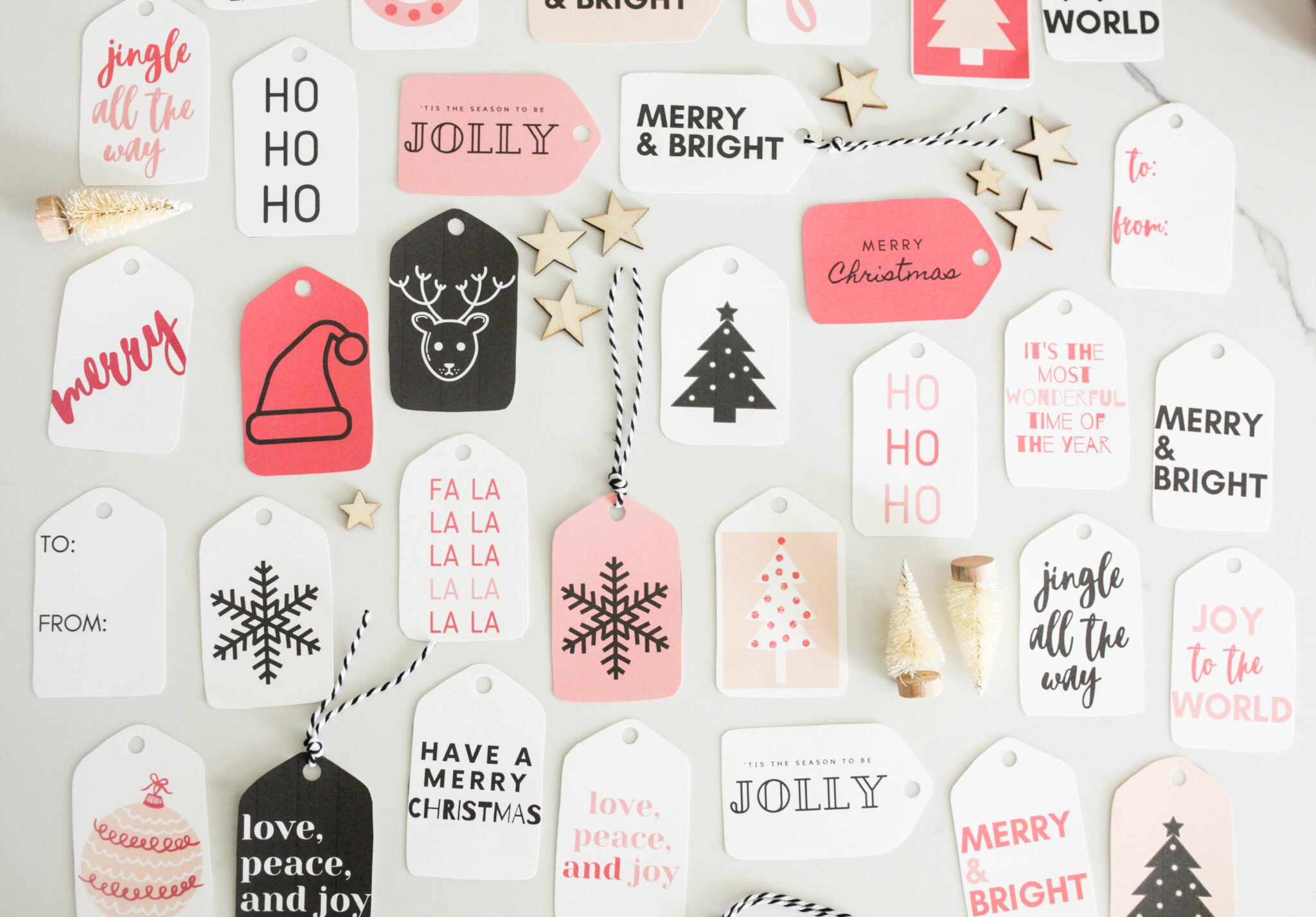 Get your gift cards in your inbox!
Enjoy!
As always, thanks for reading!
Jen