5-year-old girls love a little bit of everything! They can be frilly and twirly, but they're smart and independent and active and sometimes want to get messy. So give them gifts that fit their whole personality!
I've got 20 ideas for your 5-year-old girls wishlist that are sure to make her smile!
Gift Guide for 5-Year-Old Girls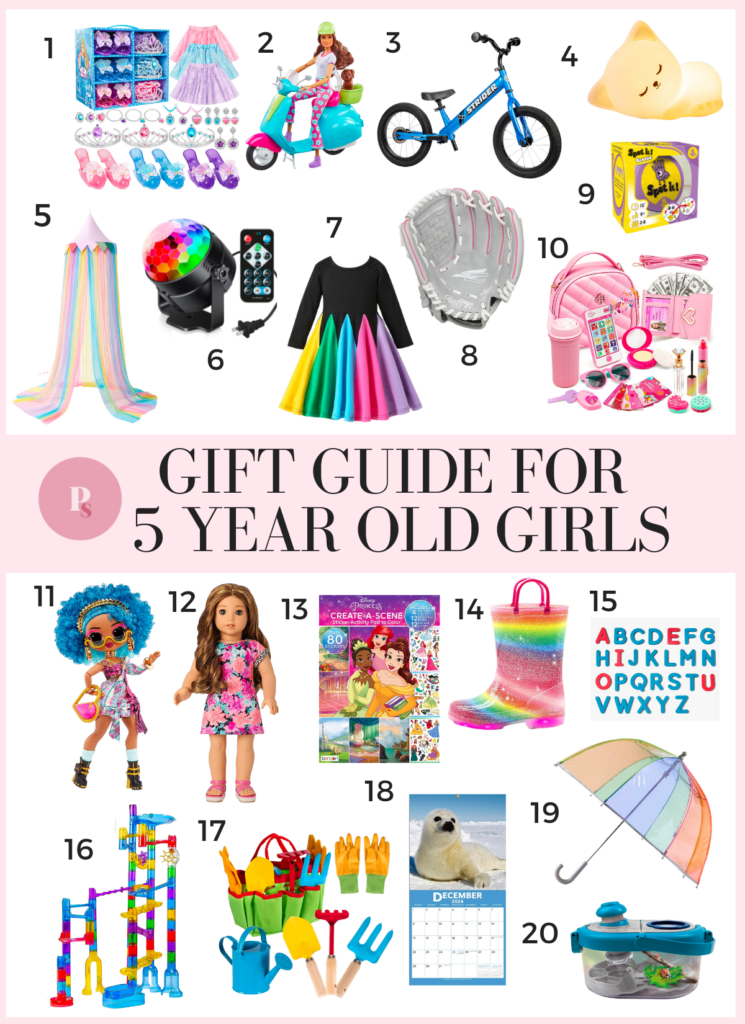 This post contains affiliate links.
It seems like all the girls my daughter knows love dress-up in some shape or form! Whether it's princesses, fairies, superheroes or something else, you can find some fun dress-up clothes to fit her play style.
You can't go wrong with Barbies, and after the Barbie movie, there are more fans than ever! Buy one that comes alone or get a whole play set for more enjoyment.
5 is just about the age when kids start to learn how to ride a bike without training wheels! Pick one that she can ride right away, but that she can also grow into.
I love giving gifts that make a kid's room feel more cozy and personal to them. This adorable night light lets them control the light on their own, and even better, they can put it wherever they want it in their room because it is battery operated rather than plugging into the wall.
This rainbow bed canopy is going to make their bed a special place they'll love returning to at the end of each day.
Turn your house into a disco with these rainbow lights that dance around your ceiling. They even move to the music you're playing.
If you've got a only-wears-dresses 5-year-old, she probably loves to test the twirliness of each outfit. This rainbow twirly dress will pass with flying colors (literally!).
Kids can begin playing softball around 5 years old (or just play catch in the yard with family), so get her her own glove!
This game is simple (but that doesn't mean it's too easy!) and small enough to carry in a purse. She can play with friends, siblings or mom and dad!
She can use this purse to actually carry her "essentials" or she can play pretend with all the things she sees mom carrying around each day!
She'll be putting on fashion shows in no time with L.O.L. dolls. Pick the one that most fits your girl's style or collect them all.
American Girl dolls were a huge deal when I was growing up, and I feel like they've only gotten cooler! You can get your daughter one that looks like her, other modern versions or go classic with a historical doll.
Princesses are big at this age, so anything with Disney princesses involved is a win. This sticker pad is a fun gift that she'll love if you are looking for something besides princess dress-up and dolls.
Practical and so cute! She will love it when it rains if you buy glittery, light-up rainbow boots!
As she starts learning letter sounds and begins reading, keep sets of letters handy where she can play with them whenever the urge hits!
If you've got an engineer-minded little one, toys like marble runs are endless sources of fun! She can build and rebuild as much as she wants and find all kinds of ways that work (and don't work!).
I love gifts that get my kids out in the sunshine and dirt! Plus, if you encourage gardening help now, you'll have beautiful flowers in no time.
We used to get wall calendars every Christmas growing up, and it was always fun to see what perfect theme my mom would pick out that year. Your girl will love keeping track of the days like a grownup on her very own calendar.
Don't get caught in the rain without an umbrella that fits your daughter! These fun umbrellas are kid-sized so she can carry her own and stay dry.
Your future biologist will love seeing bugs up close with this bug catcher kit.
The Ultimate Gift Guide List
Want even more gift ideas for everyone on your list? Head to one of these!
Gift Guides for Grown Ups
Gift Guides for Kids, Tweens & Teens
Age Specific Gift Guides
Product Specific Gift Guides for Babies & Toddlers
Special Interest Gift Guides