Teenage girls know what they want — but you don't always know what that is! You can of course give gift cards (and they'll be greatly appreciated), but sometimes it's more fun to receive a gift to unwrap. And it's a lot more fun to watch them open it!
If you're looking for more ideas for under the tree, try some of these 17 suggestions for a little inspiration. I took them straight from my teenage niece's wish list!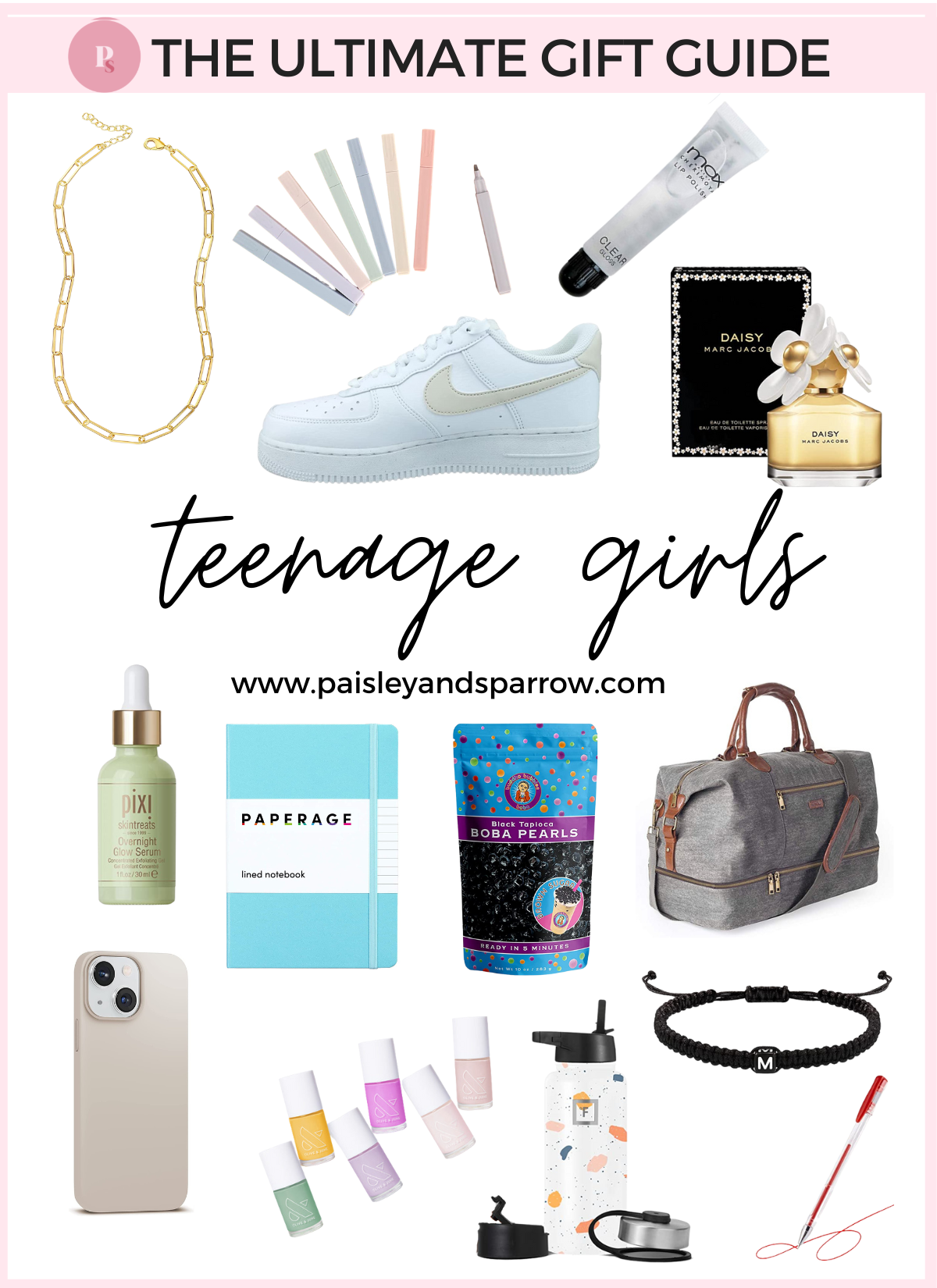 Paisley + Sparrow is a participant in the Amazon Services LLC Associates Program. This post may include affiliate links which means I may earn a small commission if you shop using the links below at no additional cost to you. 
You can shop this guide in two ways.
First, if you just want the quick list, check out the table below.
Then if you want more information about any of the products, scroll down for descriptions of each one.
17 Best Gift Ideas for Teen Girls
This simple initial bracelet would be great for girls or boys and fits so many styles. It would make a fun stocking stuffer or gift for your teens' friends.
School supplies, but make them cute! These highlighters are pretty to look at, and also use softer colors that make it easier to read text if your teen finds neon colors distracting.
You could package these with other fun school supplies too — Post-Its, paper clips, pens.
I bought these for my niece and she loved them!
I love this set of knuckle rings. There are so many combinations your teen can create.
This is a must-have accessory in my nieces' schools. It keeps your water cold, is easy to use, and has lots of color options so your teen will love carrying it.
I bought this for my niece at the start of school and she loves it. Even more, she broke the lid on accident and we discovered that the Iron Flask brand is amazing.
They have a lifetime guarantee on their products. When we contacted them to get a new lid they not only sent one lid but the sent two lids, four straws AND two cleaning tools! We're customers for life!
Kids these days have so many amazing sneaker options! Even the Air Force Ones have a bunch of different versions to choose from, so you can always find one to fit your teen's style.
Even if you don't know what brand or shade of makeup your teen likes, you know they'll love super shine on their lips. This lip gloss is perfect worn alone or on top of lip stain, and reviews say it's not tacky or drying.
Sometimes I think the teens know more about skincare than we adults do! This Pixi serum will brighten their skin overnight (and bonus: you can try it and see if you like it too!).
If you've entrusted your teen with a smartphone, make sure they have a case that will keep it protected. Get one that protects the phone from falls and keeps that nice camera working well.
It's not a secret that I love Olive & June, and I'm spreading that love to my nieces! O&J nail polish is great for teens who love painting their own nails but want the professional manicure look. There's polish and press-ons!
No one has more deep thoughts than a teenager! Whether she wants to use it as a journal, a spot for random ideas, or poetry notebook, there's never a bad use for a notebook.
Has your teen discovered the magic of boba tea yet? It's so tasty and fun to eat, but if you're always buying it at a bubble tea place, it can get costly! Give her a boba mix set so she can make all kinds of drinks at home.
She's got places to go and people to see! This weekender bag is cute and useful for all of her short trips. Sleepovers, camps, family trips; she can use it for wherever she's going.
Paperclip chain necklaces are such a cool way to wear an otherwise plain gold chain. They go with everything and can be worn alone or layered.
If you want a gift that lasts past Christmas day, go for a magazine subscription. There are so many options for whatever interests her, and it'll keep arriving until next Christmas!
Some things never change! Gel pens were a must-have when I was in school, and I'm happy to see that teens still love them! This set has more than 100 colors and it has all kinds of glitter, neon and swirly options.
The one thing all teens need? Fresh breath 😂. This is a great gift for every teenager, and can go in a stocking or be wrapped with other goodies for a fun gift basket.
Your teenage girl will love a new fragrance to wear. That's part of the fun of growing up — finding different parts of your style and personality and how to express them!
The Ultimate Gift Guide List
Want even more gift ideas for everyone on your list? Head to one of these!
Gift Guides for Grown Ups
Gift Guides for Babies & Kids
Special Interest Gift Guides
Want FREE Christmas gift tags? I created 64 beautiful gift tags that can be used not only for Christmas but every holiday! They're free to download!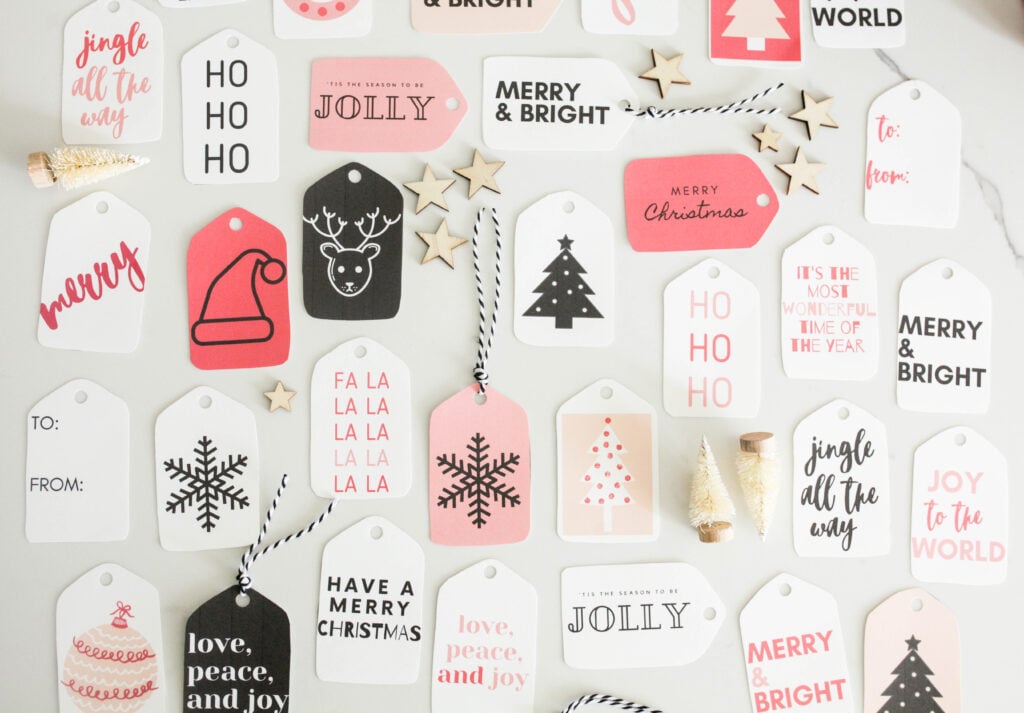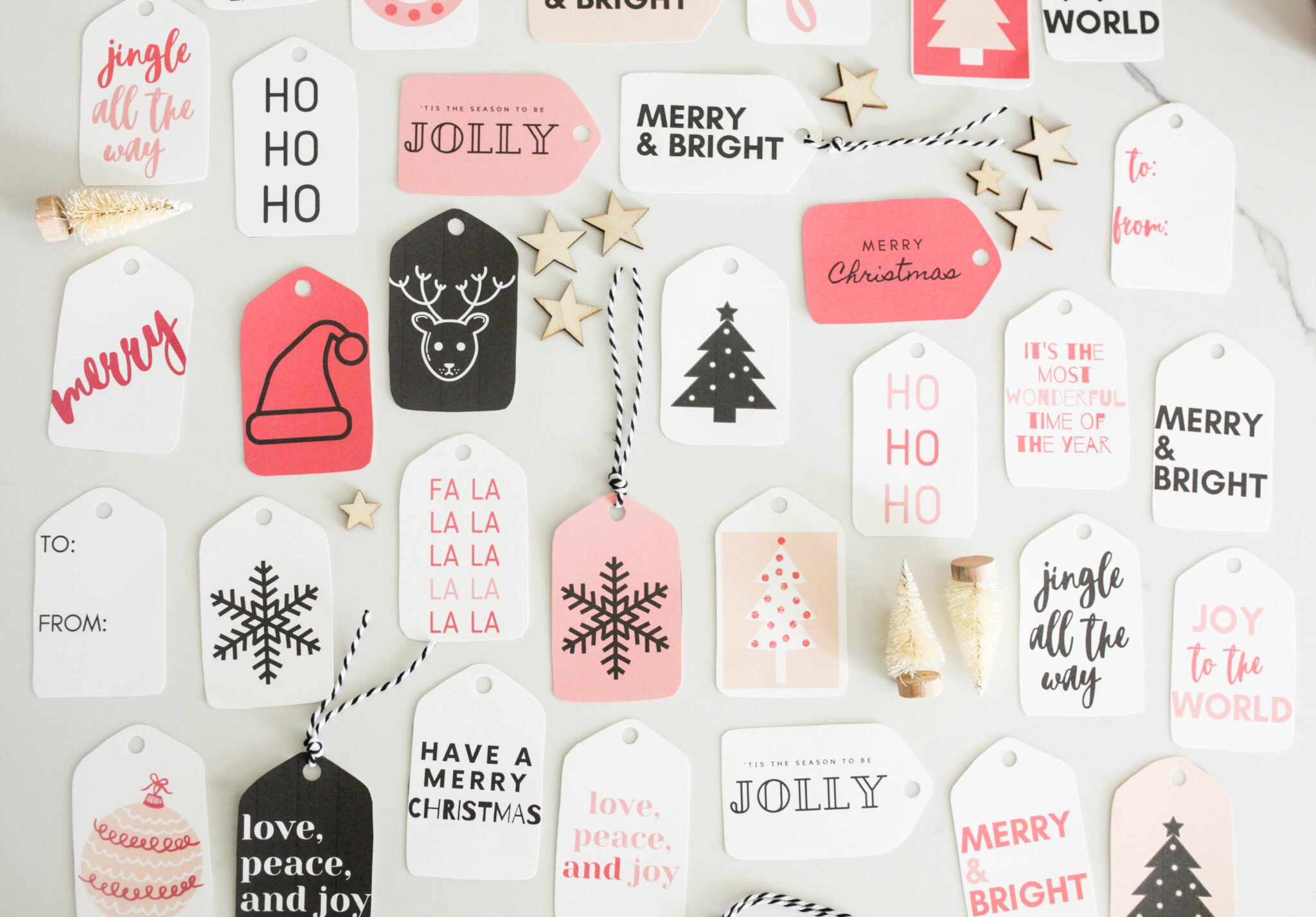 Get your gift cards in your inbox!
Enjoy!