Does your 7-year-old boy have strong opinions on what he likes and doesn't like? I know mine does!
I personally have a 7 year old boy who helped create this guide and we also asked some of his friends and family members to give their input. You can be certain we've covered all our bases and found some kid approved gifts your 7 year old will love.
There are so many toy options out there, you're sure to find the perfect gift for him! Whether it's sports, Pokemon, dinosaurs, video games, whatever, I've got some ideas for you.
7-Year-Old Boys Gift Guide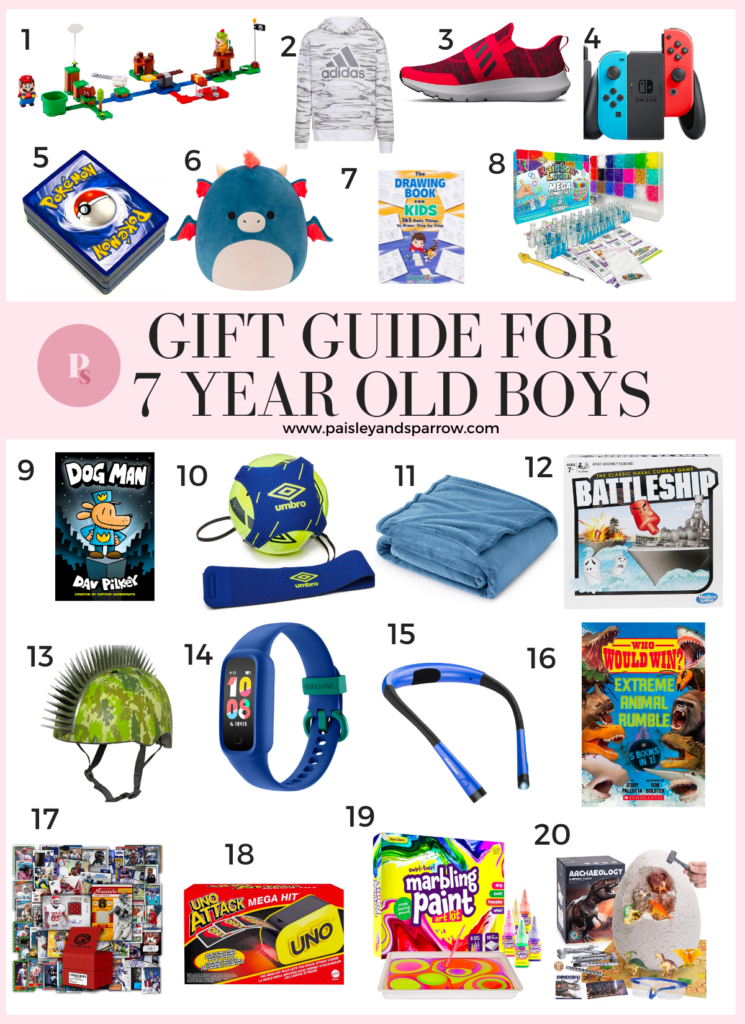 This post contains affiliate links.
Combine his love for Legos and his love for video games! You can play Super Mario levels that you build yourself! Just make sure you get the starter course before you get any of the add-ons.
A cool hoodie will become part of your little guy's uniform. It's cozy, it's easy to wear, and he'll feel like he looks good in front of his friends.
I love that kids this age are starting to figure out their style! Get him some sneakers that he thinks look slick and that he can play in.
This is a big gift that you know he will freak out about! He can play on your TV or use it as a handheld gaming device.
How many Pokemon cards do you have in your house right now? I bet, according to your 7-year-old, it's not enough! He'll be so happy to get a whole pack of new ones, find ones to trade with friends, and organize the rest.
Boys can be rough and tumble, but they're certainly not too tough to need a snuggle with a stuffed animal. Squishmallows are so popular with kids, he'll love whatever size and version you give him.
It is so cool to start seeing the way your son can draw now that he's older. This book will help him get a handle on drawing all kinds of different things, so his talent can grow even further.
My 7 year old and his friends love to make bracelets all day every day! They've even set up bracelet stands to sell their creations to neighbors and cars passing by. It's a well loved activity!
Once the first Dog Man book entered our house, it was soon filled with them! As our kids began to read they loved looking at the pictures and trying to sound out words. Now that my oldest is an avid reader he devours these. Whether your 5 year old is reading or not, these cute books are a great graphic novel to introduce to your kids.
My kid eats, sleeps and breathes soccer! So a kick trainer like this means he can keep playing whenever he gets the chance, even if there's no one to kick the ball around with.
After all the running and playing and learning they do all day, 7-year-old boys need a cozy place to land at the end of the day. Wrap him up in this super soft blanket.
My son got this game for Christmas last year and we all love it! It's fun to play with friends, neighbors or family members. This classic game is always a hit!
You know he's going to take risks, but you can make sure his head is protected (and that he loves the helmet he's wearing so he never fights you on it)!
If you've seen your son envying your smartwatch, get him this watch and fitness tracker to wear. He can see the time, set alarms and even use the stopwatch feature. And he'll love checking how many steps he's taken at the end of each day!
Listen, I'm not saying I WANT my son staying up past bedtime, but if he's staying up to read, I'm not going to discourage it! This is an especially perfect gift if your 7-year-old shares a room with a sibling and may need his own light sometimes.
My son could read these books every day! They're really fun books because they teach you so much about each animal in a unique way.
If your 7 year old loves sports, chances are they love collecting sports cards! Pick up a few packs of new cards for them to open up on Christmas Day.
If you need another game idea, Uno Attack is probably the #1 game played in my house all thanks to my 7 year old! The amount of laughter and squeals playing this game makes it totally worth it.
My 7 year old loves art and crafts and this seems like something that he would love! With this kit you paint on water! This is a super unique way to paint and one that your child would likely love to try! Bonus – they have a 100% satisfaction guarantee! If your kid doesn't have a blast you'll get your money back, no questions asked!
I bought this for my son this year and he absolutely loved this! It's such a fun interactive experiment for you child to learn all about archaeology and the art of digging up fossils.
The Ultimate Gift Guide List
Want even more gift ideas for everyone on your list? Head to one of these!
Gift Guides for Grown Ups
Gift Guides for Kids, Tweens & Teens
Age Specific Gift Guides
Product Specific Gift Guides for Babies & Toddlers
Special Interest Gift Guides