It's so fun to shop for a 7-year-old! They are really coming into themselves, can handle more complicated and creative hobbies, and are starting to read more exciting books.
If you've got a 7-year-old girl in your life, here are some gift ideas they'll love this holiday season.
Gift Guide for 7-Year-Old Girls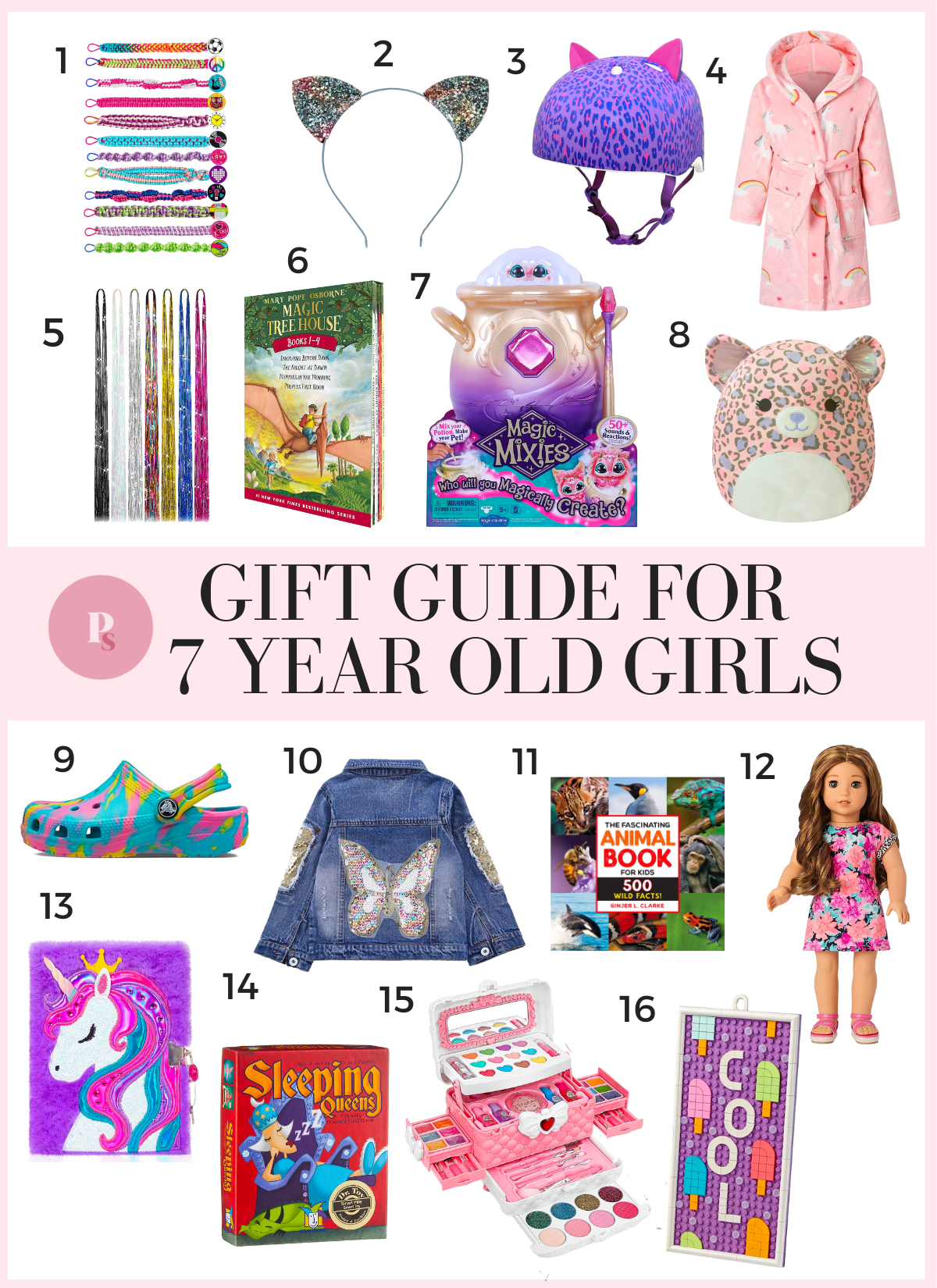 This post contains affiliate links.
Your girl will love making bracelets for both herself and her friends! This is a great gift for a crafty gal who loves doing kind things for her BFFs.
Kids these days really know how to express themselves. And part of that is in their hair accessories! These cat ear headbands are fun enough to show off their style, but not wild enough to distract anyone at school.
Safety first, but style second! Give your 7-year-old a helmet she'll be excited to wear, whether she's biking, scootering, roller skating or whatever other rough and tumble activity she likes.
She'll love getting cuddly after bathtime or for a spa day!
There are some stylish girls at elementary school, and I've noticed a lot of hair tinsel among them! It's a simple process you can do at home and makes a big impact.
What's better than seeing your kid really learn how to read by themselves? Buy her some big kid books that kids LOVE (or get some of your favorites from when you were a kid!).
Your daughter will never forget revealing her new Magix Mixie! There's a whole recipe for some misting magic that she will be super into.
There's something so sweet about these kids and their stuffed animals! Get her a Squishmallow (they come in all kinds of sizes), and it'll get lots of snuggles.
Love 'em or hate 'em, Crocs are here to stay! They're great casual shoes, for running outside for a minute or for after sports practices. Or for completing her outfit!
A denim jacket can complete any outfit, and this one has a little extra sparkle!
If you've got an animal lover, this book is a winner. Full of animal facts and pictures that she will get lost in.
If she loves dolls, get your 7-year-old a American Girl doll! You can get one that looks like her, or choose a historical one!
She's growing up, and she needs a space for all her private thoughts. Just fulfill your end of the bargain and don't peek!
This game seems complicated when you read the instructions, but it's so easy to get the hang of. The cards have fun creative characters with illustrations she'll love.
She certainly doesn't NEED makeup, but I bet she wants some! She'll have a blast trying out new looks on herself and even on you!
She can change this message board to match however she's feeling or just make it cute!
The Ultimate Gift Guide List
Want even more gift ideas for everyone on your list? Head to one of these!
Gift Guides for Grown Ups
Gift Guides for Kids, Tweens & Teens
Age Specific Gift Guides
Product Specific Gift Guides for Babies & Toddlers
Special Interest Gift Guides