We all know women can be the hardest people to shop for. We know what we like, and we can be picky about what we like too.
So whether you're shopping for your mom, wife, your mother-in-law or best friend, what do you buy them?
I've scoured the Internet, talked to women in my own life and am sharing the best gifts for Christmas, their birthday or any other special day. Because really, do we need a holiday to give a gift? I don't think so.
Gift Guide for Women 2022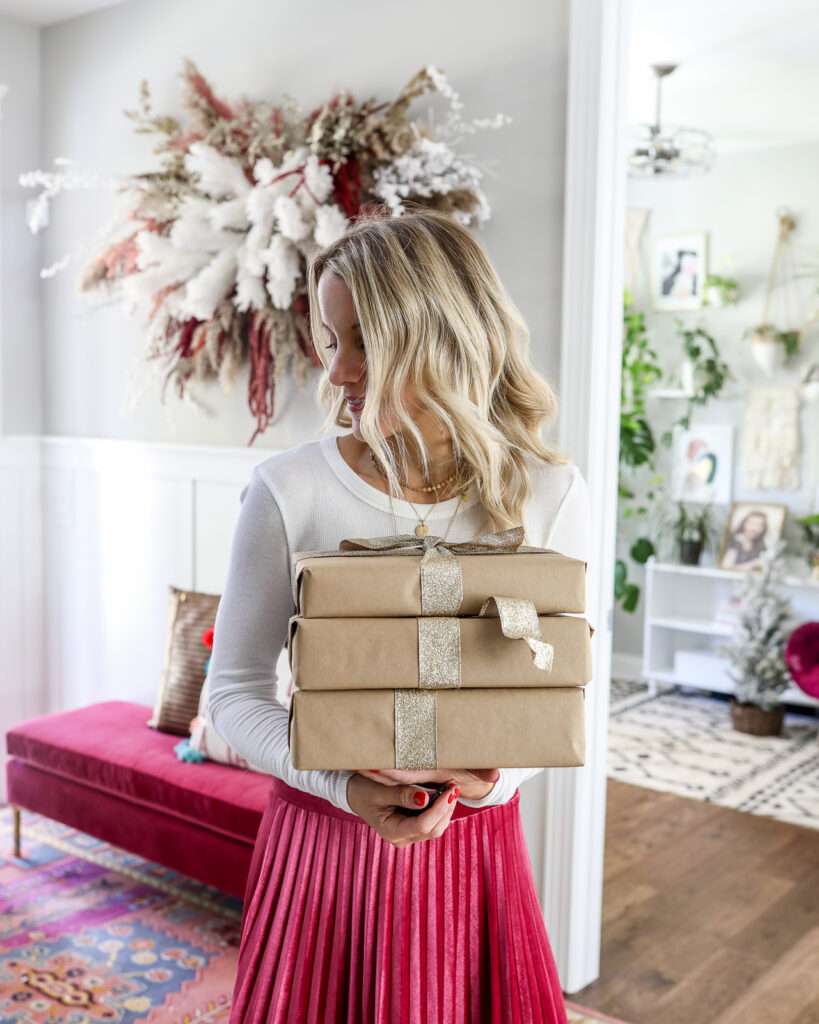 Paisley + Sparrow is a participant in the Amazon Services LLC Associates Program. This post may include affiliate links which means I may earn a small commission if you shop using the links below at no additional cost to you. 
There's two ways to use this guide. You can either shop the links directly below the collage if you spot something you know you want right away or you can keep scrolling to read more about each item.
Either way I hope you find the perfect gift for the women on your list!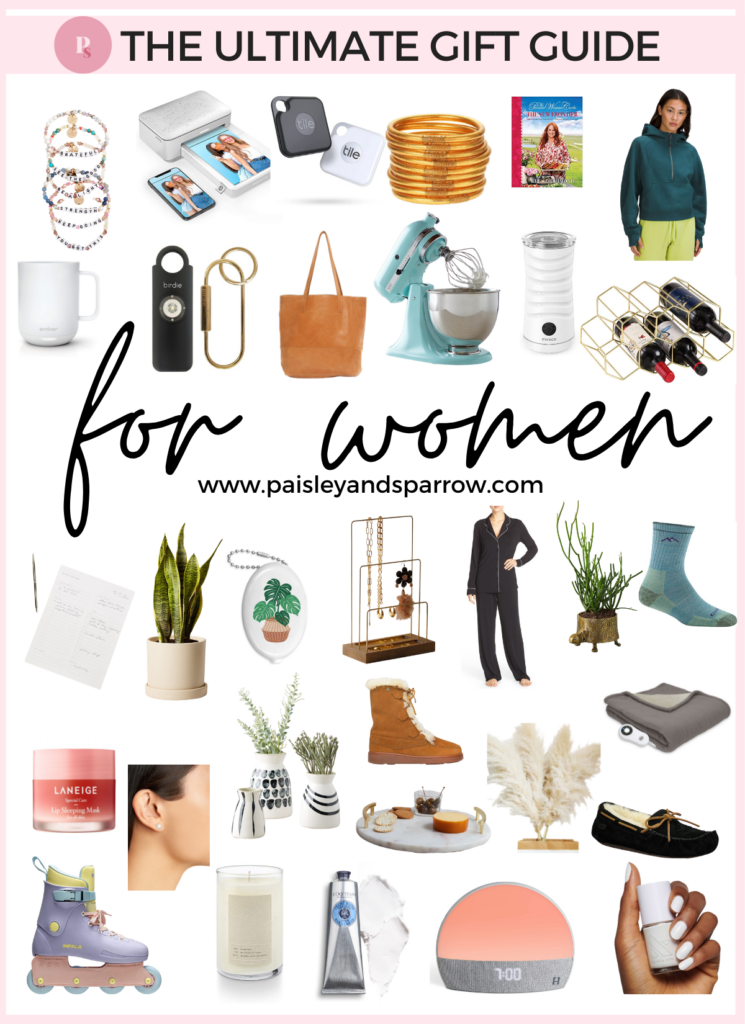 I love these motivational bracelets. You can order them to say whatever you want, so they're totally customizable for whoever you're gifting them to. Even cooler, you can register them and then pass them on to friends who need a boost. Then as it gets passed around to brighten people's days, you can see where the bracelet has been on its journey!
This is a popular piece of clothing for a reason! The Scuba hoodie is so comfortable and easy to move in, it's a perfect gift for those who love to work out or those who just want something easy and stylish for running errands.
Buy your favorite gal a few of these bracelets (in addition to the Little Words Project ones!) in different colors to add to (or start) her stacking bracelet collection.
These are great even for those who don't typically wear bracelets because they are pretty flat and contain elastic — that means they won't move around too much and don't require her to try to clasp them one-handed!
This hat is MAGIC — it looks amazing on everyone, even if they think they can't pull off a hat! It goes with everything, and even better, keeps the sun off your face and neck.
Any woman you know has felt unsafe out in the world at some point. This personal alarm is a great tool to give her a little more peace of mind, especially if she often has to walk to her car after dark or runs or walks alone. She can keep it on her key ring so it's with her wherever she goes.
5% of profits are donated to She's Birdie partner organizations that passionately support women's safety, shelter and health.
What does she love more than anything? Her family of course! And it doesn't hurt that they're all so adorable.
Give her a custom piece of art that showcases just how special her family is. This Etsy shop owner draws each portrait by hand to make sure every family is perfectly represented!
7. For All Her Essentials: Crossbody Bag
This is the perfect size bag for everyday use or running errands. I use this exact bag for my essentials. I also picked up this beautiful strap to customize it a bit!
It's the perfect way to beautifully never lose anything ever again!
Find more crossbody bags here!
8. For the One With a Sweet Tooth: Ice Cream Maker
Nothing is quite as tasty as homemade ice cream! If a woman on your list loves making treats in the kitchen, this is the perfect tool to add to her arsenal. Whether she makes it for her kids or for herself, it's sure to be a winner.
9. For the Busy Coffee Lover: Ember 14oz Mug
The Ember Mug is a busy woman's best friend. Is your wife always complaining about reheating her coffee five times a day? Or maybe your best friend just had a baby and could use warm coffee to get her through the newborn phase.
The Ember Mug solves every shoot-my-coffee-is-cold situation! It allows you to set your precise drinking temperature on your favorite drink and keeps it that temperature for 80 minutes if you're on-the-go (by using the battery) or all day if you use the coaster.
They have a new 14oz size, perfect for the coffee lovers on your list!
10. For Your Personal Paparazzo: Photo Printer
You know there are hundreds of great pictures just stuck on her phone. Make it easy to print out all those framers so she can display them proudly around the house!
This printer connects to her smartphone so she can instantly print high-quality 4×6 photos from her photo library or social media.
Wrap it up with a beautiful frame and some extra photo paper for a perfect present!
Know someone who loves to cook? This Smitten Kitchen cookbook is for them! Do you know someone who hates to cook? Again, this cookbook's for them!
My cousin is a great cook and it comes natural to her. (Lucky her.) I didn't get the cooking gene, unfortunately. So when she bought me this cookbook a few years ago I'll admit I wasn't super thrilled…to start.
But when I followed the step-by-step photos – I need very clear instructions, anyone else? – I was able to make a delicious meal, and I even loved the process of doing it!
I've literally loved every single thing I've ever made from this cookbook and bonus – there's a second Smitten Kitchen cookbook coming out in November! Get them both or just start with one, either way it'll be a hit!
12. For the Arm Candy Crusher: Budda Bangles
Looking for a set of bracelets that won't interrupt your daily life with all the clanging? Whether you're carrying babies or running a board meeting, these bangles will bring your style game up to the next level.
I own these and wear them all the time! From galas to the playground, they really are
13. For the One Who Always Loses Her Keys: Tile Trackers
If you've got a woman in your life who always loses her keys, you know it! She's always running late or frantically calling to ask if you've seen them! The Tile trackers take the stress out of the equation.
They can help find her keys or purse (or whatever she wants to attach it to) within 400 feet and can help find a lost phone even when it's on silent.
14. For the One Who Can't Have Too Many Necklaces: Initial Necklace
Initial necklaces gives you the opportunity to display something personal and meaningful close to your heart – literally.
The mom in your life would love the first letters of their children's names. Or how about a mantra, name of your home state or a meaningful word? And, of course, an initial is always a lovely option. Best yet, this beautiful Initial Necklace is made in the USA.
15. For the Fashionista…or the Everyday Kinda Girl: Nikes
I don't care of the woman you're buying for is a fashionista or not, Nikes are gift that can and will be loved by just about everyone!
I personally own more Nikes than I care to admit and love every single one. They're classy, timeless and in this day in age can literally go with everything from jeans to a ballgown! 😉
The ones I've linked are a pair that I own in 2 different colors. One I bought a few years ago during the Nordstrom sale and the others were gifted to me at Christmas by my own sister!
I know first-hand how practical this tote is: I own two different colors of Able's Mamuye Tote Bag and I bought one for my own mother last Christmas!
This beautiful bag is ethically made in both Ethiopia and Mexico and helps creates sustainable business for women. It's a simple design, with two straps and one interior pocket. I've had mine for years and it wears so well, but you could use leather conditioner on it.
Does a lady on your list love to bake? Or cook? KitchenAid Mixers are every girl's dream item whether they know it or not! They're an investment, for sure, but worth it since they last decades.
There's a reason KitchenAid Mixers been a kitchen staple for generations. They're small enough to not take up too much precious counter space but powerful enough to mix most everything.
18. For the Sparkle Lover: Jewelry Stand
Give her a head start on her New Year's Resolution of getting organized with this pretty jewelry stand. She can keep all her favorite pieces out where she can see them but ensure they don't get tangled up.
This stand holds necklaces, bracelets, and dangly earrings on the top and has spots for rings and other earrings in the base. You can even have a custom message engraved on the bottom!
19. For the Wannabe Latte Artist: Frother +Heater
Every coffee-loving girl needs a good milk frother. This milk frother not only creates foam, but it heats milk while it's at it. That means it's perfect for everything from lattes to hot chocolate and everything in between.
20. For the Wine Lover: Wine Rack
Every wine-loving lady needs a wine rack to keep her Cab Sauvs and Chenin Blancs organized! This wine rack is cute enough for your counter or slim and sleek enough to place inside a cabinet. Add a few bottles of wine to it and you have the perfect gift.
What can make her feel less stressed in her everyday life? A simple daily planner for all her to-do's as well as goals, meals and notes. Bonus for how gorgeous it is!
She can keep it on her desk at work or the counter at home and never wonder again what she's forgetting to do (OK, she'll still forget, but now she has a perfect place to write it down when she remembers!).
22. For the Plant Newbie: Snake Plant
Yes, I do have entire gift guide for plant lovers but even if she isn't plant obsessed, an easy to care for plant is always a thoughtful gift. I recommend a snake plant because it's incredibly easy to grow, can survive a bit of neglect and also cleans the air!
Pick up one of these, send along this snake plant care post and instruct her to put it in her bedroom because it produces a lot of oxygen at night. Not only will she be thrilled with her gift but impressed with your planty knowledge.
Do you remember these cute plastic change purses from when you were growing up? They make me nostalgic!
These vintage-inspired containers are great for anyone who appreciates retro design and can be used for coins, cash or even band-aids. Pair it with a gift card or just stick a sweet note inside to tell the recipient how much they mean to you!
If you live in a land of the cold your lady would love these! Even if she already owns five other pair of boots, you can never go wrong with upgrading her boot collection with a pair of stylish boots that will keep her feet ]
warm.
And let's be real, you may want to gift this to yourself. No more complaining about cold toes – these are a win/win/win!
No more sweats and ratty t-shirts! Everyone needs a sleek, chic set of pajamas. Even if not many people will see them, you'll feel like a million dollars while drifting off to sleep, which is so worth it.
Pick up something soft and cozy, like these Moonlight pajamas which have received over 1,000 great reviews.
26. For the Whimsical Decorator: Turtle Planter
You know I recommend more plants for everyone, but why not more planters too? There are so many cute and unique options out there, no matter the decorating style.
This gold turtle planter is a little unexpected and a lot chic. Plant lovers can use it for their plant babies, and black thumbs can use it for a fake plant!
When it comes to socks, all the women in my family are extremely picky. And seeing as though we live in Minnesota, where it's freezing cold half of the year, we hate cold feet!
We discovered Darn Tough socks a few years ago. They're made in Vermont and have a 100% guarantee behind them. Once we started buying them, we haven't stopped.
One of my pairs got a hole in them, so I sent them back and, per their promise, they sent me a replacement pair within a couple weeks.
I picked up a jar of Laneige's lip sleeping mask a few months ago and don't know how I ever slept without it! It's a super hydrating leave-on mask that both soothes and moisturizes your lips overnight.
This is the perfect stocking stuffer for your wife or a sweet little add on for your favorite babysitter.
29. For the One Who Always Loses Her Earrings: Cubic Zirconia Earrings
It's OK if you can't afford diamonds — cubic zirconia means you can get more glitter for your gold, and she can wear them everywhere without worrying about losing them! These are great everyday earrings that can be dressed up or down.
*Find more cubic zirconia earrings here!
Have a friend who always has fresh flowers in her home? This beautiful set of vases will add some class to their florals all year round.
We own this set and I love using it for farmer's market flowers in the summer, greenery from our Christmas tree in the winter and even just empty on our shelves to add some beautiful elements of decor. We've owned these for years and they still love them.
We all know that one gal who has the magic touch when it comes to charcuterie. Every board is the perfect balance of artistry and flavor.
This marble and brass board is great as part of a display for a big party or perfect for date night. Grab her favorite bottle of wine or wedge of cheese to go with it!
Pampas grass is one of the most beautiful on trend items right now. For good reason: they add a gorgeous texture, look and feel to any room!
Pick up this bunch whether or not the woman on your list has pampas grass already. If they do, I guarantee they'll want some more (and in these pretty hues) and if not, it's a great way to introduce them to such a fun, feathery bouquet!
My sister is the queen of electric throw blankets and let me tell you, if you know someone who is constantly curling up with a blanket or complaining about being too cold, you need to get this for them.
It's a reversible throw with five different heat settings for total and complete comfort!
34. For the Woman Who Loves Stylish Comfort: UGG Slippers
Trust me when I say that you can't go wrong with a pair of UGG Slippers. I got a pair before my first baby (who is now 6!) was born and I still wear and love them.
They're super durable, incredibly cozy and have over 3,000 amazing reviews. They come in a variety of colors and fit true to size. (Whole sizes only, so size up if you're in between sizes.)
35. For the One Who Likes to Move Her Body: Roller Blades
If you've got a woman in your life that's looking for a hobby, an excuse for some time alone, or fun ways to get some exercise, roller blades will be a great surprise. It might just take her all the way back to the roller rink birthday parties of her childhood.
Impala has the cutest colors and matching safety gear, so she'll look great even if she hasn't gotten the hang of skating just yet!
36. For the Host with the Most: Illume Candle
One of my go-to scents this year has been Illume's Vetiver Sage candle. It's a beautiful, refreshing scent that I have yet to get sick of.
Illume is a Minnesota-based company that believes in making products that bring beauty to life. They have a ton of beautiful scents in gorgeous holders.
This amazing Shea Butter Hand Cream is sold every two seconds around the world! That tells you how amazing it is. It's enriched with 20% organic shea butter to protect, nourish and moisturize your hands.
I've been using this for years and absolutely love it. It's the perfect gift for teachers, neighbors or your BFF.
38. For the One Who Hates Her Alarm: Hatch Restore
I finally bought this and it truly is all that's its cracked up to be! 😉 We've have a Hatch Rest for our kids for years and we love them so I finally splurged on the Hatch Restore for myself.
The Hatch Restore is a sound machine, smart light, personal sleep routine, bedside reading light, wind down machine and sunrise alarm clock all in one!
For anyone who hates waking up abruptly to an alarm clock, this gentle wake up will make their mornings so much better.
39. For the Beauty Queen: Olive & June
If you follow me on Instagram you know my love for O&J. Their manicure system is what every girl needs in their life for the perfect at home mani.
Splurge and gift her the mani system with a full set of colors or just get her started with a few basics, I promise she will LOVE this gift!
Use code Jenb20 for 20% off a full system!
For anyone who hates waking up abruptly to an alarm clock, this gentle wake up will make their mornings so much better.
Want FREE Christmas gift tags? I created 64 beautiful gift tags that can be used not only for Christmas but every holiday! They're free to download!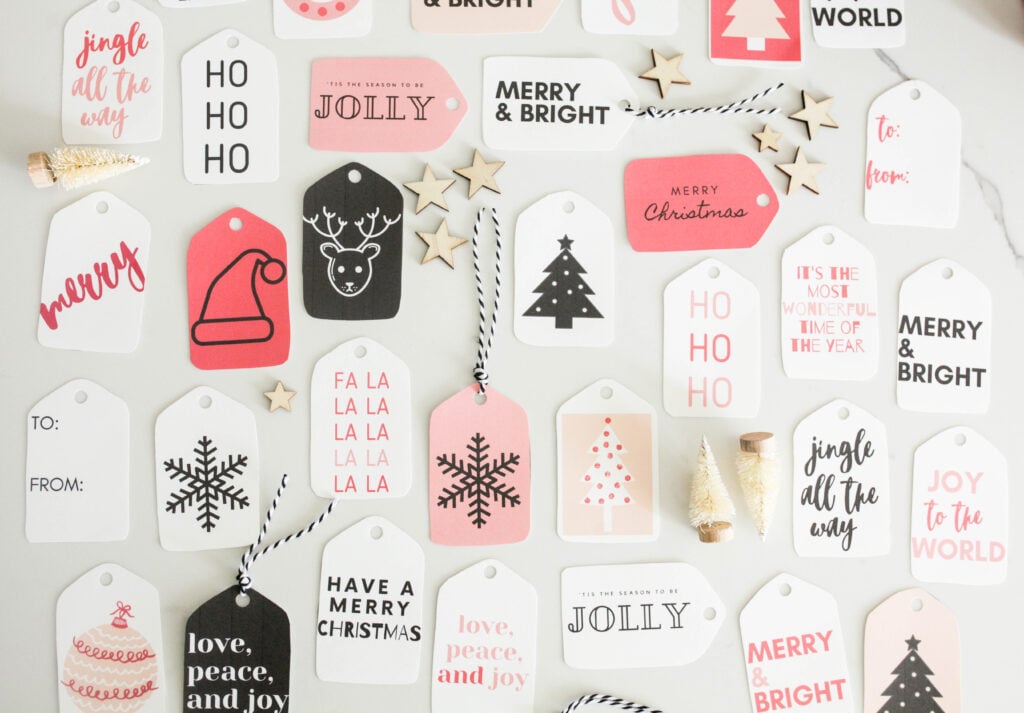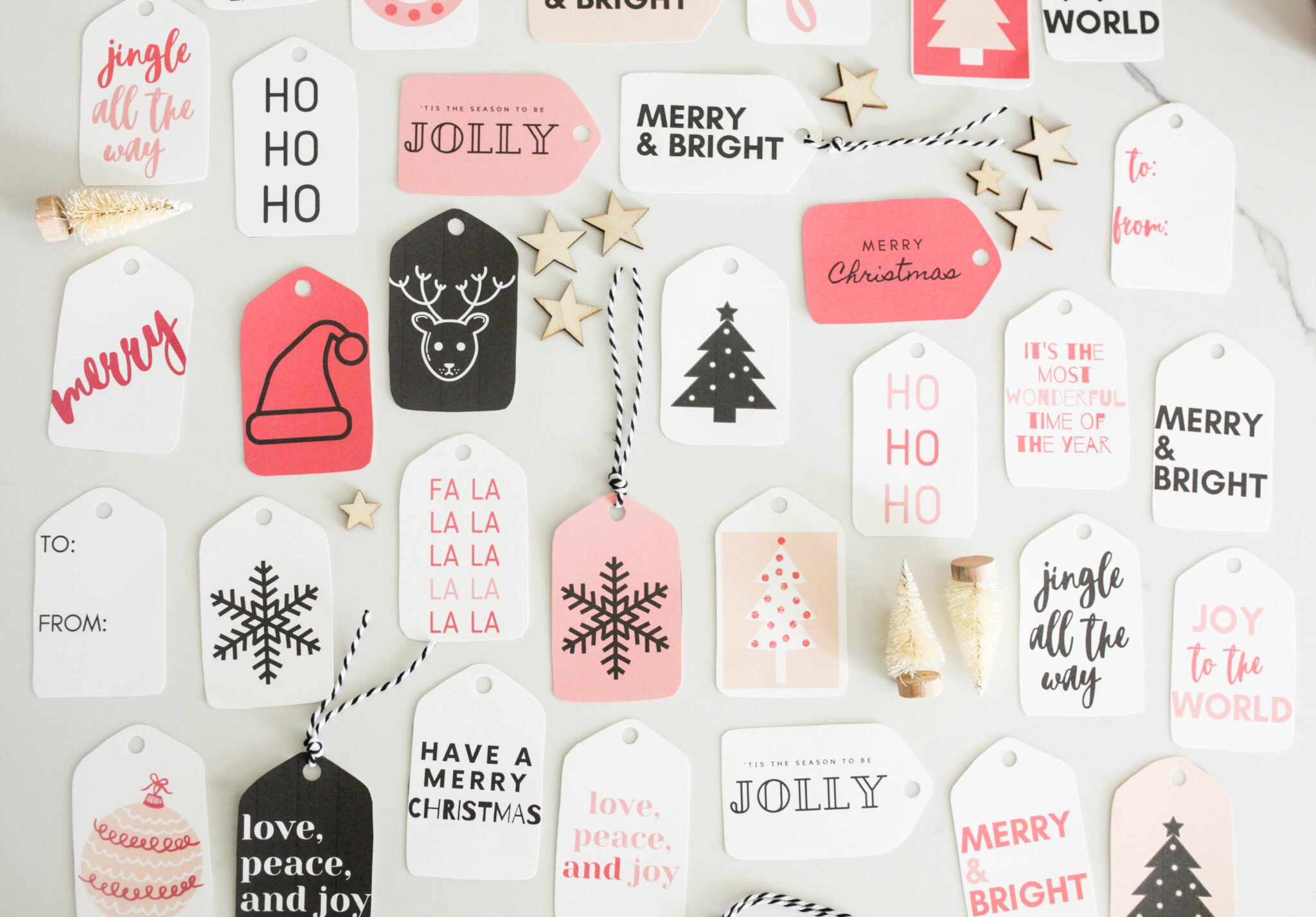 Get your gift cards in your inbox!
Enjoy!