We all know women can be the hardest people to shop for. We know what we like, and we can be picky about what we like too. So whether you're shopping for your mom, wife or best friend, what do you buy them?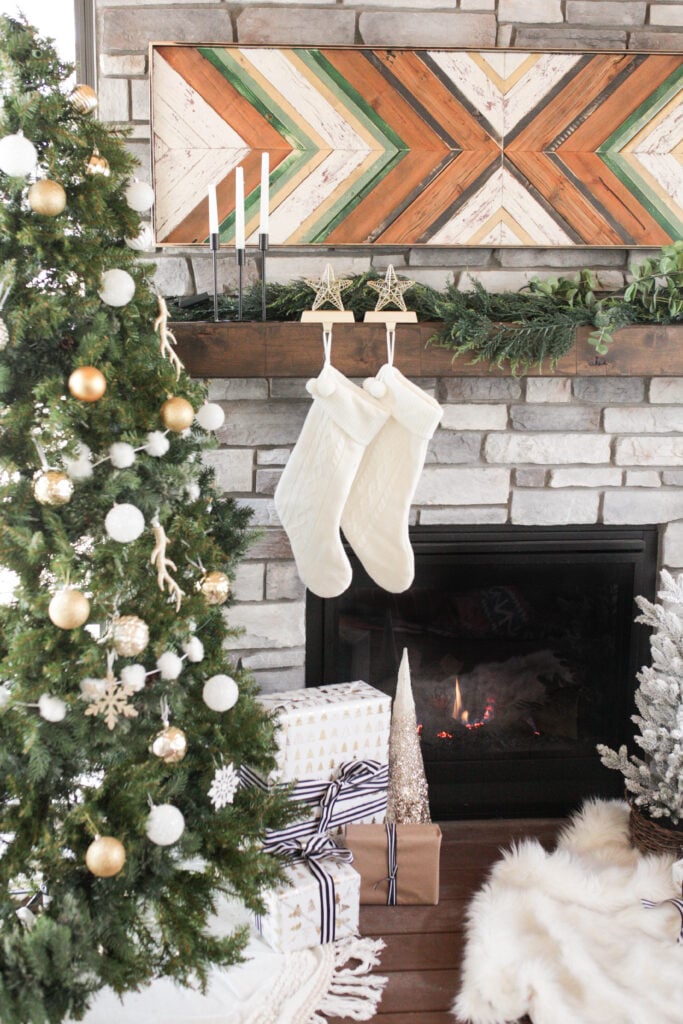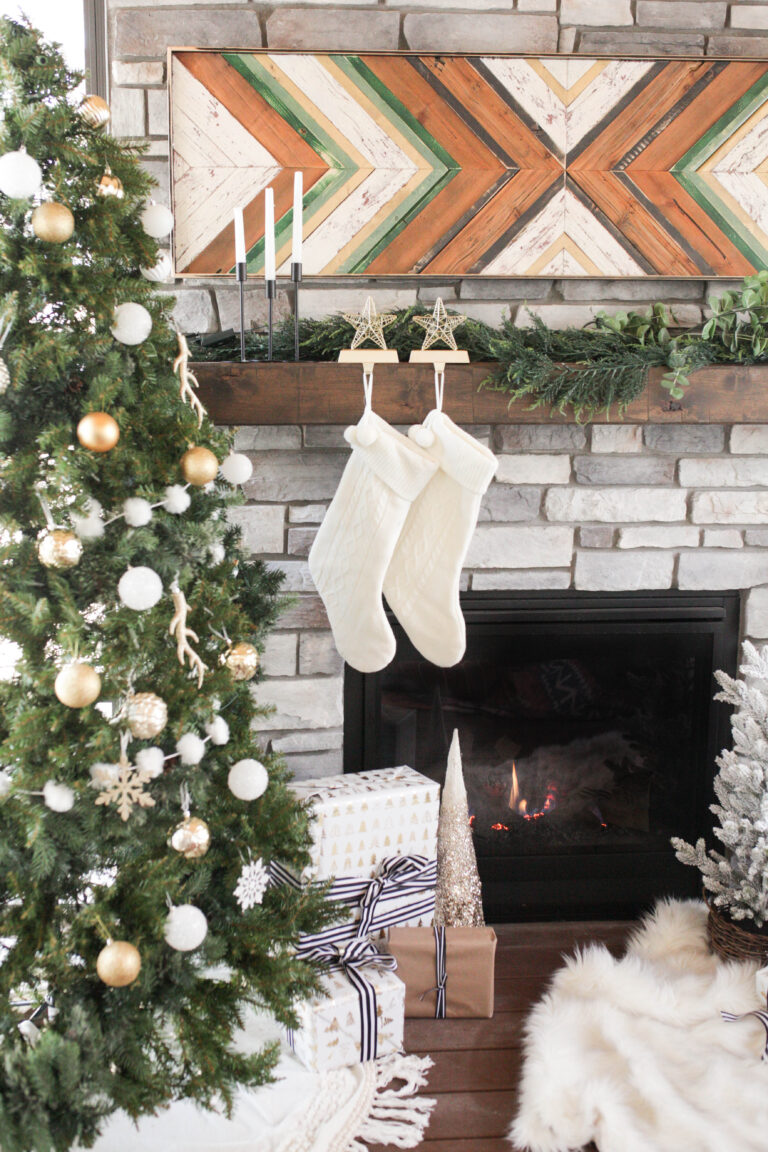 I've scoured the Internet, talked to women in my own life and am sharing the best gifts for Christmas, their birthday or any other special day. Because really, do we need a holiday to give a gift? I don't think so.
Gift Guide for Women 2020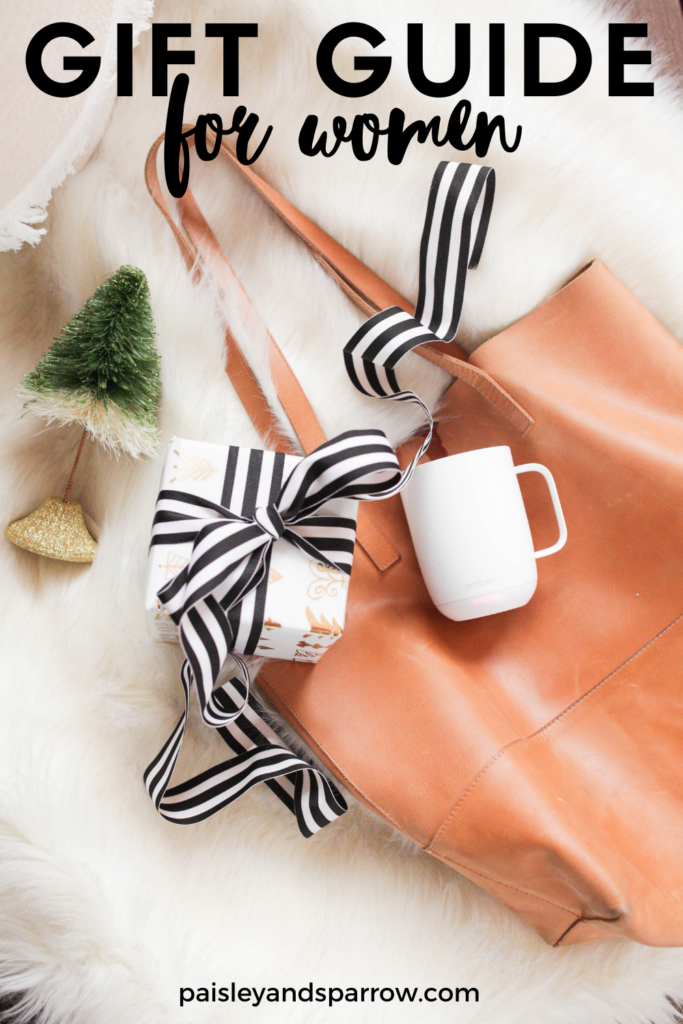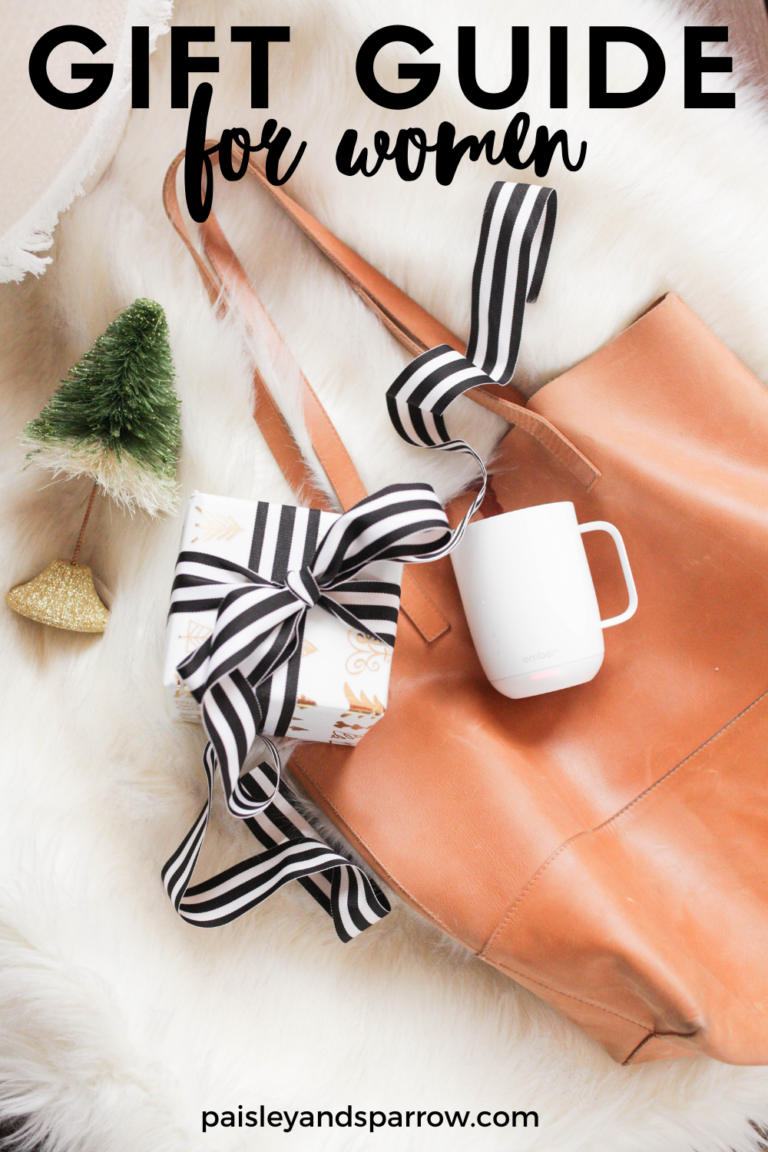 Paisley + Sparrow is a participant in the Amazon Services LLC Associates Program. This post may include affiliate links, which means I may earn a small commission if you shop using the links below at no additional cost to you. Thank you for supporting me and this blog!
There's two ways to use this guide. You can either shop the links directly below the collage if you spot something you know you want right away or you can keep scrolling to read more about each item.
Either way I hope you find the perfect gift for the women on your list!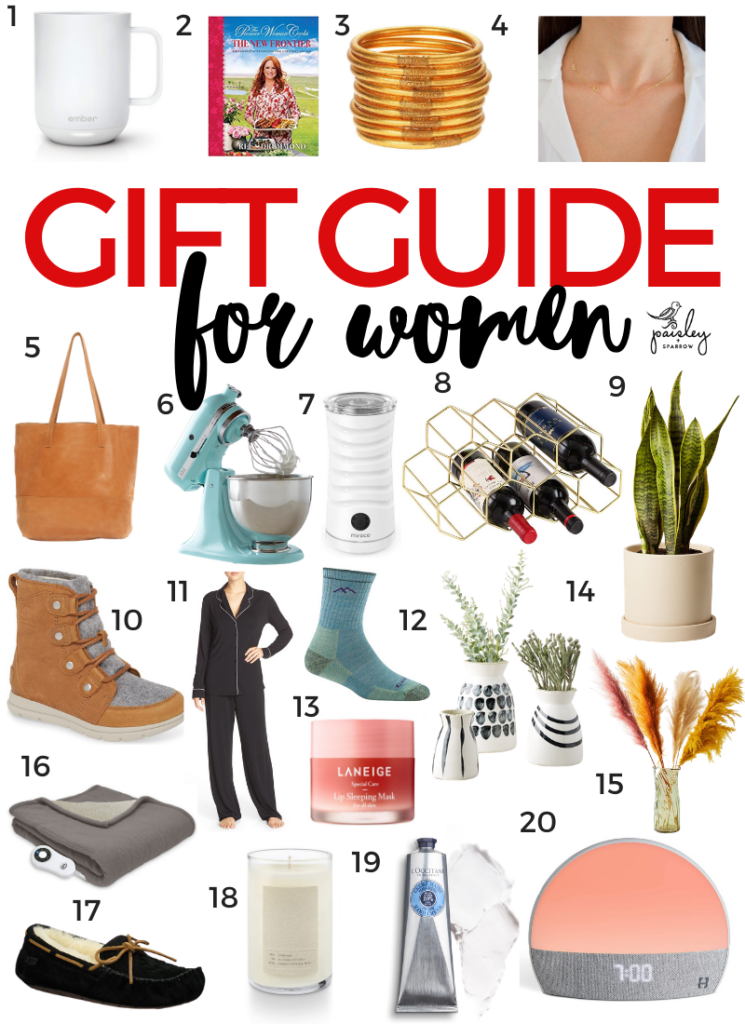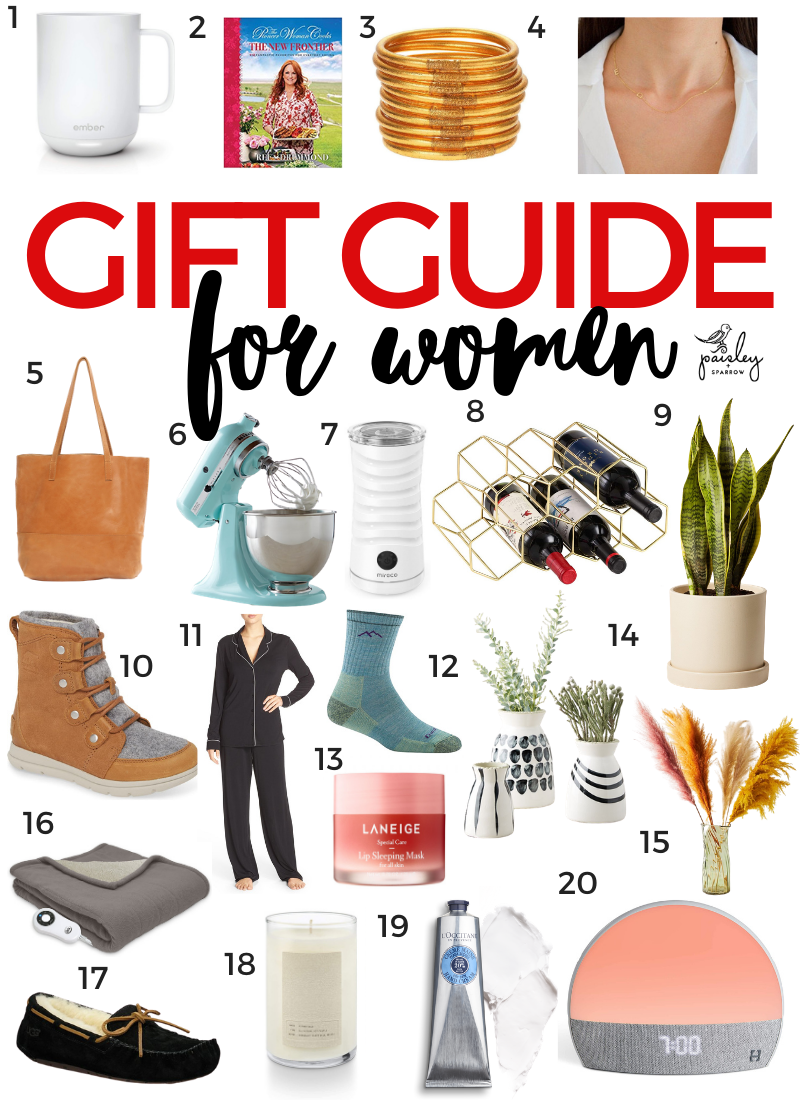 1. Ember 14oz Mug, Ember // 2. The Pioneer Woman Cookbook, Pioneer Woman // 3. Budda Bangles, BuDhaGirl // 4. Initial Necklace, Gold Hill Jewelry // 5. Mamuye Tote Bag, Able // 6. KitchenAid Mixer, KitchenAid // 7. Frother + Heater, Miroco // 8. Wine Rack, Amazon // 9. Snake Plant, Sill // 10. Joan Waterproof Boot, Sorel // 11. Moonlight Pajamas, Nordstrom // 12. Darn Tough Socks, Darn Tough // 13. Lip Sleeping Mask, Laneige // 14. Handpainted Vase Set, Anthropologie // 15. Dried Pampas Grass Three-Stem Bouquet, Anthropologie // 16. Electric Throw Blanket, Amazon // 17. Slippers, UGG // 18. Candle, Illume // 19. Shea Butter Hand Cream, L'Occittane // 20. Hatch Restore, Hatch
1. For the Busy Coffee Lover: Ember 14oz Mug
The Ember Mug is a busy woman's best friend. Is your wife always complaining about reheating her coffee five times a day? Or maybe your best friend just had a baby and could use warm coffee to get her through the newborn phase.
The Ember Mug solves every shoot-my-coffee-is-cold situation! It allows you to set your precise drinking temperature on your favorite drink and keeps it that temperature for 80 minutes if you're on-the-go (by using the battery) or all day if you use the coaster.
They have a new 14oz size, perfect for the coffee lovers on your list!
Know someone who loves to cook? The Pioneer Woman cookbook is for them. Do you know someone who hates to cook? Again, this cookbook's for them!
My sister is a great cook and it comes natural to her. (Lucky her.) I didn't get the cooking gene, unfortunately. So when my sister bought me this cookbook for my birthday I'll admit I wasn't super thrilled…to start.
But when I followed the step-by-step photos – I need very clear instructions, anyone else? – I was able to make a delicious meal, and I even loved the process of doing it!
3. For the Arm Candy Crusher: Budda Bangles
Looking for a set of bracelets that won't interrupt your daily life with all the clanging? Whether you're carrying babies or running a board meeting, these bangles will bring your style game up to the next level.
4. For the One Who Can't Have Too Many Necklaces: Initial Necklace
Initial necklaces gives you the opportunity to display something personal and meaningful close to your heart – literally.
The mom in your life would love the first letters of their children's names. Or how about a mantra, name of your home state or a meaningful word? And, of course, an initial is always a lovely option. Best yet, this beautiful Initial Necklace is made in the USA.
I know first-hand how practical this tote is: I own two different colors of Able's Mamuye Tote Bag and I bought one for my own mother last Christmas!
This beautiful bag is ethically made in both Ethiopia and Mexico and helps creates sustainable business for women. It's a simple design, with two straps and one interior pocket. I've had mine for years and it wears so well, but you could use leather conditioner on it.
Does a lady on your list love to bake? Or cook? KitchenAid Mixers are every girl's dream item whether they know it or not! They're an investment, for sure, but worth it since they last decades.
There's a reason KitchenAid Mixers been a kitchen staple for generations. They're small enough to not take up too much precious counter space but powerful enough to mix most everything.
7. For the Wannabe Latte Artist: Frother + Heater
Every coffee-loving girl needs a good milk frother. This milk frother not only creates foam, but it heats milk while it's at it. That means it's perfect for everything from lattes to hot chocolate and everything in between.
This frother gets almost 5,000 5-star reviews, so they're definitely doing something right.
8. For the Wine Lover: Wine Rack
Every wine-loving lady needs a wine rack to keep her Cab Sauvs and Chenin Blancs organized! This wine rack is cute enough for your counter or slim and sleek enough to place inside a cabinet. Add a few bottles of wine to it and you have the perfect gift.
9. For the Plant Newbie: Snake Plant
Yes, I do have entire gift guide for plant lovers but even if she isn't plant obsessed, an easy to care for plant is always a thoughtful gift. I recommend a snake plant because it's incredibly easy to grow, can survive a bit of neglect and also cleans the air!
Pick up one of these, send along this snake plant care post and instruct her to put it in her bedroom because it produces a lot of oxygen at night. Not only will she be thrilled with her gift but impressed with your planty knowledge.
If you live in a land of the cold you're lady would love these! Even if she already owns five other pair of boots, you can never go wrong with upgrading her boot collection with a pair of stylish boots that will keep her feet dry and warm.
And let's be real, you may want to gift this to yourself. No more complaining about cold toes – these are a win/win/win! Find tons of colors on Amazon.
No more sweats and ratty t-shirts! Everyone needs a sleek, chic set of pajamas. Even if not many people will see them, you'll feel like a million dollars while drifting off to sleep, which is so worth it.
Pick up something soft and cozy, like these Moonlight pajamas which have received over 1,000 great reviews.
When it comes to socks, all the women in my family are extremely picky. And seeing as though we live in Minnesota, where it's freezing cold half of the year, we hate cold feet!
We discovered Darn Tough socks a few years ago. They're made in Vermont and have a 100% guarantee behind them. Once we started buying them, we haven't stopped.
One of my pairs got a hole in them, so I sent them back and, per their promise, they sent me a replacement pair within a couple weeks.
I picked up a jar of Laneige's lip sleeping mask a few months ago and don't know how I ever slept without it! It's a super hydrating leave-on mask that both soothes and moisturizes your lips overnight.
This is the perfect stocking stuffer for your wife or a sweet little add on for your favorite babysitter.
Have a friend who always has fresh flowers in her home? This beautiful set of vases will add some class to their florals all year round.
We own this set and I love using it for farmer's market flowers in the summer, greenery from our Christmas tree in the winter and even just empty on our shelves to add some beautiful elements of decor. We've owned these for years and they still love them.
Pampas grass is one of the most beautiful on trend items right now. For good reason: they add a gorgeous texture, look and feel to any room!
Pick up this three-stem bouquet whether or not the woman on your list has pampas grass already. If they do, I guarantee they'll want some more and if not, it's a great way to introduce them to such a fun, feathery bouquet!
My sister is the queen of electric throw blankets and let me tell you, if you know someone who is constantly curling up with a blanket or complaining about being too cold, you need to get this for them.
It's a reversible throw with five different heat settings for total and complete comfort!
17. For the Woman Who Loves Stylish Comfort: UGG Slippers
Trust me when I say that you can't go wrong with a pair of UGG Slippers. I got a pair before my first baby (who is now 4!) was born and I still wear and love them.
They're super durable, incredibly cozy and have over 3,000 amazing reviews. They come in a variety of colors and fit true to size. (Whole sizes only, so size up if you're in between sizes.)
18. For the Host with the Most: Illume Candle
One of my go-to scents this year has been Illume's Vetiver Sage candle. It's a beautiful, refreshing scent that I have yet to get sick of.
Illume is a Minnesota-based company that believes in making products that bring beauty to life. They have a ton of beautiful scents in gorgeous holders.
This amazing Shea Butter Hand Cream is sold every two seconds around the world! That tells you how amazing it is. It's enriched with 20% organic shea butter to protect, nourish and moisturize your hands.
I've been using this for years and absolutely love it. It's the perfect gift for teachers, neighbors or your BFF.
20. For the One Who Hates Her Alarm: Hatch Restore
This is on my personal wish list! We have a Hatch Rest for our kids and it's the best thing ever. The Hatch Restore is a sound machine, smart light, personal sleep routine, bedside reading light, wind down machine and sunrise alarm clock all in one!
For anyone who hates waking up abruptly to an alarm clock, this gentle wake up will make their mornings so much better.