Looking for the best heated eyelash curler? Keep reading to find out my personal favorite curler and tips for using one.
You use heat to curl your hair — why not your eyelashes?
If a traditional eyelash curler isn't giving you quite enough curl, it's time to try out a heated eyelash curler. It's like a curling iron for your lashes!
Heated eyelash curlers are quick (seriously, just a matter of seconds), and the results will last longer than with traditional curlers.
Here are my top picks for the best heated eyelash curlers out there that will give you the beautiful lashes you want. Whether you have extra straight long lashes that you want to curl or you just want to enhance your natural curl a little bit, you're going to love these heated curlers over your regular eyelash curler.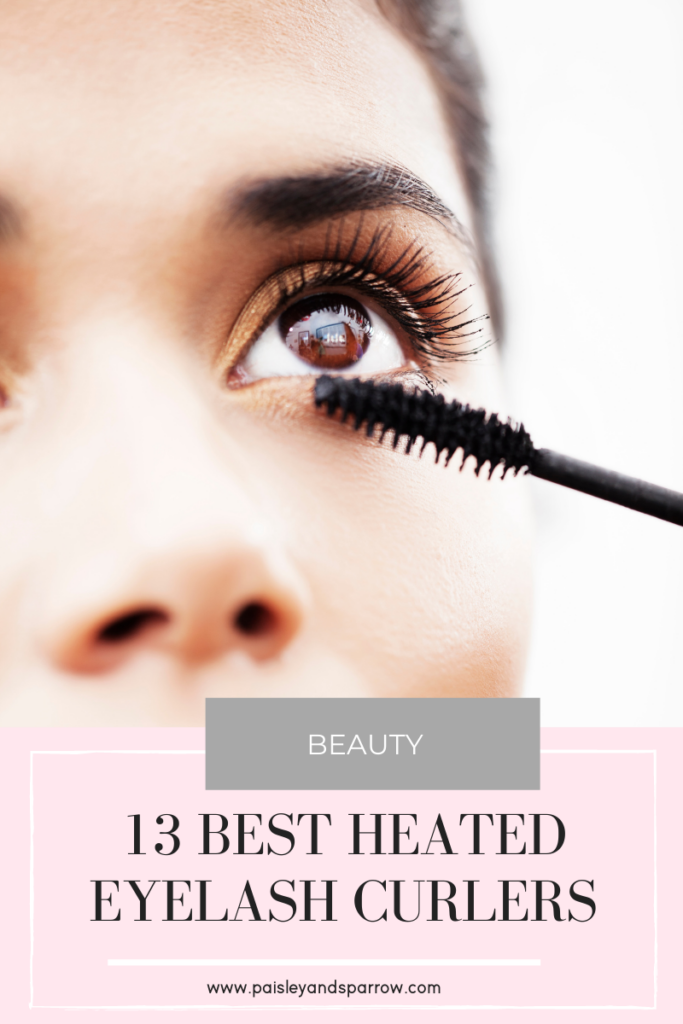 Paisley + Sparrow is a participant in the Amazon Services LLC Associates Program. This post may include affiliate links which means I may earn a small commission if you shop using the links below at no additional cost to you. 
Things to Consider
Keep these things in mind when you're deciding which heated curler to buy.
Battery
The best lash curlers should stay charged for a while. You don't want to have to charge it or put in replacement batteries every time you use it.
There are USB-powered curlers with built-in batteries that are rechargeable with a USB cable.
Or you can go for traditional replaceable batteries. Battery-powered curlers are less environmentally friendly than a rechargeable battery, so that's something to consider if that's important to you. Most battery-powered curlers take AA or AAA batteries.
I personally use one that is USB powered and it holds it's charge for so long! I rarely need to charge it.
Safety Features
Heated eyelash curlers never reach the point of scalding, so your lashes shouldn't get burned. However, to ensure safety, go for curlers that are covered with a thermal protective cap or heat protection groove.
Look for other features like uniform heating, insulated brushes, and a heat protectant layer to keep your eyes and fragile lashes from being damaged. Quick heating and automatic switch-off features after a certain working time also enhance the safety of these devices.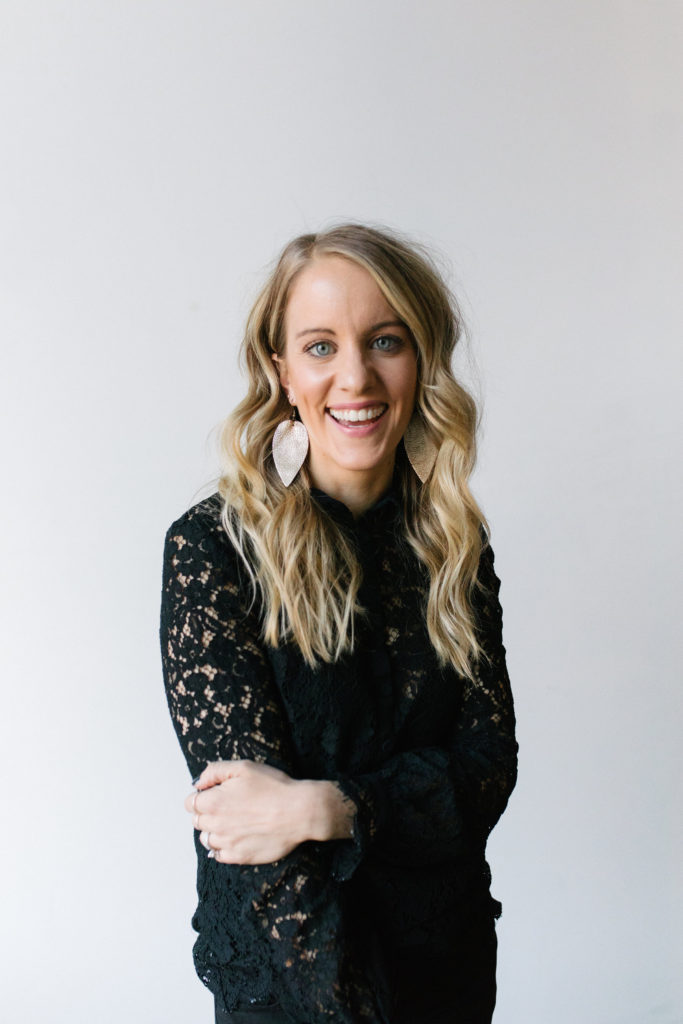 Temperature Settings
To cater to different eyelashes, a curler with variable temperature options and heat settings is ideal. Thermal protection slots control the temperature and prevent overheating to keep it at the optimum temperature.
Some devices have two or three temperature settings depending on how curled you want your eyelashes to be. Adjustable temperature settings protect the eyelid from heat.
It makes sense to choose a design with a well-designed temperature control system. You can also look for a curler with an LED display to detect temperature easily.
One thing to note – just like too much heat on your hair is a bad thing, same thing goes for your eyelashes. You don't want to hold the eyelash curler on your eyelashes for too long or you could damage your lashes!
Price
Heated eyelash curlers are generally more expensive than traditional eyelash curlers. You can find them from anywhere between $15 and $40, while the cheapest regular curlers are under $5. However, if you are looking for quick and long-lasting results, heated curlers are worth it!
Style
Many people don't like the traditional clamp eyelash curler and are worried about pinching the delicate skin on their eyelids or accidentally pulling out eyelashes. If that's you, you might feel more comfortable with the comb design of many heated eyelash curlers.
But if you like the clamp style and just want to try heated versions to get a more intense curl, there are clamp heated options too.
Top Heated Eyelash Curlers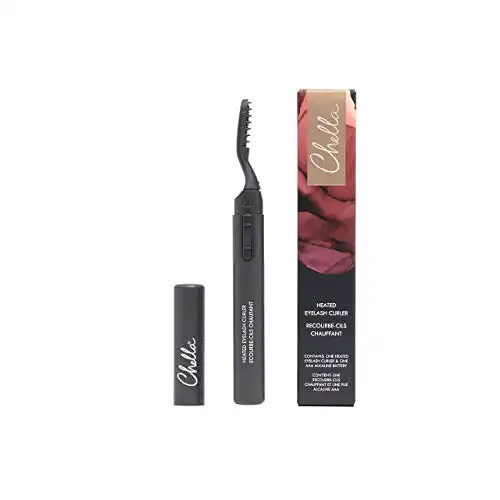 We earn a commission if you make a purchase, at no additional cost to you.
If you want to achieve long and beautiful eyelashes with minimal effort, the Chella Heated Eyelash Curler is a good pick for you.
This is the one that I personally own and use. I love it!
Pros
The Chella is portable and travel-friendly so you can take it in your purse or car. And it's safe and easy to use. Reviewers report that it heats up quickly and the results last longer than a traditional curler, and it's just $22.
Cons
Some reviews say it takes a little longer to curl the lashes correctly.

We earn a commission if you make a purchase, at no additional cost to you.
Use the Panasonic heated eyelash curler for an easy and safe way to curl your lashes for a day at the office or a night out. The non-stick silicone head heats lashes evenly for long-lasting curl.
Pros
The Panasonic curler evenly distributes gentle heat and is easy to use. And when you're done, just put the protective cap on and you're ready to take it on the go with you. This model is also easy to clean — just run the silicone head under water.
Cons
The manufacturers estimate the battery will last for 21 uses, so you'll be changing the battery every few weeks if you use it daily. It takes one AA battery.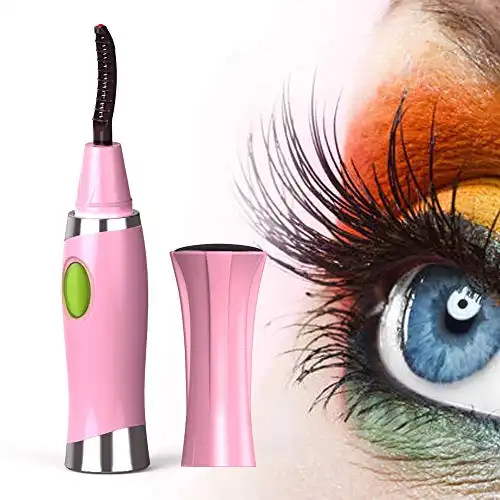 We earn a commission if you make a purchase, at no additional cost to you.
This rechargeable eyelash curler has a lot of features that make it a great choice. A curved head, nickel-chromium alloy and two temperature settings, to name a few.
Pros
It only takes 10 to 30 seconds for this curler to heat up, so you don't have to add a lot of time to your makeup routine.
The ZLiME heated eyelash curler is also great for different eye shapes and lash type. The curved head means it fits eye shapes that flat heads don't work for, and the two temperature settings let you choose a lower setting for thin lashes and the hotter setting for thick lashes.
Cons
While most people find that this curler works well, the instructions that come with it are hard to understand. The protective cap also comes off easily, so use care if taking this one on the go.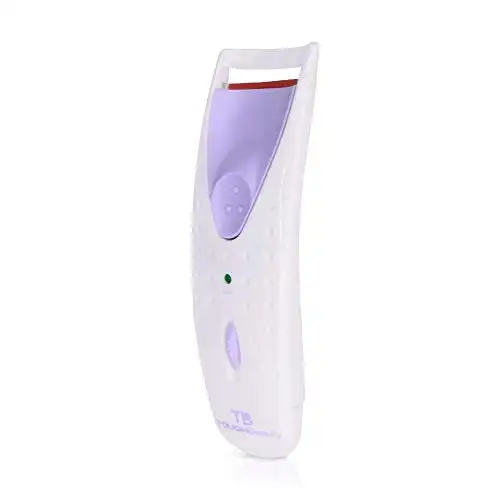 We earn a commission if you make a purchase, at no additional cost to you.
If you're handy with the clamp style curler but just want extra curl, this heated curler is a great choice. The silicone pad heats up and then you use it like a traditional curler.
Pros
Since it clamps like a traditional curler, it's easy to use it if you're used to the clamp style. The silicone pad protects your eyelashes from too much heat and changes color to let you know the tool is hot.
Cons
It takes a little practice to get all your eyelashes in the curler for best results. And many reviewers say the battery life is pretty short. It requires two batteries rather than a single AAA battery like many others.
The 4 in 1 heated eyelash curler by Jasleku is every makeup fanatic's dream tool set. It comes with a curler, an eyelash separator, precision tweezers, and a comb.
Pros
You get your money's worth with so many tools included in your purchase. The three temperature modes work well for whatever style you're trying to achieve, and the results last all day.
This one shuts off after 15 minutes as an added safety feature.
Cons
The clip style of the heated curler isn't like a normal clamp or a wand, so it takes some getting used to.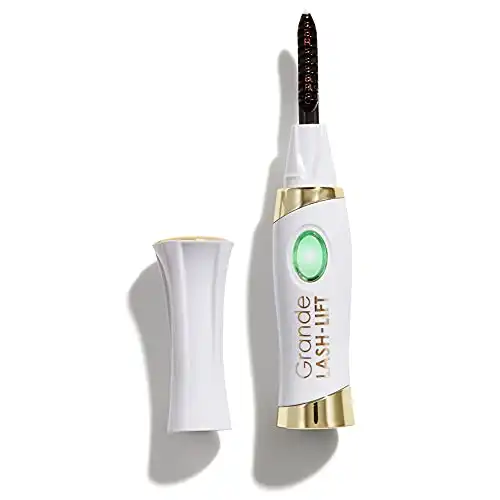 We earn a commission if you make a purchase, at no additional cost to you.
This rechargeable option has two temperature settings and will give you long-lasting results. Combined with your favorite mascara, this tool will help create long, lush lashes.
Pros
Similar to a tube of mascara, this eyelash curler is small and portable. Since it's rechargeable, you won't be running through batteries constantly.
Cons
Each charge is estimated to only last about 2 hours, so you'll need to plug it in often. It's also on the more expensive end of the spectrum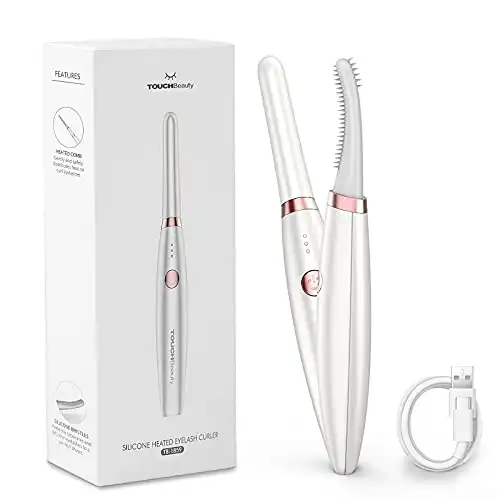 We earn a commission if you make a purchase, at no additional cost to you.
This rechargeable heated eyelash curler is great to have in your bag when you are on the move. It is easy to use and gives quick, long-lasting results.
Pros
This $25 eyelash curler is rechargeable and has three temperature settings, so you can find what works best for your lashes. The ergonomic design makes it easy to use, and the staggered length of bristles help comb through lashes to keep them from clumping.
Cons
The body is not water-proof so you have to be careful when cleaning. Many reviewers had trouble getting mascara off of the wand.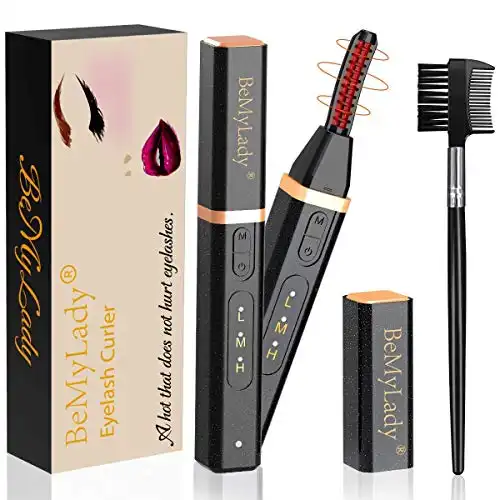 We earn a commission if you make a purchase, at no additional cost to you.
To achieve long and natural-looking eyelashes without going the extra mile, use the heated eyelash curler by Wu-Minglu. It's easy to use, works on most eye shapes, and can be used on the go.
Pros
If you want your beauty tools to match your personality, this curler gives you lots of color options. It heats up quickly and comes with a lash comb to get rid of clumps.
It's also rechargeable, so you don't need to keep purchasing batteries.
Cons
The square shape of the tool makes it a little bulky to hold.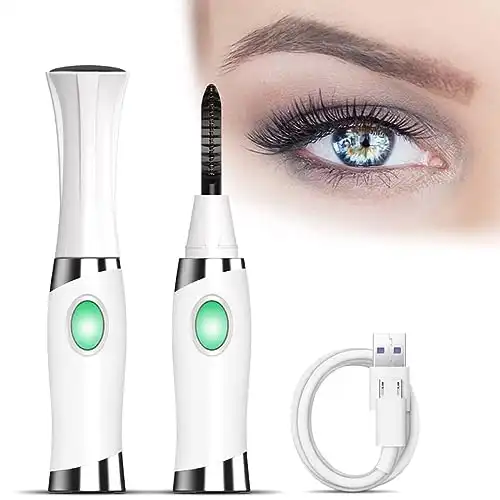 We earn a commission if you make a purchase, at no additional cost to you.
Curling your eyelashes has never been this easy. Use the curler by Peipai for gorgeous, long eyelash curls.
Pros
This easy-to-use curler heats up fast and provides long-lasting curls. It has two temperature settings and is rechargeable.
Cons
Some reviewers report it takes longer to heat up in cool temperatures.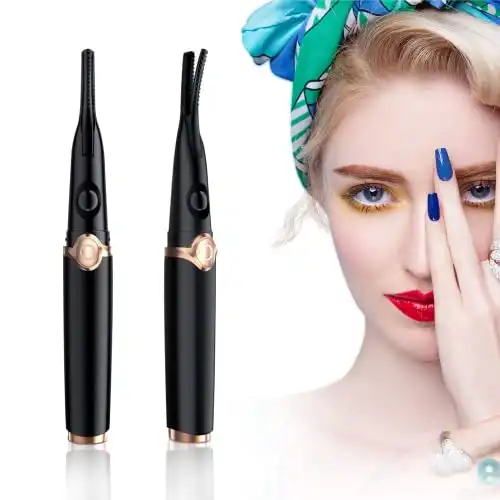 We earn a commission if you make a purchase, at no additional cost to you.
This is a 3-in-1, rechargeable curler kit that comes along with a clip and a comb. An accompanying mini lash curler helps achieve natural curling and long-lasting results.
Pros
One of the least expensive options on our list, this little kit is a great value, portable, and safe. The heated eyelash curler has three temperature modes.
Cons
It's a clip style curler, which might have a bit of a learning curve compared to a wand.
We earn a commission if you make a purchase, at no additional cost to you.
There is nothing better than a heated eyelash curler that facilitates easy application and is easy to clean and maintain. The one by Canvalite is just that!
Pros
If you're looking for more control over the temperature, the Canvalite has the most heat options with four temperature modes. The curler is rechargeable.
Cons
The instructions are difficult to understand.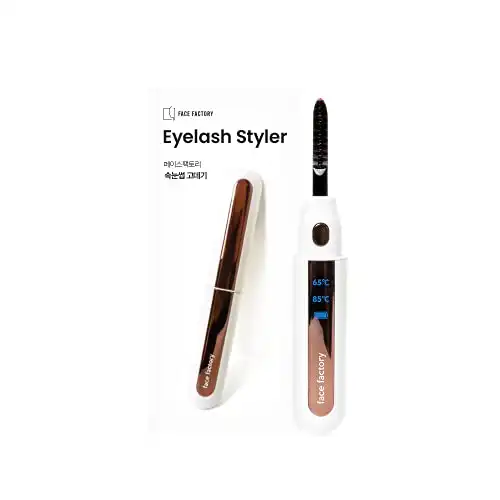 We earn a commission if you make a purchase, at no additional cost to you.
This sleekly designed eyelash curler gives you results in seconds! You can pop it in your bag, but you won't need it because the curl will last all day.
Pros
Charge your heated eyelash curler with a USB cord. Its two temperature settings, as well as the battery level, can be seen clearly on the LED display.
Cons
This is one of the most expensive curlers on our list at almost $40.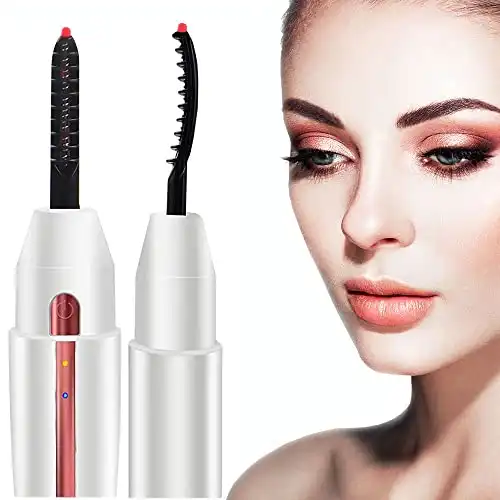 We earn a commission if you make a purchase, at no additional cost to you.
The silicone head of BYVUTE's eyelash curler makes it a good option for beginners — less risk of burns and easier to clean! It is an eyelash comb making it super easy to get the perfect curl without having to worry about clamping it.
Pros
This option has 3 temperature settings, and the lights on the side let you easily see which heat mode you're using. The silicone head is waterproof so it can be run under water. The curved head makes it easy to use.
Cons
Some reviewers found that it didn't create a noticeable curl or the curls didn't last all day.
How To Use a Heated Eyelash Curler
Here's how to use the wand style of heated eyelash curler, step by step. Consult the user manual for your specific curler before trying it for the first time.
Turn the curler on and let it heat up. Most options have a green light or other heat indicator to let you know when it's ready.
Start at the base of your lashes and comb toward the ends.
Hold the comb on the ends of your lashes for a few seconds while pushing back slightly to create a curl.
Do this for the middle, inside and outside sections of your lashes.
Apply mascara if you want.
Benefits of Heated Eyelash Curler
A few benefits make heated eyelash curlers a very popular makeup tool:
They curl your lashes faster compared to regular eyelash curlers.
The gentle heat isn't damaging to lashes, and it gives you curl without pulling on them like with a traditional clamp curler.
They give the illusion of bigger eyes by ensuring that the lashes remain curled, lifted, and voluminous for longer.
Heated eyelash curlers are a game-changing product that can give you stunning results. On those days when you don't have the time for an elaborate makeup routine, just using your heated eyelash curler will give you the boost you need.
Frequently Asked Questions
Can you use a heated eyelash curler without mascara?
Yes, a heated eyelash curler can be used without mascara. If your goal is to look awake and fresh with bare minimum makeup, use the curler without mascara.
Will a heated eyelash curler damage your lashes?
A heated eyelash curler should not damage your lashes. If you feel like your tool gets too hot (especially if you have fine lashes), use a lower setting. A clamp style heated curler may pull out lashes if used incorrectly, just like traditional curlers sometimes do.
How do you clean a heated eyelash curler?
Some heated eyelash curlers can be cleaned by rinsing them gently under running water with some mild soap. Others are not waterproof, and you should use a small brush to remove any mascara or other debris.
Read your curler's instructions to see how to clean it.
Do I use a heated eyelash curler before or after mascara?
For optimal results, curl your lashes first and then apply your mascara. Mascara sometimes becomes clumpy or melts onto the curler, so it's typically best to apply after curling.