Did you know it's super important to clean makeup brushes, especially the ones you use every day? Washing your makeup brushes can feel like a daunting task so I wanted to give you super simple steps to make it as easy as can be!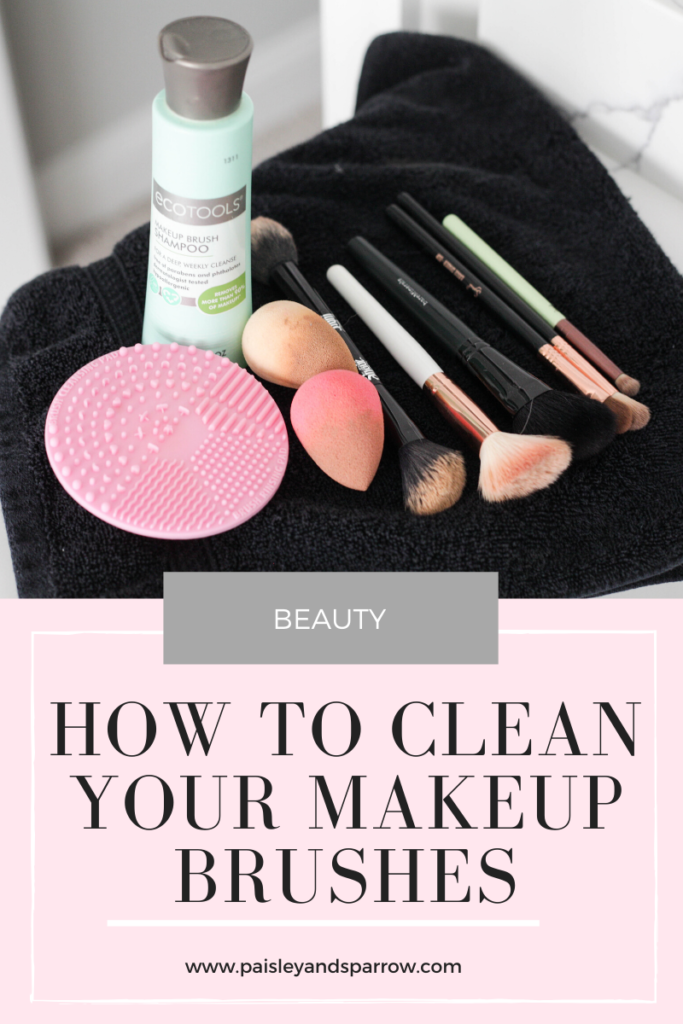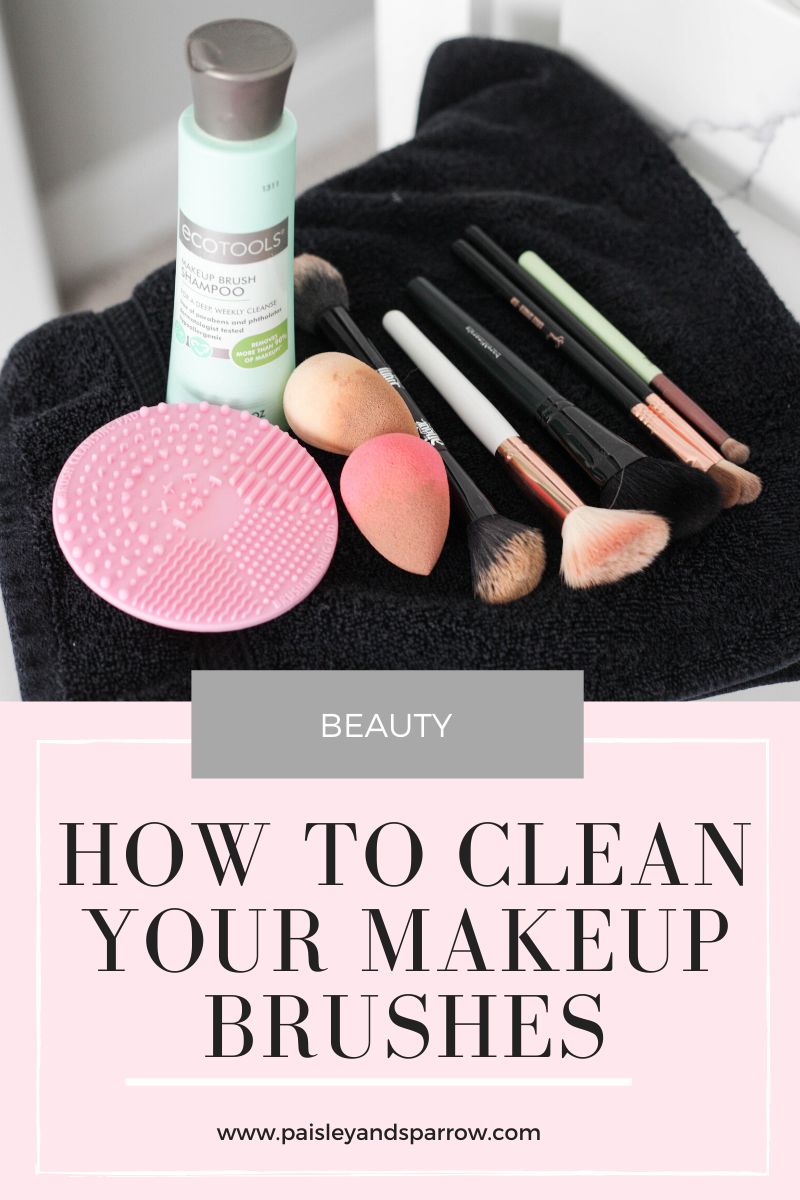 Please note: Paisley + Sparrow is a participant in the Amazon Services LLC Associates Program. This post may include affiliate links which means I may earn a small commission if you shop using the links below at no additional cost to you.
Thanks so much for supporting me and this blog!
Why Cleaning Your Brushes is Important
But first, let's talk about why it's so important to clean those brushes! Sometimes having a little motivation makes doing a not so fun task a little more enticing. 😉
Your brushes are some of the most important tools you have! Keeping your brushes in great shape is vital to applying your makeup well and preventing things like acne breakouts or rashes.
How Often Should I Clean My Makeup Brushes?
The general rule of thumb is to clean them once or twice a week at a minimum. This help prevent product buildup and keep those brushes in great shape!
Brushes that are used for liquid or cream makeup ideally should be cleaned after every use. According to Sabina Wizemann from the Good Housekeeping Institute, these types of brushes are more prone to harbor bacteria that can cause infections.
What Should I Use to Clean Them?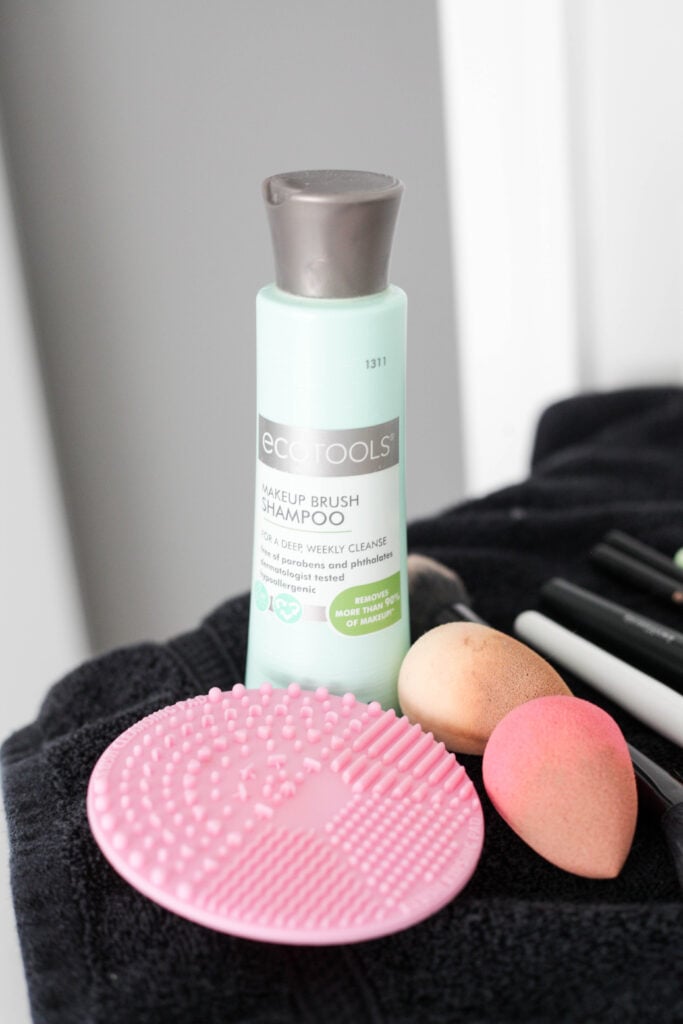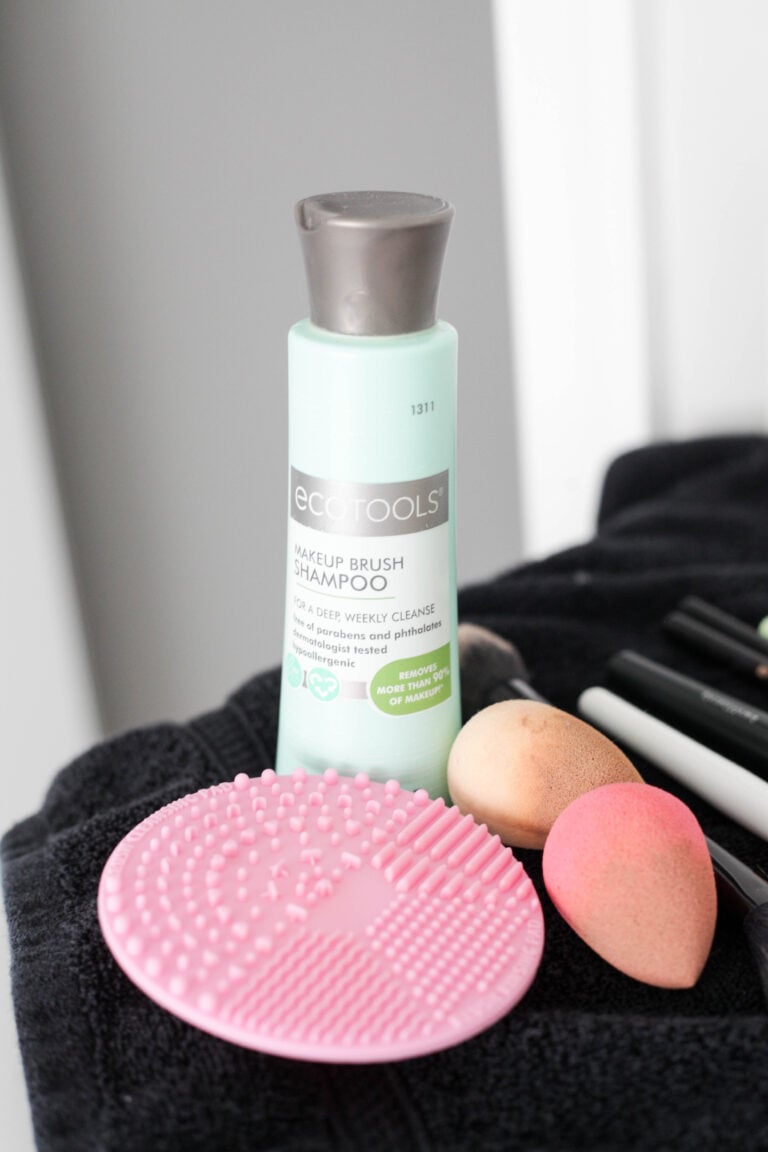 There's a variety of things you can use. You can use baby shampoo, dish soap or makeup brush cleaner!
I personally picked up a bottle of EcoTools Makeup Brush Shampoo and it's lasted me forever.
I also picked up this brush cleaning mat from Amazon and it made a huge difference in how well my brushes get clean (and how easy it is!). It was the best $6 I've spent. This is definitely not a necessity but it's nice to have!
Pro tip – ton't use the cleaning mat for your BeautyBlenders! Use your hand for those so you don't tear them up.
How to Clean Makeup Brushes
Cleaning your makeup brushes really isn't that difficult. Here is a simple, step by step look at how to do it!
1. Wet the bristles.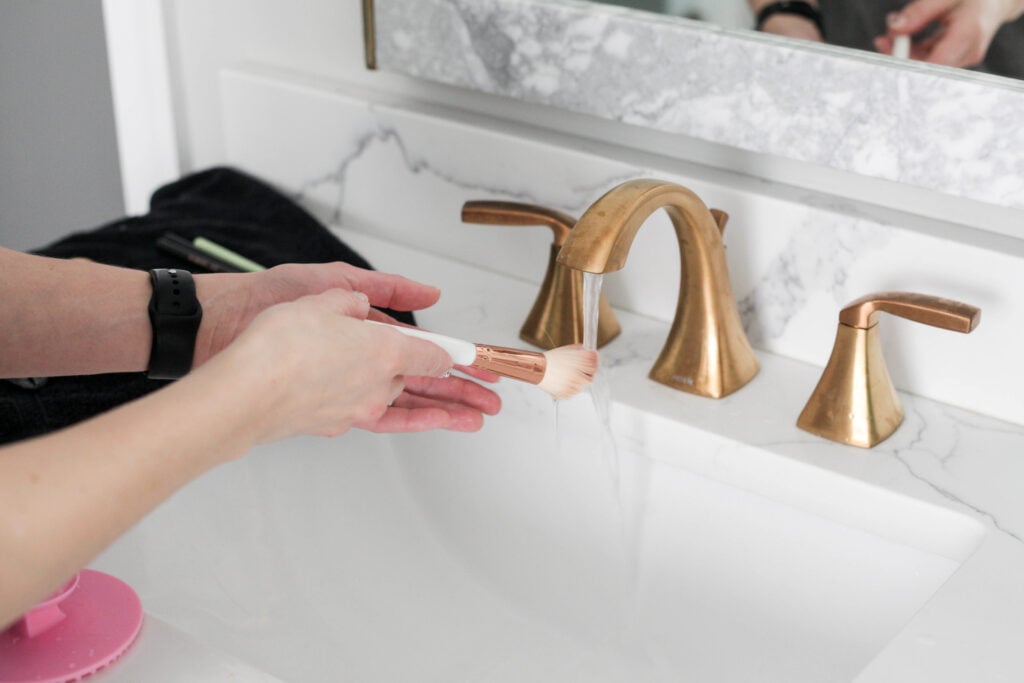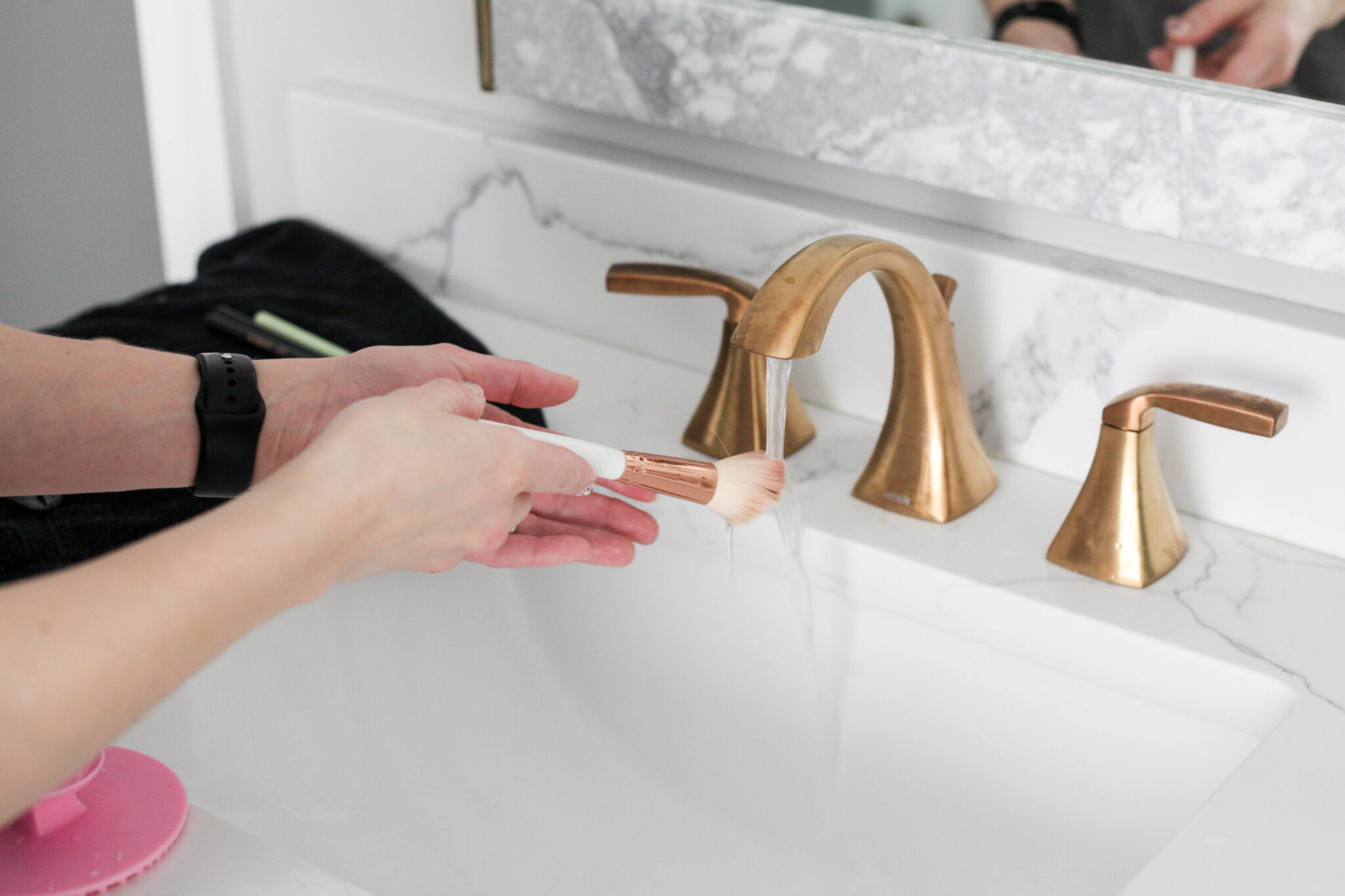 Be sure to use lukewarm water and do your best to not get the water above the handle of the brush. That could damage it and loosen the glue which holds the bristles over time.
2. Pour a small amount of soap onto hand or cleaning mat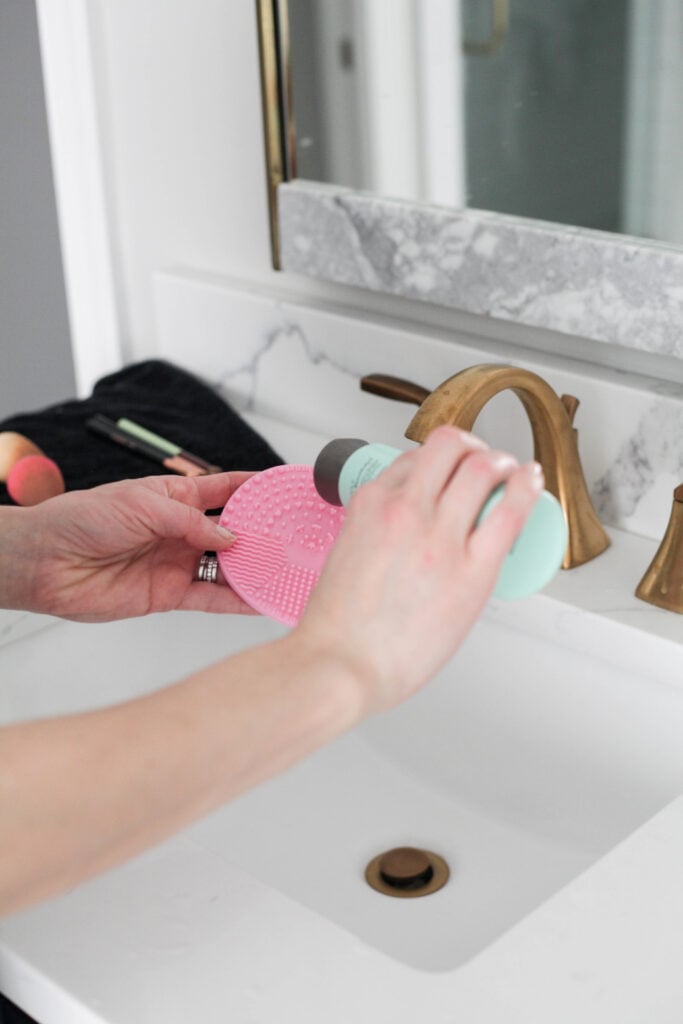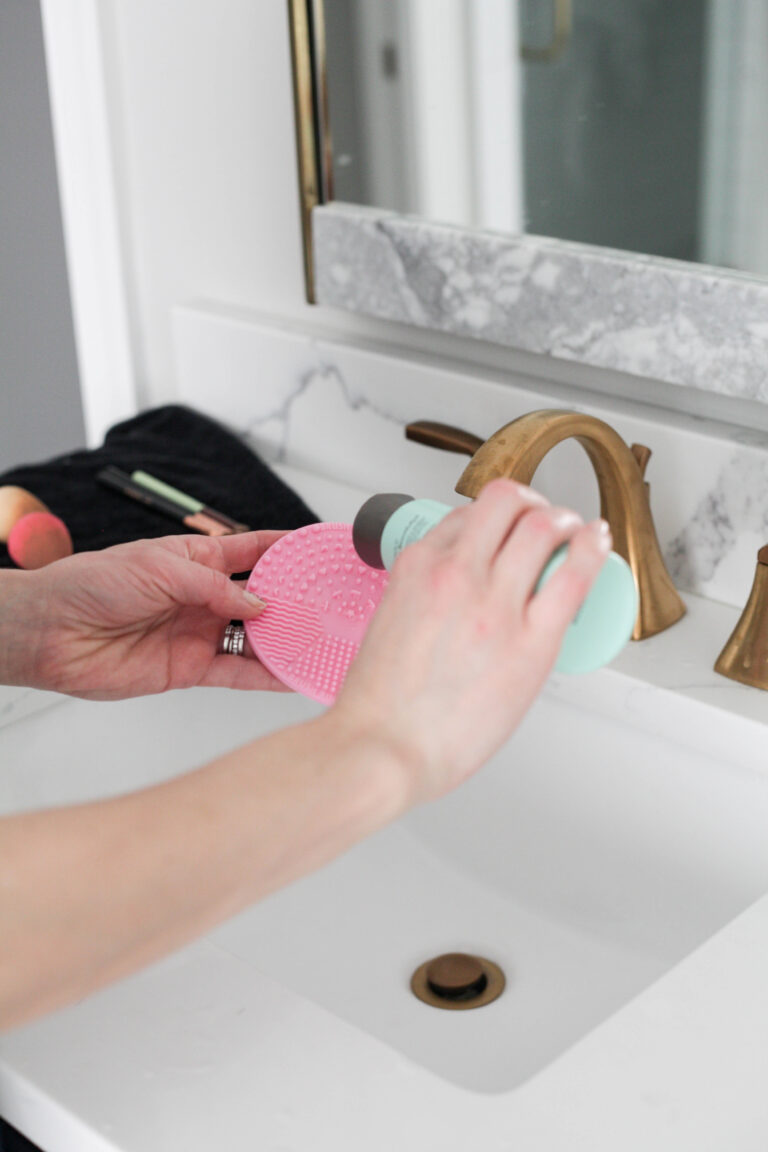 Put a small dollop of cleaning solution on your mat or in your hands. Start with just a small amount, because a little bit goes a long way and you an always add more!
3. Massage tip of brush onto mat/hand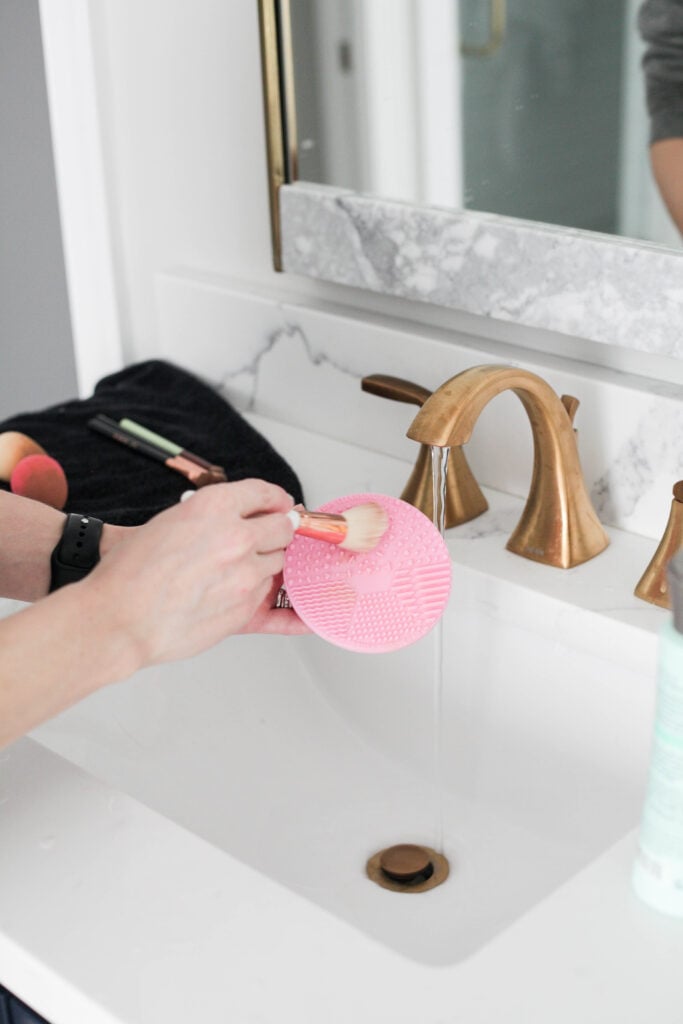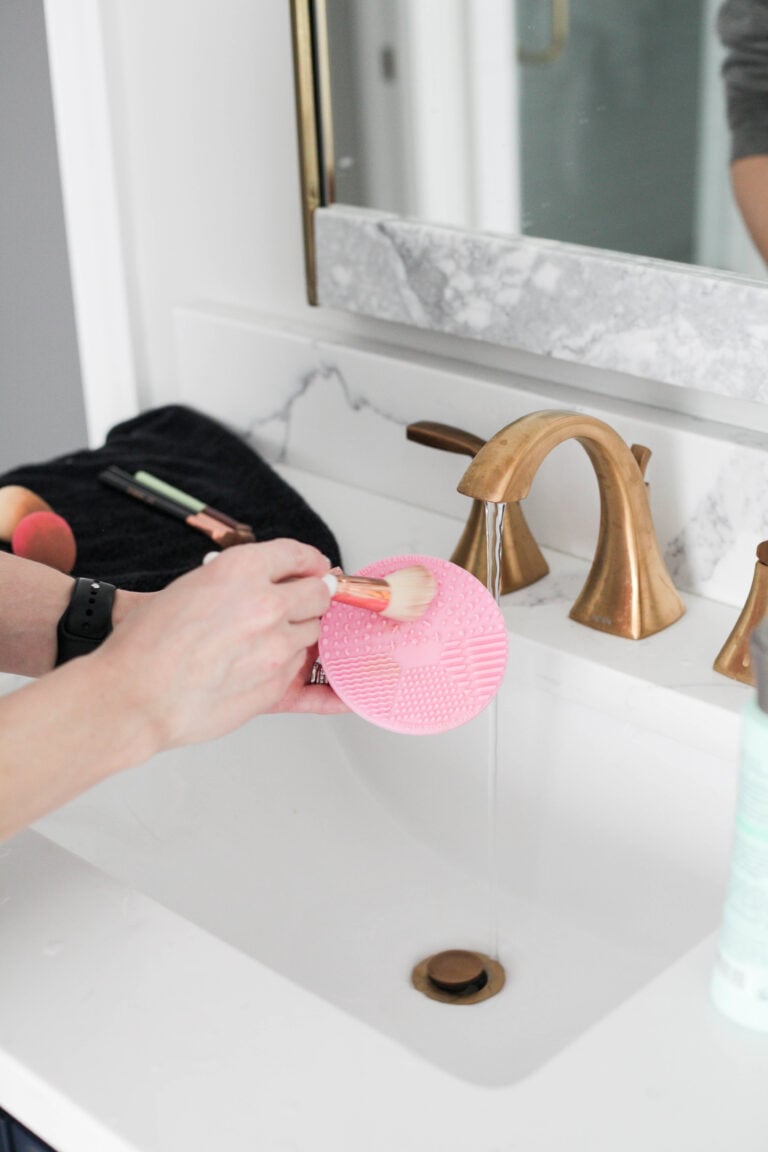 Swipe the brush over the soap and swirl it around to clean all the makeup off.
4. Rinse with water.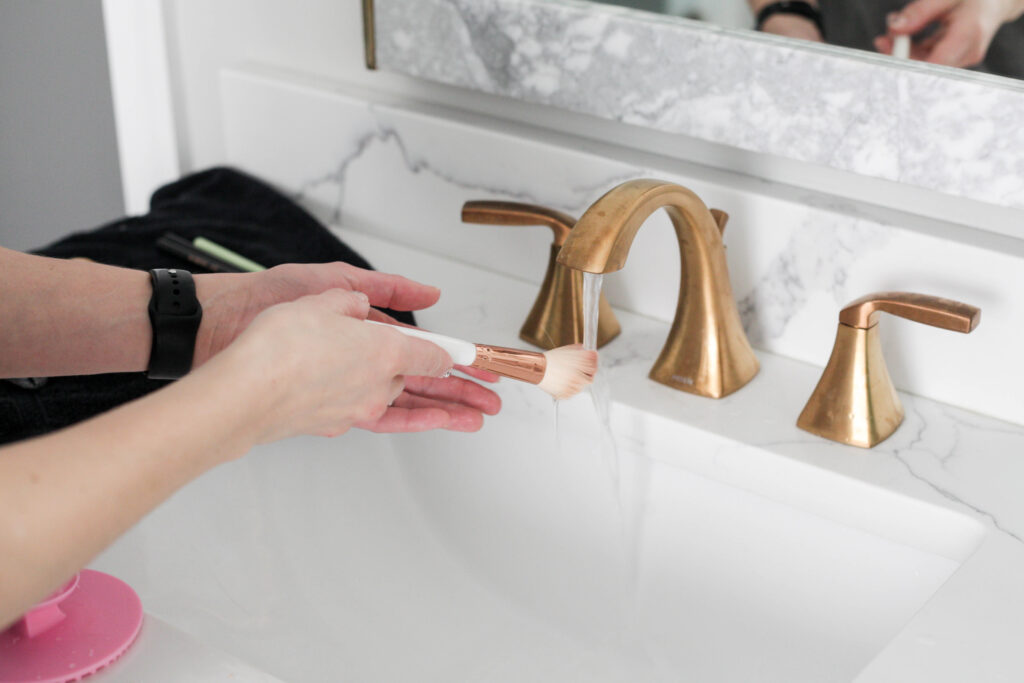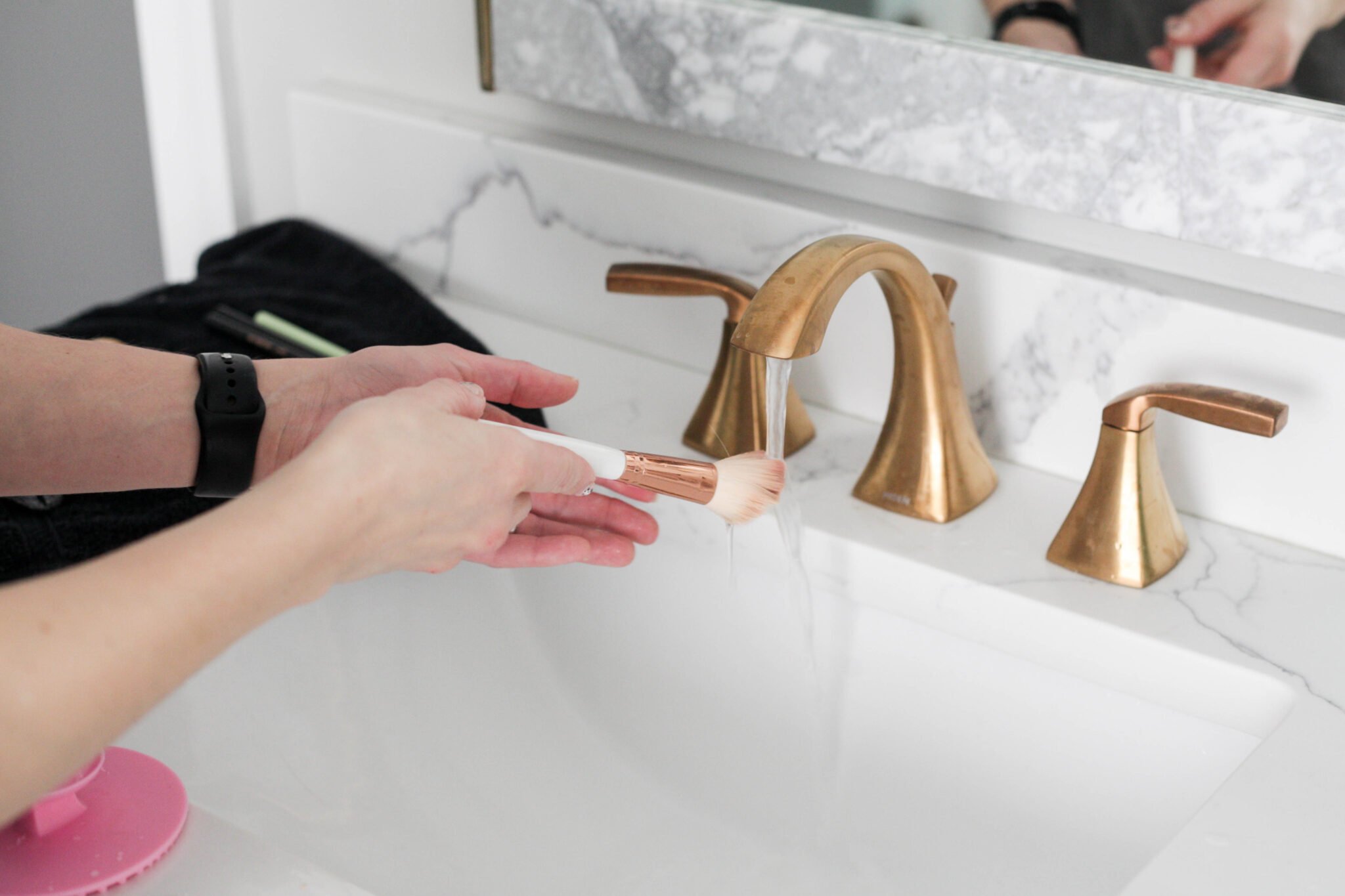 Next up, rinse all the soap from the brushes. Keep rinsing until the water runs clear which may take longer than you think, so rinse them really well!
5. Squeeze the excess water out.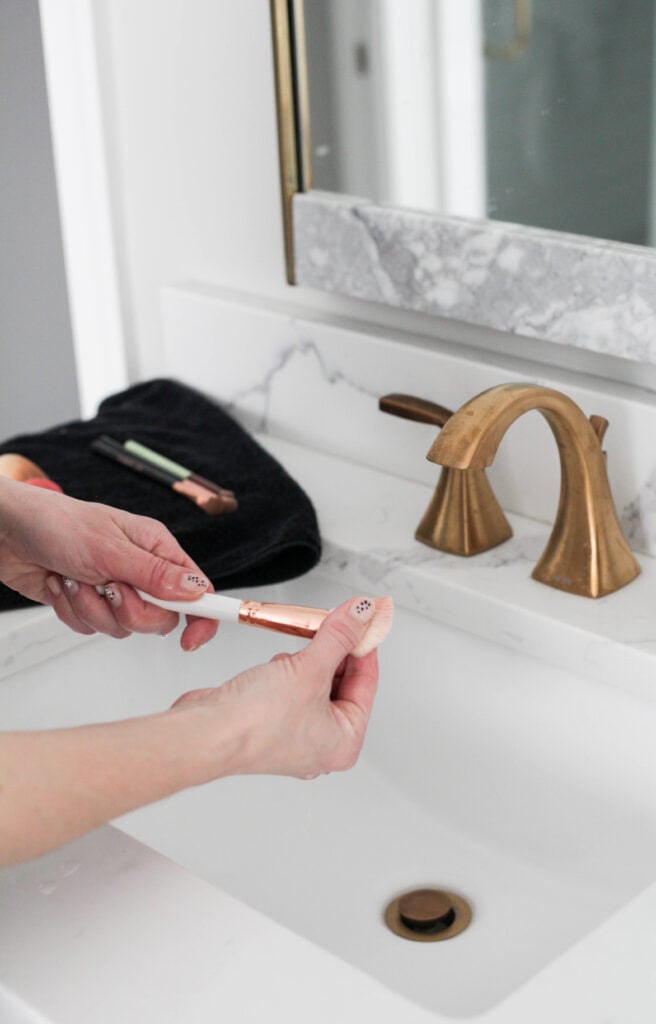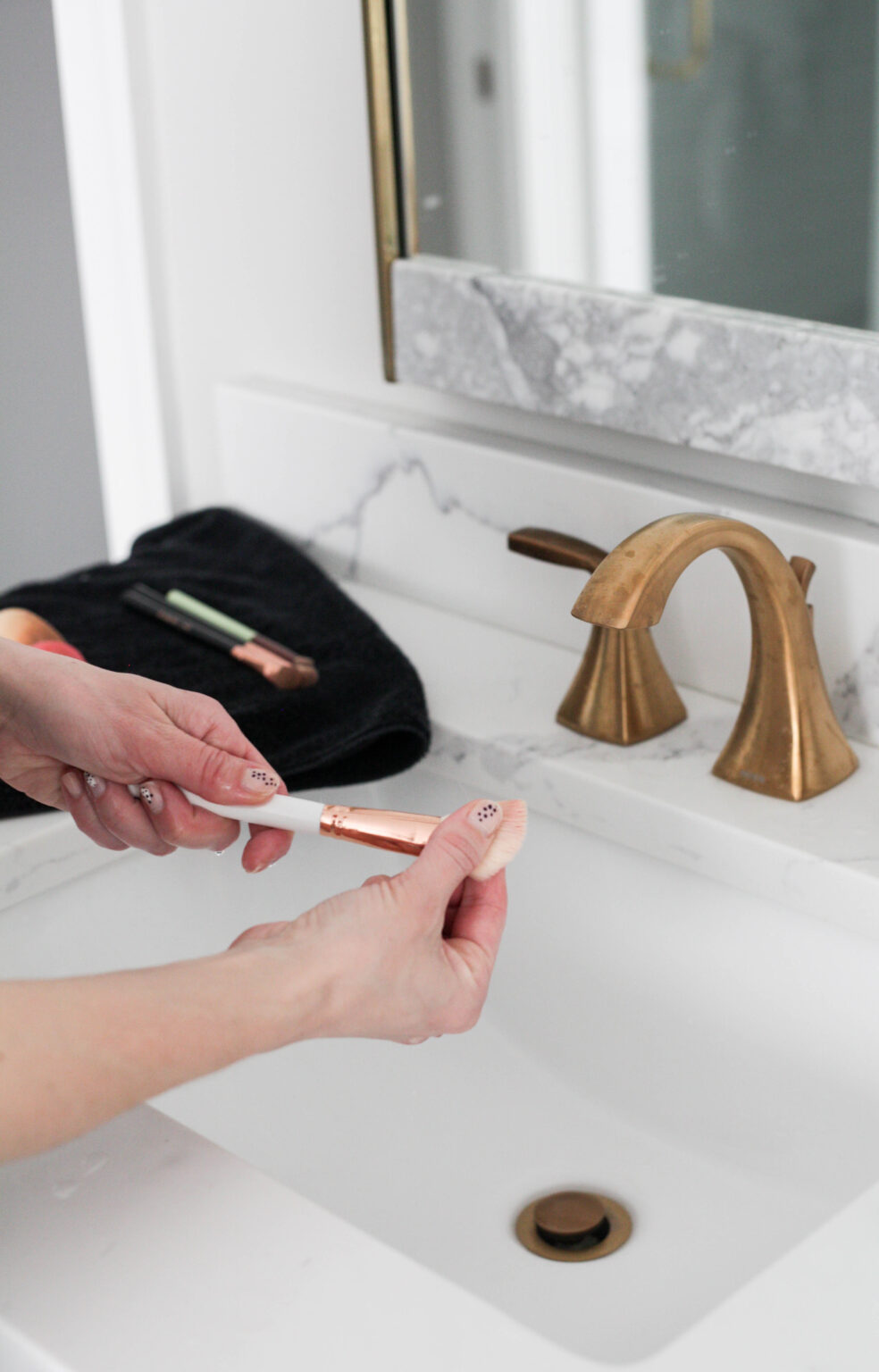 Start by squeezing the excess water out with your hands. Then, you can always follow up by using a clean, dry towel gently to squeeze any other water leftover on your brush.
Pro tip – pick up an inexpensive black towel! I use this every night when I dry my face (because inevitably I didn't get every last bit of mascara off) and for cleaning my makeup brushes in the off chance there's a bit of makeup residue. No sense in ruining a nice bright white towel!
6. Reform the brushes.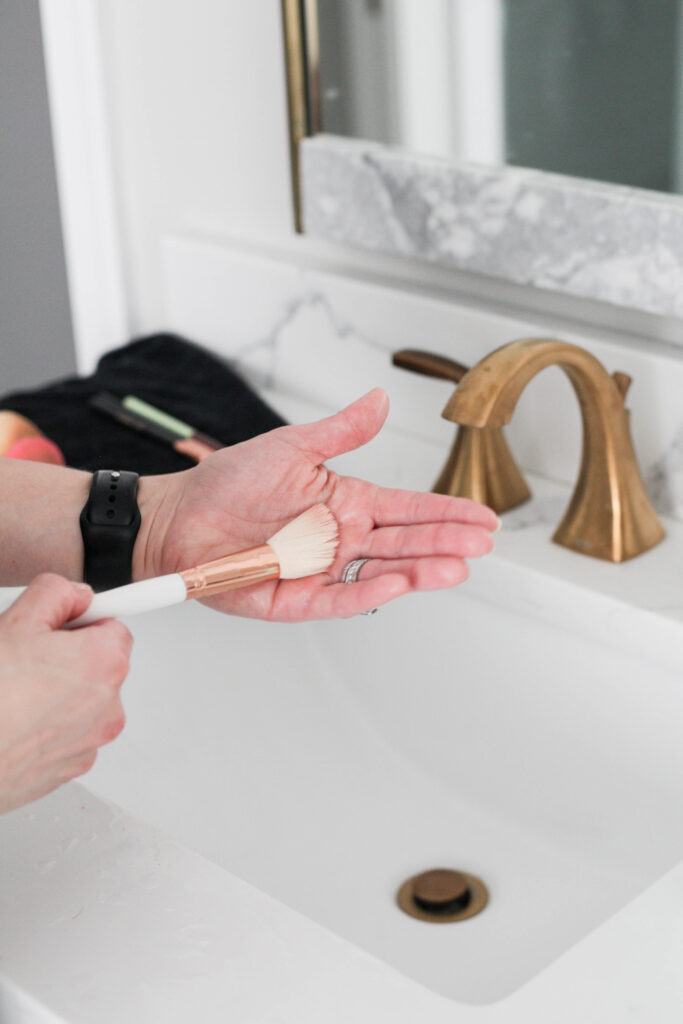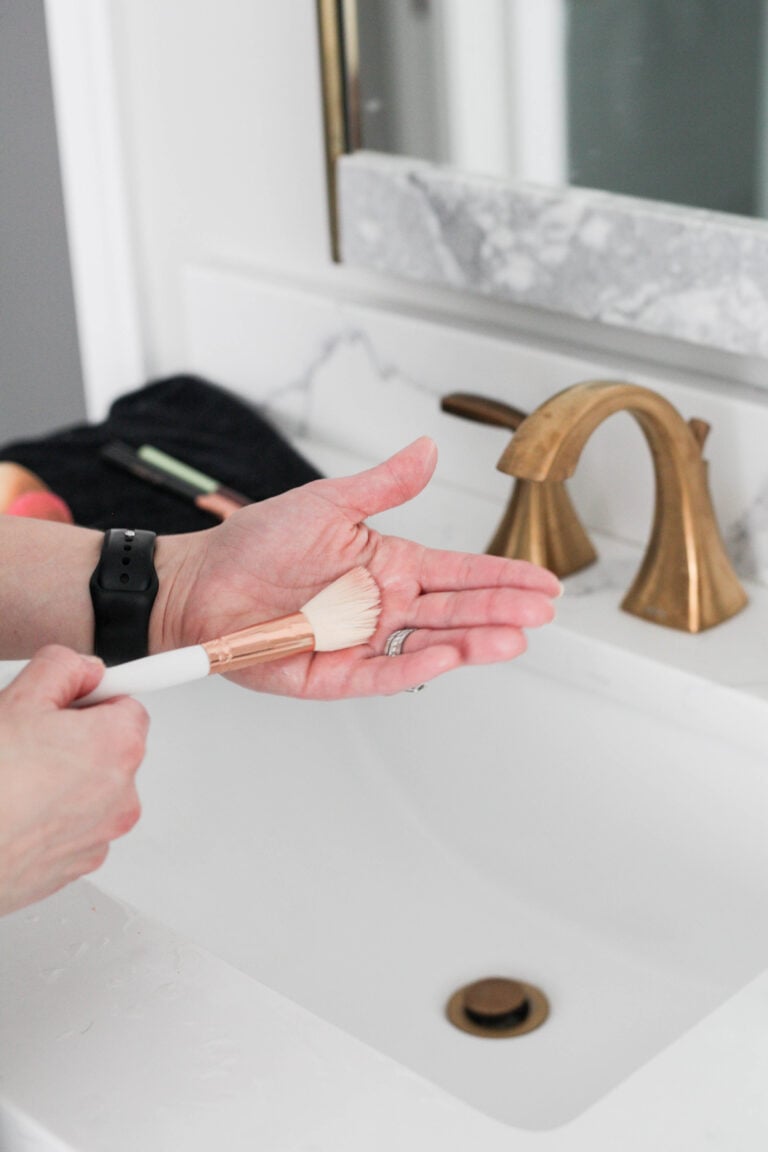 I like to do this with the palm of my hand. Gently mold the bristles back into their original shape. This will ensure they dry properly!
7. Lay flat to dry.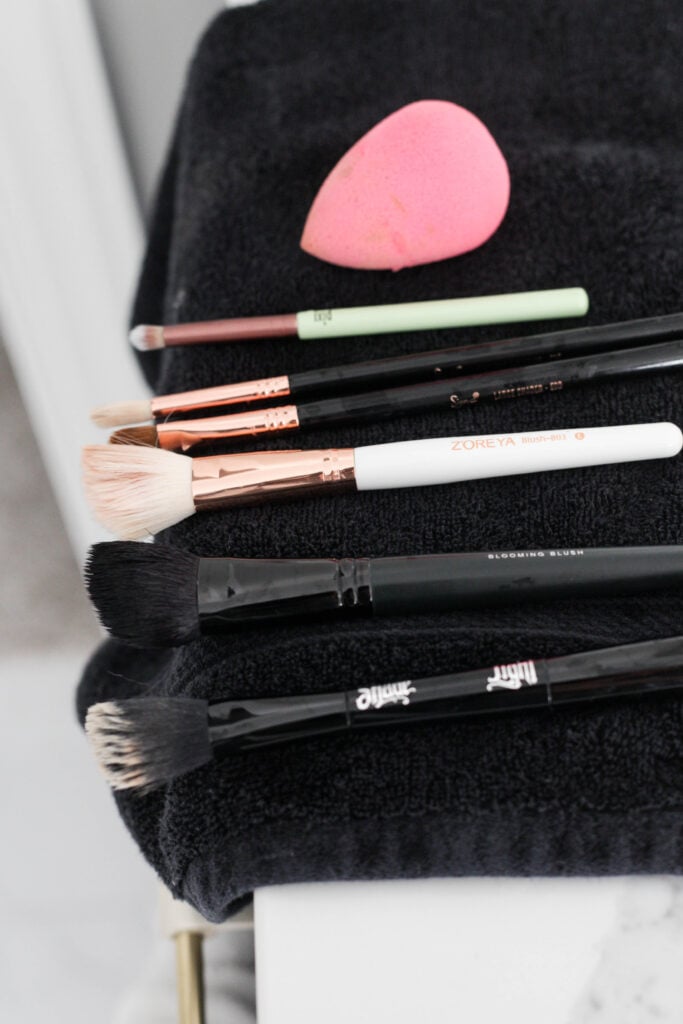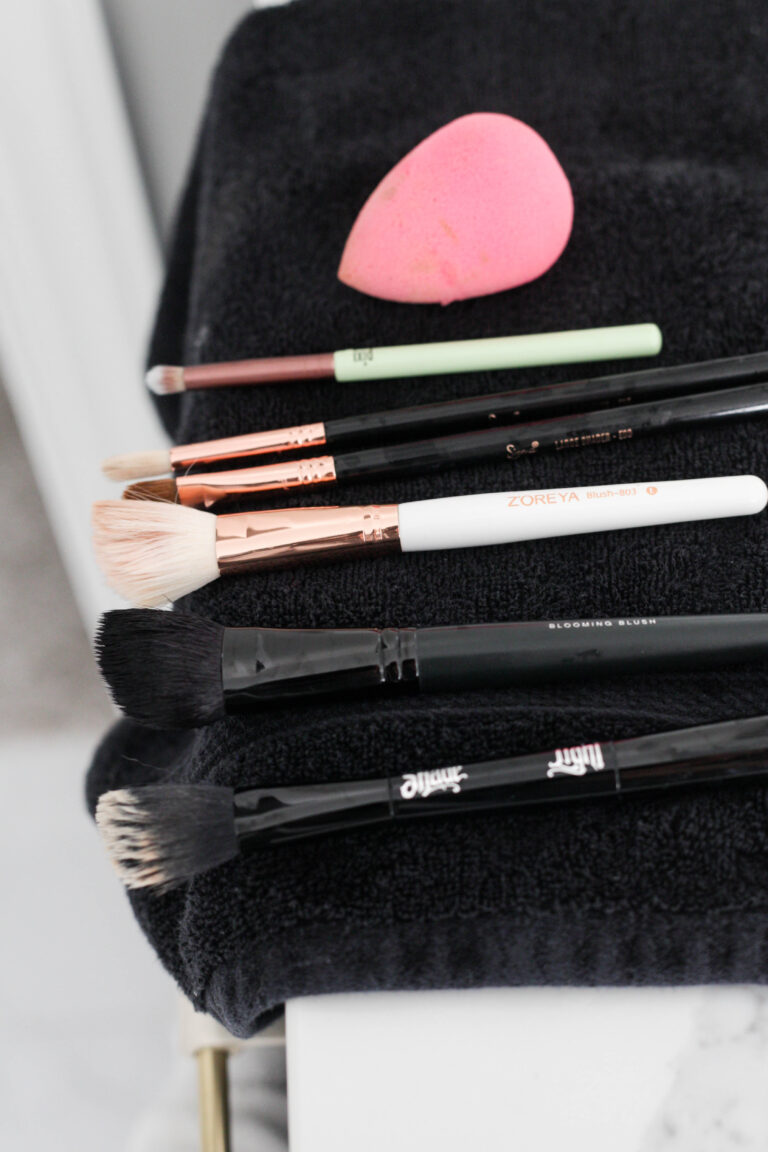 Finally, lay all of the brushes out to dry. Ideally make sure to place your brushes so they are hanging off the end of your counter or table which helps prevent any mold to form and also helps them dry faster!
There you go! I hope this helps you with knowing exactly how to clean makeup brushes so you can ensure yours are always in tip top shape!
Be sure to check out some of my favorite makeup I'm loving here!