While there are a ton of amazing toddler toys, the trick is choosing a gift they'll actually play with – and play with more than once. Ever gifted a toddler something that you thought was adorable, then the little one only played with the box? We've all been there.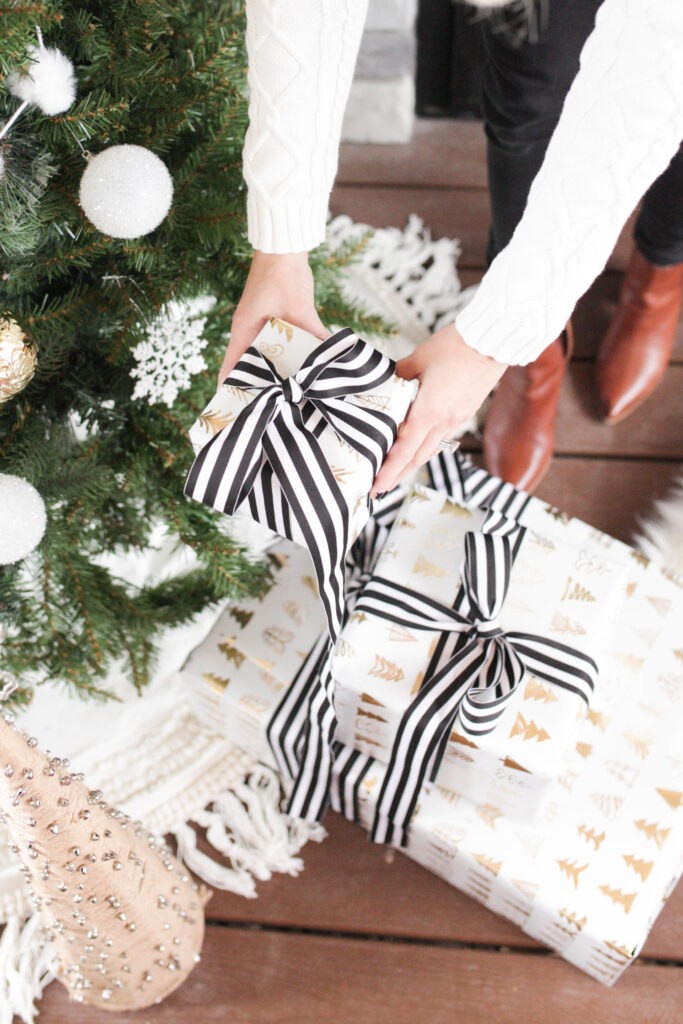 As a mom of three, you better believe I've been through that exact scenario. Or, my kids loved a toy for exactly 24 hours, and then it was forgotten about and added to the pile of things to keep organized!
Here I'm sharing 25 toddler gifts and ideas to help avoid those situations. Many of these products are things my kids (ages 1, 3 and 4) actually play with, and a few others are things I'm planning on getting them. Hope this helps the never-ending "what should I get them?" dilemma!
25 Toddler Gifts They'll Actually Love and Use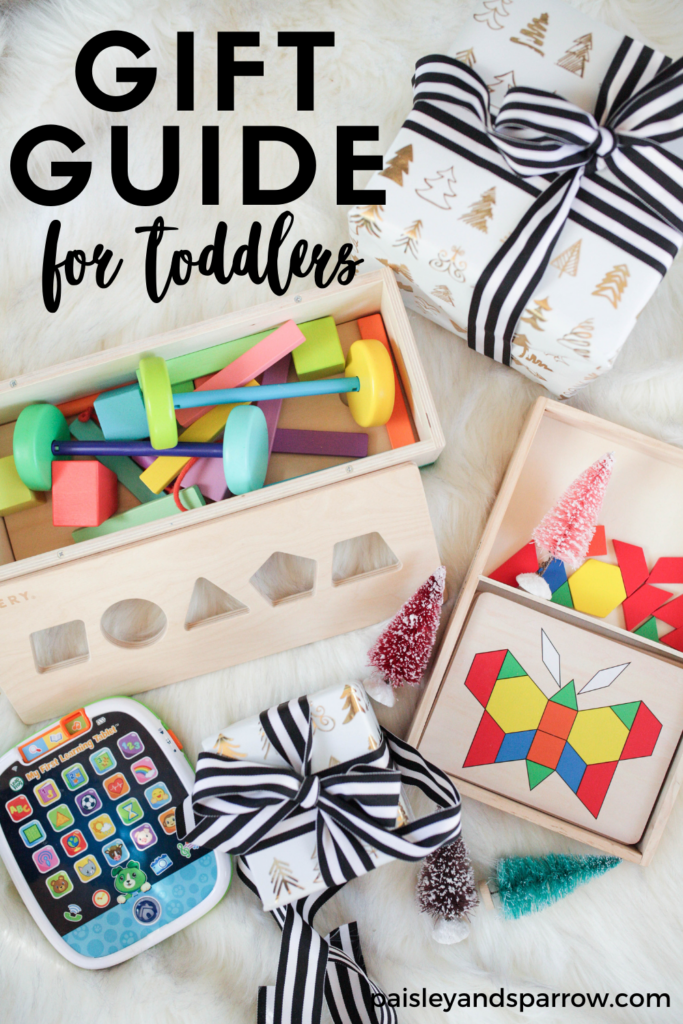 There are two ways to use this guide. One is to simply shop using the links below. Like an idea you see? Click the link to learn more and purchase.
Want a few more details? Keep scrolling. Either way I hope this gift guide helps make gift buying a breeze for you and that the little ones on your list love what they receive.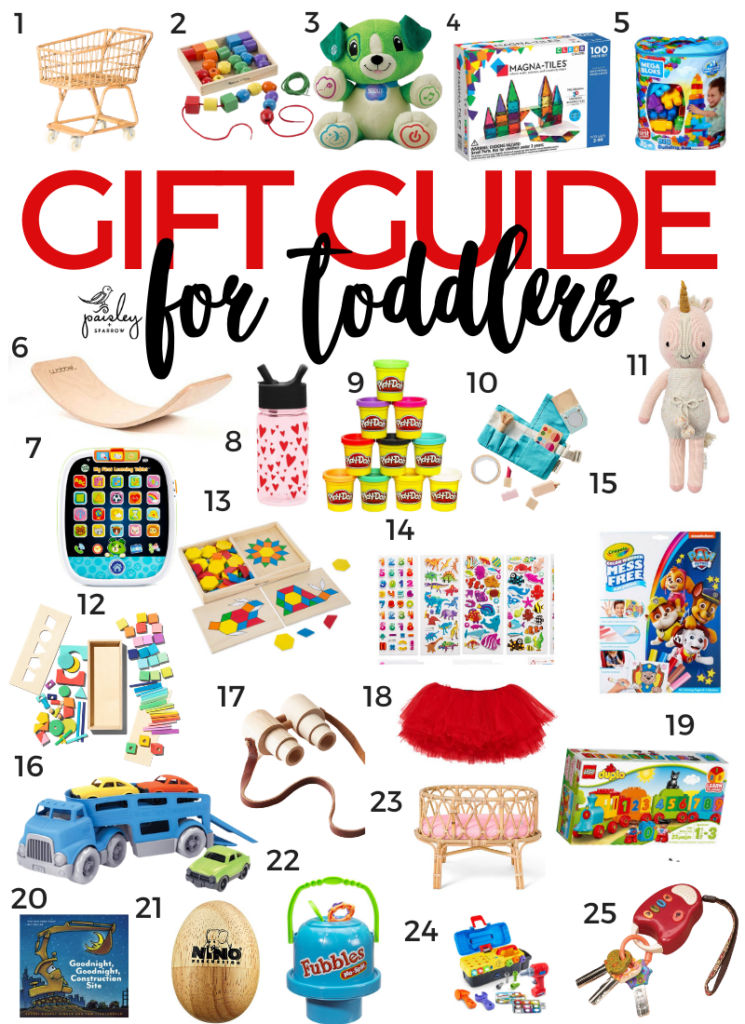 Paisley + Sparrow is a participant in the Amazon Services LLC Associates Program. This post may include affiliate links, which means I may earn a small commission if you shop using the links below at no additional cost to you. Thank you for supporting me and this blog!
1. Rattan Shopper, Rose and Rex // 2. Primary Lacing Beads, Melissa & Doug // 3. My Pal Scout/Violet, LeapFrog // 4. Magna-Tiles // 5. First Builders Big Building Bag, Mega // 6. Wobbel Balance Board, Rose & Rex // 7. My First Learning Tablet, Leapfrog // 8. Water Bottle, Simple Modern // 9. Play-Doh, Play-Doh // 10. Play Makeup, Anthropologie // 11. cuddle+kind // 12. Block Kit, Lovevery // 13. Pattern Blocks and Boards, Melissa Doug // 14. Puffy Stickers // 15. Color Wonder // 16. Car Carrier Vehicle // 17. Wooden Binoculars Toy, Anthropologie // 18. Tulle Tutu Skirt // 19. Number Train Set, Lego // 20. Goodnight, Goodnight Construction Site // 21. Shakers // 22. No Spill Bubbles, Fubbles // 23. Poppie Crib, Rose and Rex // 24. Toolbox, Vtech // 25. Toy Keys, B. Toys
This is truly the cutest shopping cart I've ever seen! Encourage pretend play with this rattan shopper which is handcrafted out rattan, an environmentally responsible, fast growing and easily renewable material.
Lacing beads are so great for lots of different uses, and this Melissa & Doug Primary Lacing Beads set is my favorite. Older kids are able to practice their fine motor skills in a fun way by stringing the beads to create patterns.
If younger kids aren't able to string beads yet, you can have them practice grouping like colors or playing with the beads in different ways.
This is a toy that has been around for years! My sister gave us one of these My Pal Scout/Violet when my oldest was a baby. It was one that all three of her kids used when they were younger. Then our kids' grandpa sent our daughter one for her birthday last year.
They all love singing and dancing along with their puppy pal!
Both my older kids love these Magna-Tiles! Older kids are able to make towers and castles, while younger ones will love to connect different pieces together.
Magna-Tiles are also a great toy option for traveling! Throw them in your carry-on for flights or put them in your car for car rides. (Traveling soon? Here are my 25 tips for traveling with a toddler!)
You can never go wrong with a giant bag of blocks! We have these First Builders Big Building Bag, and both our kids love them. (And I love that they come with built-in storage.)
This is a great gift for girls and boys of all ages.
This Wobbel board is on my kids' wish lists! A Wobbel can truly be used as so many things: a balance board, a house, a bridge and more.
Learn your letters and have fun? Oh yes, it's possible – especially with this LeapFrog My First Learning Tablet. I bring them along for longer car rides and they are magic!
Practical and fun – that's the goal of kids' gifts, right? Get your kids to drink more water and stop having to share your water bottle with this Simple Modern Water Bottle!
My kids love their water bottles and are constantly asking for them. They're also perfect for on-the-go since they don't leak or spill.
While we all love Play-Doh, we all hate when the colors get mixed together to blend into one glob of brown.
Every kid needs a fresh set of Play-Doh once in a while, which makes this a perfect toddler gift. Toss the old stuff and crack open a new set!
Have a little one who loves to copy Mom? Maybe it's carrying a purse, talking on the phone or putting on lipstick. This pretend makeup set is perfect for that!
Do good with your toddler gift! These adorable cuddle+kind dolls give 10 meals to kids in need with each purchase. We have a few of these dolls and our kids adore them!
There are regular block sets, and then there is the ultimate block set. This Lovevery block kit was sent to us this summer and it is one toy that keeps getting pulled out week after week. All three of my kids love it for different reasons, and there's enough blocks to go around!
I have a rule: when something is in my kids' preschool classrooms, I know it's legit. I saw my oldest son play with these pattern blocks and boards last year at preschool so I picked up a set for him at home. Success!
Find more toddler puzzles here!
There's something about stickers that kids just love. When my oldest was 2, he once spent an entire three-hour flight filling a notebook with stickers. (It was the best flight of my mom life!)
These Puffy Stickers are great for toddlers of all ages because they're super easy to get off the sheet and onto paper. Pair these with a simple notebook and you'll be shocked at how much quiet time it'll buy you.
Our older two kids are pretty obsessed with Color Wonder! And I love them because they won't ruin my floors, furniture or walls with them.
They are constantly pulling them out to color, so we pick up a new book of Color Wonder paper for most holidays and birthdays.
What toddler doesn't loves cars and trucks? This Car Carrier Vehicle is a perfect toddler gift, especially if you have multiple toddlers in your home or host play dates. Since it comes with multiple cars, everyone can play with it together!
Have a little one who loves to look for birds? Always pretending to be searching for something? These wooden binoculars would be a fun addition to any pretend play!
I'm pretty picky about my tutus for Penelope. I don't like them to sag too low, not be full enough or fall off of her. This one is perfect! It has 10 layers of tulle, is super full and, best yet, adorable!
I don't think you can go wrong with any Lego set for toddlers, but we have this exact Lego Number Train Set and we love it!
It's great for younger kids to just play with and learn how to connect different pieces together, but also for older toddlers to begin to line up the cars in the correct order. Fun and educational – the dream, right?
As a parent it's equally important to find books that you love as much as your kids do, especially if it becomes their favorite and they want you to read it over. And over and over and over…
This Goodnight, Goodnight Construction Site book is one book that's family friendly and parent approved – a fun read for everyone!
Shakers are a super fun way for kids to play along with music! These wooden shakers are easy for kids of all ages to hold and have a gentler sound than the plastic ones.
My sister introduced me to this No Spill Bubbles and it's amazing! It's a great way for kids to start to learn how to blow bubbles on their own without you having to worry about them dumping over the carton constantly.
Does your little one love playing with dolls or stuffed animals? Constantly finding them tucked into beds or blankets? This adorable Poppie Crib will be well loved as they pretend to take care of their "baby." This type of play also helps little ones develop empathy as they learn to tend to others' needs.
There are few things more exciting than when Dad pulls out his toolbox to do a project! With this fun kid's Vtech Toolbox, our kids can do their own "projects" while helping us with ours.
I may never understand why kids think keys are so fun to play with, but they definitely do. Chances are they won't think keys are so fun when they're adults and constantly losing theirs…
Until then, these Toy Keys are a hit!
You can find even more toys and gifts for toddlers over on this post or 15 toys for 3 year old boys here. Both are full of fun ideas for outside (if you live in a place that isn't the tundra, like I do!) and so much more.
I hope this toddler gift guide helps you the next time you're shopping for a little one in your life!
As always, thanks for reading!
Jen