While there are a ton of amazing toddler toys, the trick is choosing a gift they'll actually play with — and play with more than once.
Ever gifted a toddler something that you thought was adorable, then the little one only played with the box? We've all been there.
As a mom of 3 and aunt to 8, you better believe I've been through that exact scenario. Or, my kids loved a toy for exactly 24 hours, and then it was forgotten about and added to the pile of things to keep organized!
Here I'm sharing 42 toddler gifts and ideas to help avoid those situations. Many of these products are things my kids or nieces and nephews actually played with, and a few others are things I'm planning on getting them. Hope this helps the never-ending "what should I get them?" dilemma!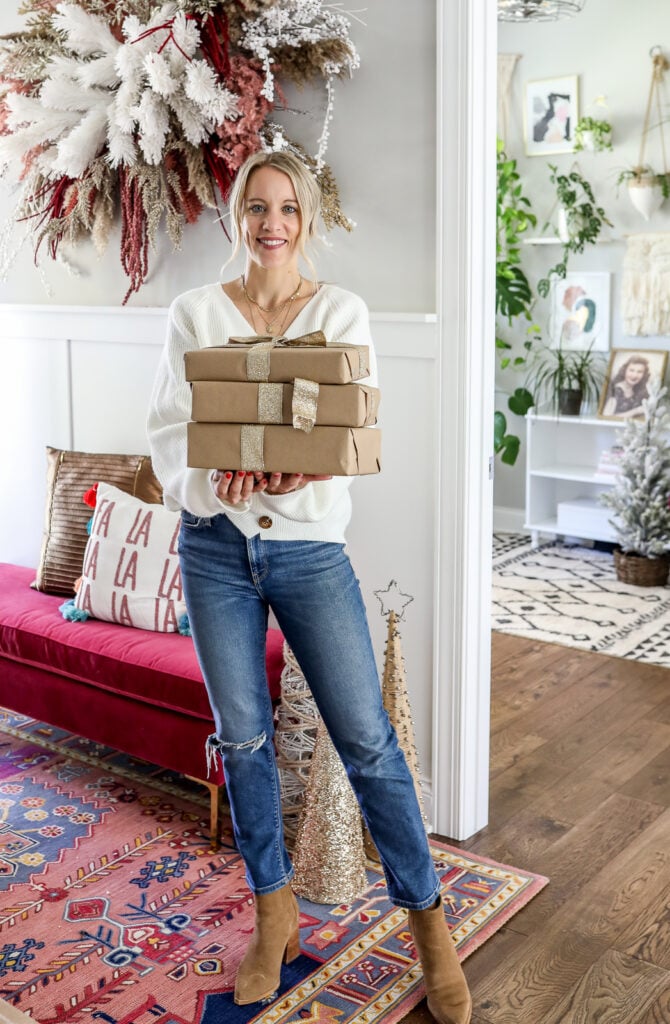 This post contains affiliate links.
47 Toddler Gifts They'll Actually Love and Use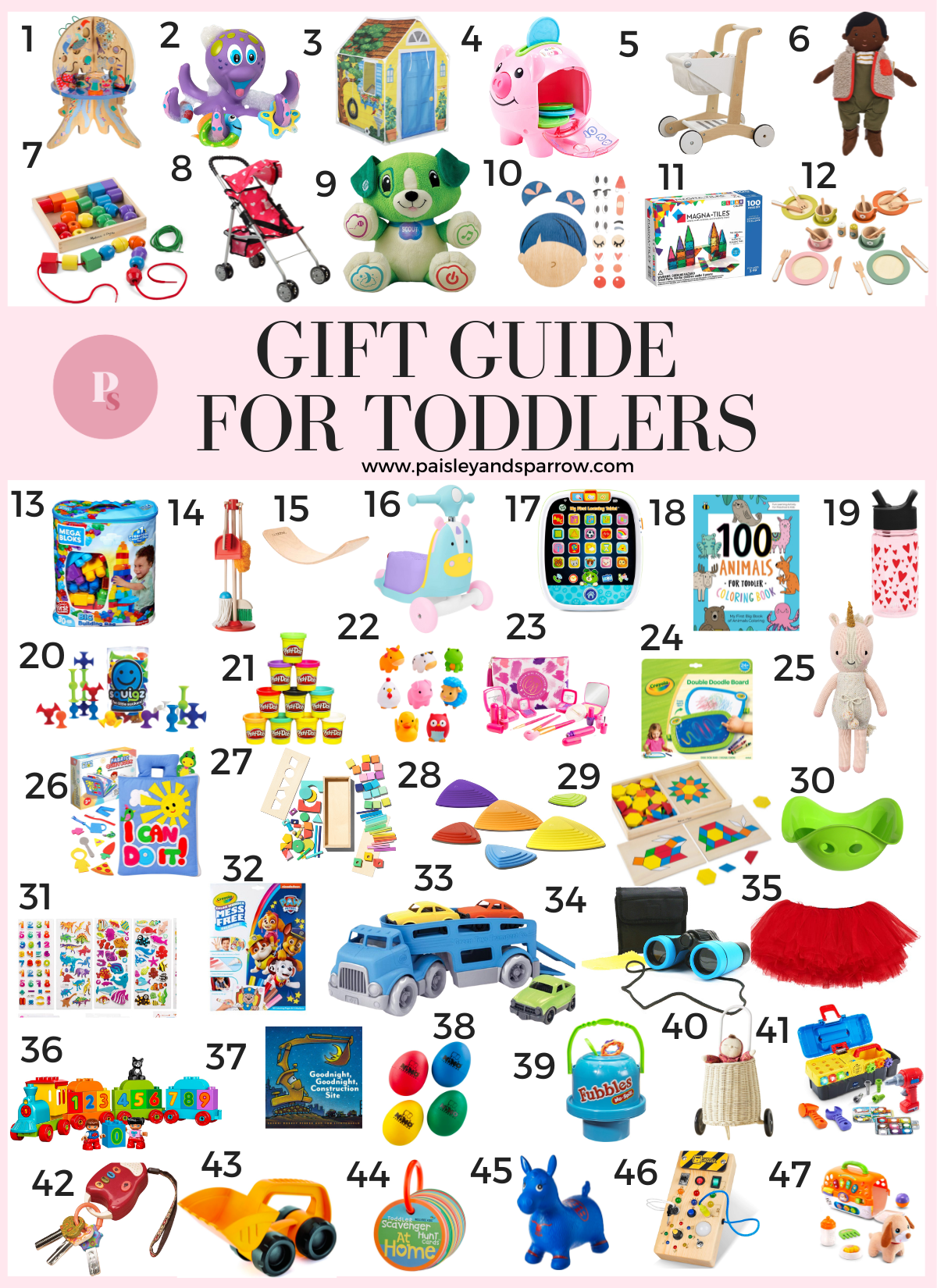 This is a great gift for all of toddlerhood, from those early wobbly standing days through to preschool. Your toddler will love playing with all the moving parts (and will work on their motor skills!). We have had many Manhattan Toy gifts and they all have lasted so long. The quality is impeccable!
I love giving bath toys as a gift, because you can never have too many! Anything to make this frequent task more exciting is a good thing.
What kid doesn't want their own playhouse? This Melissa and Doug cozy cottage is perfect for toddlers to play peekaboo and house and everything in between.
Every toddler I know loves this piggy bank! It makes noises, helps them learn to count, lets them practice fine motor skills, and more! Plus it's cute.
This is one of the cutest shopping carts out there! Encourage pretend play and improve balance with this wooden shopper.
These sweet, soft dolls will be your toddler's best buddy. And you'll love them because they're machine washable! There are both boy and girl dolls and different skin color options. My daughter has these and we all love them!
Lacing beads are so great for lots of different uses, and this Melissa & Doug Primary Lacing Beads set is my favorite. Older kids are able to practice their fine motor skills in a fun way by stringing the beads to create patterns.
If younger kids aren't able to string beads yet, you can have them practice grouping like colors or playing with the beads in different ways.
I can't explain to you why toddlers and preschoolers love to push around strollers and grocery carts, but they really really do! Boys and girls alike will put dolls and stuffed animals in this stroller and take them for many rides around the house (or outside if you let them!).
This is a toy that has been around for years! My sister gave us one of these My Pal Scout/Violet when my oldest was a baby. It was one that all three of her kids used when they were younger. Then our kids' grandpa sent our daughter one for her birthday last year.
They all love singing and dancing along with their puppy pal!
Help your toddler practice recognizing other people's feelings with this wooden face play set. They'll like playing games where they guess the emotion, mimicking the face on the board, or just making silly faces.
Both my older kids love these Magna-Tiles! Older kids are able to make towers and castles, while younger ones will love to connect different pieces together.
Magna-Tiles are also a great toy option for traveling! Throw them in your carry-on for flights or put them in your car for car rides. (Traveling soon? Here are my 25 tips for traveling with a toddler!)
I wish they made these for MY kitchen! These gorgeous wooden play dishes and cups will see a lot of play time. Just start practicing making yummy noises now, because you'll be eating a lot of pretend meals!
You can never go wrong with a giant bag of blocks! We have these First Builders Big Building Bag, and both our kids love them. (And I love that they come with built-in storage.)
This is a great gift for girls and boys of all ages.
I think this is a must-have toy set in every house! It helps kids build confidence in helping around the house early, meaning you have more help now AND in the future. And toddlers feel like big kids, which is always a win!
This Wobbel board is on my kids' wish lists! A Wobbel can truly be used as so many things: a balance board, a house, a bridge and more.
This toy goes from a wagon your new walker can push, to a sit-and-ride toy, to a scooter! It's nice to give a toy they won't outgrow for a while.
Learn your letters and have fun? Oh yes, it's possible – especially with this LeapFrog My First Learning Tablet. I bring them along for longer car rides and they are magic!
You know what's exciting for toddlers, inexpensive for you, and doesn't clutter up the house? Coloring books!
This fresh coloring book is filled with big pictures of animals — and when it's all colored up, you can just throw it away!
Practical and fun – that's the goal of kids' gifts, right? Get your kids to drink more water and stop having to share your water bottle with this Simple Modern Water Bottle!
My kids love their water bottles and are constantly asking for them. They're also perfect for on-the-go since they don't leak or spill.
This is a simple but super fun toy for toddlers all the way to adults. The suction cups stick to each other or to most surfaces, so you can build, move them around, and enjoy the pop when you pull them apart.
While we all love Play-Doh, we all hate when the colors get mixed together to blend into one glob of brown.
Every kid needs a fresh set of Play-Doh once in a while, which makes this a perfect toddler gift. Toss the old stuff and crack open a new set!
Make bath time more fun with some new animal friends! These barnyard friends float and squirt.
Have a little one who loves to copy Mom? Maybe it's carrying a purse, talking on the phone or putting on lipstick. This pretend makeup set is perfect for that!
This mess-free drawing board is a great toy to take in the car. One side has a sealed gel surface for drawing with your finger and the other has a reusable drawing surface for washable crayons.
Do good with your toddler gift! These adorable cuddle+kind dolls give 10 meals to kids in need with each purchase. We have a few of these dolls and our kids adore them!
Known as a busy book or quiet book, these soft fabric books are really good at keeping kids occupied. They can practice counting, lacing, zipping, shapes, and more!
Lovevery has play kits for every stage of toddlerhood! You can get a subscription or buy individual kits. We have a block kit from Lovevery and it is one toy that keeps getting pulled out week after week. All three of my kids love it for different reasons, and there's enough blocks to go around!
Find my full Lovevery review here!
These stones, based on the shape of stones in a river, can be played with inside or outside, and arranged in an infinite number of ways. Toddlers can work on balance, coordination and confidence.
I have a rule: when something is in my kids' preschool classrooms, I know it's legit. I saw my oldest son play with these pattern blocks and boards last year at preschool so I picked up a set for him at home. Success!
Find more toddler puzzles here!
If someone asks me what a Bilibo is, I don't exactly know how to describe it. But I promise it is great!
This strange plastic dome is whatever your toddler wants it to be: a spinning seat, a mountain or swimming pool for toys, a stone in the middle of lava, a slide, an alien helmet. It gets a ton of imaginative play time!
There's something about stickers that kids just love. When my oldest was 2, he once spent an entire three-hour flight filling a notebook with stickers. (It was the best flight of my mom life!)
These Puffy Stickers are great for toddlers of all ages because they're super easy to get off the sheet and onto paper. Pair these with a simple notebook and you'll be shocked at how much quiet time it'll buy you.
Our older two kids are pretty obsessed with Color Wonder! And I love them because they won't ruin my floors, furniture or walls with them.
They are constantly pulling them out to color, so we pick up a new book of Color Wonder paper for most holidays and birthdays.
What toddler doesn't loves cars and trucks? This Car Carrier Vehicle is a perfect toddler gift, especially if you have multiple toddlers in your home or host play dates. Since it comes with multiple cars, everyone can play with it together!
Have a little one who loves to look for birds? Always pretending to be searching for something? These binoculars would be a fun addition to any pretend play!
I'm pretty picky about my tutus for Penelope. I don't like them to sag too low, not be full enough or fall off of her. This one is perfect! It has 10 layers of tulle, is super full and, best yet, adorable!
I don't think you can go wrong with any Lego set for toddlers, but we have this exact Lego Number Train Set and we love it!
It's great for younger kids to just play with and learn how to connect different pieces together, but also for older toddlers to begin to line up the cars in the correct order. Fun and educational – the dream, right?
As a parent it's equally important to find books that you love as much as your kids do, especially if it becomes their favorite and they want you to read it over. And over and over and over…
This Goodnight, Goodnight Construction Site book is one book that's family friendly and parent approved – a fun read for everyone!
Shakers are a super fun way for kids to play along with music! These wooden shakers are easy for kids of all ages to hold and have a gentler sound than the plastic ones.
My sister introduced me to this No Spill Bubbles and it's amazing! It's a great way for kids to start to learn how to blow bubbles on their own without you having to worry about them dumping over the carton constantly.
Does your little one love playing with dolls or stuffed animals? Are they constantly dragging them around? This adorable wicker basket on wheels will be their favorite new spot for all their favorite toys. It can be a doll stroller, a picnic basket, a suitcase — whatever they can imagine in their pretend play!
There are few things more exciting than when Dad pulls out his toolbox to do a project! With this fun kid's Vtech Toolbox, our kids can do their own "projects" while helping us with ours.
I may never understand why kids think keys are so fun to play with, but they definitely do. Chances are they won't think keys are so fun when they're adults and constantly losing theirs…
Until then, these Toy Keys are a hit!
If there's one thing that all toddlers seem to love, it's dirt! This digging toy combines the love of playing in dirt and the fun of rolling a toy truck. It's chunky enough for little hands and intuitive for little ones who can't quite get the hang of some of the more realistic excavator toys.
To be honest, even my big kids love this easy scavenger hunt! It has pictures as well as words, so your little one can understand better, and they'll love being involved in a game.
Your toddler will love bouncing on this horse around the house. They'll love that they can do it themselves (and that they don't have far to fall when they inevitably fall over!).
Give them some switches and buttons they're allowed to touch! This little busy board is so fun — it has lots of lights your toddler can turn on with switches, buttons, knobs and more.
Toddlers have lots of love to give, so help them start learning to use that love to take care of an animal. This little lovey comes with a carrier (with buttons!), bottle, food, comb and toy.
The Ultimate Gift Guide List
Want even more gift ideas for everyone on your list? Head to one of these!
Gift Guides for Grown Ups
Gift Guides for Kids, Tweens & Teens
Age Specific Gift Guides
Product Specific Gift Guides for Babies & Toddlers
Special Interest Gift Guides
Want FREE Christmas gift tags? I created 64 beautiful gift tags that can be used not only for Christmas but every holiday! They're free to download!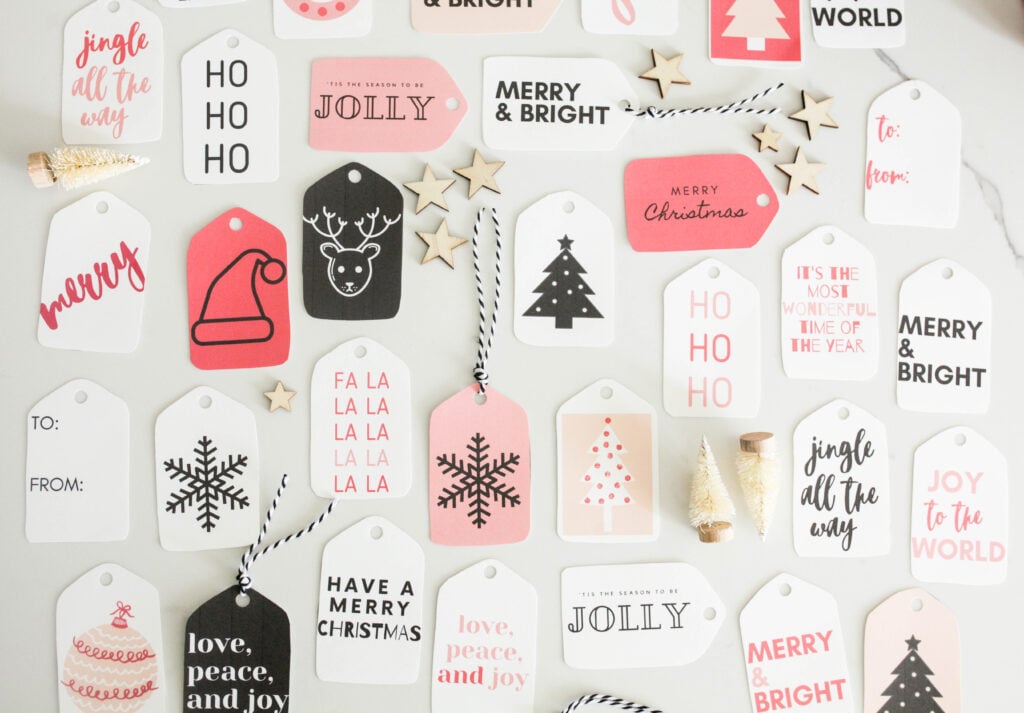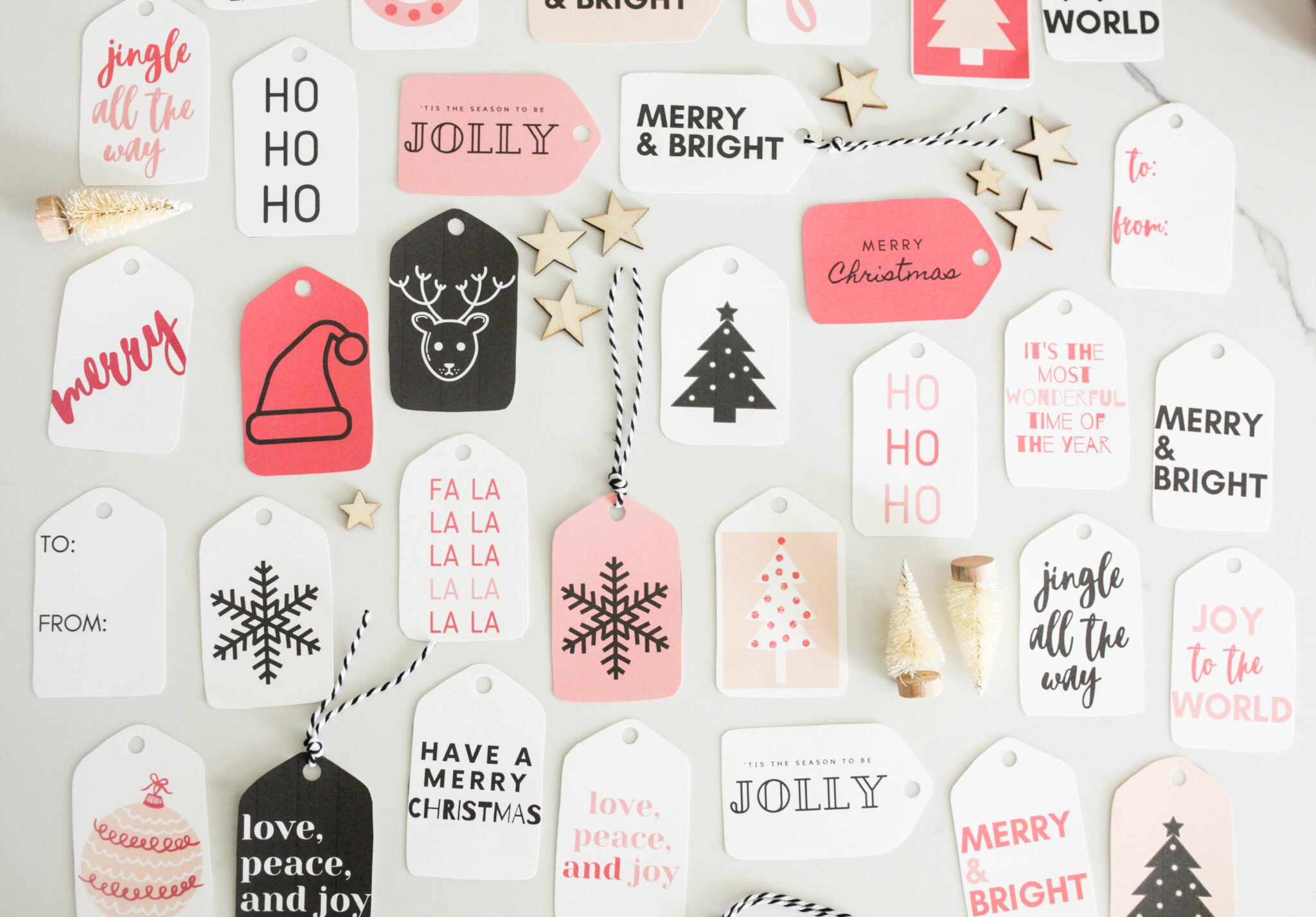 Get your gift cards in your inbox!
Enjoy!
I hope this toddler gift guide helps you the next time you're shopping for a little one in your life!
As always, thanks for reading!
Jen