Looking for fair trade gifts? Here's a full list of beautiful products with a purpose from 3 amazing brands – Sseko, Fair Anita and Able.
When you're shopping for gifts don't you love finding ones with extra meaning and purpose to them? Ones that are creating jobs for women in developing countries, helping women attend university or making a difference in another way?
Today I curated 5 different gift guides for you from 3 of my favorite fair trade shops – Sseko, Fair Anita and ABLE.
Here's a bit of background on the 3:
Sseko
Sseko: I have a full post all about Sseko that you can read but in general, Sseko was started in order to send young women in Uganda to University. According to their website:
These young women work for Sseko in the nine-month gap between secondary school and university, saving part of their income for university. They receive life skills training, are paired with professional mentors and get valuable formal work experience. At the end of their term, Sseko matches their savings 300%. Every woman who has graduated from Sseko has gone on to pursue higher education and is on her way to making our world a more beautiful place. In 2019, Sseko will enable our 131st woman to attend university!
In addition to our university-bound team, Sseko hires full-time staff primarily from non-profit partners. These women come from all walks of life and face a challenging job market. Sseko is bridging the gap. By creating an environment of dignity, honor, and dedication, Sseko Designs provides the opportunity for women in East Africa to end the cycle of poverty and create a more equitable society.
I've used and loved Sseko products for years and years and have loved to see their brand grow and develop.
Fair Anita
Fair Anita is a brand based right here in Minnesota! I know the founder and love her dearly. I love seeing fiercely talented women chase their dreams and make a tangible difference in the world.
Fair Anita was started in 2015. Since then, "we've partnered with 8,000 women in 9 countries who are utilizing this resource of economic self-sufficiency to create real change around the globe. We're on a mission to create a world where women feel safe, valued, and respected no matter their geography, and we're thrilled to include you in this community." (according to their website).
ABLE (formerly LiveFashionable)
Another brand I've loved and used for close to 10 years, when all they sold were scarves (now they don't even make scarves ha!). ABLE is an ethical fashion brand that employs and empowers women as a solution to end poverty. We're deeply devoted to quality – both in the products we make and the quality of life we aim to provide. We invest in, train, and educate women so they can earn a living, break the cycle of poverty, and thrive.
I absolutely love the quality of every ABLE product I own from clothes to shoes to jewelry.
You won't be disappointed by any of these brands missions, values or products. Below I'm sharing some of my absolute favorites from their current collections. Make holiday shopping a little easier and shop with a purpose!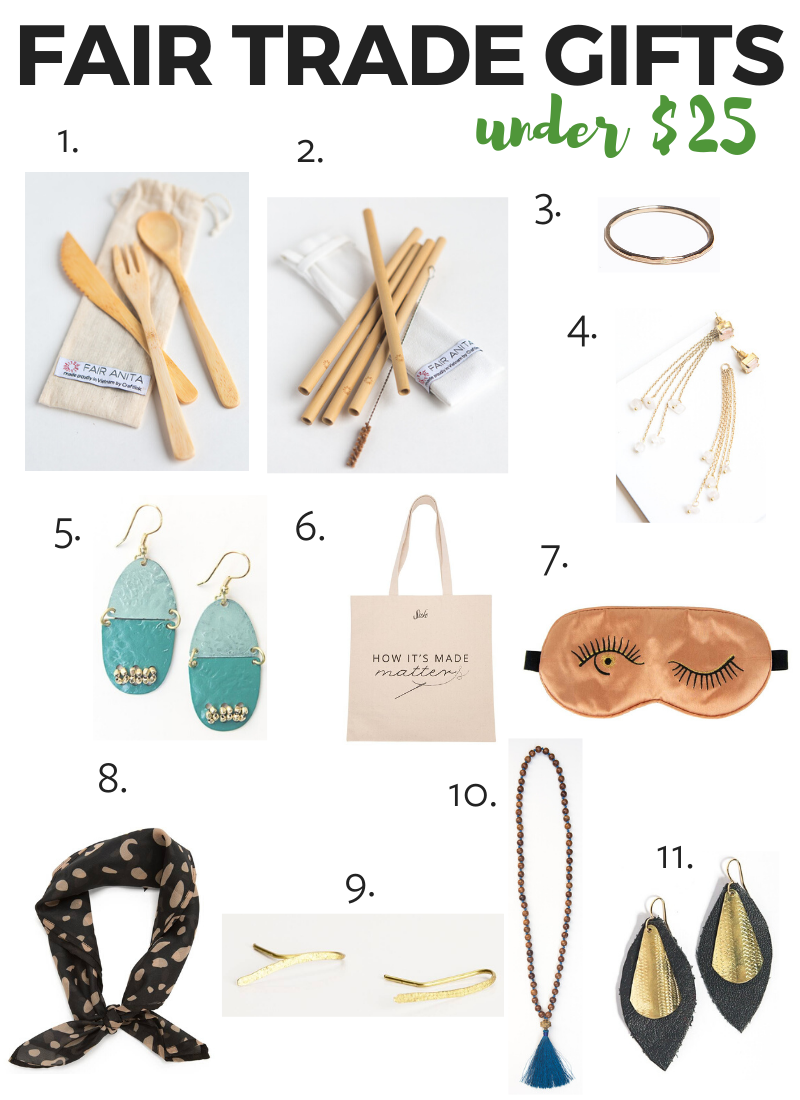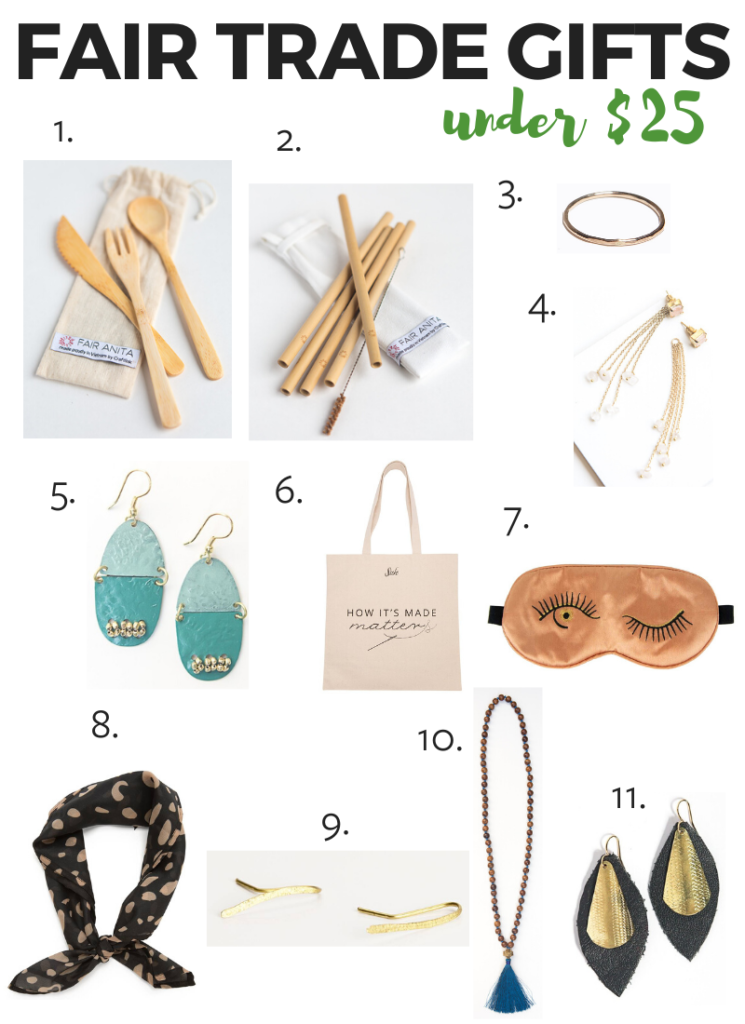 This post may include affiliate links which means I may earn a small commission if you shop using the links below at no additional cost to you. Thanks so much for supporting me and this blog!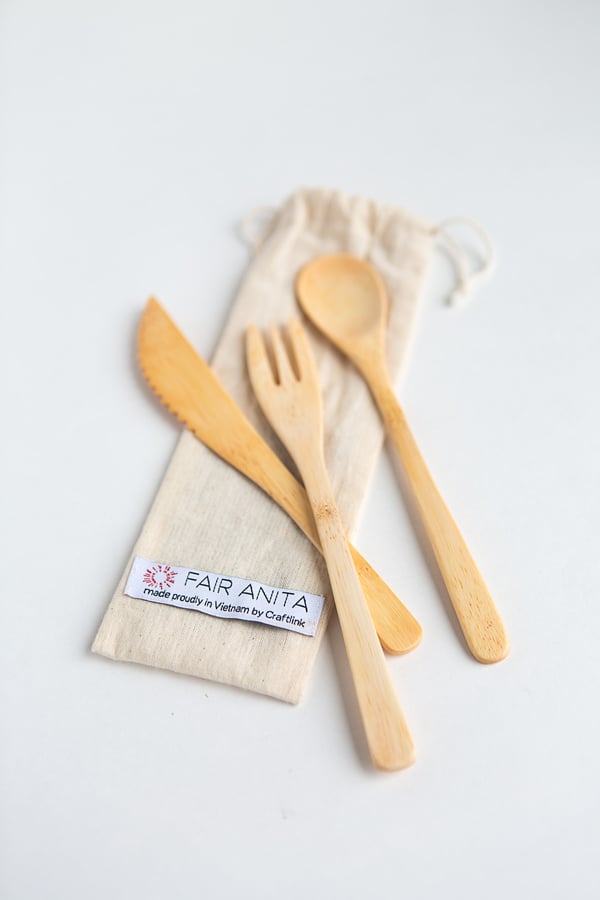 Made from sustainable bamboo. Reusable fork, knife, and spoon in a handwoven, organic cotton bag.
Perfect for bringing to work or stashing in your purse for times you're eating on the go!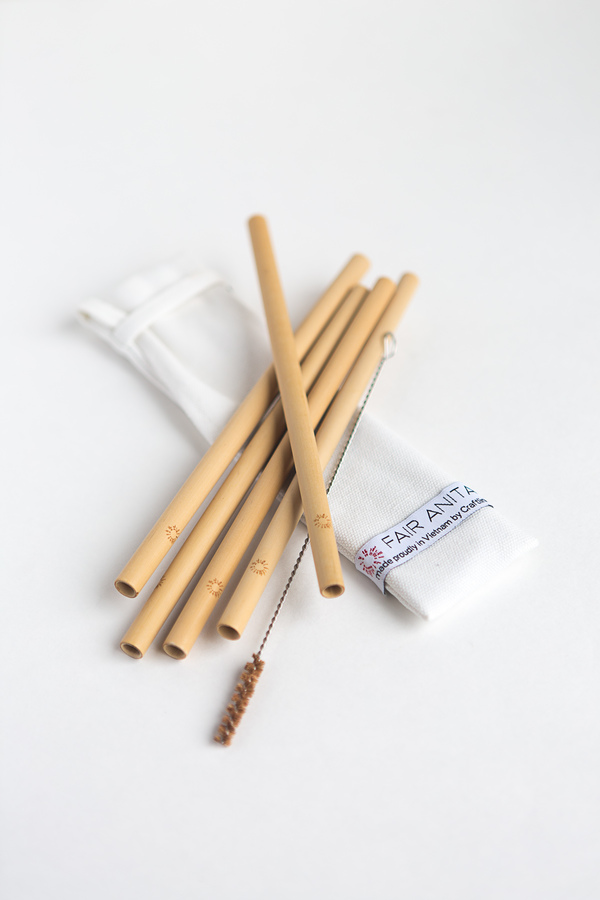 Made from sustainable bamboo. Five reusable bamboo straws and a natural coconut cleaner in a handwoven, organic cotton bag.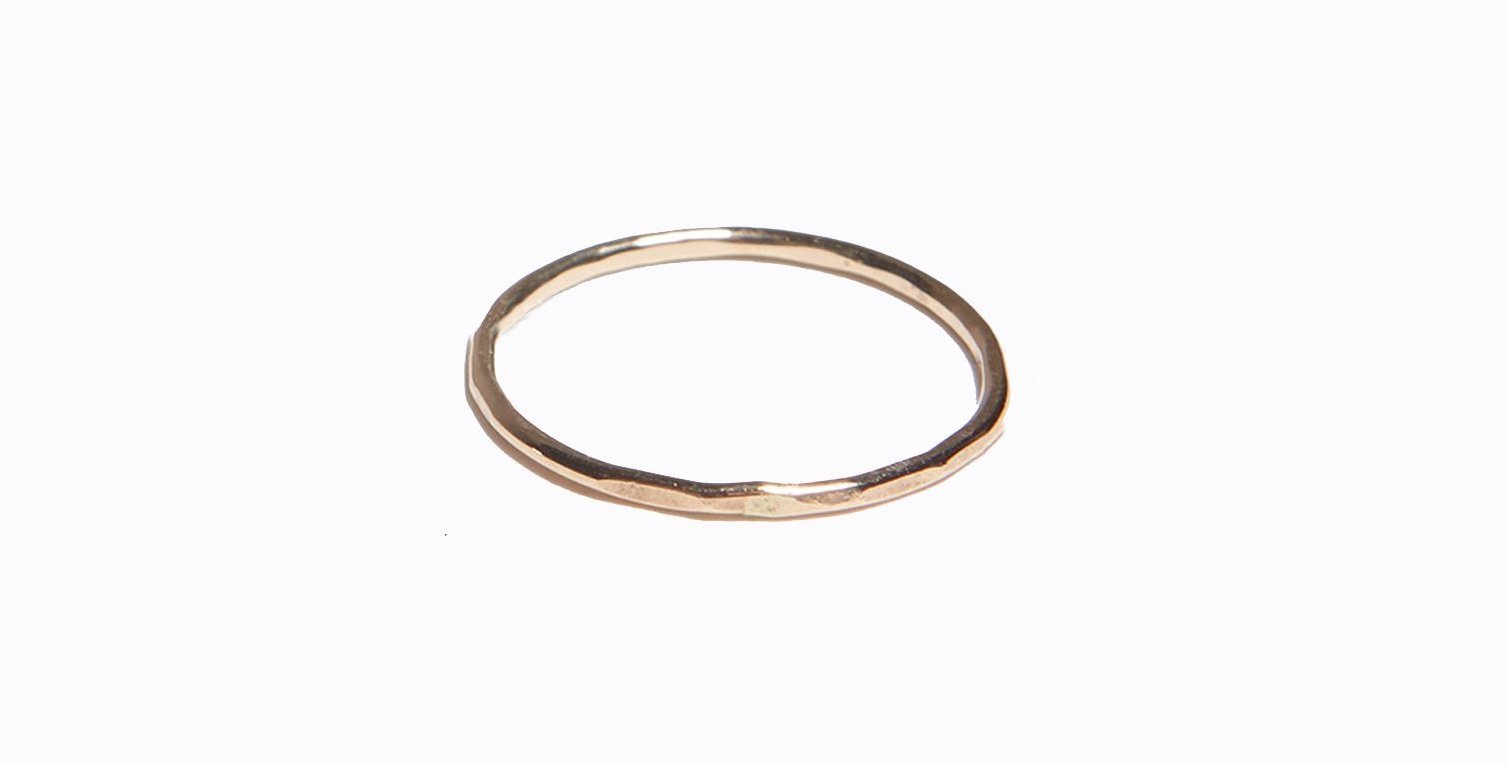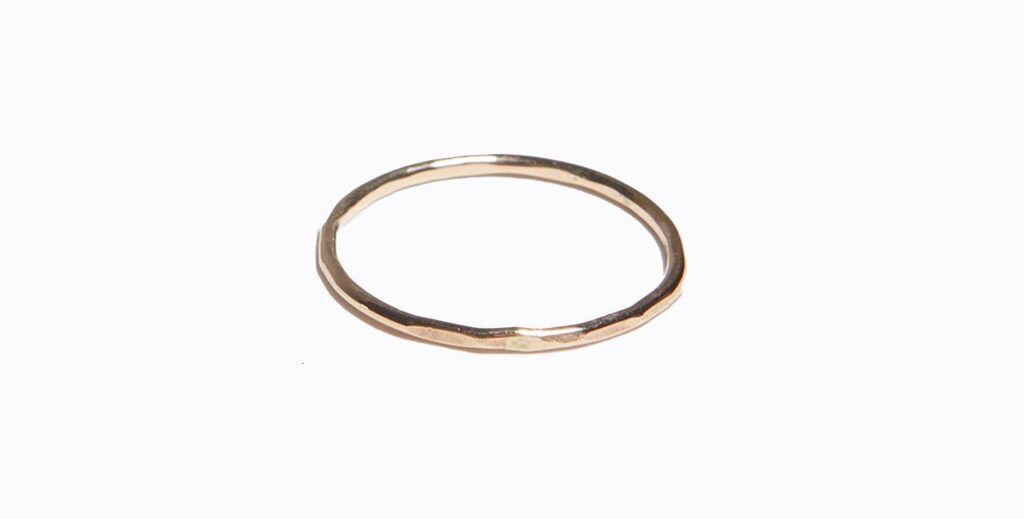 Mix and match these classy hammered stacking rings with other rings or to layer for a bolder statement. Comes in sizes 3-9 and in either sterling silver or 14k gold-fill.
I own a few of these and love wearing them both as midi rings as well as stacking with my wedding band.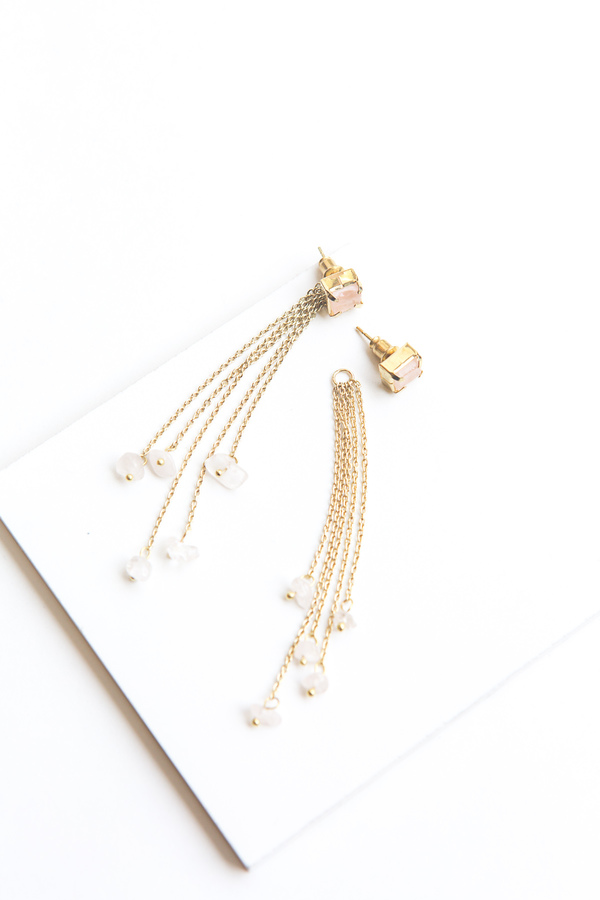 These rose quartz ear jackets can be worn 3 different ways: as little studs, with the dangle in front, or with the stud in the front and dangle in the back. Talk about versatility!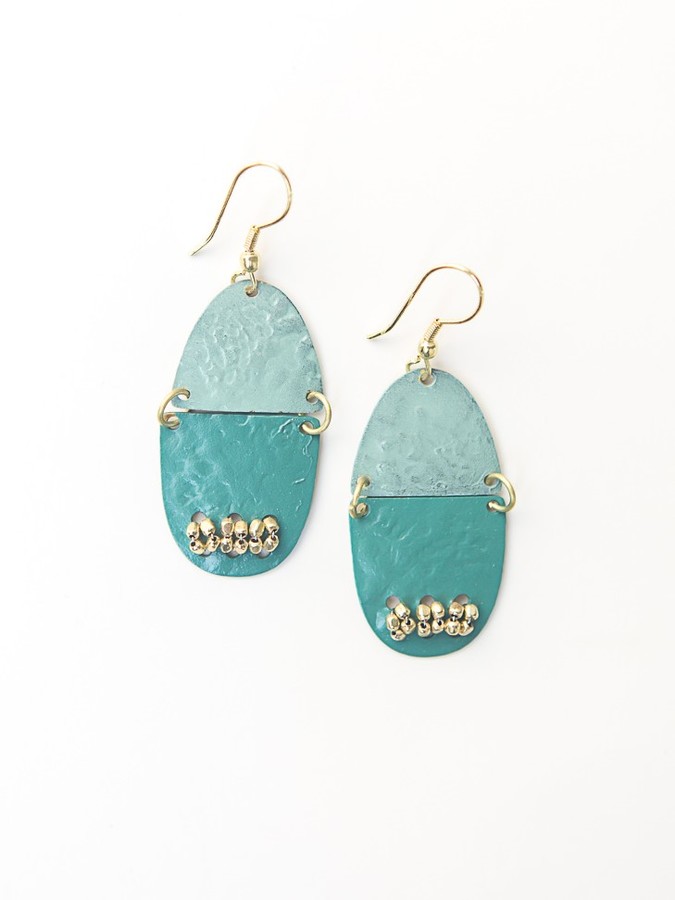 Using upcycled metals these turquoise two tone dangle earrings will add the perfect pop of color your our look.
Made fair trade by women in India. Measures 2.5″. Made from painted brass and handmade brass-plated beads. Nickel-free.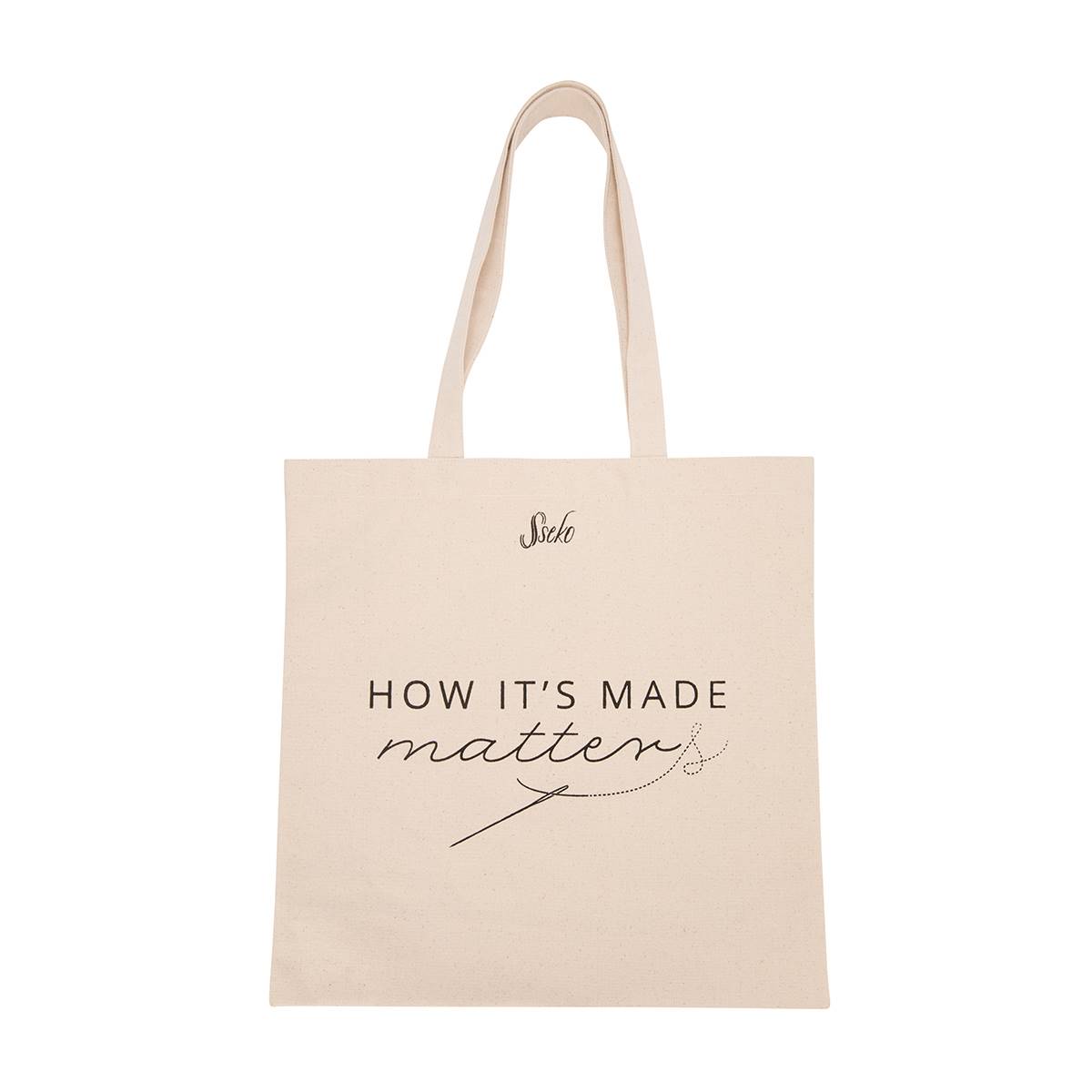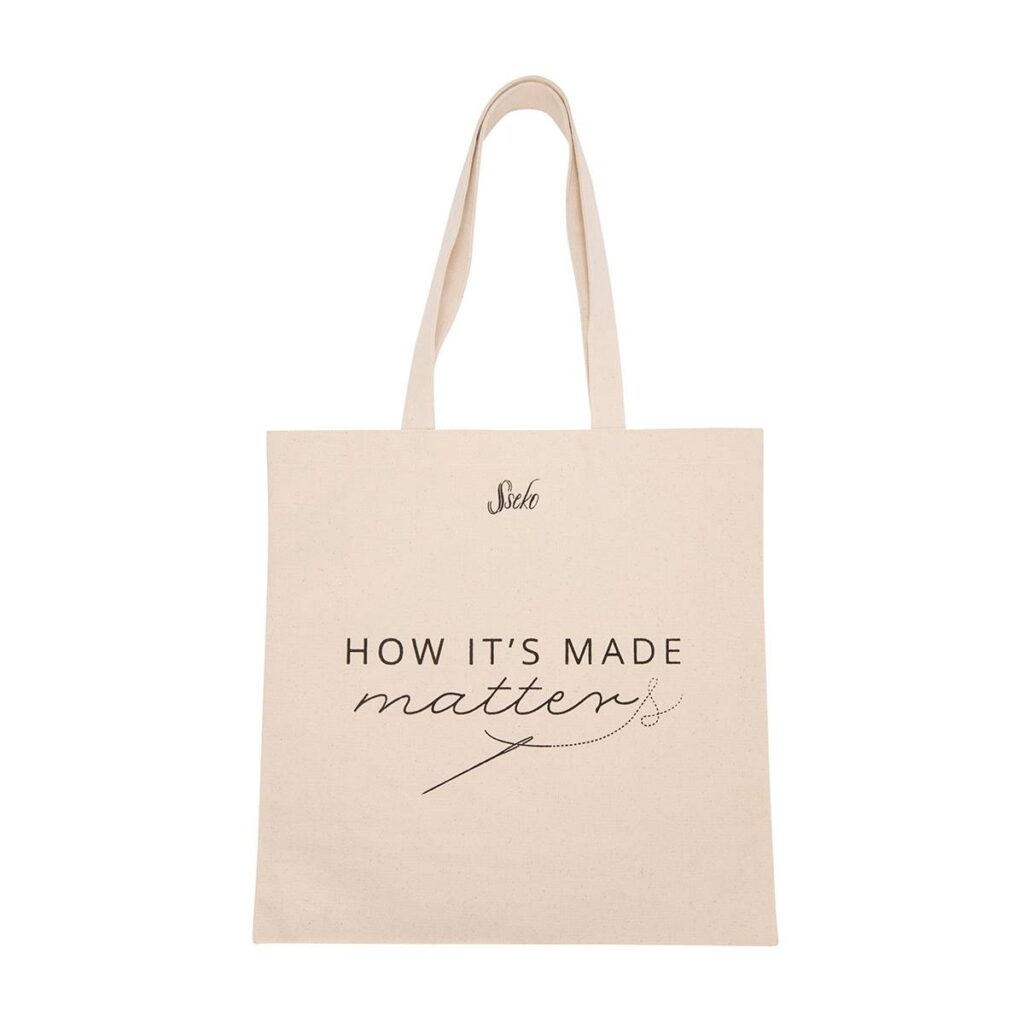 Make a statement wherever you go, whether it's the farmer's market or for a day full of errands. Let others know that "How It's Made Matters", and you are proud to be supporting ethically made products!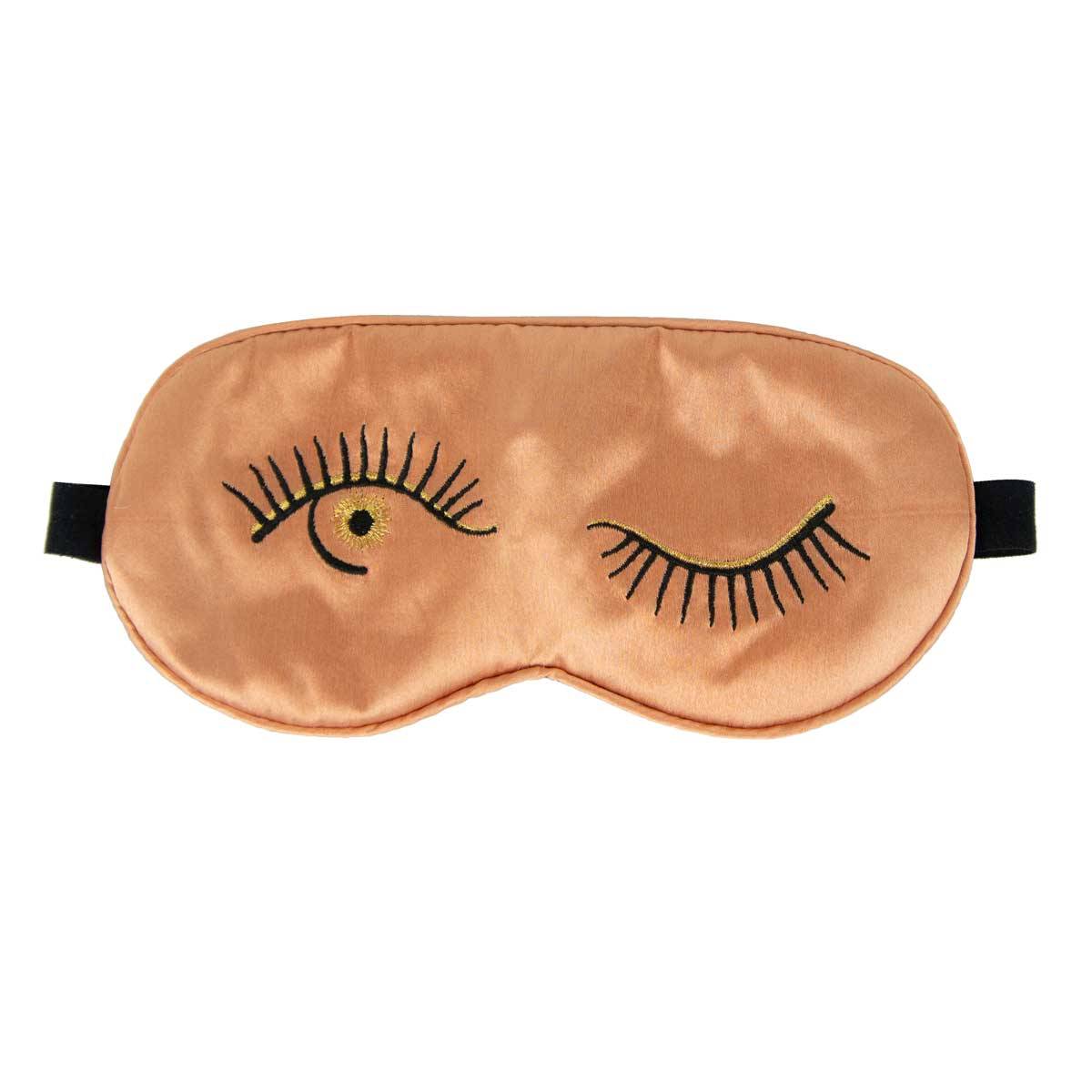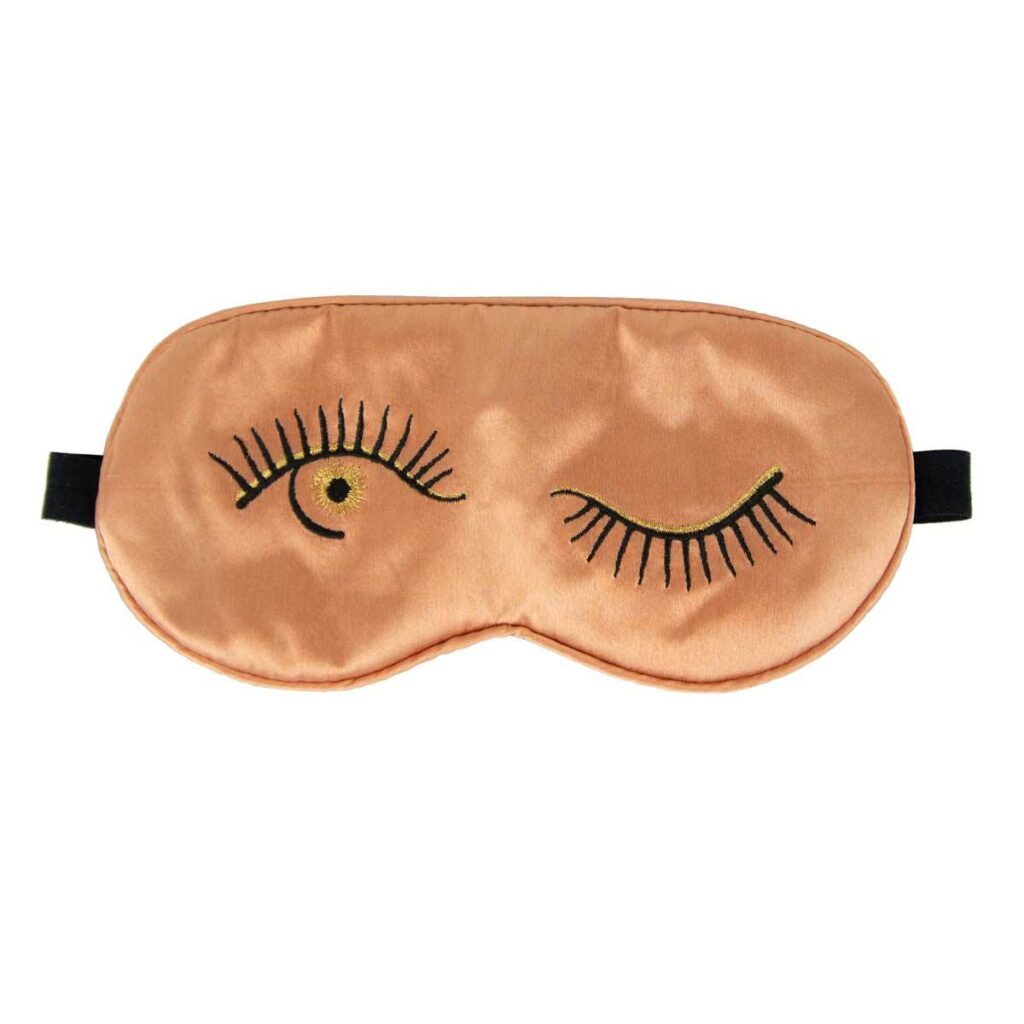 Getting a little shut eye isn't so hard anymore, all thanks to the Dreamer Doer Eye Mask! With an embroidered closed eye on one side and an open eye on the other, this satin eye mask takes dreaming and doing to the next level!
Perfect for the traveler on your list!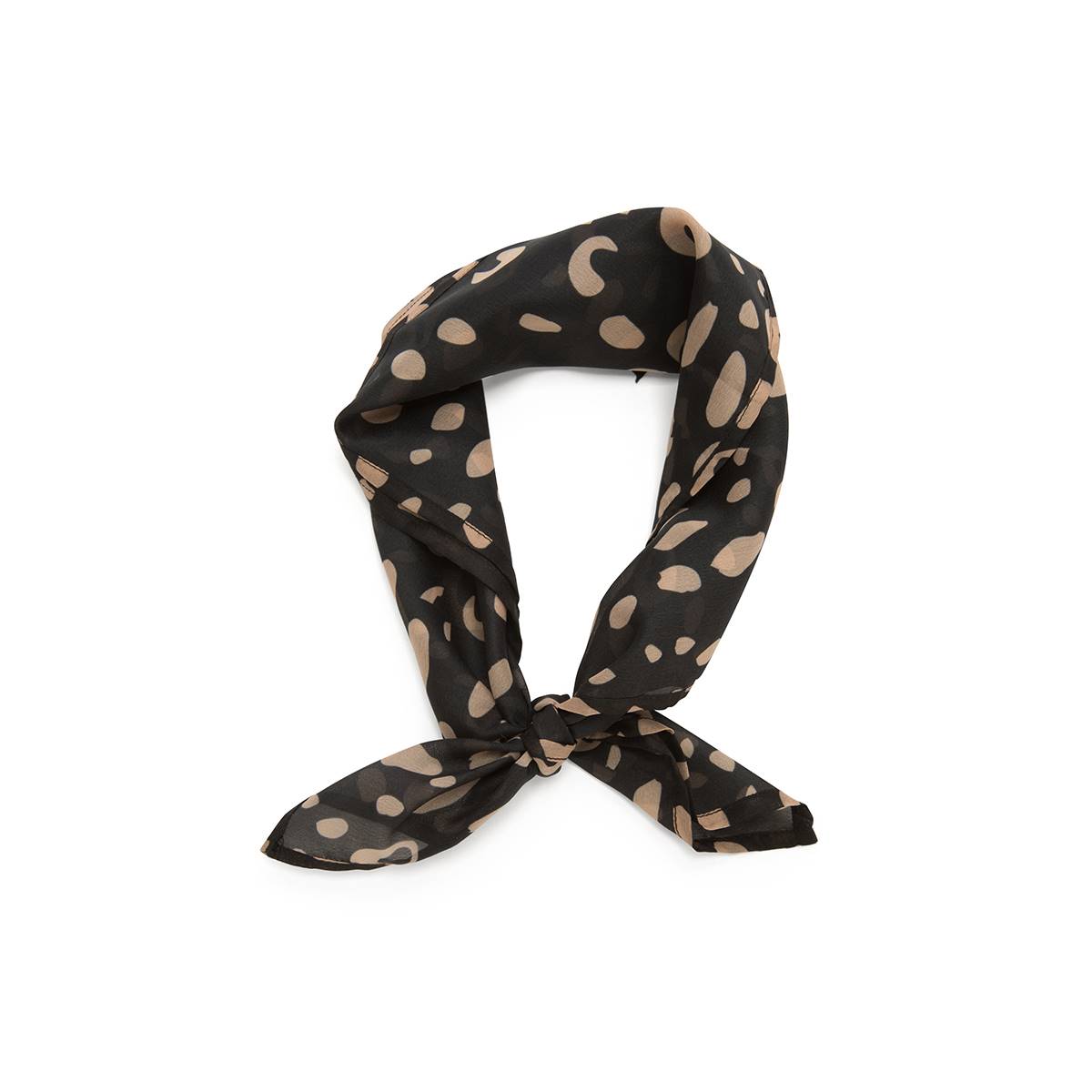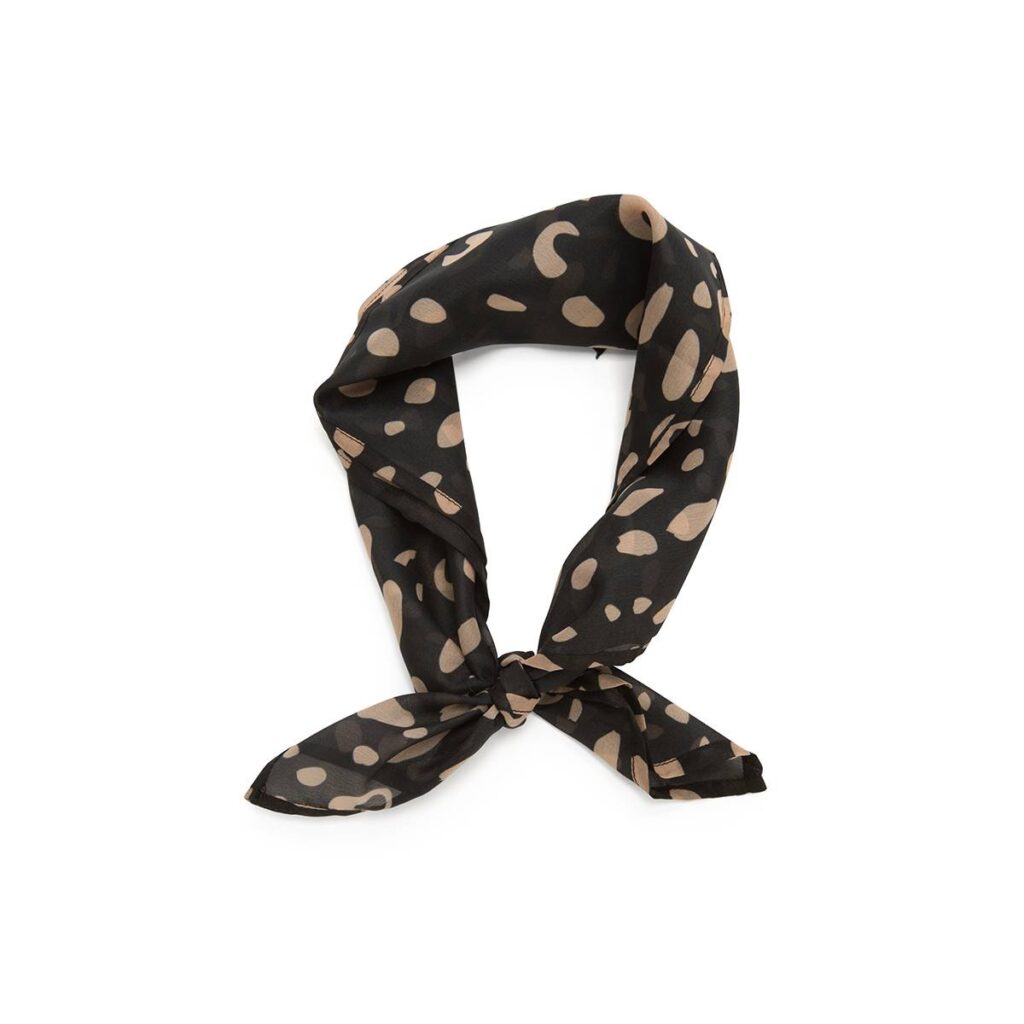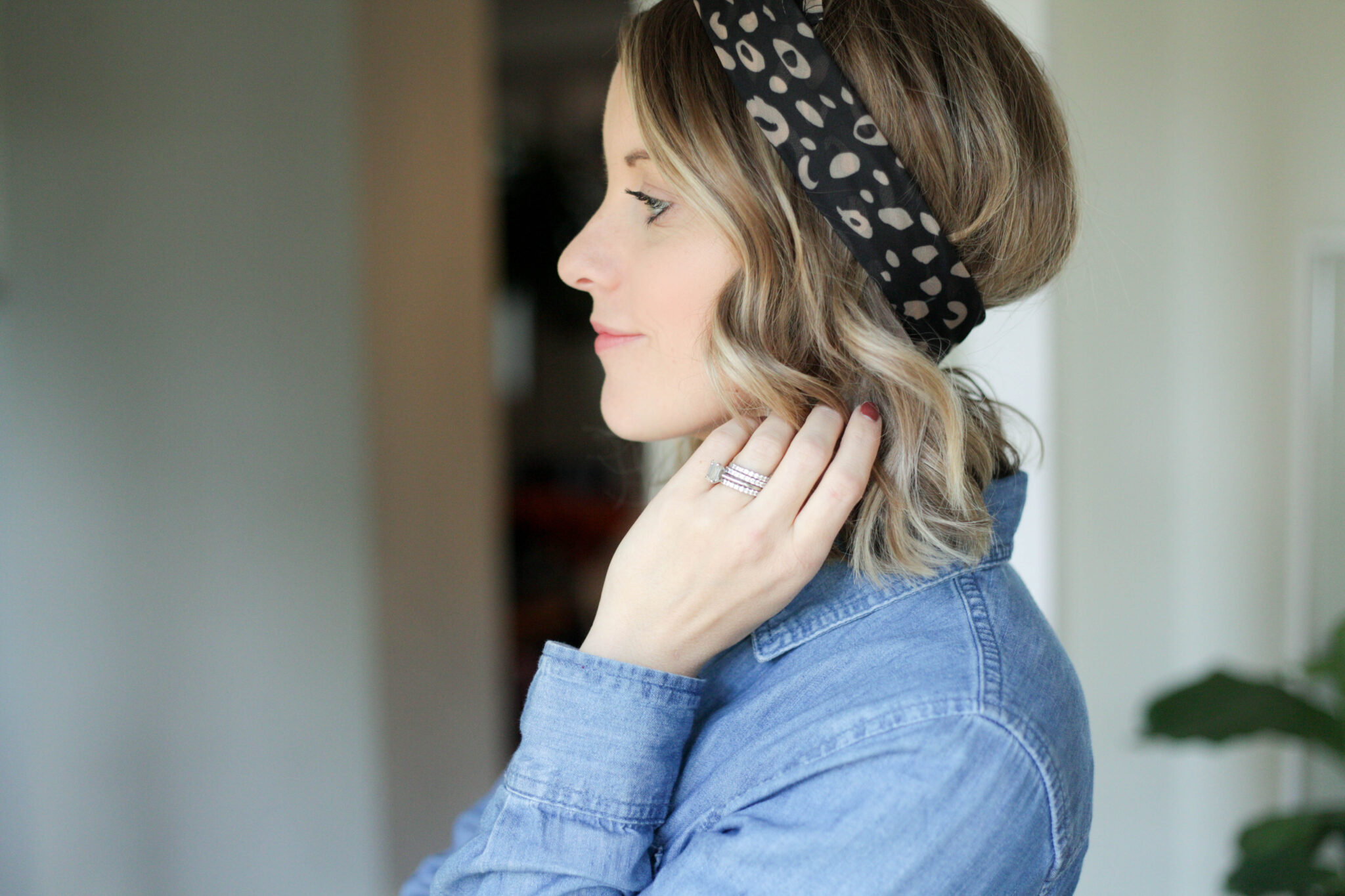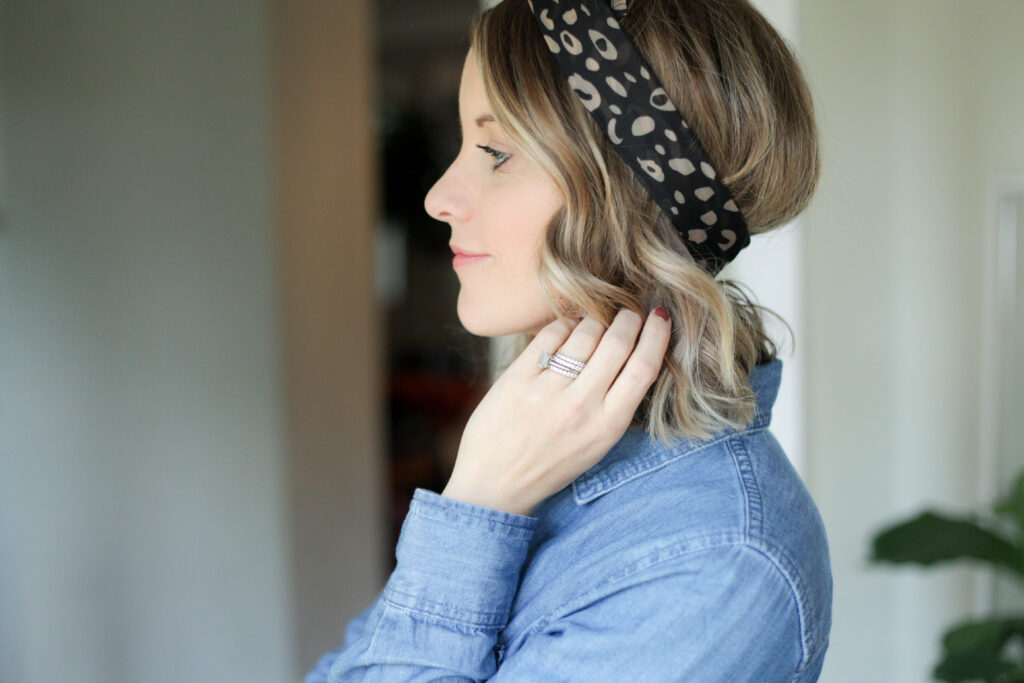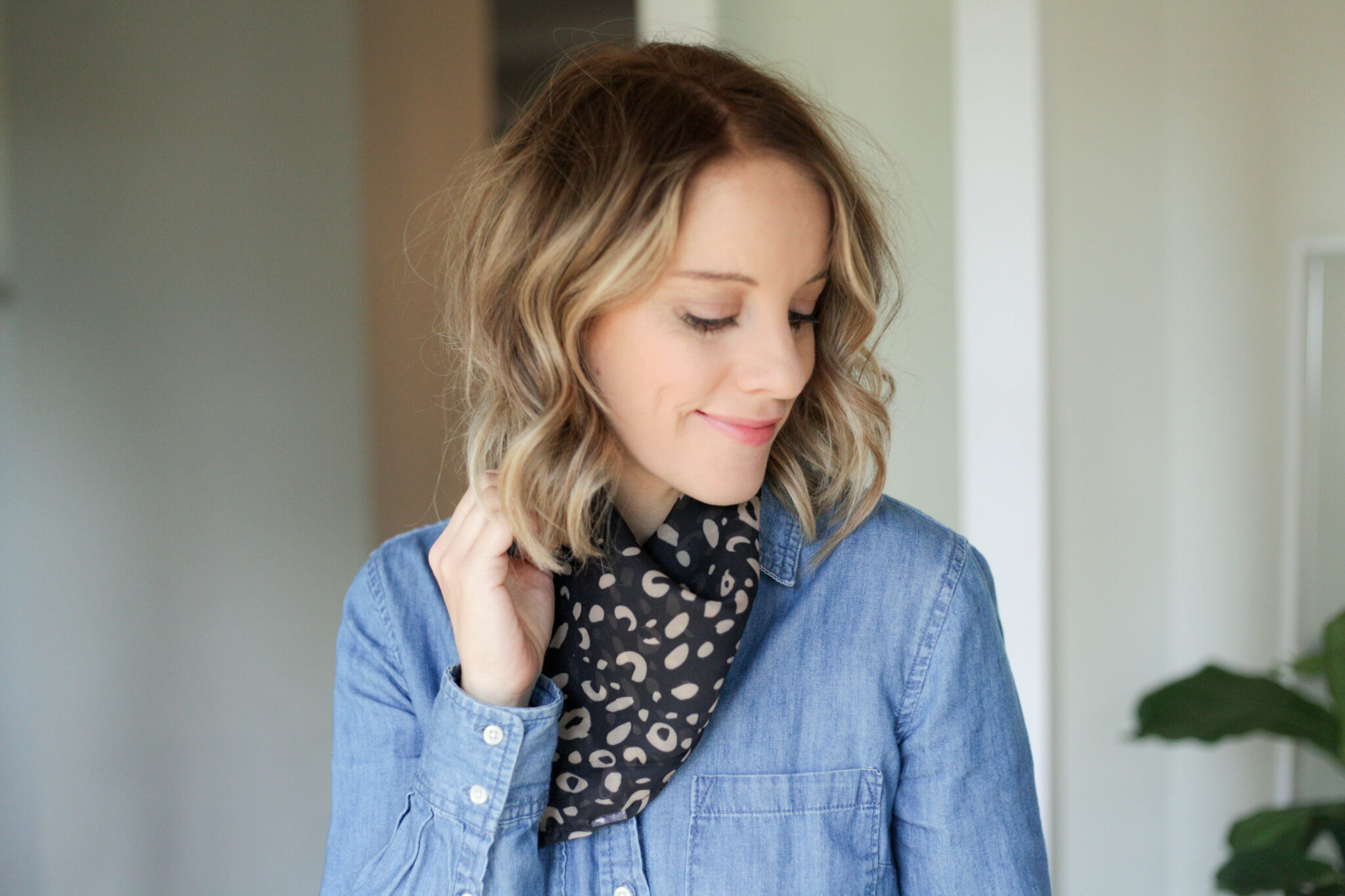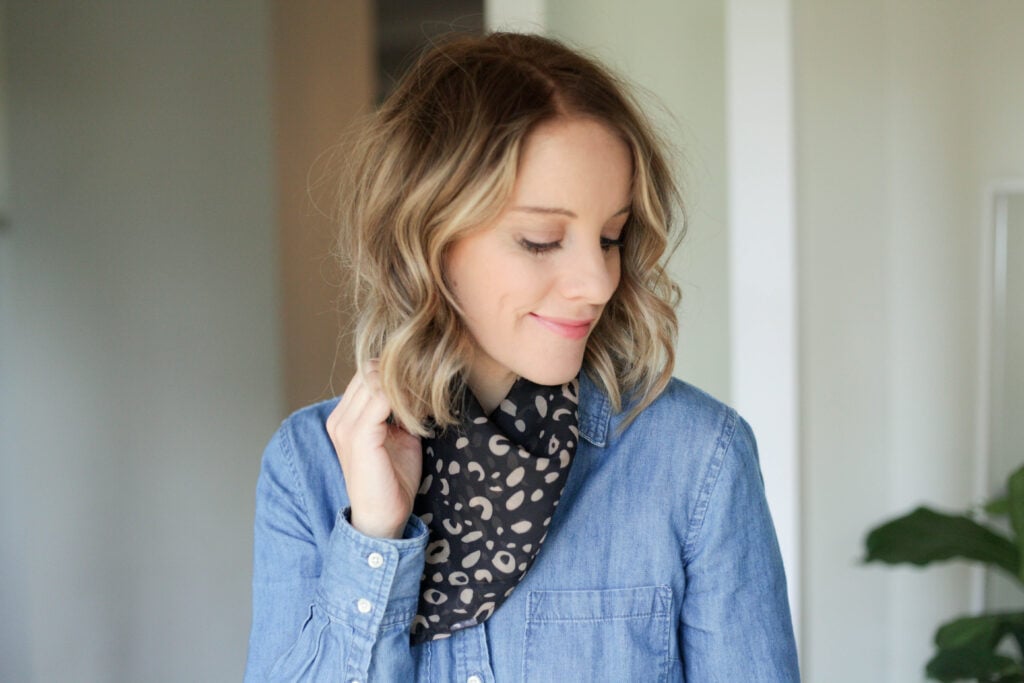 I own this scarf and wear it all the time! There are countless ways to use this head-turner! Use it as a neck scarf, a headscarf, or add it to your favorite bag for some extra fashion-forward flair!
Find a ton of different ways to wear it on this post.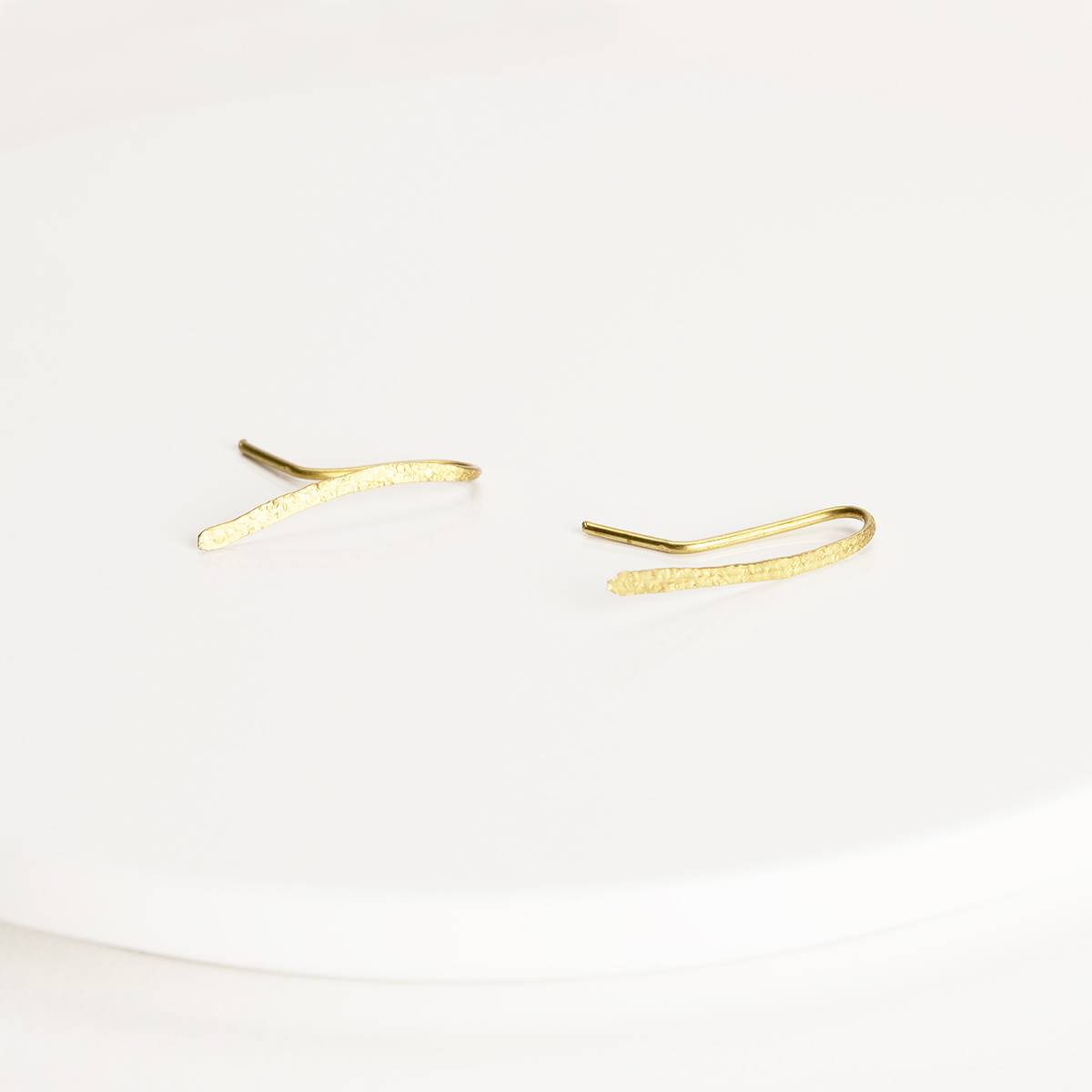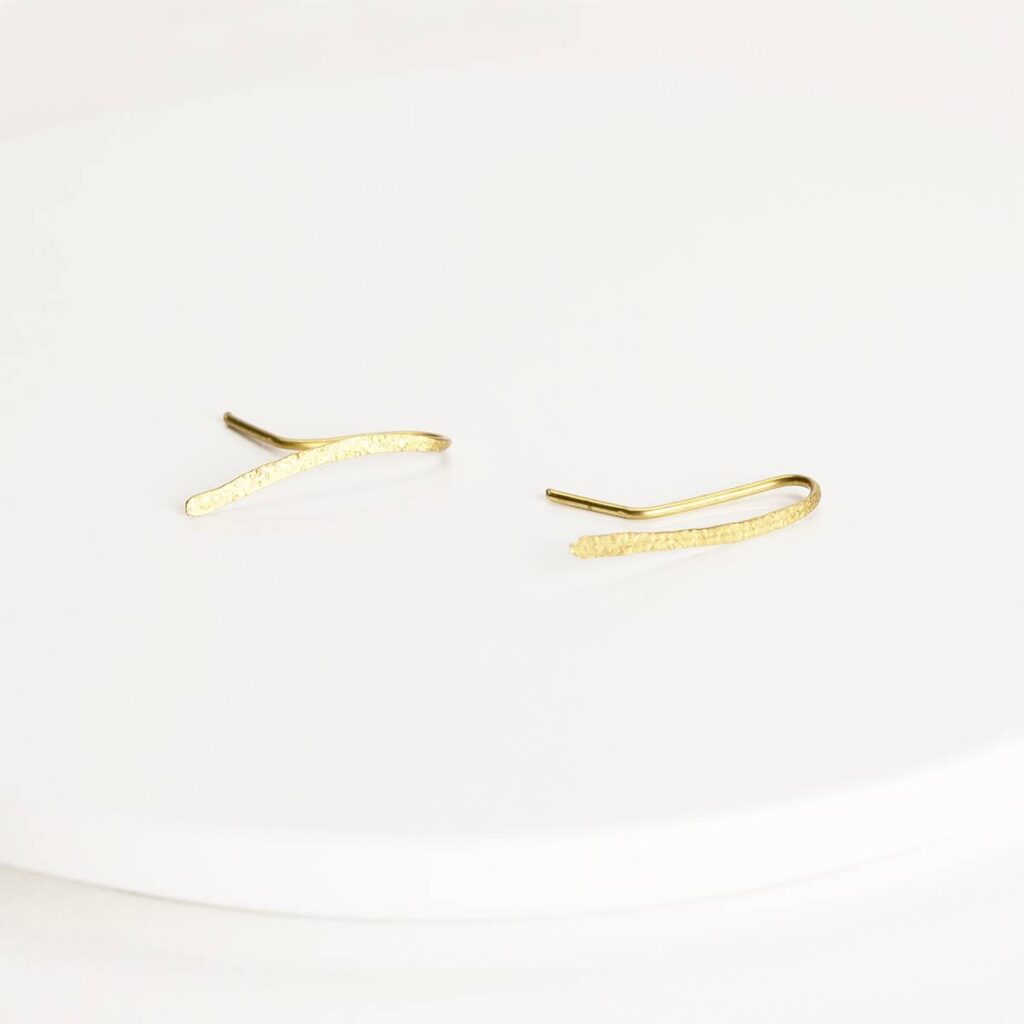 These Hammered Brass Ear Climbers bring the perfect amount of interest and fun to your look! This unique style climbs up your ear, creating a delicate, yet eye-catching statement with each wear!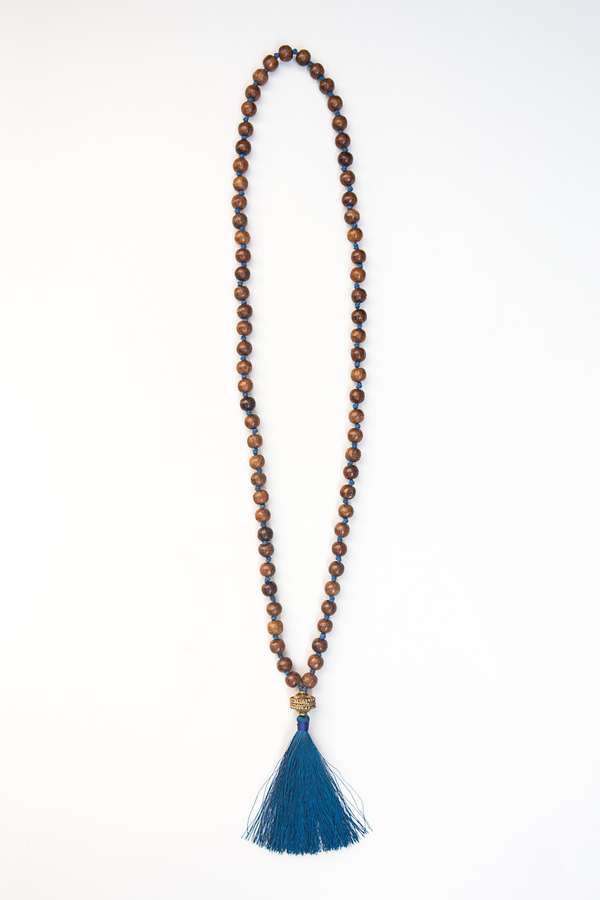 Our wooden warrior necklace is made from chunky wooden beads with a beautiful threaded tassel. This is a great statement necklace for that boho look.
Made fair trade by women in India. Made from wood, thread, and brass. Nickel-free. Measures 32″ with 3.75″ tassel.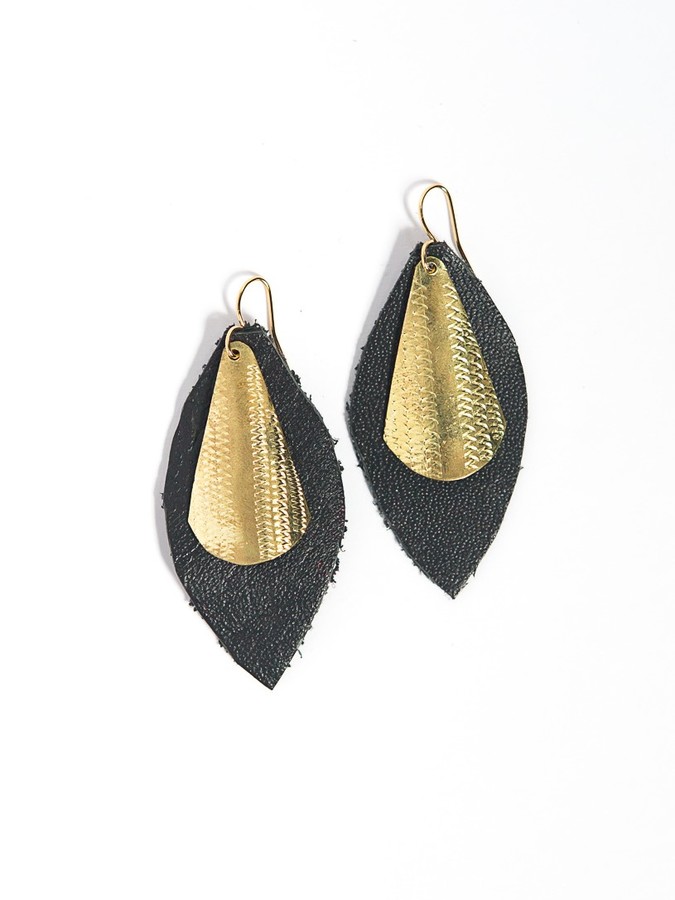 By mixing recycled leather and recycled artillery these leaf shaped brass earrings are a product of resourcefulness and awesome creativity. We hope they inspire you to tackle your day.
Made from recycled bullet casings by women in Ethiopia. Beads made from 100% recycled brass and recycled sustainably-sourced leather.
Nickel free. Measures two inches in length and one inch wide.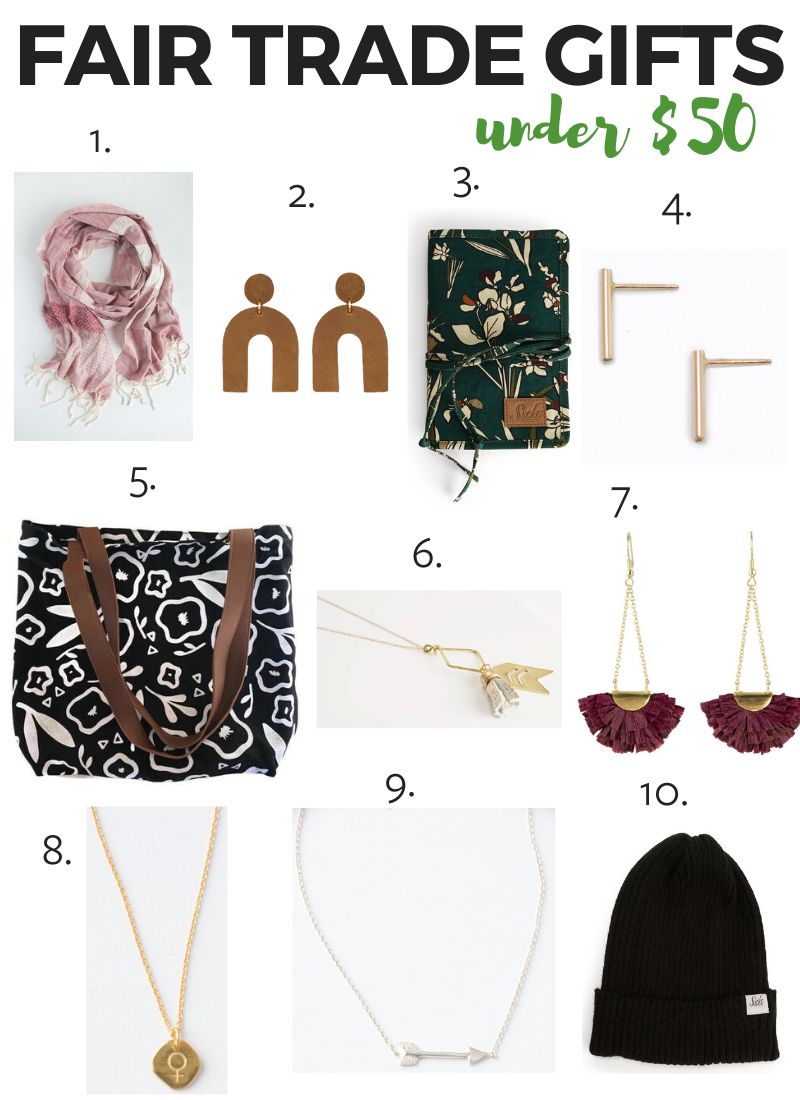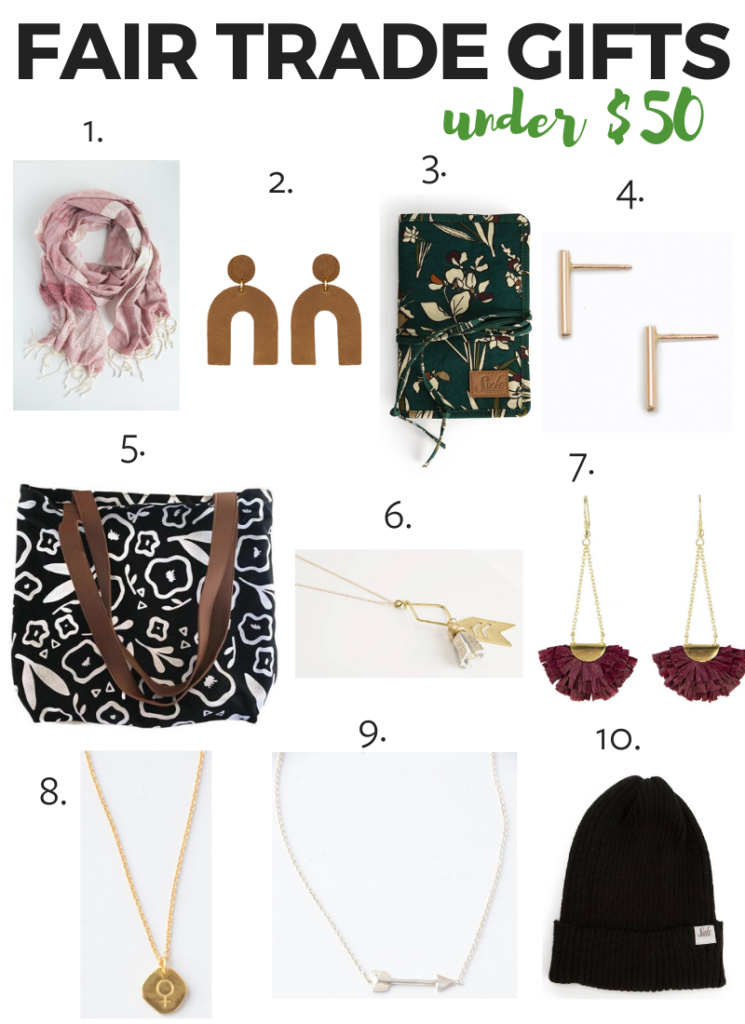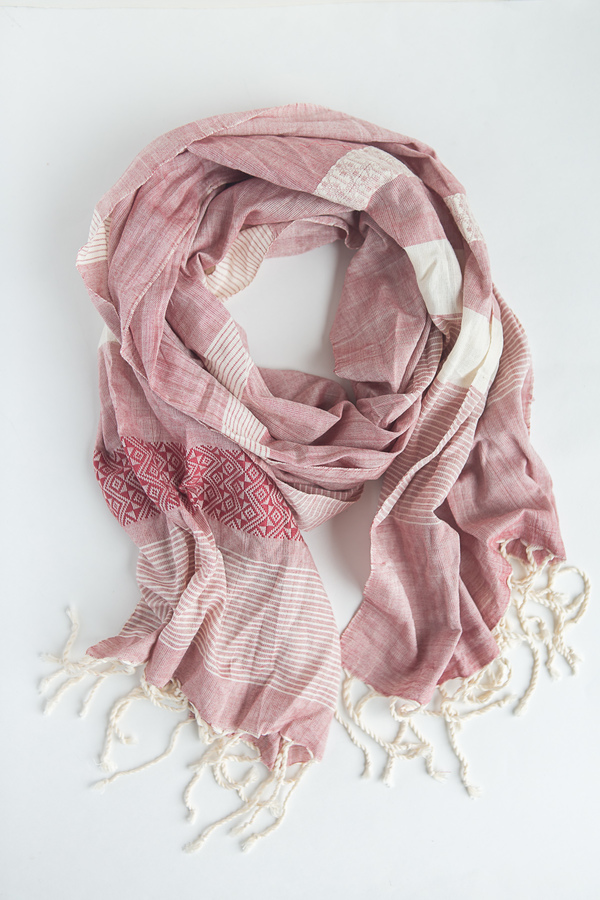 Three gorgeous patterns encompass this light pink scarf so seamlessly. Scarves are an easy way to add some style to your outfit with an added bonus of keeping you warm in colder months.
Made fair trade by women Vietnam, this ethically-made accessory is completely handwoven. 100% cotton.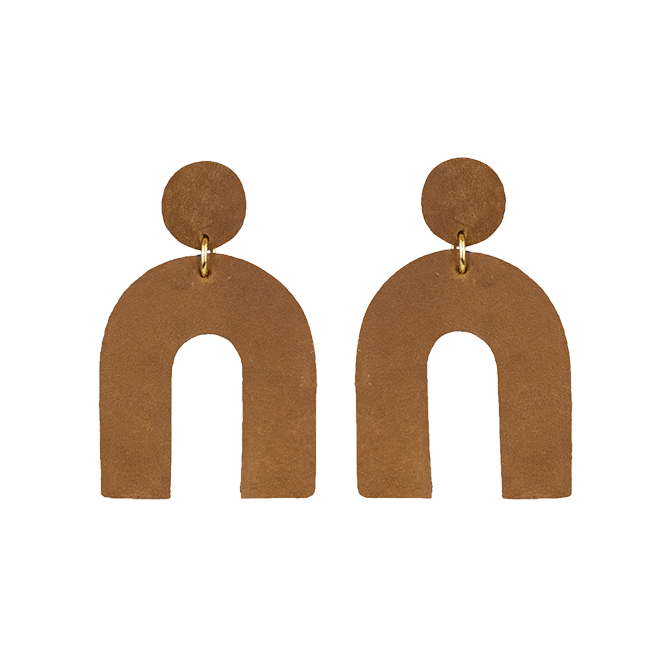 Customize your own earrings with 12 different kinds of leather! Mix and match and even add a monogram. The options are endless!
Sseko has a TON of custom products from earrings to bags to clutches and more.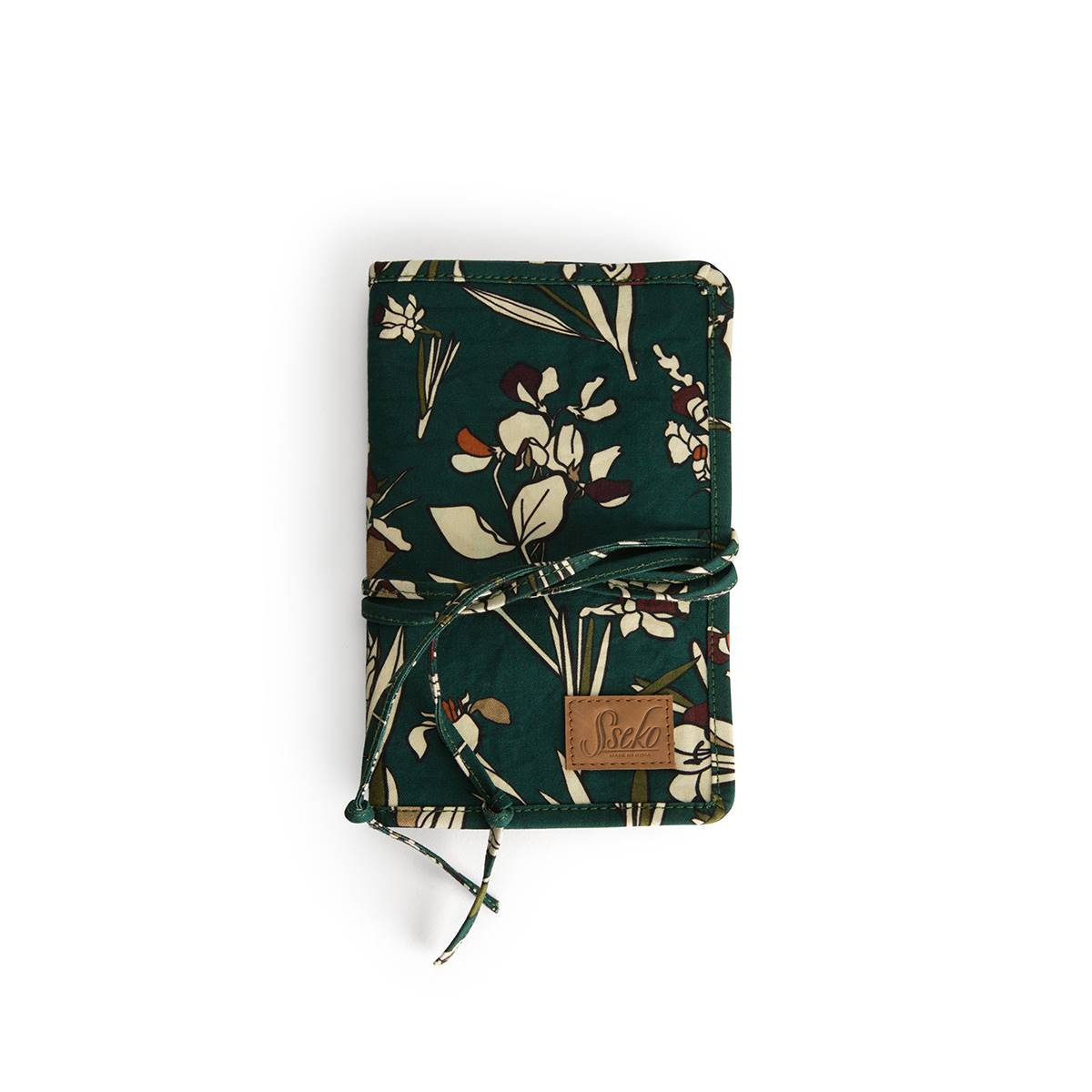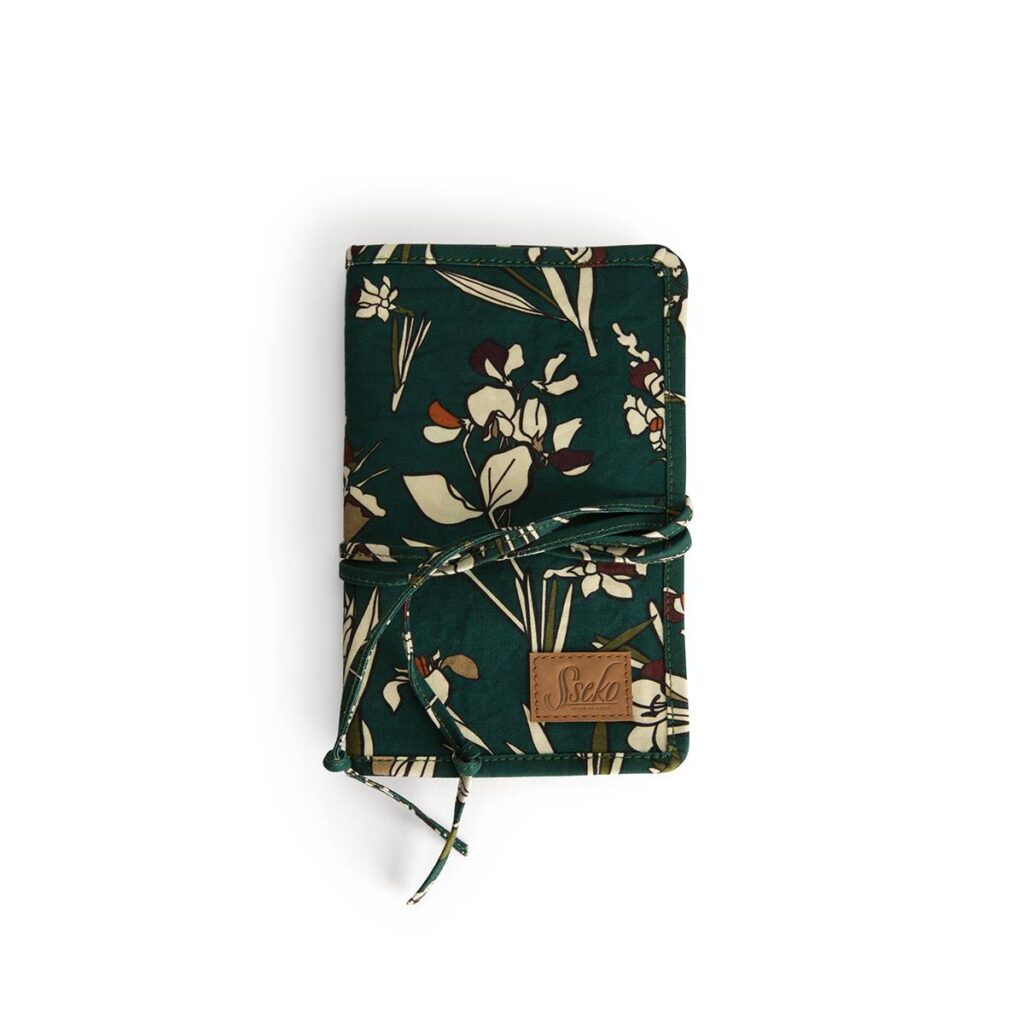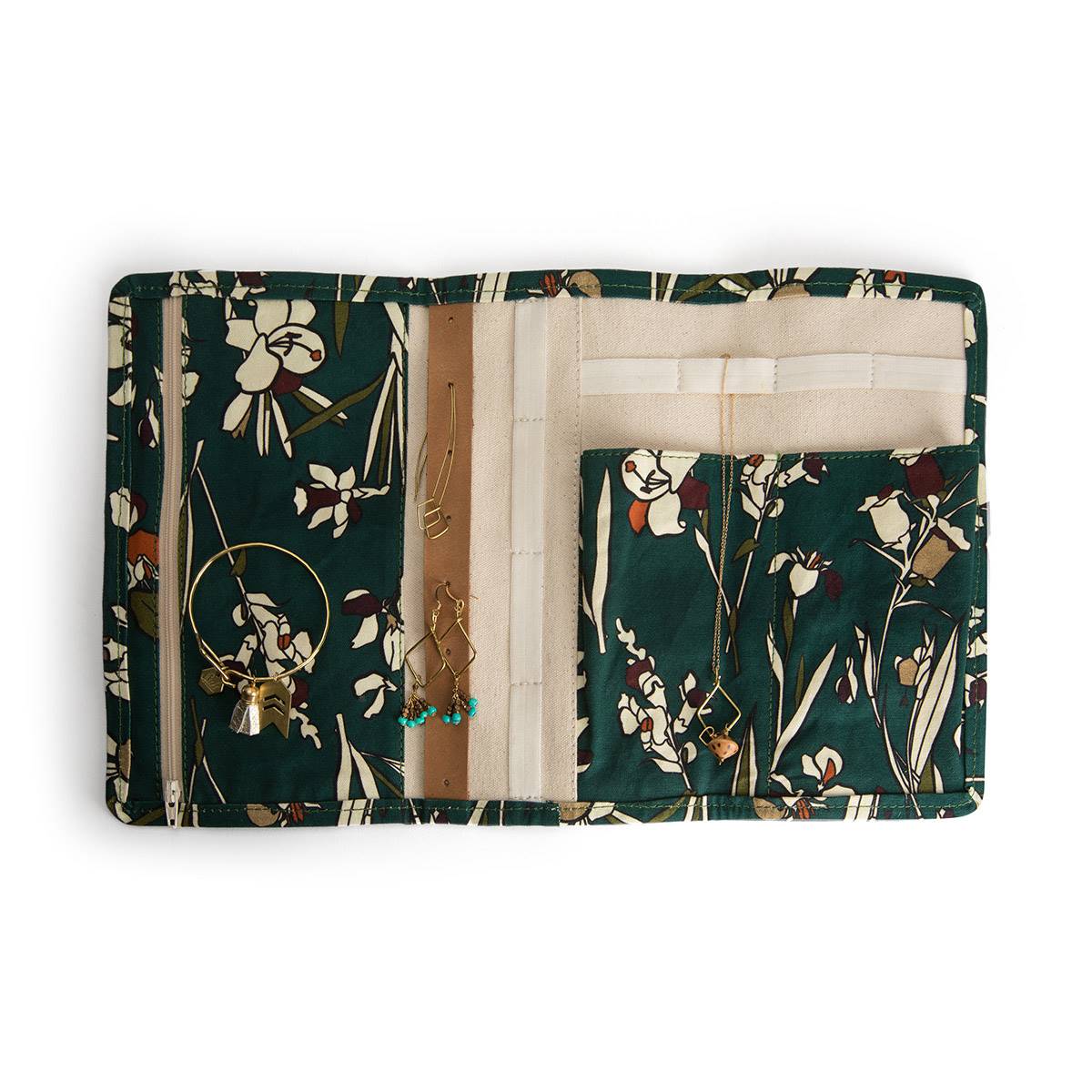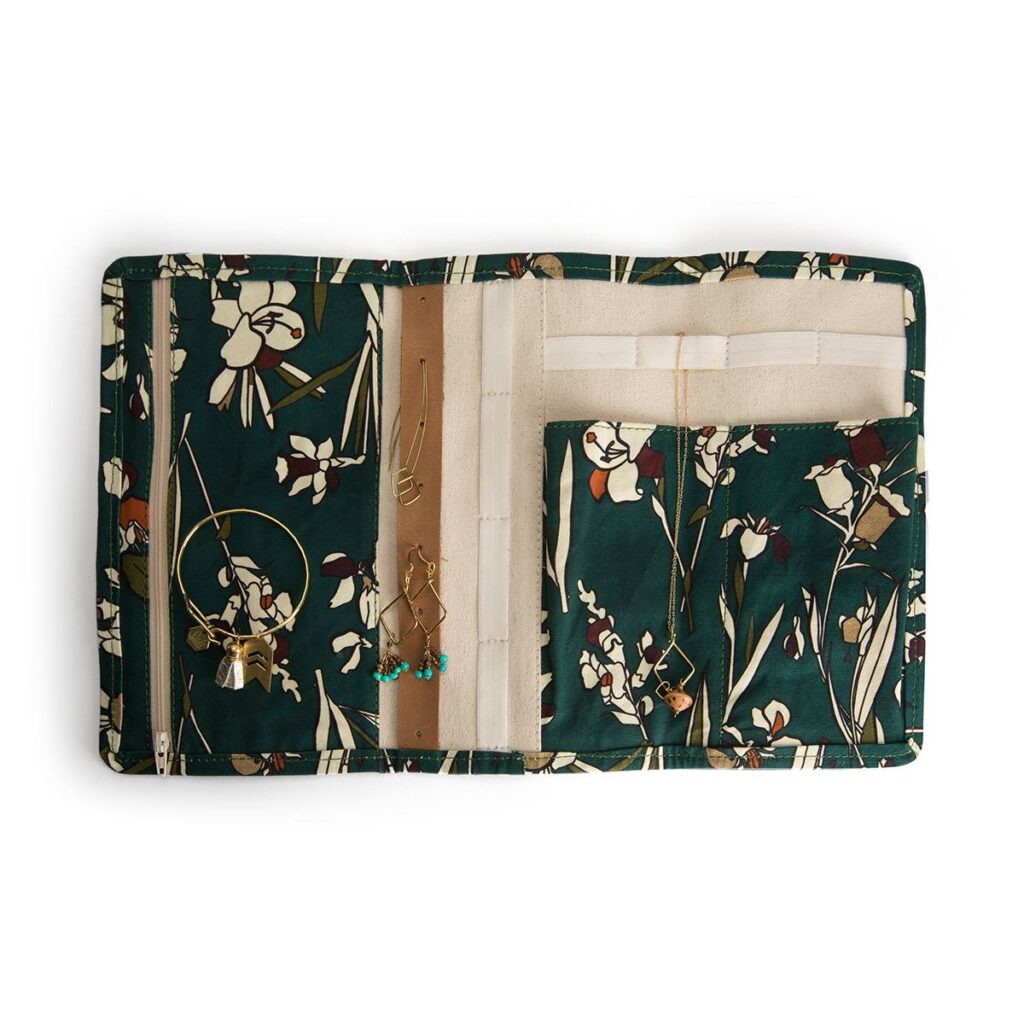 Always trying to figure out how to keep your jewelry safe and tangle-free when traveling? All you need is the Jewelry Roll in Sweet Pea! This piece is perfect for staying organized & stylish on the go!
This jewelry roll is made from cotton canvas and genuine leather. It's lined, has slots for earrings, pockets for bracelets, and loops for necklaces.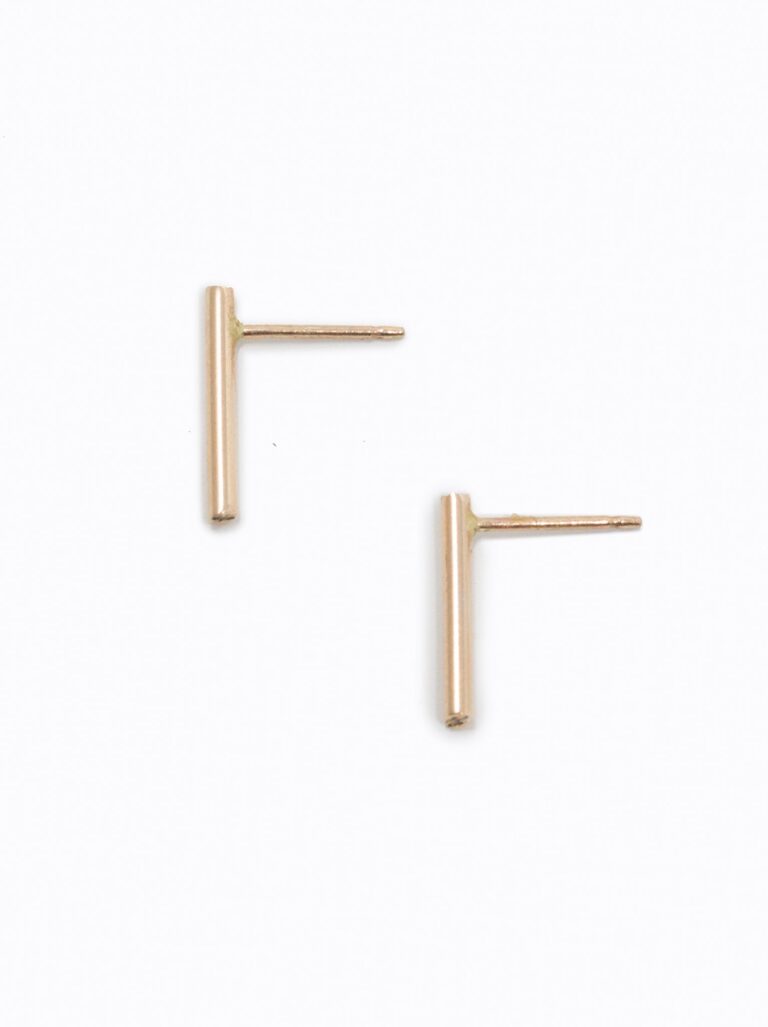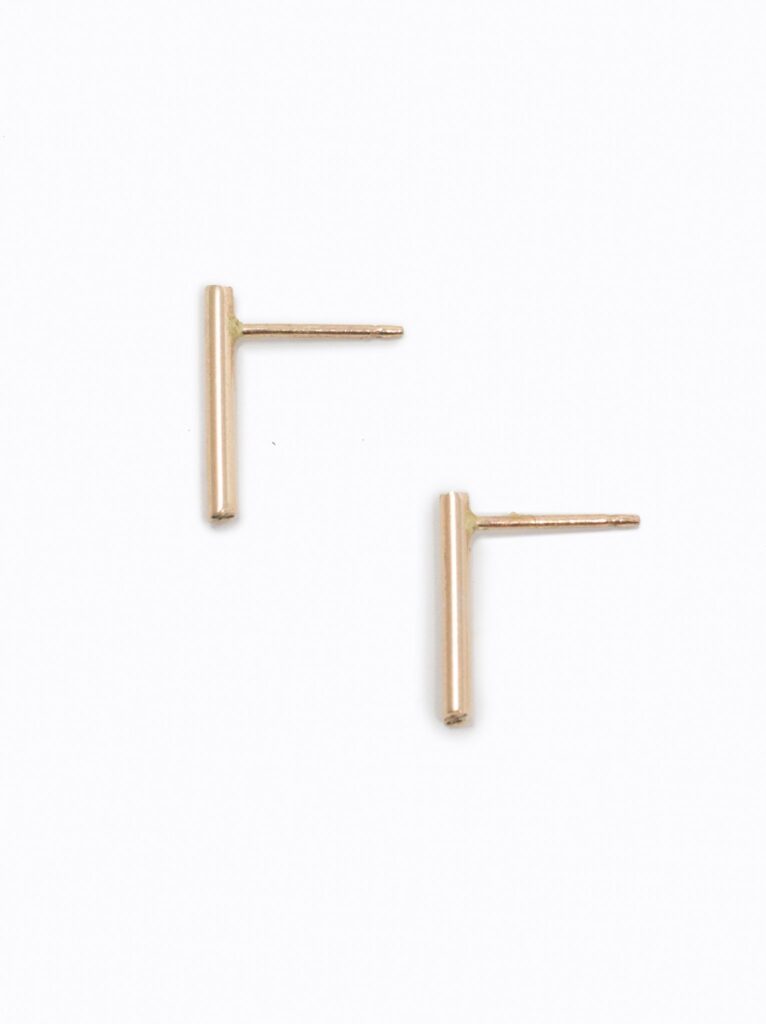 Need an everyday stud? The Stick Earring is a perfectly modern option that you'll never want to take out. I own these and wear them 80% of the time! Available in 14k gold-fill and measure 1/2″/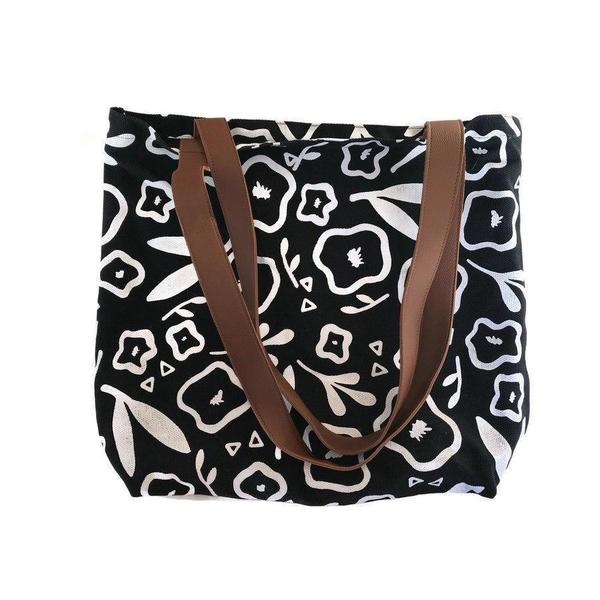 This beautiful Dark Poppy XL Tote was sewn and silk-printed by women in Cambodia. It is a canvas bag with vegan leather handle with a small pocket inside. This fair trade accessory is slightly larger than your average canvas tote. It's perfect to bring along your laptop or swing by the farmers' market!
Super dark navy (practically black!) cotton canvas tote with white eco-friendly ink and light-brown vegan leather handles. Made from 100% upcycled fabric, using waste from traditional garment factories.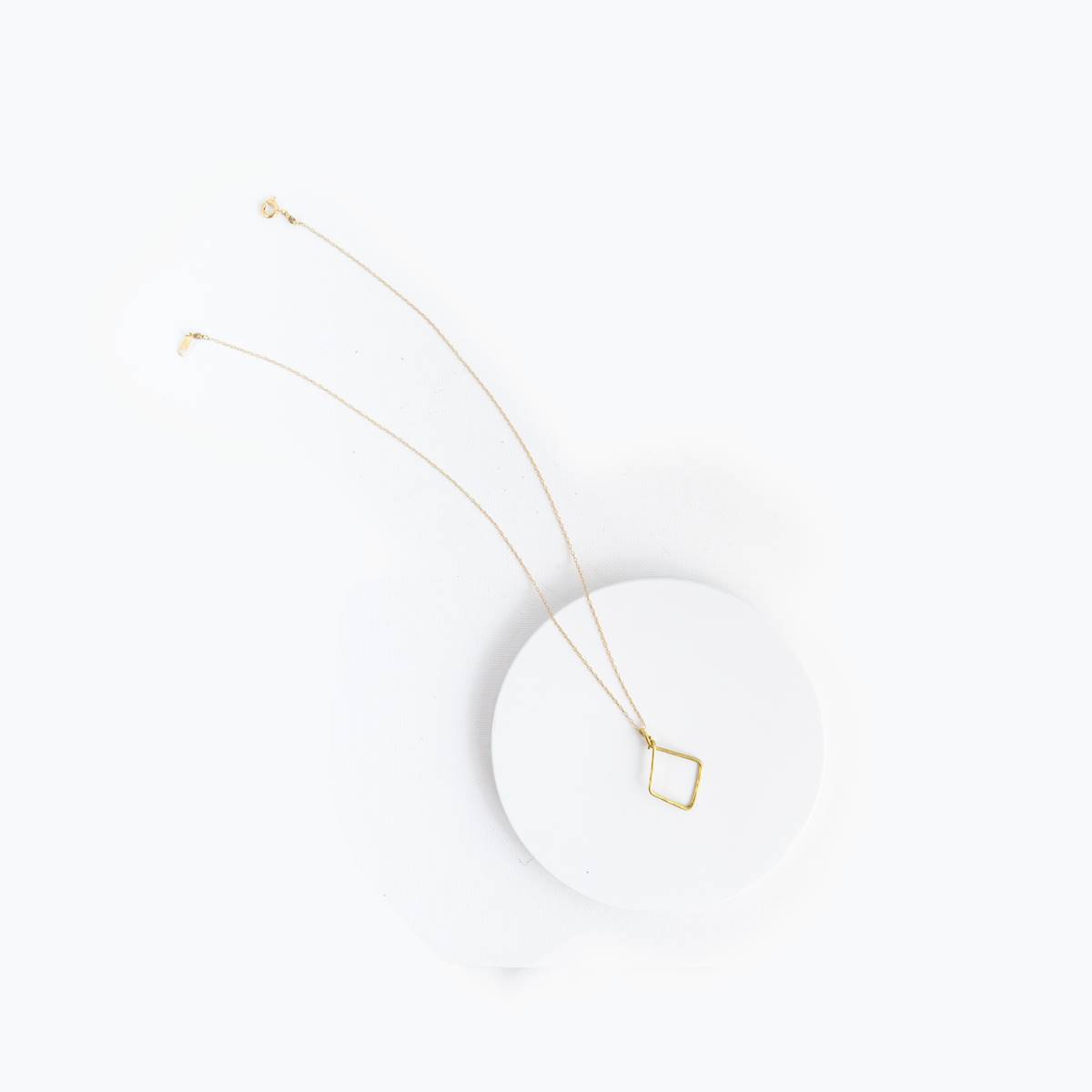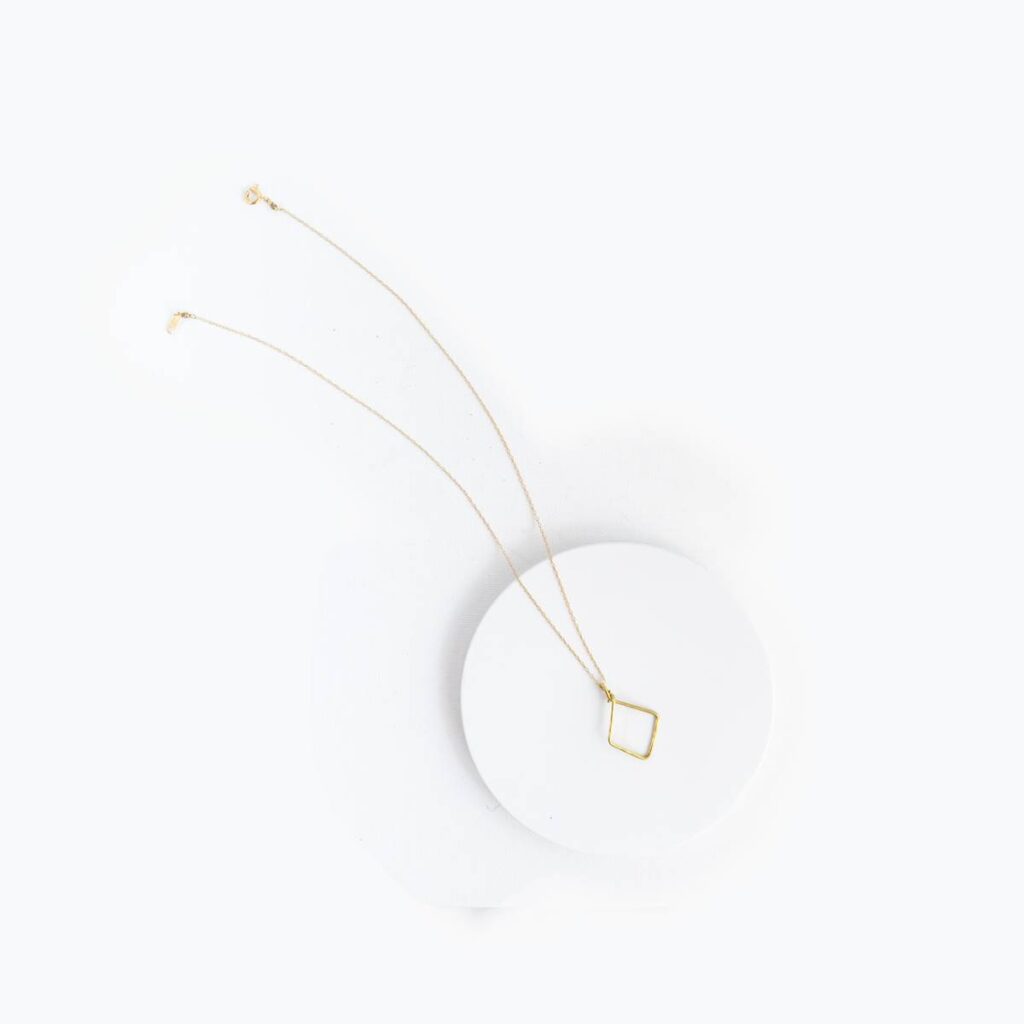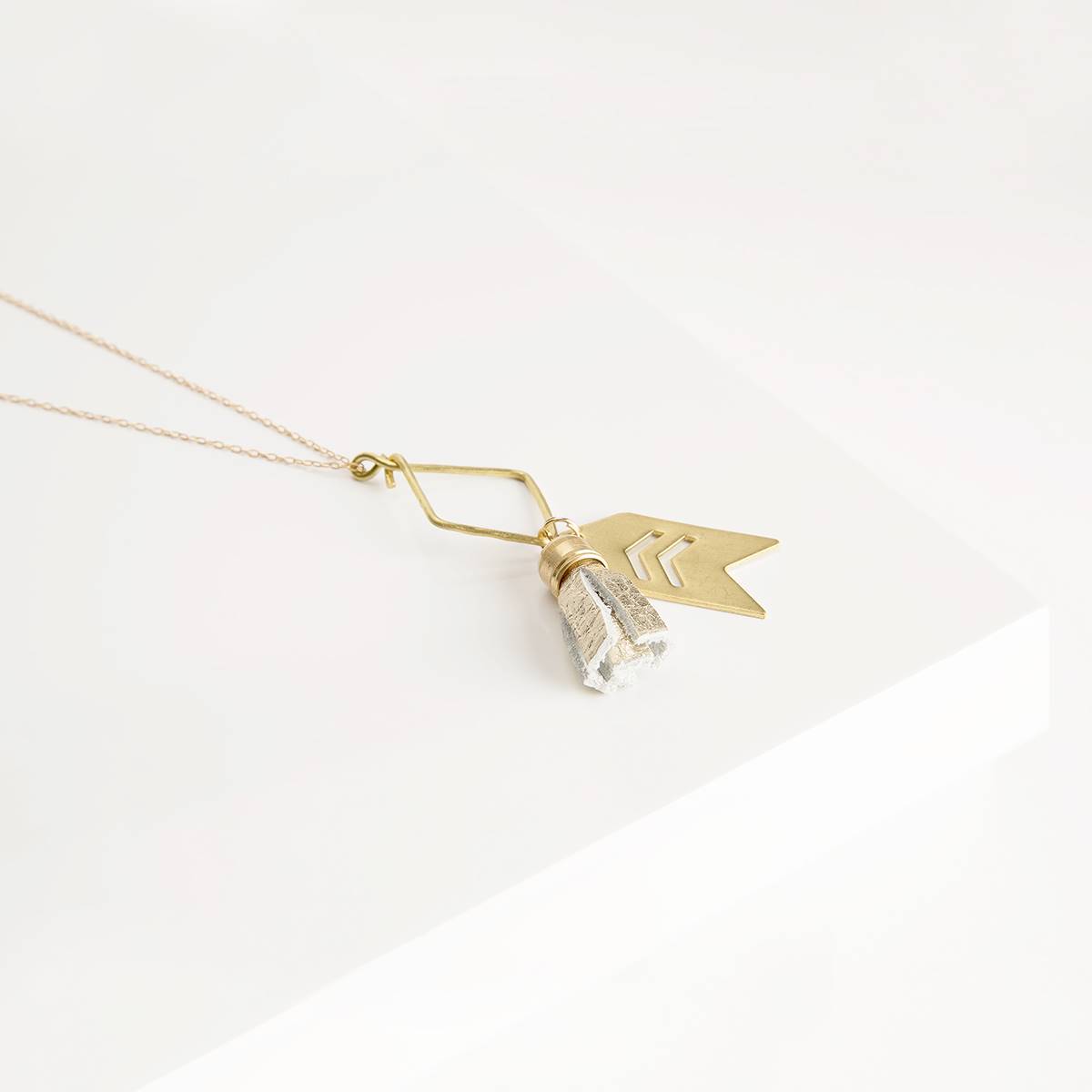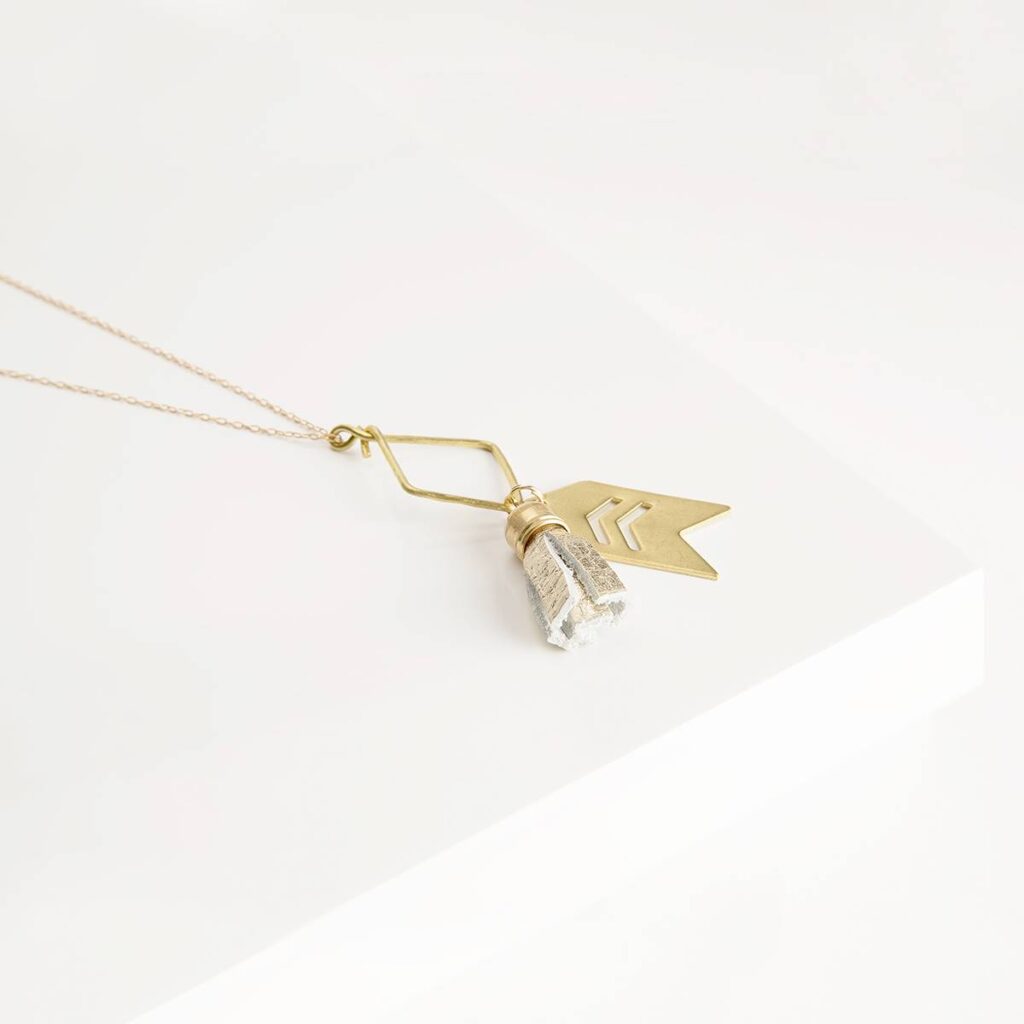 Like to mix up your jewelry frequently? The Brave Necklace is for you! This handcrafted necklace is designed to be worn with interchangeable charm "pieces" that easily slide on and off. Each Piece you add to your necklace signifies a moment, decision or dream.
This necklace serves as a reminder of where you have been, inspiration for where you are going and a symbol of what lies within you. Piece by piece, each unique Brave Necklace will tell your story.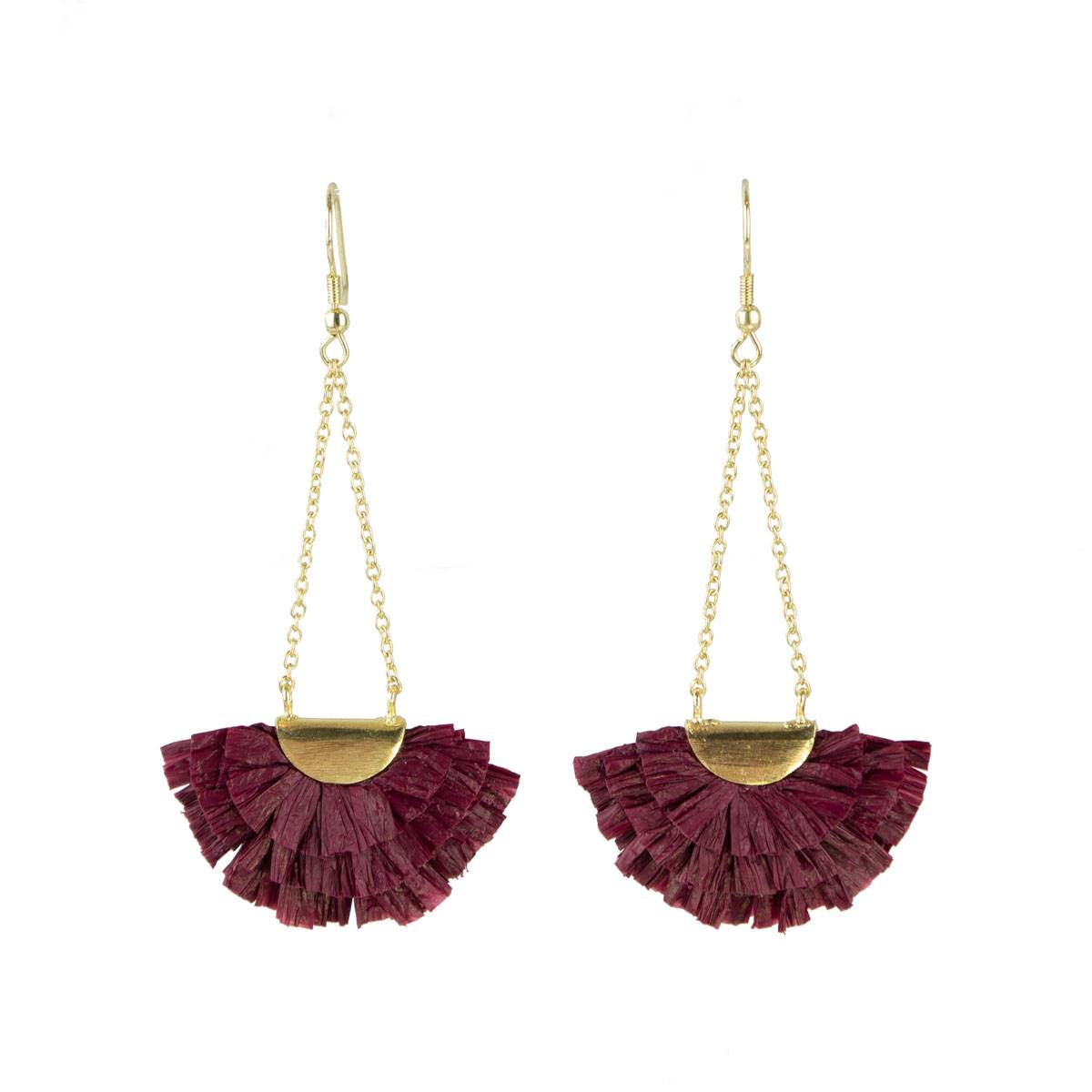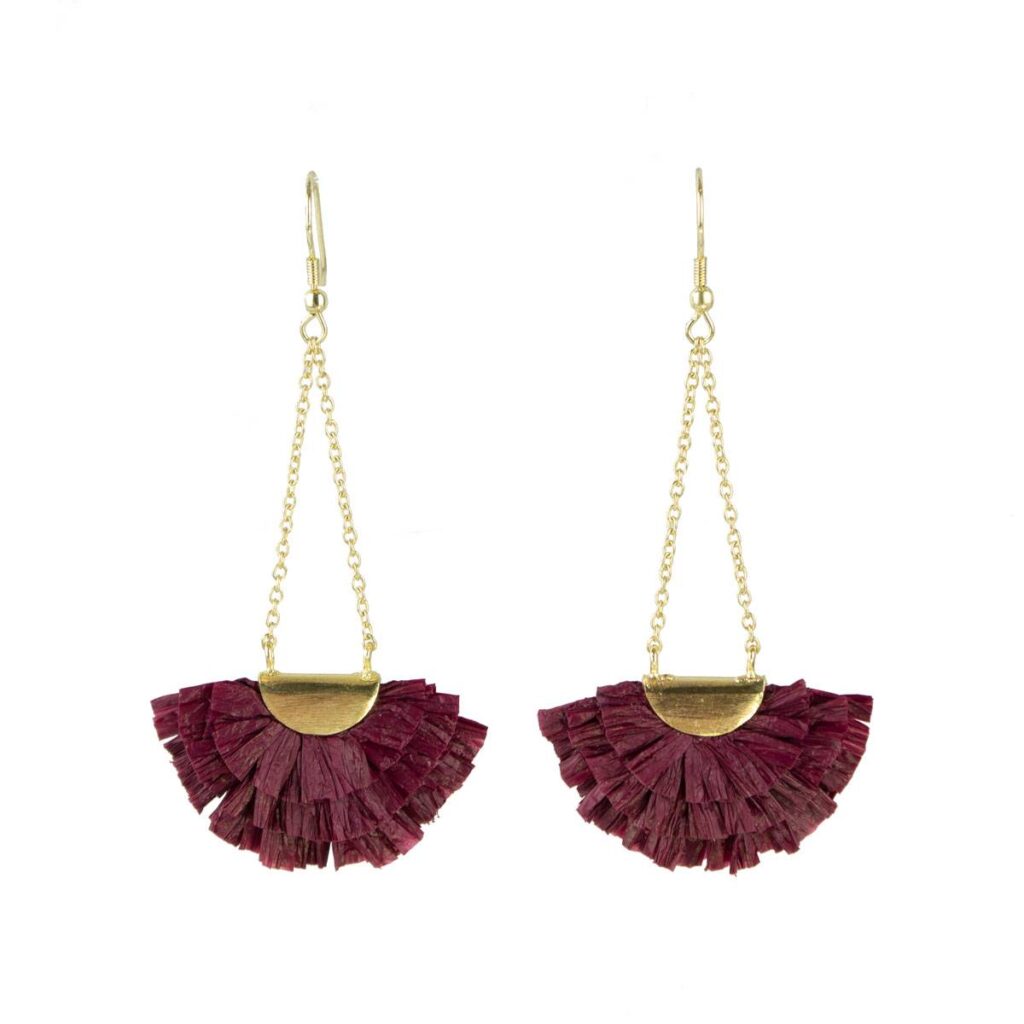 I love a good earring and these are beautiful! The gold and wine color are perfect for fall and winter and they can easily be dressed up or down.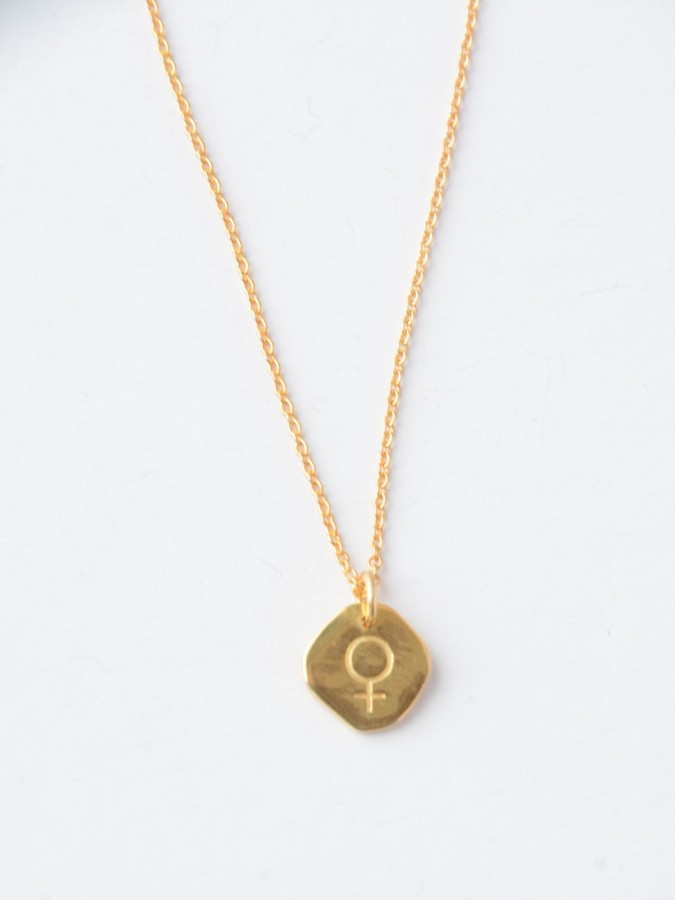 The future is female– and we're here for it! I own this necklace and love the dainty nature of it. This beautiful necklace is .925 sterling silver covered in 14k gold, made by women in Jaipur, India. A true feminist piece all around!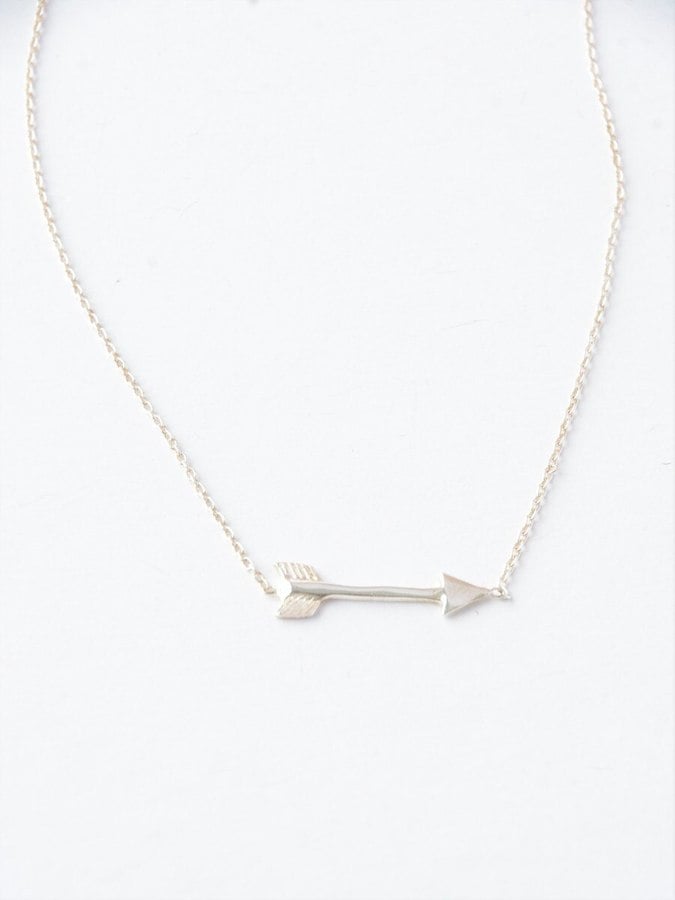 For the wanderlust woman, this dainty silver arrow necklace will be your next travel companion.
This necklace is made from recycled .925 sterling silver. Hand-crafted by talented artisans in Jaipur, India. Measures 17″ with a 1.5″ extender chain.
10. Beanie (Sseko) $44.99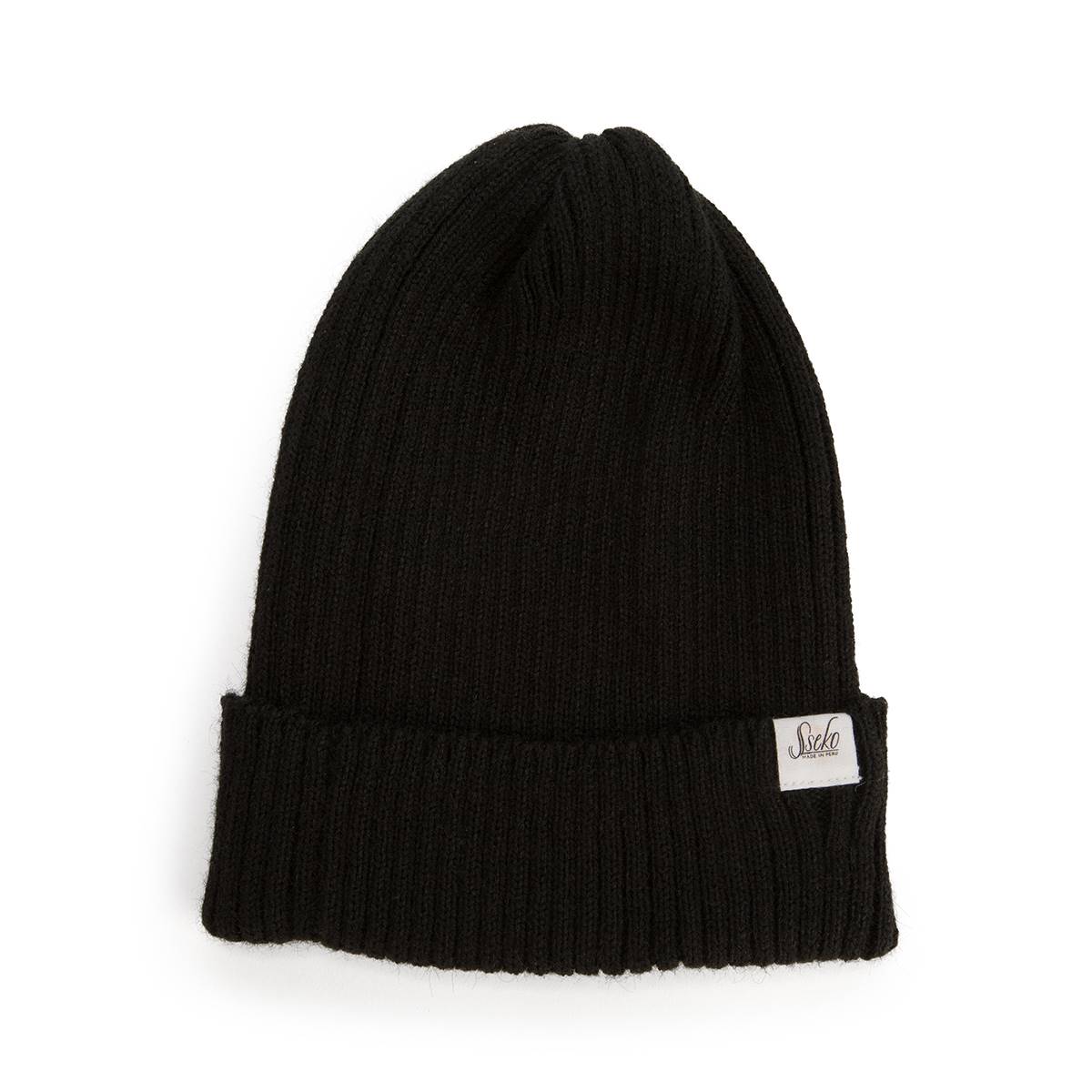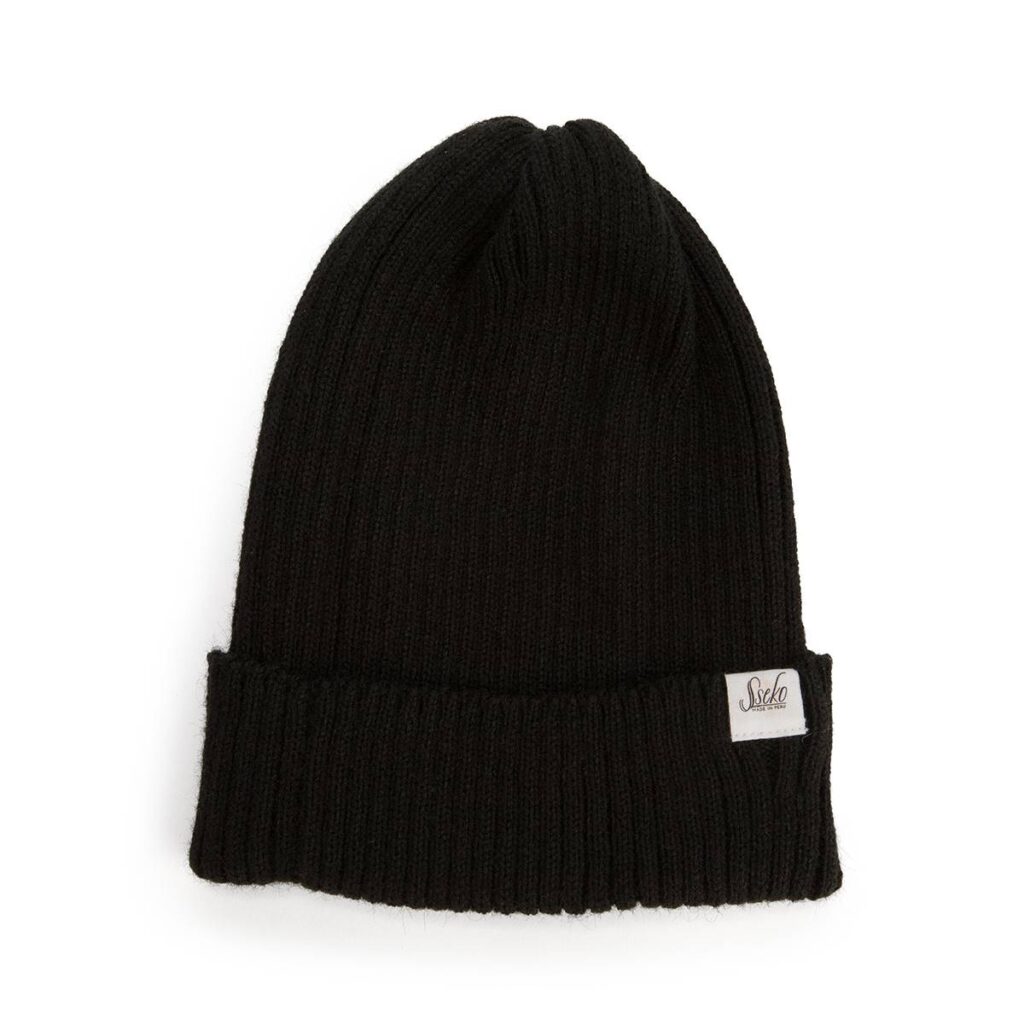 Stay cozy warm in this fair trade Beanie! Cute hats are the perfect piece for all of this season's events. The Beanie can be worn cuffed or uncuffed – either way, it brings some serious style points to any outfit!
Made in Peru. Also available in olive.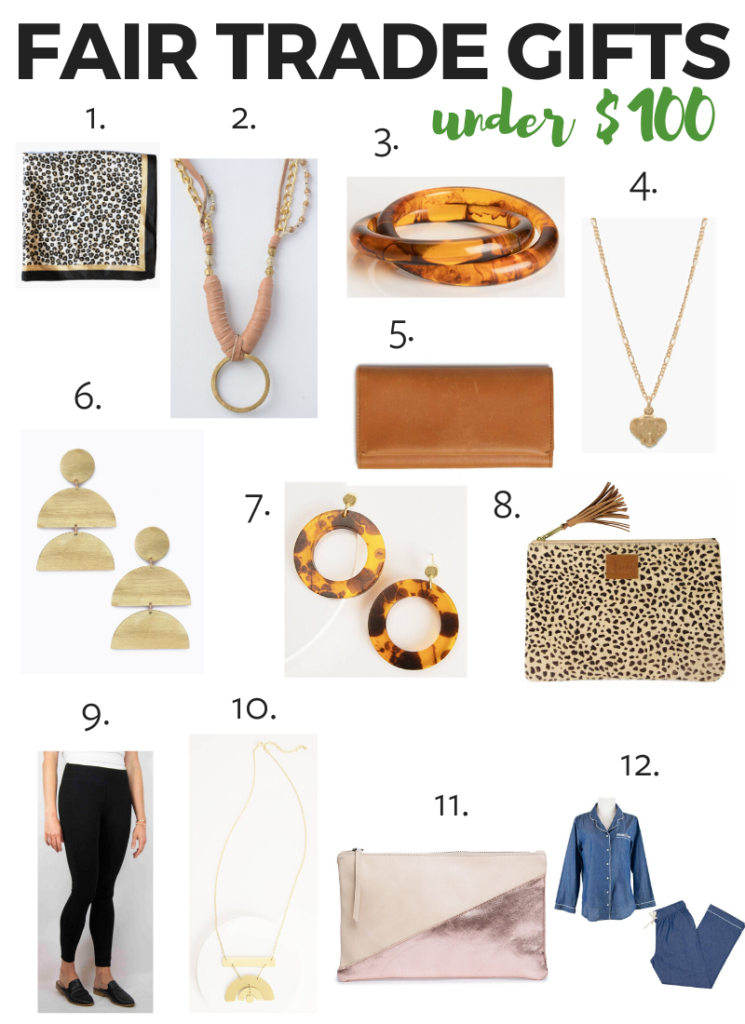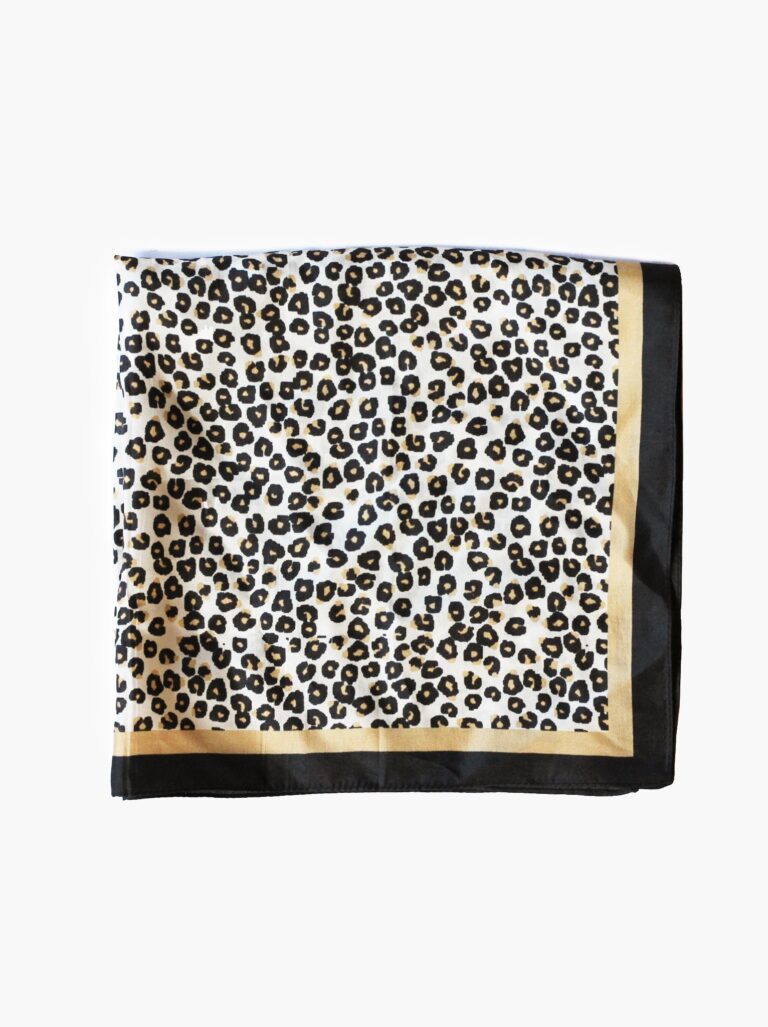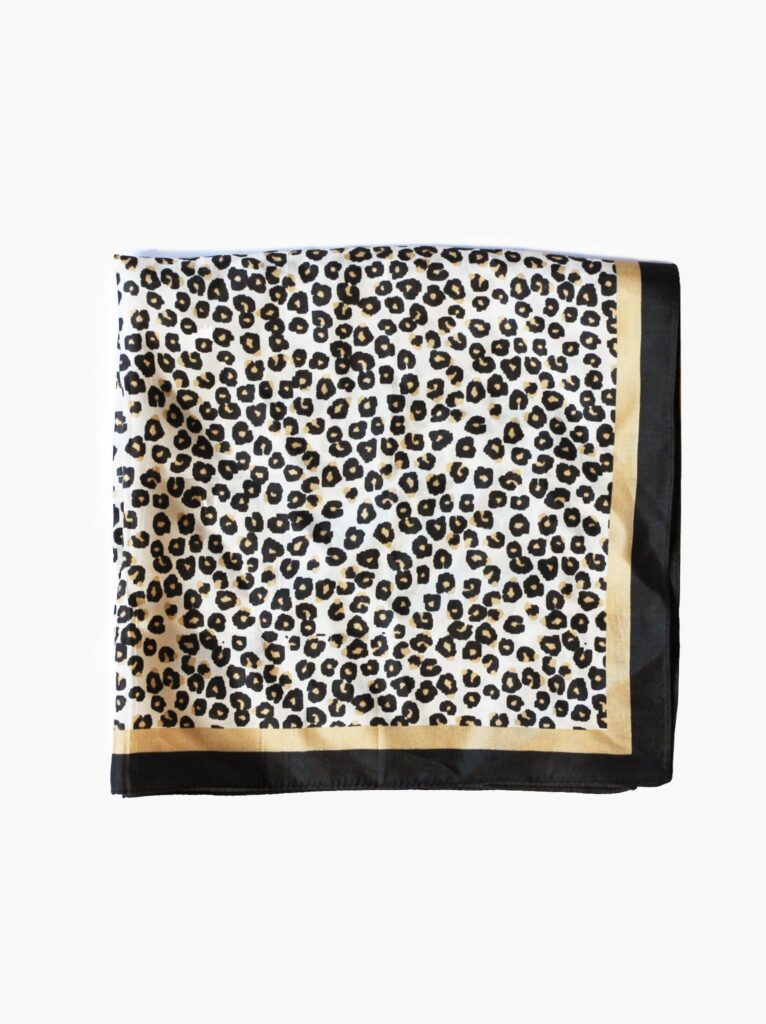 Effortlessly chic, the Emerson Scarf is 100% printed woven silk and one of our favorite accessories to add a touch of elegance to any look. It's unmatched in versatility, so let your creativity flow and wear it on your favorite tote, in your hair, or around your collar.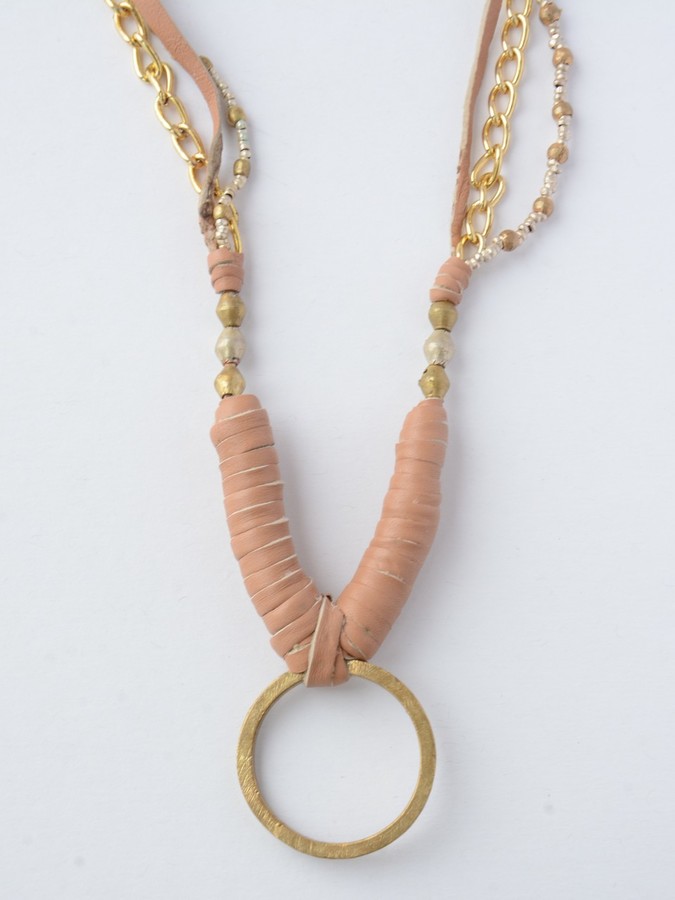 Made from genuine leather scraps and recycled bullet casings by women in Ethiopia. 100% recycled metals in pure brass and plated-silver. Measures 32″ at its longest.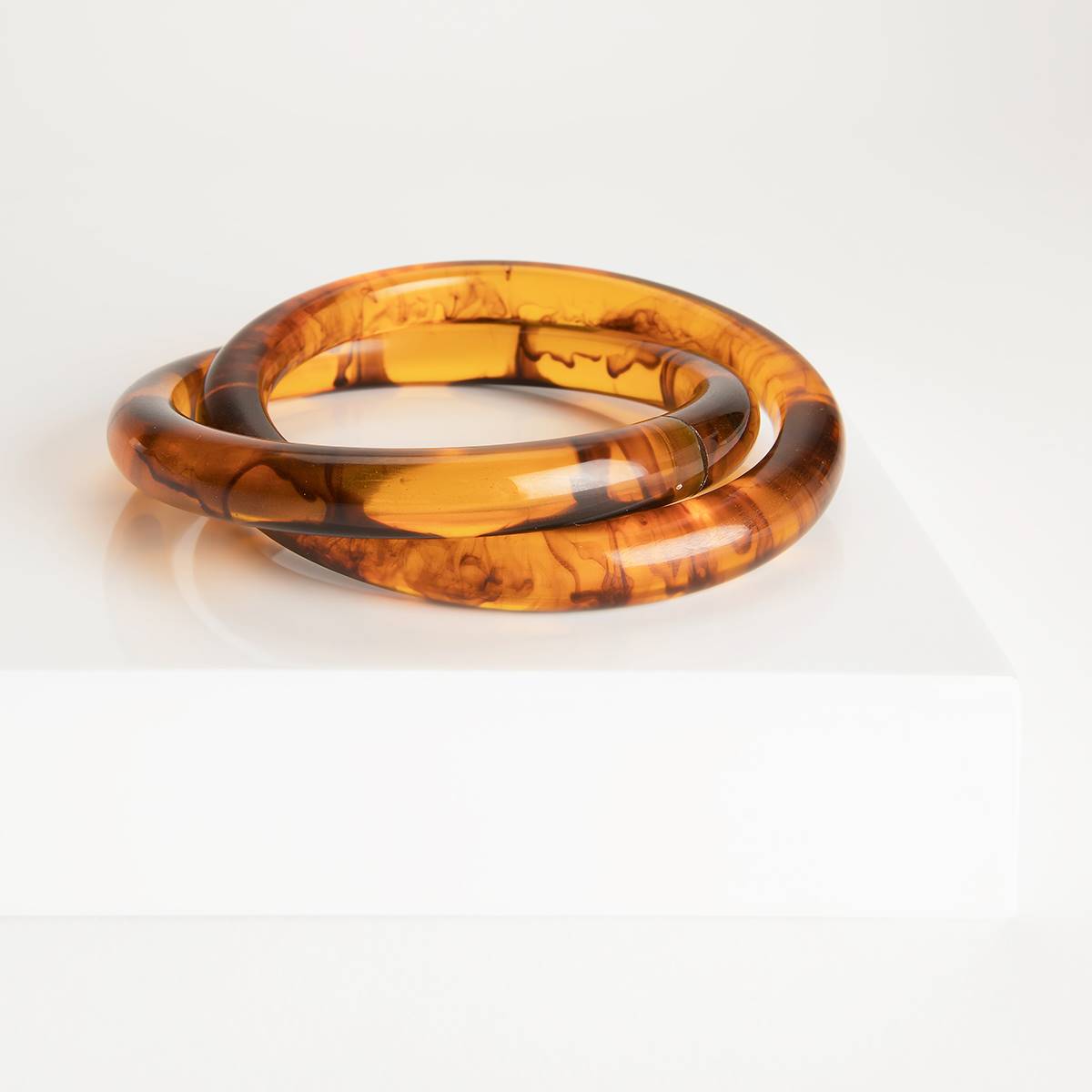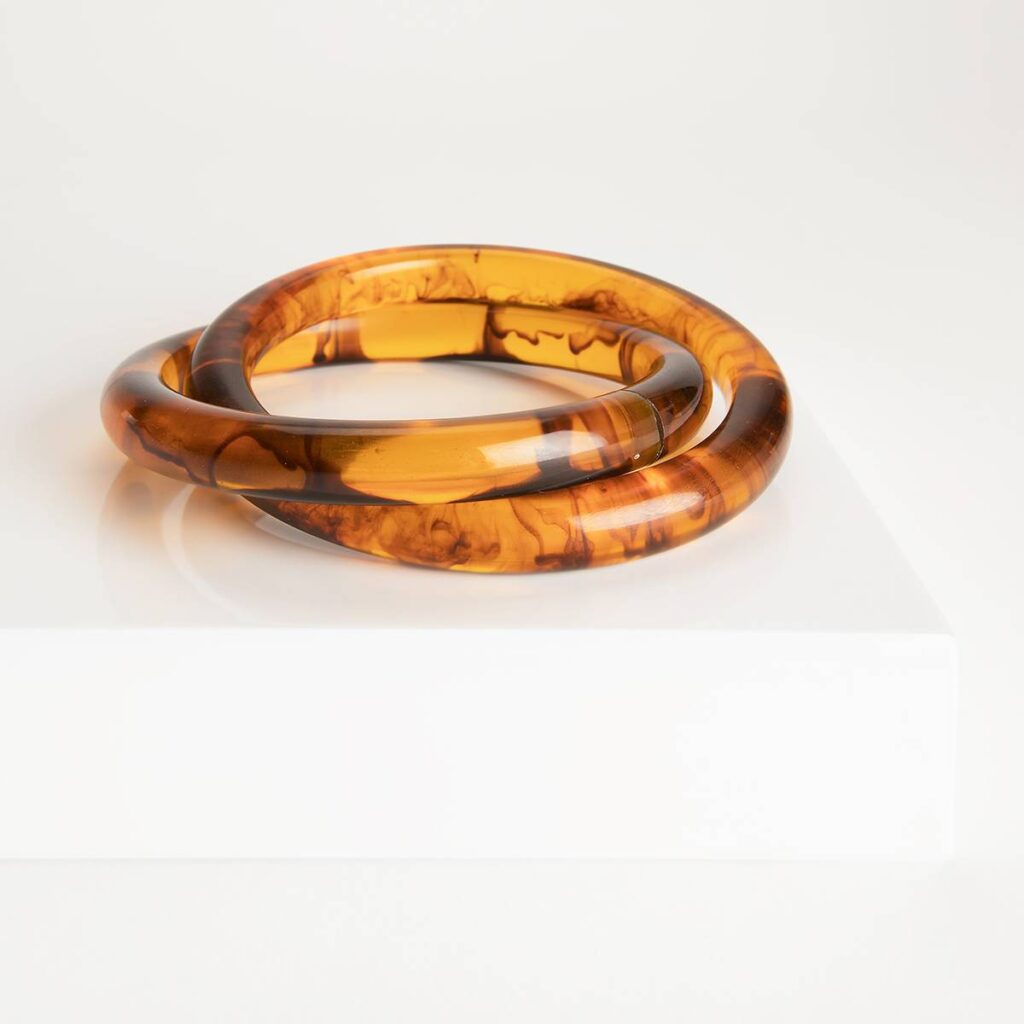 I love big bold bangles and these fit the bill! There are 2 bangles connected together to create the perfect statement set.
Classic but bold, these bangles are an all-around winner! Two connected resin tortoise bangles are a sweet statement, making a pair of bracelets that are sure to become your favorites!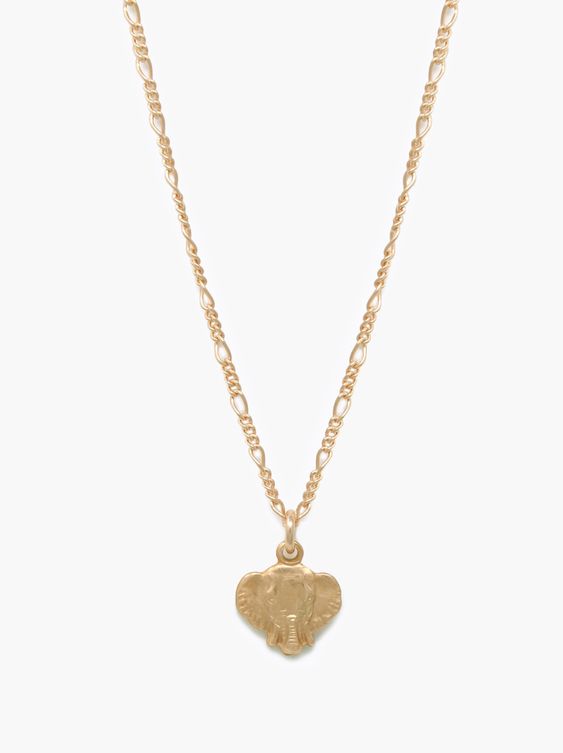 The Elephant Necklace, designed by Minka Kelly and handmade by jewelers in Nashville, is a unique and elegant everyday piece.
There is, however, a deeper meaning behind the design.
"My favorite piece is the Elephant Necklace. When a mama elephant gives birth in the wild, the other female elephants huddle around her for protection. It's women supporting women at its finest, helping the most vulnerable in their time of need. It represents why I work with ABLE, and the attitude I think we should all embrace."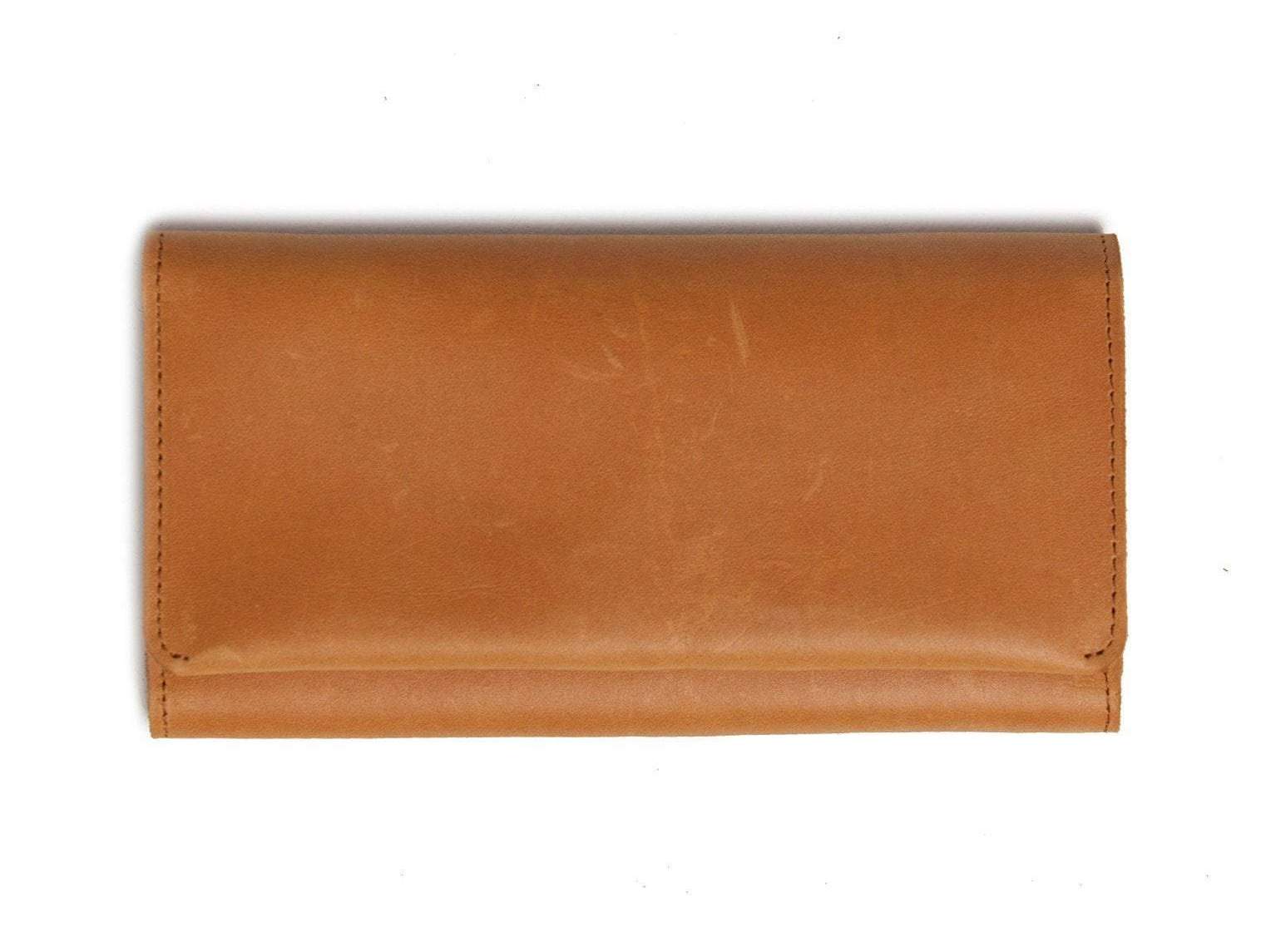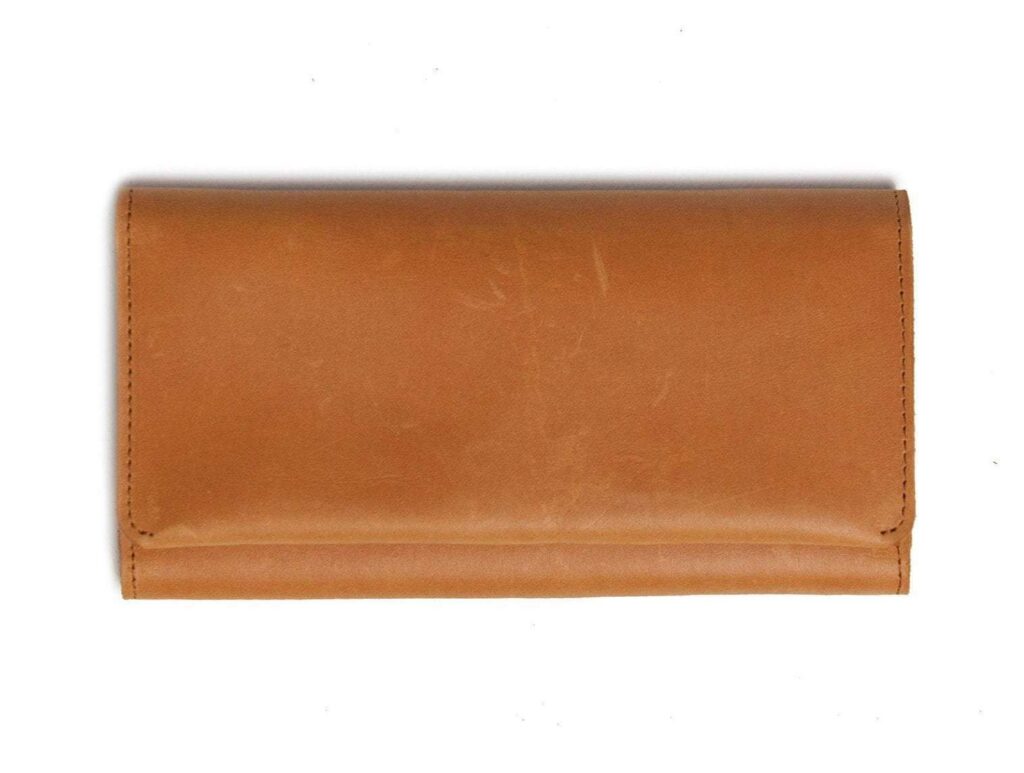 With a slim profile and simple design, the Debre Wallet is a minimalist's dream. The interior features 6 card slots and 3 slit pockets that can be used to store cash, receipts, a checkbook, or passport. It can even store a small size journal and with the interior pen slot you'll never again forget that clever idea or to-do list.
This wallet is handcrafted in Ethiopia using 100% Ethiopian Leather. It features 6 card slots, 3 currency slip pockets, 1 pen slot, and a magnetic closure and can store an iPhone 6 plus!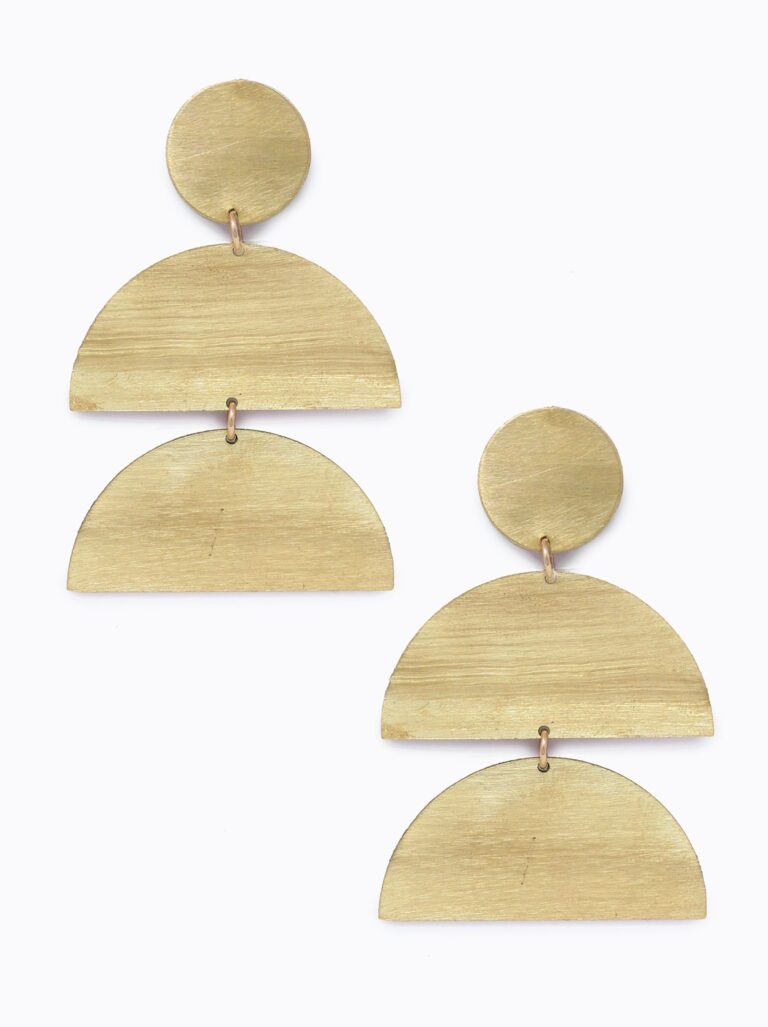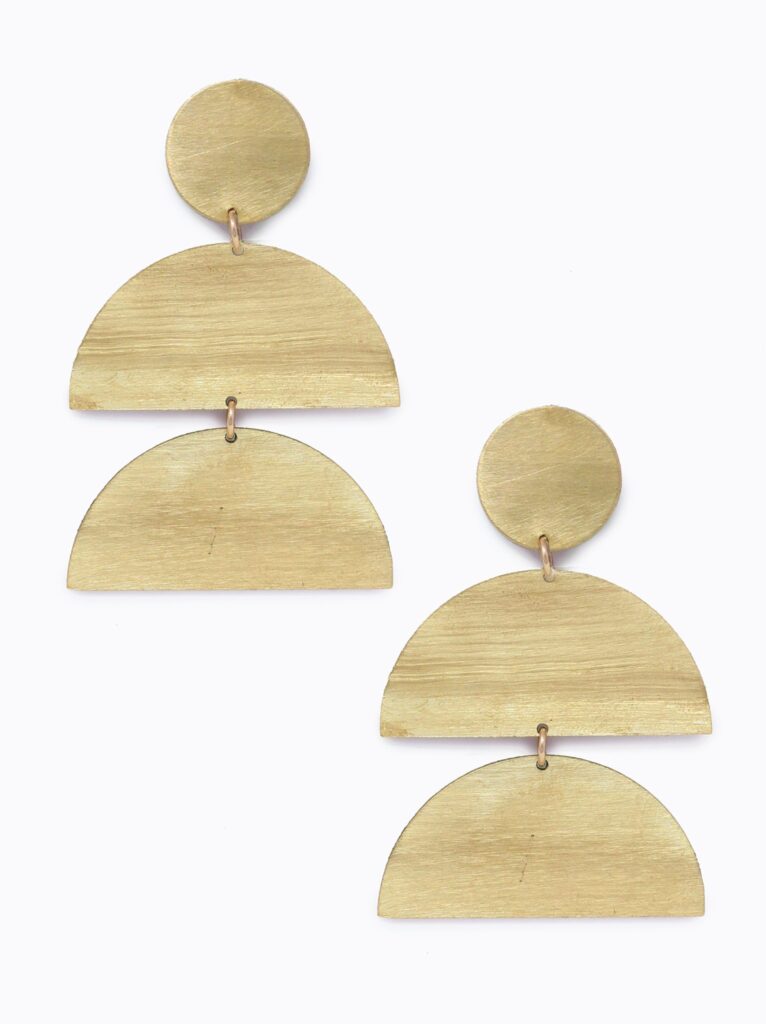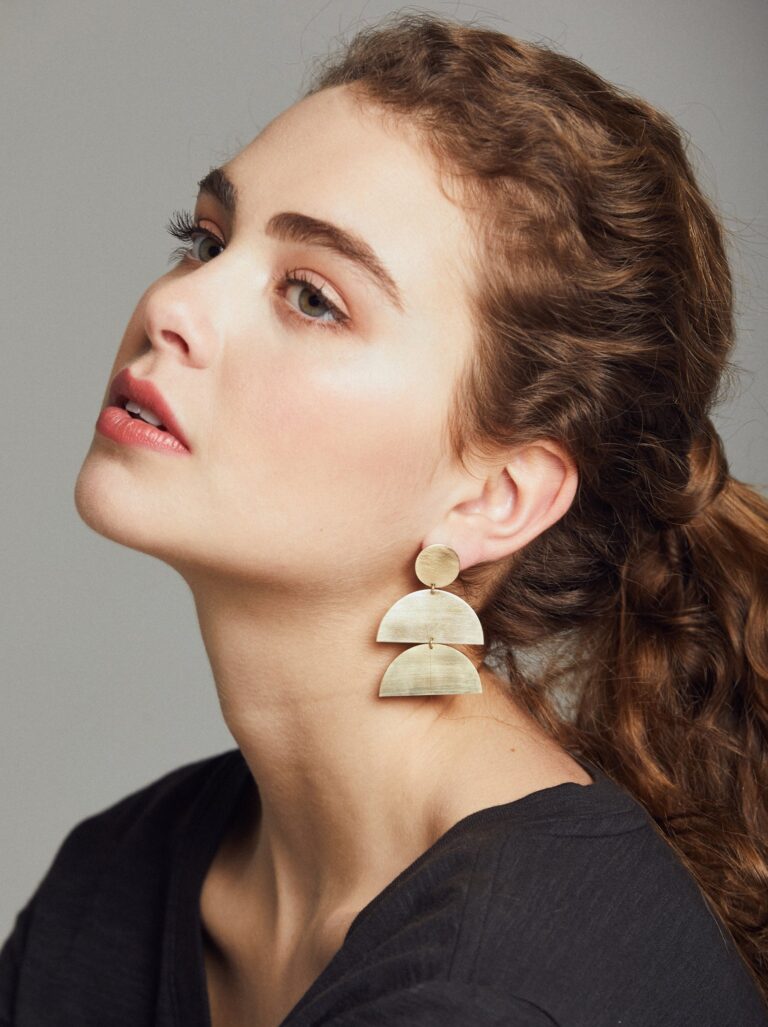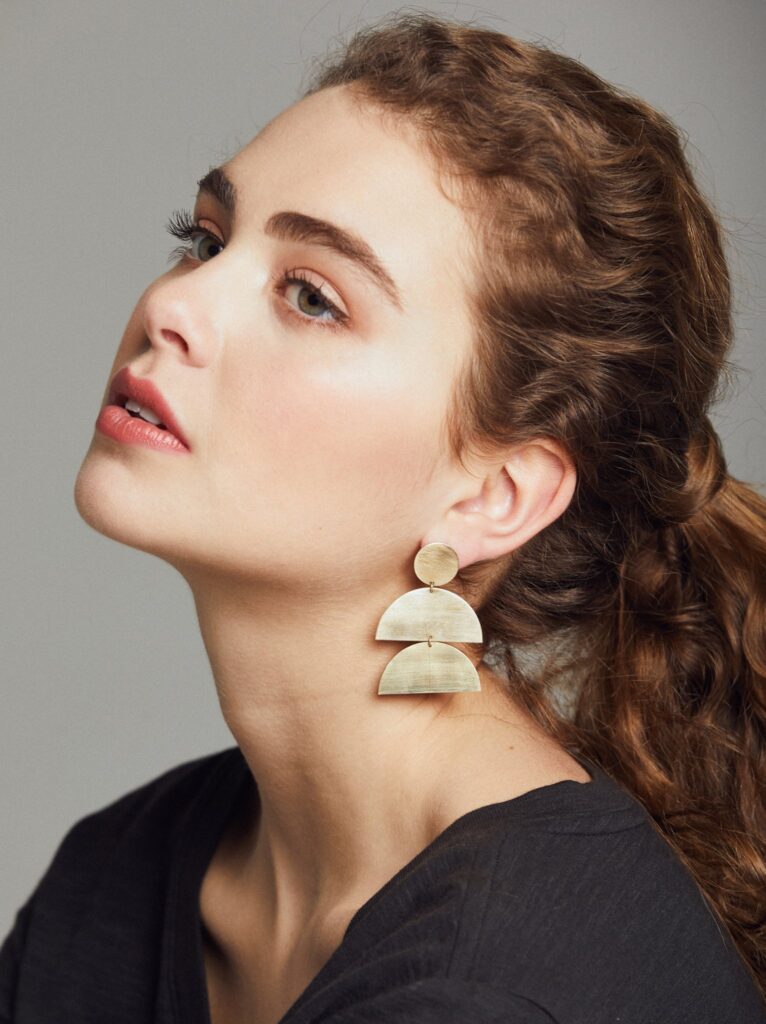 The Silhouette Earrings are made to last years. Classic shapes in beautiful brass make this pair a go-to.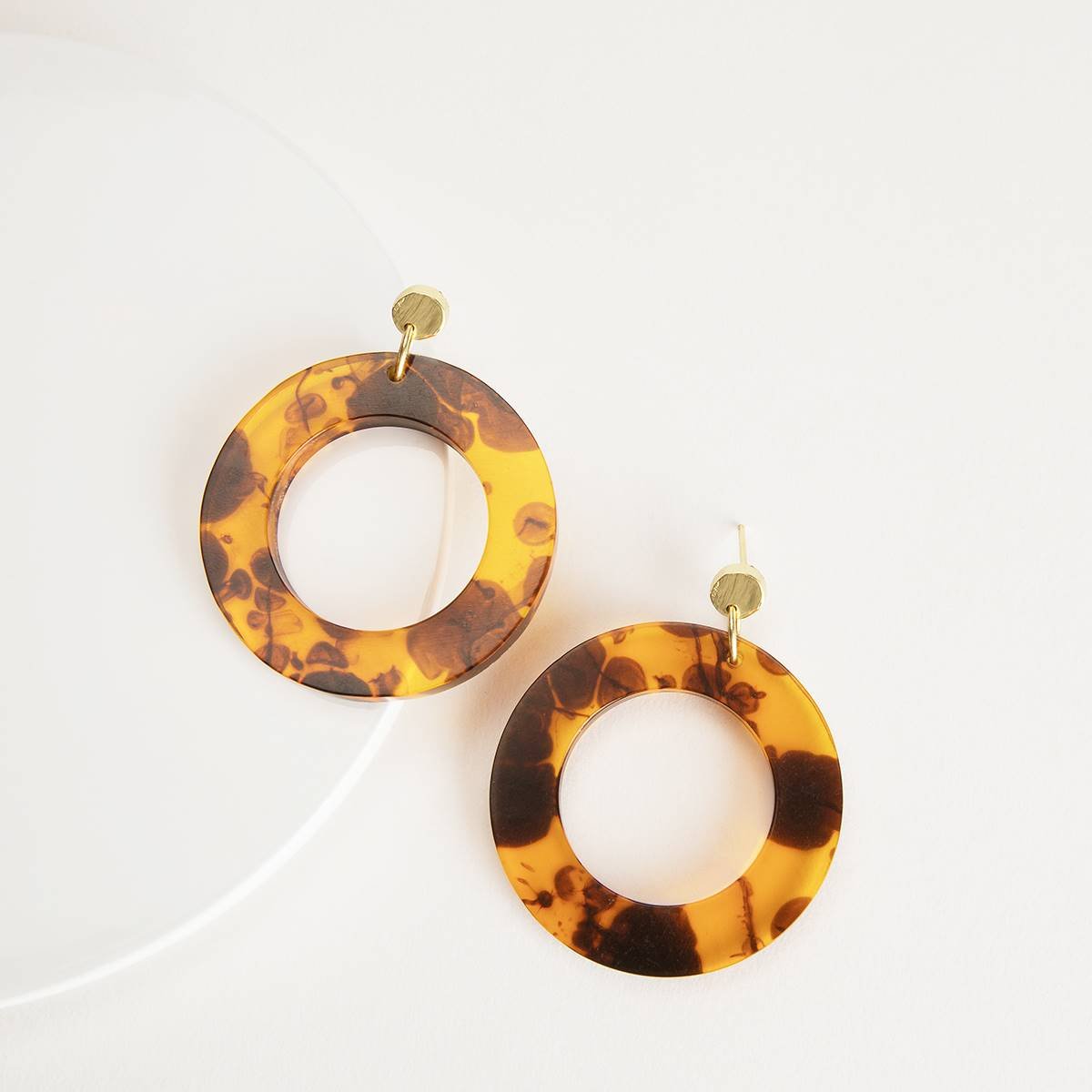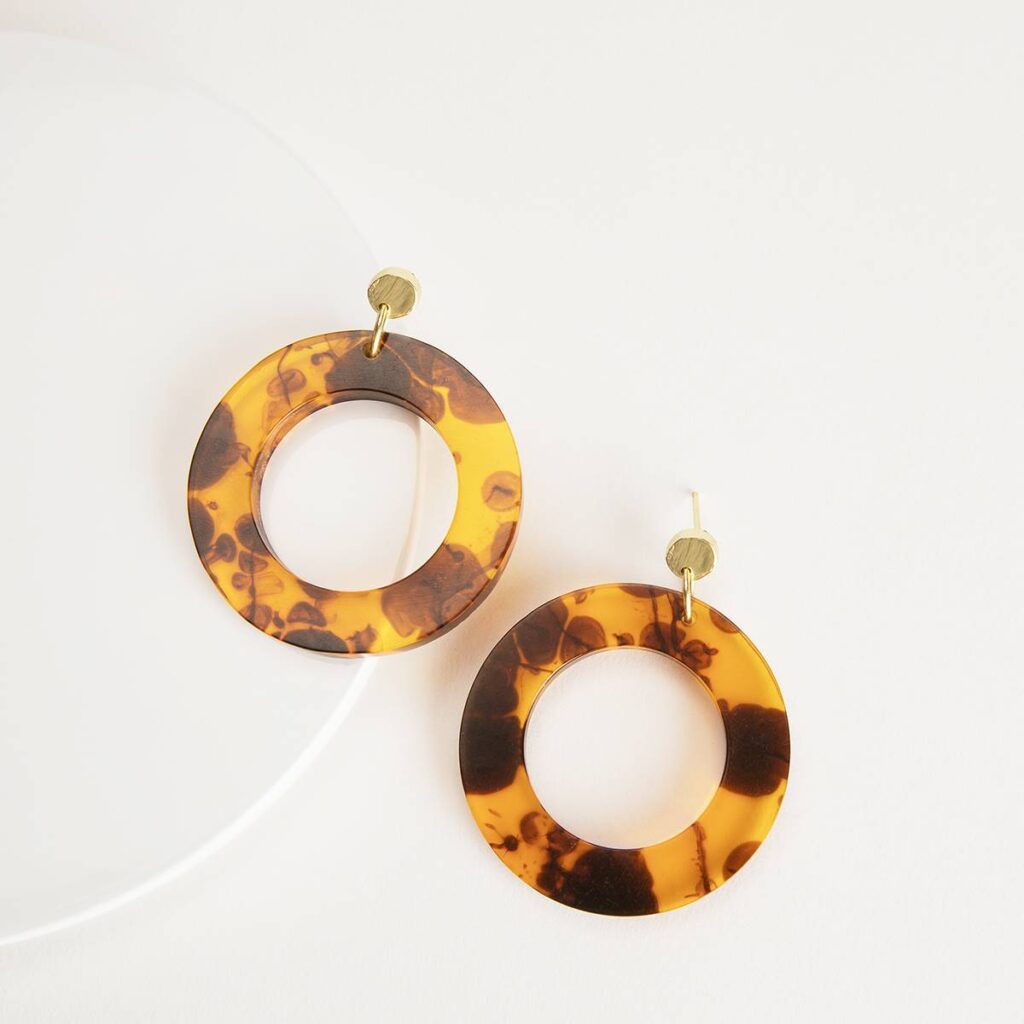 If you're they matchy-matchy type, you'll love these Tortoise Resin Circle Earrings to match your bangles! I love the print on these bold earrings and you'll be able to wear them with a variety of outfits!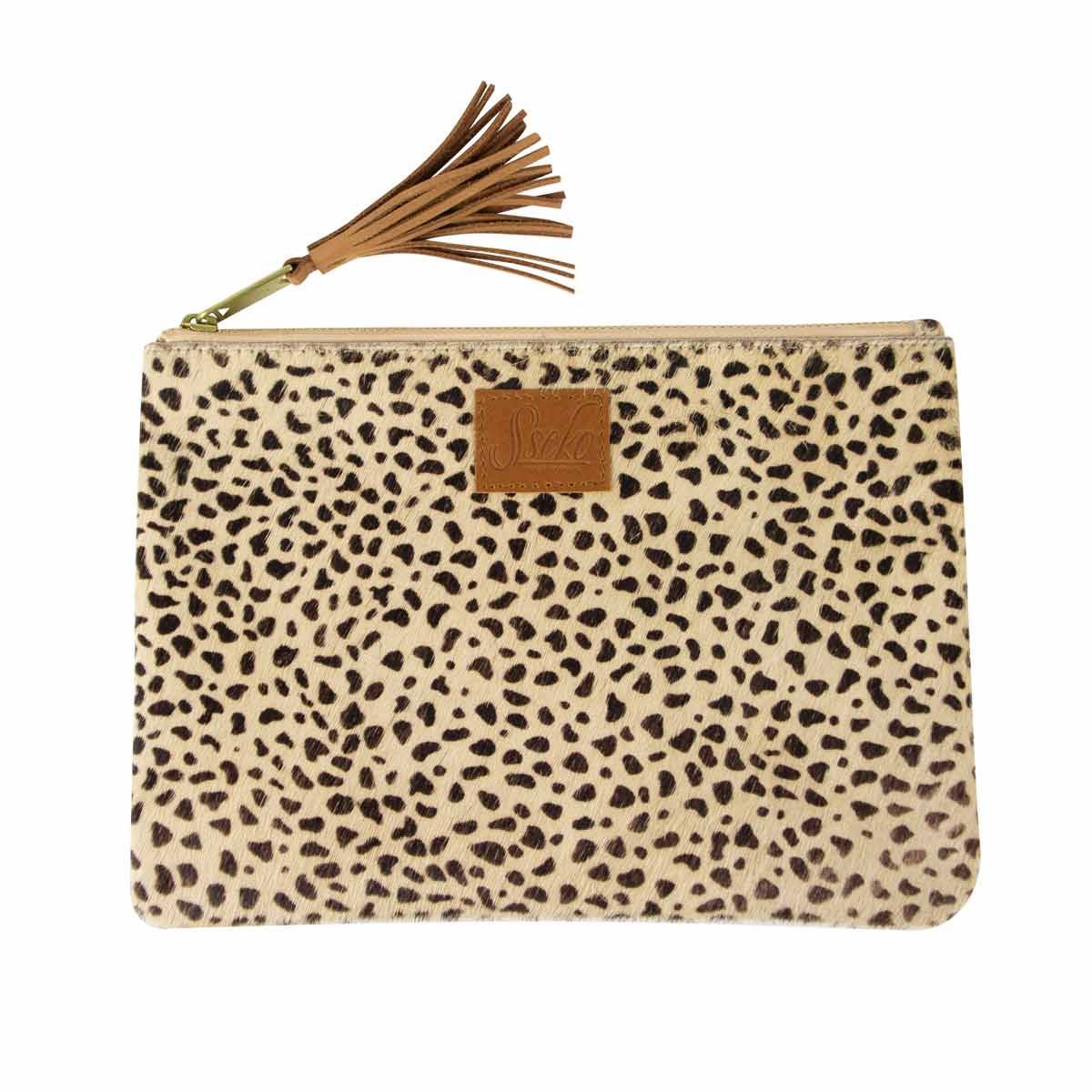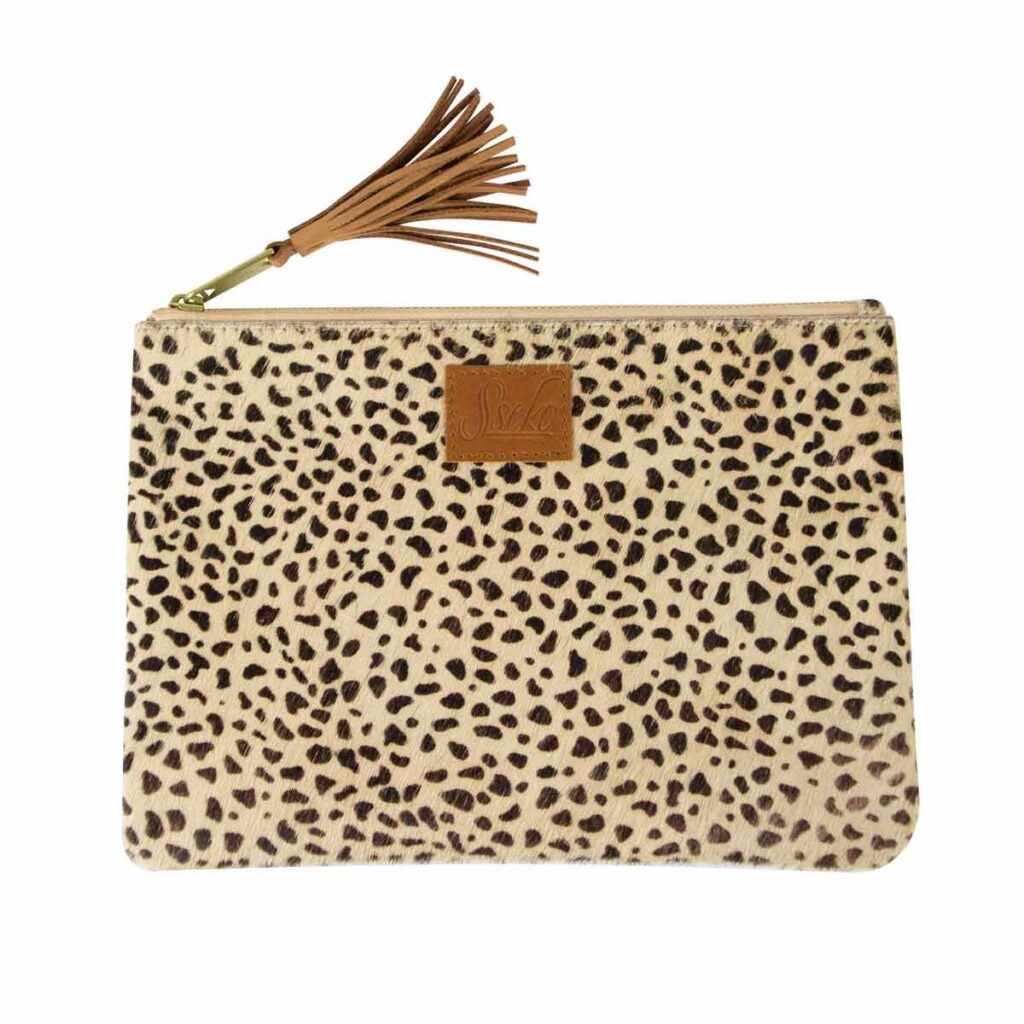 To fit with my animal print obsession, enter in this beautiful clutch! I have another fair trade clutch that I use every single day for my essentials (car keys, wallet, lipgloss). This clutch will be replacing that one because it much cuter! 😉
It's hand-painted hair on hide leather, has a zip closure and is unlined.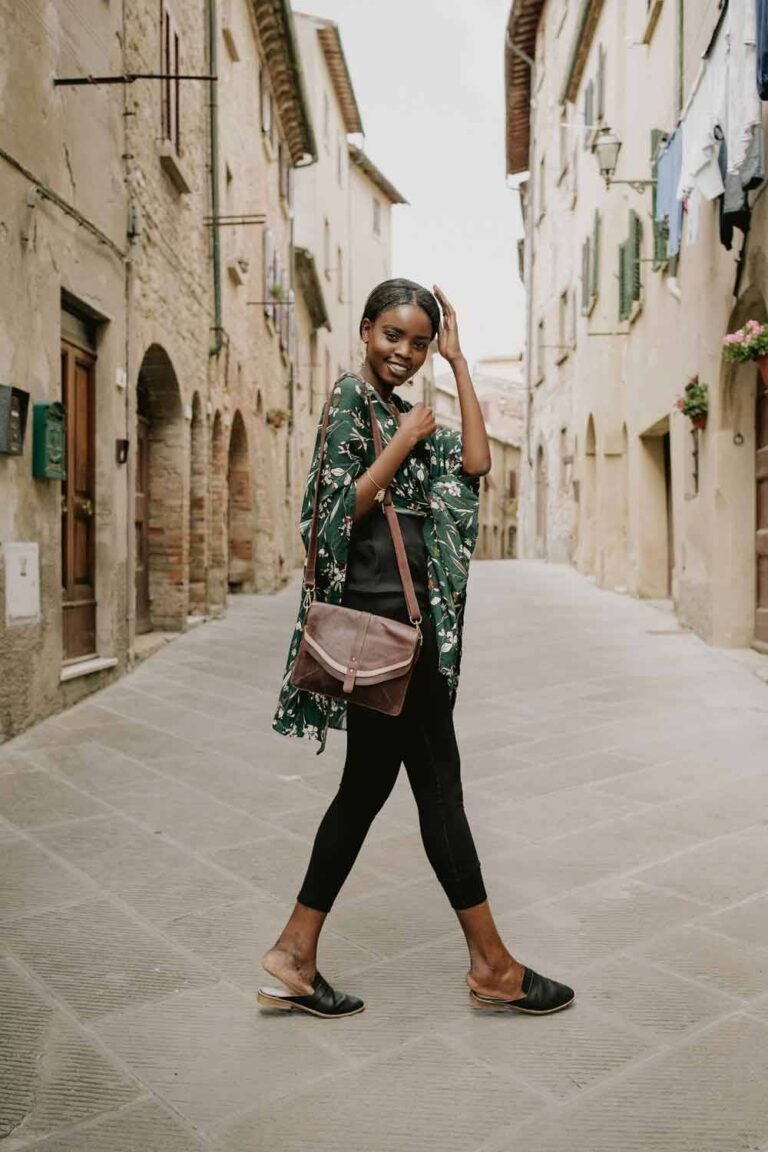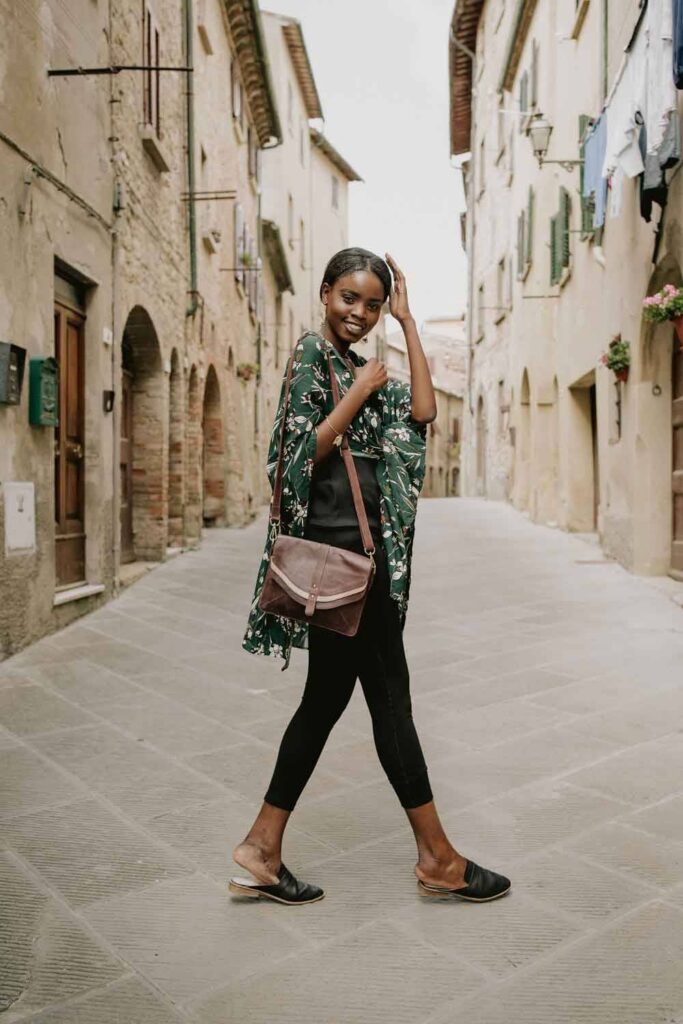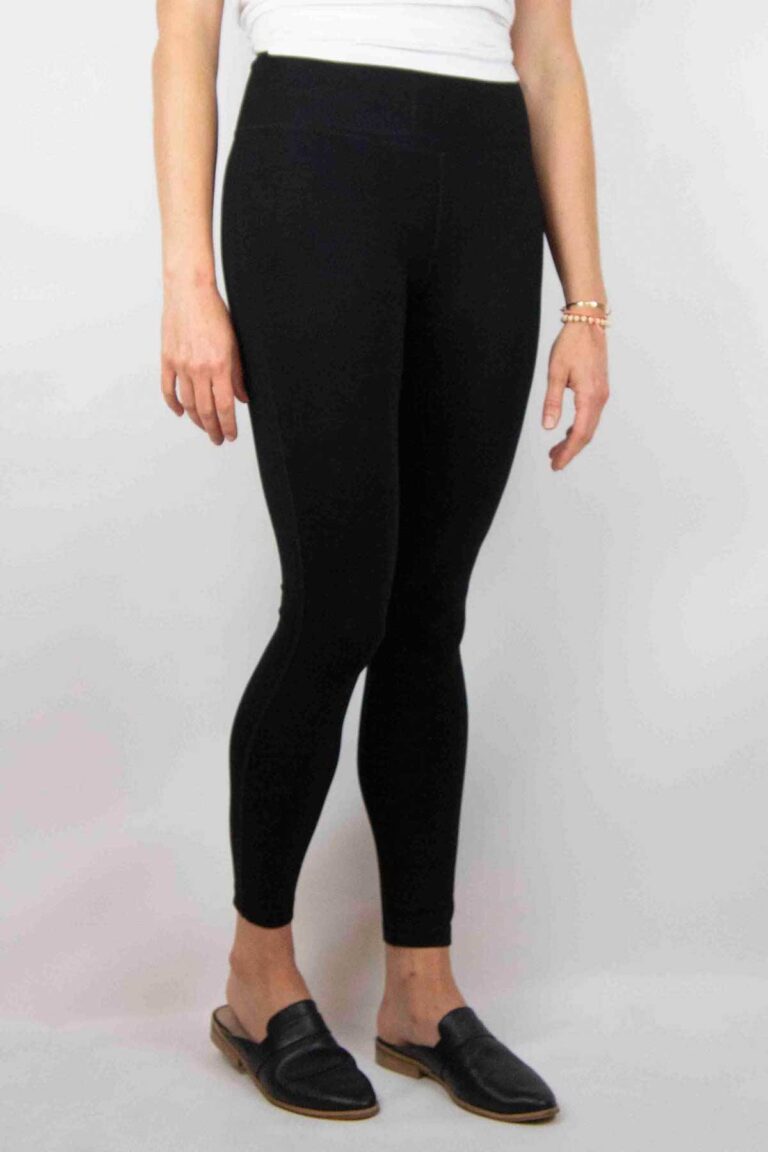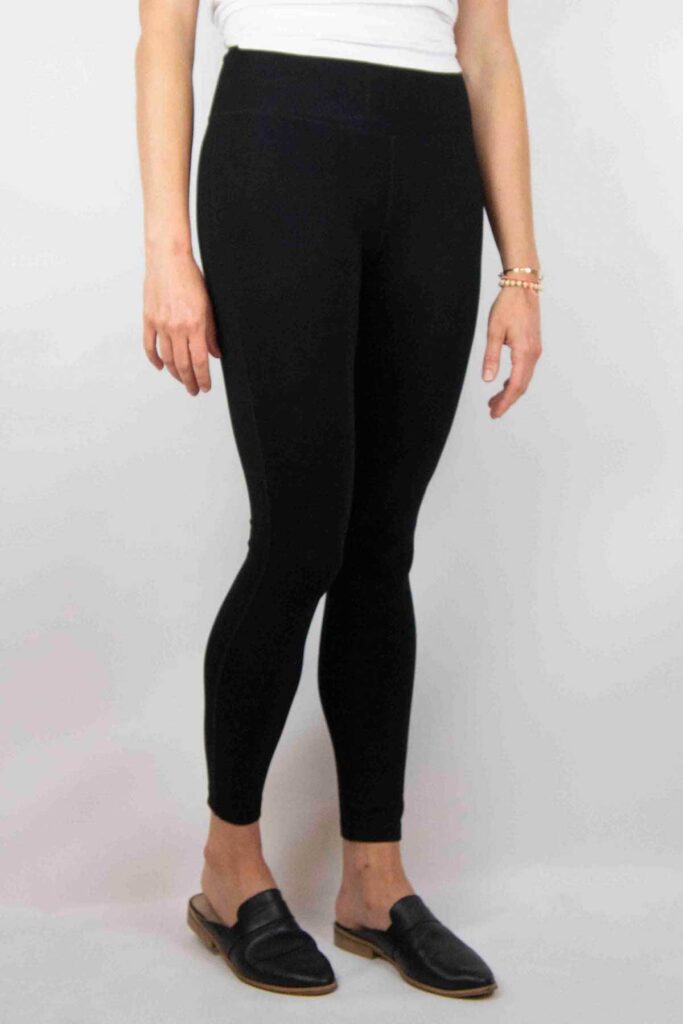 High waisted black leggings are a mama's best friend. Literally I wear black leggings for preschool drop off almost every time. I'm sure the other moms are wondering if I own regular clothes! 😉
These leggings are a nylon and spandex mix and they are amazing!! I honestly think they rival my Spanx leggings. These are super high waisted and suck everything in (just what this postpartum mama needs!). I have them in a small. I do think I would like an xs better but small is their smallest size. Keep that in mind when ordering!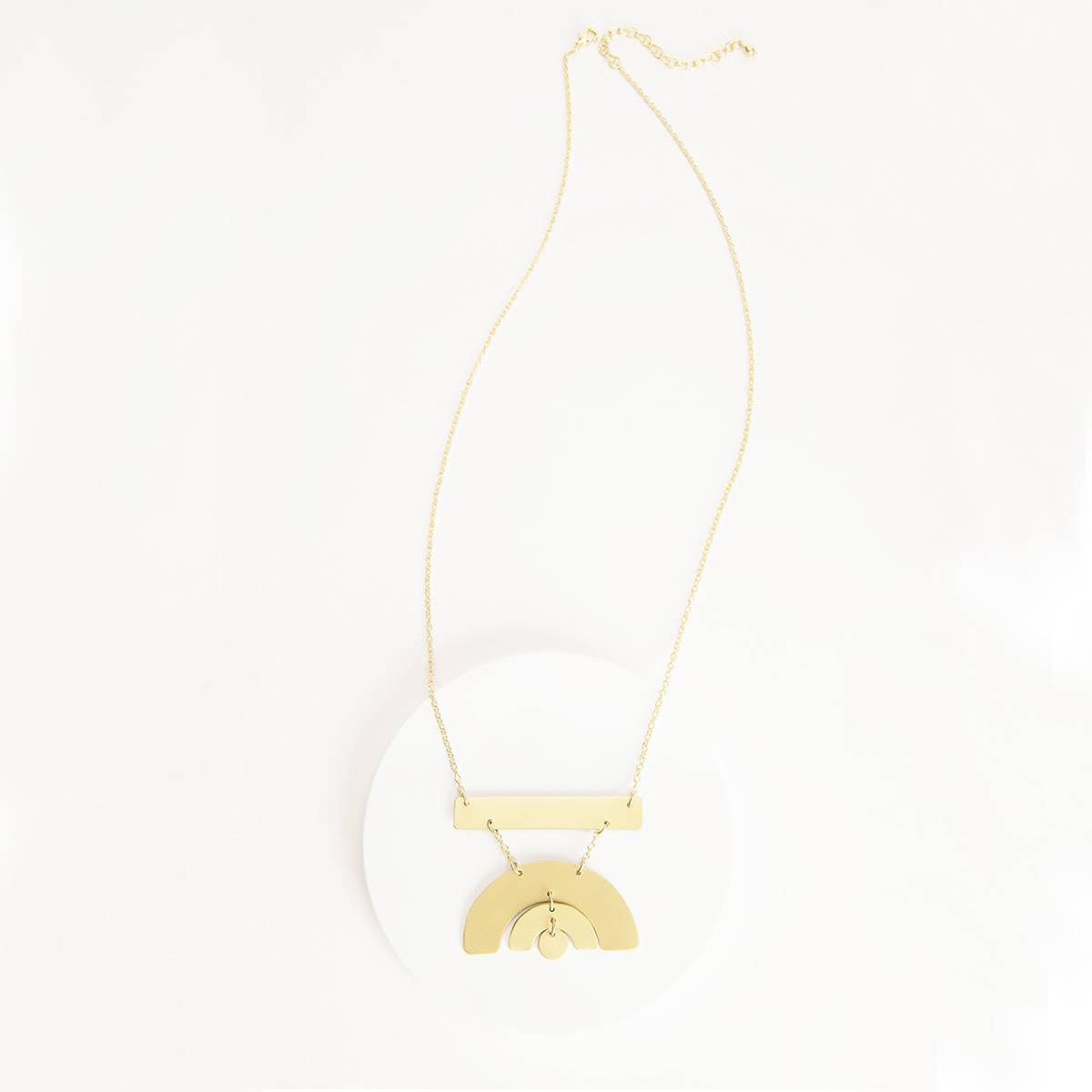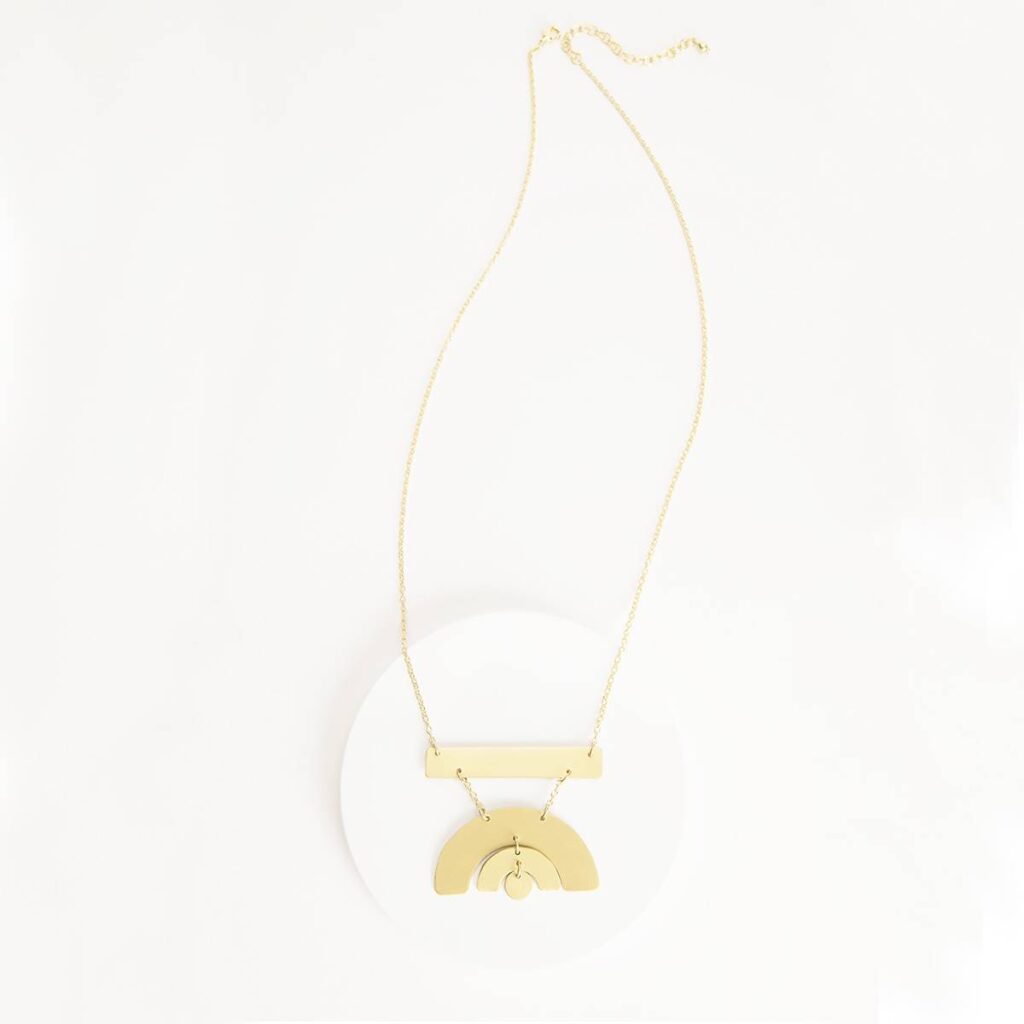 The statement necklace you've been searching for is here! Versatile enough to wear with any color in your closet, the unique shape of the brass crescent necklace keeps you on-trend and stylish throughout the season.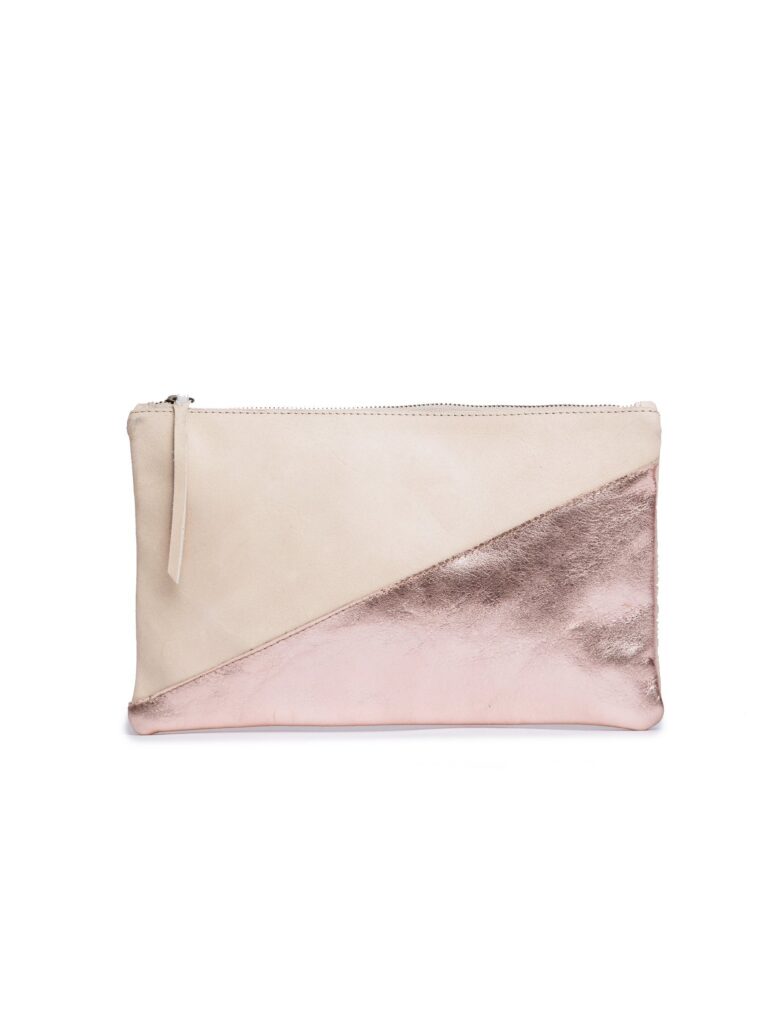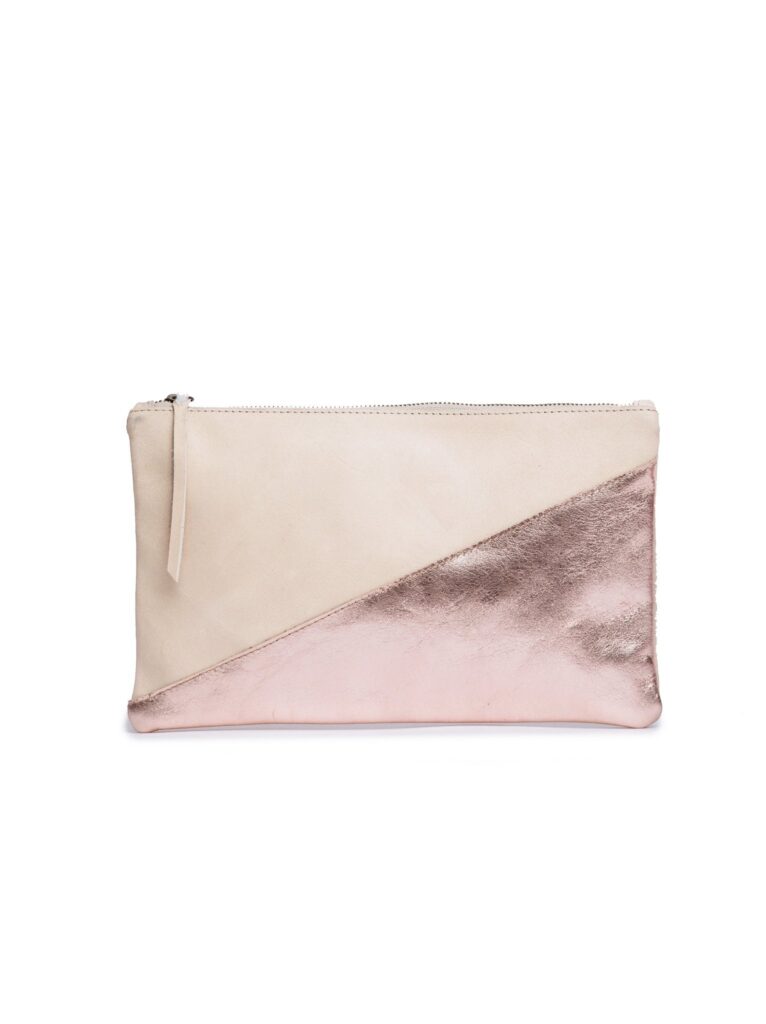 Use the medium Martha Pouch to hold all your on-the-go items; phone, wallet, lipstick, sunglasses, keys. This fully lined pouch with a zipper closure has got you covered.
The Martha is handcrafted in Ethiopia using 100% leather. It has a lined interior and zipper closure.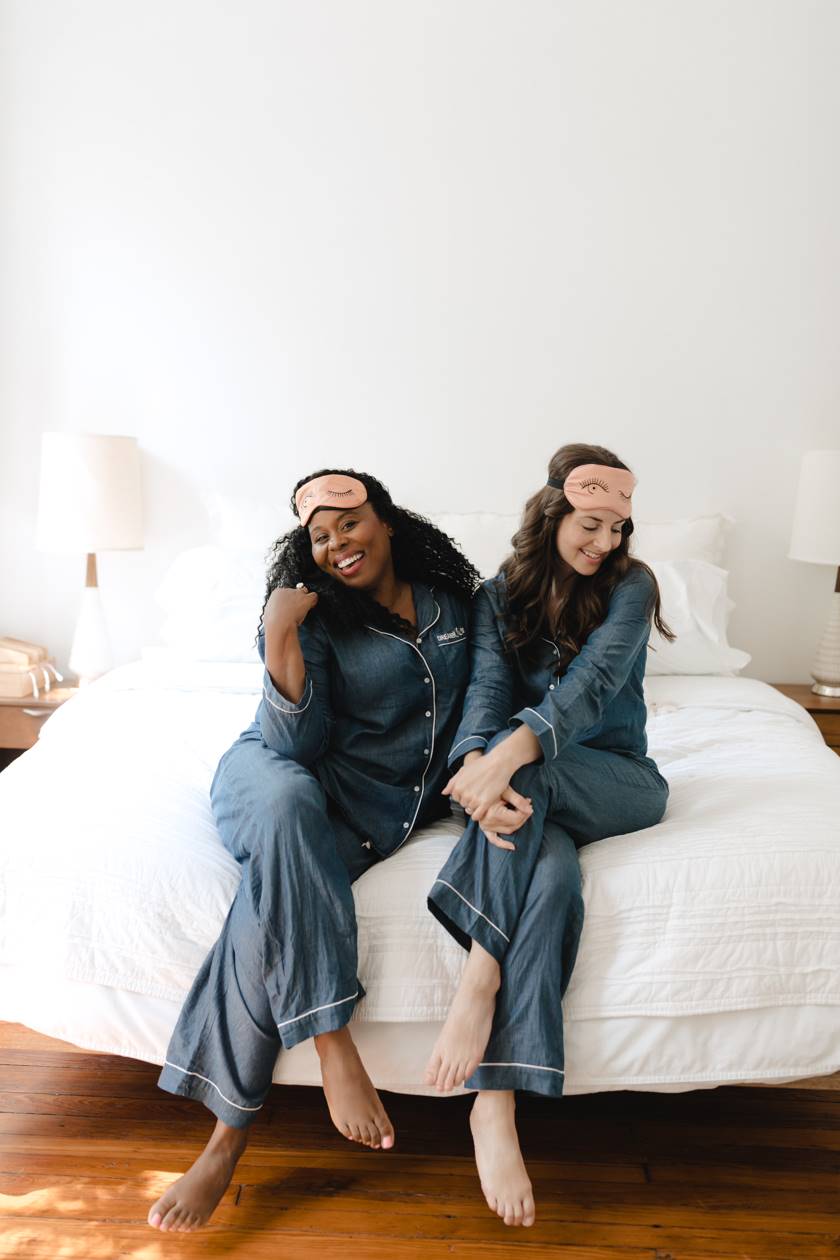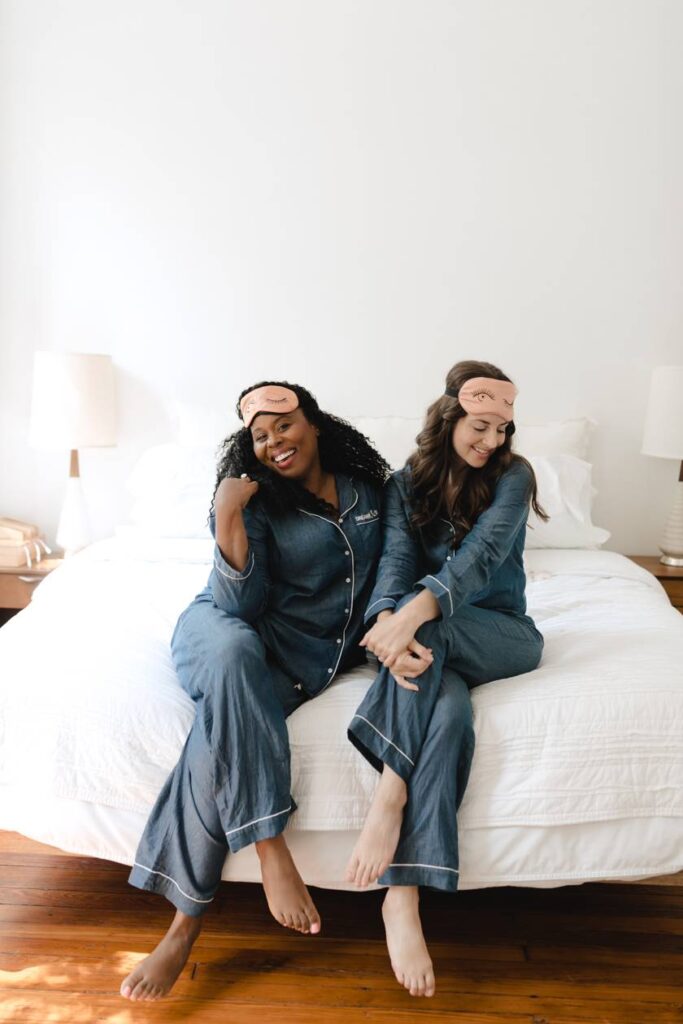 Look classy and chic, even in your pajamas! This 100% cotton pajama set not only is as comfortable as can be, but also tells the world what you are all about with an adorable embroidered "Dreamer Doer" tenet on the pocket!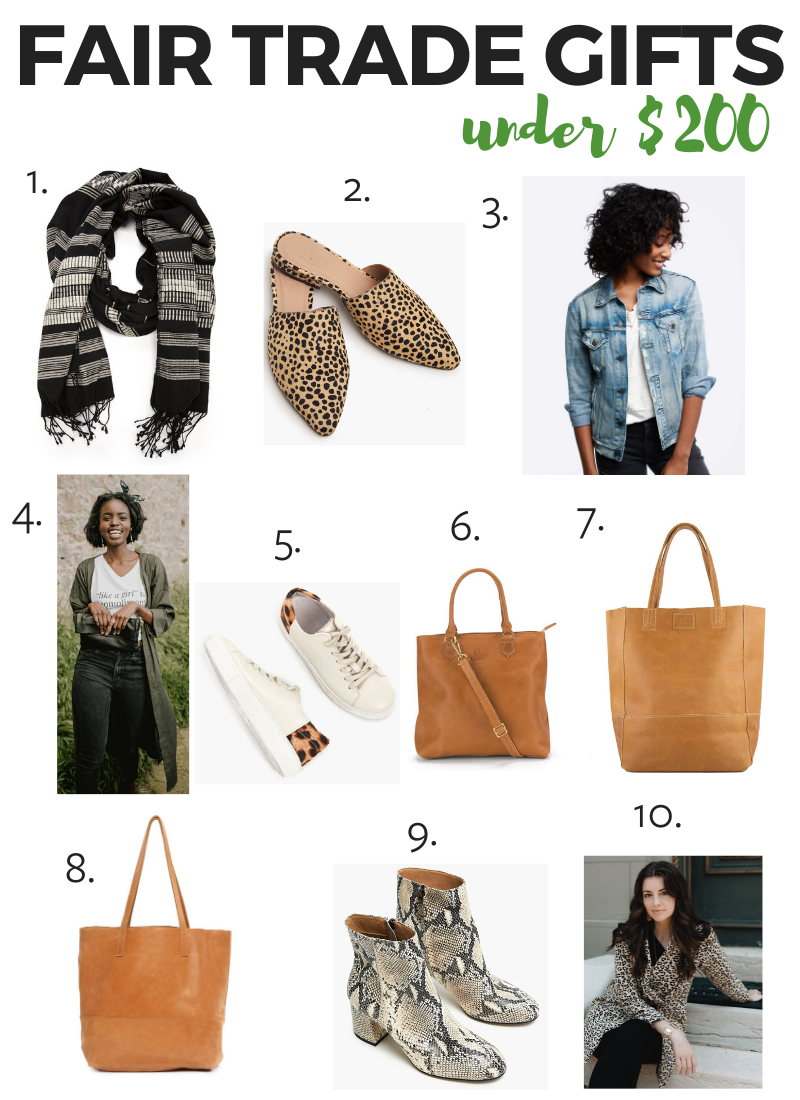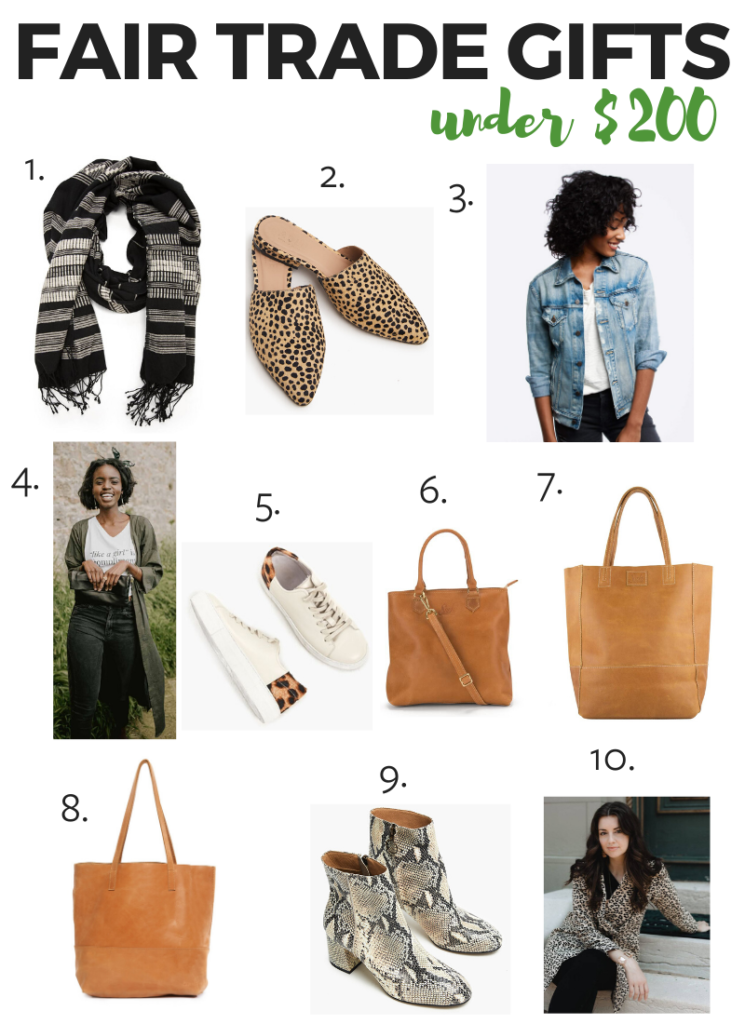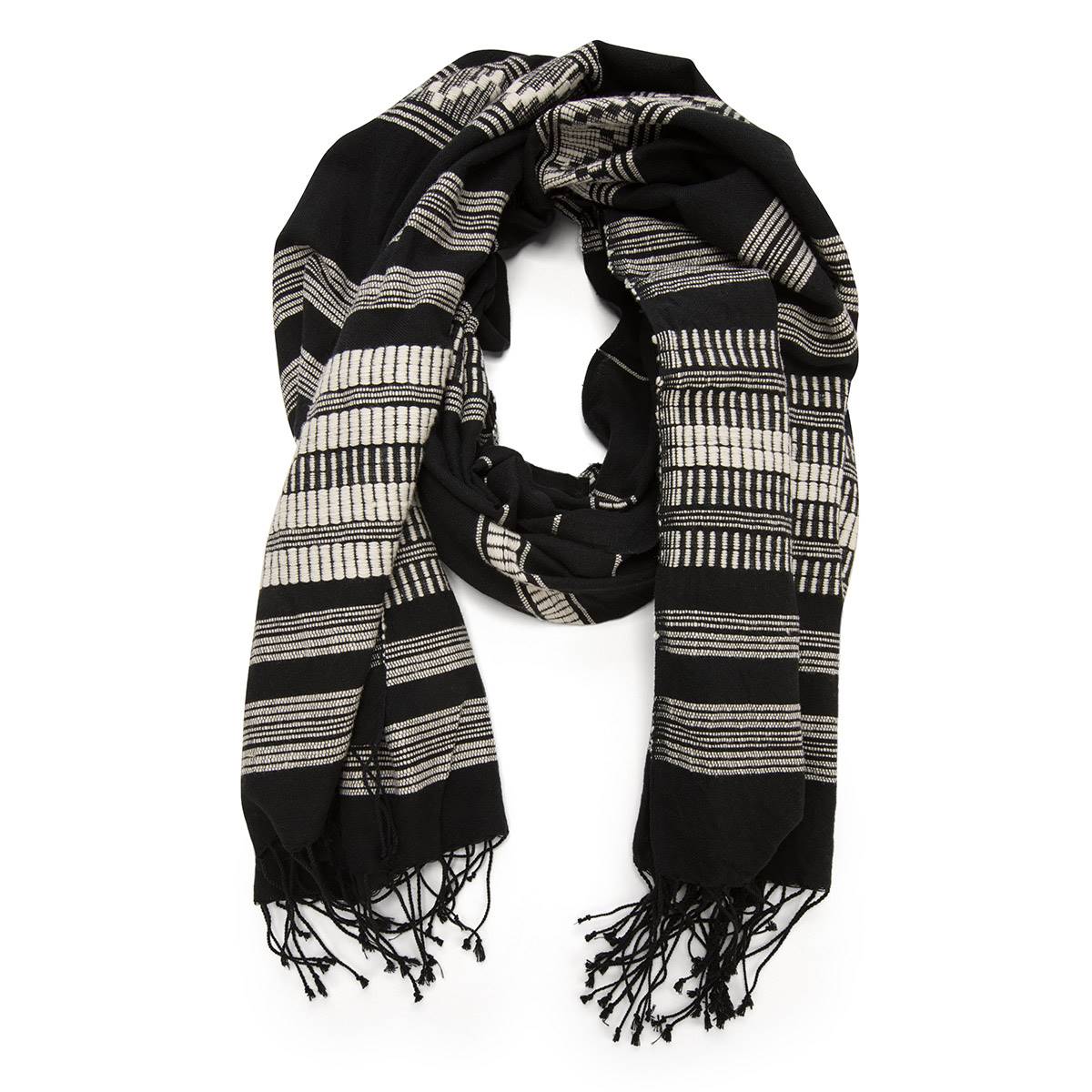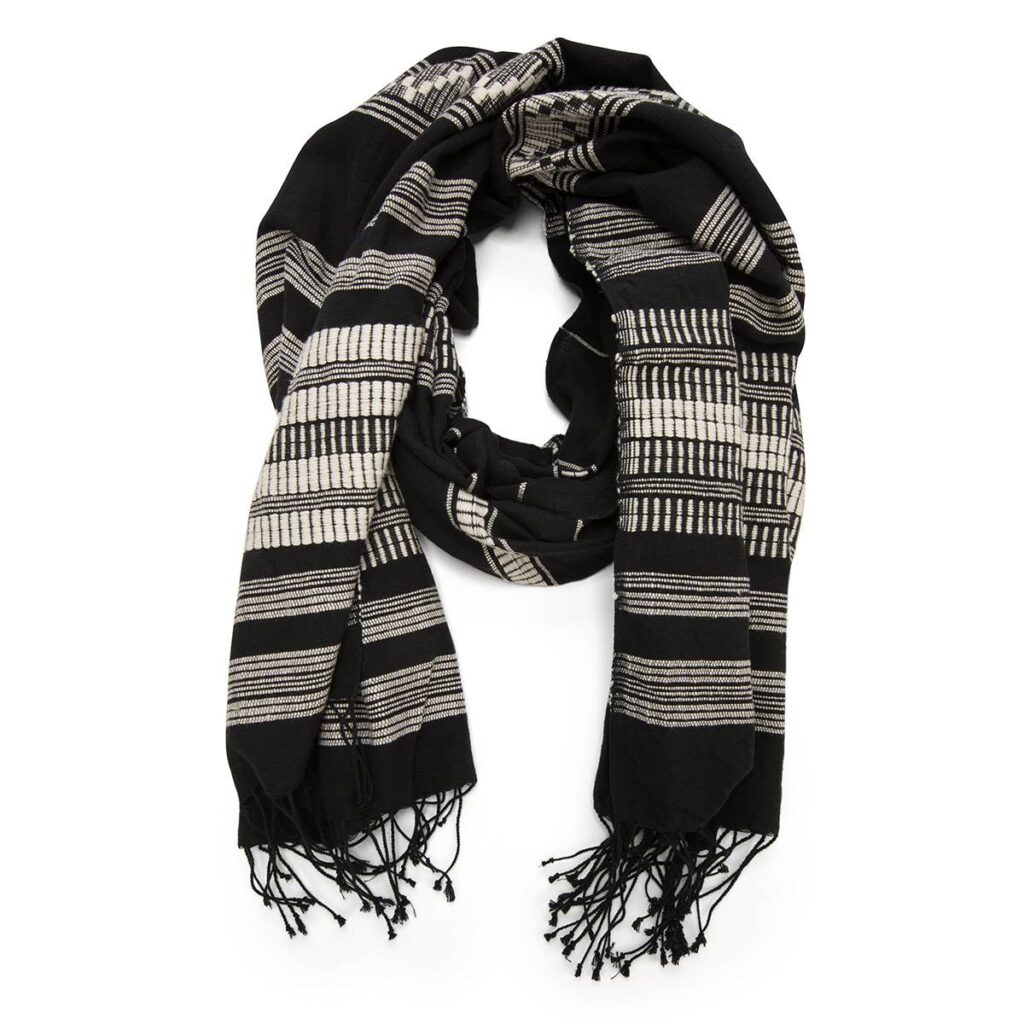 Feel as chic as possible as you wrap up in the Tibeb Shawl. This 100% Cotton shawl, that's made in Ethiopia, will keep you stylish all year long and coordinates perfectly with any outfit!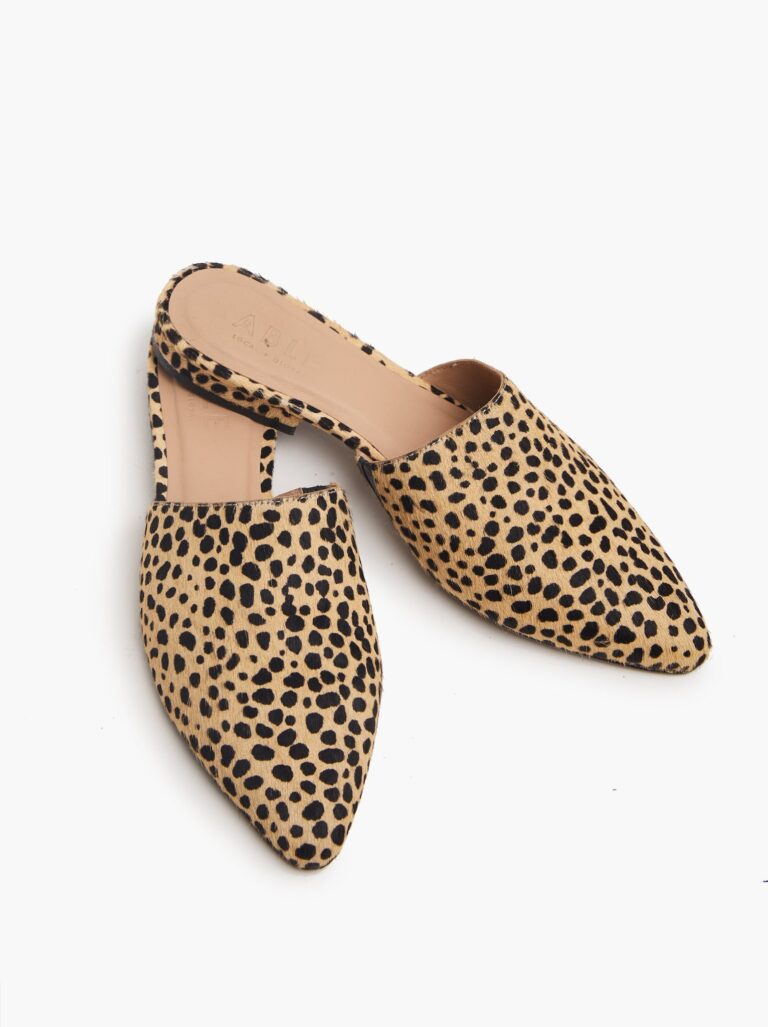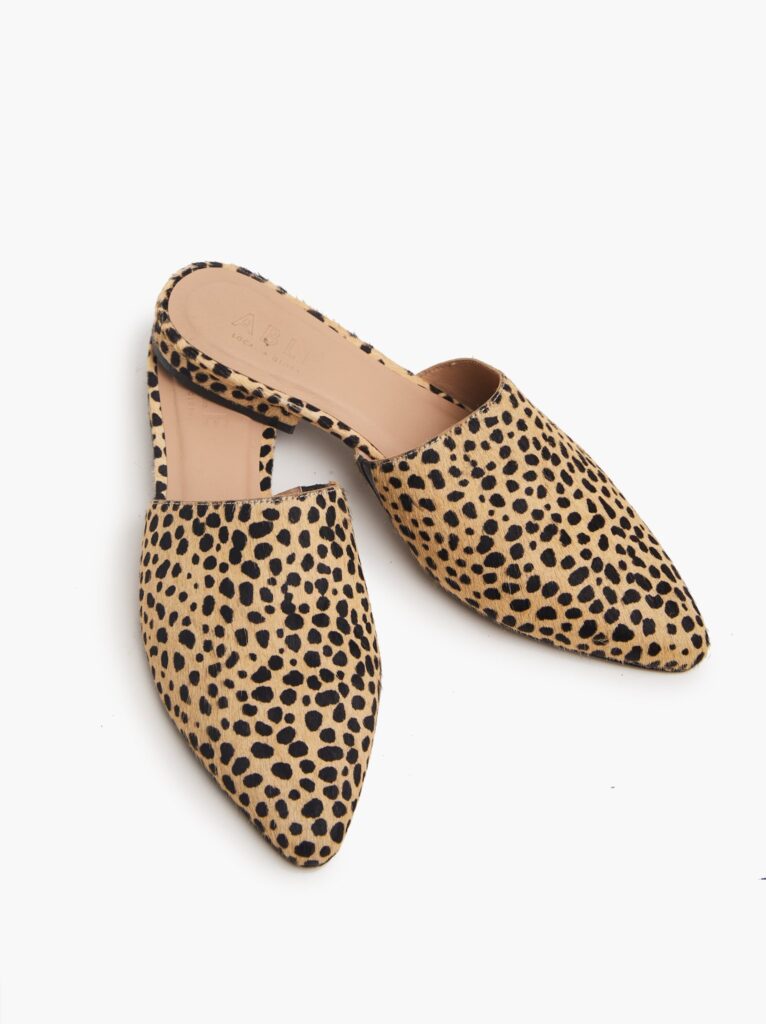 Our classic, minimal mules are so easy to wear that you might find yourself wearing them every. single. day. We won't judge. Available in cheetah, leopard and silver and is handmade in Peru!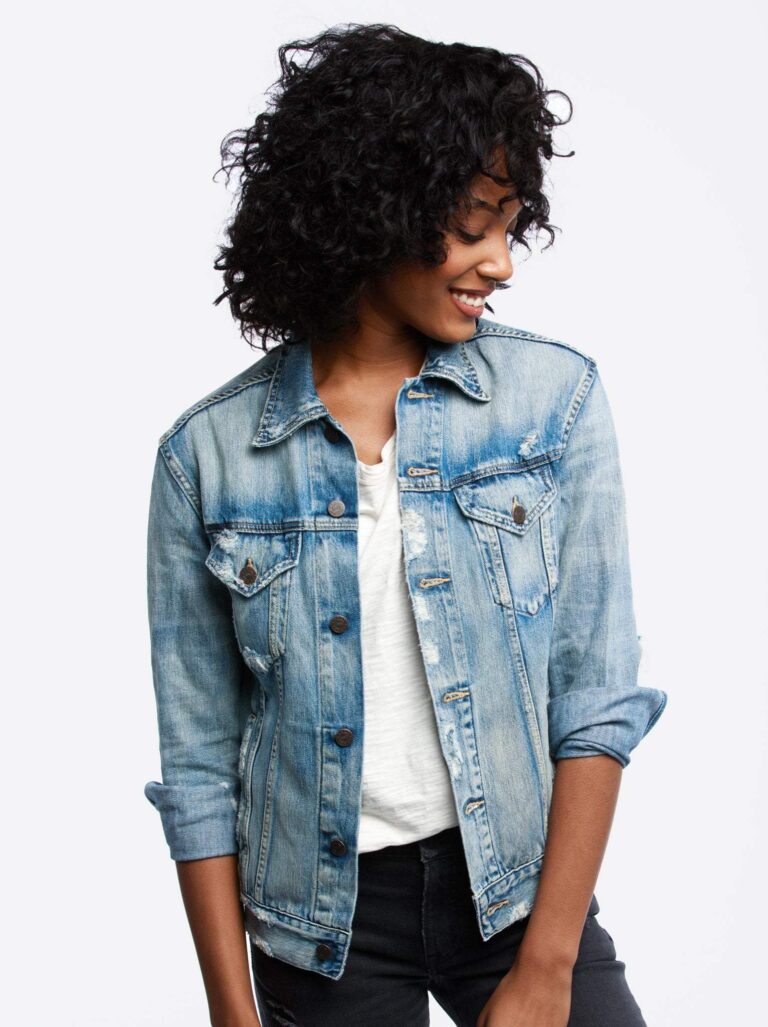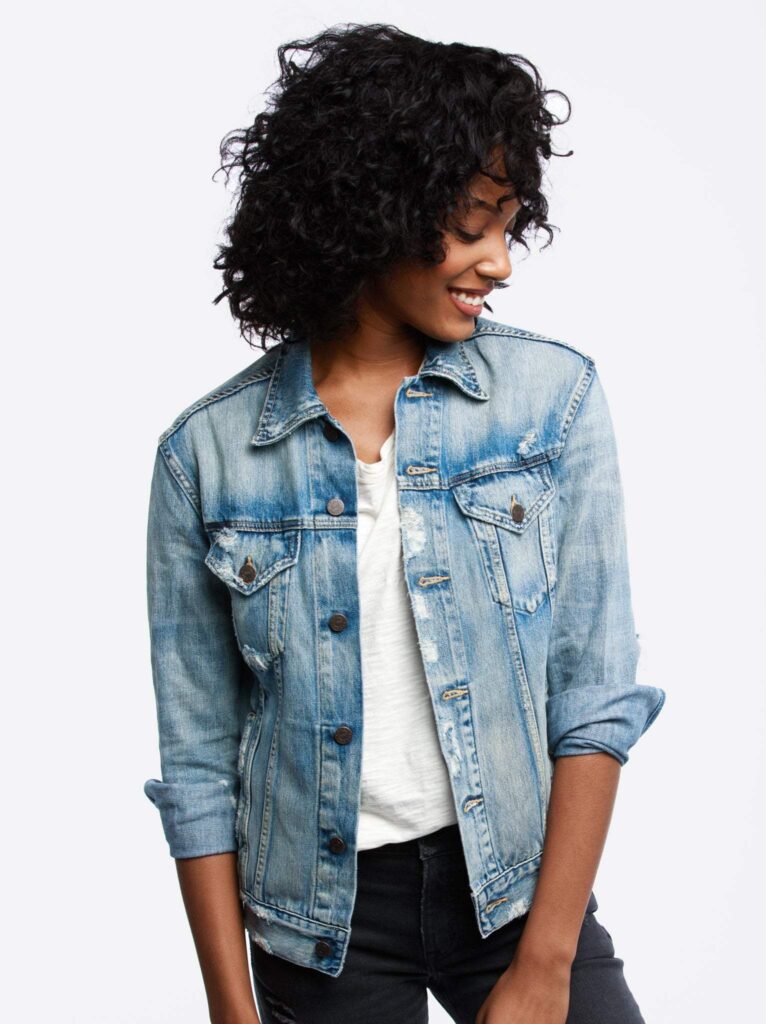 I own this jacket and LOVE it. I have a whole post with different ways to wear it!
The Jacket Fit: Our denim jacket's slightly dropped shoulder, slim arms, relaxed body, and waist pockets make this style ultra wearable.
One of our favorites, this denim jacket is the perfect combo of vintage tomboy and feminine, with a faded ripped wash that you can wear in any season. This is an essential in your wardrobe to layer in with any look.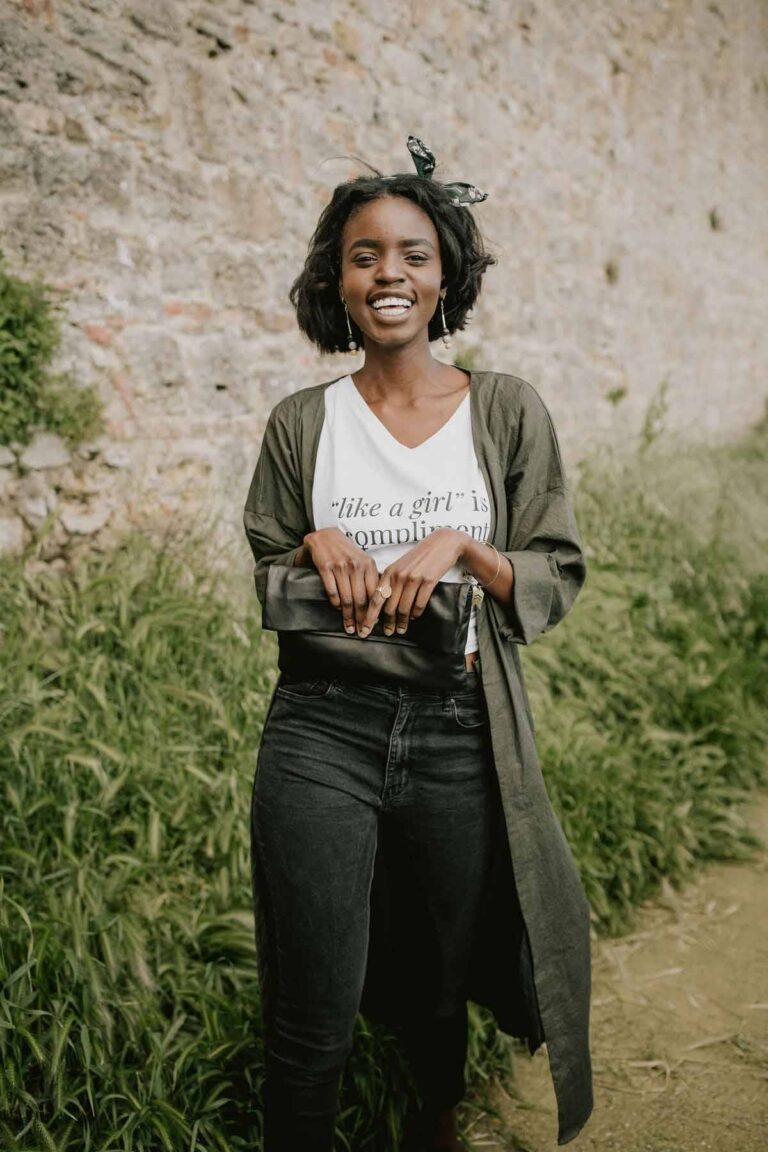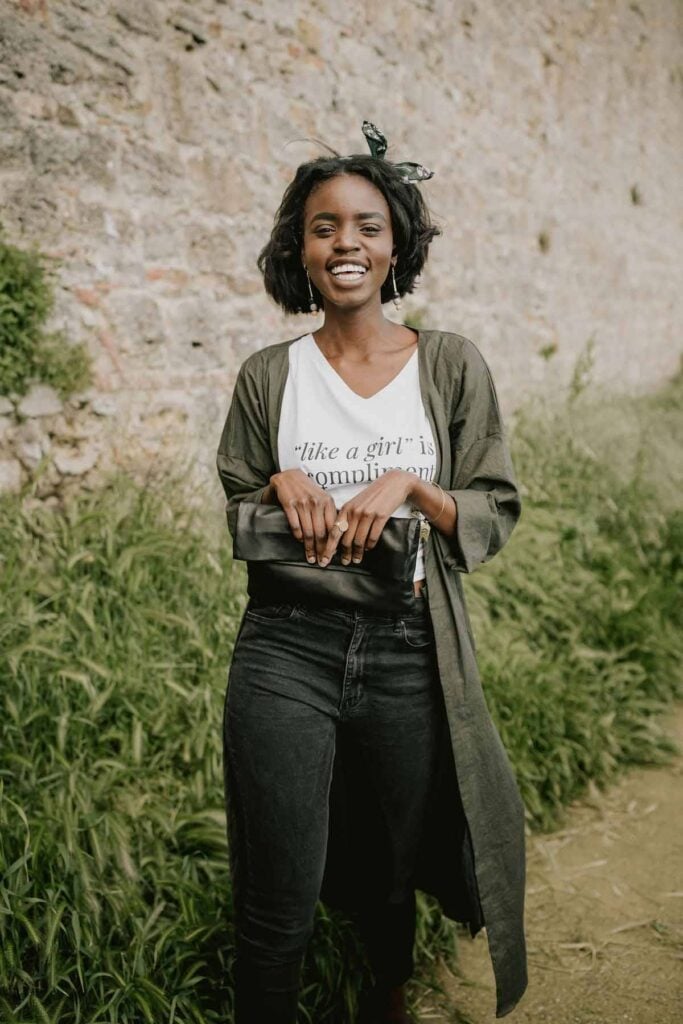 I love things you can throw on over a graphic tee that's something different than a cardigan! This open front duster is just that. Throw it on over a little black dress or over skinny jeans + a graphic tee and you'll instantly show your fabulous style.
Comes in one size.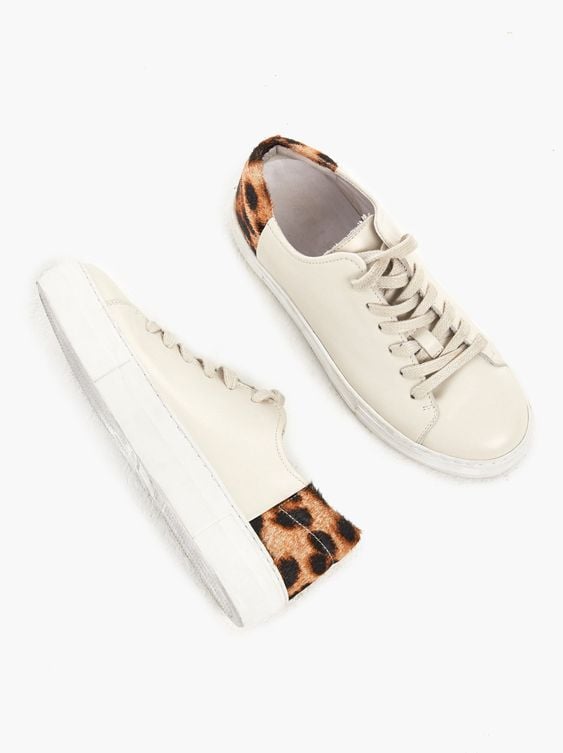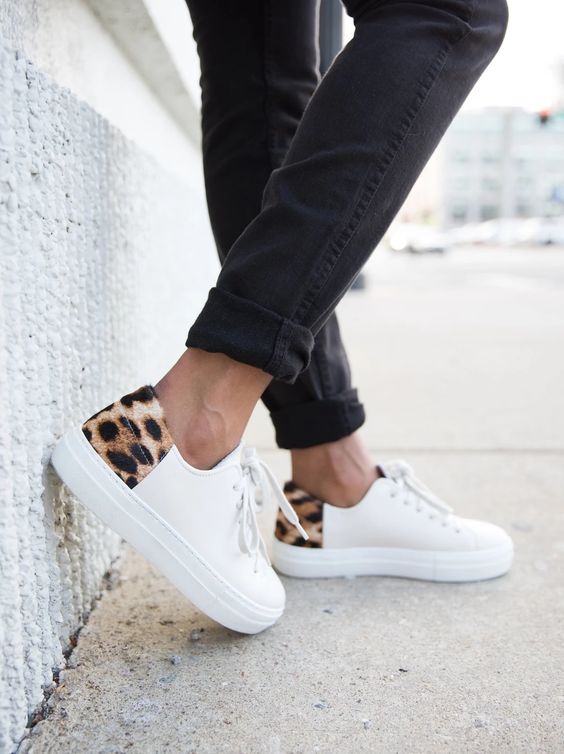 Can you go wrong with white and leopard? I say no. Say hello to ABLE's first sneaker. It's versatile, comfortable, and is sure to be a sneaker game changer.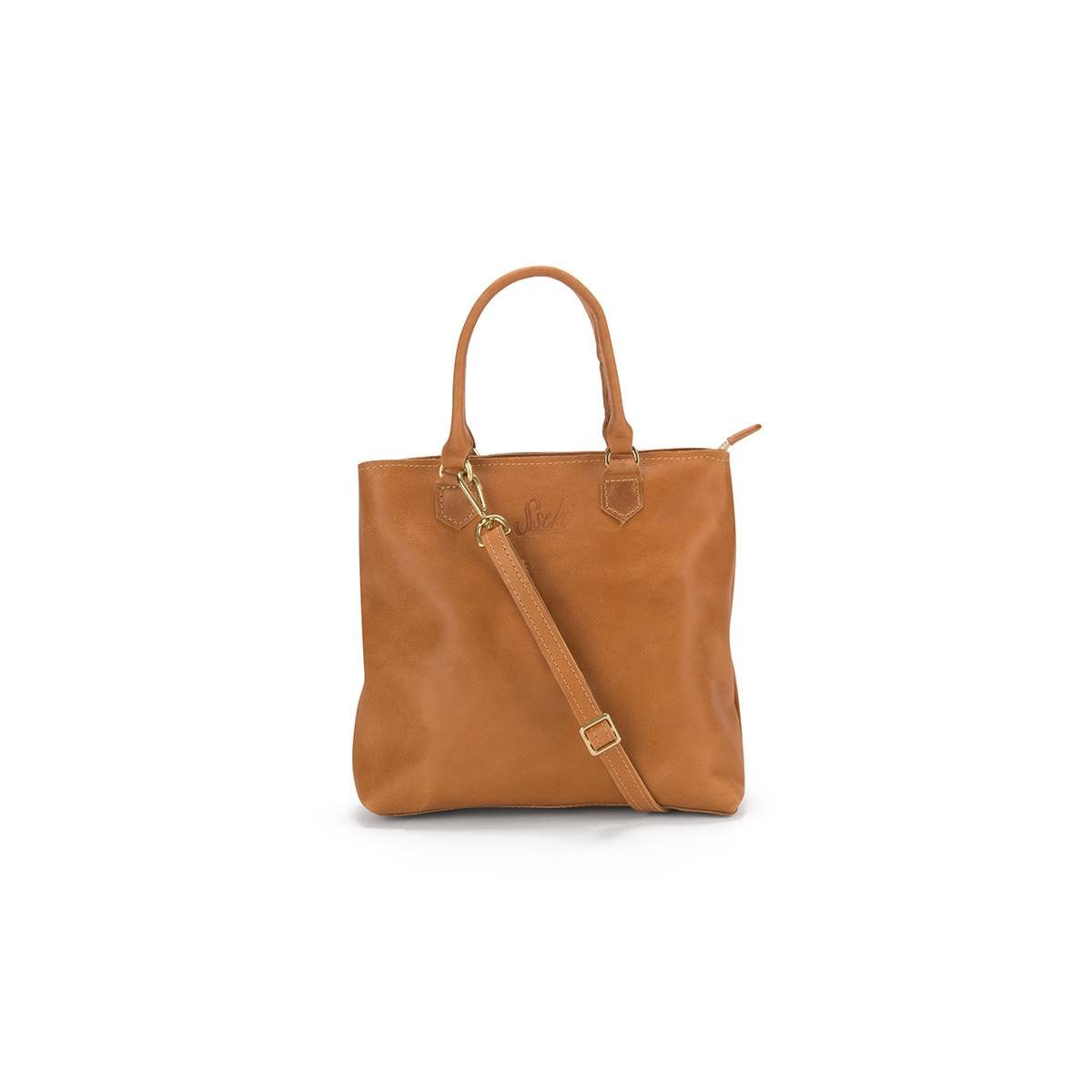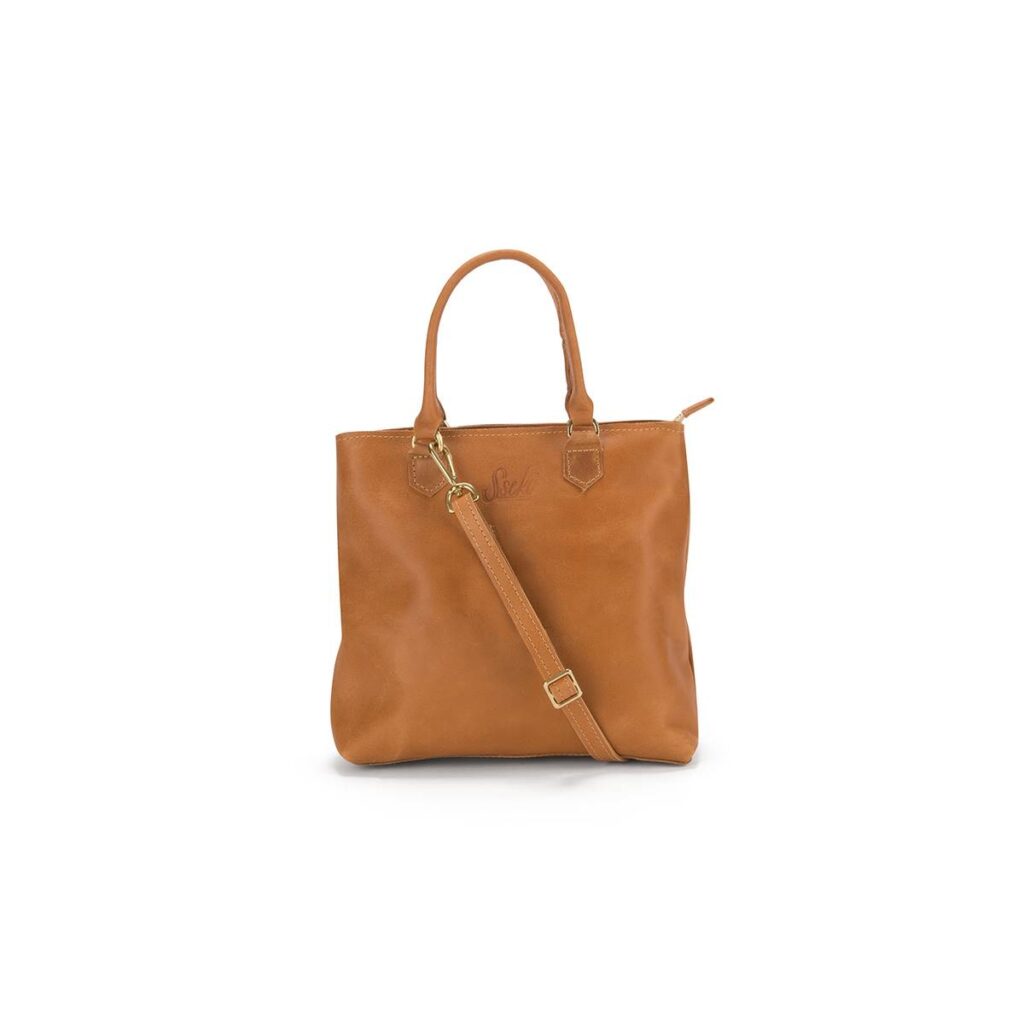 I have multiple cognac leather bags and I use them SO much! I love that you can use this one either as a crossbody or by the handles. It also has a zipper to keep everything safe!
Handmade in Ethiopia and also available in black!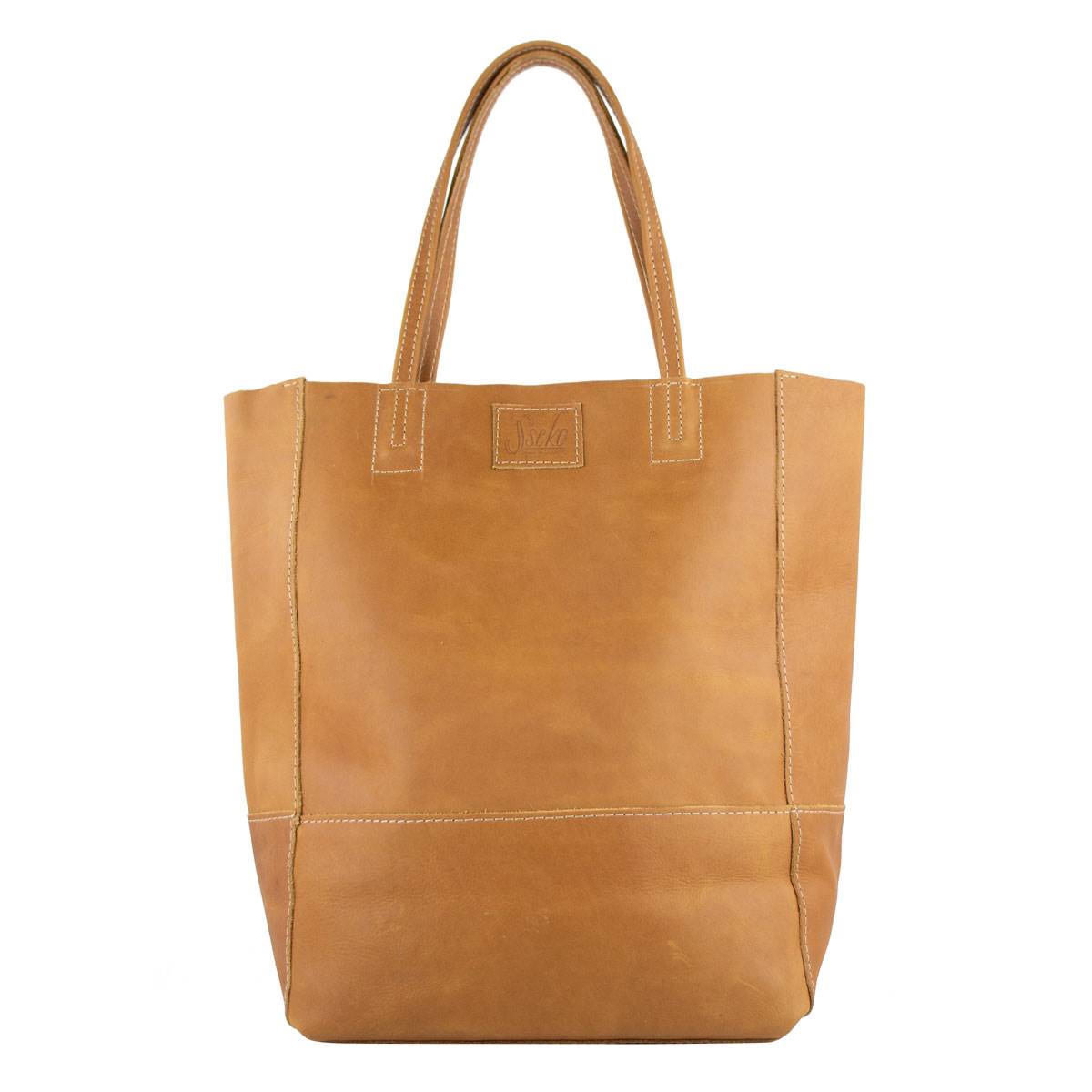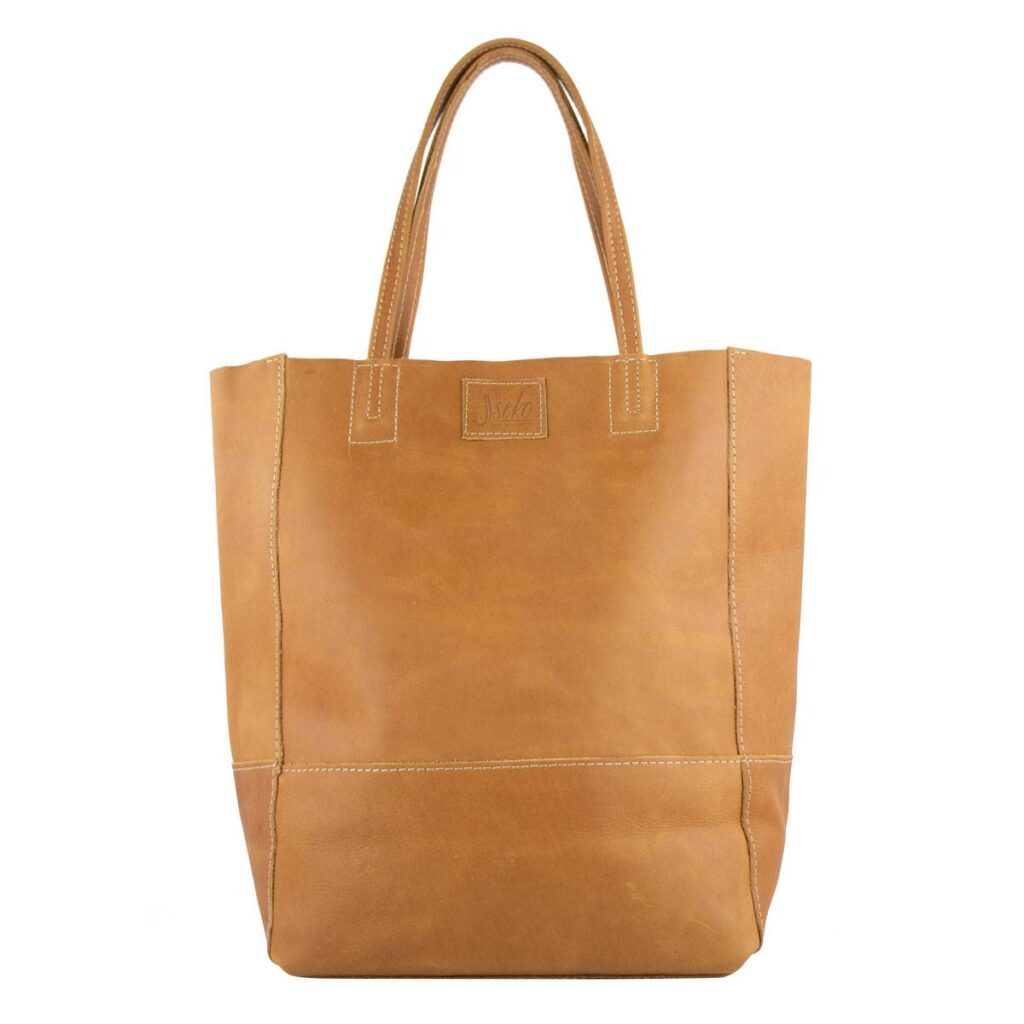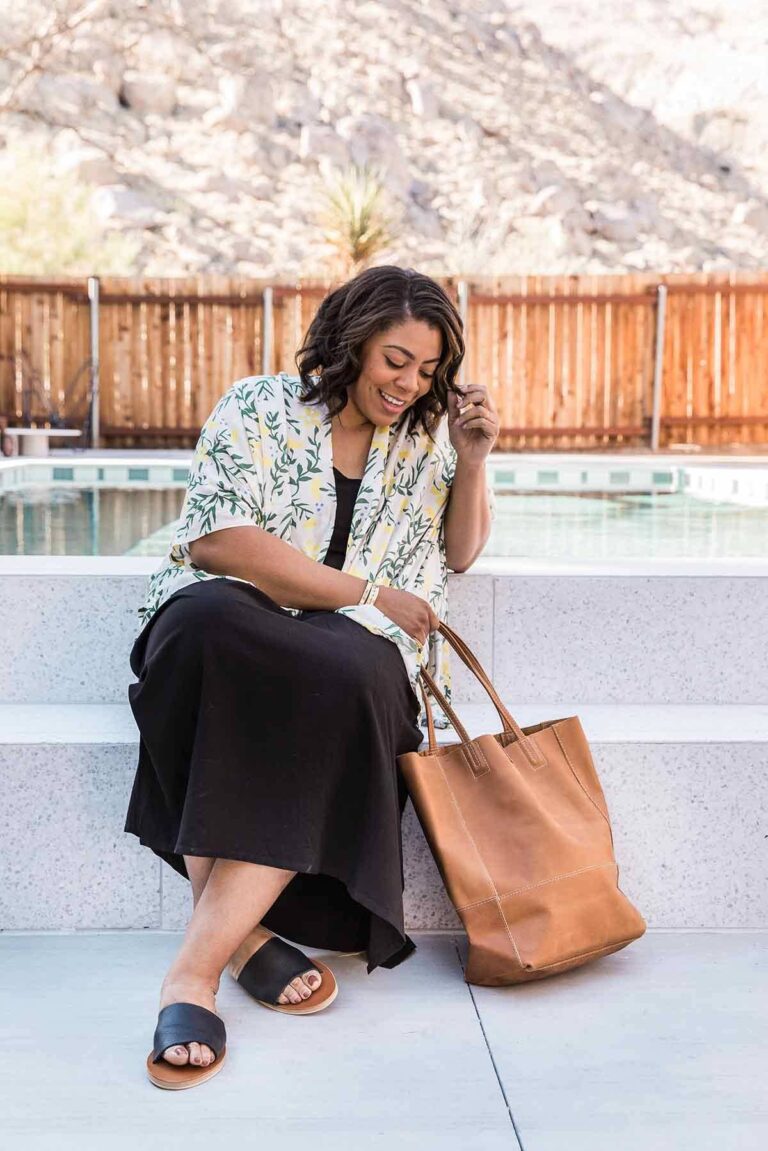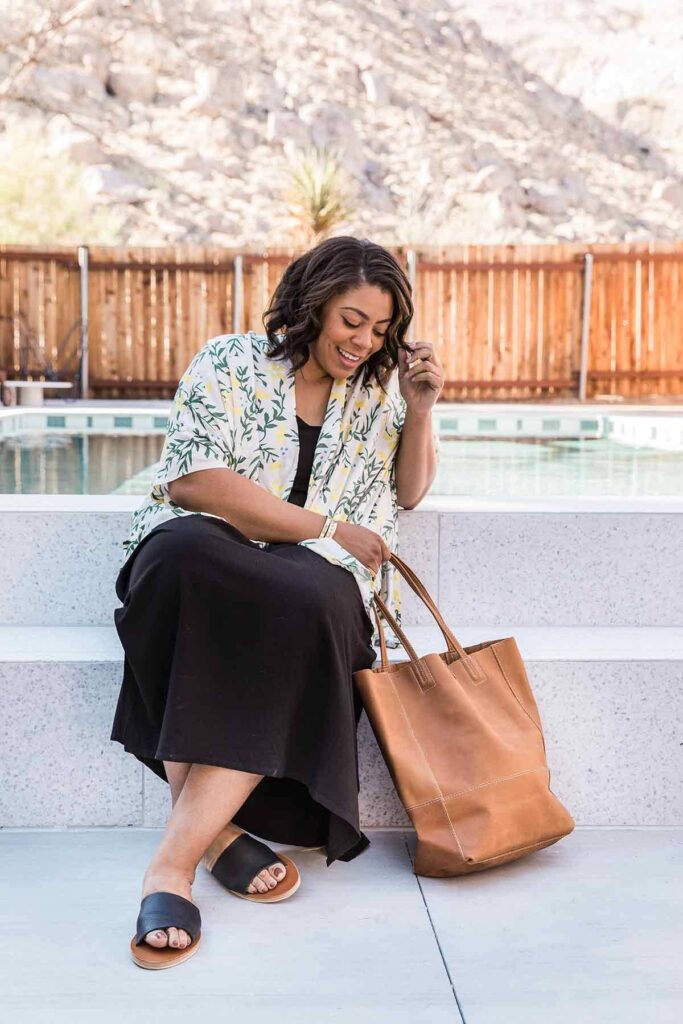 I'm not sure you can go wrong with a cognac Safari Leather Bucket Bag! It's one of Sseko's most popular items and perfect for pretty much anything – school, work, diaper bag, or anything in between!
Has 2 internal pockets, is unlined and handmade in Uganda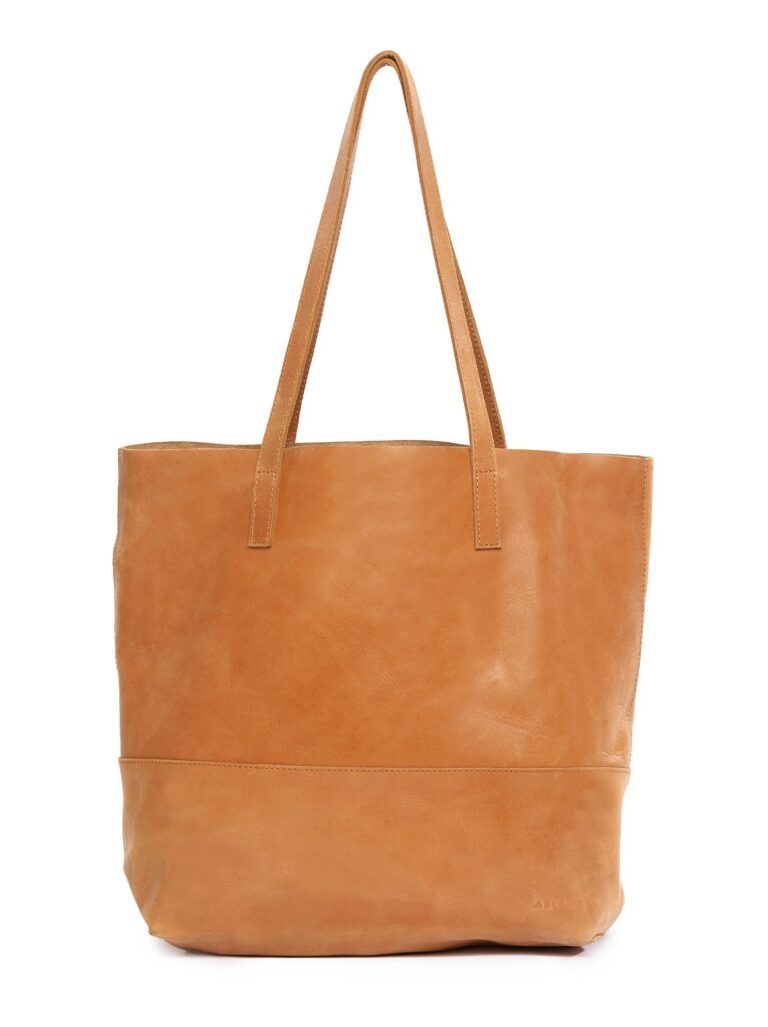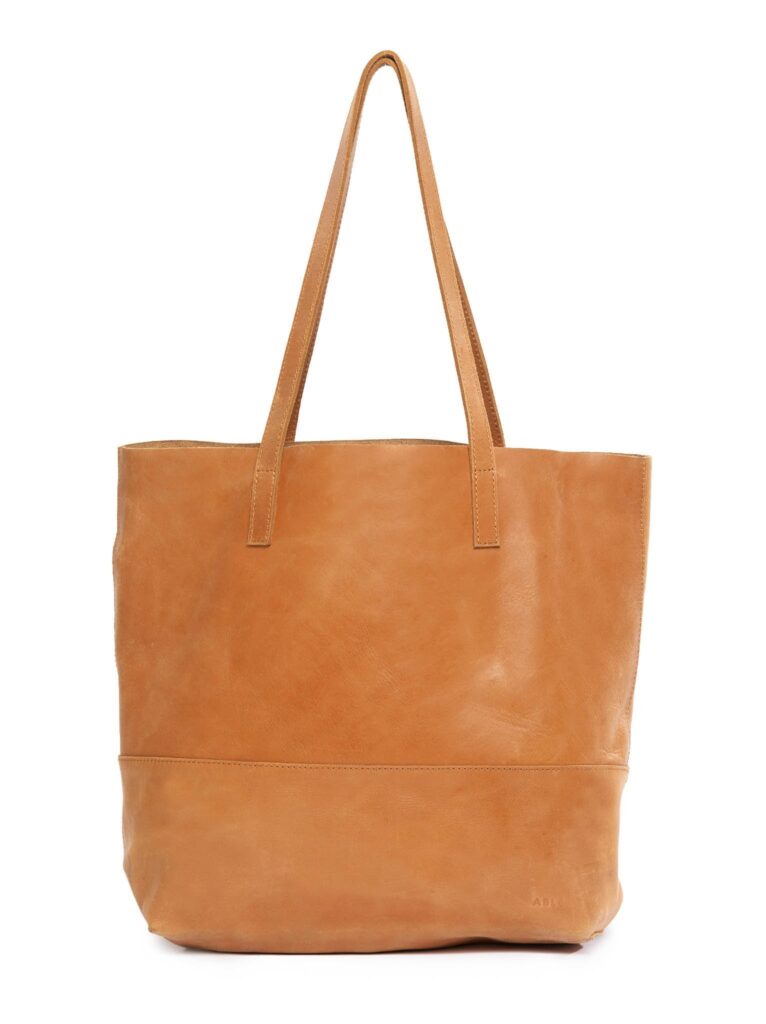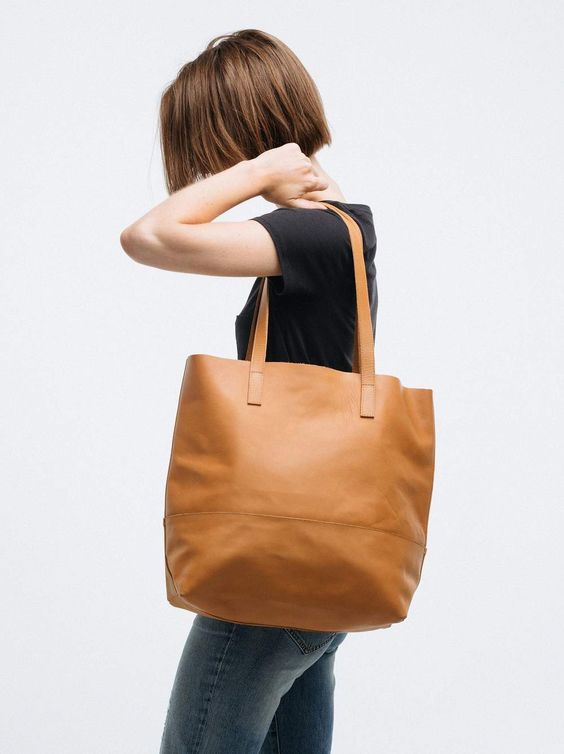 I own this bag in 2 colors and love it's versatitlity! It also holds up so well because let's be honest, I'm a little rough with my bags! 😉 This tote is handcrafted in both Ethiopia and Mexico using 100% distressed leather.
There is one small interior pocket. It's also available in whiskey and they're always coming out with new colors!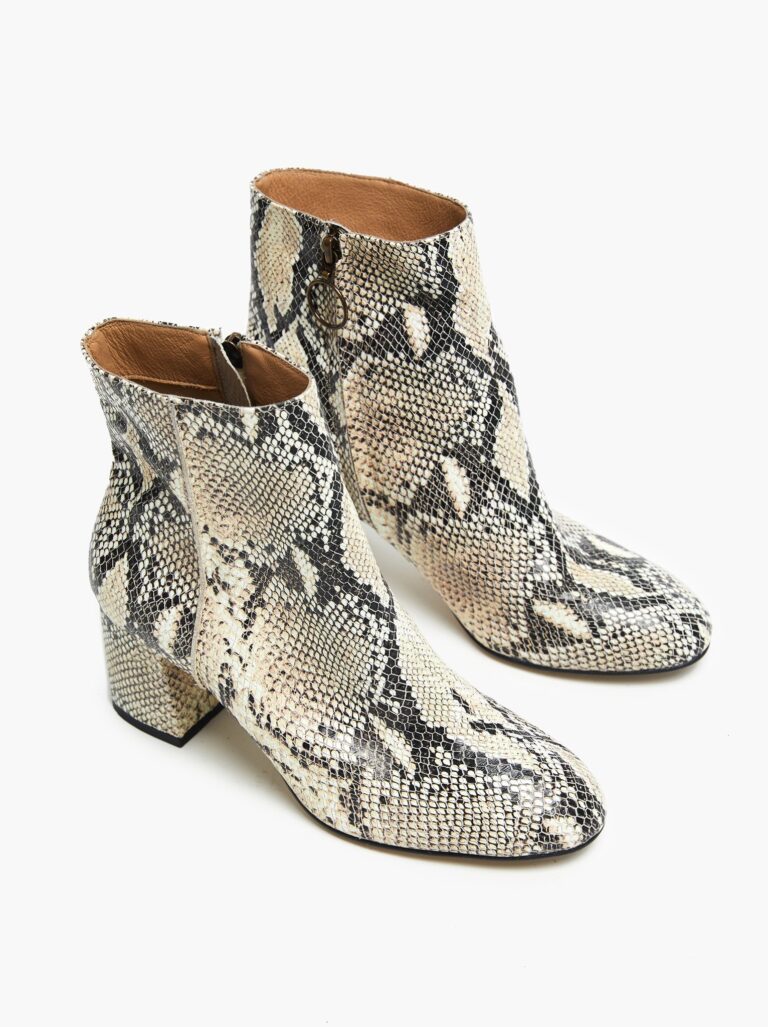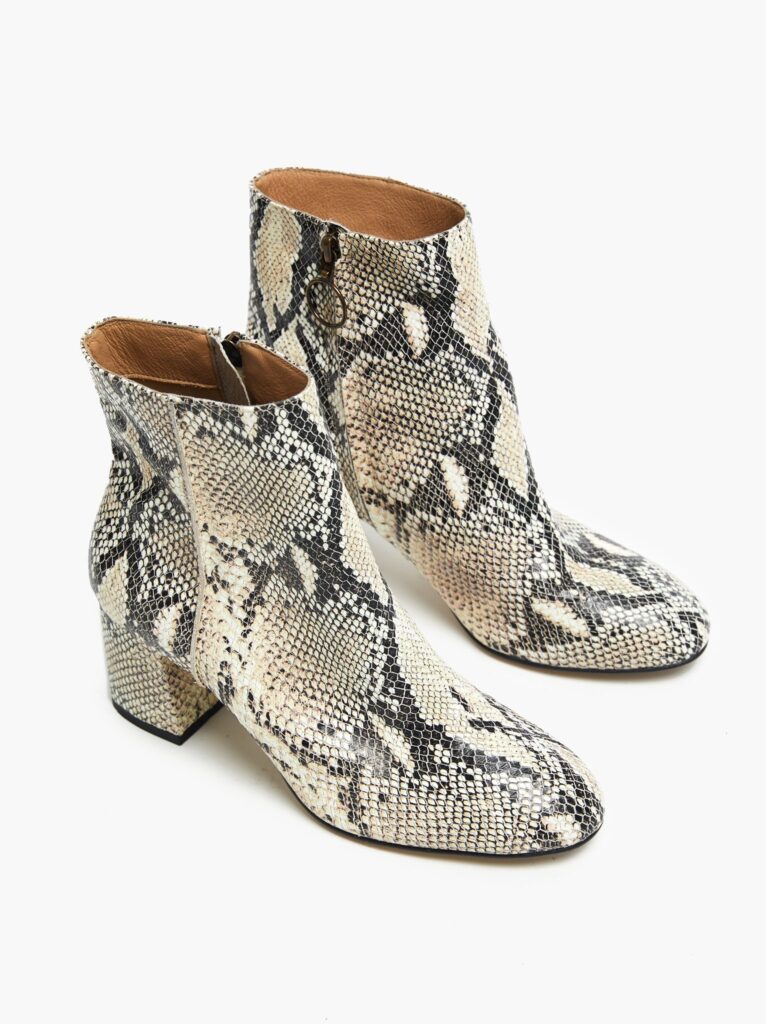 The boots to wear with everything. The Celina Ankle Boots have a just-high-enough heel, thoughtful hardware details, and an easy-to-style shape.
Available in snake (shown above), cheetah, leopard, black, chestnut and silver. They're handmade in Brazil using cow based leather upper and leather insole.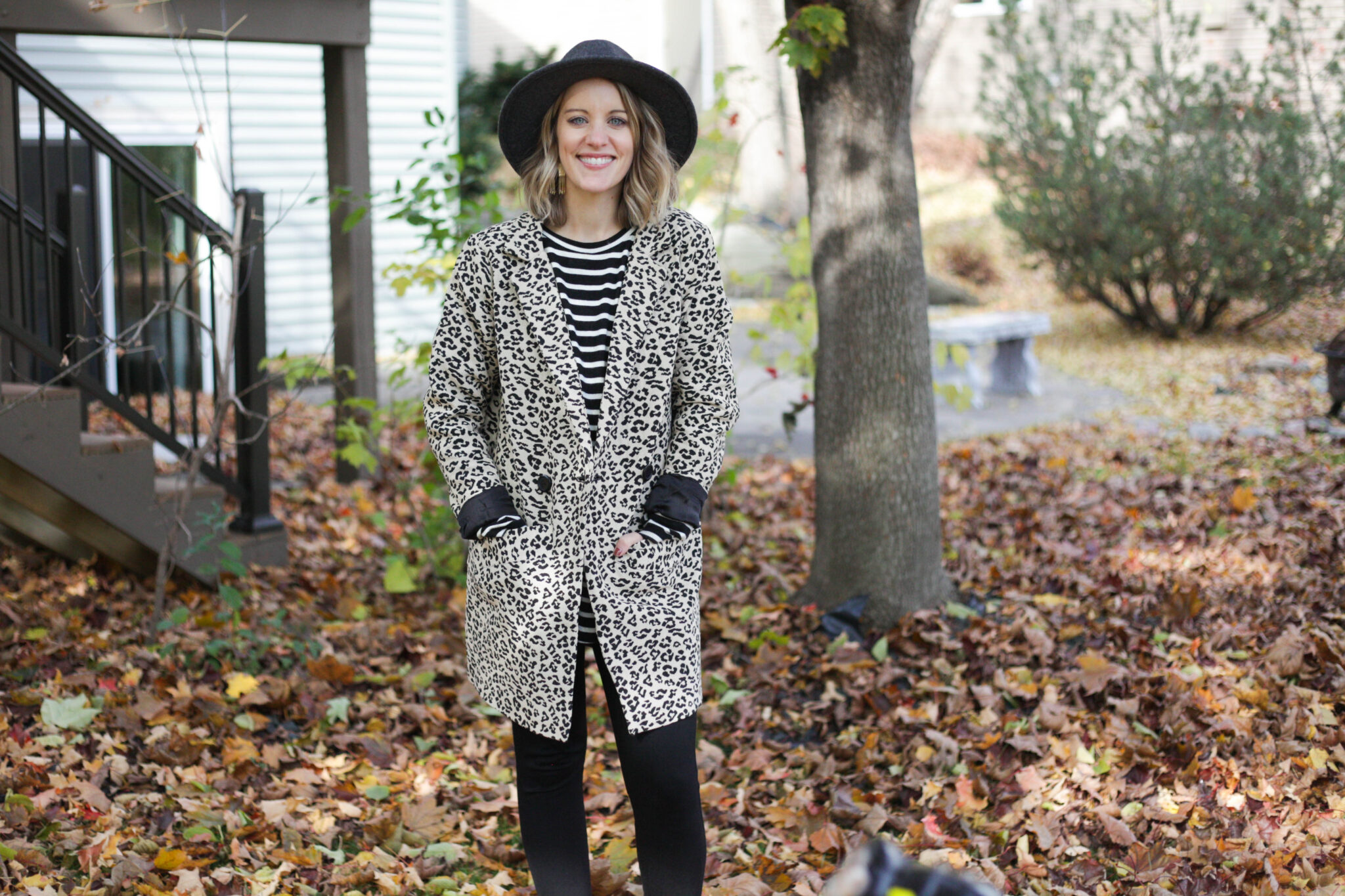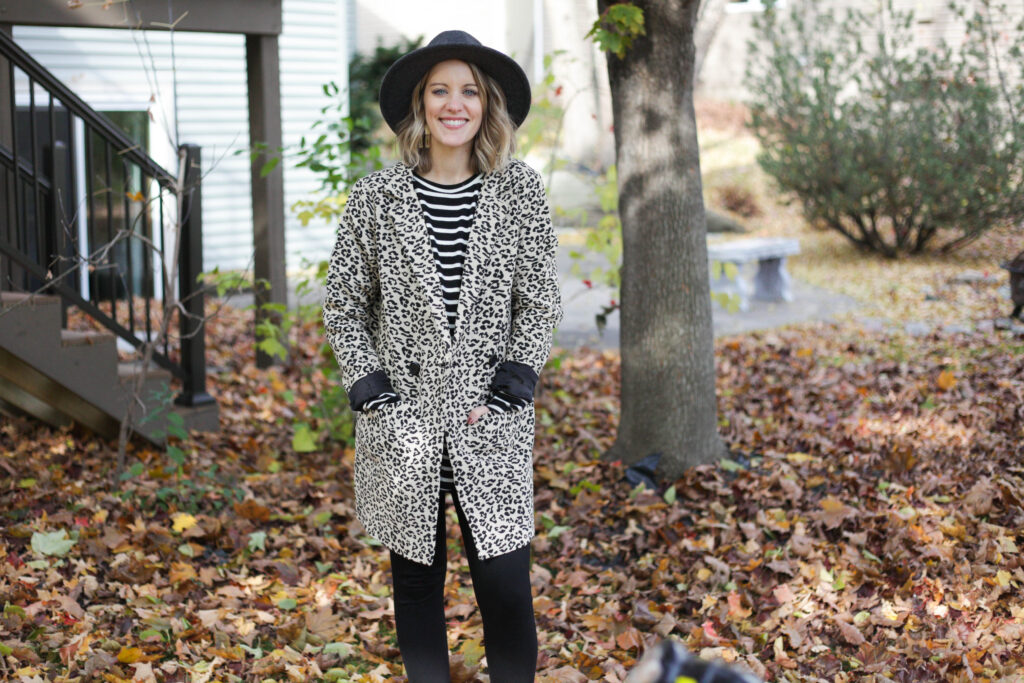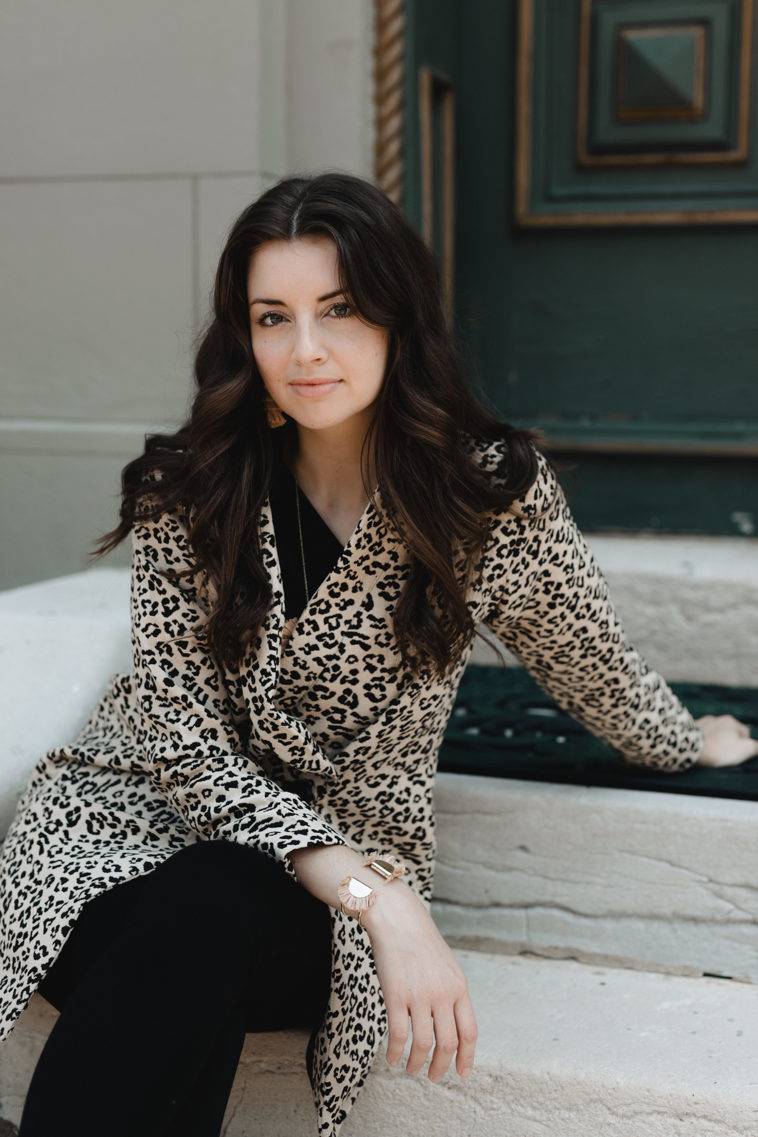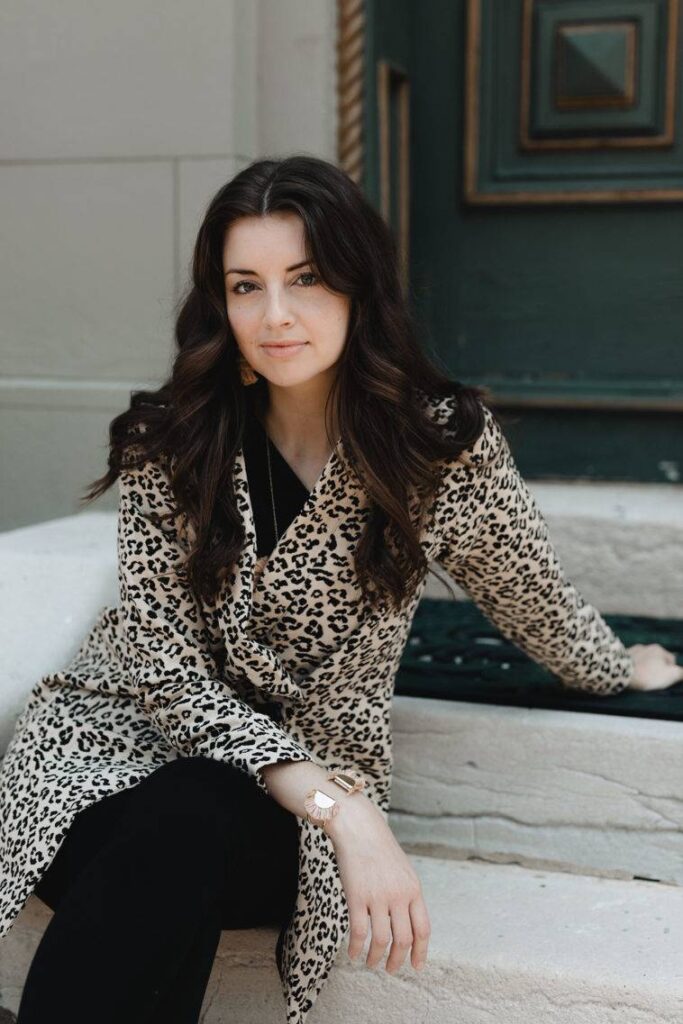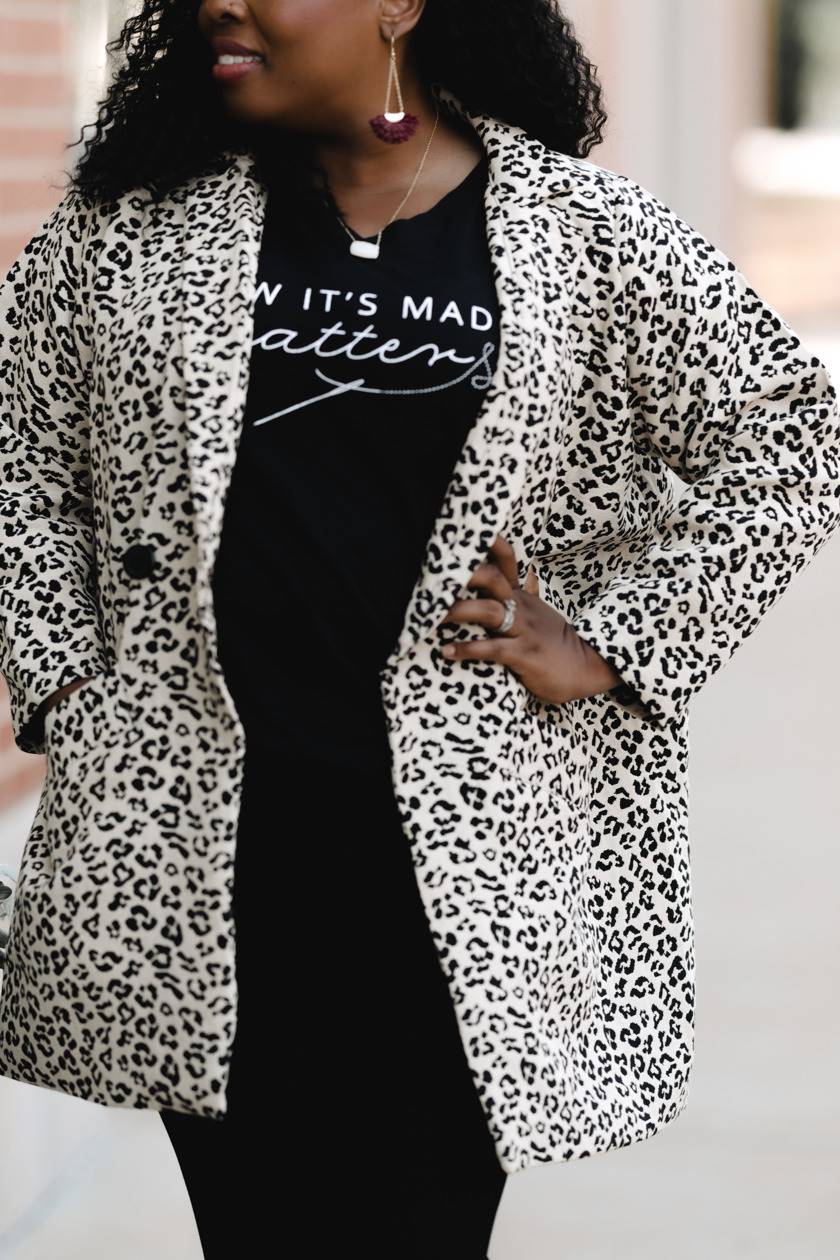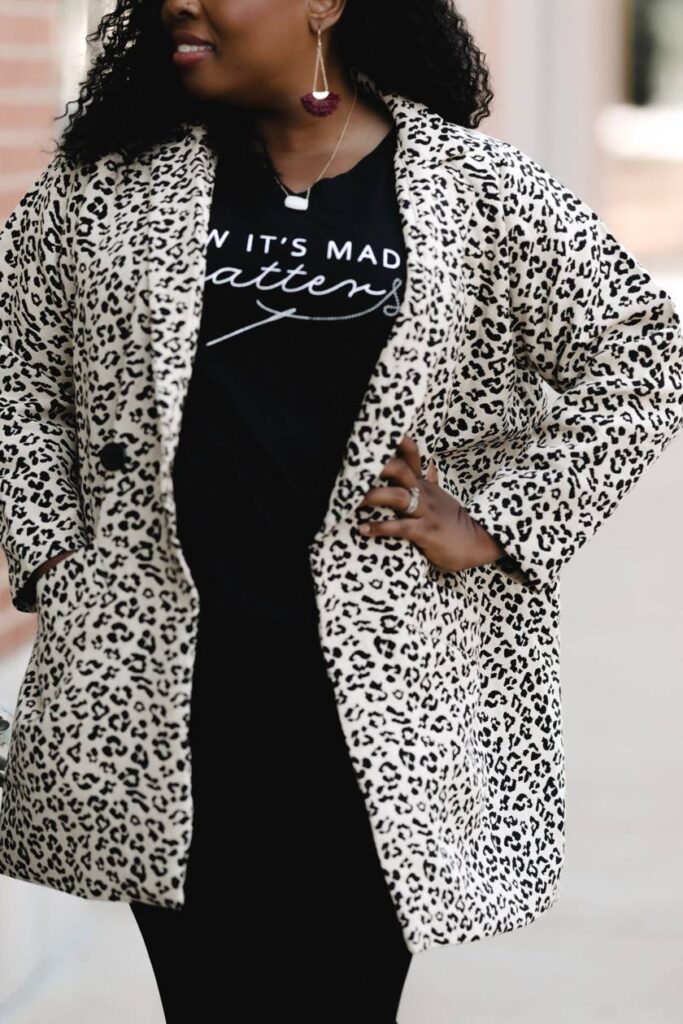 I'm not kidding when I say that this jacket convinced me to sign up as a Fellow. This jacket is right up my alley and will be in constant rotation in my wardrobe, I just know it!
It's thick enough that it could worn as a jacket in the fall and spring but not too thick where you'll be sweating indoors! I paired it with a graphic tee and was super comfortable the entire day.
It's made with 100% woven cotton and satin lining. It comes in 2 size (I ordered the size 1).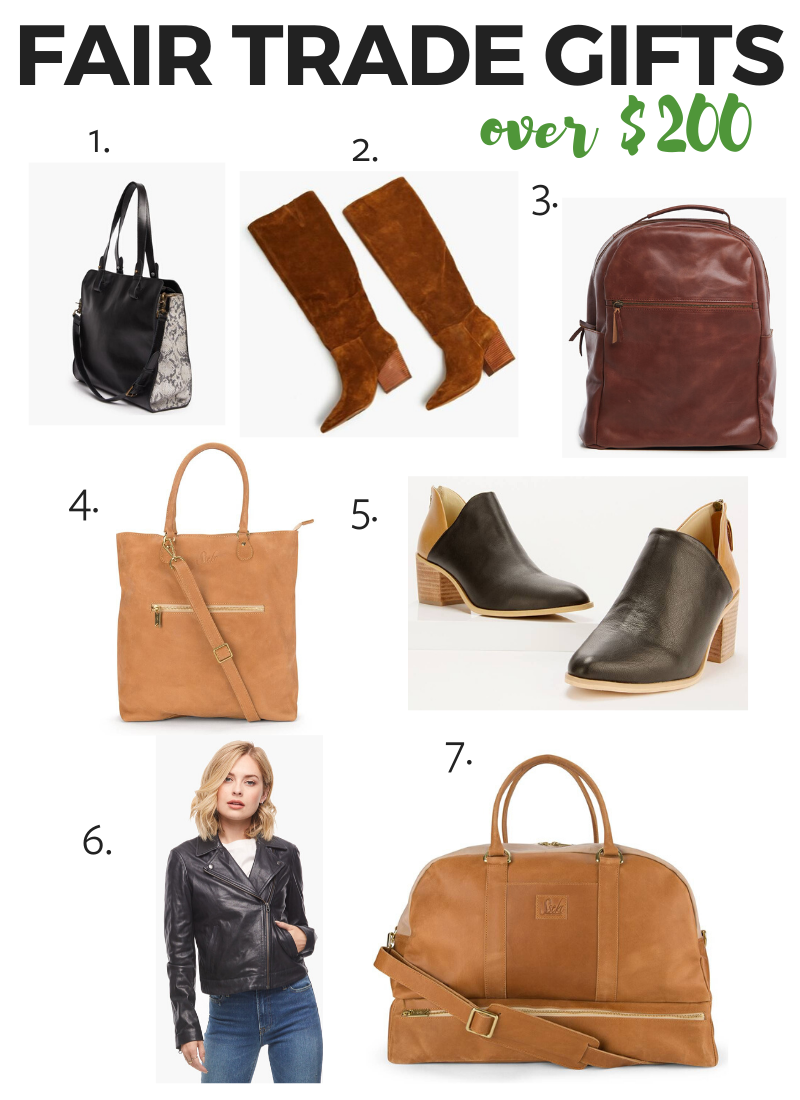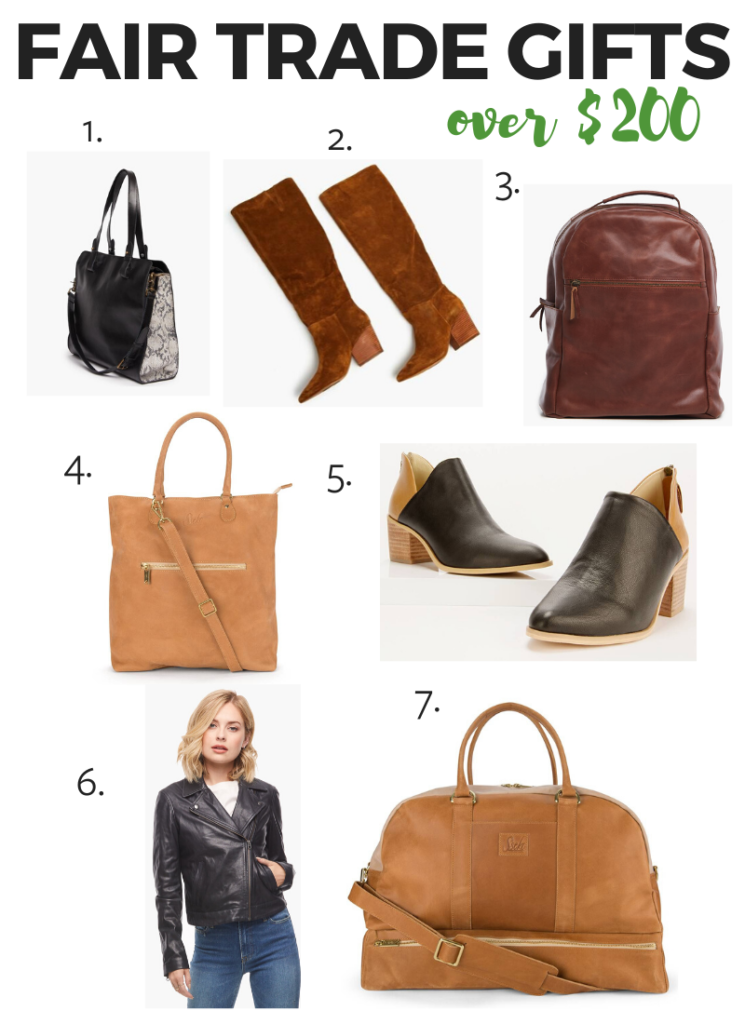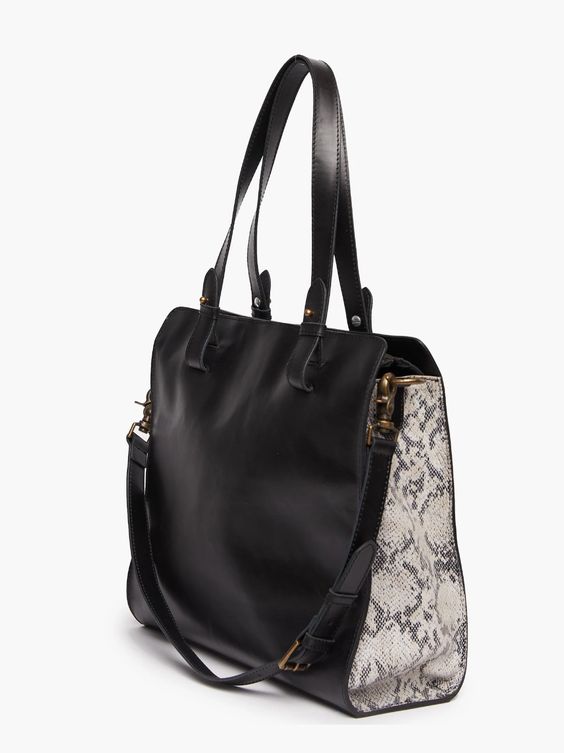 Work bag, weekend tote, Mama carryall– you name it. The Axum Tote is an instant classic that's designed to work with your lifestyle.
There is a removable crossbody strap, separating zipper closure, 2 interior slip pockets and 1 interior zipper pocket.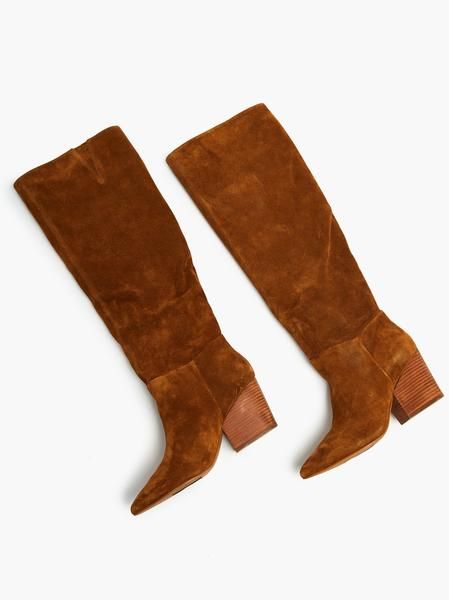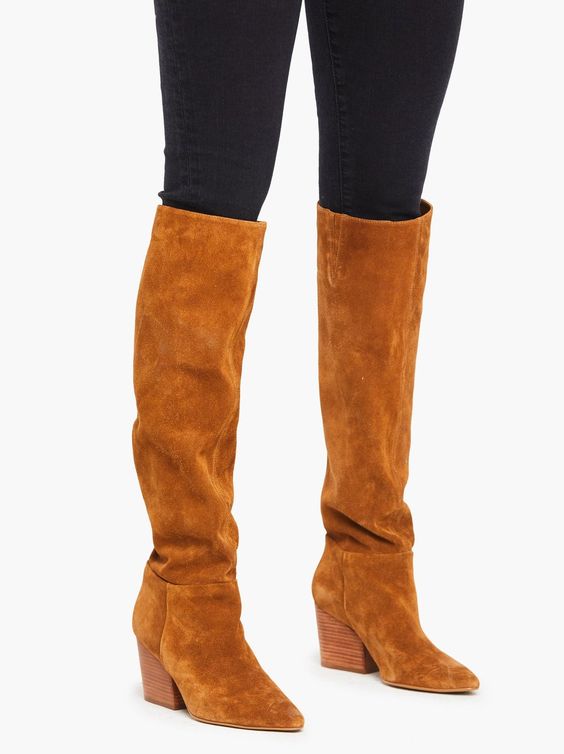 The ultimate statement-maker. Wear it with your favorite denim, dresses, or just about anything. These boots are handmade in Brazil.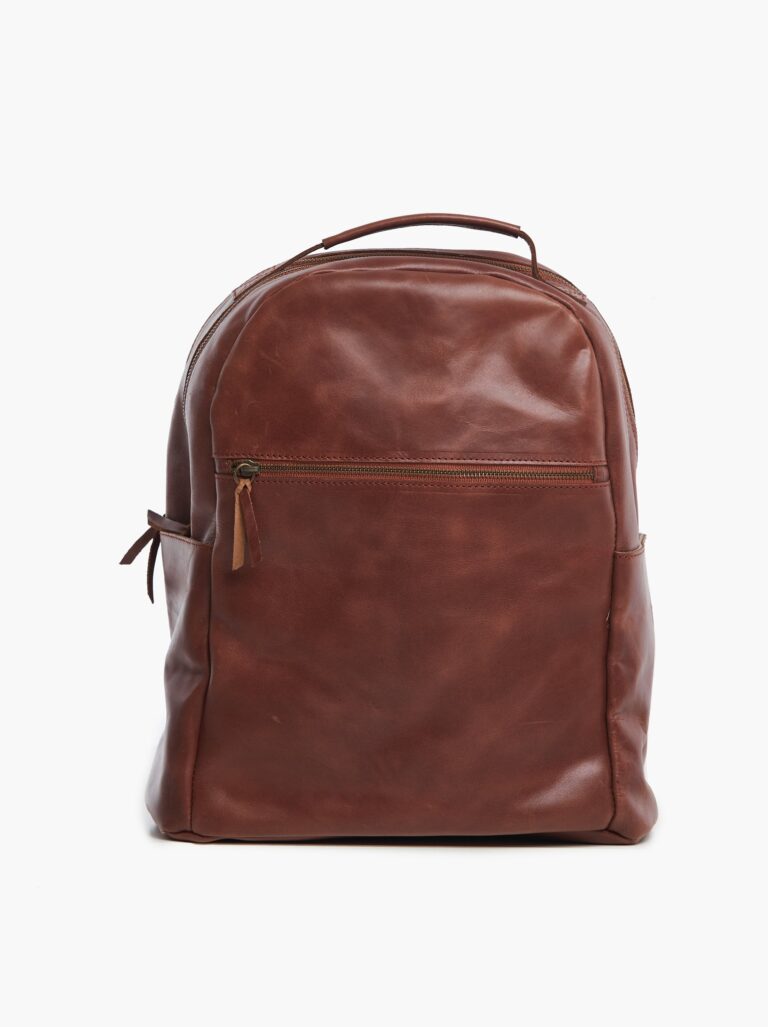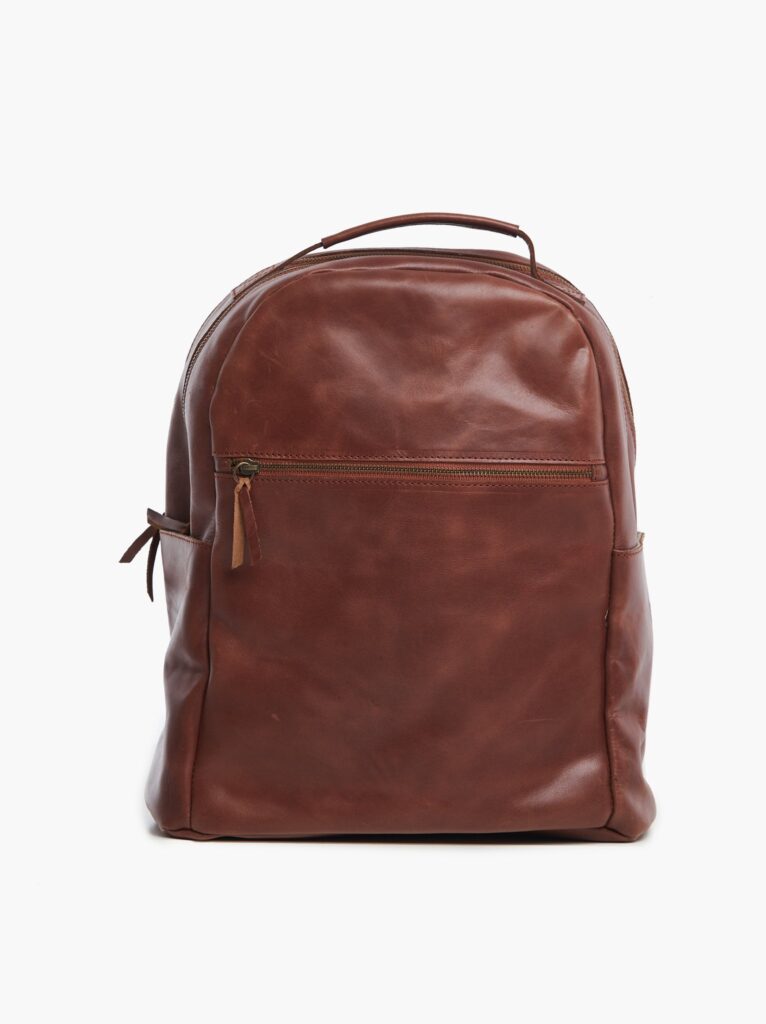 Minimal design meets maximum storage. The Alem Leather Backpack adds function and style to your daily life. Complete with padded shoulder support for all day comfort, easy to reach pockets, and space to fit a 15″ laptop, there's nothing this life-saver can't hold. You'll reach for this spacious and savvy leather backpack for the work week, weekend trips, and everything in between.
This basket is handcrafted in Mexico. It features two interior compartments, one interior slit pocket, and two side pockets. There's a lined interior + 3 zipper closures with adjustable backpack straps.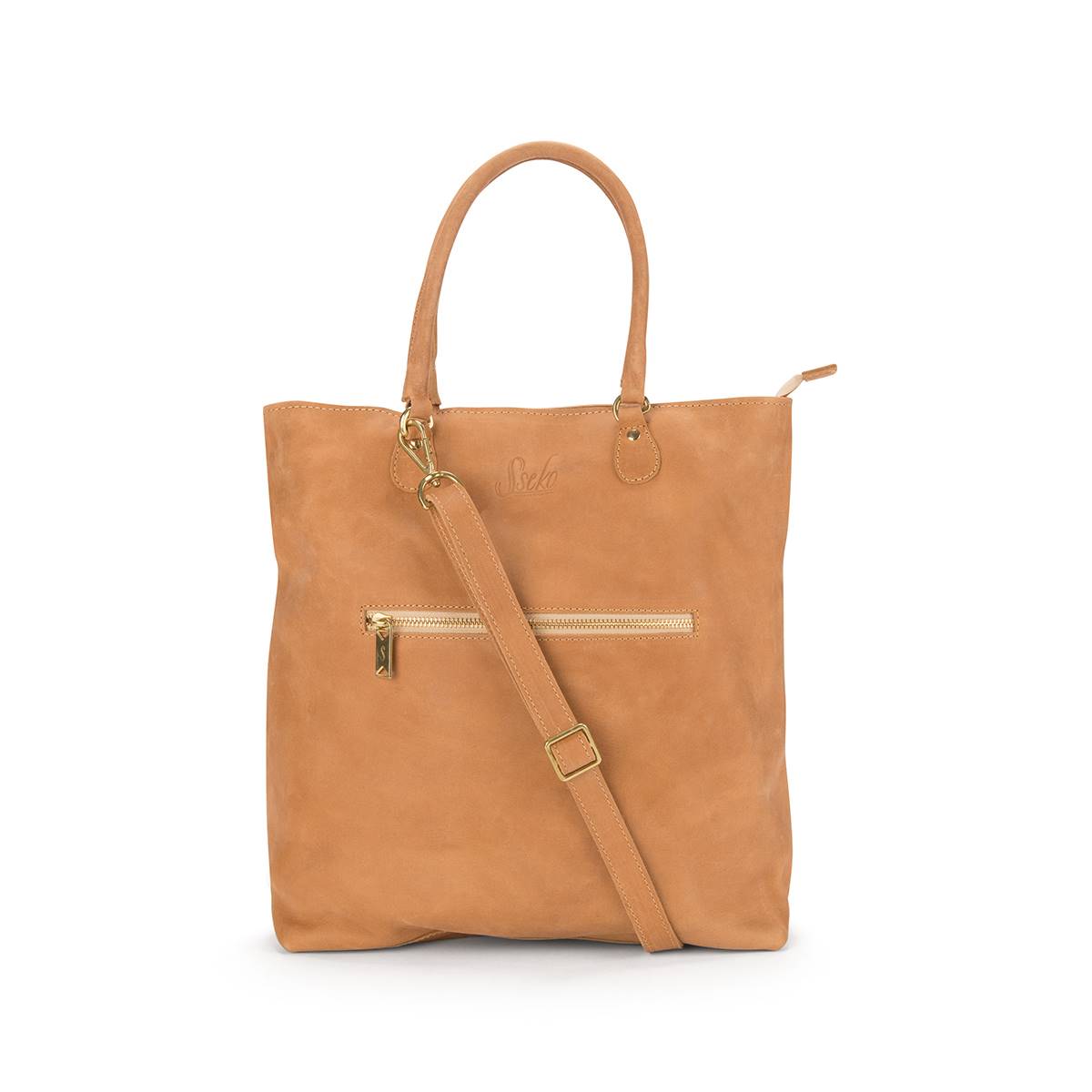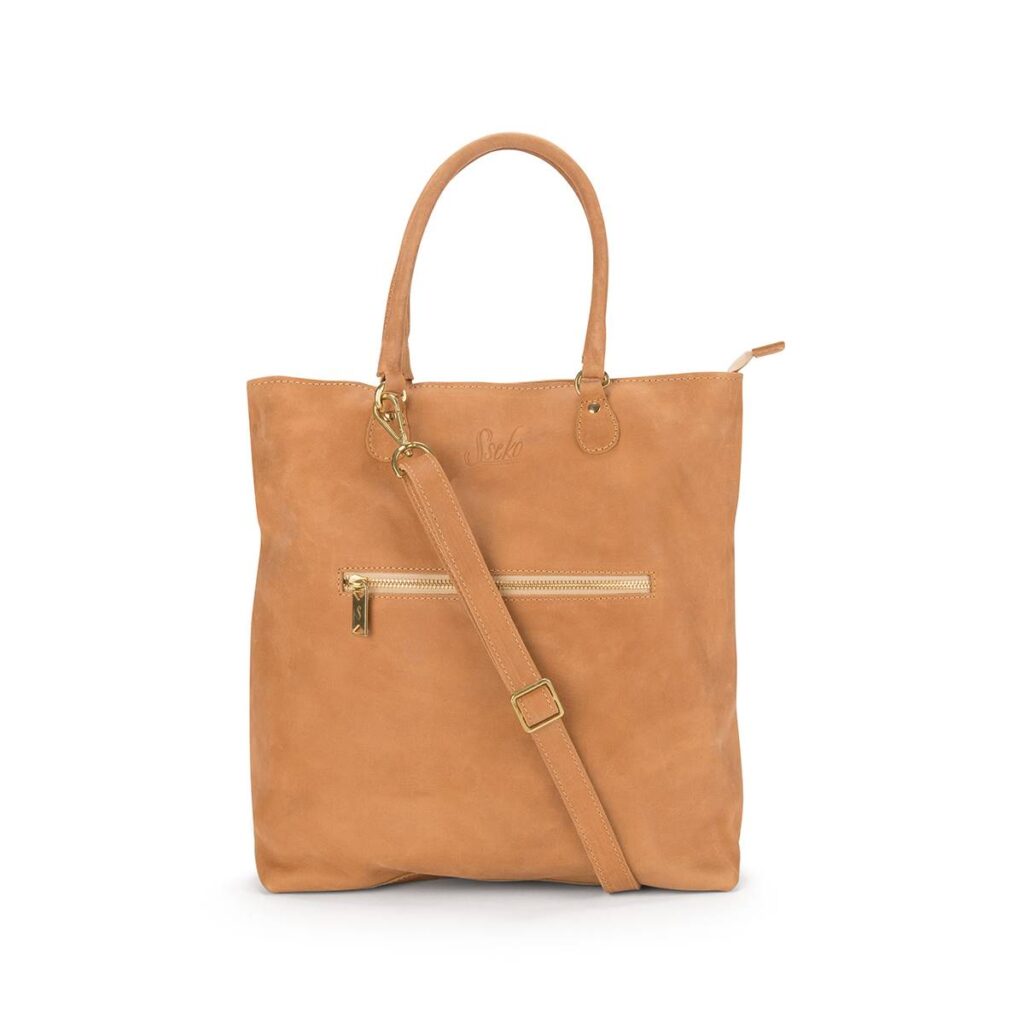 The Convertible Tote in Oiled Cognac takes versatility to the next level with its functionality and class! Slip the bag over the handle of your rolling luggage for a hands-free walk through the airport. The removable adjustable strap makes this classy bag easily convert to a backpack or crossbody bag!
This tote is fully lined, external zipper pocket, internal zipper, patch pockets, main zipper closure. It also has a removable, adjustable & convertible strap. The back panel functions with roller board handle. Made in Ethiopia.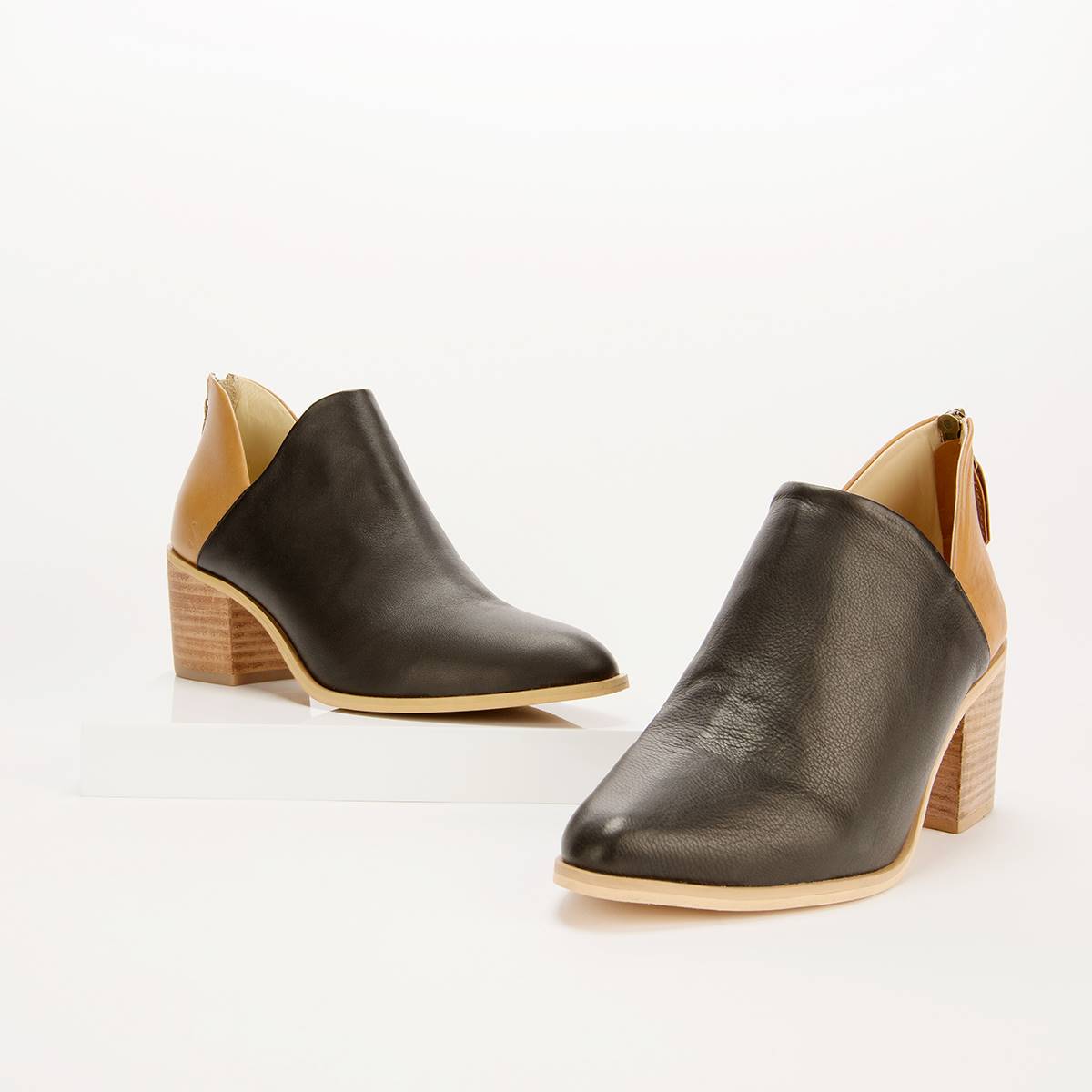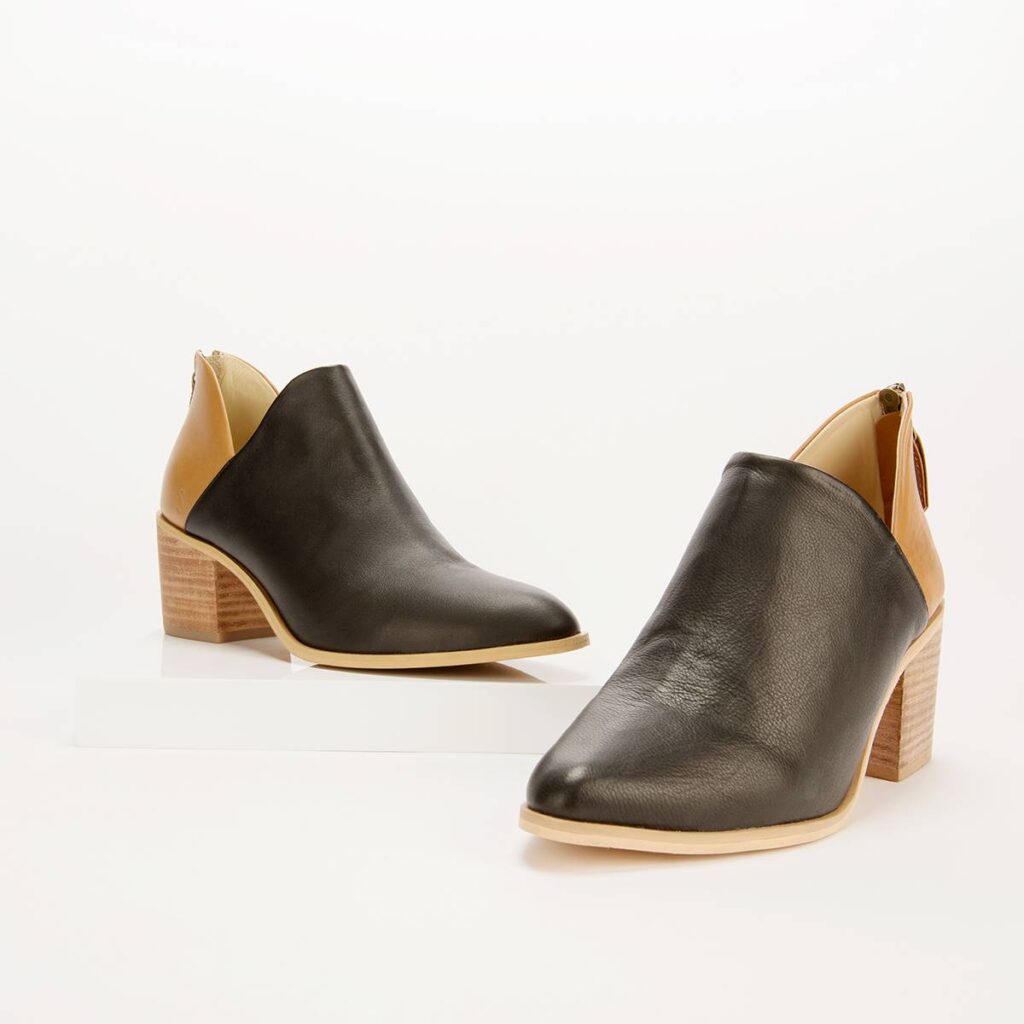 Step into Fall in the cutest boots around. Designed with versatility in mind, these boots feature two-toned leather and can be worn with any outfit imaginable! Dress up the boots with a chic dress or dress them down with leggings and a simple tee.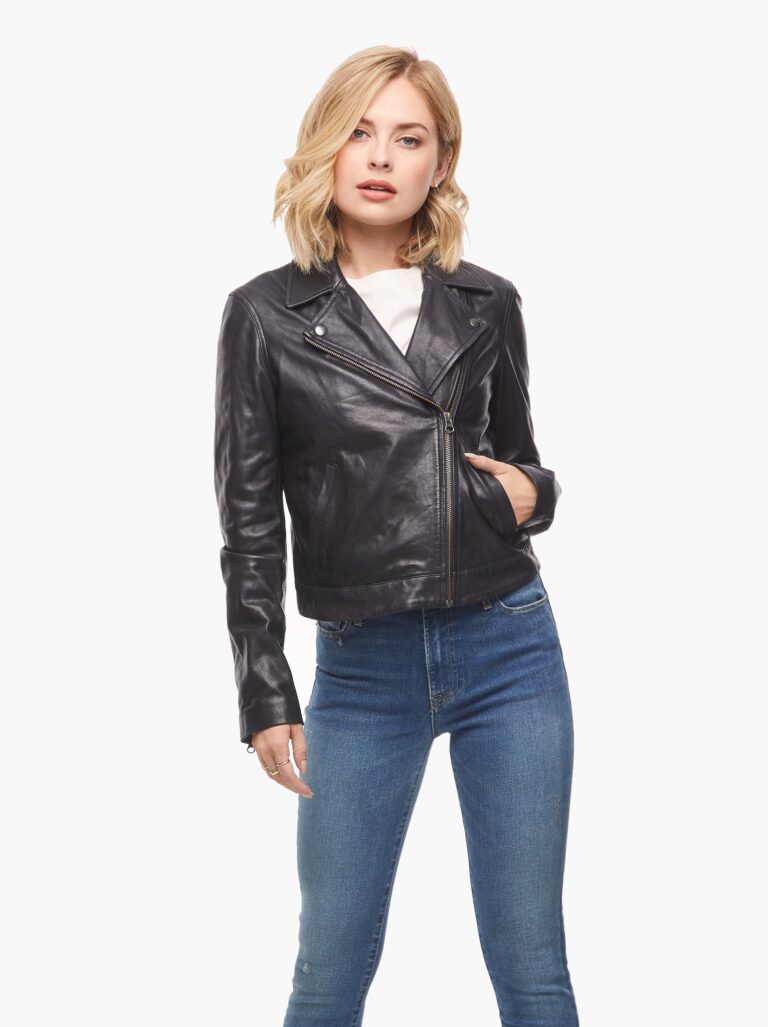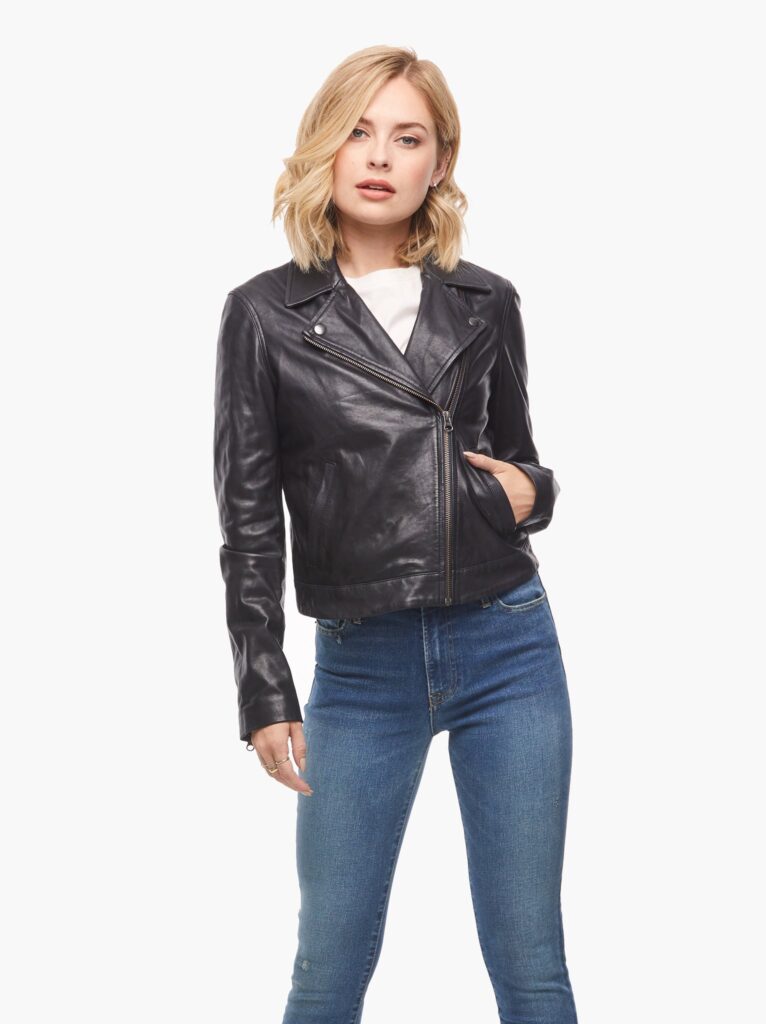 The only leather jacket you need. It's timeless, classic, and cool all at the same time. Made of the softest lamb leather and designed to mold to your body with wear, the Maha Leather Jacket will be a staple from day one.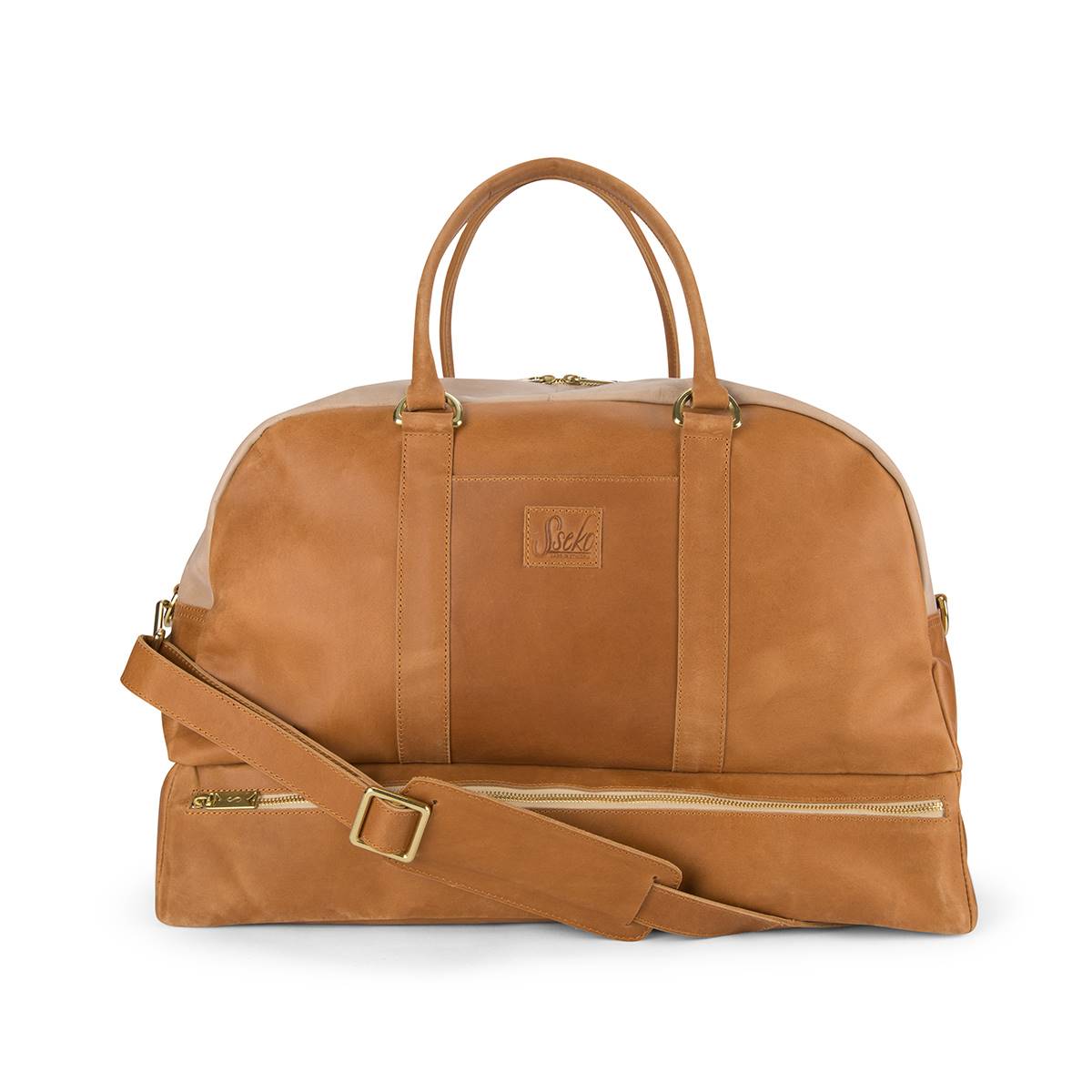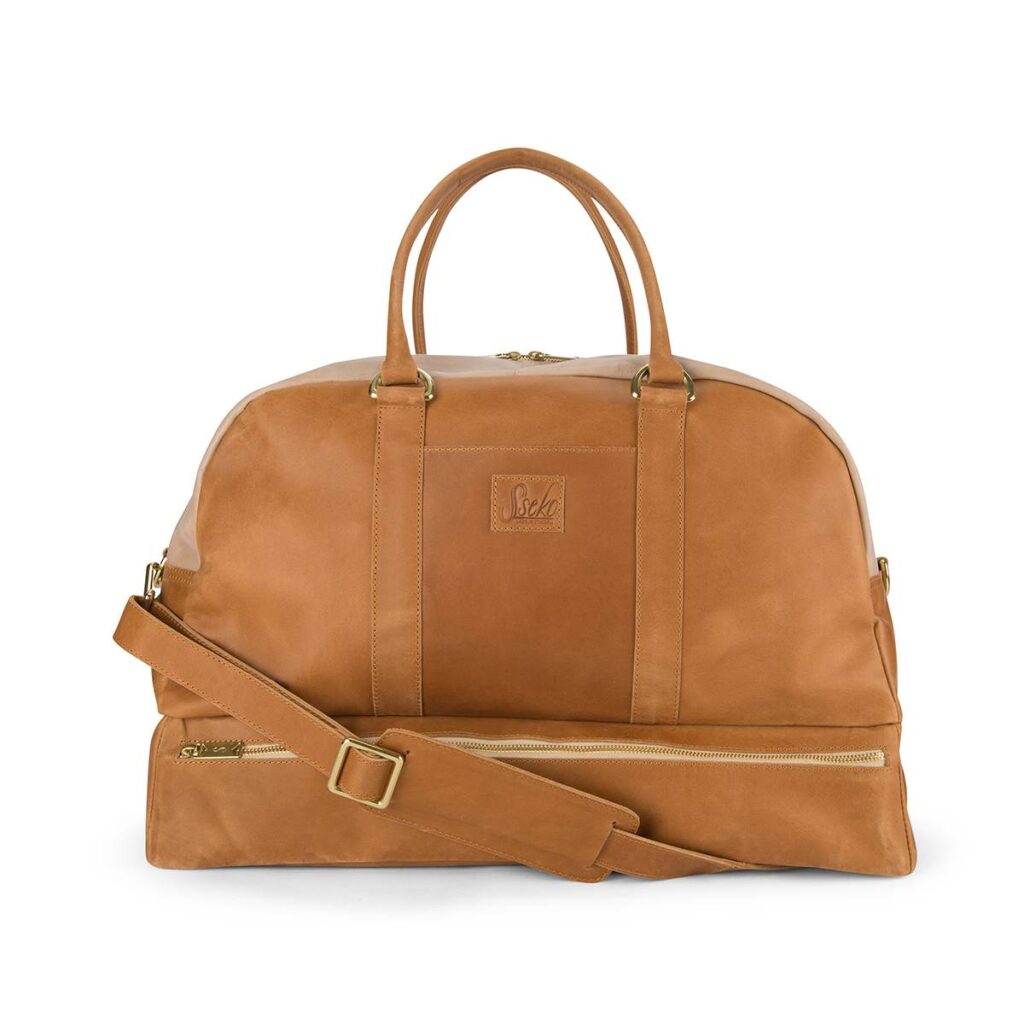 Designed with the modern traveler in mind, the Voyager Travel Bag will add a new level of sophistication (and ease!) to your next journey! This oversized duffle bag is handcrafted with oiled leather and is ideal for all trips- big or small.
This travel bag has a fully lined interior with three internal pockets. There's one external zippered shoe compartment and a removable adjustable shoulder strap. Made in Ethiopia.
There's your FULL fair trade gifts round up!! I hope this helps you get a jump start on your holiday shopping or aids in starting your own wish list! 😉
Buying fair trade is one easy way to make a difference in the world. Thanks for being part of doing amazing things in people's lives.
Check out my Sseko favorites here!
With love,
Jen