While you may not be real family members or sisters by blood, for many of us, our sisters-in-law are true sisters, family, and friends for life.
One of the best things about sister-in-laws is the special relationship you can have with yours! So when looking for the best gifts for your sister-in-law, you'll want to take the time to find something that shows her just how much she means to you!
Whether she's a future sister that you're just getting to know or a new sister turned best friend (thanks marriage!) we're sure you want a thoughtful gift to give her. And good news, we've found tons of great gift ideas.
From birthday gifts to Christmas gifts, here's some great ideas!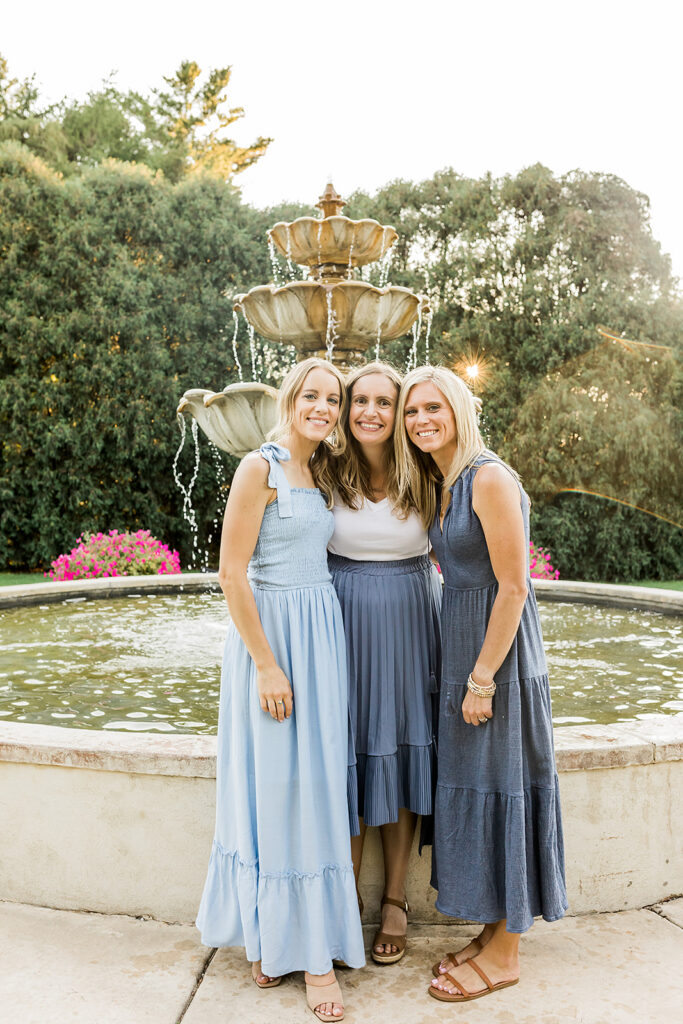 This post contains affiliate links.
In this gift guide, I'll be sharing vast list of the best gift ideas that your sister-in-law is sure to love receiving for any occasion! There's a little bit of everything here, so no matter what her personality or style is, there's a gift for her on this list!
35 Best Gifts for Your Sister-in-Law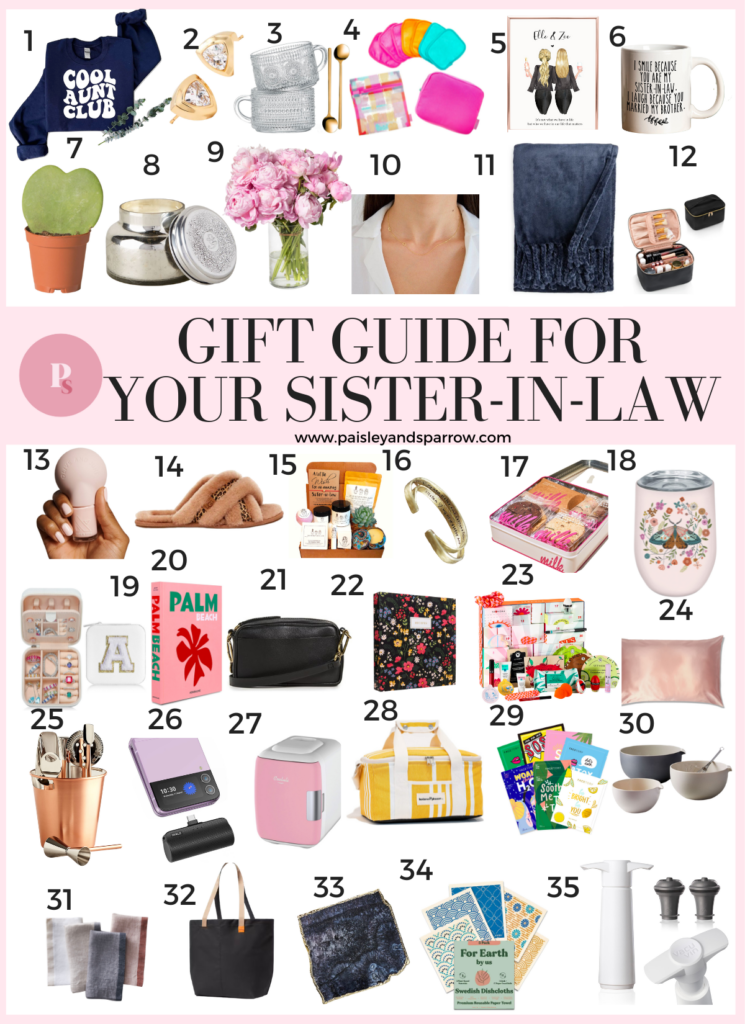 If you lucked out with not only a cool sister-in-law, but an awesome aunt for your kids, let her know! This fun sweatshirt lets her wear the Cool Aunt label with pride. My sister gave me this sweatshirt for my birthday this year and I love it!
When you're stuck for what to get your SIL (or you know she has everything she needs), go for some cute earrings she can wear no matter her style. These cute studs are affordable and just special enough to make her eyes light up.
Does your sister-in-law start each morning with a cup of coffee or hot tea? This stunning vintage glass coffee mugs can be used for whatever hot drink she chooses and will make her feel extra fancy each morning! Pair it with her favorite tea or pound of coffee to complete the gift!
For the sustainability-minded makeup lover, Makeup Erasers are a must-have! This set of 7 means she has enough for the week without ever having to use disposable wipes. Just add water and take off all kinds of makeup! I've used a few different makeup erasers and this one is by far the softest and most gentle.
Personalized gifts are always a great gift idea. Not only are they adorable, but taking the time to personalize a gift that's just for your loved one will make it even more heartfelt and special.
This Etsy shop offers the cutest customizable print that your sister-in-law will absolutely love. Choose everything from the hair and clothes to the font for the perfect print.
If your sister-in-law is a big coffee or tea drinker and also has a sense of humor, this next gift, a coffee mug, is a no-brainer. She's sure to get a laugh out of this funny sister in law mug every time she gets her morning cup of joe. I bought this exact ceramic mug for my own brother's wife!
Looking for the perfect gift for the girl with the green thumb? The Hoya kerrii plant is known for its distinctive heart-shaped leaves, making for a unique gift to show your love. These Heart Plants require little water and will look adorable on a windowsill or patio table.
Does your sister in law love Anthropologie? Most of us can probably agree that you can never have too many candles in your collection, especially Anthropologie's signature scent!
This candle is not only stunning to look at, but has an amazing scent that's sure to please almost everyone. The Volcano scent is a delicious blend of tropical fruits, sugared citrus, and mountain greens that will instantly transport the mind to Hawaii.
Add in a gift card if you need something a little extra and you've solidified your spot as best sister ever.
Unsure of the perfect present for your new sister-in-law? Sometimes the best thing is to go back to the basics. A bouquet of fresh flowers will brighten up her home and show her that she's truly appreciated.
Simple gold jewelry is always a classic and this initial necklace will add just the right amount of personality to her look. Customize this necklace with up to 10 letters to create a piece she'll cherish for a lifetime.
I've actually bought this as a great birthday gift for my own sister-in-law.
Whether you're bundling up or using it as a décor accent, a great throw blanket is a gift that no one can have enough of. This plush option from Nordstrom is ultra-soft, warm, and beautiful. She can throw this over a chair or couch when not in use for a cozy accent.
Make sure your sister-in-law is always prepared for life's inconveniences with this packable makeup bag. This is great for someone who is always on the go, whether it's world travel, running errands and kids around town, or nights on the town.
Does your sister-in-law happen to be a beauty lover? Olive and June has just about every color of nail polish under the sun, and for a great price!
Put together a bundle of your sister-in-law's favorite colors, or select one of their pre-packaged systems. Olive and June has sets ranging from soft and neutral to bold and vibrant, meaning there's something for every style.
Find my full Olive & June review here and use the code Jenb20 for 20% off any system!
UGG always has the best, coziest slippers, like this Scuffita Speckles pair. They've got shearling and calf hair so they look luxe, and better yet, your SIL can wear them inside or outside because of the rubber sole.
These are the perfect choice for the fashionista who would love unique presents.
This sister-in-law gift set features pretty much everything she'll need to enjoy a relaxing soak in the tub. From lip balm to bath bombs, there's everything for a spa day in the comfort of her own home!
If you're looking for a more meaningful gift this sister in law bracelet is a great option. While this custom bracelet may appear to be a simple gold cuff, the interior reveals a heartfelt message showing your sister-in-law how much she means to you.
Choose between a variety of different metal finishes and different colors to craft the perfect piece of jewelry for your sister-in-law.
Who doesn't love cookies?! This sampler box from the award-winning bakery Milk Bar will hit the sweet spot.
It's got pie, cookies and birthday truffles. And maybe if you're lucky, she'll share!
Let's be honest — everyone needs a glass of wine (or two) every now and then. This portable stainless steel wine tumbler is a great way to keep a beverage cold whether at home or on vacation.
She's also sure to love the fun illustration! It comes in a variety of patterns, in case she'd prefer a funny saying or a different creature.
Every jet-setting woman needs a travel jewelry box for her collection. Thanks to the convenient ring slots and zipper pouch, this clever little piece of luggage will allow your sister-in-law to easily transport her jewelry without having to deal with damage or loss of her prized jewels.
For an extra surprise, you could even add a few new pieces inside for her to discover!
While it may not be possible to send your sister-in-law on her dream vacation, you can give her one with a beautiful Assouline coffee table book.
These book is packed with some of the most photogenic locations in so many different spaces – Palm Beach, Ibizia, Miami, Cari Dolce Vita and will look great on her bookshelf or coffee table. Write a cute note in the front cover for a bit of personal touch! I own 3 of these and they are as beautiful in person as they are in the photo!
Wear this Madewell leather bag as a crossbody, or remove the strap and take it as a clutch. It's simple enough to match anyone's style and practical enough to become a go-to purse.
It has a top zipper, slip pockets inside and out, and adjustable strap. Choose from 4 colors.
Check out other crossbody and designer crossbody bags!
Does your sister-in-law have some serious kitchen skills? This is one gift that every chef will appreciate. This beautiful recipe book is filled with 30 pages front and back for her to jot down all of her favorite recipes.
It features classic dividers, plastic sheet protectors for recipes she already has, a floral cover (or your choice of other sweet patterns), and 3 rings so she can add more pages as her recipe collection grows.
This advent calendar gift set is loaded with 24 beauty products and accessories from the Sephora Collection to try out.
These sets are a great way to try out new products and the smaller sizes are perfect for throwing into a travel bag or purse for an on-the-go freshening up.
With a list of benefits including anti-aging and improved hair health, many women (and men) have been making the switch to these amazing Slip silk pillowcases.
Not only are they beneficial for your skin and hair, but they look and feel incredibly luxurious! These are sure to result in a good night's sleep. Amazon also carries these in king-sized as well. (Bonus – pair it with a silk sleep mask! It's the perfect way to spoil the best sister ever.)
If your sister-in-law happens to be a "hostess with the mostest" then this gift is essential. This bar tool set is perfect for livening up a bar area and includes everything she will need to make her fabulous cocktails.
This is one gift that you may see some benefit out of too!
You know those gifts that you would never think to buy yourself, but you love to receive? A portable charger is a great example!
Whether it's for emergencies or your sister-in-law likes to do work on the go, this charger is a lifesaver. It has a 4.7-star rating with more than 60,000 reviews on Amazon, so you know you're giving her a charger that will last! I own this one and it has been a life saver!
Is your new sister the kind of woman who loves a good spa day at home? This gift is a must-have for any skincare enthusiast. Refrigerating your beauty products will give them a cool, refreshing feel and can even extend the life of some products.
This little fridge is the perfect size for keeping in the bathroom or by the vanity and can store several items at once.
*Find more skincare fridges here!
Whether she uses it for her next beach vacation or as a stylish lunchbox for work, this canvas cooler bag is the perfect size and shape for keeping things cool on the go. This tote bag comes in four stylish patterns and features recycled cotton and an easy-to-clean lining.
Sometimes the gift of a great pamper session is the best one of all. Each of the seven face masks in this set focuses on a different skin concern, so your sis-in-law is sure to look great (and feel great about herself)!
Whether your sister-in-law is a master baker or sticks to boxed cake mix, these mixing bowls will come in handy. This set of three bowls is so practical but pretty they can be used for mixing, prep, and even serving.
And they can be stored nested inside each other, so you won't be cluttering up her kitchen cabinets!
They're glazed stoneware so they have a rustic but modern look, and they can replace mismatched plastic bowls she's gathered over the years.
So you always convince your sis-in-law to host the big family events? The least you can do is make sure she has gorgeous napkins (and of course help with cleanup!).
This classy set of 4 napkins comes in several neutral color options, perfect for any occasion or style! They're Euro linen, and at 18 inches square, they're sure to catch the mess.
I love this bag for a morning at the farmers market or as your reusable bag at the grocery store. It ensures you can fit everything you need to carry and everything makes it to the car in one piece!
The heavy-duty bag stands upright and has side sleeves for bottles to keep everything in its place.
Everybody loves a little sparkly something, but your sister-in-law will be surprised by these glitzy coasters. They're agate with brass plating and each is just a little bit different.
Choose from 6 different stone types, including black quartz, amethyst and rose quartz, and they're sold individually so you can mix and match!
Whether she's trying to be more eco-conscious or is just sick of spending so much money on paper towels, your SIL will love a new set of Swedish dish cloths. They can be used for all kinds of things from wiping down counters to scrubbing off messes.
For those of us who may like to have a glass of wine but won't be killing a bottle on a weeknight, these vacuum wine stoppers will keep the bottle fresh for up to 10 days.
Your sister-in-law is part of your family so it's a great idea to go the extra mile and find a meaningful gift that she will love. Whether it's a special occasion gift, Christmas gift or birthday gift, we hope this helps you find a great thoughtful gift!
No matter what her hobby, personal style, or lifestyle is, there's a perfect gift out there for your sister-in-law.
If you've been searching high and low for good gifts for birthdays, Christmas, or any other special occasions, then these gifts are sure to make her smile.
The Ultimate Gift Guide List
Want even more gift ideas for everyone on your list? Head to one of these!
Gift Guides for Grown Ups
Gift Guides for Kids, Tweens & Teens
Age Specific Gift Guides
Product Specific Gift Guides for Babies & Toddlers
Special Interest Gift Guides