Clear lip gloss has been around for years, and it's a staple in many beauty fanatic's makeup collections! It's a versatile product that can be used on bare lips or layered over any lipstick for a glamorous high shine finish!
I've heard more than one makeup artist say that a good clear lip gloss deserves a spot in your makeup bag. It's the perfect finish to follow up your favorite lipstick but also a great option for a simple casual look.
In addition, you can use it on the lids for a vogue-inspired glossy eye look if you're feeling adventurous!
Are you looking for a new gloss? Here's a list of the best clear lip glosses available!
Short on time? Here's the quick version! Keep reading for more details.
| Product Image | Product Name / Price | Primary Button |
| --- | --- | --- |
| | | |
| | | |
| | | |
| | | |
| | | |
| | | |
| | | |
| | | |
| | | |
| | | |
| | | |
11/28/2022 08:50 am GMT
11 Top Clear Lip Glosses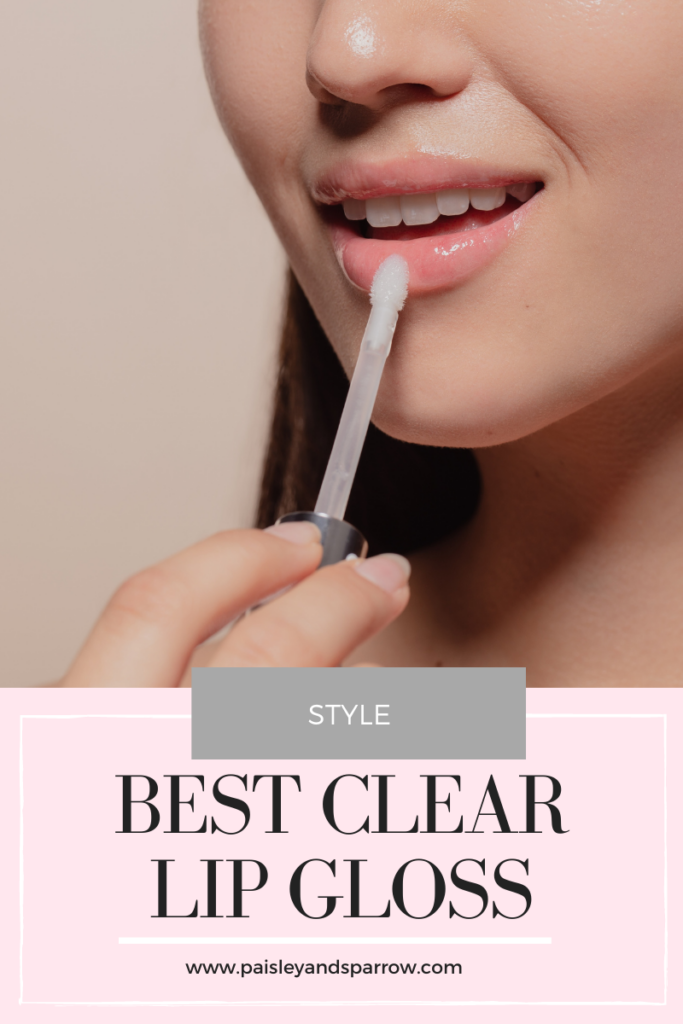 Paisley + Sparrow is a participant in the Amazon Services LLC Associates Program. This post may include affiliate links which means I may earn a small commission if you shop using the links below at no additional cost to you. 
e.l.f., Lip Lacquer, Moisturizing, Shiny, Non-Sticky, Long Lasting Gloss
Formulated with vitamin e to moisturize lips, providing maximum colour and brilliant shine
Perfect for wearing alone or layered over lipstick for a bold lip statement
Slim and lightweight design, convenient to use and carry
Available in 8 shades
Cruelty-free, vegan and 100% free from phthalates, parabens, nonylphenol, ethoxylates, triclosan, triclocarban, and hydroquinone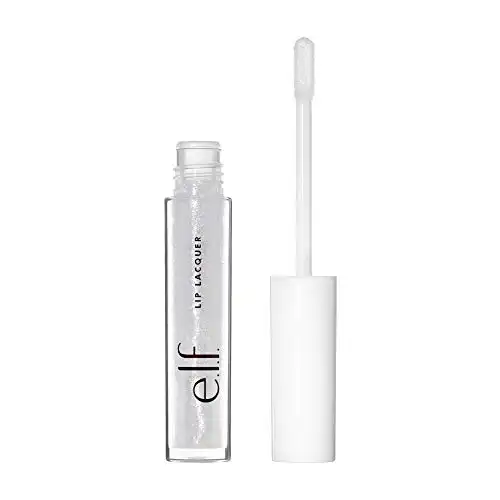 We earn a commission if you make a purchase, at no additional cost to you.
A tight budget doesn't mean that you can't look and feel like a million bucks!
e.l.f Cosmetics makes some of the most affordable makeup and skincare on the market! Their Lip Lacquer is one of their best-selling and highest-rated products.
The gloss is enriched with vitamins A and E to nourish and soften your lips! It is thicker and can feel a bit tacky on the lips if you apply too much. However, it leaves behind a nice shine!
It's free from parabens and phthalates. It's also cruelty-free and vegan.
And what's even better? It is only $3!
Liquid Lipstick with Clear Lip Gloss by Revlon, ColorStay Face Makeup, Overtime Lipcolor, Dual Ended with Vitamin E in Plum / Berry, Always Siena (380), 0.07 Oz
LONG LASTING LIQUID LIPSTICK: Forget touch-ups—this colorful, longwear lipstick lasts up to 16 hours. Pigment stays vibrant without smudging, bleeding, or feathering throughout the day
CONDITIONING, GOOD-FOR-YOU TOP COAT: With 99% of its ingredients being moisturizing (including vitamin E and chamomile extract)—the shiny top coat feels so good on lips, and it's good for you
PERFECT, SHINY LIP MAKEUP: Working from the center of your lips outward, swipe on lip color and let it set. Then slick on the glossy top coat for major moisture and shine. Reapply top coat during the day as needed
30 COLORFUL SHADES: From vivid pinks and bold reds, to natural-looking nudes and browns, all 30 kiss-proof shades stays all day
LIVE BOLDLY WITH REVLON MAKEUP: Revlon has the high-quality, high-pigment, bold color you need to be yourself. Create any look—day to night, weekday to weekend—with our longwear ColorStay eyeshadows, eyeliners, matte or shiny lipsticks, and foundation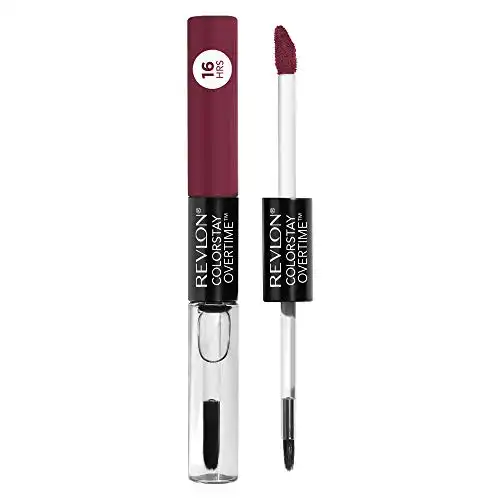 We earn a commission if you make a purchase, at no additional cost to you.
Get the best of both worlds with Revlon's ColorStay Overtime Lip Color!
It's the perfect versatile lip product that allows you to transform your look with just a single swipe! The product is dual-ended, with liquid lipstick on one side and a shiny clear glossy lip topcoat on the other side!
Wear the clear gloss alone for a natural look, or layer it over the color for a high-shine look with 16-hour staying power! The clear topcoat contains squalene, chamomile extract, and fennel to keep your lips hydrated and supple!
NYX Professional Makeup Butter Gloss, Non-Sticky Lip Gloss - Sugar Glass (Clear)
Butter Gloss: Buttery soft and silky smooth, our decadent Butter Gloss is available in a wide variety of sumptuous shades; Each glossy color delivers sheer to medium coverage that melts onto your lips
Kissable Lips: Our best selling Butter Gloss goes on smooth and creamy and is never sticky, leaving your lips soft, supple and kissable; Try all of our delicious shades, from Angel Food Cake to Tiramisu
Lip Products for the Perfect Pout: Doll your lips in creamy, long lasting perfection; Try our complete line of lip makeup including liquid lipstick, lip gloss, lip cream, lip liner and butter gloss
Cruelty Free Cosmetics: We believe animals belong in our arms, not in a lab; All of our makeup is certified and acknowledged by PETA as a cruelty free brand; We don't test any of our products on animals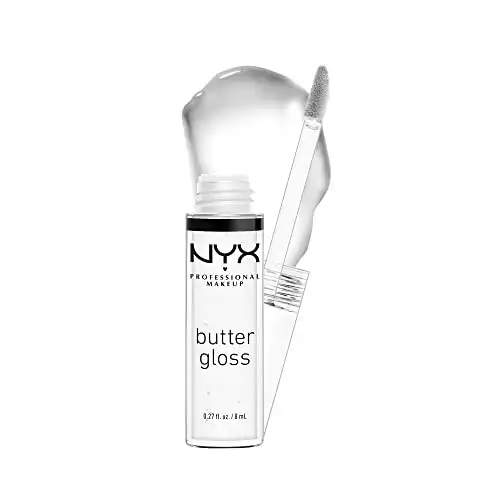 We earn a commission if you make a purchase, at no additional cost to you.
If you're looking for a lip gloss with a silky texture, you can't go wrong with NYX's Butter Gloss.
Its smooth texture glides effortlessly across your lips — just like butter! It doesn't leave a sticky residue and has a lovely subtle shine! In addition, this line boasts an impressive shade range with over 30 different colors!
All of NYX's products are cruelty-free. While they're not Leaping Bunny approved, they have official certification from PETA.
And the best part — it is only $5! What a steal!
Gloss Bomb Universal Lip Luminizer
This universal lip luminizer delivers explosive shine in six shades that flatter all skin tones. One swipe of Gloss Bomb's XXL wand leaves lips looking instantly fuller and smoother. The non-sticky formula is super shiny, and has an addictive peach-vanilla scent you just can't get enough of. Rihanna was obsessed with creating the perfect gloss that makes you want to put it on over and over again.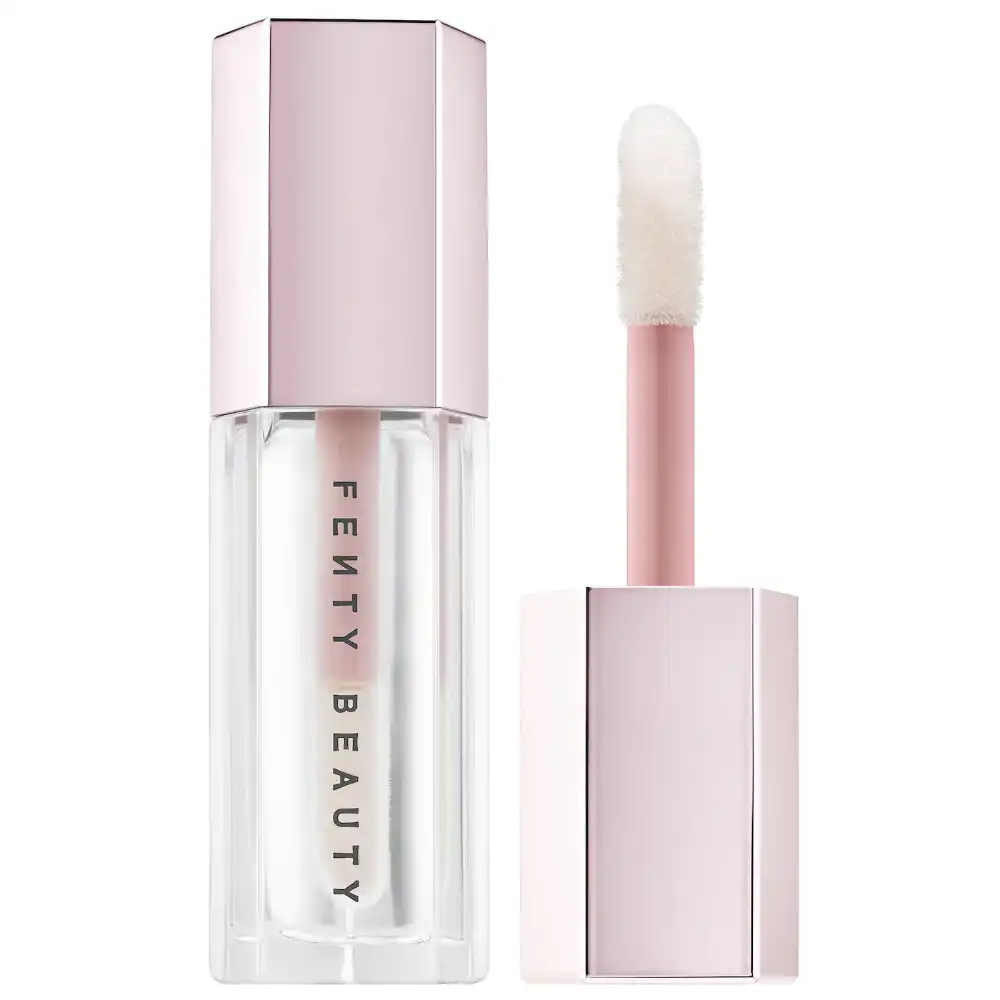 We earn a commission if you make a purchase, at no additional cost to you.
Fenty Beauty has been making waves and dominating the beauty sphere since the brand's launch in 2017. And for a good reason, too — Fenty's collection is to die for!
The original Gloss Bomb Lip Luminizer was one of the first items to launch and sold out within minutes. It remains immensely popular to this day, with one gloss selling every 12 seconds worldwide! It's a wide shade range for match your skin tone.
If you need a top clear gloss, you must try the shade Glass Slipper. It's got a glass-like shine that keeps your lips looking sparkly for hours!
The formula is vegan and enriched with nourishing shea butter to hydrate the lips. In addition, it comes with an extra-large doe-foot applicator to make it easy and quick to get a smooth application.
While it's a bit on the thicker side, it's made of a non-sticky formula. It also has a sweet peach-vanilla scent, which may be overwhelming for individuals who are sensitive to fragrance.
Sephora Collection Glossed Lip Gloss 110 #Blessed
GLOSSED makes a statement! It's highly reflective, long-lasting, and non-sticky. One swipe with the uniquely shaped applicator leaves precise application. Non-bleeding color from sheer to opaque.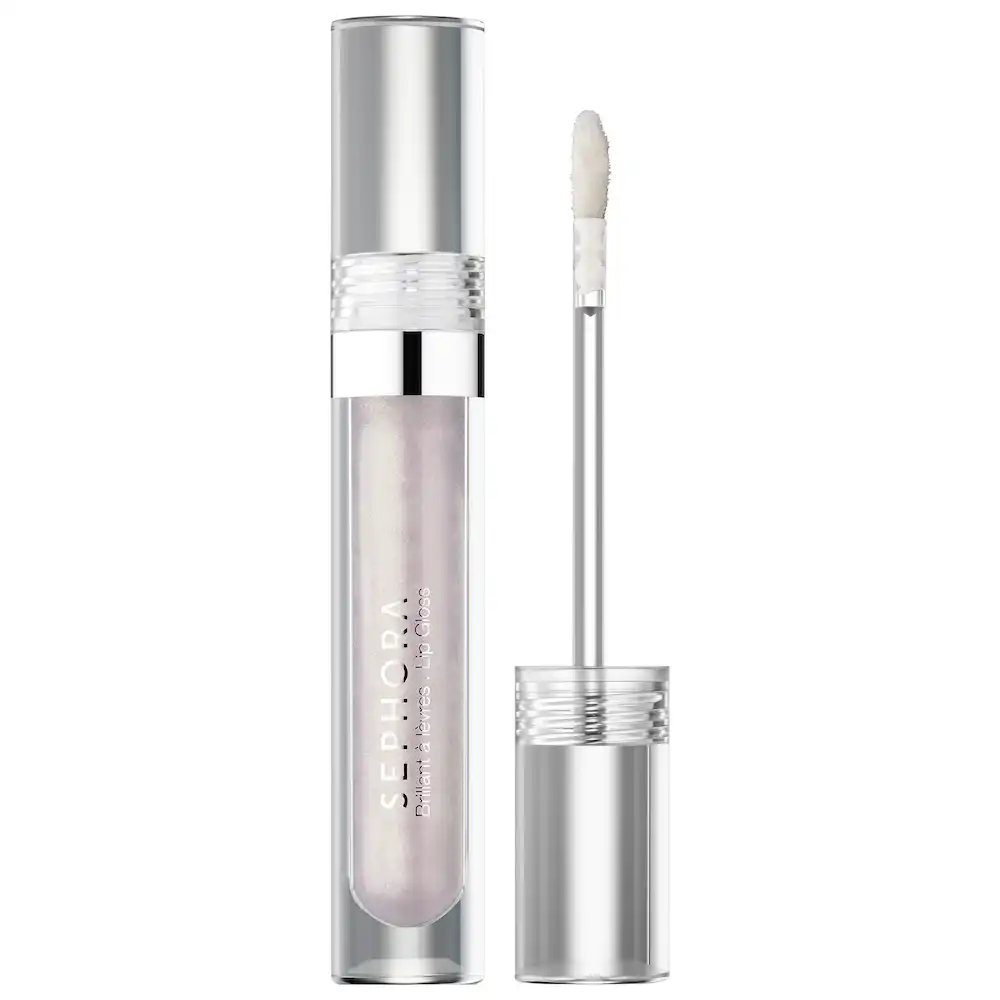 We earn a commission if you make a purchase, at no additional cost to you.
Don't want to drop too much money on clear lip glosses? Sephora Collection is known for creating high-quality, high-performance cosmetics at an affordable price!
Sephora Collection's Glossed Lip Gloss range is a high-shine lip gloss with a long-wearing formula. It glides onto the lips effortlessly, doesn't bleed into lip lines, and doesn't leave behind any unpleasant tacky or sticky finish. In addition, it's enriched with watermelon seed oil to hydrate the lips!
The best part ­— it's only $10! What's not to love?
Want to explore more colors? The Glossed Lip Gloss collection is available in 28 different shades with different opacities and finishes!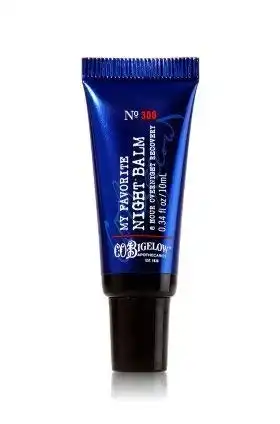 We earn a commission if you make a purchase, at no additional cost to you.
Do you suffer from dry lips?
C.O. Bigelow's My Favorite Night Balm is one of the best overnight recovery balms! Apply before you go to bed at night and wake up with hydrated, supple lips free of cracks.
Although it's marketed as a night balm, you can use it to moisturize your lips throughout the day. It's enriched with 5% shea butter and other emollients to give your lips some intense nourishment!
While it's very thick, it's not sticky and has a subtle fragrance. It doesn't leave behind a high-shine finish but a more natural shine.
Too Faced Cosmetics Lip Injection Extreme
This breakthrough gloss delivers both immediate and long-term plumping with scientifically proven, advanced lip volumizing technologies. The glossy tinted formula naturally and dramatically hydrates, nourishes and increases lip volume.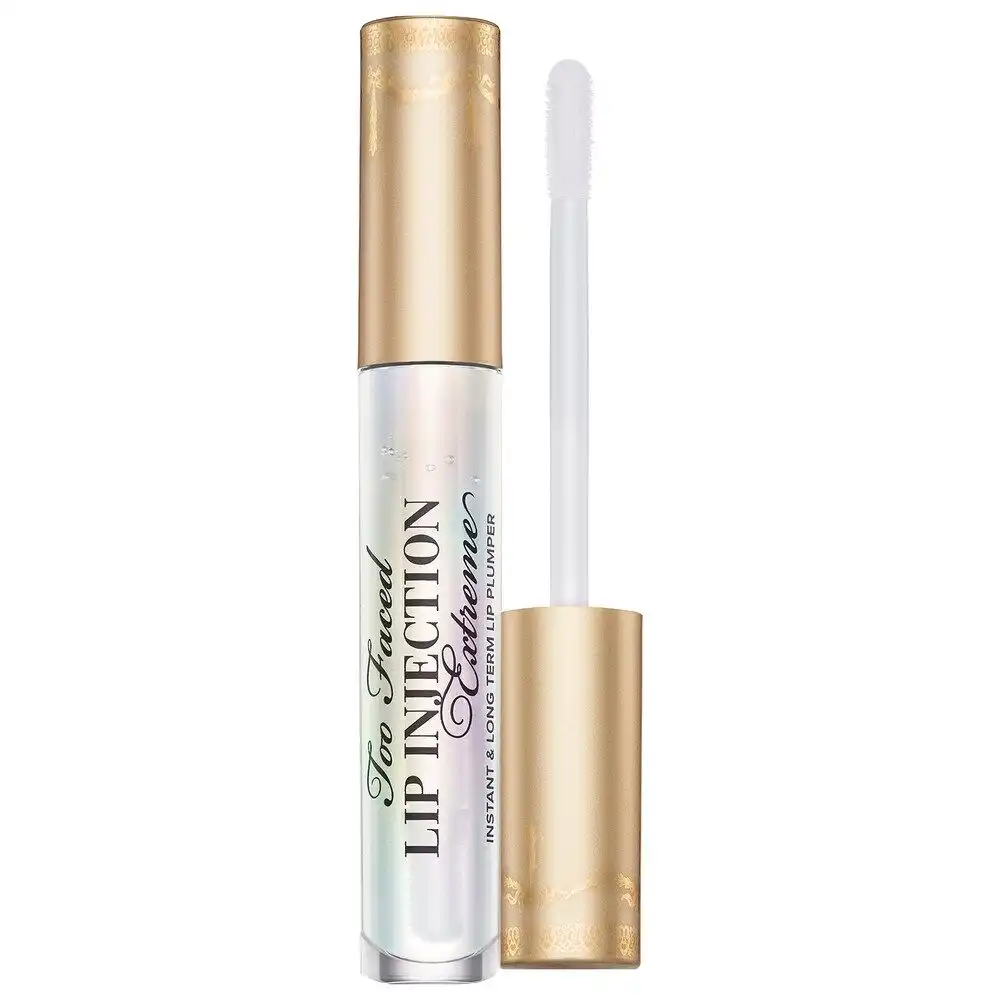 We earn a commission if you make a purchase, at no additional cost to you.
Want fuller lips?
Too Faced Lip Injection Extreme Lip Plumper gloss will make your lips look fuller without committing to filler! A blend of capsicum and collagen will instantly plump lips while vitamin E, avocado, and organic jojoba oils hydrate!
This gloss is a holy grail amongst the beauty community not only because of its instant plumping effect but also for its beautiful shine without any lingering stickiness!
However, keep in mind that this lip gloss can leave behind an intense tingling sensation for about 10 minutes after application. So make sure you only apply it to the lips and avoid the skin outside the lip line. If you find it highly uncomfortable, you should discontinue using it.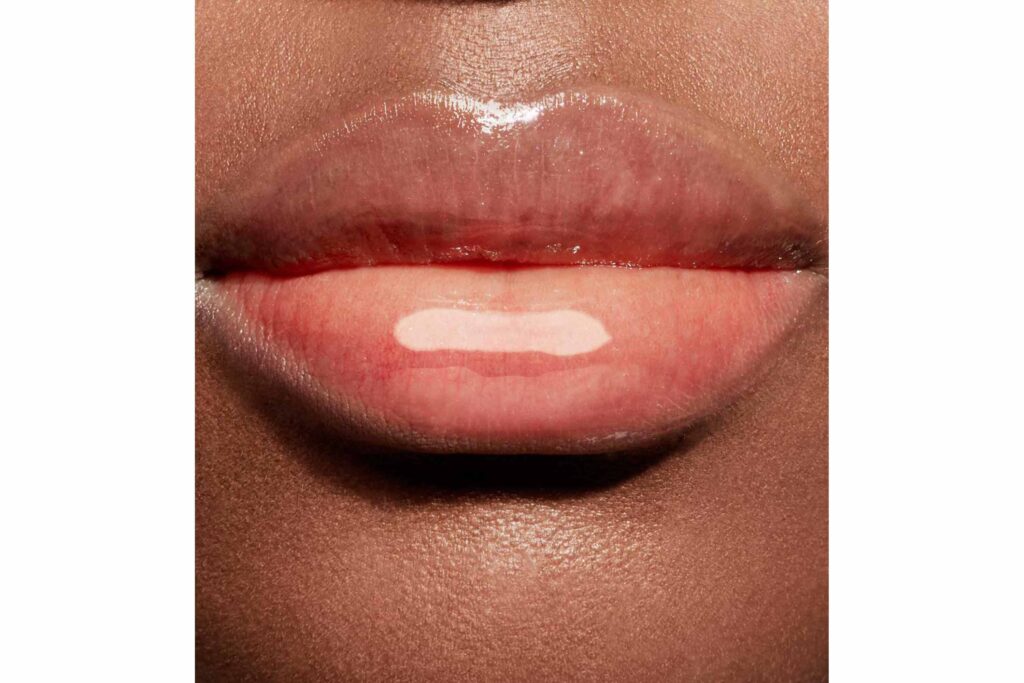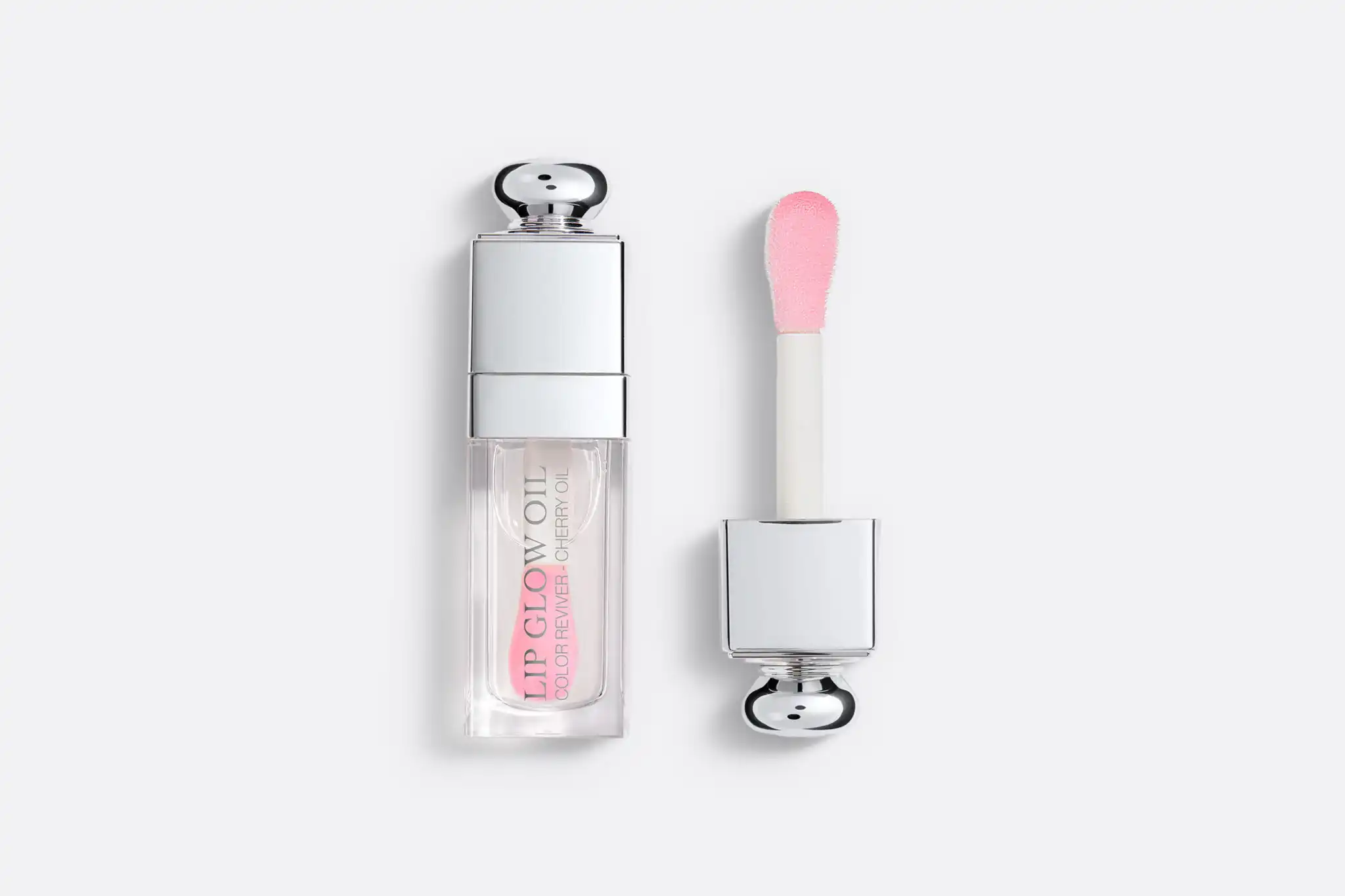 We earn a commission if you make a purchase, at no additional cost to you.
If you love rocking the "my lips, but better" look, make sure you grab one of Dior's Addict Lip Glow Oils!
It's an Allure Best of Beauty award winner and recently went viral on TikTok. It has been selling out in store ever since, and if you keep your eye out, you might get lucky and be able to snag one for yourself!
This magnificent gloss is enriched with Cherry Oil to protect the lips against environmental stressors and keep them plump and hydrated. In addition, it leaves behind a beautiful high-shine finish without any tackiness. It also has a unique Color Reviver technology that shifts the shade of the gloss as it interacts with your lips to amplify and enhance the natural color of your lips!
It has a minty-vanilla scent, so if you're sensitive to fragrance, you may want to skip this!
Extreme Shine Volume Lipgloss
Essence's Extreme Shine Volume Lipgloss promises maximum volume, extreme plumping, and carbon neutral packaging, leaving your lips with a natural glow.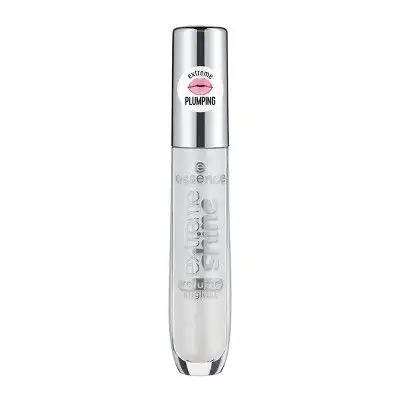 We earn a commission if you make a purchase, at no additional cost to you.
$3.99?
Who can say no to such a fantastic price? Essence's lip gloss is one of the most inexpensive, high-quality glosses available at the drugstore!
This affordable gloss maximizes your lip's natural volume while leaving a nice natural glow! It has a lightweight gel texture and leaves a comfortable finish on the lips. It's also formulated without animal by-products, oils, parabens, or preservatives.
What's even better is that you can feel good about your purchase too! The gloss comes in carbon-neutral packaging and a recycled cap that saves approximately 40 tons of virgin plastic per year!
Look fabulous and do good for the environment!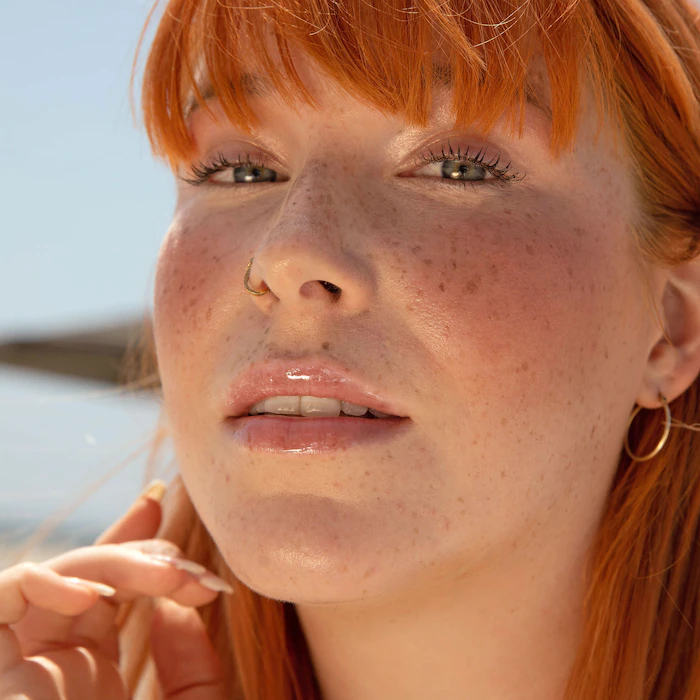 ShineOn Jelly Lip Gloss
This lip jelly, which has the shine of a gloss, the comfort of a balm, and a touch of juicy translucent color, uses a unique blend of five nurturing oils to soothe and protect lips from drying and peeling.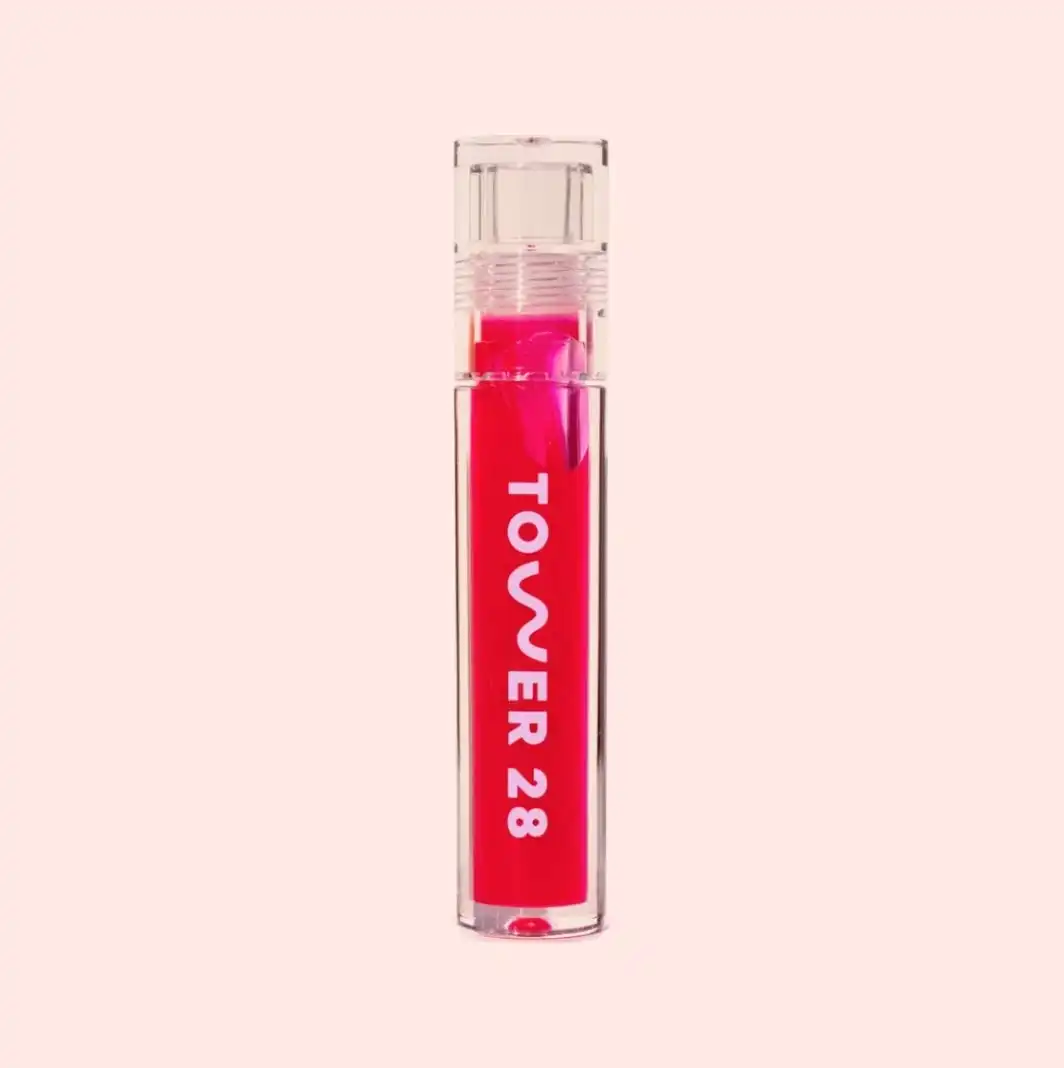 We earn a commission if you make a purchase, at no additional cost to you.
Tower 28's Jelly Lip Gloss is fantastic if you want clean beauty! It's part of the Clean at Sephora collection, which means that it is formulated without certain ingredients that can be harmful to both human and environmental health.
The gloss is enriched with apricot kernel, raspberry seed, and rosehip oil to hydrate and repair the lips. It has a unique milky texture that combines the look of a traditional gloss with the comfort of a lip balm for a nourishing product without sacrificing fabulous shine!
It glides on smoothly, doesn't leave behind a tacky finish, and is long-lasting on the lips! However, it has a shorter shelf life because it doesn't contain any preservatives. So you want to avoid buying too many at once to use them up before they expire.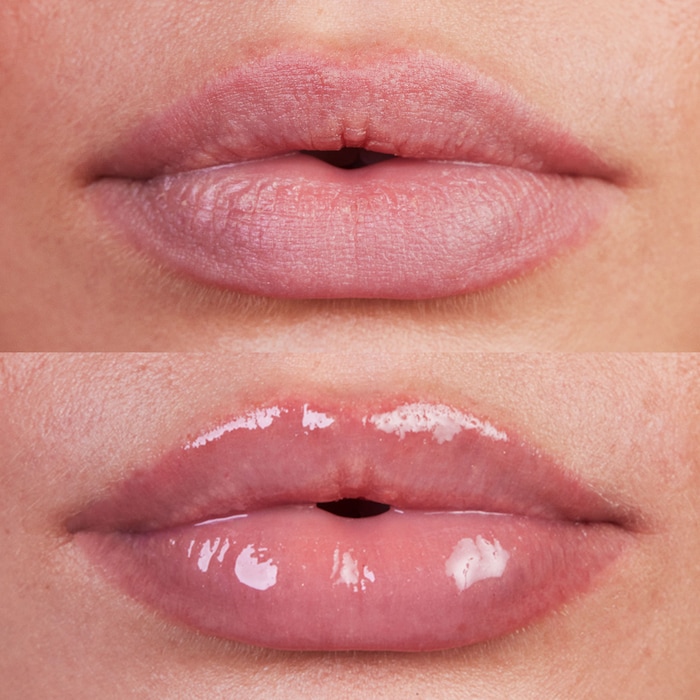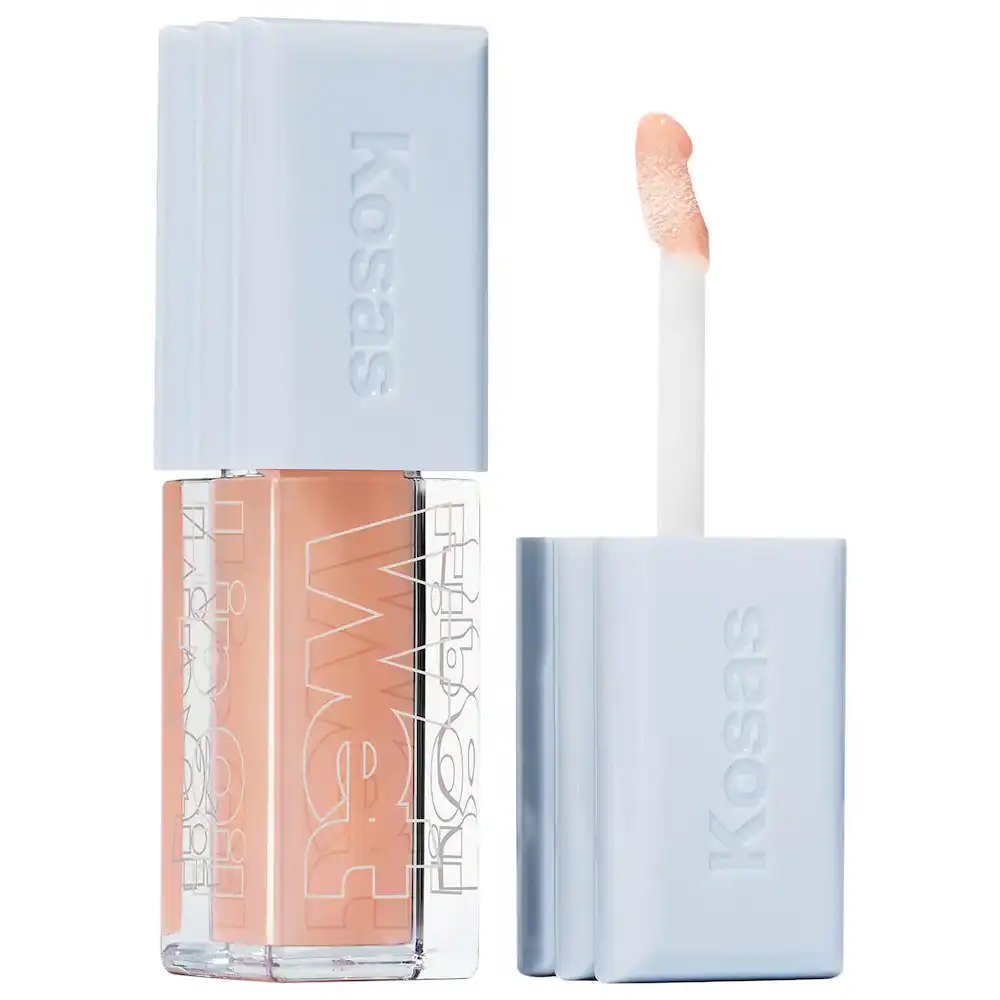 We earn a commission if you make a purchase, at no additional cost to you.
If you're looking for a gloss that also treats your lips, this is one of the best lip glosses! It's made with hyaluronic acid, peptides, evening primrose oil and other botanicals that will leave your lips plump, hydrated and smooth!
FAQ
Is clear lip gloss worth it?
Clear lip gloss is absolutely worth it! It's the perfect way to elevate your natural beauty without additional products. Use it on "no makeup" days for a little subtle glamour and a glossy finish!
What is the glossiest lip gloss?
While there are so many fabulous options to choose from, Fenty Beauty's Gloss Bomb Universal Lip Luminizer just can't be beat!
What is the purpose of clear lip gloss?
Like all cosmetics, clear lip gloss is designed to enhance your beauty! Use it alone to enhance your natural lip color, layer over lipstick for a high-shine finish, or get creative and layer over eyeshadow for a vogue-inspired glossy lid!
What's lip gloss made of?
Like any makeup or skincare item, a lip gloss formula can vary by brand. However, all lip glosses are composed of these three essential components: emollients (oils), thickeners (waxes and clays), and pigments (iron oxide or mica).
Clear lip gloss is the MVP in your makeup collection! It's perfect for those "no makeup" days when you want a little extra and the ideal way to amplify the finishes of lipsticks that you already have!
If you're looking for more lip content, check out the top 10 DIY lip masks or learn the difference between lip balm and chapstick!