Oh boy! This gift guide for boys is full of toys, games and more the little fellas in your life will love. ( … And things you won't hate having around your house either. 😉 )
These gift ideas have been sourced with the help of the boys in my life. (Hi nephew!) Let me tell you, I got quite the education on what a BeyBlade, Bakagun and more were in my research.
And as a note, many of the items below are also included in my gift guide for girls. These aren't gender specific, just ideas I've heard from boys in my life!
41 of the Best Gift Ideas for Boys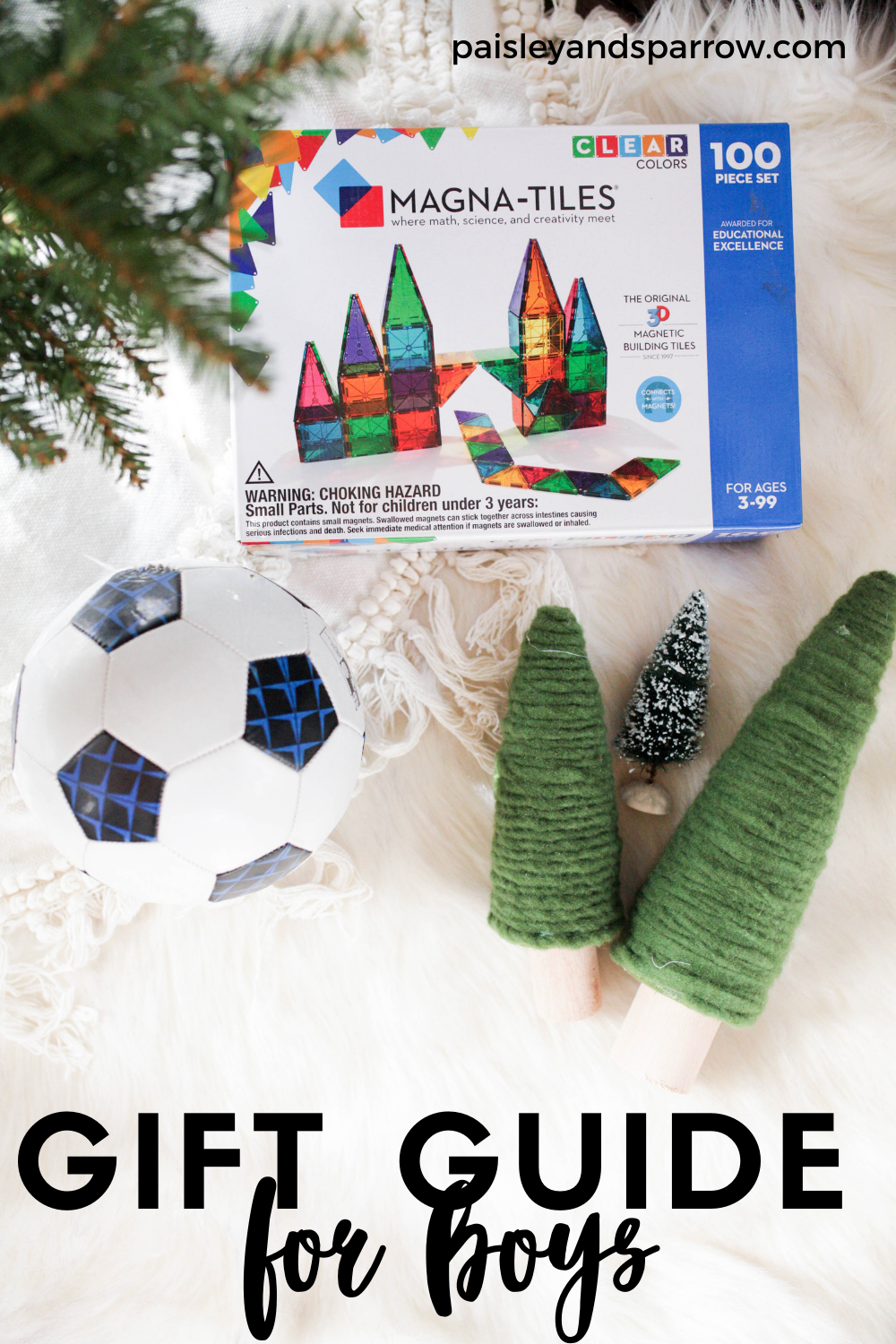 Paisley + Sparrow is a participant in the Amazon Services LLC Associates Program. This post may include affiliate links which means I may earn a small commission if you shop using the links below at no additional cost to you. 
There are two ways you can use this guide. You can shop using the links below the collage or keep scrolling to read more details about each item.
Either way I hope these gift ideas for boys make shopping a little bit easier for you!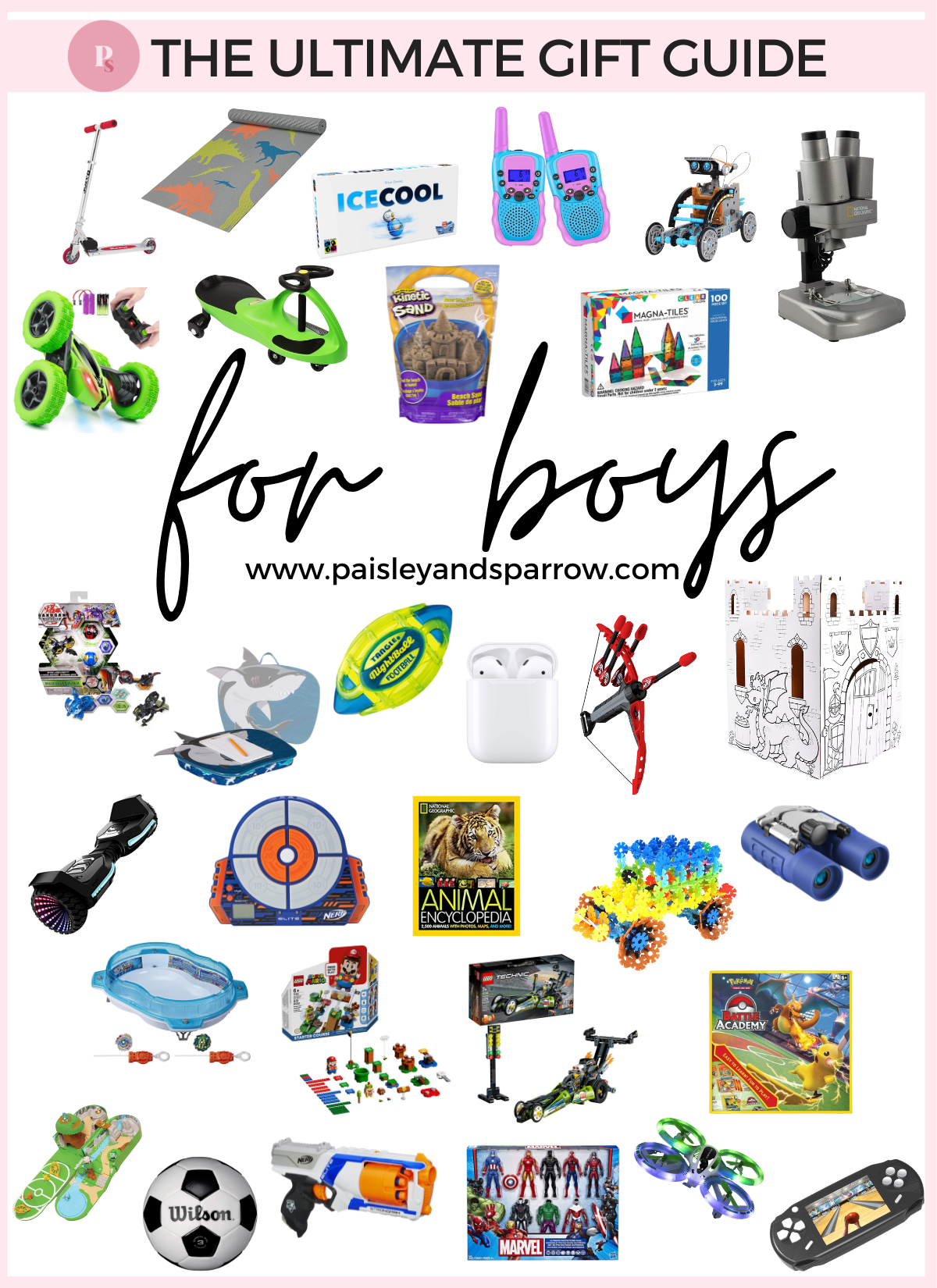 Let your curious kid explore the world around them close up. A microscope is a wow-factor gift and will thrill any science-loving boy. They can look at prepared slides or make their own.
If your kid loves Nerf guns, this bow set is another fun option to add to their collection. It's easy enough for young elementary kids to shoot and comes with four soft-tipped arrows, so you can set the kids loose in the yard for a fun battle or target practice.
No matter what the boys in your life are into, there's a magazine for that! My nephew is asking for a fishing magazine subscription this year, but there are publications for every interest. Sports, animals, LEGOs, etc.
And since they'll receive the magazine all year long, it's a gift that keeps giving.
4. For the Out-of-the-Box Thinker: Brain Flakes
The sky is the limit with Brain Flakes, and if you've got a creative thinker, you'll be amazed by what they can create with them! It's no wonder you'll find them in schools and libraries — they're super fun while being secretly educational.
5. For the Showman: Magic Kit
Magic is a fun hobby for any kid who likes to put on a show. Get them a magic set and then watch them wow their friends and family with all the illusions they master!
If your boy doesn't have a scooter, trust me when I say you gotta get him one. Kids will use this well into late elementary and even early middle school. If your neighborhood is anything like ours, there's always groups of kids scootering around on these!
7. For the Flexible One: Yoga Mat
Yoga is great for kids of all ages. It helps them get out energy, builds muscles and calms their minds. Get them their own mat so you can do yoga together!
This board game is different from any game you have ever played. Kids love flicking the penguin through the different doorways while trying to get fish! Get the whole gang involved; this is a game the entire family will enjoy playing.
9. For the One on a Mission: Walkie Talkies
Whether they're just in different rooms of the house or camping in the woods, kids of all ages get a kick out of walkie talkies. This pair can connect up to 3 miles apart!
For the little engineers on your list, go straight for STEM toys. I love that you can build 12 different kinds of robots from this one kit, so your son, nephew or whoever you're buying for will never get bored!
11. For the One Who Can't Get Enough Dinosaurs: Draftosaurus
If you have a kid who loves dinosaurs, games and sports leagues, this will be right up their alley. It's a drafting game for the whole family to choose the best dinosaurs and only takes 15 minutes to play.
The company recommends it for ages 8 and up.
12. For the One Who Likes to Go Fast: Remote Control Car
Can't get around it: boys (almost always) love remote control cars, no matter their age. (Drones, anyone?) This car works both indoors and outdoors, perfect no matter the season.
13. For the Easy Rider: PlasmaCar
No batteries and easy enough for preschoolers to scoot around on? A total winner in my book. Bonus: It holds up to 220 pounds so even adults can give it a try.
14. For the Summer Lover: Kinetic Sand
Sand castles…without the beach. Kinetic sand is such a fun gift, both for creative kiddos and for their parents who enjoy an easy clean-up.
15. For the One Who Likes Messy Hands: Slime Kit
Be the cool mom, and allow the slime in your house (or the favorite aunt/uncle/grandparent, and don't ask permission)! This kit comes with 50 items, including 18 different colored slimes.
16. For the Architect: Magna-Tiles
My nephew loves to play with Magna-Tiles at the local library on a light table, which make the magna tiles glow! Consider this as a family gift, as it's perfect for all ages, from toddler to elementary-age.
17. For the Golf Lover: Mini Golf
This mini golf game can be set up in any number of arrangements and played inside or outside, alone or with a group! Perfect for a golf-loving family to practice putting or just a fun activity to set up on a rainy day or for a party.
I just learned about this toy recently, as my nephew promises me that this is his current favorite toy. These fun action figures fold up into little balls and then unfold when tossed on the ground. These figures guarantee hours of fun and fit perfectly in a pocket to bring along on a car ride!
19. For the Strategic Thinker: Blokus
Easy to learn but fun to play over and over, Blokus is a strategy game that kids and parents will both enjoy. This game promotes spacial reasoning and problem-solving — and good old-fashioned competitive spirit!
Got a Star Wars fan on your hands? Look no further.
21. For the One Who Works Best When Comfortable: Lap Desk
You've got to get comfortable when doing homework, and after sitting up at a desk all day at school, sitting at a desk at home just isn't going to do the trick! Give him the option to sit wherever he wants with a lap desk.
If your kid likes drawing, add a sketchpad and nice drawing supplies to sweeten the package!
22. For the One With Late Night Energy: NightBall Football
What kid doesn't feel like they're getting away with something when they get to play outside after dark? This ball lights up when you throw, kick or bounce it, keeping the fun going all the way till bedtime.
For an older, responsible boy on your gift list, consider a set of AirPods so they can listen to their music – which, let's be honest, may not be your favorite music – in peace.
24. For the Musical One Who Loses Things: Airpods Case
If you gift a set of AirPods, it's in both of your best interests to gift a case too. That way they'll stay in good condition and *fingers crossed* won't get lost.
Give him a secret hideout for Christmas! He can draw all over it, hang out inside, and then fold it up when it needs to be out of the way.
26. For the Mover and Shaker: Hoverboard
My nephew loves riding his sister's hoverboard and has one on his Christmas list this year! This hoverboard has three speeds and the battery will last for miles.
Sick of being the recipient of your kids' Nerf practice? This light-up target will take the heat off you. It lights up and has single or multiplayer games.
National Geographic has some of the best books around and this animal encyclopedia is one of them! The whole family will love learning about the different animals in this book.
This fancy mask will impress even the most picky dinosaur experts. The eyebrows move, the mouth opens, and there are three volume levels for scary sound effects!
A no fail: a hoodie of his favorite sports team. Whether for game day, spirit day or any ol' day, good luck getting your boy to take this off for laundry day.
31. For the Adventurer: Binoculars
Every adventurer needs some binoculars! These kid-sized functioning binoculars come in a ton of colors and make every outing a little more fascinating.
If you aren't familiar with BeyBlades, get familiar. They are essentially like fancy metal tops that can "fight" each other in a stadium. Whichever Beyblade stops spinning first loses!
This is another toy that's new to me. Ny nephew looked at me like I was crazy when I asked him to explain it to me!
The perfect combination of video games and LEGOs! This LEGO Super Mario Adventures starter course is like building a video game level and then getting to play it in real life.
LEGOS are a classic for a reason. My nephew got one of these LEGO sets that lets you build an actual car and was immediately begging for more. They think they're playing with cars; you know they're learning problem solving skills.
I may not understand Pokemon, but the boys in your life likely do. These trading cards, great for elementary-age boys, also includes a game board.
If a card game isn't the right fit for your kid, they can still join in the Pokemon fun with this playset. In this little Pokemon world, there are lots of places to hide, launch, battle, and imagine whatever scenarios you want!
For your Energizer Bunny boys, a brand new ball is a must. They get energy out. You get a tired kiddo at the end of the day.
Nerf guns, the gift that boys have loved for decades! There's a reason these have never gone out of style. Consider gifting two Nerf guns at once, because what's a Nerf gun without a proper Nerf gun fight?
For the ones who marvel at Marvel. This set of eight action figures will ignite imagination play for hours and hours.
Even if they've outgrown the remote control cars, they'll still flip over a drone. This little drone does stunts, looks awesome in the dark with its LED lights, and lands gently even if you're a beginner.
41. For the One Who Always Wins: Handheld Games
Entertain for hours with this handheld game, which includes 100 new education (yes, educational!) games. If you have a road trip coming up, consider this the perfect gift to ensure a quiet back seat.
And there you go! A gift guide for boys with 41 different gift ideas. I hope you were able to find something new and fun to give to any boy on your list!
The Ultimate Gift Guide List
Want even more gift ideas for everyone on your list? Head to one of these!
Gift Guides for Grown Ups
Gift Guides for Babies & Kids
Special Interest Gift Guides
Want FREE Christmas gift tags? I created 64 beautiful gift tags that can be used not only for Christmas but every holiday! They're free to download!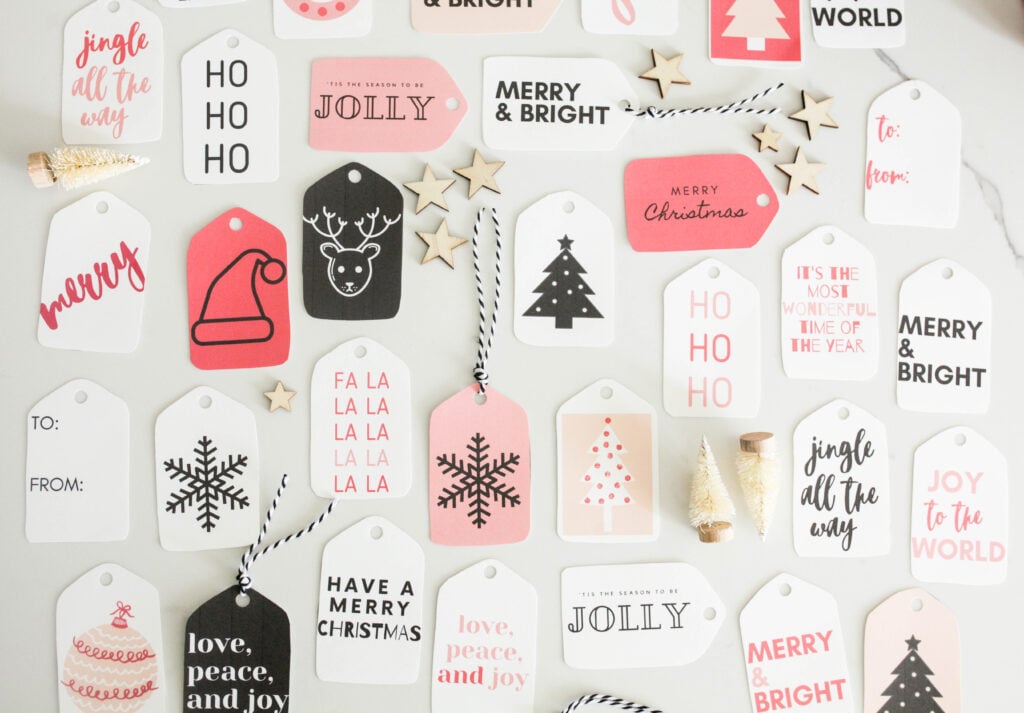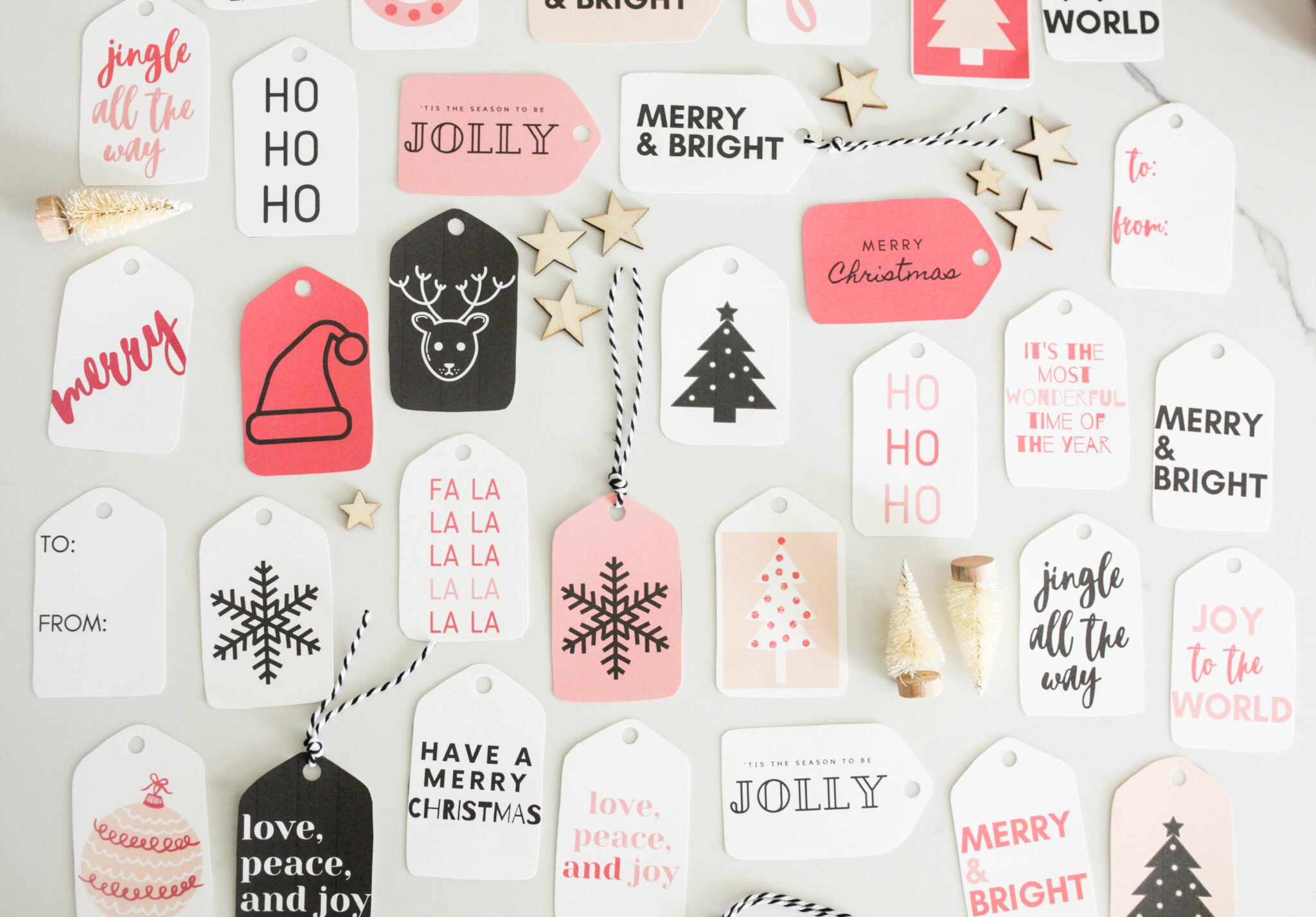 Get your gift cards in your inbox!
Enjoy!