For hundreds of years, unicorns have been a symbol of beauty, healing, and magic in general. It's no surprise that to this day, they're still one of the most loved motifs for children, adults, and everyone in between!
But with thousands of unicorn-themed products on the market today, how do you weed through and find the perfect unicorn gift for your loved ones (or yourself)?
Well, we decided to take some of the work out of the process and compile a list of 23 of our favorite magical unicorn-themed gifts out there. Here, you'll find gifts for everyone in your family, from infants to adults.
The best part? They're all under $100! Let's take a look at some of the best unicorn gifts.
23 Magical Unicorn Gifts for Kids & Adults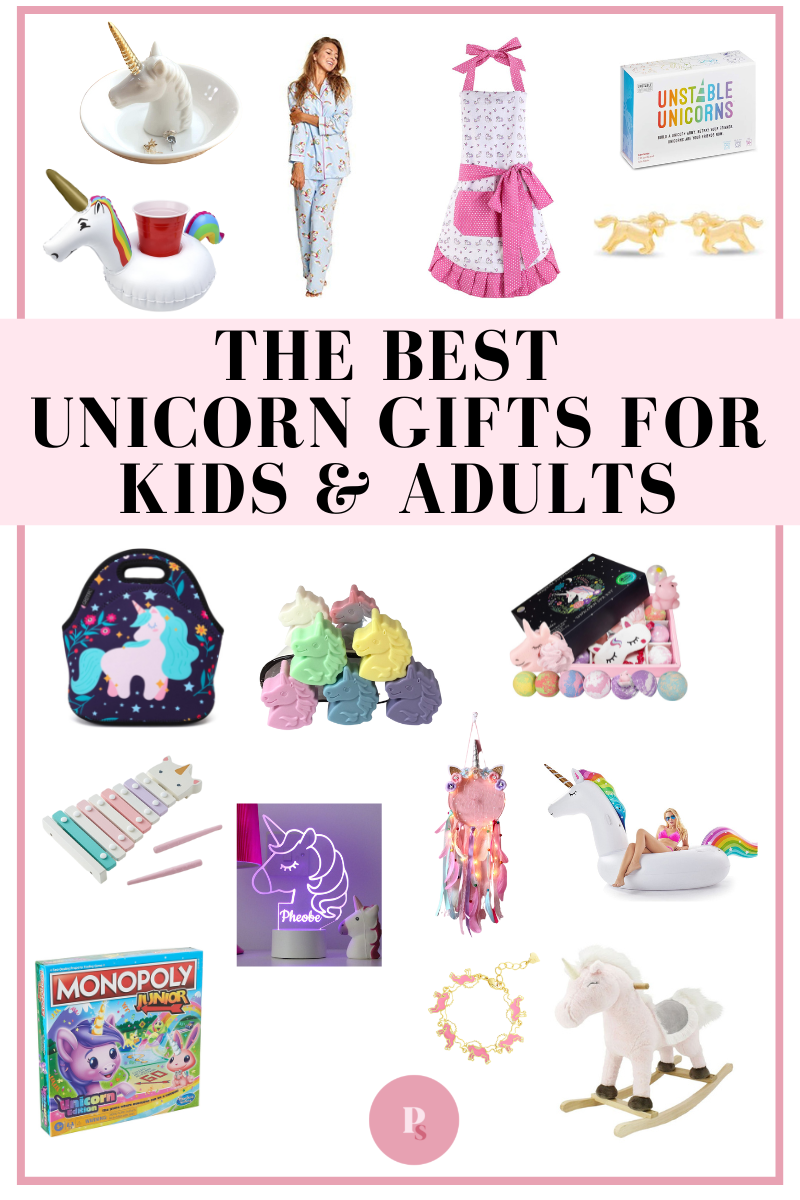 Paisley + Sparrow is a participant in the Amazon Services LLC Associates Program. This post may include affiliate links which means I may earn a small commission if you shop using the links below at no additional cost to you. 
For Adults
Why go for a standard run-of-the-mill ring holder when you can go for one that's a bit more magical? This ring holder is the perfect size for holding a few of your favorite rings and is perfect for adding a touch of whimsical décor to your vanity.
A cozy pair of pajamas is always a welcome gift for any occasion and it will hard to resist this adorable pair. This set features a classic collared button-up top and drawstring pants printed with colorful rainbows and unicorns.
The next time you're looking to cuddle up for a movie night, these pajamas are sure to be a go-to.
Inflatable drink holders can be a lifesaver for a hot day at the pool, but these ones give a magical upgrade to the classic drink holder. These unicorn drink holders come in a pack of three and are perfect for snugly holding your cup, bottled, or canned beverage at arm's length.
Almost all of us have that friend or family member with an incurable sweet tooth and we have the perfect gift idea for them. These dozen white unicorn cookies from etsy can be made in any variety of 3 different colors for the mane and tail.
While this is under the "Adults" category, this box of deliciousness can be appreciated by almost anyone.
For the unicorn lover that has everything, this card game is a unique gift idea that everyone in the family can enjoy. Unstable Unicorns is a strategic card game that got its start on Kickstarter, becoming one of their 100 most backed projects of all time.
The game may take a little while to get the hang of but once you do, it will provide your family with hours of unicorn-themed fun.
It seems like every drink tastes a little bit better in a cute mug, right? This 13 oz. mug features a minimalist unicorn design and a three-dimensional horn and ears accented in bubblegum pink. Enjoy your coffee, tea, hot cocoa, and more in this sweet and girly mug.
You've probably seen these large floats all over Instagram, but have you seen this incredible unicorn version? This massive float is sure to be your new favorite way to relax at the pool this summer with its cute and colorful unicorn design and oversized design. This float can fully support up to 2 people and 400lbs of weight.
For the favorite chef or baker in your life, a cute apron like this one will be a lifesaver in the kitchen. This apron features a unicorn pattern, frilly hot pink polka-dotted details, and a retro silhouette that any girly girl will love.
Although almost everyone can appreciate a magical unicorn motif, sometimes the pink, rainbows, and glitter can be a bit much for certain occasions.
These mini unicorn studs are made from solid 10k gold and are the perfect size for adding a little bit of shine and personality to a more conservative look.
Tired of that basic and boring lunch box? Well, now you can upgrade to one with plenty of unicorn magic!
This neoprene lunch tote is easy to carry and spacious enough to fit water bottles, fruit, Tupperware, and everything else you'll need for your work lunch. It's great for kids too!
For the Kids
Add some magic to playtime with this whimsical unicorn rocker. This plush rocking unicorn is made from durable sturdy wood and is perfect for any child up to 75lbs. For a fairytale or unicorn-themed nursery, this is a must-have.
Whether it's baking or crafting, creating something with the kids is a great way to bond, have fun, and make something special along the way.
This Unicorn Soap Making Kit contains everything you'll need to make four large goatmilk soap bars that are both adorable and useful.
This fun unicorn-themed gift box has just about everything she'll need to live her most magical life. The box contains a unicorn plush, unicorn color book with markers, unicorn necklace and a unicorn headband.
If you're stumped on what to gift to buy your child or preteen, this is an easy, convenient, and super cute option.
Spa days don't have to just be for adults! This Magical Unicorn Spa Kit is packed with organic bath bombs, a sleep mask, and a loofah for making bath time extra fun. Each bath bomb even contains a hidden unicorn toy inside for an exciting extra surprise.
Every tiny musician in the making is going to love making tunes on this beautiful unicorn xylophone. The xylophone is crafted from child-safe solid hardwood and features a calming and soft pastel color palette.
This is the ideal gift for your unicorn-loving little one and is great for developing motor skills. Pottery Barn also offers a matching unicorn tambourine, if you're after the complete set.
No unicorn lover's collection is complete without this beautiful night light! This light takes the shape of a classic neon sign and is the perfect bedside companion for getting a good night's sleep.
The best part of this light is that it's customizable for any name up to 15 characters.
Unicorns are often considered symbols of peace, which is perfectly fitting for this twinkling dream catcher. This dream catcher is the perfect way to promise sweet dreams and offers a warm glow to your child's bedroom that they're sure to love.
We can think of few things more magical for summer fun than this giant unicorn sprinkler toy. This inflatable sprinkler stakes into the ground and attaches easily to all standard gardening hoses, offering a great way to cool off during a hot day. This one is a must-have for all pool parties!
Every little fashionista is going to want this backpack in their collection. This mini backpack comes in a soft bubblegum pink fabric and includes an adorable unicorn plush that straps right onto the back. She'll love taking this bag to the park, on vacation, and anywhere else that could use a little bit of magic.
Why play regular Monopoly when you could play it with unicorns? Monopoly Junior: Unicorn Edition is the Monopoly Junior they'll all know and love, but with a fun magical twist. From unicorn-themed tokens and cards to bright and colorful themed board spaces, this is the perfect upgrade to the classic game.
For their perfect first pair of headphones, you can't go wrong with this fun pair. These feature a unicorn design and plenty of glitter for adding sparkle to their music experience.
If a backpack is not really her thing, she can still add a little bit of unicorn style to her look with the Flower Crown Unicorn Crossbody Bag. This bag features glittered accents and is the perfect size for carrying all of her essential items. Also notice that fabulous rainbow zipper!
For her first piece of fine jewelry, this unicorn bracelet is a great option. The lovely piece features pink enameled unicorns strung along an 18k gold bracelet. This bracelet also comes beautifully packaged in a pink box and ribbon, ready to be gifted.
Offering plenty of rainbows, sparkles, pink, and magic, what's not to love about unicorns? With these gifts, you'll be well on your way to giving your loved ones the most magical gift they've ever received.
Now that you have a plethora of unicorn gifts to choose from, now let's create a magical unicorn themed party!