As a mom of two boys, I know they can be a little wild but also so sweet and fun! And 5 is such a great age! They're learning and growing every day.
Take advantage of the excitement and curiosity of 5-year-olds with these ideas for the little 5 year old boy you know.
And of course, toys aren't gender-specific, so any of these would be great for a girl too, and you can find more ideas on my 5-year-old girls gift guide!
Gift Guide for 5-Year-Old Boys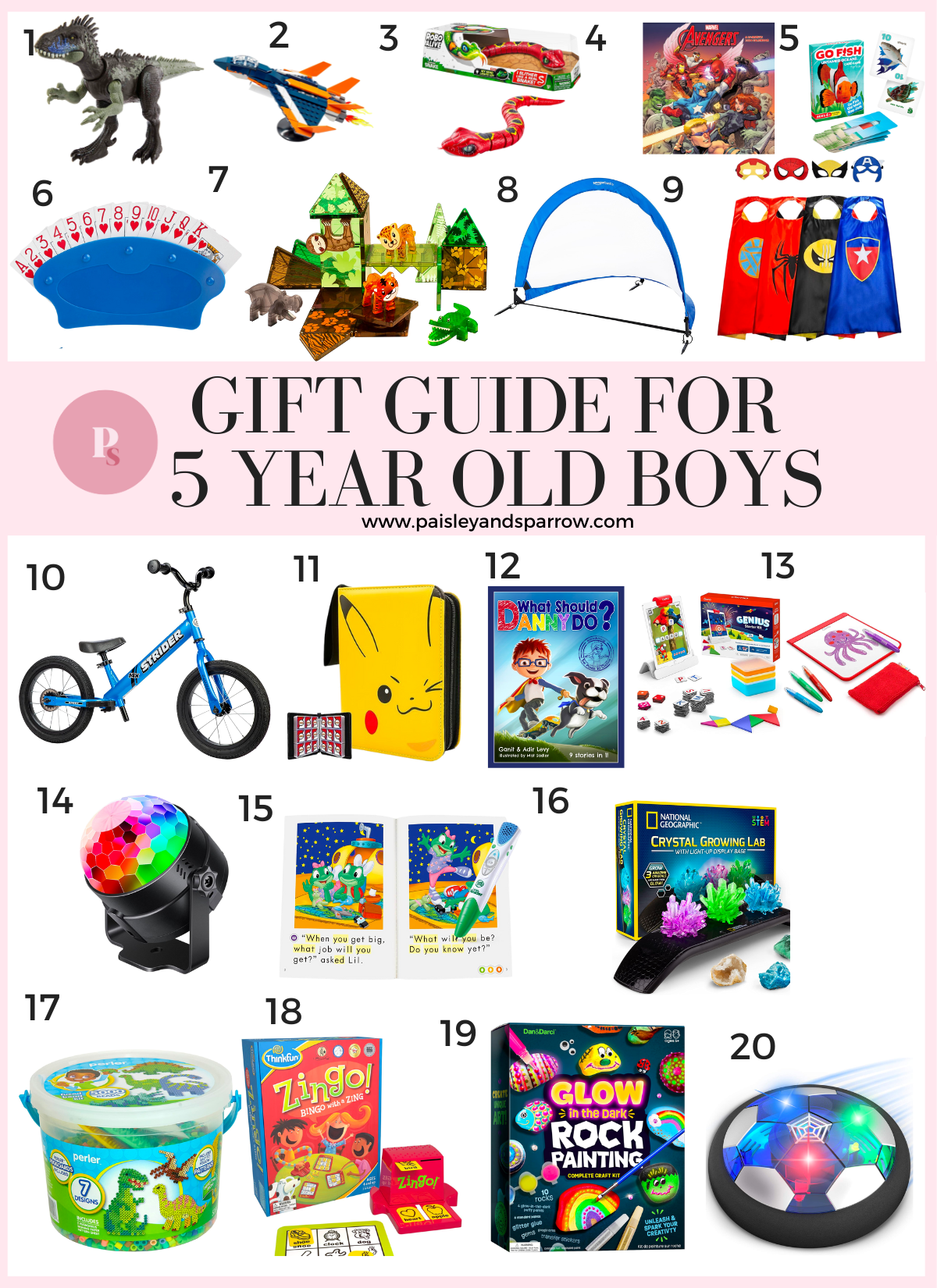 This post contains affiliate links.
Dinosaurs are a boy's best friend! There are so many Jurassic World toys with different features, you're sure to find one that your kid will love, whether it's scary or just plain cool.
This is a great age to start getting into all the more complicated Lego sets. The Creator kits are perfect because they're not too big, there are tons of different types, and they can turn into 3 different builds.
I can't tell you WHY your 5-year-old will like this snake, but I can tell you they WILL. It combines the fun of robots and animals (and it's just the right amount of creepy!).
Not only will your 5-year-old love keeping track of the days, they'll also like that they have a new decoration on their wall that lines up perfectly with their interests (and there's a calendar for every interest!). They'll look forward to changing it every month.
Go with a classic card game like Go Fish! Kids will love having a special deck of cards for the game with different sea creatures on each one.
Playing card games can get frustrating if you can't hold the cards in your hand. Make everyone's game night more enjoyable with these playing cards holders.
Magnatiles are a toy that your kids can play with for years to come. I even enjoy building with them! Use the holidays as an opportunity to add to your collection!
My son has been obsessed with soccer for years now. If you have a little soccer player, this goal for your backyard or sport court is perfect. Challenge him to a scrimmage or just let him practice on his own.
If you want a big impact present by the tree, go for a new bike. Buy one that fits them now but that they also have some room to grow into! Our kids all used and loved Strider bikes! They were able to ride a bike with pedals between the ages of 2-4 no problem. I highly recommend these!
Superheroes unite! Be prepared to see your little Marvel fan wearing these capes and masks for the foreseeable future.
Your kid will love arranging his Pokemon cards and being able to see them easily; you'll love them being put away in one spot. Win-win!
I picked up this book last year and my kids ALL love it! It's like a chose your own adventure book but it shows the natural consequences of choosing a good attitude over a bad one. I love a book that has life lessons for kids that they actually like!
13. Osmo for iPad or Fire
We all know your kid is going to be asking for their tablet as soon as the presents are open — make it a little more educational! Osmo has some really cool sets to make learning fun.
Get the party started with these disco lights that synchronize with the music. There are lots of different settings to make sure the mood lighting is just right.
It's so exciting to watch your kid start to figure out reading. Help them get excited too with a LeapFrog LeapReader system so they can read by themselves.
16. Crystal Growing Lab
We bought this for my oldest when he was 5 and we all had so much fun growing crystals! There's enough that you can do them one by one over a few months or do them all together and watch them grow in different ways. This is one gift that will be fun to experience for weeks and months to come.
Yes, these beads may make a mess from time to time but it's nothing the vacuum can't handle! My kids will spend hours making creations using Perler Beads – it's truly a win – win – win! The kids are occupied and being creative while you get a little time to breathe.
Zingo has been a game my kids have loved since they were about 4 or 5. It's a game that's actually enjoyable for both grown ups and kids which makes it a good game in my mind! If you don't have this game in your house yet, now is the time to change that.
If I knew painting rocks would be that fun for kids, I would have started this brand a long time ago! My kids have gotten multiple sets of rock painting kits and they are obsessed with every single one. We love putting them out in our garden for everyone to enjoy!
Whether your kid is soccer obsessed like mine or just loves kicking things around, this hover soccer ball is so fun! My kids love passing it around to one another and trying to score goals on each other. Its provided hours of fun!
The Ultimate Gift Guide List
Want even more gift ideas for everyone on your list? Head to one of these!
Gift Guides for Grown Ups
Gift Guides for Kids, Tweens & Teens
Age Specific Gift Guides
Product Specific Gift Guides for Babies & Toddlers
Special Interest Gift Guides