If your kids are anything like mine, puzzles are in constant rotation with things they play with. From educational puzzles for toddlers to just plain fun puzzles, puzzles are a great way to challenge kids and encourage them to exercise their mind!
But what are some of the best puzzles for toddlers?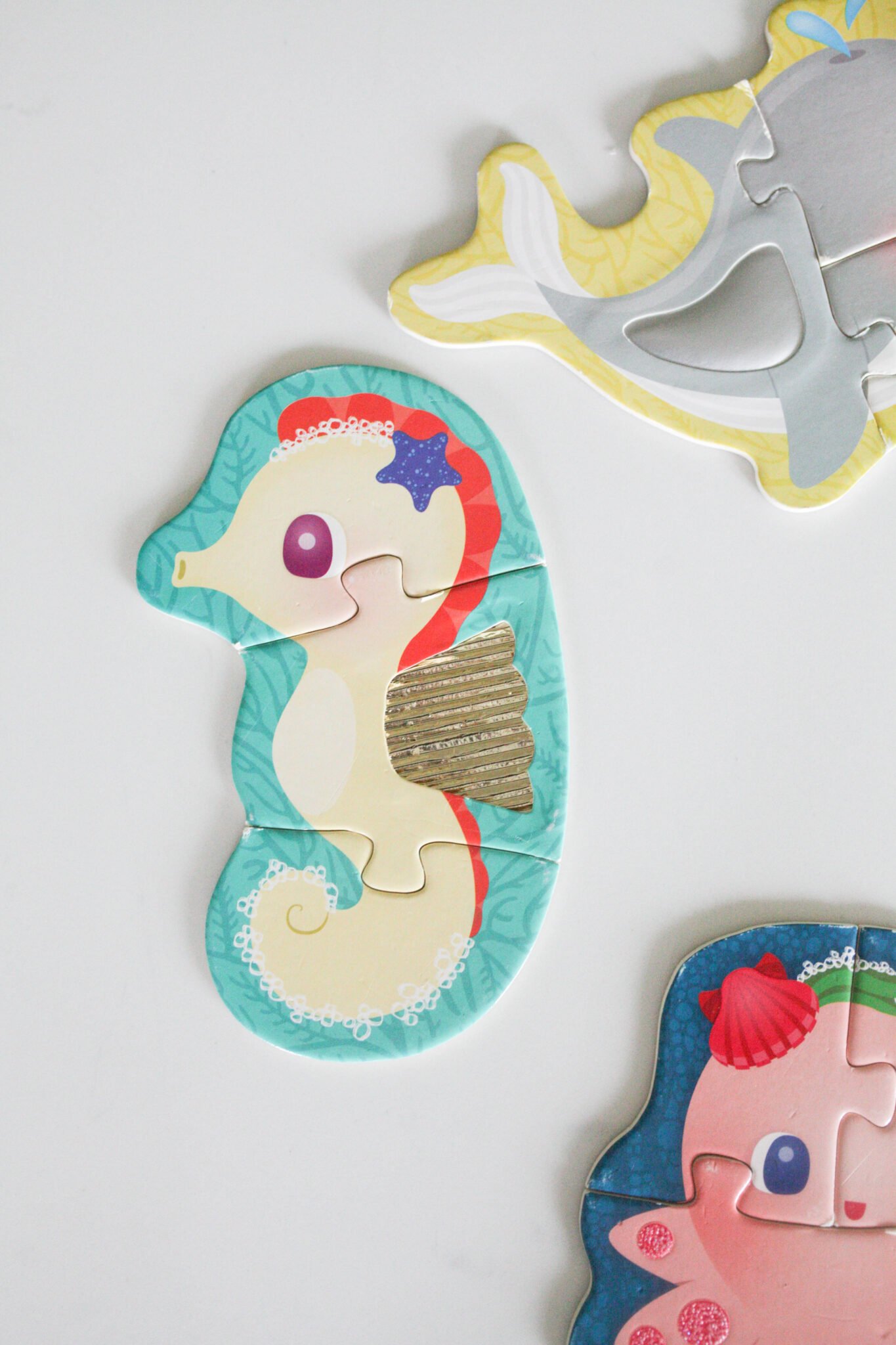 Let's be real, puzzles are fun for toddlers just as much as they're fun for adults! Who doesn't love a cozy weekend at home with a 1,000 piece puzzle to work on?
Our family always pulls out a puzzle for holiday get togethers or family vacations. It's so fun to work together to finish the puzzle before our time together comes to an end!
Before we get in depth into some of my favorite puzzles, here's the quick list!
Now let's chat through doing puzzles with toddlers!
Toddlers + Puzzles – What to Know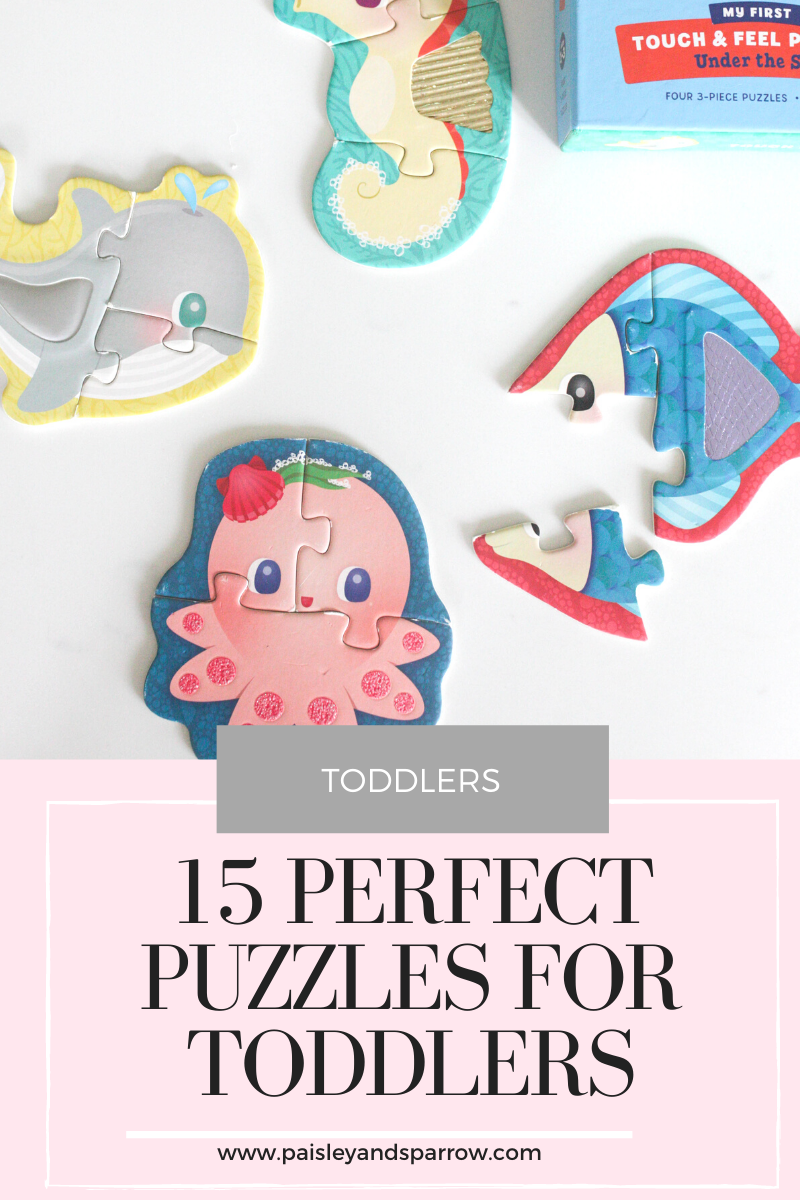 Paisley + Sparrow is a participant in the Amazon Services LLC Associates Program. This post may include affiliate links which means I may earn a small commission if you shop using the links below at no additional cost to you. 
Can Toddlers Do Puzzles?
Yes! They're clearly not going to be able to do the giant thousand piece puzzles like mom or dad but simple puzzles (you'll see some examples below!) are a great way to introduce them to the concept of puzzles.
What Age Can Toddlers Do Puzzles?
It really varies on each child but typically you can start introducing around a year to get them exposed to puzzles. Most toddlers can begin to complete simple puzzles around 18 months.
I like introducing them earlier even if they don't do what they're supposed to right away! You can also get your other kids involved!
Our oldest 2 (ages 2 + 4) tell our almost 1 year old about what the different animals are or what colors they see. It can be a family affair!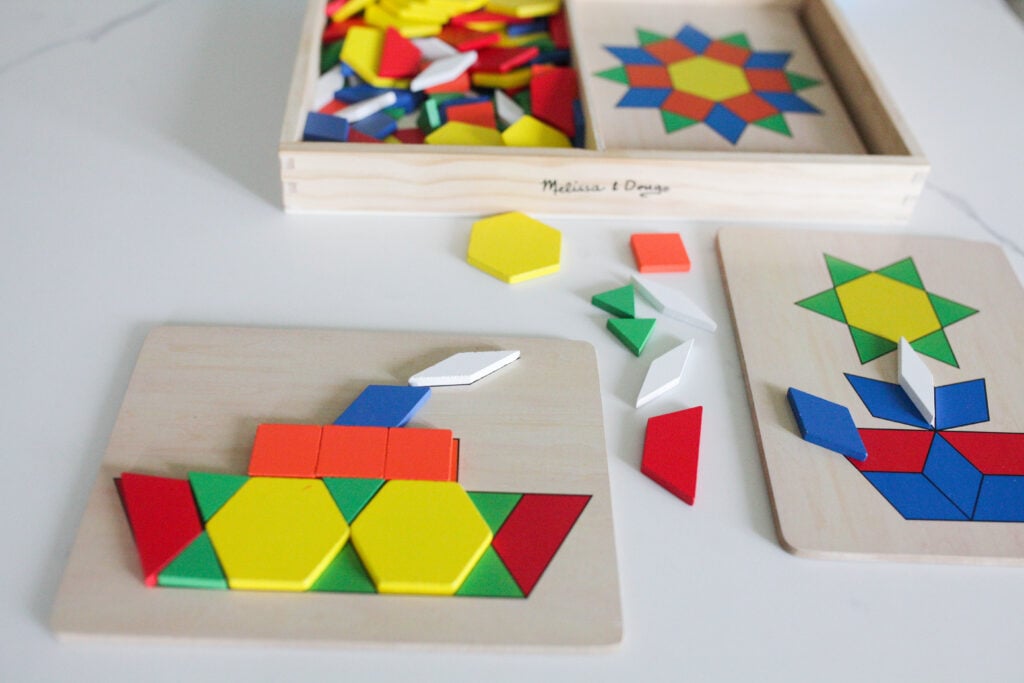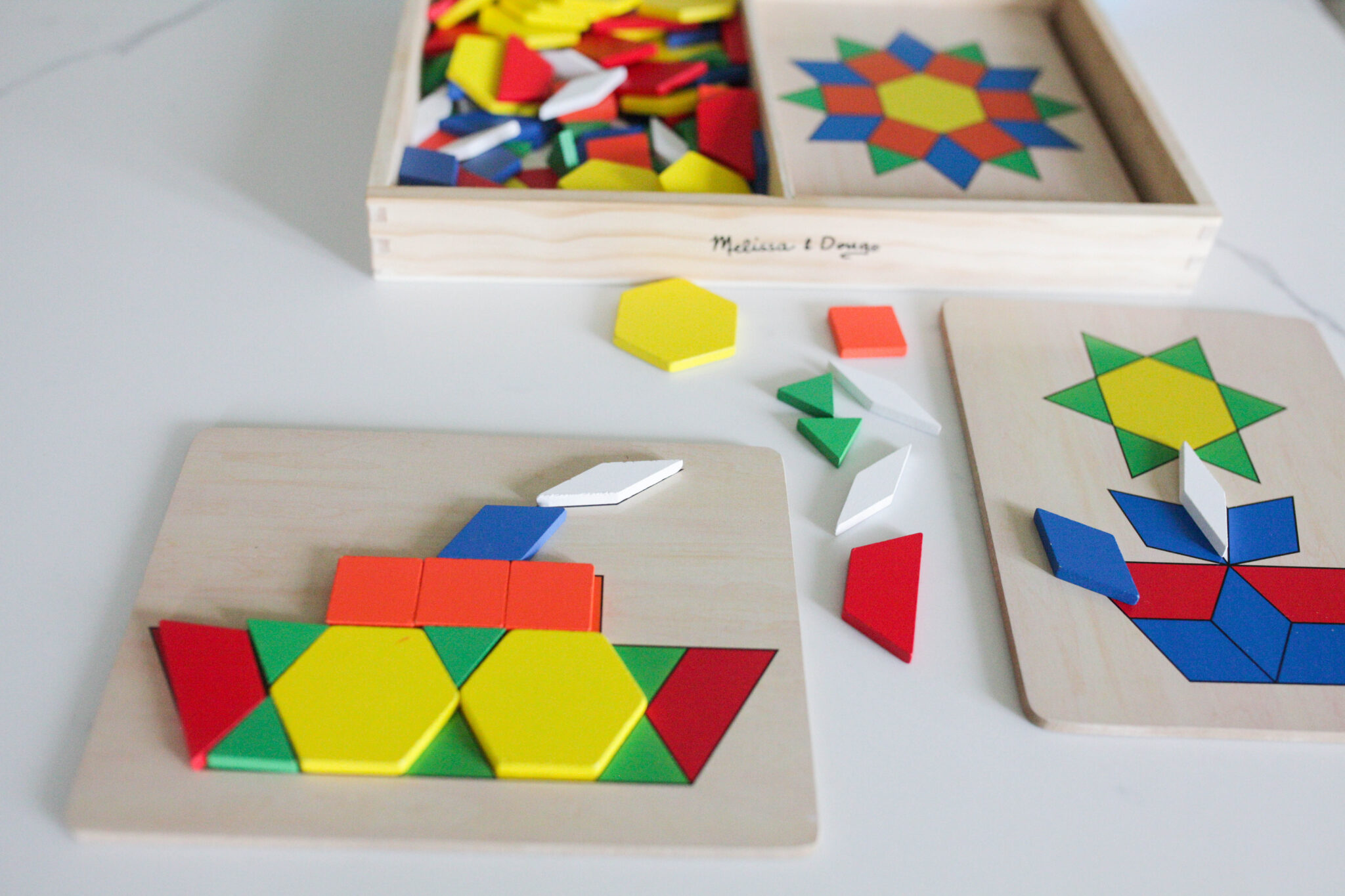 How Do You Teach a Toddler to Do a Puzzle?
The best part about toddlers and puzzles is you don't have to do much to teach them! A lot of it will be trial and error.
You can show your toddler where a puzzle piece goes or put the piece near where it goes and help guide it in but they'll quickly understand the concept. Don't be frustrated or stressed if they don't catch on quickly!
Some kids get the hang of it right away while others take a bit longer. As long as they're interested in it keep letting them practice! Just be sure to start with easy puzzles for them to learn with.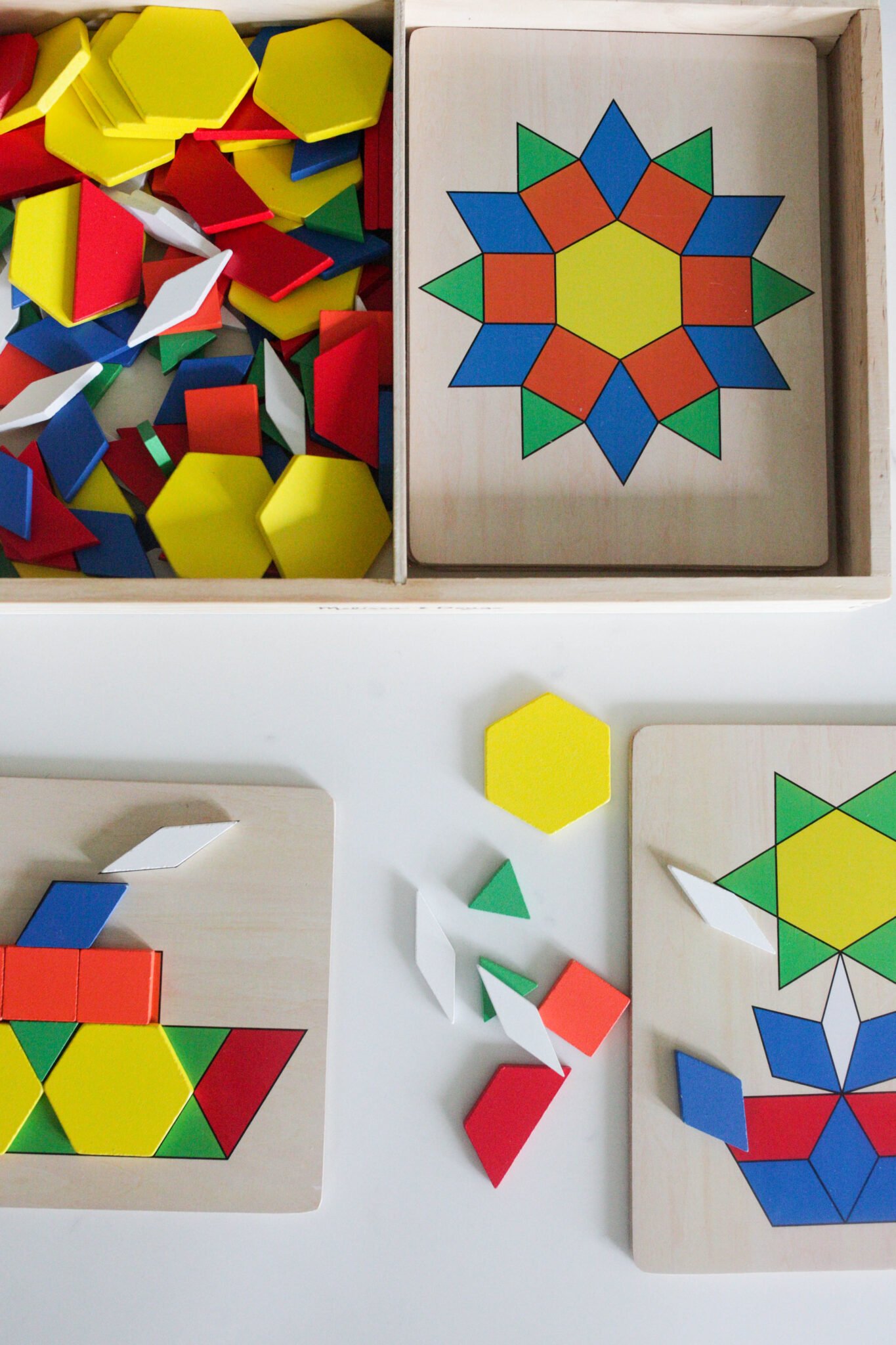 Benefits of Playing with Puzzles
There are so many benefits of your toddler playing with puzzles. It's great for cognitive skills since puzzles come in a huge range of themes and topics. Your child will be exposed to different colors, numbers, letters and so much more through puzzles!
Puzzles are great for problem solving. As we learned earlier, there's a lot of trial and error when it comes to learning how to do puzzles. This will help them in thinking strategically and achieving goals.
They're also great for hand eye coordination and fine motor skills. They'll work on picking up different size pieces, moving them around and placing them into the correct spots.
Puzzles are so helpful for concentration and patience. We like to encourage our kids to not quit in the middle of the puzzle and to keep trying different things until the finish the puzzle. Asking for help can be part of the process!
There's so many different ways that puzzles help kids so keep encouraging kids to do them!
Best Puzzles for Toddlers + Kids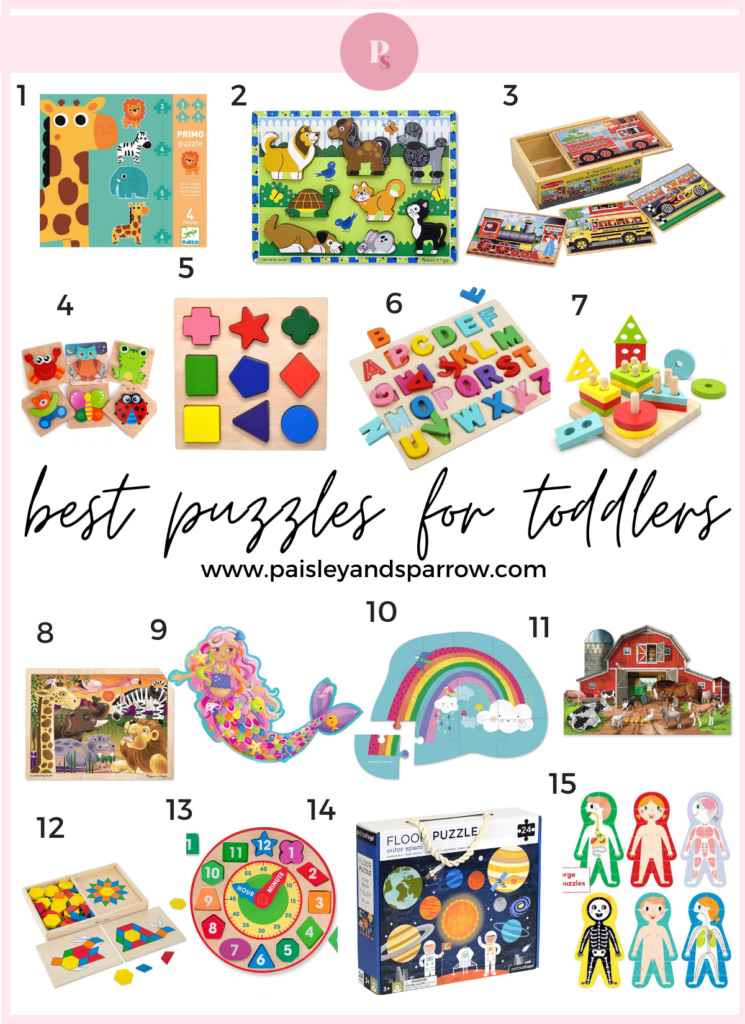 Paisley + Sparrow is a participant in the Amazon Services LLC Associates Program. This post may include affiliate links which means I may earn a small commission if you shop using the links below at no additional cost to you. 
We have a DJECO puzzle and our kids love it! Start with a 3 piece puzzle (the lion) and get all the way up to the giraffe (6 pieces!). This DJECO in the Jungle Puzzle will be a great way to talk about jungle animals and challenge your kids!
This puzzle also comes in different animal themes – garden animals, sea animals and forest animals!
This Melissa and Doug Pets Chunky Puzzle is a great way to start your toddler on puzzles. They'll love seeing some of their favorite animals and you can practice saying the animal sounds as you practice the puzzle!
Your puzzle loving toddler with loves these four fun vehicle themed puzzles! There's 4, 12 piece puzzles featuring a race car, train, school bus and fire truck. This Melissa & Doug Wooden Jigsaw Puzzles comes in it's own box for easy storage!
Best for your older toddlers (ages 3-6). Also comes in Dinosar or pet versions!
These bright and colorful Slotic Wooden Puzzles are a great way to introduce your child to different colors and also help them learn how to do puzzles! It's a set of 6 puzzles with different animal shapes.
This puzzle set gets over 400 great reviews on Amazon!
Introduce your toddler to shapes and colors with this Wooden Preschool Colorful Shape Puzzle! It gets over 4,000 amazing reviews on Amazon. It's well loved by parents and teachers alike!
This Wooden Alphabet Puzzle is bright and colorful and a great way to help your child learn about colors and letters! The colorful letters make this an enjoyable puzzle to play with. You can also use the pieces to play sorting games or color matching games when you need a break from doing puzzles!
This Wooden Puzzle Shape Sorter is a different type of puzzle! If you have a child who loves duplo legos, this type of puzzle is great for them. This puzzle combines a building, counting, and stacking element to the puzzle. Your child will love figuring out which shape goes where.
As your kids get older you can introduce them to puzzles like this 24 piece Melissa & Doug African Plains Jigsaw Puzzle! There are lots of different animal varieties of this cute 24 piece puzzle. The colorful pictures are fun to put together!
A floor size puzzle of a mermaid? Yes, please! This is the perfect puzzle for that mermaid loving child in your life!
This puzzle has foil accents to make it extra special and extra sparkly!
Another fun shaped puzzle is this Crocodile Creek Rainbow Heaven Puzzle! Crocodile Creek has a ton of different 12 piece puzzles for kids 2 and up from bunnies to dinosaurs to mermaids and unicorns!
Your child will love putting together this bright, whimsical picture. Because there are only 12 pieces it limits the chance of your child getting frustrated with the puzzle!
Floor puzzles are always a hit and kids love them! This one is so fun with the barn and all the cute animals!
Your kids will learn animals while learning the art of putting together puzzles. Bonus – this one is easy to clean in case of spills!
I first saw this Melissa & Doug Pattern Blocks and Boards at my son's preschool and after seeing him work so hard on each puzzle I knew we needed it in our home!
It has brought hours of entertainment to both of our kids and they love practicing putting each puzzle board together!
This Melissa & Doug Shape Sorting Clock will help teach your toddler about puzzles, clocks/telling time, numbers, shapes AND colors! What more could you want?
This is a great puzzle to have in your home because it grows with your child. You start out with shapes and colors, move to numbers, and then, of course, you can use this to help learn to tell time. This puzzle is great for families with more than one child as kids in different developmental stages will equally enjoy this!
Our kids love giant floor puzzles and this Petit Collage Outer Space Floor Puzzle is a great option! Big enough for small hands but easy enough for a toddler to complete, this puzzle even comes with it's own storage case with a handle for bringing to grandma and grandpa's!
My last puzzle for you is this cute My Body Suuuper Size Puzzle. Another great floor option that talks about your body, inside and out!
This is a fun puzzle to get if your child is beginning to understand the concept of bones (your bones are growing so strong!) and other systems of the body (your heart is beating to help blood go to your body!).
This would also be a fun puzzle if your child is anxious about the doctor – you can help them understand a little bit of what the doctor is checking on in their body!
I hope this post helps you not only learn about why puzzles are great for toddlers and kids but inspires you to pick up one or two to start (or continue!) doing puzzles at home. There's so many great options out there!
Be sure to also check out my favorite baby walkers or 25 gifts for toddlers they'll actually use!