Looking to up your hair game? Want a curling iron that will actually hold your curl in and not ruin your hair while curling it? Enter the T3 Micro Curling Wand.
The T3 curling and has been a cult favorite by beauty bloggers and hair stylists alike and there's a reason why! It's does an amazing job at curling your hair!
Ok, but does it actually do the job that so many bloggers say it does? I've owned mine for 5+ years along with countless other brands. Today I'm going to share my full review of the T3 Micro Curling Wand!
Let's get started!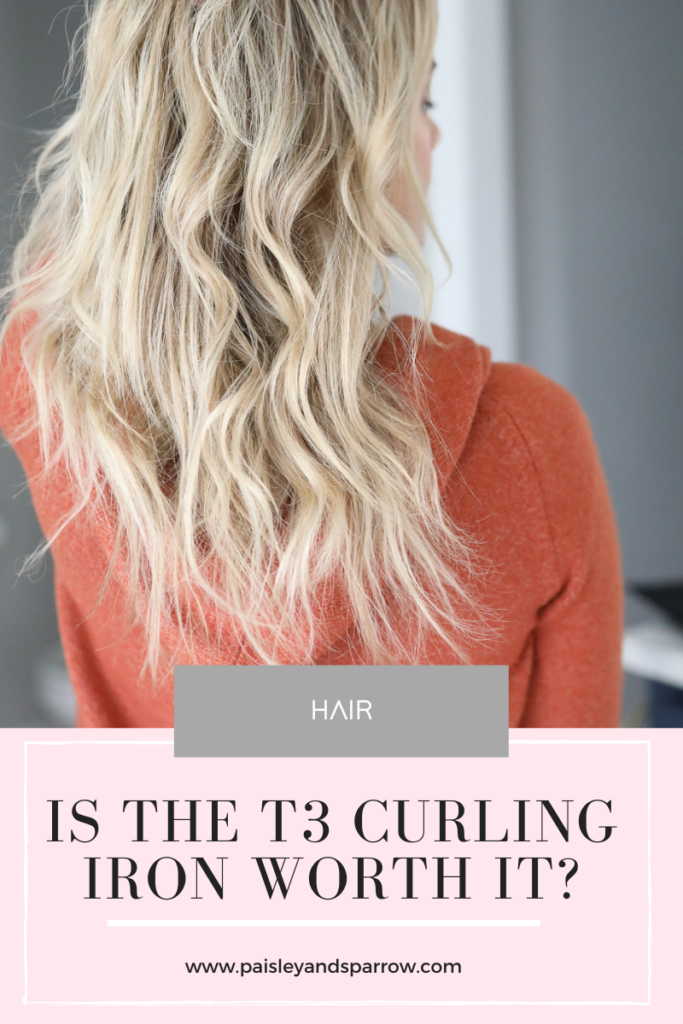 Paisley + Sparrow is a participant in the Amazon Services LLC Associates Program. This post may include affiliate links which means I may earn a small commission if you shop using the links below at no additional cost to you. 
Is T3 Curling Wand Worth It?
Yes, it is worth it! If you're someone who regularly styles your hair and you want a curling iron that heats up quick, styling your hair on the first pass and gives you lasting curls, then heck yes – it's worth it!
I've owned mine (as well as the T3 hair dryer) for 5+ years. I actually bought it after the birth of my oldest child. I dealt with super bad postpartum hair loss and my hair stylist recommended that I invest in a good quality hair tools.
Having high quality professional level styling tools will help reduce the damage done to your hair.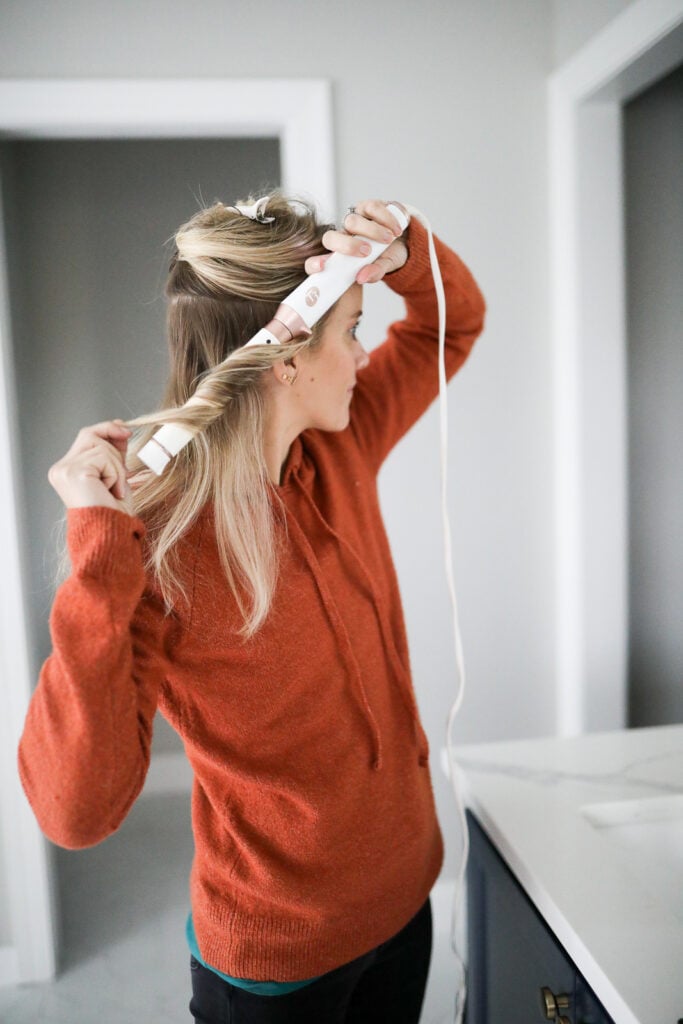 One reason why I went with the T3 curling iron is because it curled my hair (and kept it curled) the first time and I didn't have to curl the same piece of hair over and over.
As we all know, heat, as a general rule of thumb, isn't great for your hair so you want to make sure you're using things that will allow you to use the least amount of it!
It heats up quick, curls my hair efficiently and keeps it curled!
Let's dig into more specifics.
What is the T3 Curling Wand?
What exactly is the T3 Curling Iron? To make matters even more confusing, there are a bunch of different tools (more on that below!). There's the convertible collection, the clip irons and the wand irons. Each of these have different size barrels.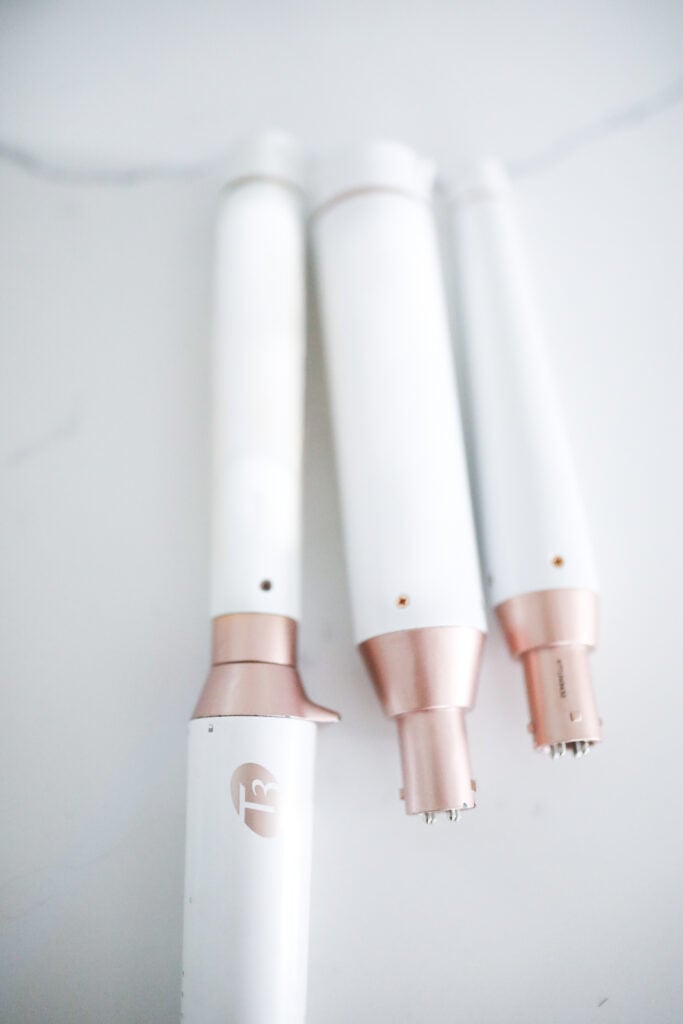 I personally own the T3 Whirl Trio Professional Curling Iron Set. This gives me 3 different sizes of wands to choose from for different types of curls.
The nice thing about the convertible base is you can easily swap out the barrels. This prevents you from having to store 3 entire curling irons – you just need a spot to put the barrels!
If you have the means, I would highly recommend getting one of the trios (either the whirl trio which is 3 different sizes or the twirl trio which is 3 different sizes of clip barrel irons).
Is T3 a good brand?
T3 was started in 2003 and was a mix of a tech start-up along with a beauty venture with the hopes of creating a new kind of hair tool. What kind of tool? One that was fast-working, technology-forward and designed with high performance and better results.
They wanted something gave you not only beautiful hair but also healthy hair! It has self-monitoring heat that automatically adjust based on your hair profile.
They worked hard to include responsive technology, intuitive touch features and also pretty! So in short, yes! T3 carries some of the best hair tools for healthy, beautiful hair!
Pros + Cons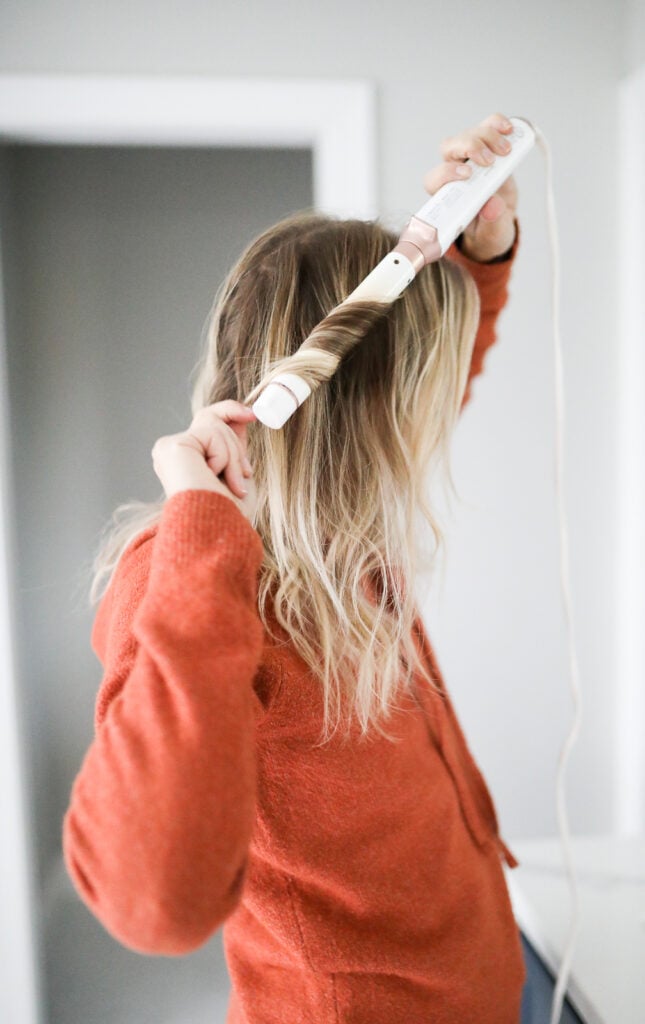 Pros
Curls Hair Faster

Faster curling means less time with heat on your hair which means less damage to your hair! Heat is one of the things that causes the most damage to your hair so you want something that curls fast to prevent excessive damage.
Fast styling also means less time getting ready and doing your hair!

Styles Last Longer

No more styling your hair for hours only to have it fall flat the second you walk into the restaurant for your dinner date! Your style will hold much longer.

One Hour Timer with Automatic Shut Off

Safety first, friends! There's nothing worse than heading to work or out on a date only to have that sinking feeling of "did I turn off my curling iron??" Even if you did, it will turn off in one hour automatically!

Easier on Your Hair

As mentioned early, is not great for your hair. If you are going to use it, use it wisely! There's so many amazing features. From customizable temperature settings based on your hair type to an internal chip that monitors heat fluctuations, T3 is always doing it's best to ensure their tools don't damage your hair.
Cons
Pricey

The one downside is the prices! The one thing to take into consideration is how long you'll have them. I've had my Whirl Trio for 5+ years and it's still in amazing condition. It does an amazing job curling my hair and I can't imagine using something else!
Is the T3 easy to use?
You'll hear from people about how easy it is to use but honestly, it's all in your skill level with styling your hair!
At the end of the day, it's still a curling iron (or a curling wand) so if you didn't know how to use one before you got the T3, chances are you're not going to magically be able to know how to use one after you get it.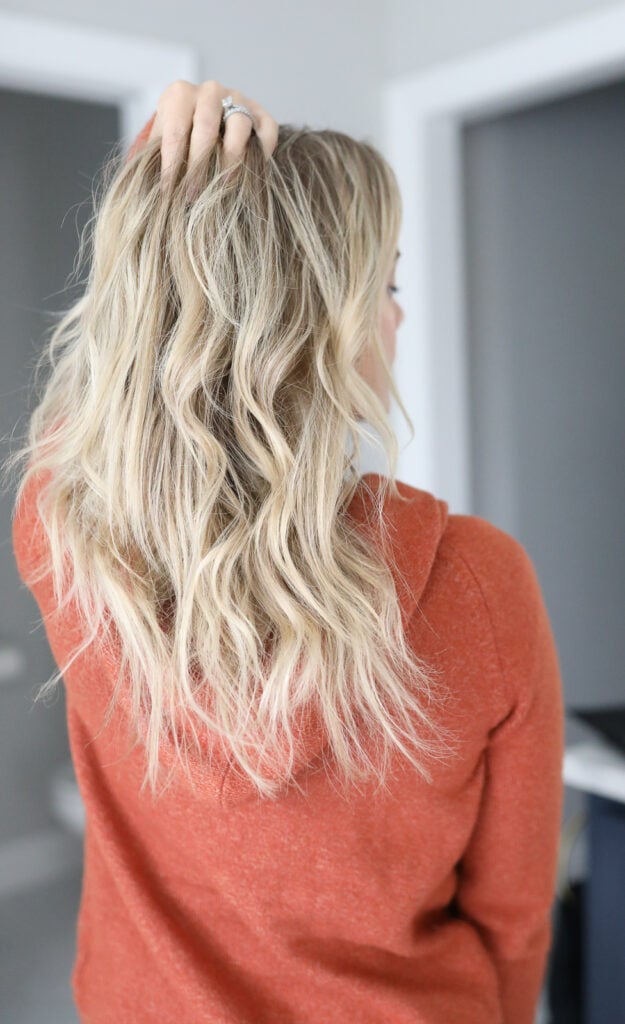 However, if you've been frustrated after spending 30 minutes to curl your hair only to realize it's already fallen flat than yes, it IS easier to use! Since it holds your curls so well you're not spending time going over and over the same spot to achieve the curl you want, it happens the very first tiem!
I had never used curling wands before getting my Whirl Trio but I was also determined to figure out how to use it since I spent so much money on it!
There's definitely a learning curve to styling your hair with a wand but once you get the hang of it, you won't go back to the clip version!
Is it worth the price?
In short, yes. This product is one that will give you the curls that you want without damaging your hair.
While there's many other options out there (here's a whole list of other great curling irons!), this is one that will be easier to use since you won't have to curl the same spot over and over and most importantly, you won't be left with dry damaged hair.
If you have the money to spend on a T3 curling iron or wand, then I would do it!
Types of T3 Curling Irons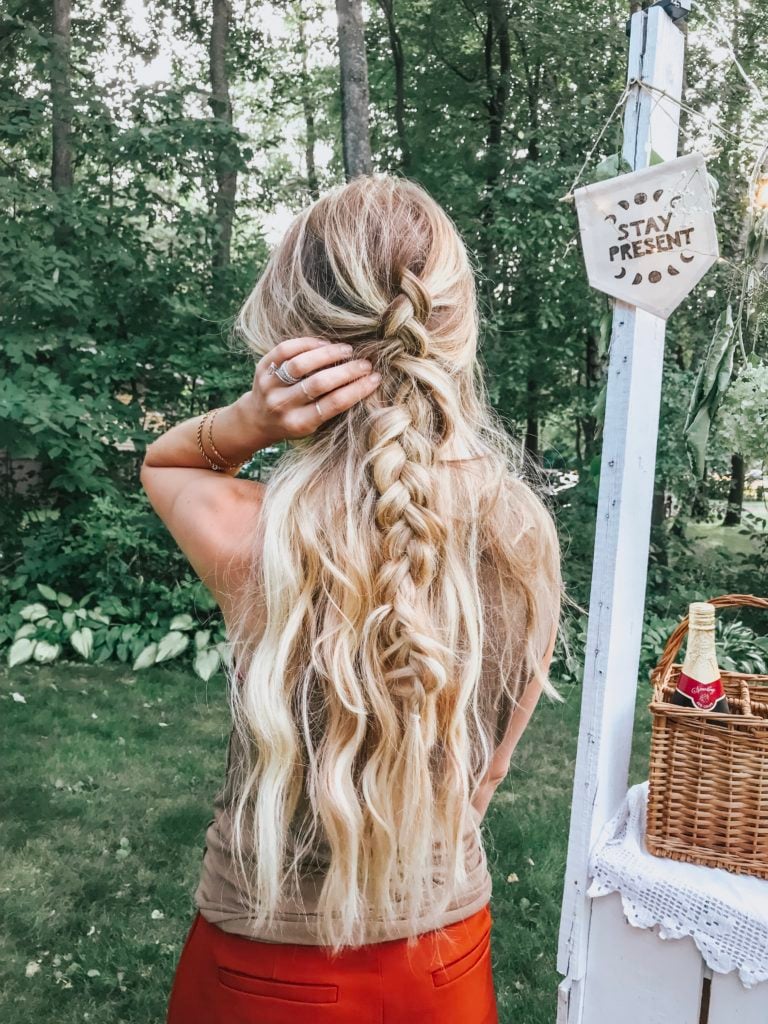 As mentioned above, there are many options to choose from when it comes to a T3 tool. Here they are!
One base with interchangeable options (7 different options to choose from). This is a hair guru's dream tool!
Who should get this: If you're someone who changes your hair style often and wants the ability to add or change your barrel whenever you want.
One of the most popular sets (and the one I own), this gives you 3 different types of curls using wands. Whether you want beachy waves (this is what I normally do), glamour waves or defined curls, this set will give you all 3.
This comes with a soft travel tote making this the ultimate travel curling iron!
Who should get this: You have longer hair (chin length or longer), are comfortable using wands and like to mix up your hair style just a bit!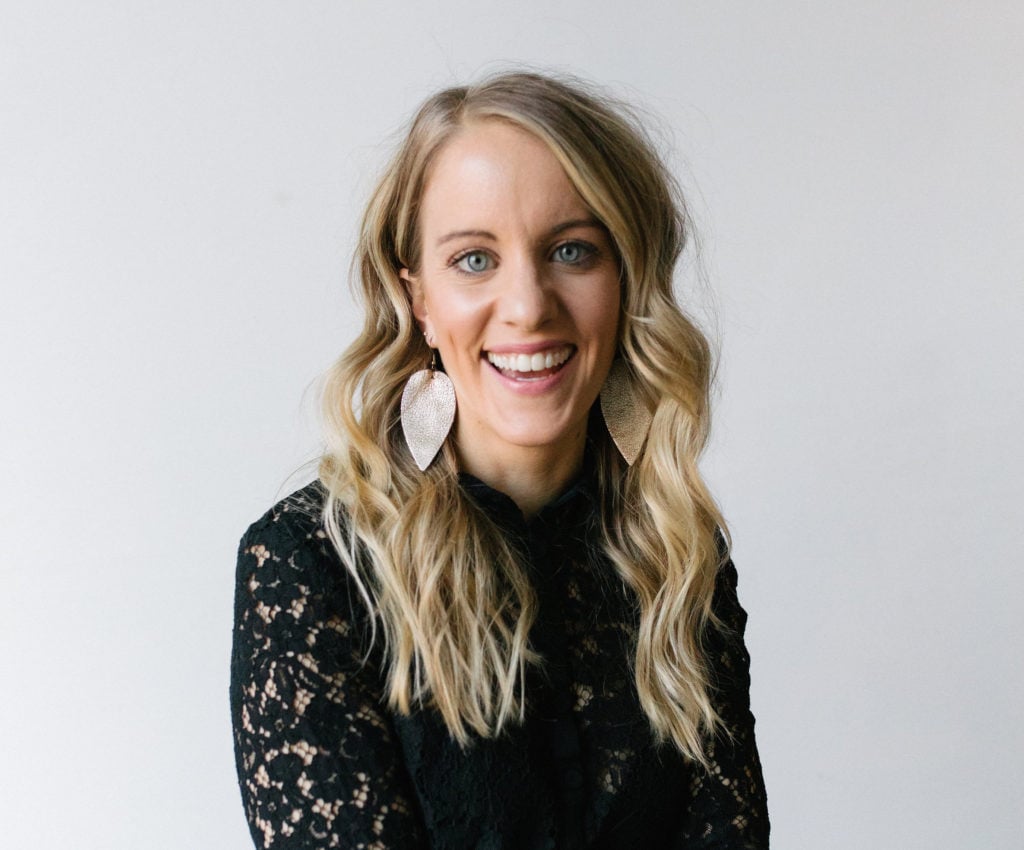 This is the same as the Whirl Trio but with the classic clip option!
Who should get this: You're someone who likes to mix up your hair style a little bit (but don't love using wands).
A 1.25″ smart curling iron that uses advanced technology to adjust the heat based on your unique profile (your hair texture, color and chemical treatments).
Who should get this: You want a tool that adjusts automatically so you don't have to think about it and you prefer a clip barrel.
You're busy so you don't want to spend hours curling your hair. The T3 SinglePass curl will give you shiny, polished curls with just one pass with the iron!
Who should get this: You have should length or longer hair and you prefer a traditional clip barrel.
Same as above but in the one inch version.
Who should get this: You have chin length or longer hair and prefer the clip barrel.
The wand version of the SinglePass iron with 5 customized settings and a microchip that keeps temperature fluctuations in check.
Who should get this: You have chin length or longer hair and prefer undone natural waves.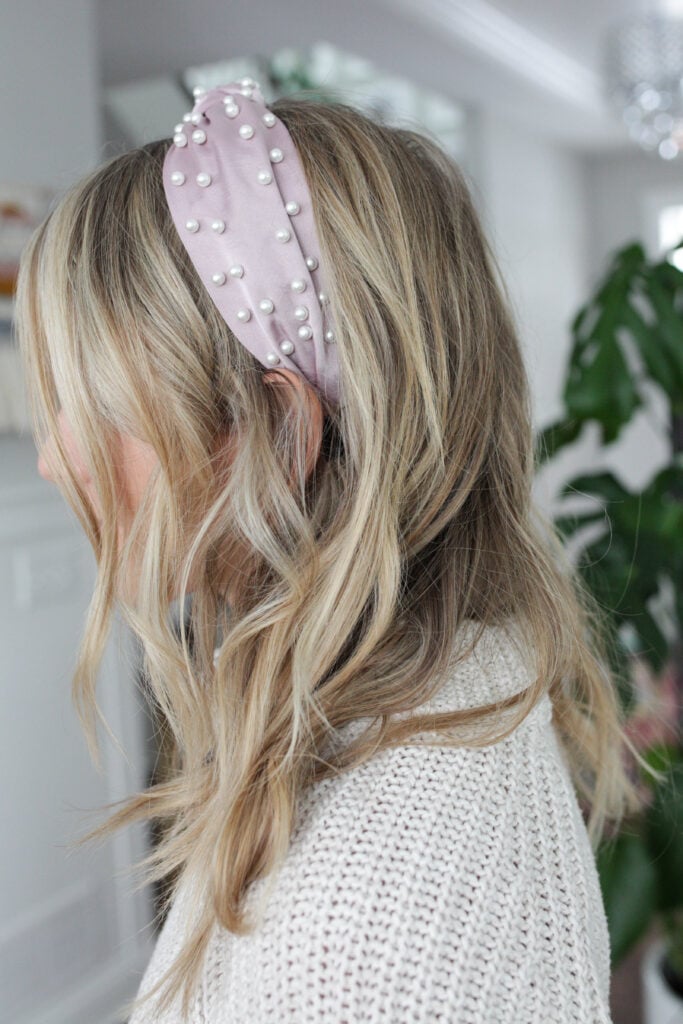 Where to Shop?
You can buy a them from a number of places:
How do you curl your hair using a wand?
Using a curling wand in general takes practice. Don't get frustrated if it feels clunky and awkward the first few times you use it! It'll get easier with each time you use it, I promise! Here's how I use mine:
Start by separating your hair into layers, pinning up your hair so it's out of the way.
Spray your hair with a heat protectant.
Gather small sections of hair (the smaller the section the more tight the curl, the larger the section the more of a wave).
Pointing the barrel down, wrap your hair around the wand, leaving the tips out.
Hold for a second and release your hair.
Alternate between curling away and toward your face, always curling away from your face at the front.
Release the top layers and repeat.
Let your hair cool and then use your fingers to split up the curls for a more natural look.
Finish with a finishing cream and texturizing spray!
FAQs
Does Costco sell T3 curling iron?
Yes! You can get a T3 Twirl 1.25 Inch Ceramic Curling Iron from Costco for just $69.99! That's quite the steal and yet another reason to love Costco (as if we needed more reasons!).
There you have it! I hope this helps you in knowing whether the T3 Curling Wand or iron is right for you.
If you want more hair tool fun, check out the best blow dry brushes for fine hair or the 5 quietest hair driers so you don't wake up your sleeping kids!