Have a little one who's starting to pull themself up on things? Want to encourage that curiosity in hopes of them taking a step or 2? Today I'm going to share 10 different baby walker toys for you to check out for your little one!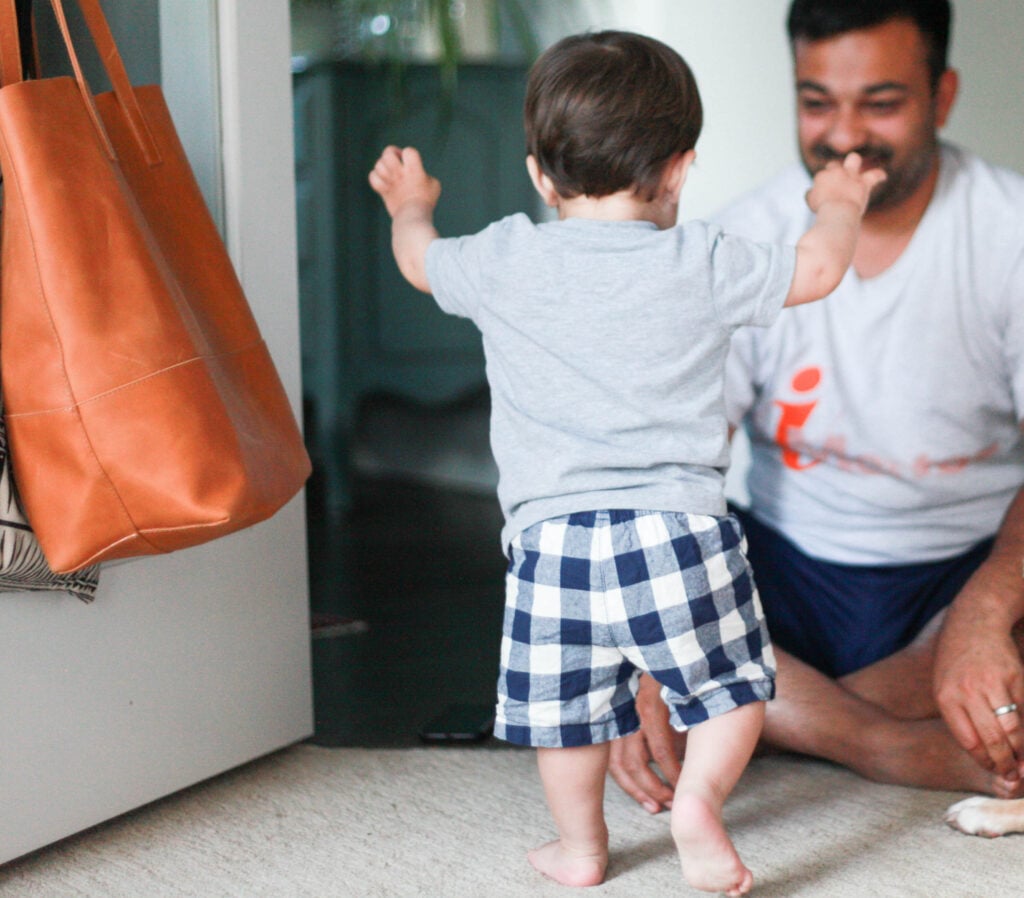 Our 3rd baby is 10 months and has been pulling himself up on just about everything possible. As our 3rd child, we're ready and excited for him to start walking!
He also literally puts everything possible in his mouth so the sooner I can get up off the floor the better! 😉
I've rounded up a handful of baby walker toys to check out for your little one! We own and love the first 2 and I've carefully chosen the other 8 based on reviews and friends' recommendations.
I also know that each kid is different and what works for my kid doesn't mean it will work for yours! My oldest adored #1 and my second wanted absolutely nothing to do with it! Our 3rd is slowly taking interest in it so I'm hopeful he'll like it but he's pretty much obsessed with the second item on this list.
Things to Note
We've only personally used the first two items on this list so we don't know from first hand experience how the other 8 are in real life, only by what the reviews say.
Always make sure to monitor your child while they're using any baby walker and steer clear from any stairs. As babies learn how to walk using a baby walker they susceptible to tipping over or falling so it's a great idea to spot them while they're using it, especially while it's new!
You know your child best so you'll be able to determine when to introduce a push or pull walker and which one will be your best option.
I hope this helps you discover something new and fun for the little one in your life! So without further ado, here's 10 amazing baby walker toys!
10 Amazing Baby Walker Toys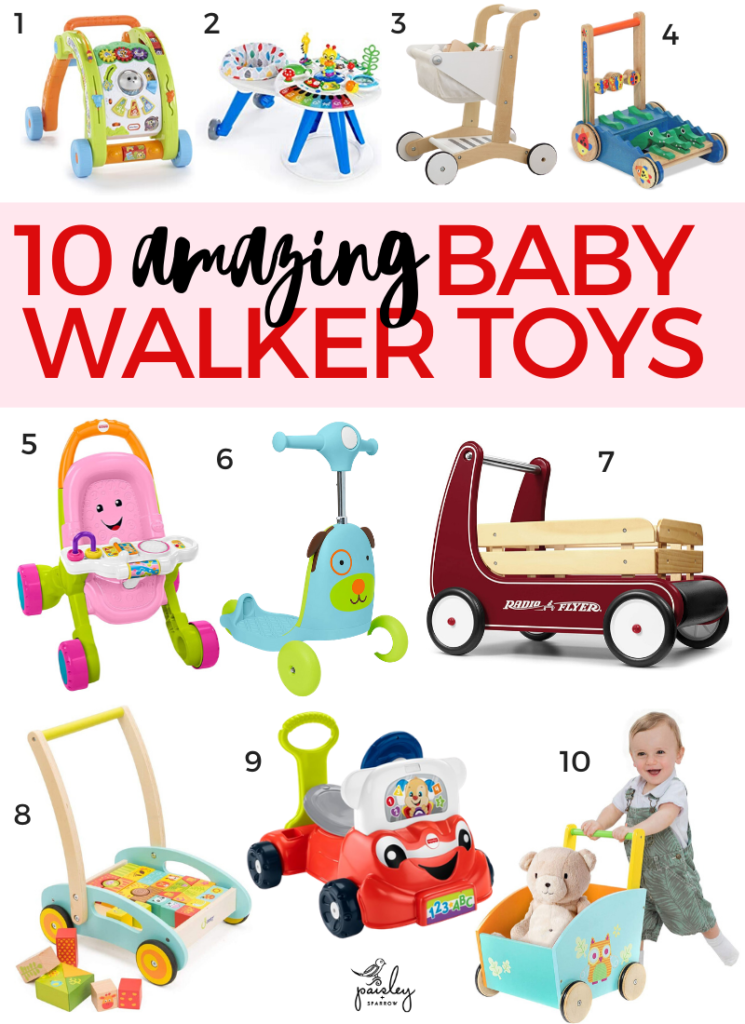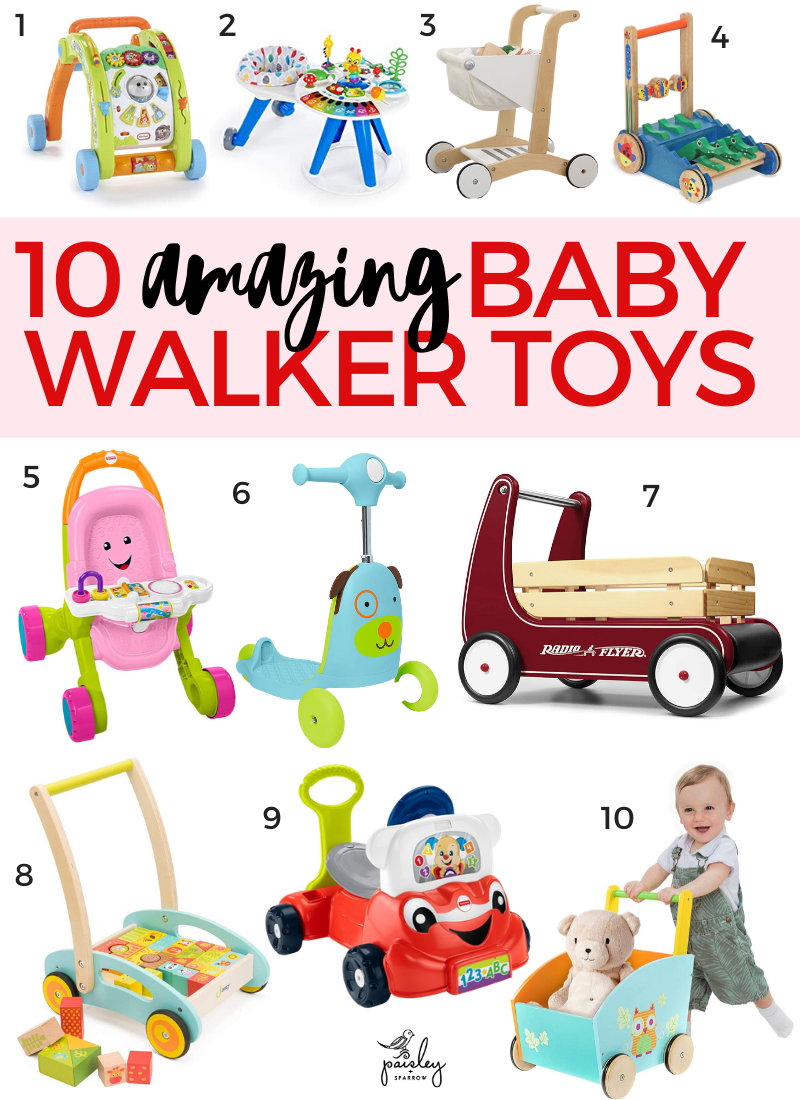 Paisley + Sparrow is a participant in the Amazon Services LLC Associates Program. This post may include affiliate links which means I may earn a small commission if you shop using the links below at no additional cost to you. Thanks so much for supporting me and this blog!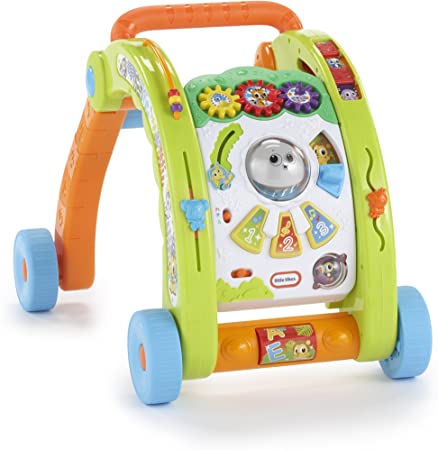 We bought the Little Tikes Light 'n Go 3-in-1 Activity Walker for our oldest when he was just starting to walk! I actually bought it out of desperation when my husband was traveling for work and I was super pregnant with our second. Our oldest wanted to practice walking again and again and I was burnt out from bending over and holding his hands walking time and time again.
We rushed to Target where I found this, immediately put it together and gave it to our son. He was obsessed with it! It saved my sanity and helped him practice walking!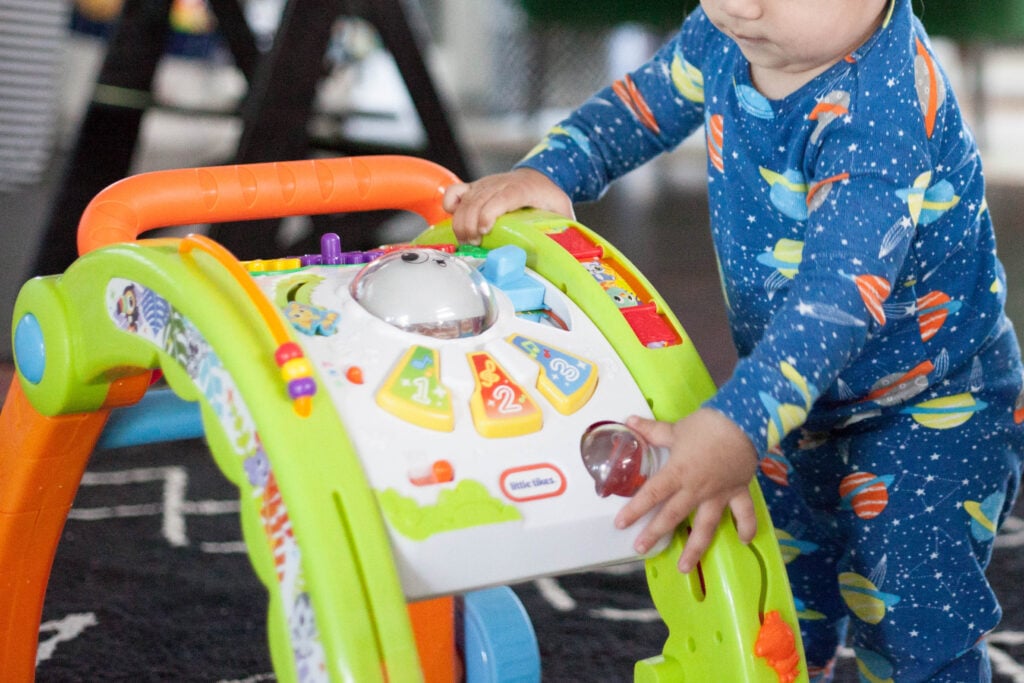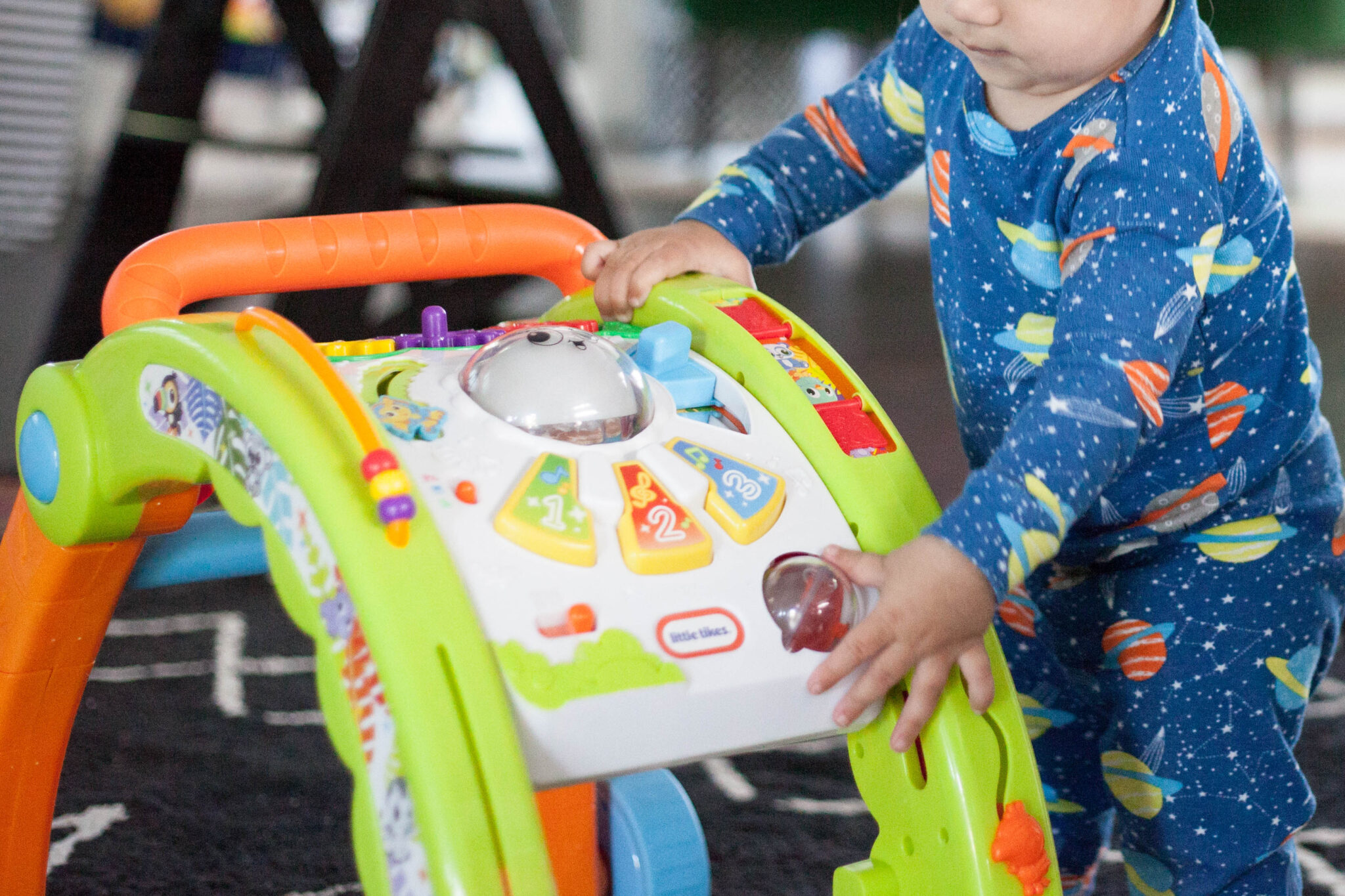 It's great because it projects a light from the front that encourages little ones to take their first steps. There's 70+ activities, sounds and songs for hours of play
The handle and wheels keep it easy for them to move around. The wheels also lock so you can use it to help your little one practice standing even before they're ready to take any steps.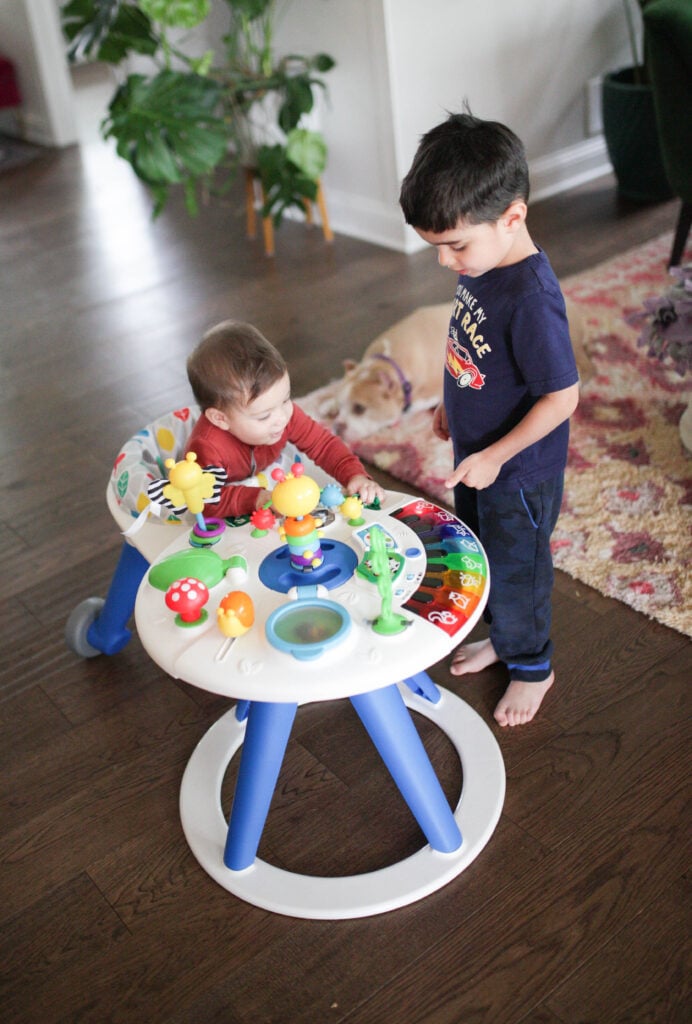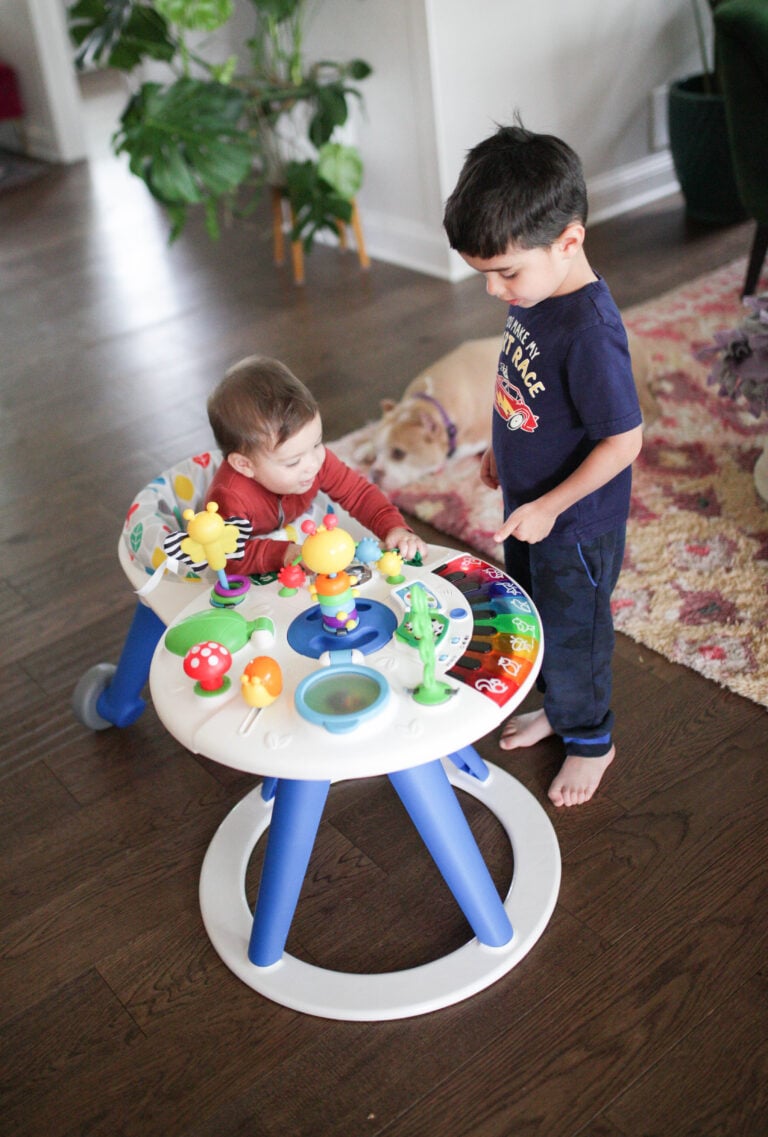 We got the Baby Einstein Around We Grow 4-in-1 Walk-Around Discovery Activity Center for our youngest and it is amazing! The chair walks a full 360 degrees around the discovery center, allowing your child to both run, run, run and also stop at each center to play and discover new things!
I have an entire blog post on it reviewing the Around We Grow Center if you want to see all about it!
3. Shopping Cart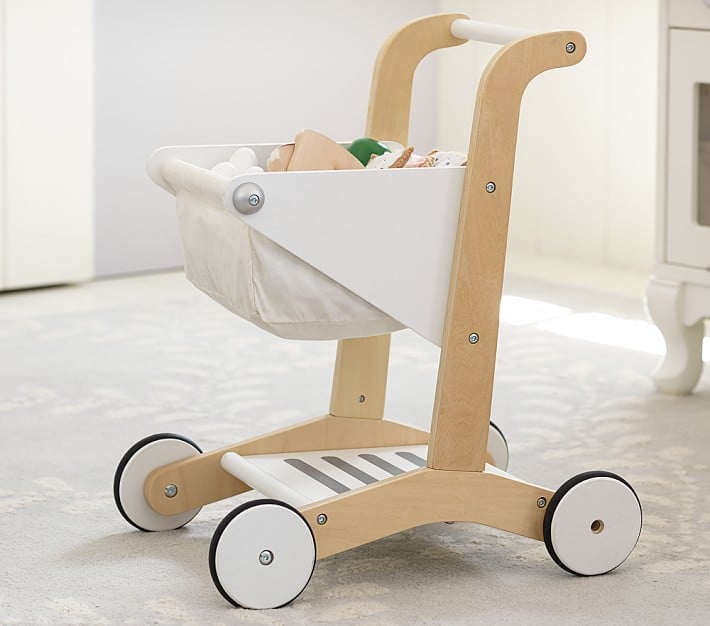 For the little one who likes to play make believe, try out this adorable wooden shopping cart! It's made with a cotton basket and solid wood cart, it's a great way to encourage your child to walk and increases balance, push and pull skills and encourages your child to practice maneuvering around different obstacles.
Pick up some play food or just use items from your own kitchen and get playing!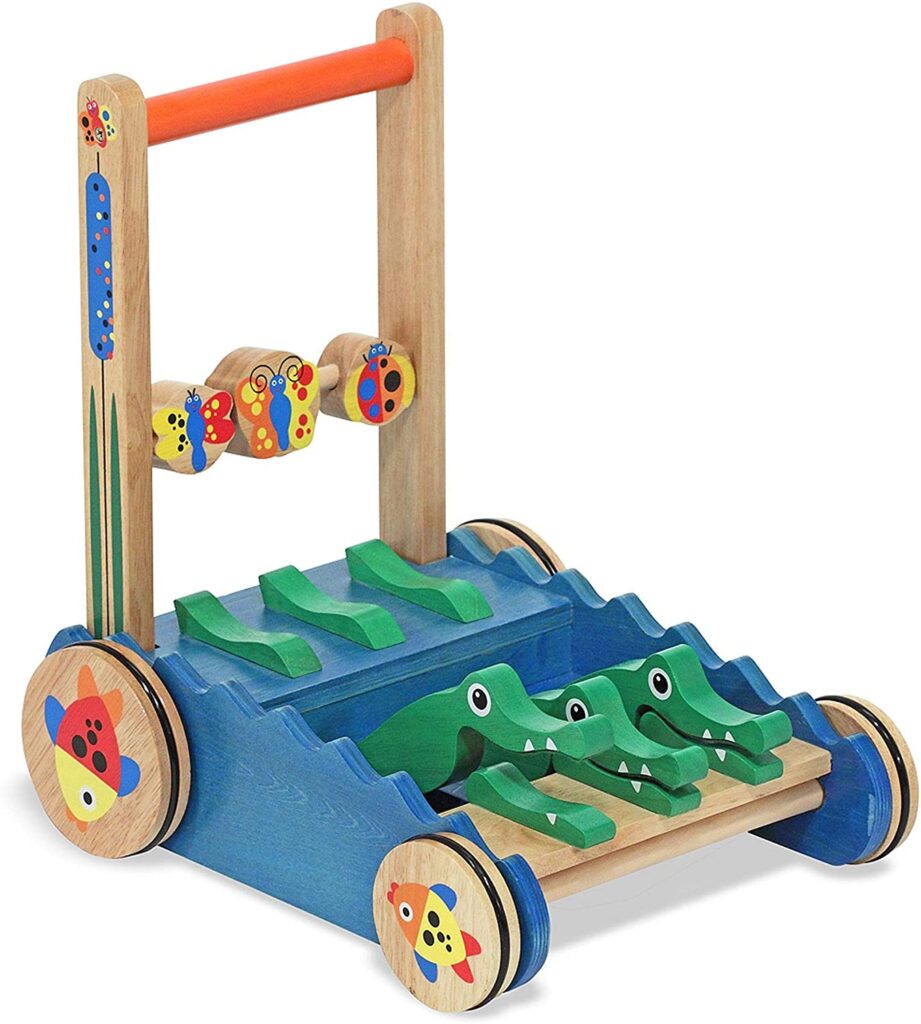 This adorable Alligator push toy from Melissa & Doug is sure to get your child your child to walk! It is complete with 3 chomping alligators, fish on the wheels, and spinning butterfly and ladybug beads.
This baby walking toy makes gentle clacking noise when they push it which encourages encourages gross and fine motor skills while developing hand-eye coordination.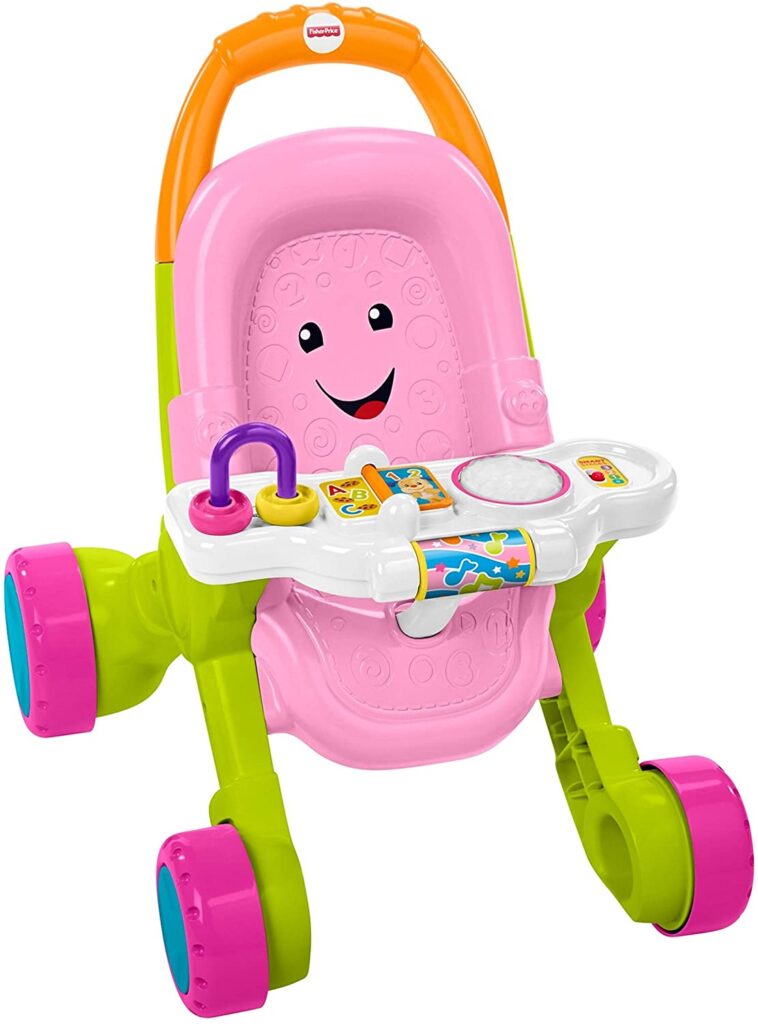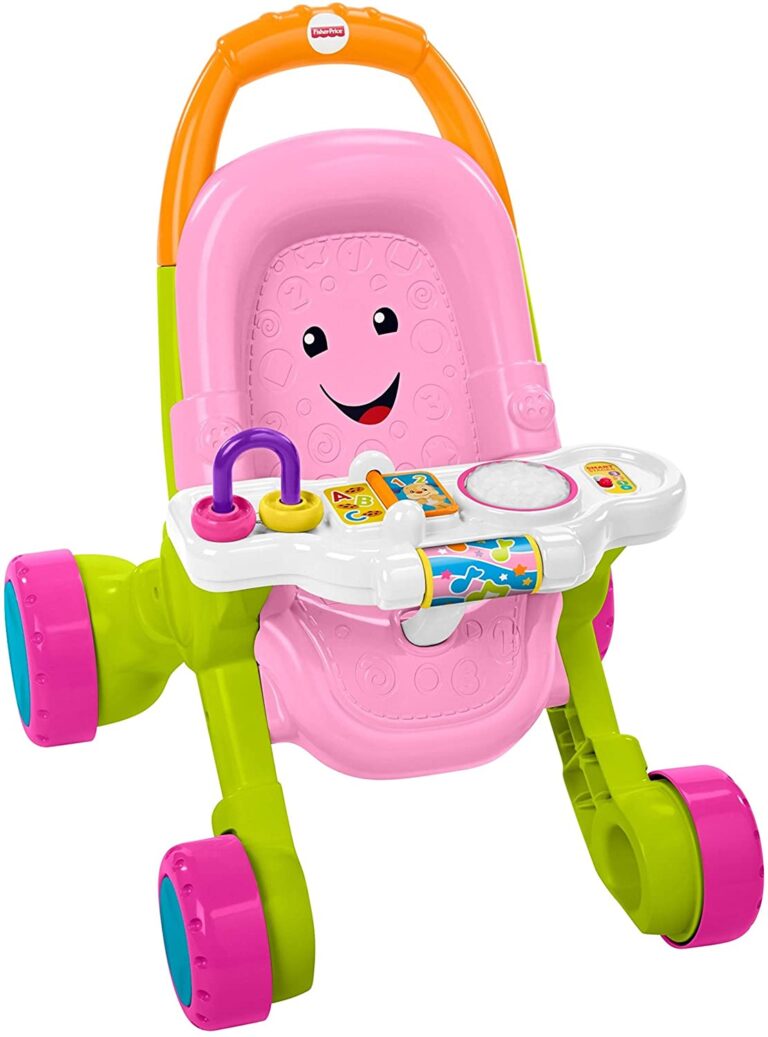 This fun Fisher-Price Stroll and Learn Walker is full of fun to help your child practice walking! There's an interactive activity tray with a bat-at roller, flipbook, clackers & light-up snack bowl.
It also introduces the alphabet, counting, shapes, colors and more. The stroller seat is even the perfect size to put a favorite stuffed animal or doll in to push around!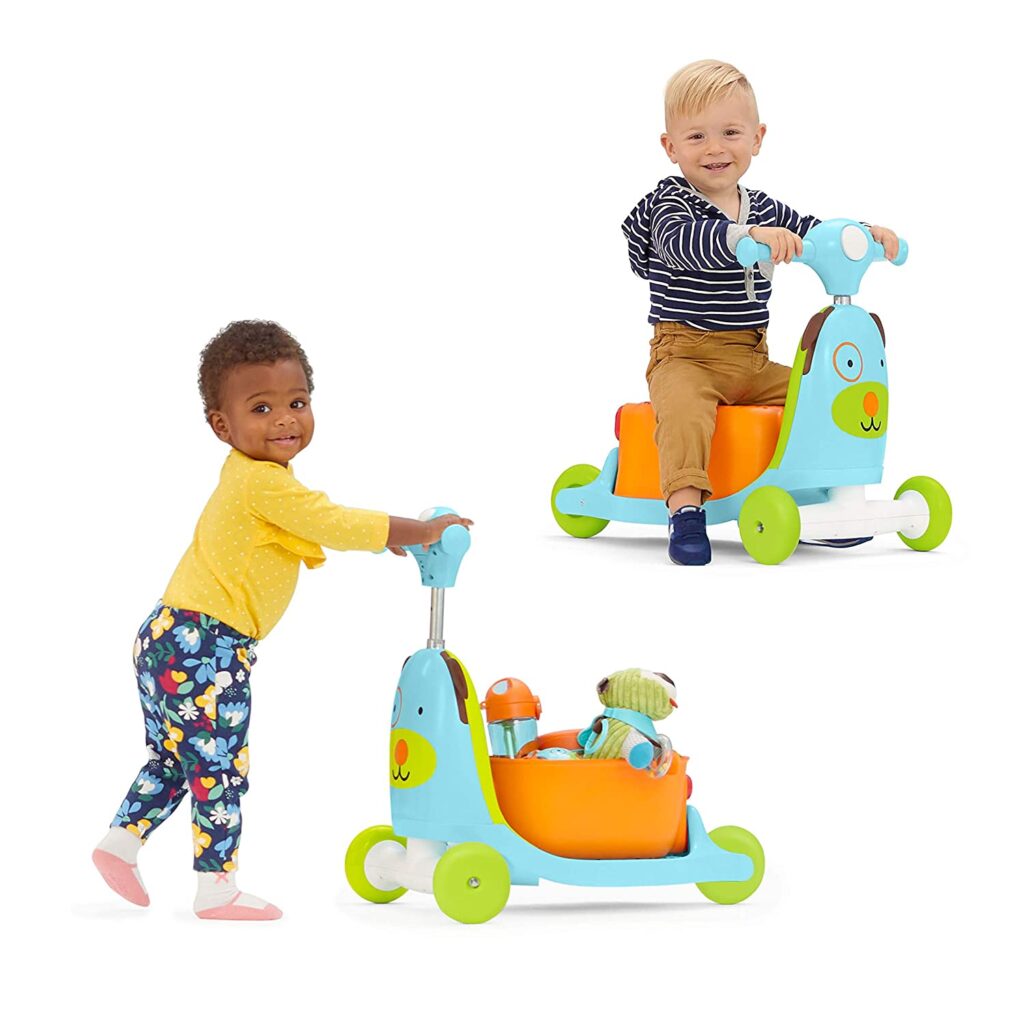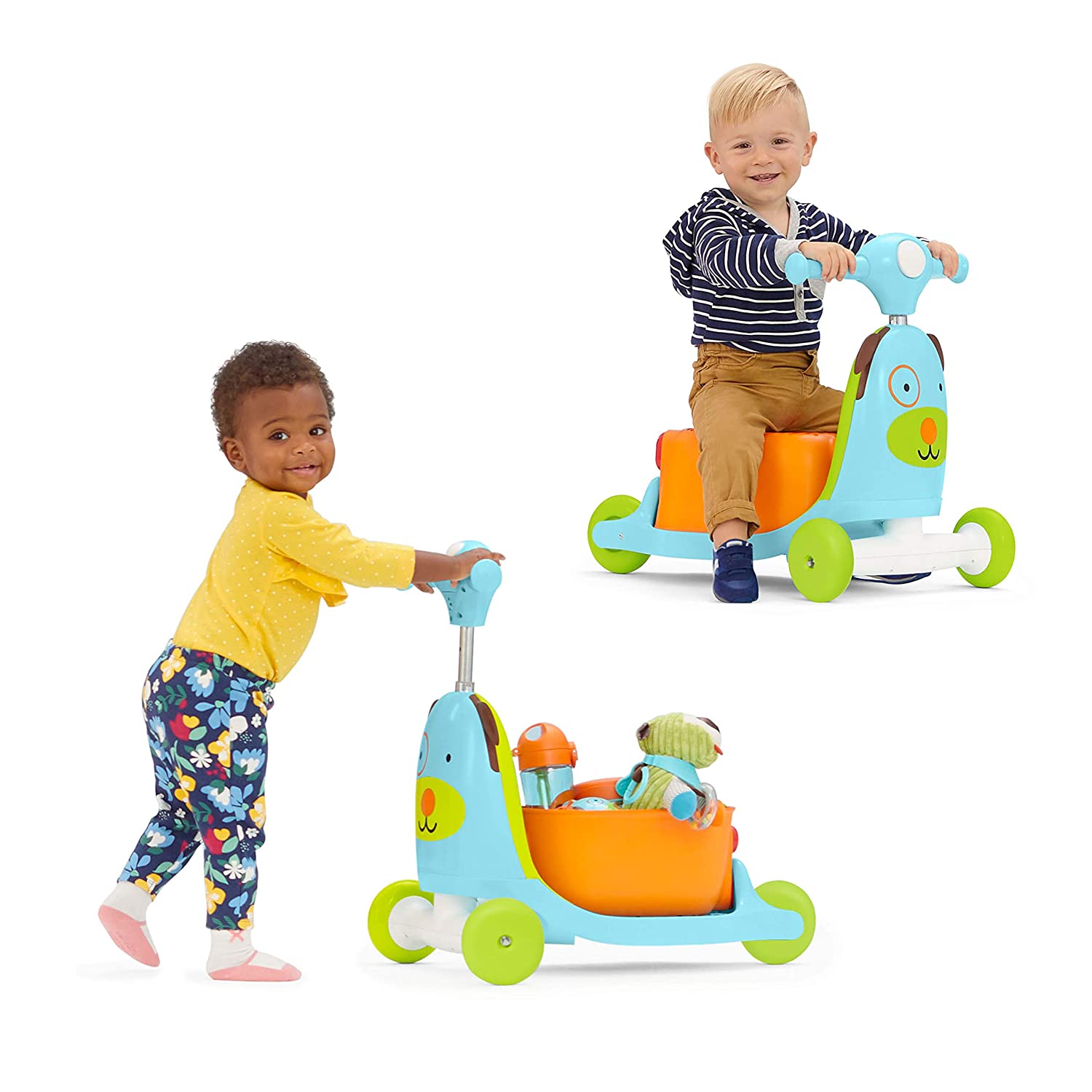 Another great baby walker toy option is the Skip Hop Kids 3-in-1 Baby Activity Walker & Ride On Scooter Wagon Toy! I love products that are designed to grow with your child for more use and this does just that!
The first stage is the walker/wagon mode encourages kids to push and pull their favorite stuffed animals or towys.
Stage two allows the kids to ride on the toy and is a great way to encourage toddlers to learn the foot to floor motion. Stage three is a scooter, one of our kids favorite things to do!
There's an adjustable handle as well as fun melodies and sound effects.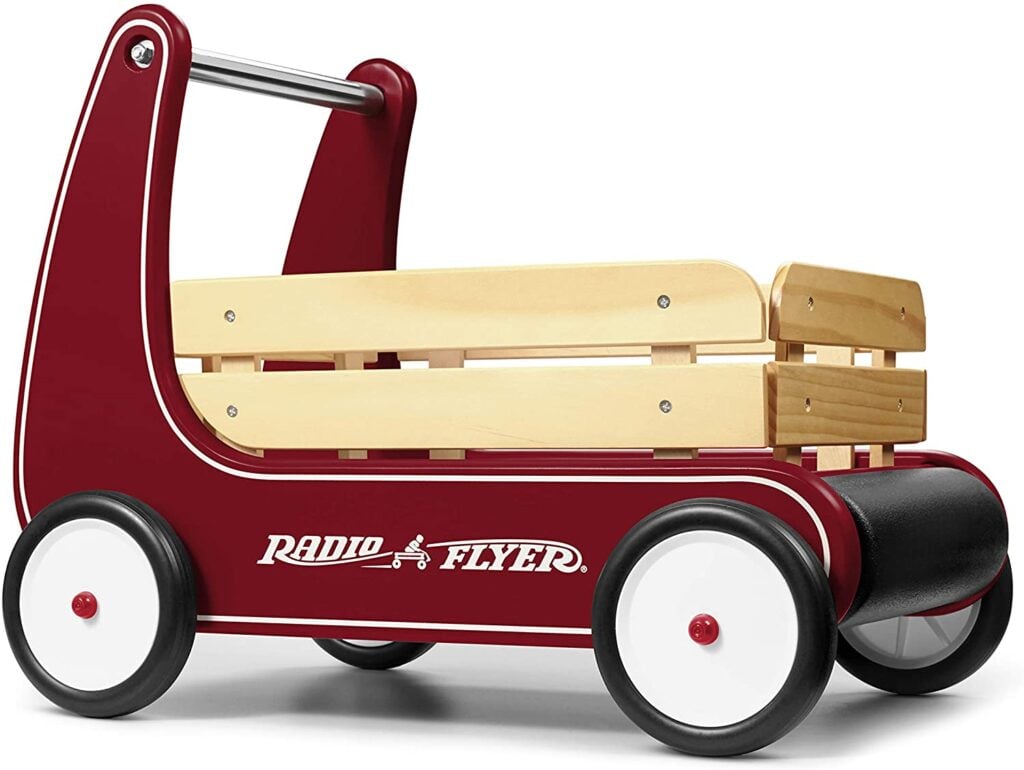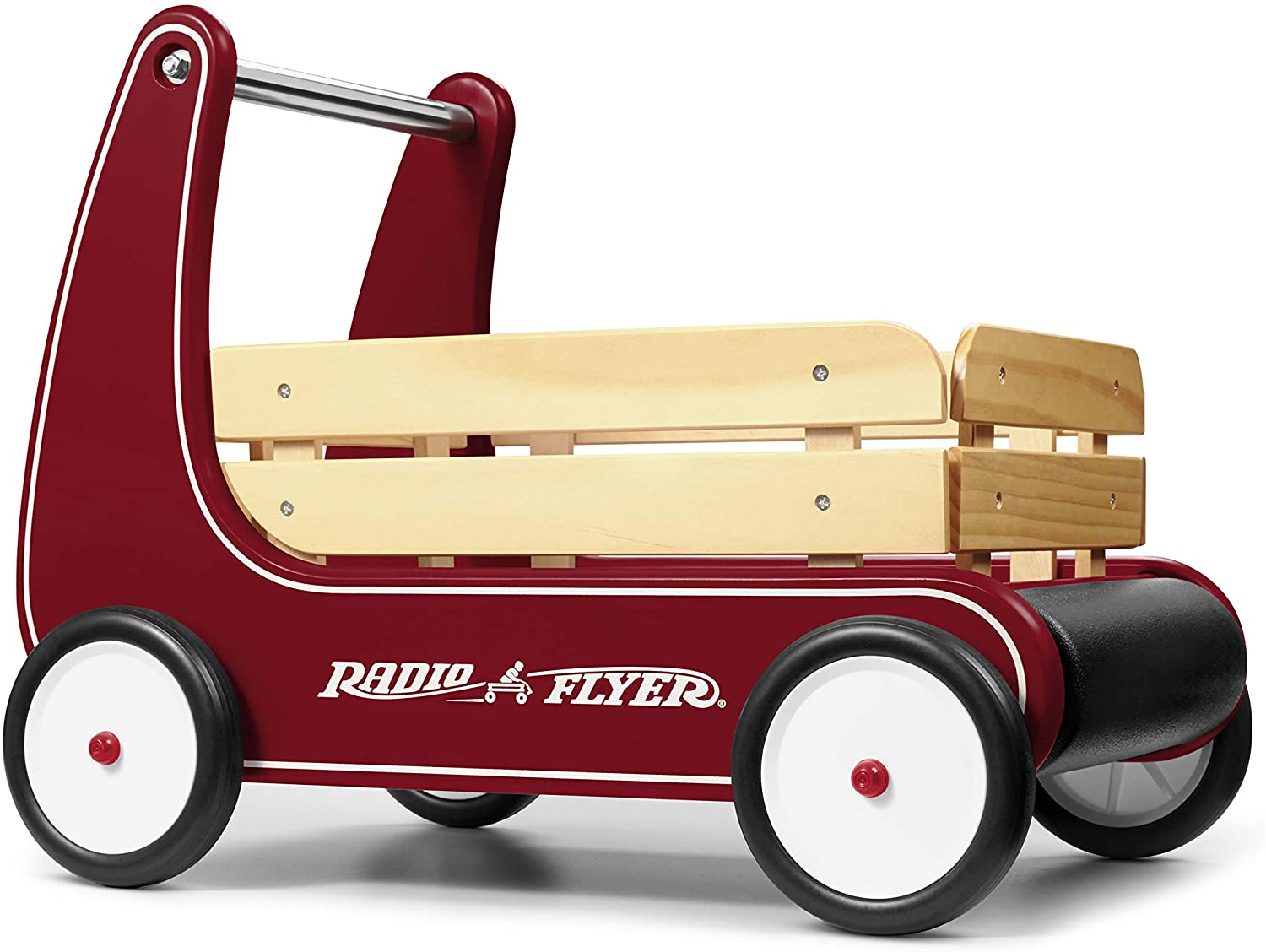 I love the classic look of this Radio Flyer Classic Walker Wagon. This is made of solid wood, so if you are trying to avoid extra plastic in your home this is a great option! This wagon has a resist push feature that helps with balance and gives your child an extra sense of confidence.
The wooden sides are removable which adds a little extra fun! Your child will love putting his or her favorite stuffed animal or special blanket in this wagon and pushing it around your home. This wagon also has a bumper on the end to protect your furniture!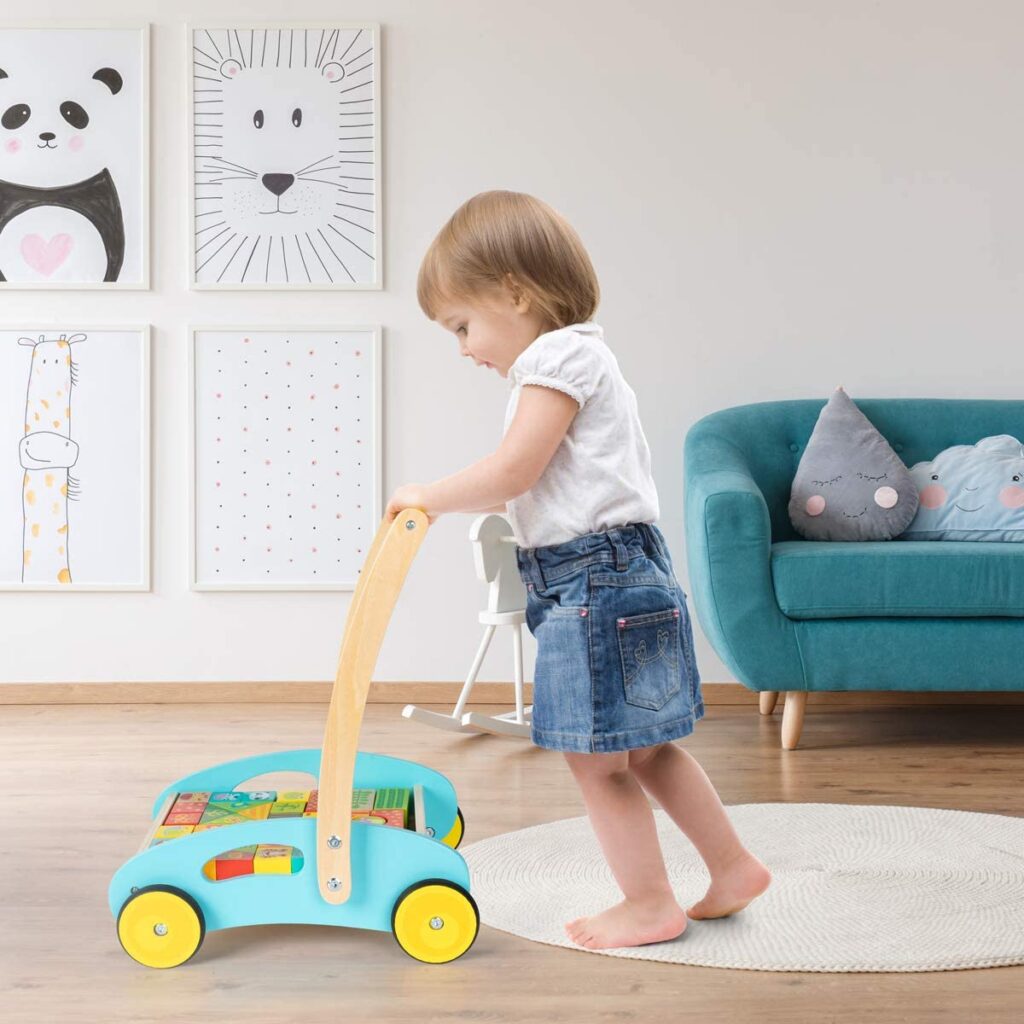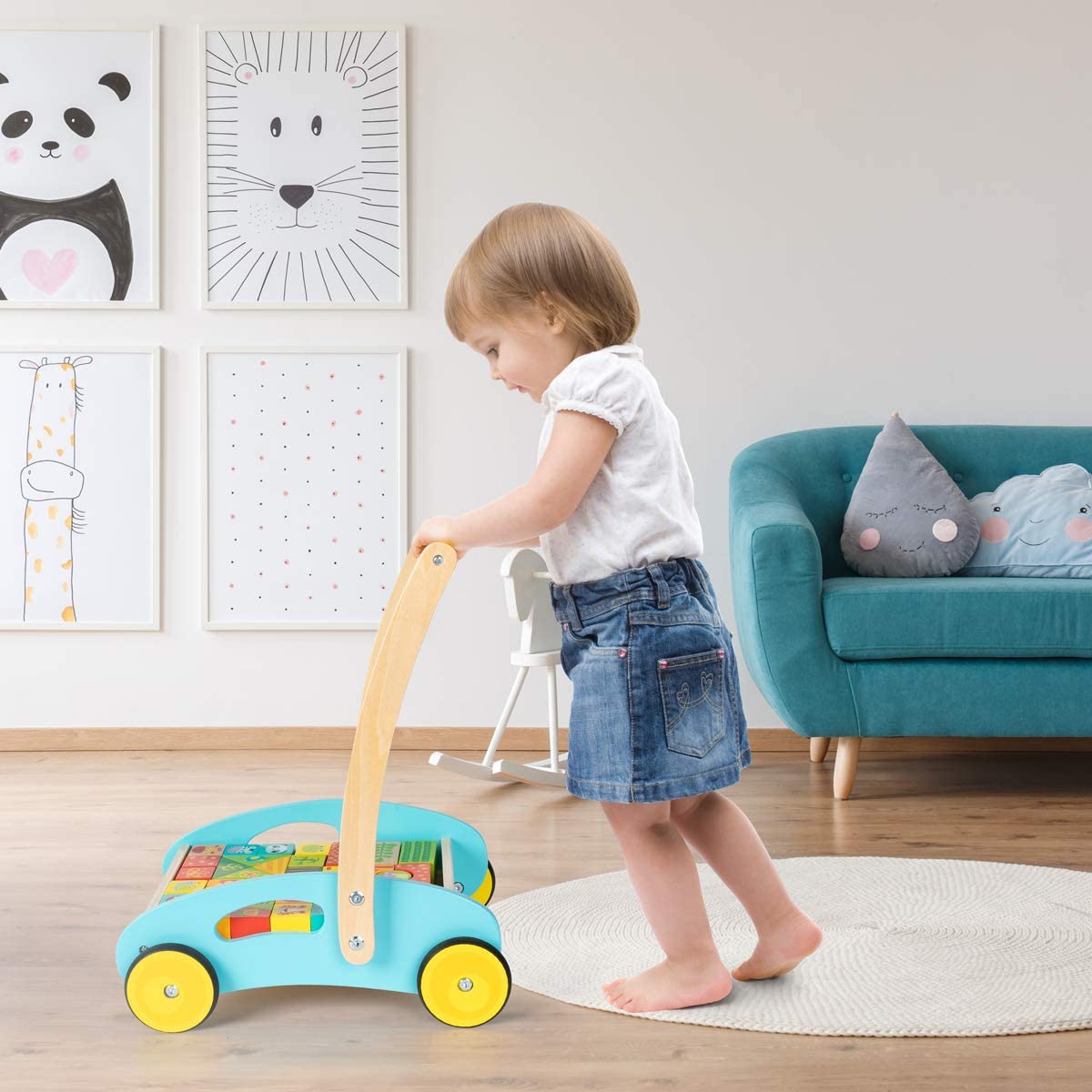 I also love this cossy Wooden Baby Learning Walker! The bright colors make this a fun, exciting toy for your baby. And for the parents, the smaller, rubber trimmed wheels make this push toy less noisy than some of the other push toys out there. If you have a home full of hardwood floors this is definitely something you want to keep in mind.
This push walker has 36 blocks that are in forest themes. Your child will love pushing around the blocks and then sitting and playing with them! As a bonus, you can help teach your child to put things away as this toy is also storage for the blocks. This walker is designed for ages 12 months and up, so it is a perfect gift for a one year old birthday.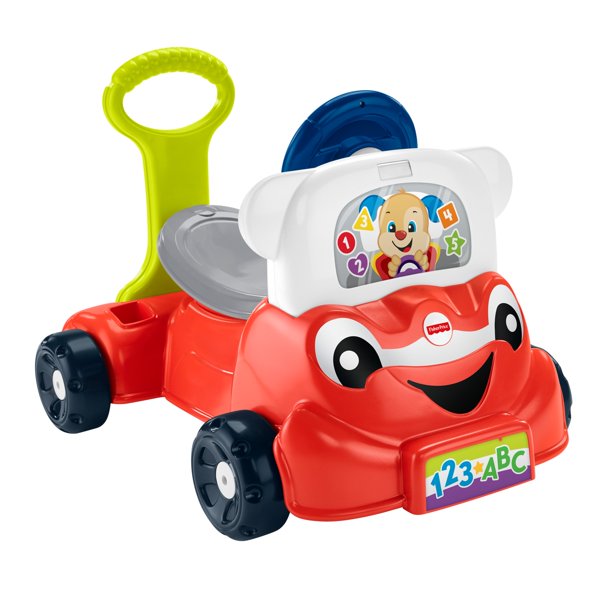 Like mentioned above, I am always a fan of any toy that grows with your baby, and this Fisher-Price Laugh and Learn 3-in-1 Smart Car is one of those. This toy works for walking, bouncing, and riding! Your baby will love pushing the horn and radio, turning the steering wheel, and using the key.
One fun thing about this toy is that the learning content changes with your child's age! This makes it perfect to play with as your child grows – and also great to pass back down to a younger sibling. My kids have loved any sort of car or riding toy, so truly, you can't go wrong with something like this!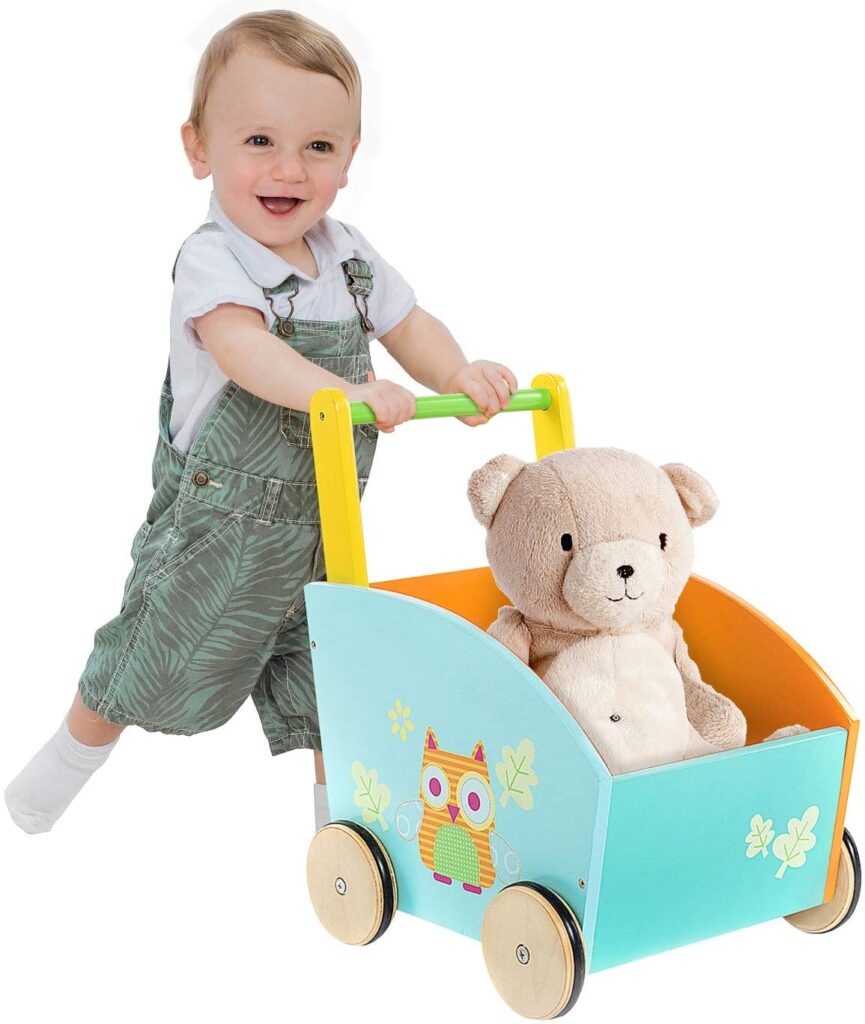 This super cute, bright colored labebe wooden walker is one of my favorites. I love the owl on it and the fact that this also doubles as storage for favorite stuffed animals or books!
This wooden walker is easy to put together and features rubber trimmed wheels to help protect floors. The rubber also allows baby to control their speed a little better, which is always a win. This walker has a nice broad base which gives your baby extra confidence pushing it around.
Baby walker toys are a fantastic things to have in your home – both to encourage your little one to walk and to save your back from bending over and helping them walk for hours on end each day!
Take it from a mom of 3, these are 10 great options of baby walker toys that will bring so much joy and entertainment to both your kid and you as you watch them learn and grow and explore.
Be sure to swing over to check out my full Baby Einstein Around We Grow Review review or any of these amazing toys your toddler will actually use!