Searching for toys for 3 year old boys? I'm here to help! Keep reading for tested and approved toys for toddler boys!
Whether you're searching for Christmas gifts for your 3-year-old or a birthday, I'm now on my 2nd round of 3 year old boys and have learned a thing or two about what they like!
It's so easy to accumulate so much stuff that kids rarely play with so I wanted to share some of our tried and true items!
Three year olds are also such fun little people — not exactly a toddler anymore but not quite a big kid! They're really exploring their independence, starting to use their imaginations, and developing strong opinions about what they like (and don't like!).
These toy ideas really capitalize on those wonderful features of a 3-year-old.
60 Top Gifts for 3 Year Old Boys (2023)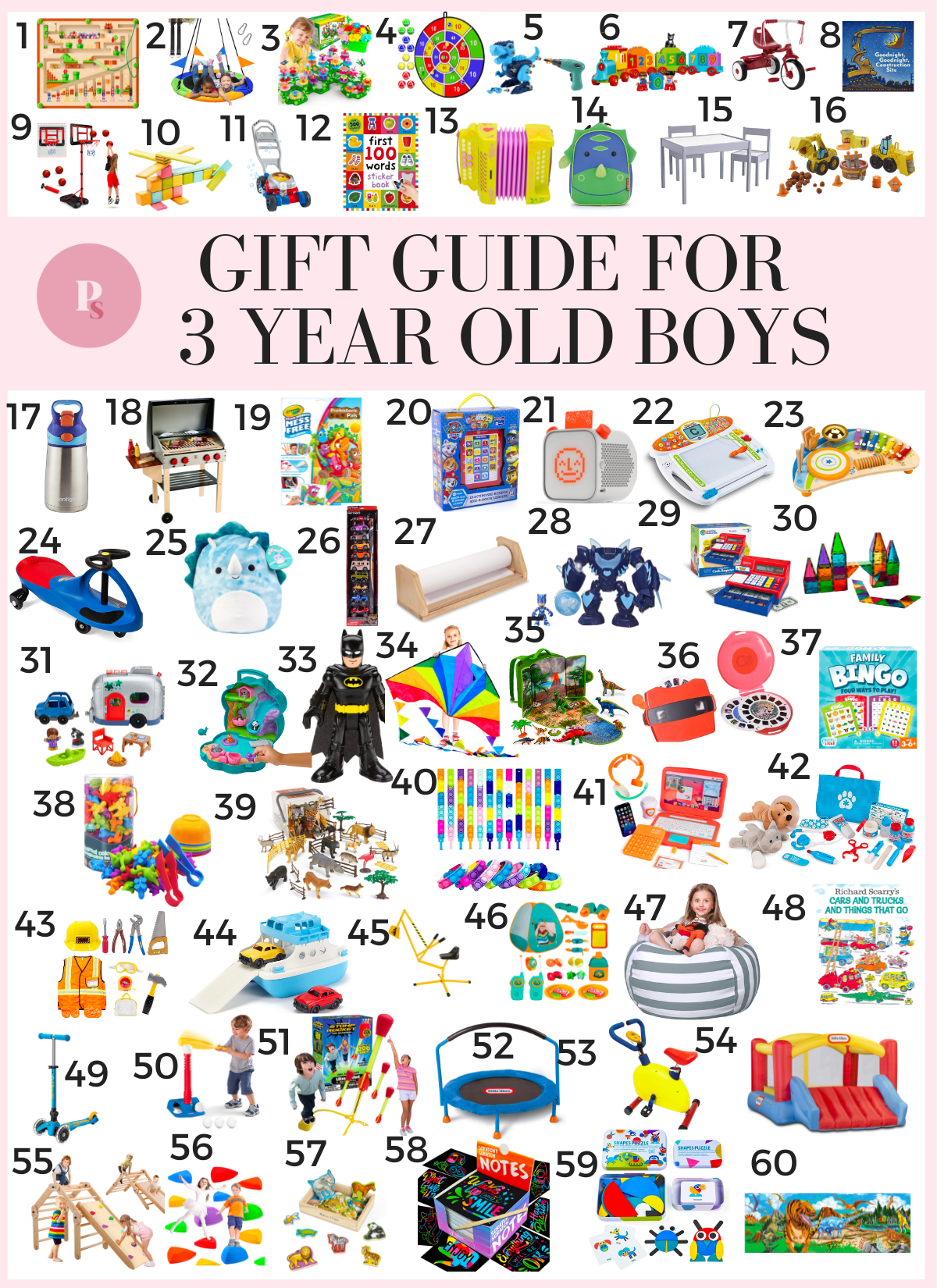 This post contains affiliate links.
Whether you need a birthday gift for a 3-year-old, a Christmas gift or a "just because" gift, here's some great options!
This Montessori maze is perfect for the younger brother who always wants to play Mario with his siblings but just isn't big enough. It has lots of the video game's elements without actually tying them to a screen.
My little ons love playing with these magnetic mazes every time we go to the library, and they're great for motor and sorting skills.
Outdoor toys are such a good gift option — they get your kids outdoors, can be shared among siblings and don't clutter up your house! This saucer swing hangs from a tree and can hold up to 660 pounds so your 3-year-old can use it (with friends!) for years and years.
This is a favorite toy among preschoolers — both girls and boys. Kids work on fine motor skills and critical thinking as they build a flower garden however they want.
Practice throwing with this dart board and sticky balls. It's big enough that 3-year-olds have a chance at hitting it and bigger kids can enjoy playing competitively for points.
Dinosaurs, tools and fine motor skills! What could be better for your preschooler. These dinosaur toys can be taken apart and put back together with the electric drill or manual screw drivers.
Perfect for the dinosaur lover and the little guy who likes to help out with mom and dad's tools.
Or any kind of Legos! Little kids LOVE playing with Legos. These are great because kids can still play with the trains even after the Legos are put away.
We have these for our kids and they not only love putting the train together and driving it around but we also love that it helps them learn their numbers!
One tip is gifting them with a plastic shoe box (or something similar) to keep them organized!
This toddler bike is great because the seat adjusts for bigger or little kids. It helps them learn how to pedal without risking a big tumble off of a bigger bike.
My 2 year old actually got this from one of his grandpas last year and was able to use it for a few years. It's a great bike for years of fun!
As a parent it's equally important to find books that you love as much as your kids — especially if it becomes their favorite and they want you to read it over and over and over and over!
This is one book that's family friendly and parent approved. It's a fun read for everyone!
Keep kids entertained and burn off some energy with a basketball hoop! This one can grow with your kids because it's adjustable from 4 to 6 feet. You'll be able to use it for years!
I've shared these before on this post but I love these! They're magnetic blocks made out of wood! My three year old boys loved these gifts when we got them.
They also create employment for people in Honduras, which is especially amazing.
Kids and bubbles go hand in hand, am I right? This little lawn mower is not only fun to push around while mom or dad mows the lawn (I'm the token lawn mower person at our house!) but it spits out BUBBLES from the top!
Any little one would love to have this fun toy for summer!
Another favorite for three year olds is stickers! Help the little one in your life begin to recognize words with this 100 word sticker book.
This is a great quiet time activity for rainy days.
Anyone else listening to Encanto on repeat? Thankfully the music is fun to listen to and not too "baby," right?!
Pretending to make music or playing along with music is always a fun activity for three year olds and they'll love it even more when they can pretend to be a character from Encanto!
Dual purpose gifts are my favorite kinda gifts. I stuff the kids' backpacks with restaurant approved activities, and they think I'm being SO nice when I let them bring their backpack out to eat!
This is one of the best gifts that is good for so many uses! Use it for eating, coloring or craft time — the options are endless!
What kid doesn't like Playdoh and what kid hasn't forgotten to put a lid on tight or mixed up ALL of the colors together? Kids can always use a fresh carton of Playdoh (or Crayons or paint!).
You can put together a themed gift with this construction site Playdoh paired with the Goodnight Goodnight Construction Site book!
Another dual purpose gift! Kids love drinking out of water bottles and it's good for them to drink water! We love this water bottle because it's easy to use and spill proof.
The kids feel like big kids drinking out of their own waterbottle and bonus — they fit into the backpack listed above!
How fun is this little grill? Kids love playing make believe and keeping them occupied and having fun while mom or dad is grilling outside is an added bonus!
Color Wonder is a genius thing! Kids can learn how to color with markers without sacrificing your table, couch, clothes, car, etc!
We especially love these at restaurants!
Reading books to your kids a great thing, as we all know, but helping kids independently read is amazing too! These easy to us book readers read select books aloud with your kids.
These are especially amazing in the car when you can't be distracted while driving.
This unique audio player lets kids be in control of what music, podcast or stories they're listening to with physical smartcards they play on their Yoto.
It can also act as a nightlight, white noise machine and okay-to-wake clock! This is a great way to make a 3-year-old feel more independent and is a good addition to their big kid room.
It's amazing how much use your kids will get out of this drawing board. They can freestyle it or learn to draw shapes, letters and pictures.
If you're the type of parent that doesn't mind a little noise, get your little musician off to a good start with this xylophone, drum and cymbal combo.
These are the coolest ride-on toys out there. They're so easy to drive, even for little ones who haven't gotten the hang of pedals or steering. All they need to do is wiggle the steering wheel back and forth to make it go.
And since they hold up to 220 pounds, they won't outgrow this one.
Do you have a kid who can't get enough stuffed animals? Or do you think they'd sleep better with a comfort item? Squishmallows are super cute, super plush and super soft.
This inexpensive set of vehicles is a real winner. There are 10 different types of vehicles that are perfect for playing at home or taking with you to parks or restaurants. It even comes with a playmat.
If you have a 3-year-old that loves to create art, do yourself a favor and get them this paper dispenser so they never run out of paper. It's easy to keep on an art table or stick in a closet between uses.
3-year-olds are known for developing strong opinions about things, and that means that when they like something, they really like it. PJ Masks is a popular fandom for little kids, and if yours loves Catboy, Owlette and Gecko, a fun PJ Masks toy will be a hit.
Pushing buttons is so fun when you're a toddler! A cash register gives them the chance to mindlessly hit buttons, learn to count and play with money, and is a good part of pretend play.
Magna-Tiles are expensive, but they are so worth it. They're so simple to use that a 3-year-old will have no problem building small structures with them. And the possibilities are endless!
This is a toy that will last through elementary school, so it's worth the investment. Start with a set now and keep adding to your collection through the years.
A dollhouse is the perfect place to play with toy people, dinosaurs, animals, superheroes, or whatever small toys your kid is into. I think it's a great toy for kids to start practicing independent play.
Storage, playset and figurines in one! Little kids love tiny toys. Something about them feels like a special treasure.
And 3-year-olds are finally getting old enough to be trusted with some of the smaller toys.
This set has a bunch of animals and places for them to play. Lakeshore Learning also has a robot set if that fits your kid's interests more.
For kids that are into Batman (or you're into Batman and hope to share that interest!), this extra large action figure is a great gift. A 3-year-old can play all kinds of make-believe with it and you don't have to worry about it breaking easily.
Let's go fly a kite! Enjoy days in the park with a bright, high-flying kite!
This backpack comes with high-quality, good-sized dinosaurs for your 3-year-old to add to their collection. Unfold the backpack to create a playmat for even more fun.
Bring back a classic toy for your little one! Do you remember these fun slide viewers? You can buy reels for basically any interest — animals, dinosaurs, space, travel, and more!
There aren't a lot of games that are fun to play with a 3-year-old. Between taking turns, long game play, and the possibility of losing, many board games are just too tough for this age. But this bingo set is perfect!
Everyone plays at the same time, and the games are short. There are four different options to play so it won't get too boring (and you don't have to know letter and numbers).
Rainbows, dinosaurs and learning activities! Total win. Let your 3-year-old play pretend with these dinosaurs or set up learning activities where they sort, count or play games with them.
If you have a kid who loves animals, you know that there are never enough animal toys in your house. This bucket is great because it gives you a place to store all those animals and also gives them a whole host of new ones to play with.
Boys and girls alike love jewelry. Combine that with another current kid favorite: poppers! These pop-it bracelets come in fun colors and give your kid something to do while they're waiting or sitting around.
Bring on the pretend play! If your 3-year-old sees mom or dad working on their computer at home, they will love this home office play set. It's got a computer with different "windows," a cell phone, a headset, calculator, and of course coffee!
This is a doctor's kit combined with some stuffed animals! It comes with a dog and a cat and everything your 3-year-old needs to take care of them.
I love dress-up clothes and accessories for a 3-year-old! There are so many different options out there, whether your son wants to be a doctor, firefighter, ballerina, construction worker, or anything else.
New bath toys always make the chore of bath time so much more fun! I love Green Toys because they're inexpensive, made from recycled plastic, and dishwasher safe so you know you won't be left with moldy bath toys.
Upgrade your sand box with a hand-operated digger. Your 3-year-old will quickly get the hang of using the handles to move the scoop to move dirt and build sand castles.
This set is so fun! You get a little tent, along with everything they need for a pretend camping trip. Walkie talkies and binoculars are great gifts on their own, but this comes with both, as well as a flashlight, water bottle and more.
Don't tell your kid, but this gift is actually for you! This beanbag shell turns all of your son's stuffed animals and pillows into a comfy place for them to sit. But most importantly, it gets them off the floor!
This classic Richard Scarry book provides hours of entertainment. There are so many different things to look at on every page, funny cars, words to learn, and even a little bug to search for on every page!
A three-wheeled scooter is easy enough for a 3-year-old to do themselves, but can also grow with them for several years. The Micro Mini is sturdy and has adjustable handle height. Find more scooters for toddlers on this post.
Work on hand-eye coordination with this Little Tikes T-Ball Set. It won't be long before he's joining a baseball team!
This rocket launcher is great for all kids! It's super easy to use and will result in hours of entertainment – trust me! Great for multiple kids too. One child can jump on the rocket launcher while the other tries to catch the flying rocket!
Have a kid who can't stop bouncing off the walls? Give them something to jump on and get those wiggles out! These mini trampolines are tons of fun and an amazing way to wear out your kiddo a bit!
Do you have a Peleton or home gym where your 3-year-old is always trying to join in on your workouts? Get them their very own kid-sized exercise bike (or treadmill or weight bench from the same company!). They'll love finally hearing "yes" when they ask if they can exercise with you.
Want a splurge gift that will keep your 3 year old entertained for hours AND wear them out? Get a bounce house! If you have the space for this, I know it will be a hit! Jump, slide and have a ton of fun!
Another gift that's a bit of splurge is a Pikler Triangle! These climbing toys encourage the use of large motor skills and help your child grow in confidence in their ability to climb and be mobile. Our kids' preschool has these in their classroom and they're a huge hit!
Create obstacle courses, work on coordination and let your kids use their imagination with these stepping stones! Use outside when the weather is nice and indoors when the weather is not so great. Our kids love play "hot lava" with these or creating courses from one end of the room to the other.
Magnets are a fun way to entertain your child and these Melissa and Doug animal magnets are a great option! Learn new animal sounds, identify animals and encourage creative play with 20 different magnets.
These magic scratch art papers are too fun! Simple scratch the surface of the paper to reveal rainbow colors underneath. Write, draw or just scratch the entire surface! Skip the markers and use these!
These unique wooden toys will encourage your kids to follow patterns based on the card they see or just create their own unique art! There's 60 different patterns that will also encourage your child to learn and read new words!
Get started on puzzles! This fun floor size puzzle set comes with 48 pieces that are nice and big to give you little on the ability to work on their puzzle skills.
(Here's even more toddler puzzles to check out!)
There you go! I hope these 60 of the best toys for 3 year old boys help you out the next time you're searching for gifts! If you want more, check out these fun climbing toys!
Need some tips on organizing your kids toys? Head here for my best toy organization tips!
The Ultimate Gift Guide List
Want even more gift ideas for everyone on your list? Head to one of these!
Gift Guides for Grown Ups
Gift Guides for Kids, Tweens & Teens
Age Specific Gift Guides
Product Specific Gift Guides for Babies & Toddlers
Special Interest Gift Guides
As always, thanks for reading and sharing!