Does shopping for gifts for the teenage boys in your life make you sweat? Are you worried your only options are gift cards and cash?
Let me help you! I've done all the searching and asking around for you, so you don't need to go down that rabbit hole.
Whether you're looking for big gifts or small ones, this guide has ideas for you. Find more gift inspiration for teenagers in my teen girl gift guide!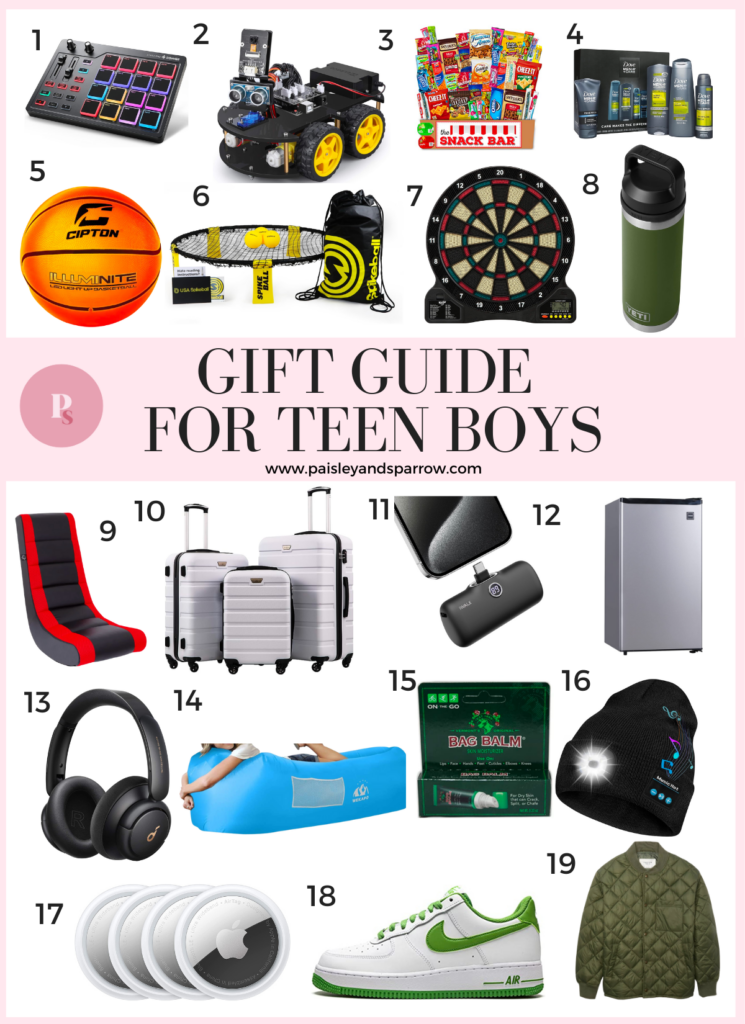 This post contains affiliate links.
19 Best Gifts for Teen Boys
Music lovers will love this MIDI pad to play around with different beats and overlaying different instruments. They can connect it to their laptop and off they go!
Get your teen using their hands and their brains with this cool robotic car kit (or one of the other kits from Elegoo). They're easy enough for a beginner with guided instructions to download, or someone with more electronics knowledge can take on the challenge of trying it alone.
What do teen boys love more than anything else? Eating! Get your teen his very own stash of snacks to keep in his room (or anywhere else that his siblings won't steal them)!
Whether it's a hint (ha!) or just a way to make cleaning themselves more convenient and pleasant, grab a gift set of things like body wash, face wash, shaving gel, etc. They'll love something a little more grown-up, and you'll love the clean smells!
Teenagers don't have to stop playing once it's dark out! This ball lets your teen shoot hoops even after sunset. Whether they're playing with friends or just practicing in the driveway, they will love this ball.
Spikeball is something that I've seen everywhere from the beaches of South Carolina to the park down the street! Teens everywhere are playing this viral game and I can see why! It's fun, interactive and great for kids of all ages.
This is the perfect gift for a garage hangout or a game room. There are 18 different dart games he can play, and he'll love having friends over to compete with.
Water bottles are such a practical gift that can also show off his style. The YETI Rambler bottle is great for any teen boy, whether he takes it hiking, to play sports, or just to class. It's basically indestructible and keeps his water cold all day.
9. Gaming Chair
Make him more comfortable while he plays his favorite video games with this awesome gaming chair. It sits on the floor so he can be close to his console and rocks so he can find the perfect position.
Big kids are going big places! Whether he's heading to college soon or going on some fun trips, a luggage set is a gift he'll get a lot of use out of and won't buy himself.
Make sure he always has a way to get in touch with you — and play games or scroll Reddit on his phone! This portable charger can be carried around with him in his car or backpack so he never runs out of power.
A boy's room is his castle, and with a mini fridge, he'll have the coolest castle around. He can keep drinks and snacks in it, and feel a little more independent. Then when it's time for college, he can take it with him to the dorms.
Great for a music lover or workout warrior, high-quality headphones are also great for everyone else in the house and gym. Let your teen listen to what they want, and you don't have to hear it!
I feel like teen boys have two modes: super busy or totally relaxed. Help them chill out wherever they are with this easy-to-pack, easy-to-inflate lounger. You just swing the product back and forth to catch air and then roll up the end.
Boys don't need anything fancy, but that doesn't mean they don't have dry skin! Bag Balm is the ideal product for anywhere that needs a little attention — lips, knuckles, elbows, wherever.
Stop fighting him to wear a winter hat in the winter with this bluetooth hat! He'll be able to listen to music or his favorite podcast all while staying cozy warm. I'd consider that a win – win – win!
If your teenager can be a bit forgetful with his belongings, you need to get him some AirTags. Never run late looking for his keys again!
Every teenage boy I know would be stoked to receive a pair of Air Force 1s. There are so many different colorways and variations, you'll be sure to find one to fit your kid's style.
Upgrade his wardrobe with a bomber jacket. This one from American Eagle can be dressed up or down because of the quilting.
The Ultimate Gift Guide List
Want even more gift ideas for everyone on your list? Head to one of these!
Gift Guides for Grown Ups
Gift Guides for Kids, Tweens & Teens
Age Specific Gift Guides
Product Specific Gift Guides for Babies & Toddlers
Special Interest Gift Guides
Want FREE Christmas gift tags? I created 64 beautiful gift tags that can be used not only for Christmas but every holiday! They're free to download!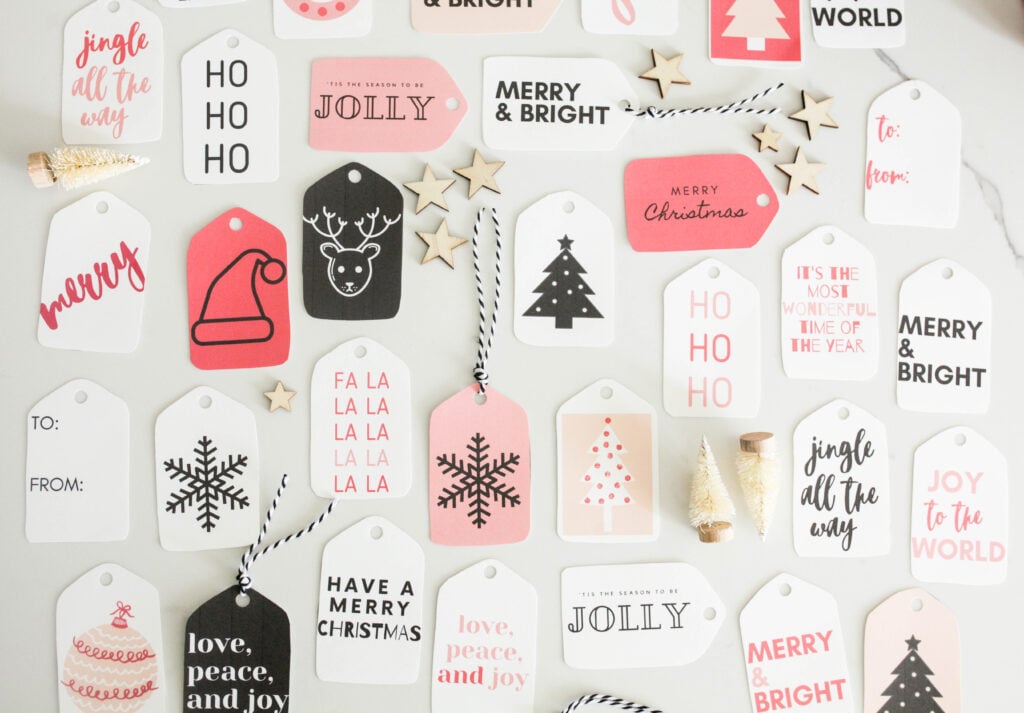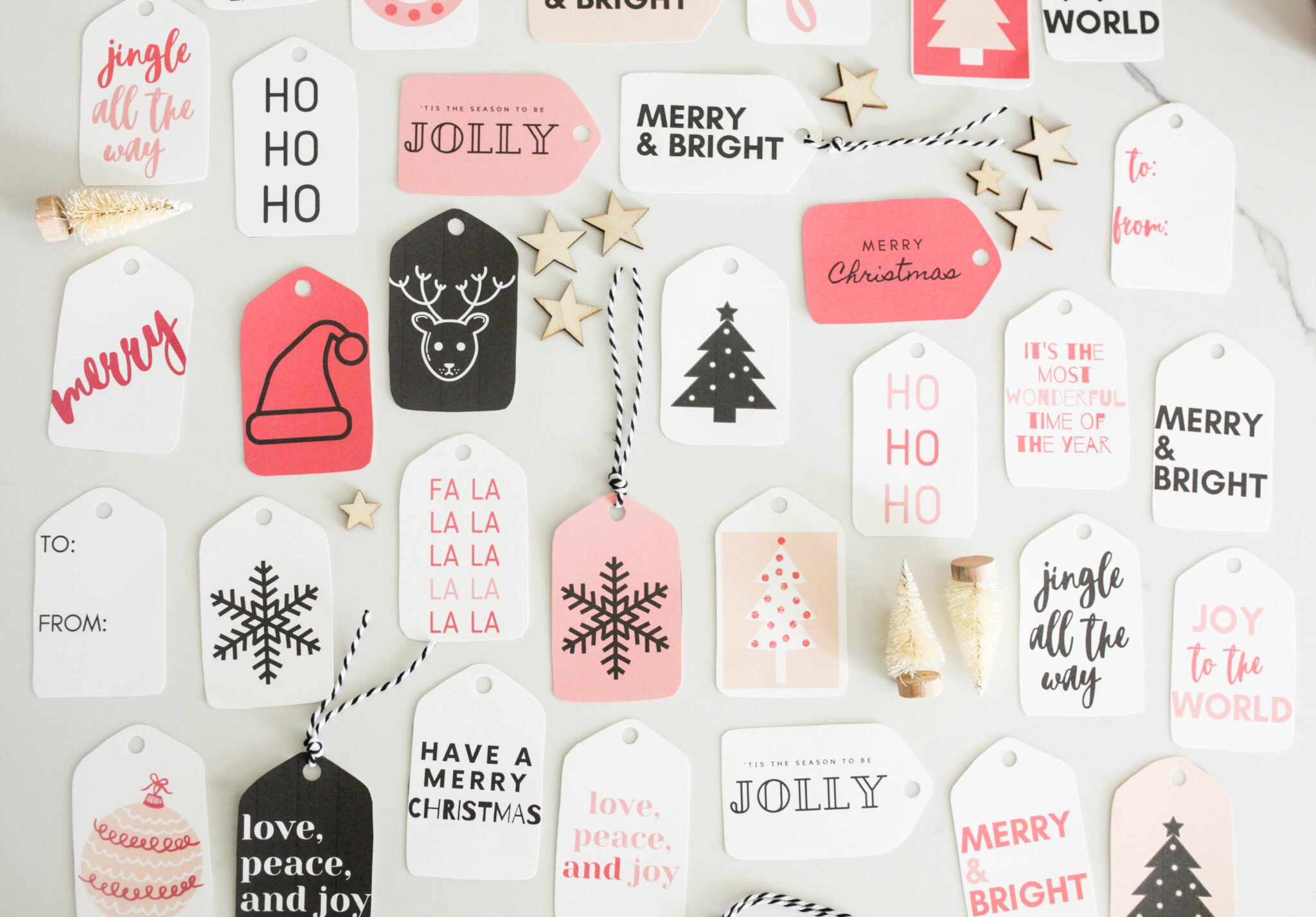 Get your gift cards in your inbox!
Enjoy!