Men, men, men. They're trickier to buy for than they let on. What are you buying the fellas in your life this holiday season?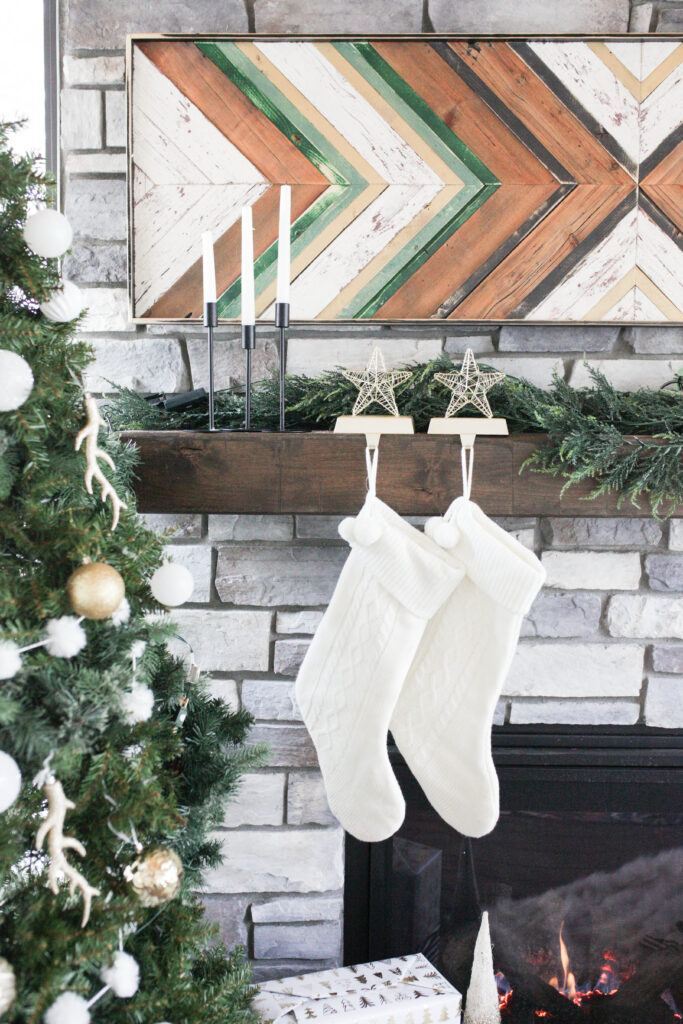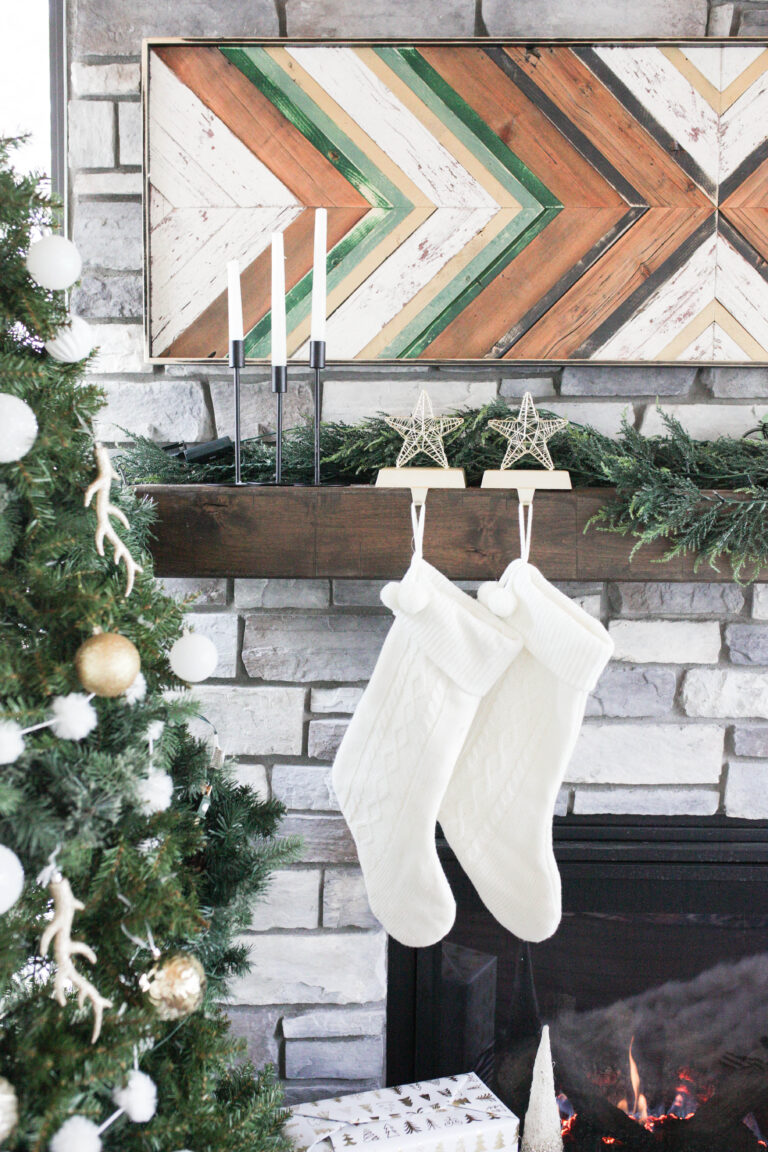 Stumped? I usually am too, but this year I enlisted the help of all the men in my life to share their favorite products, from apparel to kitchen essentials and more.
Gift Guide for Him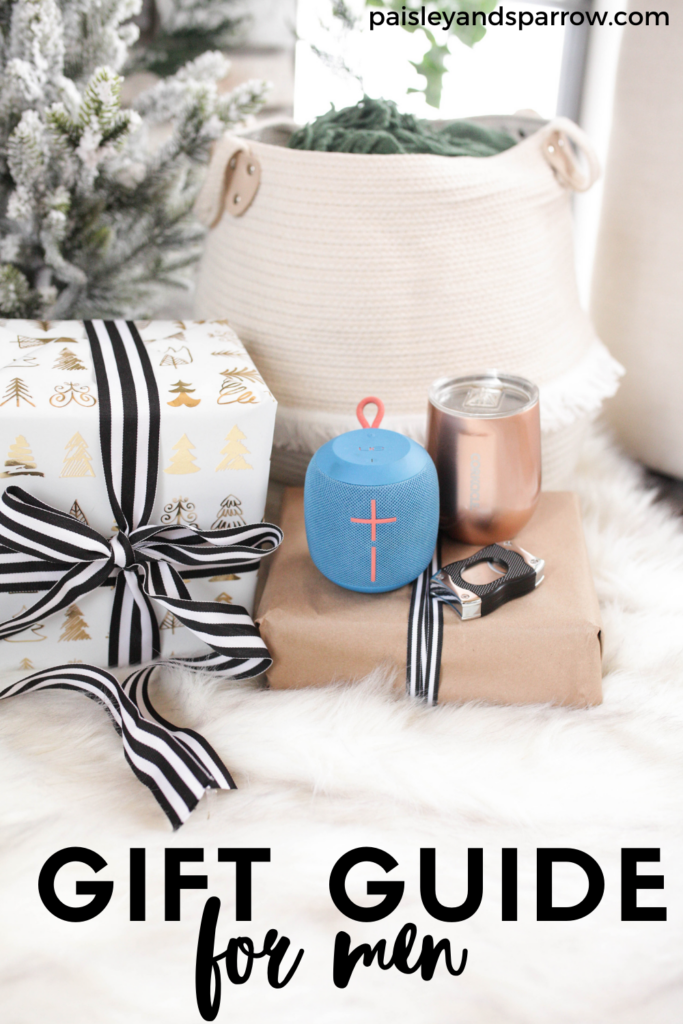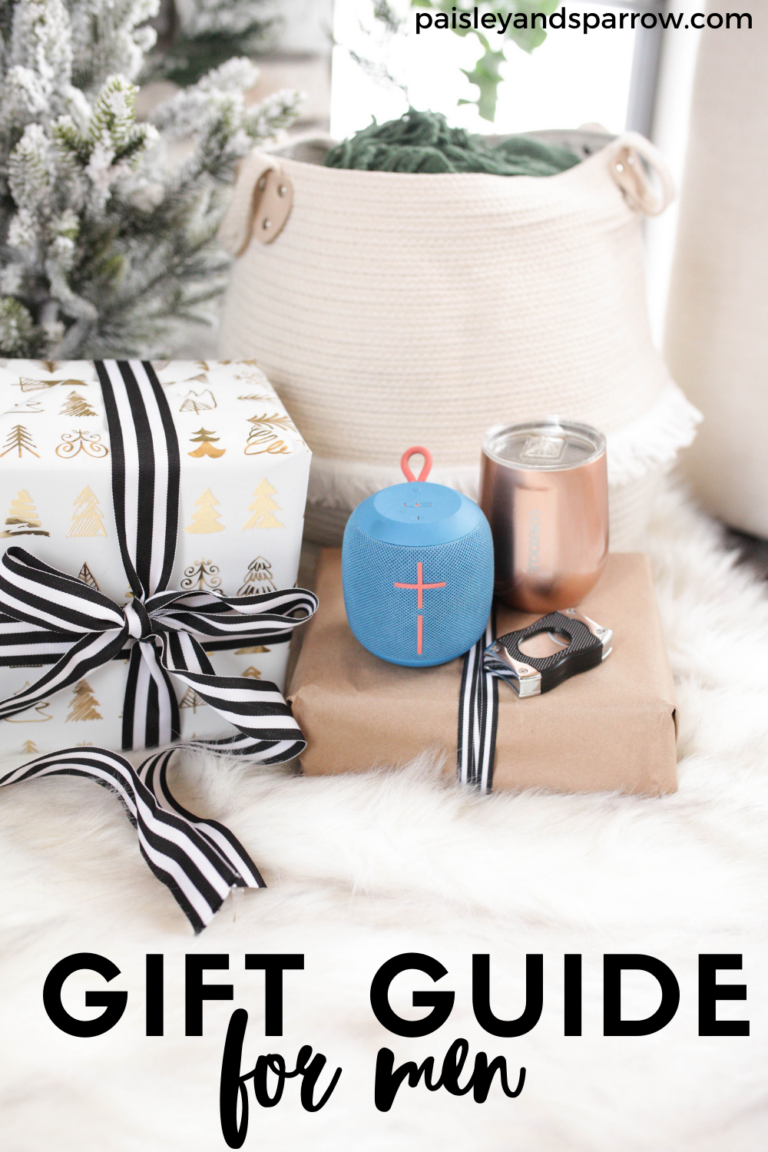 There are two ways to use this guide. One is to simply shop using the links below. Like an idea you see? Click the link to learn more and purchase.
Want a few more details on what something is? Keep scrolling for additional details.
Either way I hope this gift guide helps you find the perfect gifts for the men on your list.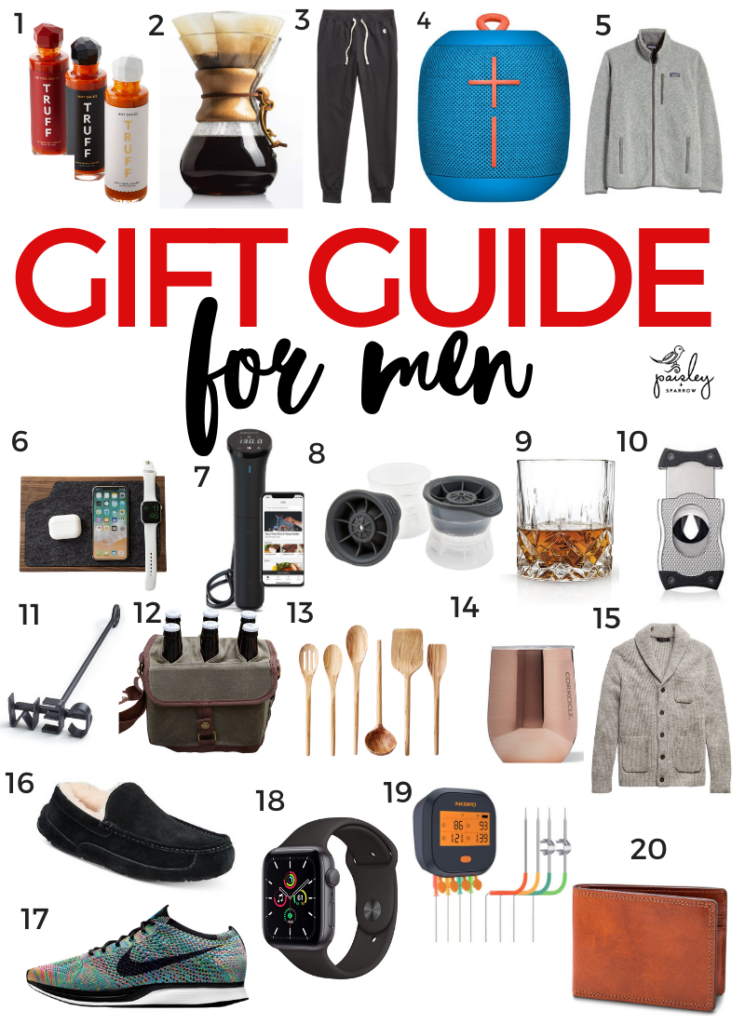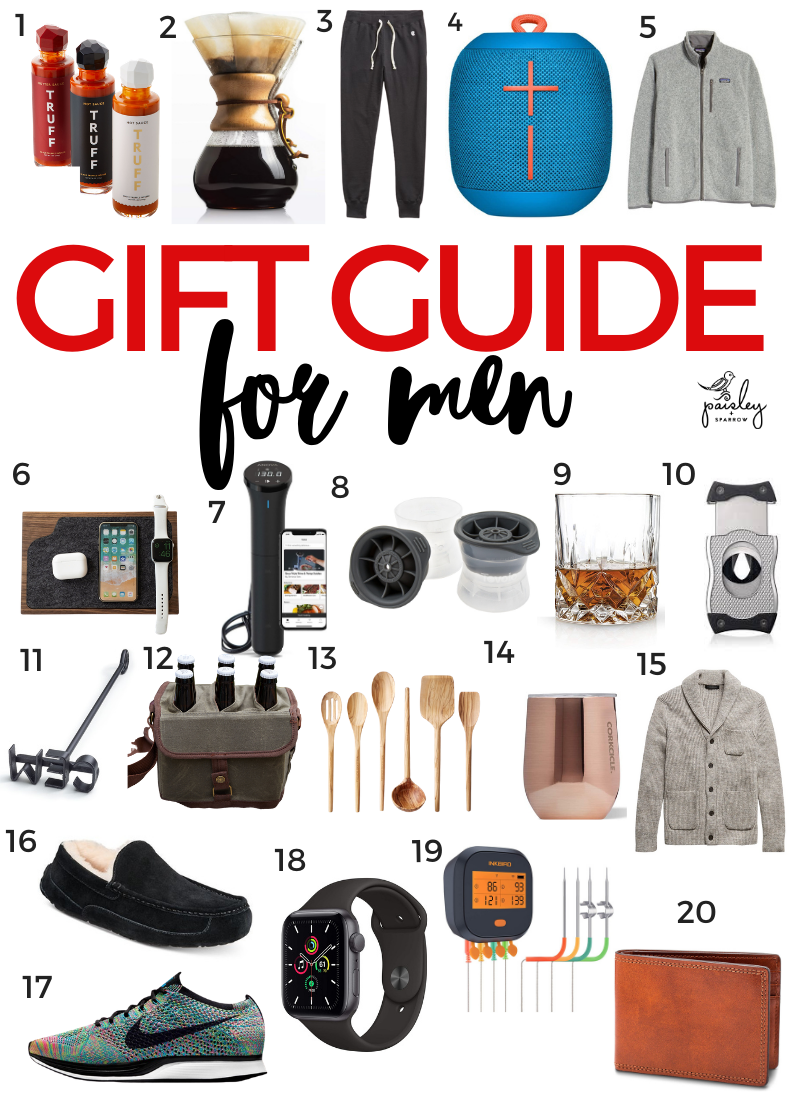 1. Hot Sauce, Truff // 2. 8-Cup Coffee Maker, Chemex // 3. Full Zip Sweater Jacket, Patagonia // 4. Champion Joggers, Todd Snyder // 5. Portable Waterproof Bluetooth Speaker, Ultimate Ears // 6. Charging Station, Etsy // 7. Sous Vide, Anova // 8. Ice Makers, Sphere // 9. Whiskey Tumblers, Viski // 10. Cigar Cutter, Colibri // 11. Monogrammed Forged Steak Brand, Williams Sonoma // 12. Waxed Canvas Beer Caddy, Pottery Barn // 13. Wood Cooking Utensils, Williams Sonoma // 14. Stemless Mug, Corkcicle // 15. Slippers, UGG // 16. Knit Shoes, Nike // 17. Apple Watch, Apple // 18. Cardigan, Banana Republic // 19. Bluetooth Meat Thermometer, Inkbird // 20. Leather Wallet, Bosca
Paisley + Sparrow is a participant in the Amazon Services LLC Associates Program. This post may include affiliate links, which means I may earn a small commission if you shop using the links below at no additional cost to you. Thank you for supporting me and this blog!
1. For the One Who Likes Things Hot, Hot, Hot: Truff Hot Sauce
I bought my brother, brother-in-law and husband this Truff Hot Sauce for Christmas last year. It's on one of Oprah's Favorite Thing's list so I figured it was a no brainer!
If your man loves things hot and maybe a little fancy, he'll love opening up a box of this Truff Hot Sauce. (I do have another family favorite hot sauce from Minnesota on this gift guide too if you want another more everyday option. It's my husband's go-to sauce!)
---
If the man in your life is anything like mine, he appreciates a good cup of coffee. And this Chemex 8-Cup Coffee Maker will do just that.
Rishi bought this a while ago and while it's not our day-to-day coffee maker (you can check that out on this OXO post), it is a great coffee maker for slow mornings!
Rishi and I both own this jacket! He was less than thrilled that I copied him, especially since it's both of our go-to jackets for walks around the neighborhood.
It's the perfect weight for cooler nights and mornings, great for chilly offices and a perfect jacket for any man on your list.
These are my husbands favorite joggers — so much so that he owns five pairs! It comes in different weights, from light weight for those of you in warmer climates to heavy weight for those in bitter cold climates like us. There's a variety of colors as well.
Is your man always putting on good tunes? Is there music on wherever he goes? This amazing waterproof bluetooth speaker is perfect for him. It has 360-degree sound so everyone in your circle can hear the latest and greatest hit, and it's portable enough to throw in a bag for a weekend away.
6. For the One Who Loves Devices: Charging Station (iPhone, Watch and Airpods)
For the man on your list who has all the gadgets, this is the gift for him. Keep him well organized and fully charged with this trio charging station from Etsy.
If there's a chef on your list who doesn't already own a coveted sous vide, now is the time to get him one!
This is a family favorite in our home. Rishi can make his signature steaks (perfect, every time!) but it's still easy enough for me to make perfectly cooked chickens and stop serving raw meat to my family!
8. For the One Who Loves Being a Little Extra: Sphere Ice Makers
We have these in our freezer, and Rishi loves to pull them out when guests come over. They add some class to an otherwise everyday cocktail.
These sphere ice makers are super easy to use and keep drinks cold longer by melting slower. (So slow they can often times be used for a second round of drinks!) They're dishwasher safe, leak proof design and BPA free.
This is another fun glass we have in our cupboard. These beautiful crystal tumblers look great both while drinking or styled on a bar cart!
Pair these tumblers with the sphere ice makers and your man's favorite drink. Ta da! The perfect gift.
10. For The Cigar Aficionado: Cigar Cutter
The boys in my family do bi-weekly cigar nights and have become quite the cigar snobs. I picked up this Coibri Cigar Cutter for Rishi after his broke and it was a hit!
If the man you're buying for likes a good cigar now and then, this cigar cutter is a great gift option!
Is your man the king of the grill? Is he known for his better-than-the-steakhouse New York strips? This monogrammed forged steak brand is perfect for him!
This will wow his guests and personalize his steaks. It's hand-forged by a Texas cattle rancher, which makes it all the cooler.
Is your man known for his great taste in beer? Always bringing the drink to parties or picnics? Hello, waxed canvas beer caddy!
With this, he'll be able to bring his six-pack to a backyard BBQ without worrying they'll roll around the back of his car. It also comes with a bottle opener on a retractable cord so he'll never lose it.
This gift idea comes directly from my husband! This year for his birthday he requested I replace all of our cooking utensils with nice wooden ones.
14. For the One Who Likes His Drinks the Perfect Temp: Corkcicle Stemless Copper
Whether it's water, coffee or a cocktail, this little stemless cup is the perfect companion! My husband got these a few months ago and he uses them every single day for his morning coffee.
Because men like warm toes too! Maybe the man your shopping for is working from home or you're tired of hearing about cold feet. Whatever the reason, these UGG slippers will be the perfect pair to keep his toes nice and cozy warm – and stylish too!
These Nike knit shoes are an everyday staple for my husband. From walks around the block to bringing the trash out to going to church, he wear these all the time.
I tried for years to convince Rishi to get an Apple Watch. He finally got one this year and is now obsessed. Whether your fella thinks he wants one or not, I'm certain he'll love it!
18. For the One Who's Always On Zoom: Cardigan
A cardigan is a wardrobe staple. Every man needs one, especially now since they're an easy option to throw on for any Zoom meeting.
There are many options for meat thermometers out there but this one is the best of the best, according to my Egg loving husband.
Take a peek at your man's wallet. Is it ratty, old or is there velcro involved? Time for an upgrade! Any guy would love this fancy Bosca wallet that will be well loved for years to come. Rishi owns this wallet and it's one of his favorite things.