Men, men, men. They're trickier to buy for than they let on. What are you buying the fellas in your life this holiday season?
Stumped? I usually am too, but this year I enlisted the help of all the men in my life to share their favorite products, from apparel to kitchen essentials and more.
Gift Guide for Him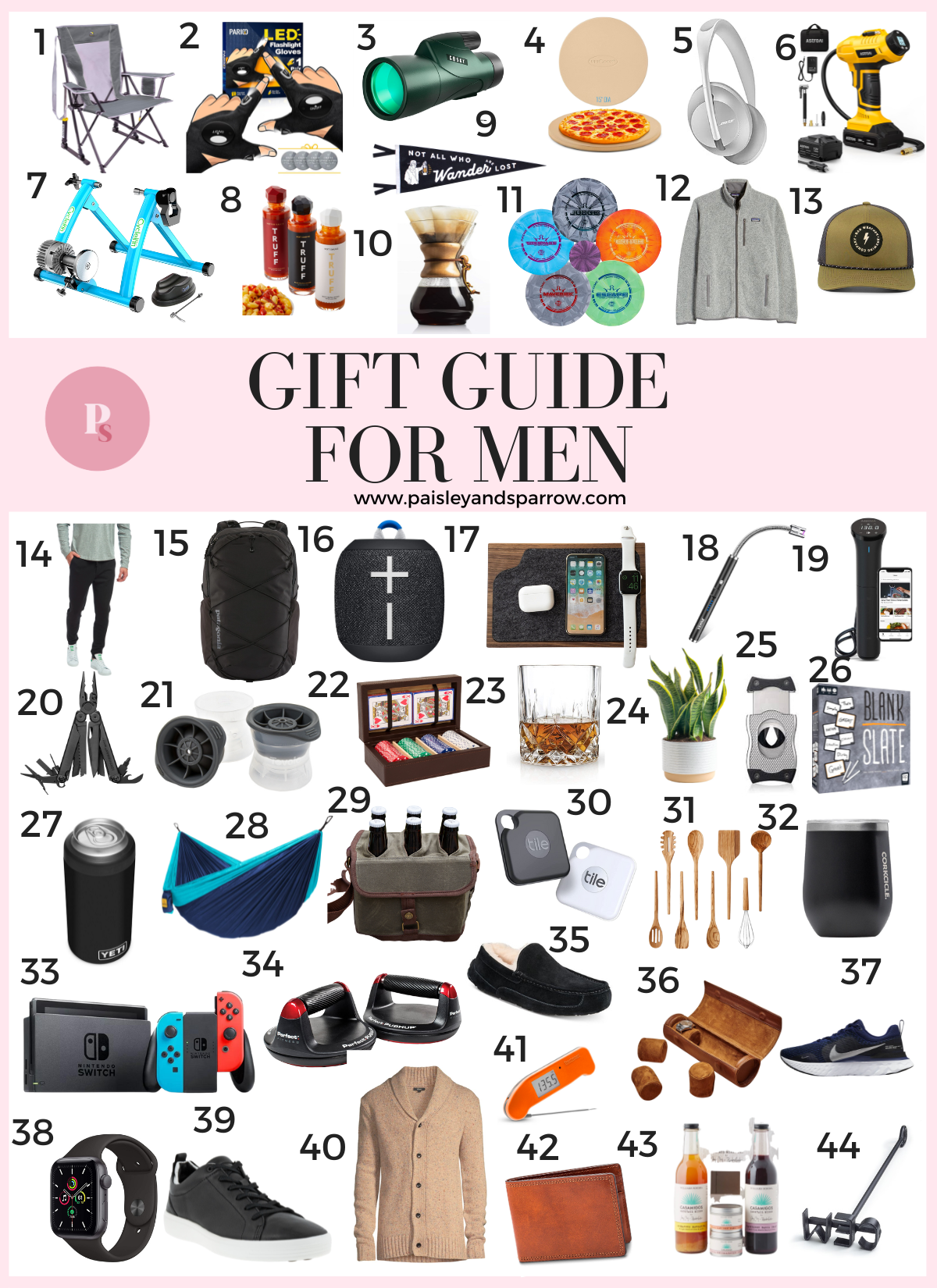 This post contains affiliate links.
If most of your weekends are spent on the sidelines of sports games like we are, you need one of these chairs. It's a folding camping chair, but it's a rocker. This is the most comfortable you'll ever feel cheering on your team!
These flashlight gloves are perfect for your handyman so he can see in tight spaces or for the guy who can only do his hobby at nighttime. Great for walking the dog, working in the garage, early morning fishing, and whatever else he likes to do when it's dark out.
This is a great gift for any man in your life who loves nature. Whether he's hiking, bird-watching or just looking out his window, he can use this monocular telescope to watch different animals or even take photos with his phone. It's also great for watching sports games when your seats aren't the best!
Pizza is a staple in our house, and this pizza stone makes it easy to make the tastiest, freshest pizza. You don't need a dedicated pizza oven — just use your grill (we use ours on our Big Green Egg) or kitchen oven!
Get crispy, never-soggy pizza crust (and whatever else your guy loves to bake!), and add whatever toppings you love most.
Whether he works at coffee shops (or works from home with loud kids around!) or he just likes to block out the world while he does his thing, Bose noise-cancelling headphones are a must-have. They'll help him concentrate on whatever he's doing.
Even better for work purposes, the built-in microphone is designed to cut out noise and wind so his voice always comes through clearly.
As the weather changes, you're surely getting tire pressure alerts in your car. But it's a hassle to go fill your tires at the gas station (not to mention doing it in the cold!). This quick-filling air compressor is portable and can be used on your family car in the comfort of your own garage.
This is also a great gift for any guy who likes to bike or ride motorcycles or ATVs. He won't have to spend 30 minutes getting the bikes ready for a family ride either!
Some weather just isn't right for getting out and cycling, but if you know someone who loves biking, you know that isn't going to stop them! Give the gift of cycling year-round with this bike stand.
It's quiet so he can listen to music or watch TV while he rides, it can simulate roads, hills and intervals, and it's safe for your floors.
8. For the One Who Likes Things Hot, Hot, Hot: Truff Hot Sauce
I bought my brother, brother-in-law and husband this Truff Hot Sauce for Christmas a few years ago. It's on one of Oprah's Favorite Thing's list so I figured it was a no brainer!
If your man loves things hot and maybe a little fancy, he'll love opening up a box of this Truff Hot Sauce. (I do have another family favorite hot sauce from Minnesota on this gift guide too if you want another more everyday option. It's my husband's go-to sauce!)
9. For the Nostalgic Fan: Pennant
There's something really cool and nostalgic about a pennant, whether it's a vintage one from his favorite sports team or a smart modern one with an inspiring quip.
Search on Etsy for vintage, new and custom pennants, banners and camp flags perfect for an office, music room or whatever space your husband loves most.
If the man in your life is anything like mine, he appreciates a good cup of coffee. And this Chemex 8-Cup Coffee Maker will do just that.
Rishi bought a Chemex a while ago and while it's not our day-to-day coffee maker (you can check that out on this OXO post), it is a great coffee maker for slow mornings!
11. For the Outdoor Hobbyist: Disc Golf Set
Disc golf is the perfect sport for a guy to get outside and catch up with his friends (and much less expensive than traditional golf!). This set is great for a beginner or the occasional disc golfer, with five of the most popular types of discs.
Level up your gift: Pair it with a small cooler so he can carry his drink of choice along with him!
Rishi and I both own this jacket! He was less than thrilled that I copied him, especially since it's both of our go-to jackets for walks around the neighborhood (I kid, I kid).
It's the perfect weight for cooler nights and mornings, great for chilly offices and a perfect jacket for any man on your list.
13. For the Local Beer Enthusiast: Brewery Swag
If your husband is into local beer and hanging out at breweries, you can give a great gift AND support his favorite places. Most breweries sell merch online, from shirts and hats to mugs and stickers.
Buy a few different things from his favorite brewery, or spread the love to several taprooms around town! Throw in some gift cards for those businesses while you're at it!
14. For the One Who Strives for Chic Comfort: Mott & Bow Joggers
These Mott & Bow pants are a great everyday jogger — they're super comfortable but look much nicer than any jogger deserves to look. There's a variety of colors as well.
My husband got these this year and love them! You can check out more about Mott & Bow and his full review here.
My husband got this backpack from his work and quickly fell in love with it. From the padded pocket for his laptop to the comfortable shoulder straps and mesh back panel, this bag has everything that your man could need.
It's also water-resistant, has weather protection with PU and is made of recycled materials. If your guy is picky about his backpacks like mine is, this is a winner!
Is your man always putting on good tunes? Is there music on wherever he goes? This amazing waterproof bluetooth speaker is perfect for him.
It has 360-degree sound so everyone in your circle can hear the latest and greatest hit, and it's portable enough to throw in a bag for a weekend away.
My husband, brother and brother-in-law all own this so you can be certain it's approved by most all men!
17. For the One Who Loves Devices: Charging Station (iPhone, Watch and Airpods)
For the man on your list who has all the gadgets, this is the gift for him. Keep him well organized and fully charged with this trio charging station from Etsy.
18. For the King of the Backyard: USB Lighter
Any guy who's tried to light a citronella candle, grill or even a fire outside in the wind knows that it's a frustrating and defeating endeavor. Enter the USB lighter.
This butane-free lighter will last forever — it's rechargeable and uses flameless technology. With no flame to interrupt, the wind can't interfere as you fire up the barbecue grill. You may never need another lighter!
If there's a chef on your list who doesn't already own a coveted sous vide, now is the time to get him one!
This is a family favorite in our home. Rishi can make his signature steaks (perfect, every time!) but it's still easy enough for me to make perfectly cooked chickens and stop serving raw meat to my family!
Nothing makes a man feel like a man than being prepared with the appropriate tool for any situation. A pocket knife is fine in a pinch, but with a Leatherman, he can really be the hero.
This Leatherman tool is 18 tools in one, with replaceable wire cutters so he can use it for decades to come.
21. For the One Who Loves Being a Little Extra: Sphere Ice Makers
We have these in our freezer, and Rishi loves to pull them out when guests come over. They add some class to an otherwise everyday cocktail.
These sphere ice makers are super easy to use and keep drinks cold longer by melting slower. (So slow they can often times be used for a second round of drinks!) They're dishwasher safe, leak proof design and BPA free.
Elevate poker night with the best-looking poker set I've ever seen. It's good for family game night, and even his friends will appreciate the change in aesthetics. It's even better if your guy loves to host regular poker games, because this will make him look like a high roller.
Be ready to come up with some friendly wagers!
23. For the Classy Cocktail Guy: Whiskey Tumblers
This is another fun glass we have in our cupboard. These beautiful crystal tumblers look great both while drinking or styled on a bar cart!
Pair these tumblers with the sphere ice makers and your man's favorite drink. Ta da! The perfect gift.
You know I think a plant is always a great gift, and snake is a great plant for anyone regardless of how much plant experience they have!
25. For The Cigar Aficionado: Cigar Cutter
The boys in my family do bi-weekly cigar nights and have become quite the cigar snobs. I picked up this Coibri Cigar Cutter for Rishi after his broke and it was a hit!
If the man you're buying for likes a good cigar now and then, this cigar cutter is a great gift option!
26. For the One Who Loves Games: Blank Slate
Is your man the king of games? This is a great game for him!
We played this game while on a couples trip recently and it was a hit. Everyone loved it, even those that hate playing games!
27. For the One Who Loves a Cold Beer: Yeti Can Insulator
I picked up one of these for my husband a few years back for Father's Day, not knowing if he would love it or if it would another thing that just sits in our cupboard. Not only did he love it but we now own a whole collection for when we have guests!
These not only come in different colors but also different sizes for all your guy's beer drinking needs. Pick up a few sizes in a few different colors and watch them being used over and over again.
Sizes:
28. For the Expert Napper: Hammock
Whether you picture him using it in the backyard, the local park, a college campus or on a camping trip, the Wise Owl hammock is sure to be one of his favorite spots to hang out. It takes just a minute to set up and folds up to the size of an eggplant so he can take it anywhere!
You know it has to be good when it has 4.8 out of 5 stars with more than 33,000 reviews!
Is your man known for his great taste in beer? Always bringing the drink to parties or picnics? Hello, waxed canvas beer caddy!
With this, he'll be able to bring his six-pack to a backyard BBQ without worrying they'll roll around the back of his car. It also comes with a bottle opener on a retractable cord so he'll never lose it.
30. For the One Who Would Lose His Head: Tile Trackers
Sick of telling the men in your house where they left their stuff? Get them a Tile, and you may never hear "Hey, do you know where my keys are?" again!
Using the free app, he can ring his Tile Pro if it's within 400 feet or use a smart home device to find it. If his keys (or whatever he attaches his Tile Pro to) are farther away, he can see their most recent location.
31. For the One Who Kicks You Out of the Kitchen: Wood Cooking Utensils
This gift idea comes directly from my husband! This year for his birthday he requested I replace all of our cooking utensils with nice wooden ones.
32. For the One Who Likes His Drinks the Perfect Temp: Corkcicle Stemless Copper
Whether it's water, coffee or a cocktail, this little stemless cup is the perfect companion! My husband got these a few months ago and he uses them every single day for his morning coffee.
If you've seen the way your husband looks longingly at your kids' or niece's and nephew's Switch, it's time to get him one of his own. He'll take good care of it, I promise!
Multiplayer gaming over Wi-Fi means he can challenge your kids, and if you buy him the right games, he might just kick their butts!
Let him graduate from regular pushups on the floor and engage more muscles with this pushup stand for added definition in his arms, shoulders, chest, back and abs. Since it doesn't take up much space or cost a lot, this is a low-investment way to start his home gym or add to his collection of fitness gear.
Complete the gift by feeling his arm and oohing and ahhing over his big muscles!
35. For the Secret Snuggler: UGG Slippers
Because men like warm toes too! Maybe the man your shopping for is working from home or you're tired of hearing about cold feet. Whatever the reason, these UGG slippers will be the perfect pair to keep his toes nice and cozy warm – and stylish too!
36. For the One You Keep Giving Watches To: Leather Watch Case
Have you already bought a watch or two as gifts in the past? I can't blame you — a watch is a great timeless gift! So how about a beautiful place to keep and carry those timepieces?
This watch case is made of leather and suede and can hold four watches.
37. For the One With Comfortable Feet: Nike Knit Shoes
These Nike knit shoes are an everyday staple for my husband. From walks around the block to bringing the trash out to going to church, he wears these all the time.
38. For the Reluctant Techie: Apple Watch
I tried for years to convince Rishi to get an Apple Watch. He finally got one last year and is now obsessed. Whether your fella thinks he wants one or not, I'm certain he'll love it!
These are the perfect shoes for dressing up or dressing down. Rishi has a similar pair, and I love that he can wear them to date night, family photos or just to the store.
40. For the One Who's Always On Zoom: Cardigan
A cardigan is a wardrobe staple. Every man needs one, especially now since they're an easy option to throw on for any Zoom meeting.
41. For the Man Who Loves His Grill: Thermapen ONE
According to my husband, no other thermometer compares! It reads temperatures in less than a second with high accuracy, which makes all the difference when you're grilling or cooking with high heat. The display is auto backlit, and the whole thing's waterproof.
Take a peek at your man's wallet. Is it ratty, old or is there velcro involved? Time for an upgrade! Any guy would love this fancy Bosca wallet that will be well loved for years to come. Rishi owns this wallet and it's one of his favorite things.
43. For the One Who's Always Mixing the Drinks: Camp Craft Cocktail Kit
Perfect for your personal bartender, this just-add-alcohol kit makes it easy to try new drinks. Pour the alcohol into the jar and let it sit for 3 days so the aromatics can infuse it with flavor.
There are options for hot toddies, a brunch punch, and cocktails called Sweater Weather and Mountain Pass. Pick the one that sounds most like your guy or buy all four!
Is your man the king of the grill? Is he known for his better-than-the-steakhouse New York strips? This monogrammed forged steak brand is perfect for him!
This will wow his guests and personalize his steaks. It's hand-forged by a Texas cattle rancher, which makes it all the cooler.
There you have it! 44 amazing gift ideas for any man on your list. I hope this helps!
Need more gift guides? I also have a 40th birthday gift guide for men here!
The Ultimate Gift Guide List
Want even more gift ideas for everyone on your list? Head to one of these!
Gift Guides for Grown Ups
Gift Guides for Kids, Tweens & Teens
Age Specific Gift Guides
Product Specific Gift Guides for Babies & Toddlers
Special Interest Gift Guides
Want FREE Christmas gift tags? I created 64 beautiful gift tags that can be used not only for Christmas but every holiday! They're free to download!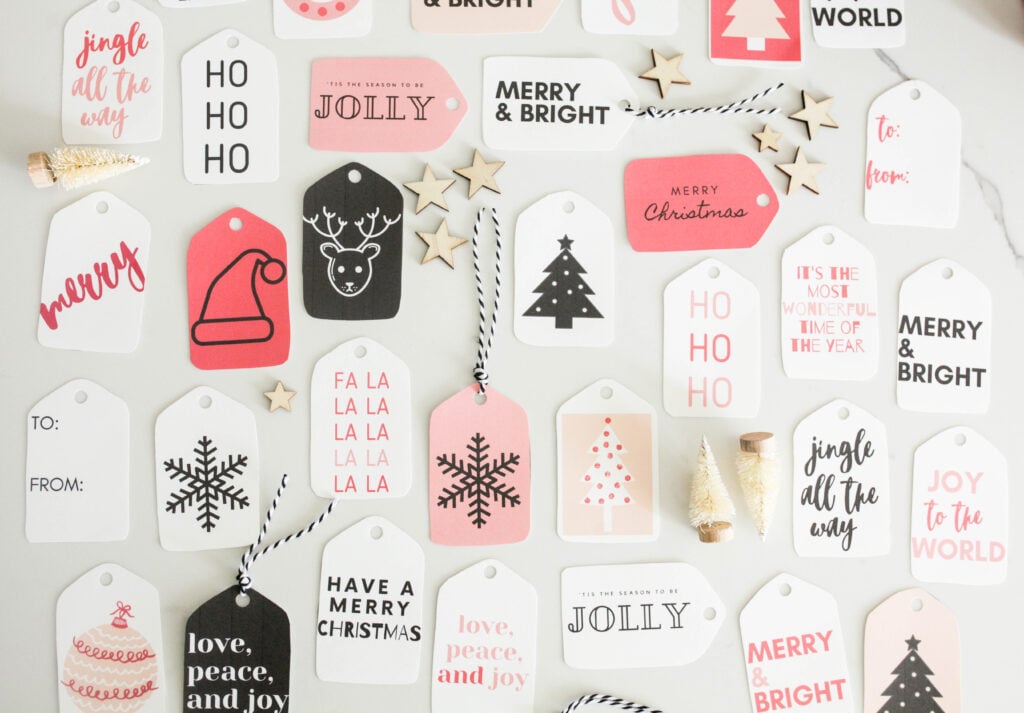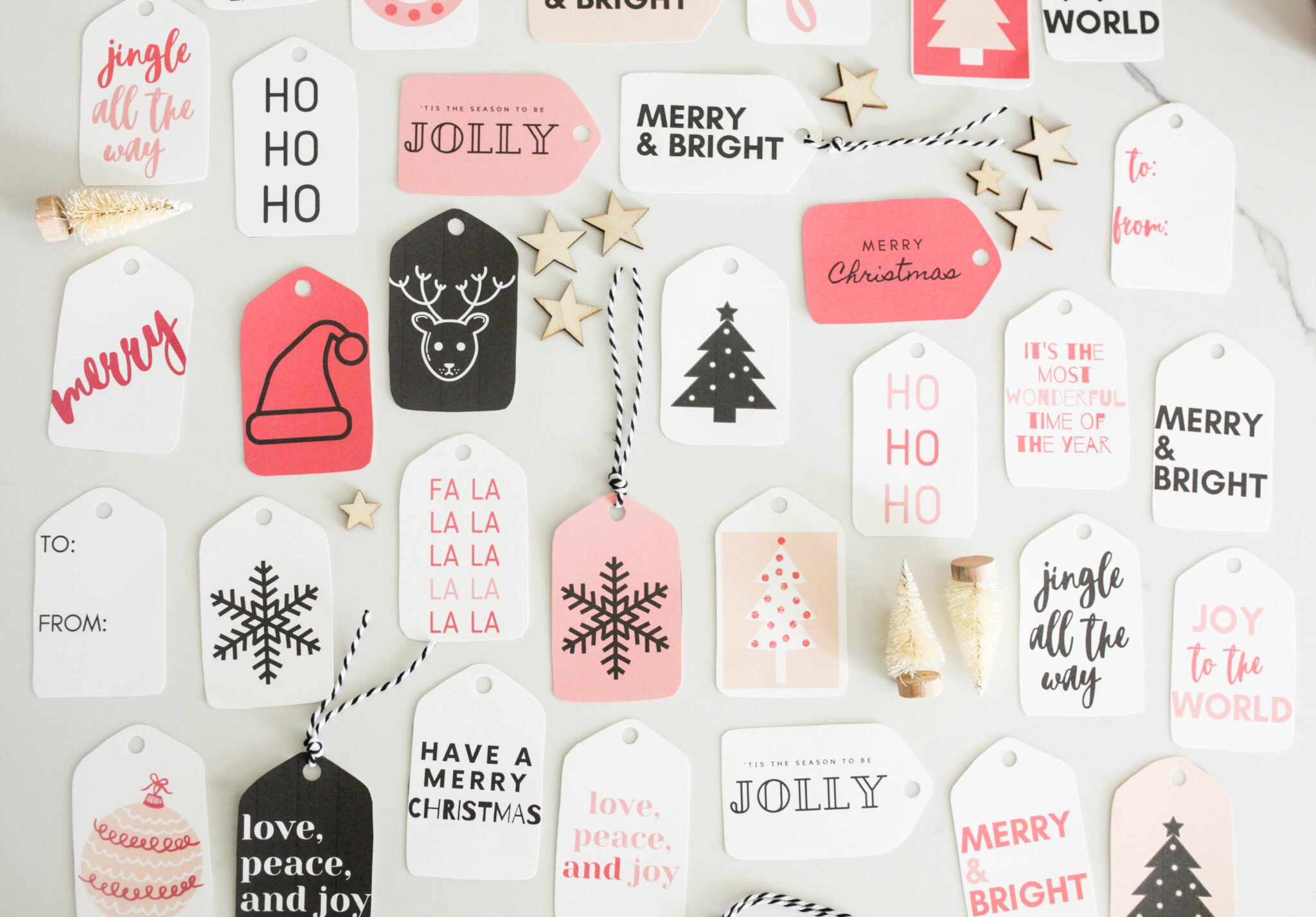 Get your gift cards in your inbox!
Enjoy!