Remember how eager you were for your baby to start rolling over and scooting around? And now they never stop moving! If your baby or toddler is always on the move and finding new things to climb (and fall off of), then you probably need some new ways to occupy them safely.
Otherwise, they'll be climbing up the furniture, scaling the mountain of laundry, and even hanging all over you. Even if they're safe, your little kids really need their own environment for play and motor movement.
Having the right toys, including climbing toys, can be a huge benefit for your kids and for your home. Not only will they keep your kids busy and out of your hair, but they are safer than the alternatives!
15 Best Climbing Toys for Young Kids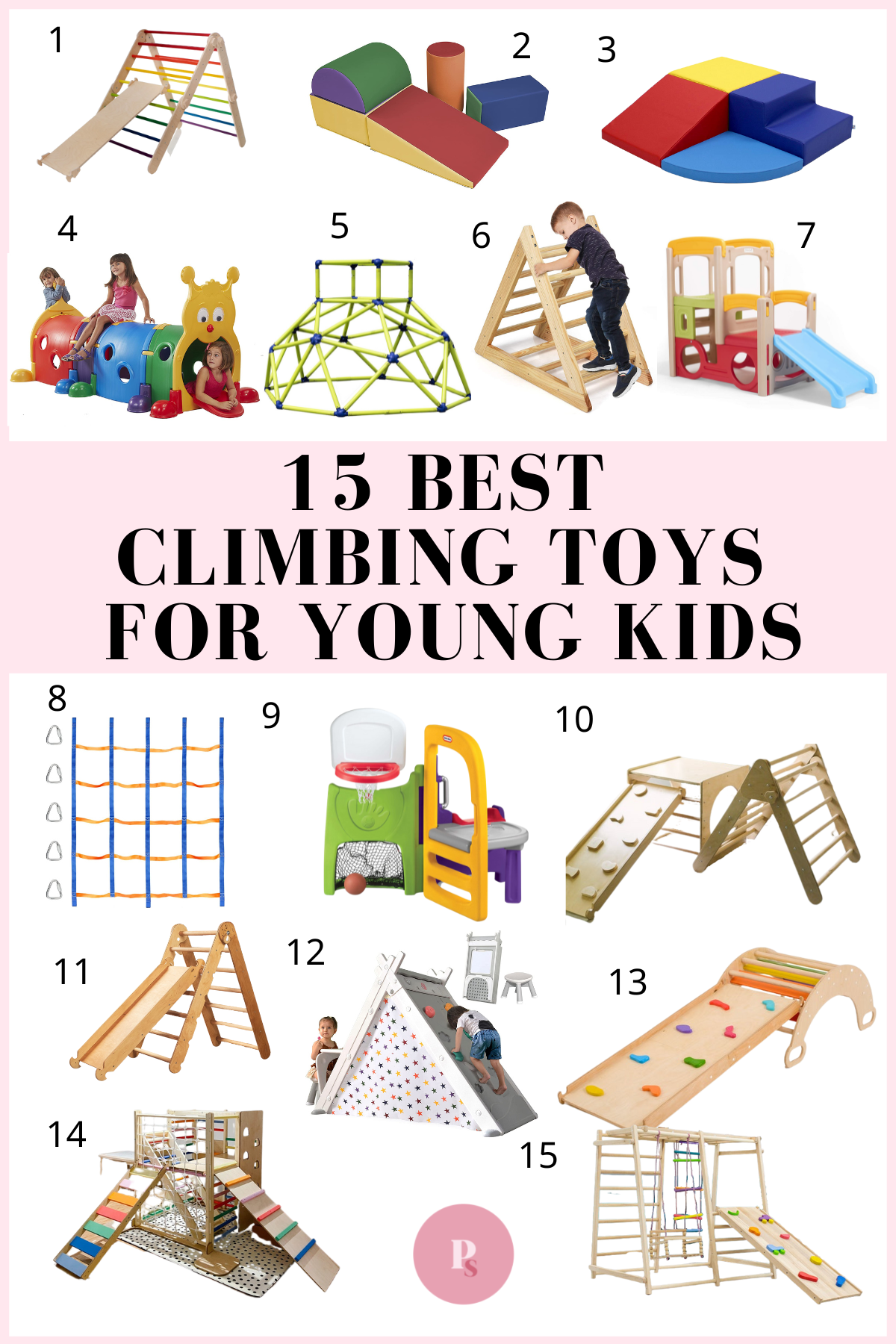 Paisley + Sparrow is a participant in the Amazon Services LLC Associates Program. This post may include affiliate links which means I may earn a small commission if you shop using the links below at no additional cost to you. 
It can be hard to find the right toys for your 1-year-old and toddlers, so here's a list of the best climbing toys I've found available now for purchase.
In a hurry? Here's the quick list. keep scrolling for more detail about each product!
Since this climbing frame, or Pikler triangle, stands just under 4 feet tall, it's a great climbing toy that helps your kids play at a safe height. It gives them all the adventure with very little danger. The rungs of the ladder can be various bright colors, and the entire structure is made from aspen wood.
Available on Etsy, this is truly one of the best options, and it can be great for those who are obsessed with climbing but need to be in a more appropriate environment where they can play safely. The ladder rungs on either side work the kid's ability to climb up, down and over safely. There are additional climbing accessories that you can add on to your purchase.
If your child loves to build and climb on top of objects, this ECR4Kids Softzone climb toy is the perfect addition to your play routine. These five piece set are made of lightweight, soft foam, and they're great for growing gross motor skills and creativity.
Your toddler will be running around building structures, climbing on top of them, playing with others, and of course knocking them over!
For the younger toddlers and kids, this is a good option for a small space. It's also lower to the ground and great for climbing up the ramp or stairs.
Your 1-year-old will enjoy this and be able to crawl or walk over it at their own pace. It's constructed from soft foam, making it easy on small children if they fall or when they have to climb over to get to their destination.
If your kids love crawling, this is a great tunnel to add more fun to their daily activities! This is not made of the foam material but is sturdier and better equipped for expanding to accommodate one or many kids.
It's just over 7 feet long, but the colorful design and the ease of play make it a favorite for your kids. They can climb through or over, and with no sharp edges, you don't have to worry about falls.
Like the structures you see on the playground, this indoor or outdoor jungle gym is perfect to help your kids build confidence, but with more safety. The Eezy Peezy Monkey Bars Climbing Tower is best for older toddlers but is super easy to construct and very strong.
It also won't corrode or rust and can hold a maximum weight of 150 pounds on it at one time. For those looking for a small but safe structure for their kids, this is one of the best!
This one is similar to the other climbing triangle listed, but it's shorter, less expensive, and offers more climbing availability for kids. There are three different designs for you to choose from for your kids.
It's plain, simple, and not too tall. Even if your kid fumbles while climbing, it's a short trip to the ground. It's safe, sturdy, and great to practice that hand-eye coordination!
If your kids love slides and climbing, combine them with this fun climber and slide structure. It is made of strong materials, colorful, and great for multiple kids to use together while playing.
All of the edges are rounded and safe for kids. It also won the 2019 Parents' Choice Award for kids toys.
For the advanced and adventurous kid, this is a great choice. This net, similar to a rope ladder, can be hung safely with the triangle hooks. This cargo net also has a large load capacity, with a weight limit of 550 pounds.
As long as you find a stable place to hang this up, your toddler can use this net as they grow up and develop their muscle strength. This product is best for older children or more skilled toddlers and younger children who have developed their motor skills to a certain level.
This is the all-in-one climber and playground toy for your toddler. This playground set includes a mini basketball hoop, a soccer or hockey net on the ground, a set of stairs, and a slide.
It also stores rather well and includes a basketball for your kids to enjoy playing alone, with Mom or Dad, or with their siblings or friends throughout the day. This climber is suited for indoor or outdoor use.
For those who love the climber idea but want more variety, this is a fun idea and it comes with three different variations. The ramp comes with handles of different shapes on one side to climb and is reversible to become a slide.
The triangle has ladders to climb up and down, and the arch ladder is great for easy climbing. The best part is that you can buy the pieces separately and they are all a small size to ensure safety for your young kids.
Much like the previous item, this climbing gym is made out of strong wood but can include four different parts rather than just three. This one has a low angled ladder to climb that meets a higher ladder, which then connects to a solid bridge and an arched climbing structure.
This is great for kids who want to work on their motor skills and can't sit still! Set up an obstacle course with this toy, and watch the kids climb all over. This will likely fill up their playroom, but keeps them safe and entertained for hours of play.
12. Merax Foldable Triangle Climber
This climbing toy is a great option for both older and younger kids! It has everything from a tent to an easel to a climbing triangle so multiple kids of all ages can enjoy it.
This 4 in 1 set even has a table and tunnel for kids to play with! This is a climbing toy that will grow with your child and one they'll love for years to come.
For those who want a simple design for their climber, this is one of the best! It can be an arch to climb or flipped over to act as a rocker. There's also a ramp that fits snug on the arch for kids to climb.
It is great for those just beginning to build their motor skills and helpful for keeping playtime fun, safe, and compact. Compared with other toys, this one is generally smaller than others available.
Jungle gyms aren't just for the outdoors! This indoor jungle gym is perfect for toddlers and preschoolers. It has a climbing wall made of rope and built strong into the foundation of the structure.
There's also a climbing ladder, ramp, and hiding place underneath the gym. It is great for multiple kids of different ages needing physical activity, as well as for the youngest of the family.
This playground toy is the best of all worlds for your toddler. It has a ramp, arch, and ramp. Additionally, it also comes with a little swing perfect for your 1-year-old. It's great for kids and parents to play together, and it's safe and sturdy. Not to mention that it ships free and comes at an affordable price considering all it comes with!
Conclusion
With so many toys out there, it can be hard to narrow down what will work best for your family. You have to make sure that it's age appropriate and will fit in your space — and be fun, of course!
But when you find that magic climbing toy that will fill your kid's need to climb and your need for safety, you'll have happy kids and a happy mom.
I hope I gave you some great choices for new toys for your kids! What do you use during playtime to get your kids' energy out?
If you want more fun toys for kids, check out one of these!