Looking for the best hair ties for thing hair? For those of us with thin hair, it can often be a struggle to get that perfect ponytail and more importantly, that perfect hair tie that won't slide out, break your hair or cause tangles.
Even worse, if you have the wrong ponytail holder, you can cause creases and damage to your hair, which can end up making your hair even thinner in the long run!
As someone with fine, thin hair myself, who is also a mom of 3, I need a good quality ponytail. I took to the streets (ok, the internet) and found the 11 best ponytail holders and put them to the test! Below you'll find my reviews and thoughts on all 11.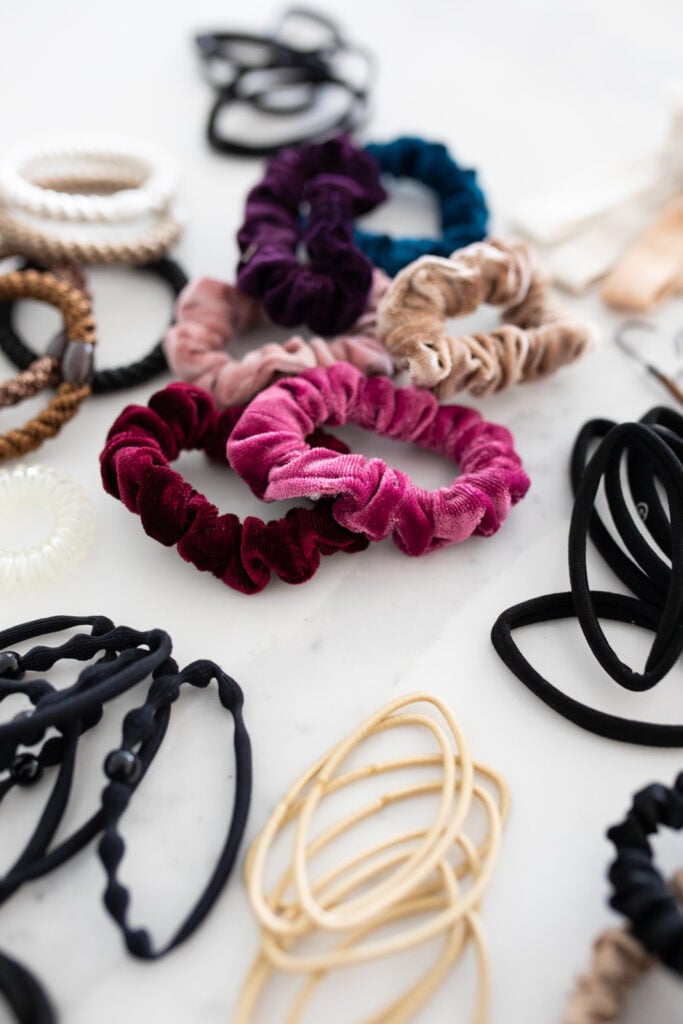 Since we all have different hair and different ways we like our hair styled, I thought it would be helpful to not only describe them but also show them in my hair. Each photo is taken with the same exact hair style.
It's on 2nd day hair (I washed it the day before shooting these) and didn't do anything extra to make my hair look more voluminous. I hope this helps you in picking the one that's right for you!
If you're looking for my favorite, it is hands down the Gimme Bands! They're soft, perfect for both my hair and my daughter's and great for everything from running to date night.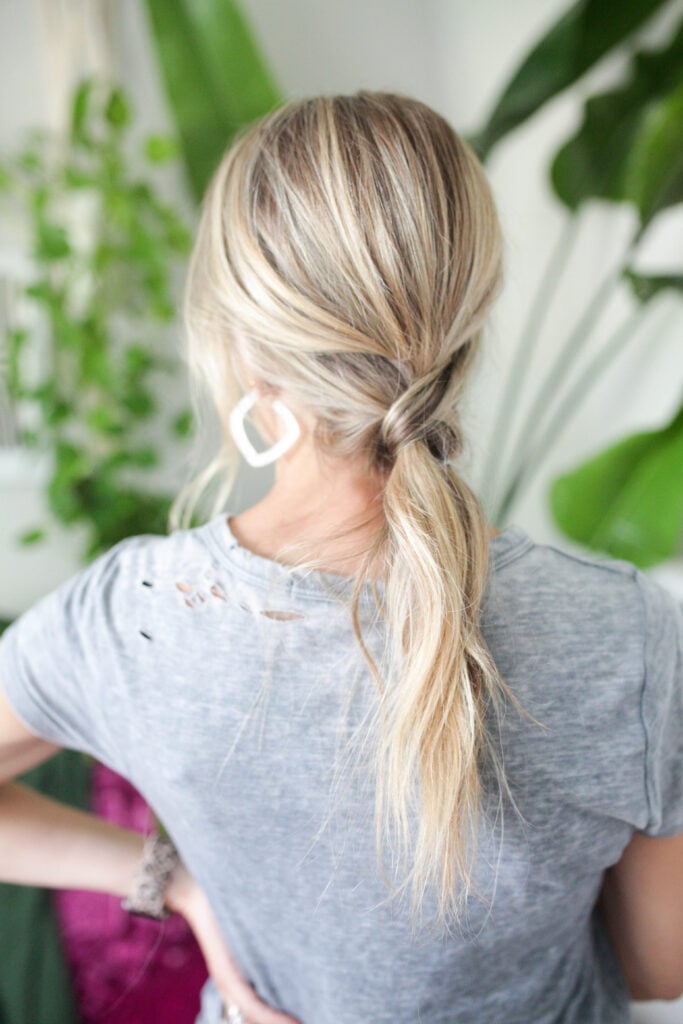 When looking for the right ponytail holder for you, you'll want to consider a few things.
Will the ponytail holder damage your hair or cause hair loss?
Is it going to have a strong hold?
Will it crease your hair?
Is it going to give you some added volume and make your hair look fuller?
Can I wear it on my wrist when it's not in my hair?
I know the struggle, and I'm always looking for the best ways to make my hair look thicker. I'm going to share some of the best hair ties that will work with thin hair!
Best Ponytail Holders for Thin Hair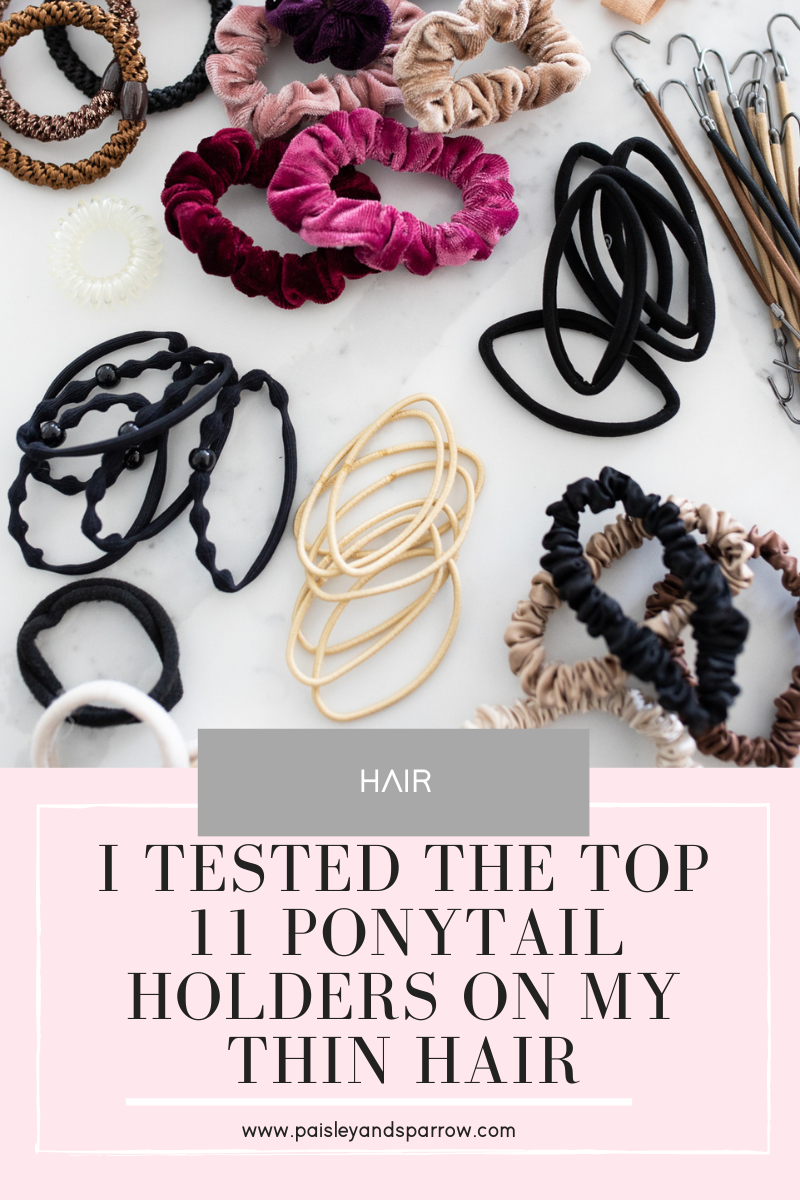 This post contains affiliate links.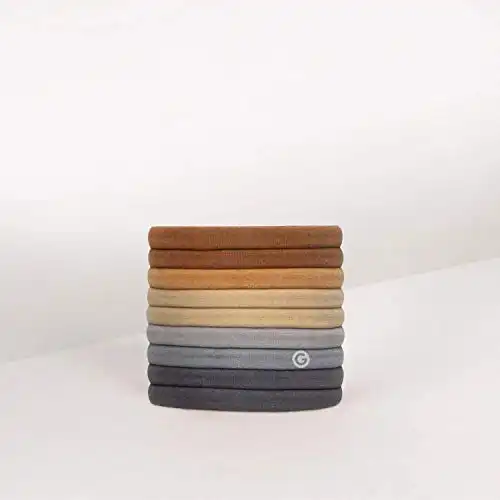 We earn a commission if you make a purchase, at no additional cost to you.
Gimme bands are made out of microfiber elastics that prevent tension and dents. They've been tested to last throughout the toughest of workouts, so this is a great choice if you're active.
These are specifically designed for fine hair and also come in an extra fine version. As someone who runs a lot, this is my favorite hair tie for running! I know that it will stay in place and won't leave me with a flopping ponytail.
This one actually comes in multiple options from long, thick, fine or extra fine.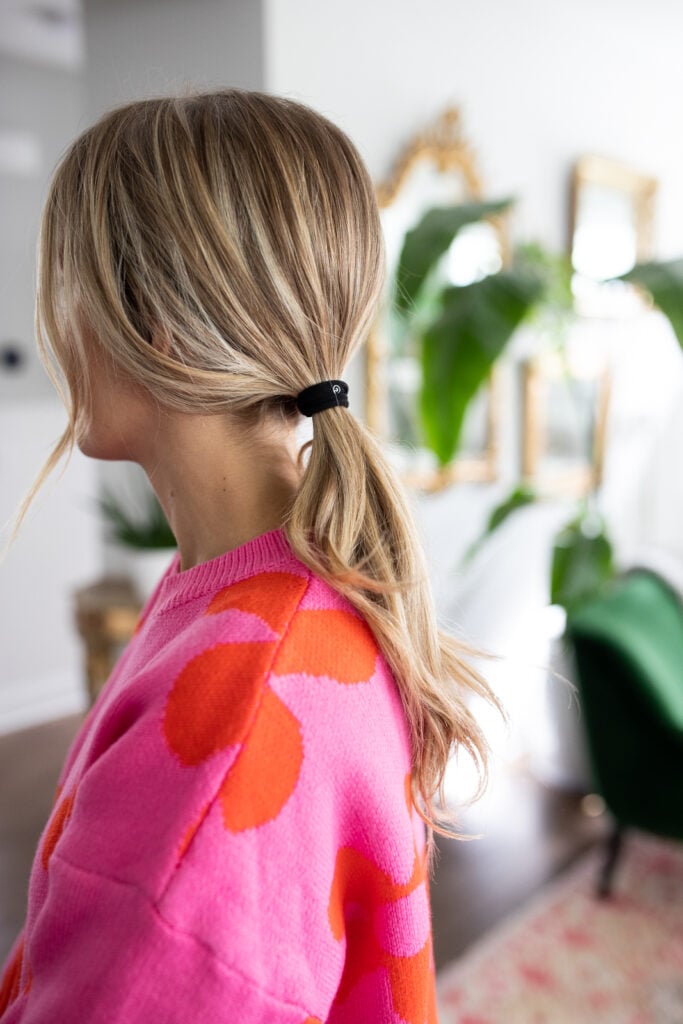 Pros:
Won't snag hair
Gentle on hair but firm hold
Cons:
More expensive than other brands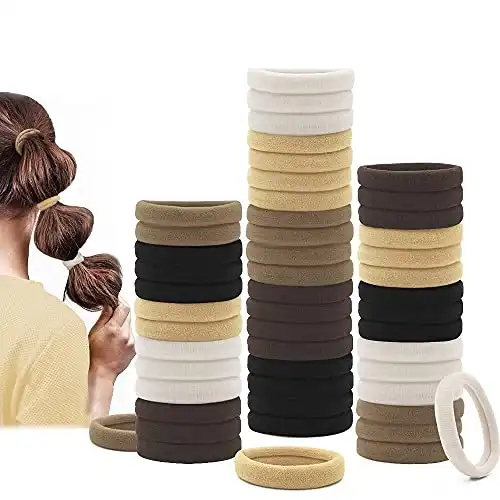 We earn a commission if you make a purchase, at no additional cost to you.
These are a hair tie that my husband actually found 4 years ago for our daughter! He told me he ordered some hair ties for her (she was born with SO much hair and we've been doing hairstyles since she was just a few months old).
I cockily told him to leave the hair accessory buying to me and that I'd return them when they came. Little did I know they'd actually be super amazing! They very similar to the Gimme brand where they're soft, stretchy and great for sports (or toddlers).
I will often times wear two of these while running (if I don't wear the Gimme) – one as a ponytail and then one to wrap a bun. The one negative is that the do stretch out after some time so eventually they're not really usuable.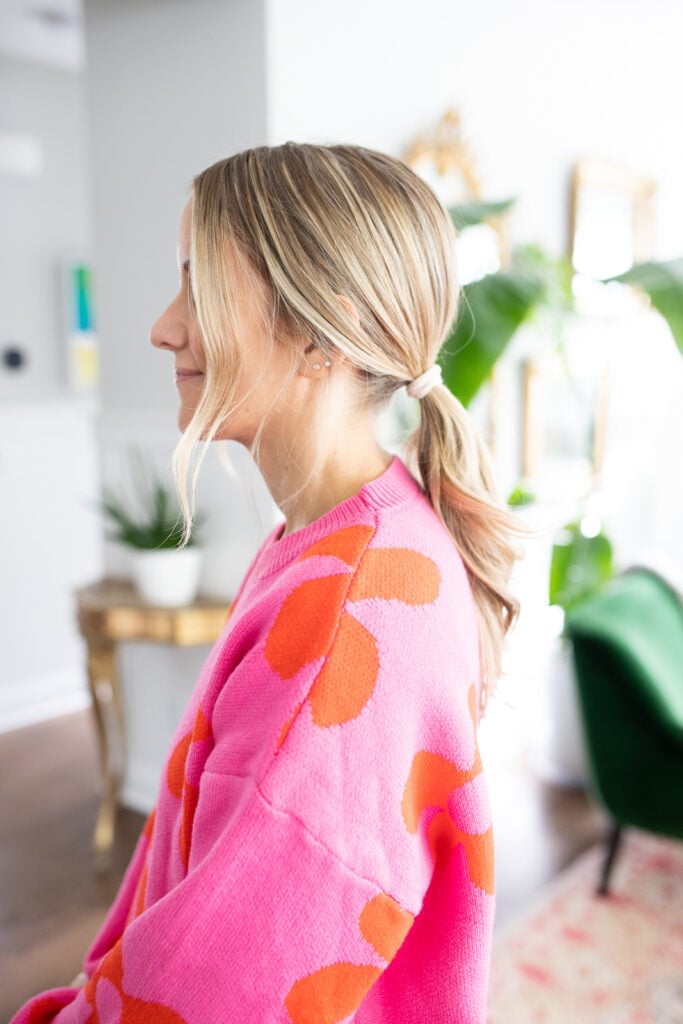 Pros:
Inexpensive
Great for kids and sports
Cons: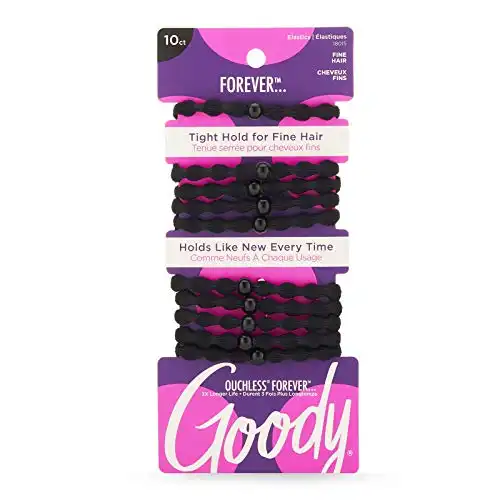 We earn a commission if you make a purchase, at no additional cost to you.
This ponytail holder is specifically designed for all lengths and styles of fine hair. It provides a tight hold and bounces back to its original size so that it's like new every time.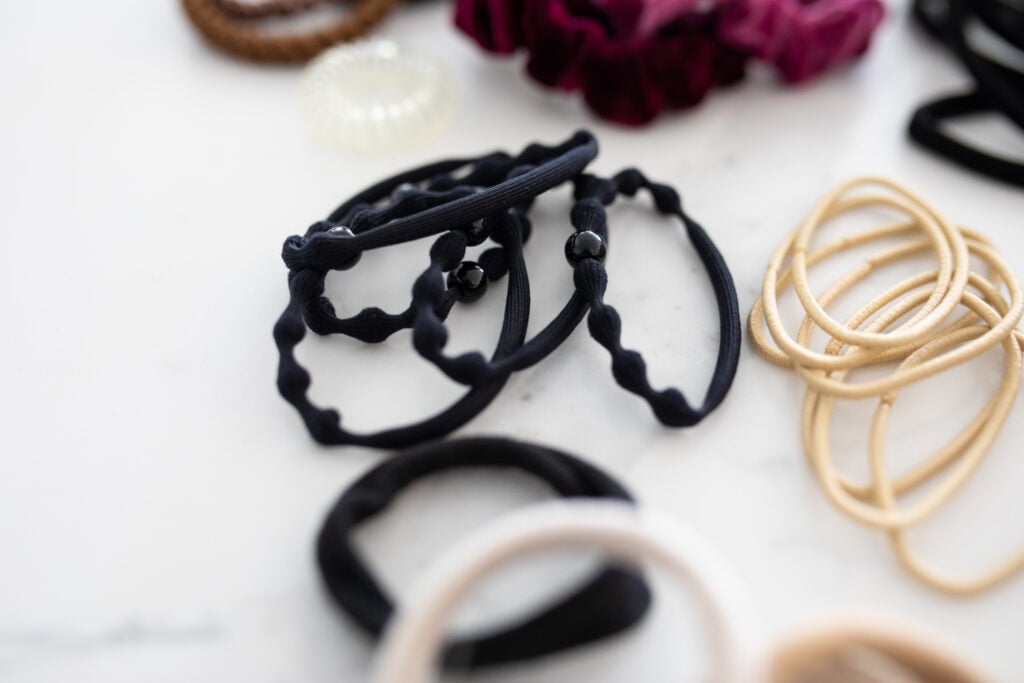 The best part is, rather than just one rubber band on the inside, this hair tie has 16 rubber bands to ensure a perfect, tight hold for both short hair and long hair.
Initially I was concerned that the bead on it would snag or get tangled but it hasn't! I've worn them countless of times and put them in my daughter's hair so many times and it's never snagged.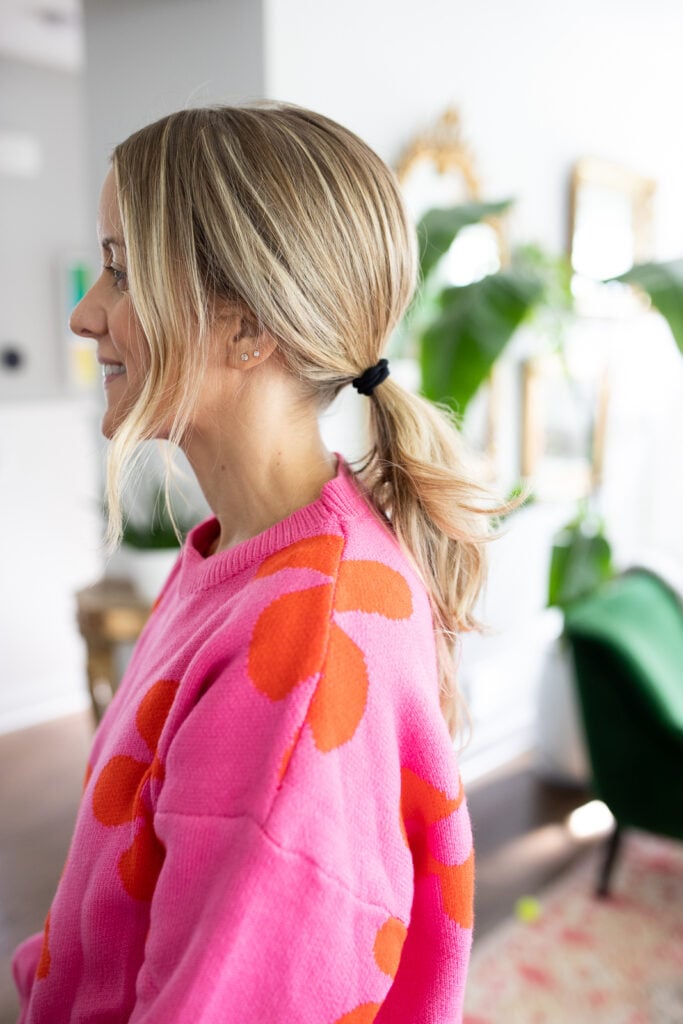 Pros:
Pain and damage-free
Holds hair all day
Cons: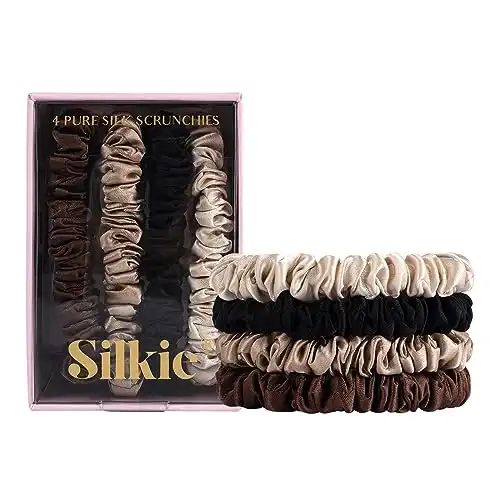 We earn a commission if you make a purchase, at no additional cost to you.
Silk hair ties are wonderful for all hair types since they glide over hair to prevent breakage and frizz. Whether you have curly or straight hair, silk is going to have benefits for you.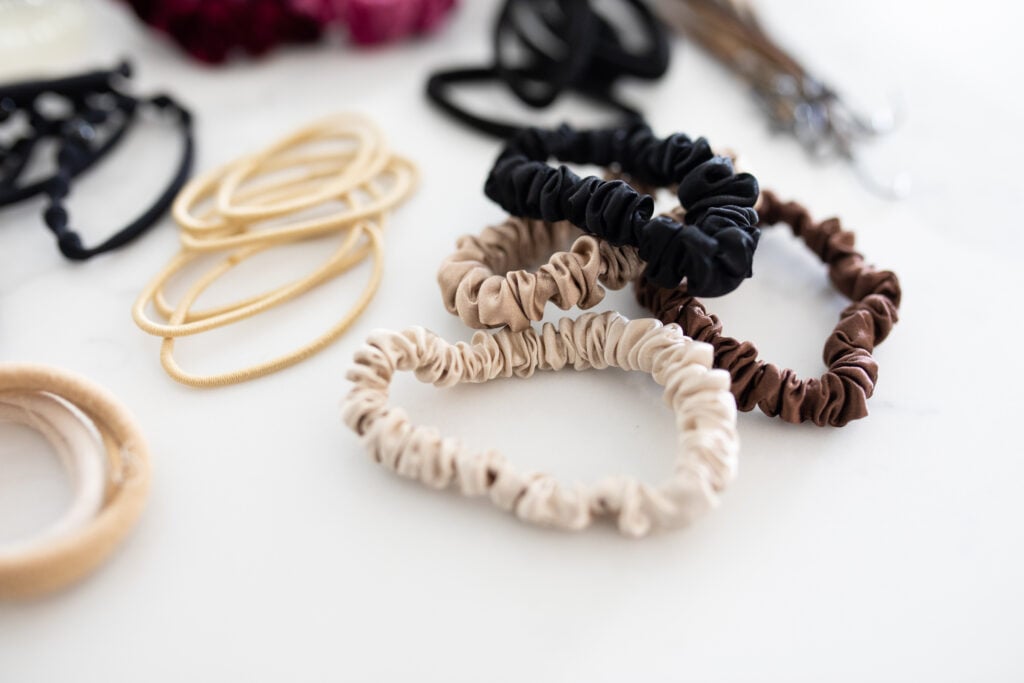 They will stay put in your hair while keeping it protected. For my hair, I had to wrap them around 3 times to make it feel tight enough.
This made it just a bit tight when removing it like I might damage my hair. For a ponytail for just lounging, wrapping it twice would work just fine!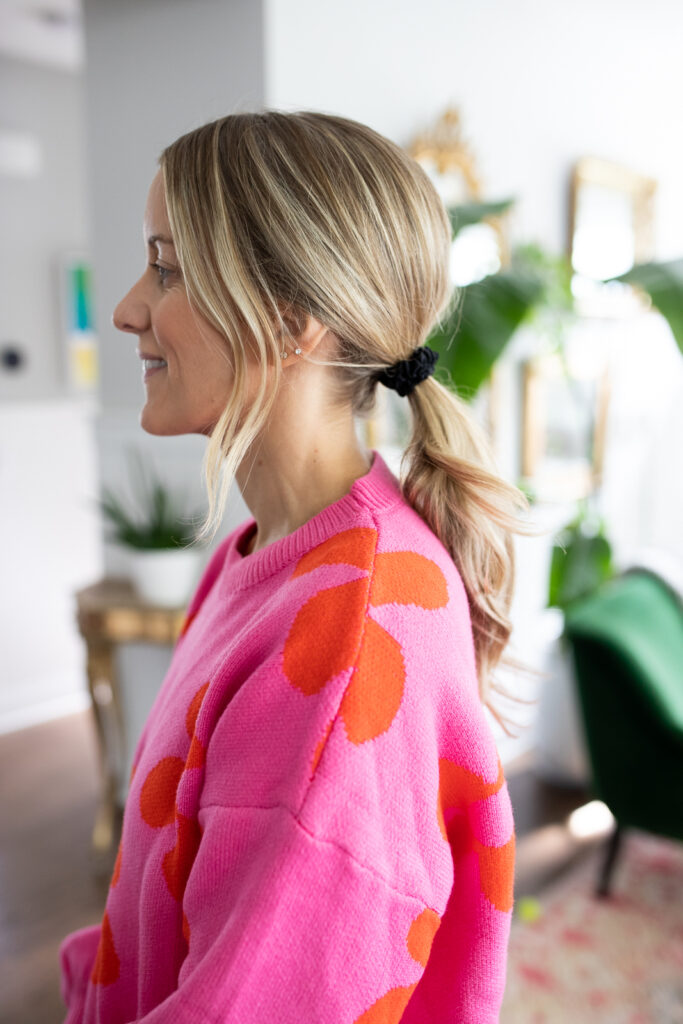 Pros:
Gentle on hair
Lightweight to wear
Cons:
Stretchy, will need to wrap around hair multiple times
(I'm also a big fan of silk pillowcases and have a post on how to wash them correctly!)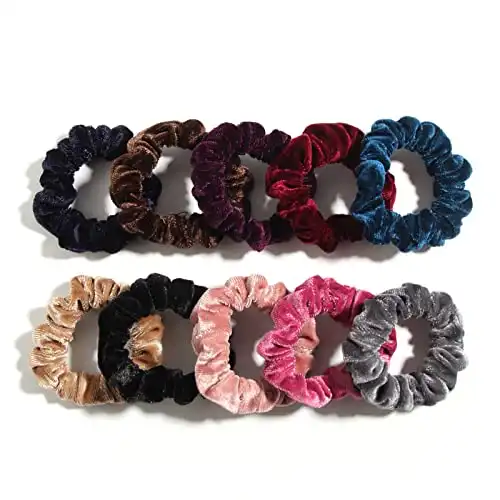 We earn a commission if you make a purchase, at no additional cost to you.
Not only is a velvet scrunchie a beautiful hair accessory, but it's also comfortable to wear and won't damage your hair. These are a smaller scrunchie made of soft material and are specifically designed to hold slippery, thin hair.
Big scrunchies can overpower a thin ponytail, but the size of these is just perfect! They easily wrapped around 3 times to hold a nice tight ponytail and slid right out no problem. They are small though and aren't comfortable around your wrist!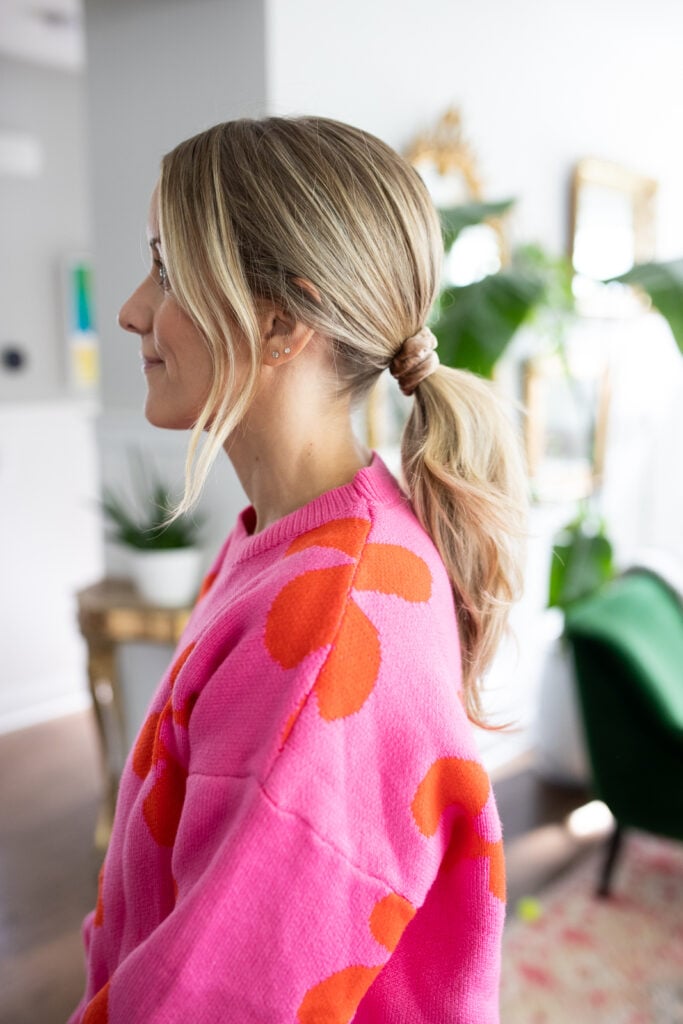 Pros:
Won't slip
Holds a tight ponytail
Cons:
Tight elastic
Won't fit easily around your wrist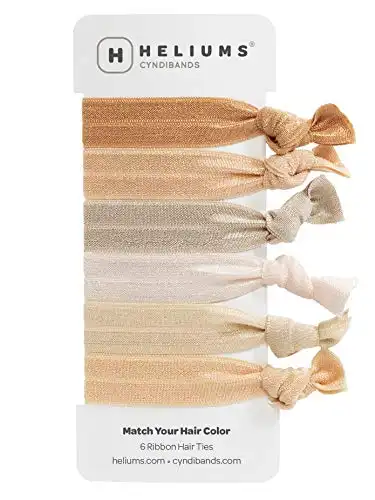 We earn a commission if you make a purchase, at no additional cost to you.
These ribbon ponytail holders come in thirteen colors so you can find the right hair tie for your hair color! This kind of hair tie won't damage, dent, or snag your hair.
Ribbon hair ties are very gentle on hair and won't cause any creases. Also good news — these hair accessories are made by a woman-run business based out of Los Angeles!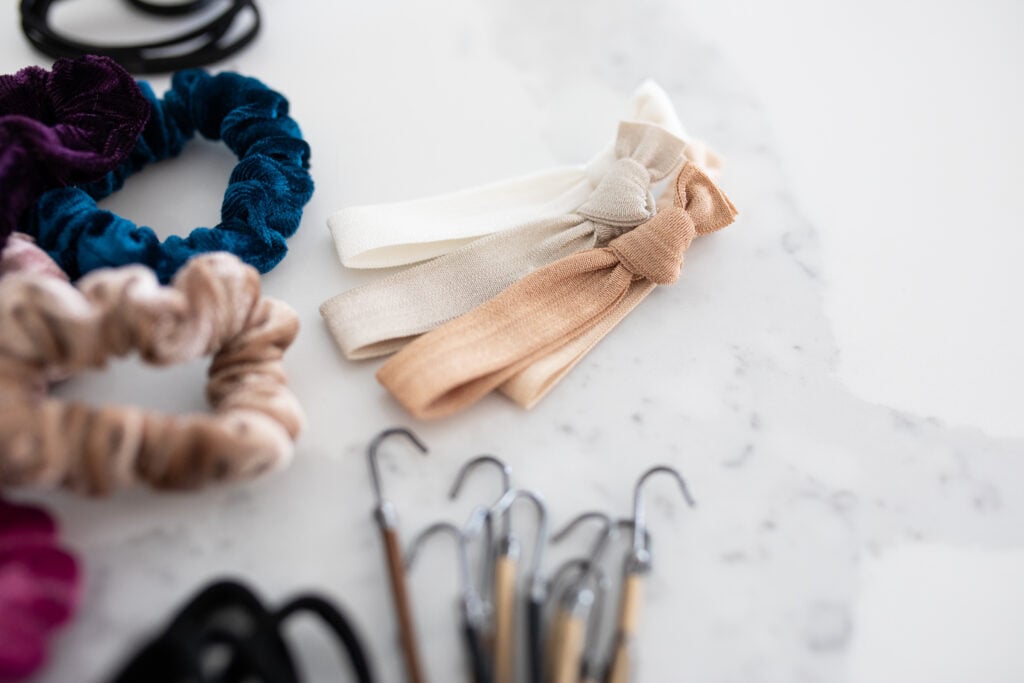 I loved that these wrapped around 3 times and held a firm yet gentle hold. It didn't feel too tight or like it would snag my hair at all! However, they are marketed as bracelets but they were too tight for even my very small wrists so I definitely don't recommend getting them with the intention of wearing them around your wrist.
One other thing – I noticed they get very stretched out even after the first time of wearing them. They still hold well but they will get more stretched out with use.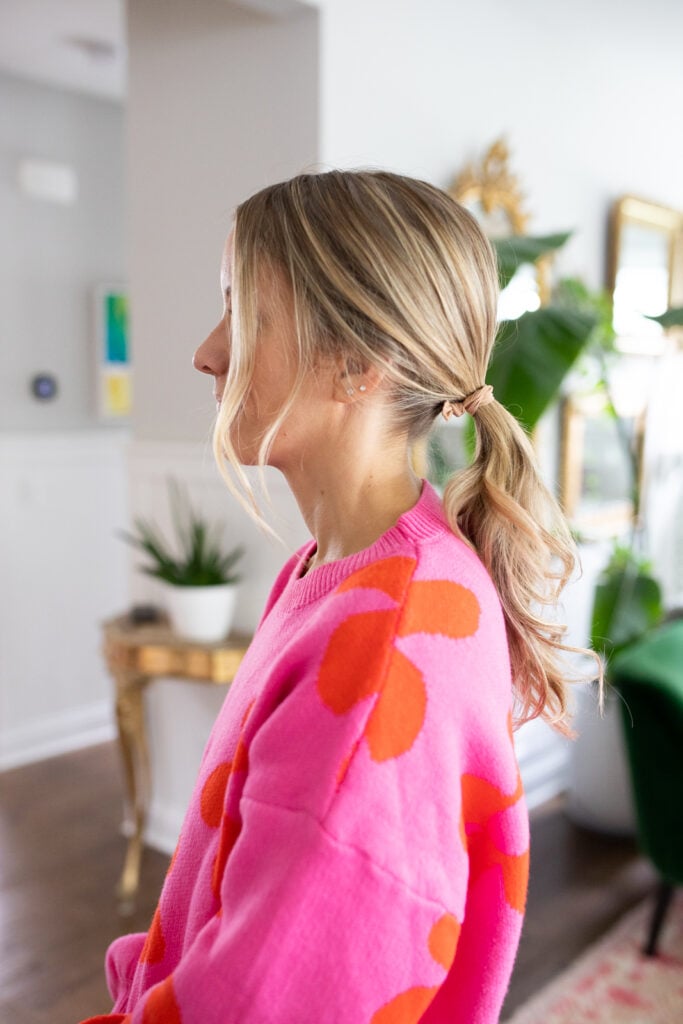 Pros:
Cons:
The leftover piece off the knot can stick out
Too small for your wrist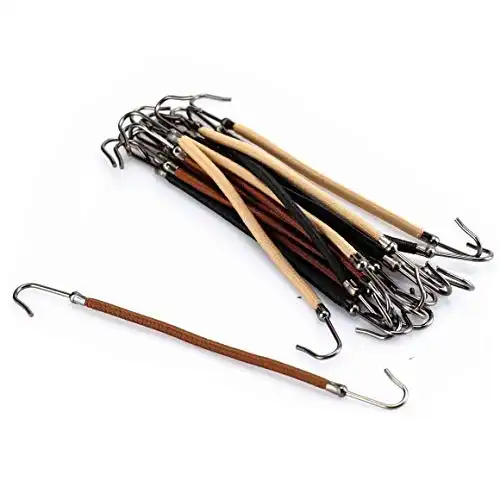 We earn a commission if you make a purchase, at no additional cost to you.
This bungee-style hair tie might look a little funky, but it's perfect since it wraps and unwraps around the hair. This prevents hair from breaking and doesn't pull or tug on hair.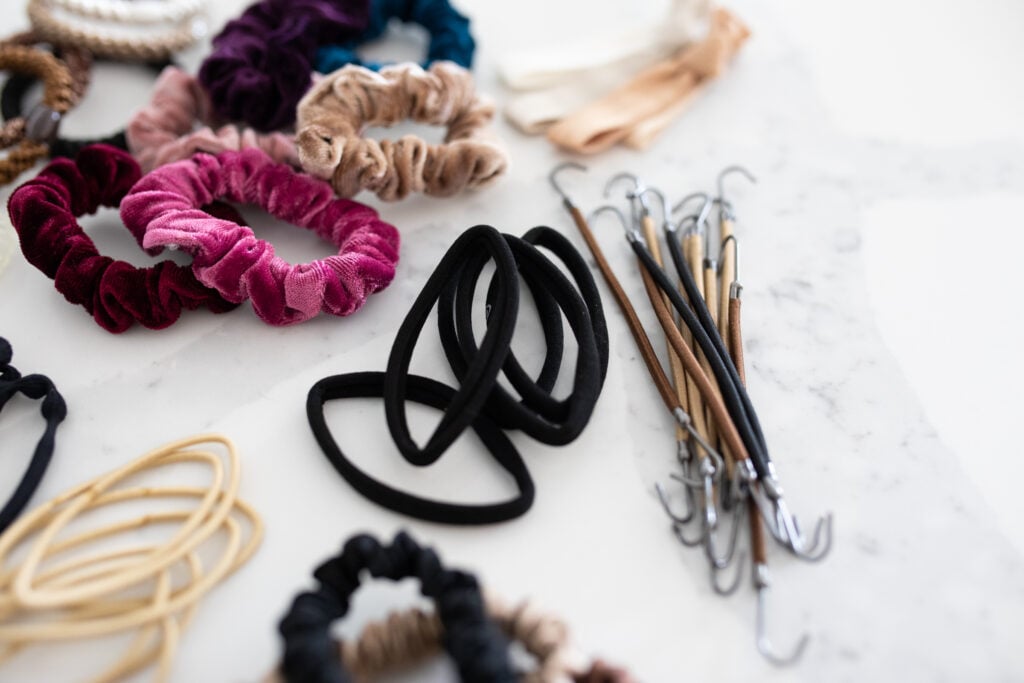 These bungee bands work by creating a custom fit no matter how thick or thin, straight or curly your hair is. It's especially good for curly hair since it won't damage the curl patterns.
It took a few tries for me to figure it out but the video on the Amazon listing really helps! I just hooked one end under my ponytail and wrapped until I couldn't wrap anymore and hooked the other side. Once you do it a few times it's super easy to do!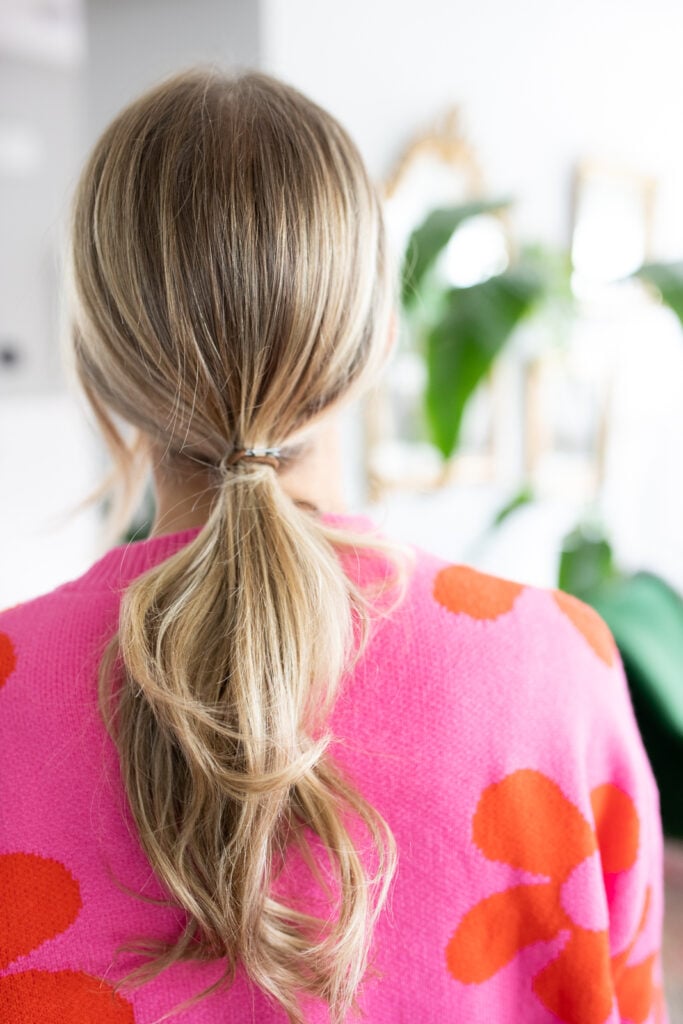 Pros:
Cons:
Might be confusing to put in
Great for thicker hair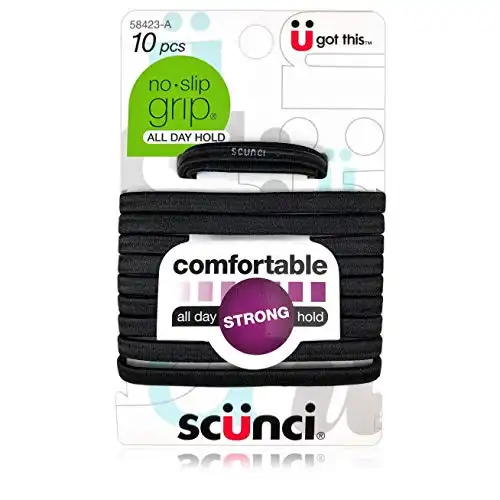 We earn a commission if you make a purchase, at no additional cost to you.
This classic black ponytail holder keeps your hair in place with an all day strong hold. They're simple in their looks, but they get the job done and will leave you with that flawless ponytail.
One side has an exposed rubber cord that goes around it. This is how it stays in place. It's nice and smooth and doesn't get tangled. I recommend untwisting your hair tie when removing this one rather than pulling it out so the rubber side doesn't get stuck.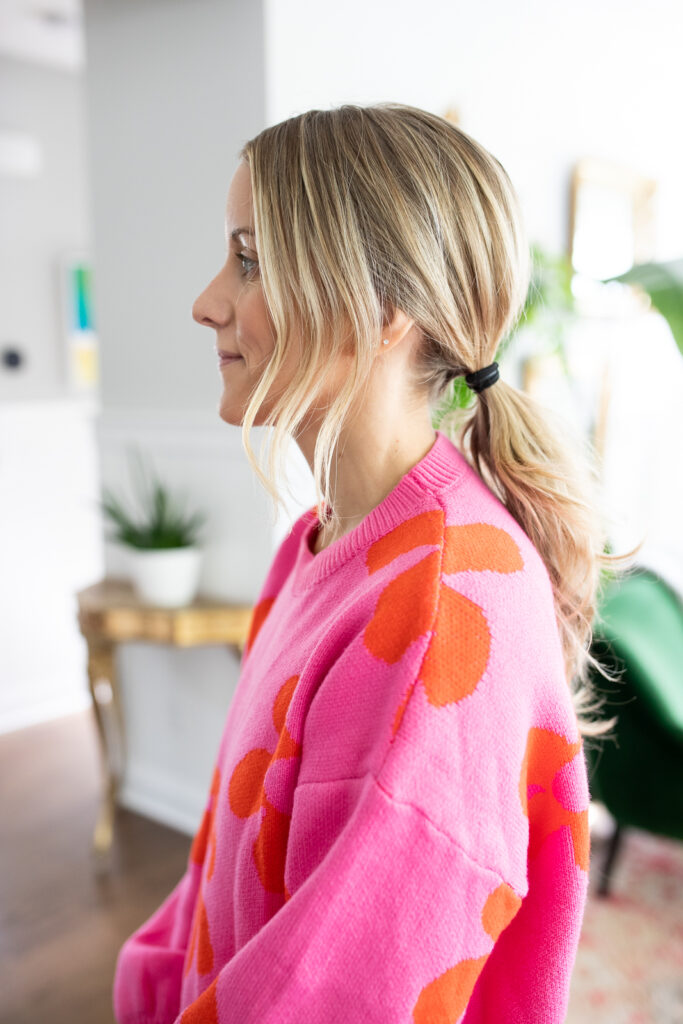 Pros:
Small hair elastics size makes them great for thin hair
Good grip
Cons:
Not great to just pull out – better to untwist it first
Not the best for curly hair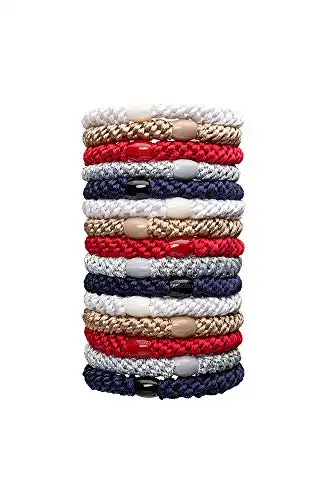 We earn a commission if you make a purchase, at no additional cost to you.
These ponytail holders, which look like woven bracelets, are suitable for all hair types and won't damage hair. They come in a variety of all kinds of color packs.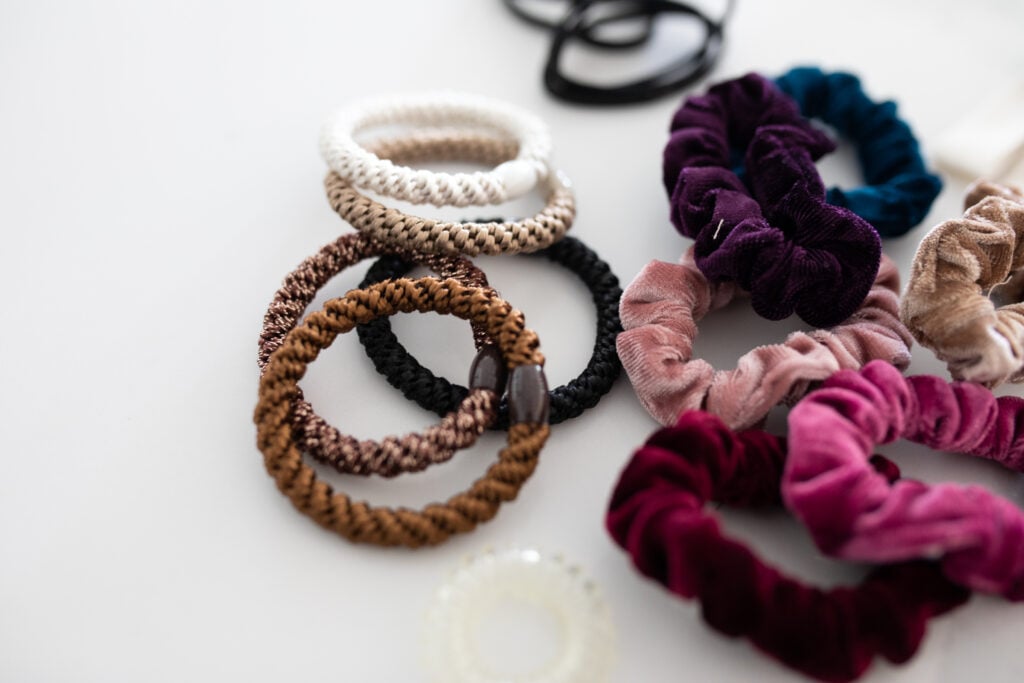 These are a much thicker hair tie which I found to be a good option for thicker fine hair. If you don't mind a thick hair tie even if you have thin hair this is a really good pick!
One thing to note – mine had a really bad smell fresh out of the bag – it dissipated quickly but the initial smell was bad! Not sure if that is the norm or not for everyone.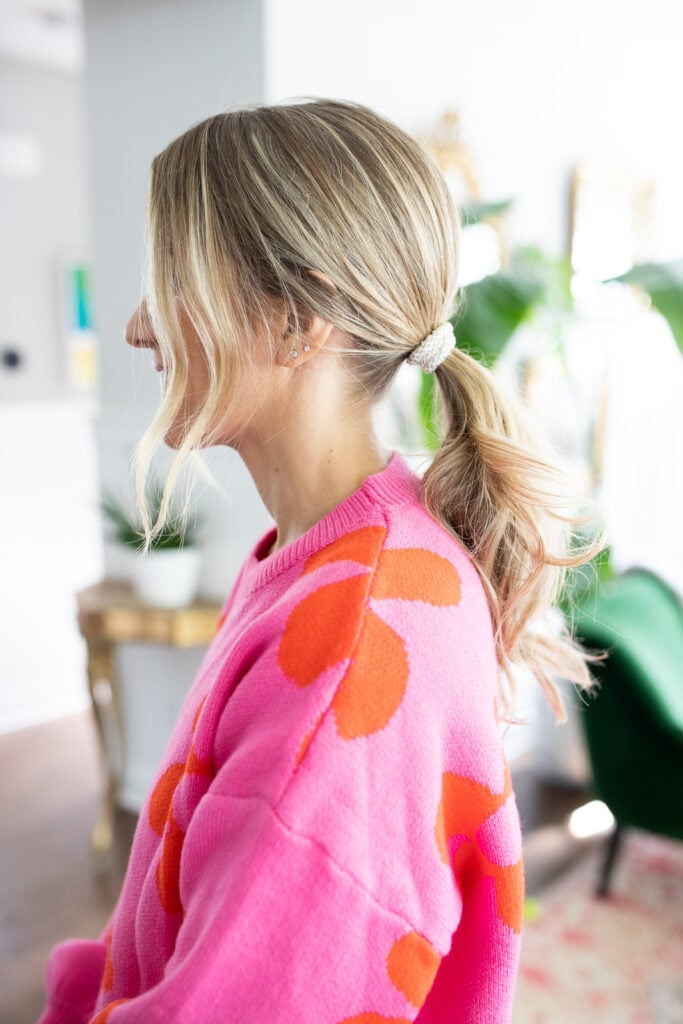 Pros:
Gentle on hair
Doesn't cause a crease
Cons:
These hair ties are best for thin to medium hair. They're slim but strong and will hold hair comfortably and securely without losing their shape.
They're the skinniest hair tie on this list but don't underestimate them! They hold a really good grip on your hair.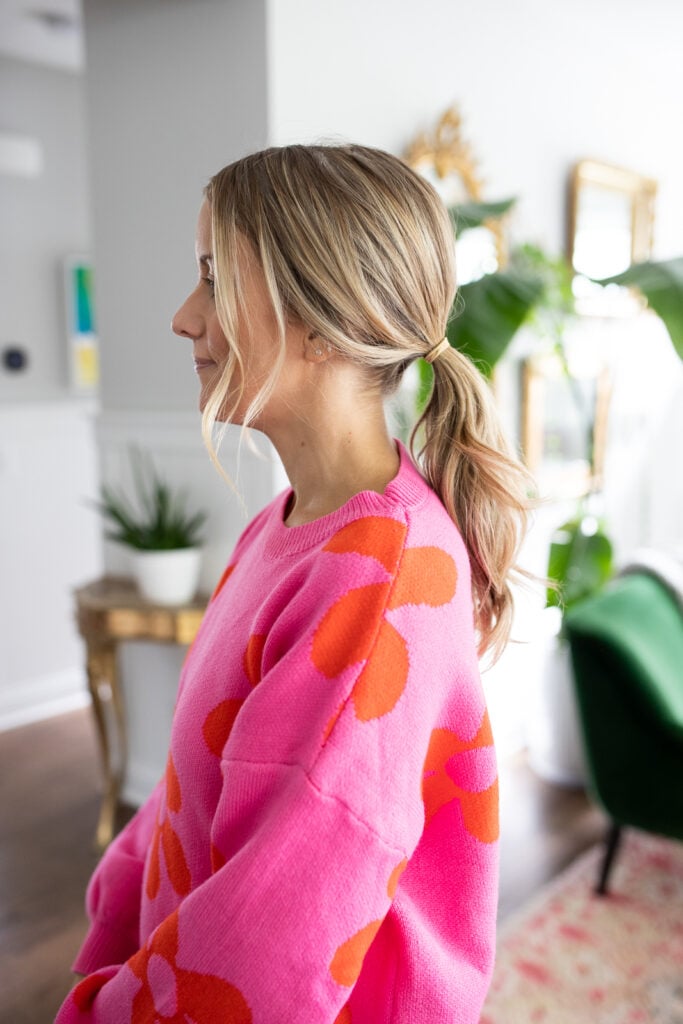 Pros:
Highly stretchable
Won't slip
Cons: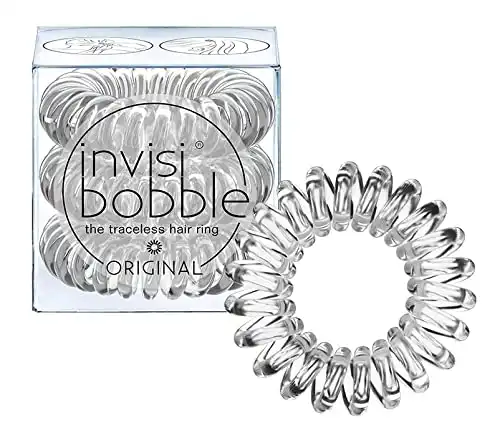 We earn a commission if you make a purchase, at no additional cost to you.
Reminiscent of an old telephone cord, these spiral hair ties have taken off in popularity. They're advertised to result in 31% less pain than a regular ponytail holder, leave 68% less marks, and result in 100% less pain.
Spiral hair ties are inexpensive and come in different colors to match your hair color. They're smaller than some of the bigger cord ponytail holders, which makes them great for thin hair!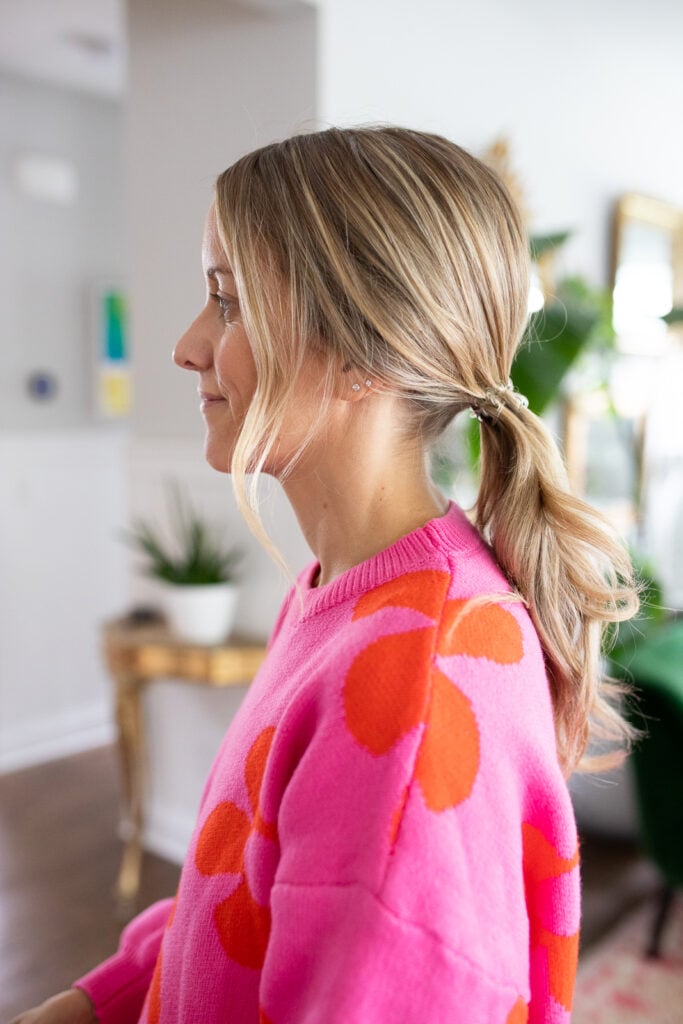 Pros:
Good hold and grip
Doesn't pull out any hair
Cons:
Not much added volume
Not great for buns and high updos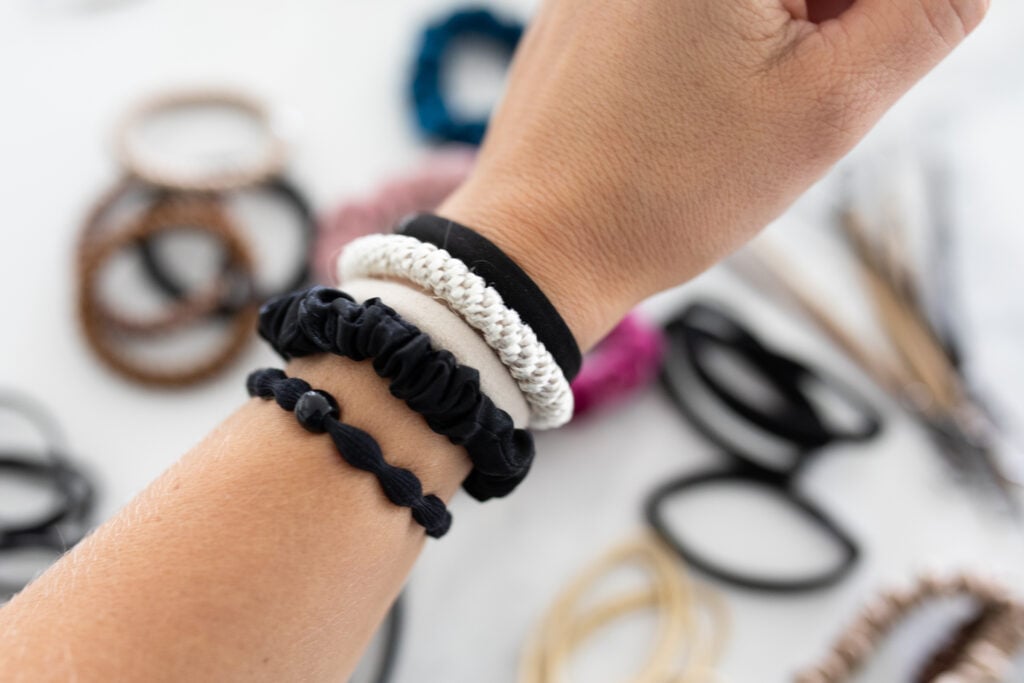 Bonus – Wrist Test
I have very small wrists so I wanted to test out which one of these were comfortable to be worn on your wrist. I noted most of this in each specific listing, but here are the 5 ponytail holders that are suitable to be worn on your wrist: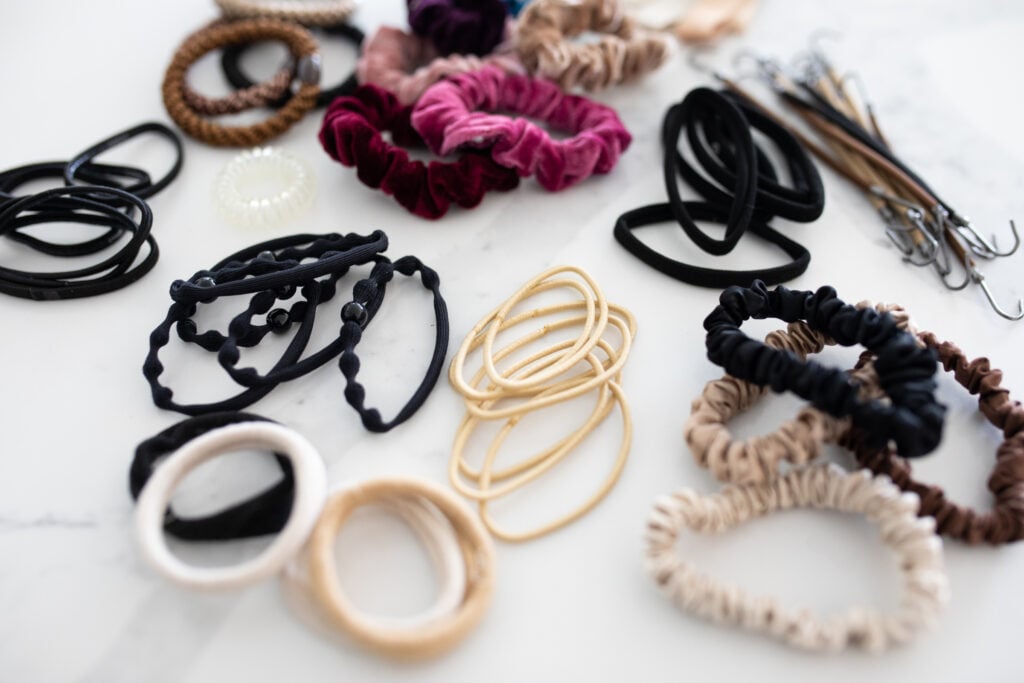 FAQ
What is the least damaging hair tie?
To prevent damage to your hair, you'll want to stay away from traditional hair ties made out of elastic with a metal clasp. Instead, opt for a spiral cord hair tie, silk hair tie, or ribbon hair tie.
Which hairstyle is best for thin hair?
Whether you're going for a high ponytail, low ponytail or bubble ponytail, the prep work is the most important! Blow drying your hair and using hair thickening product is a great way to get some added volume.

If you want to get that perfect, effortless updo, try curling your hair, teasing it or using a texturizing spray before putting it up if you have straight hair. That will help add a little extra volume, too.

As far as haircuts go, stylists usually recommend lengths any length between the ears to the collarbone to help thin hair appear thicker. When it's longer, it becomes weighed down.
Are thin hair ties good?
To protect your hair from damage, you'll want to go with a softer and fuller hair tie. A wide hair tie coated in elastic or cord hair tie are best to use to prevent any breakage.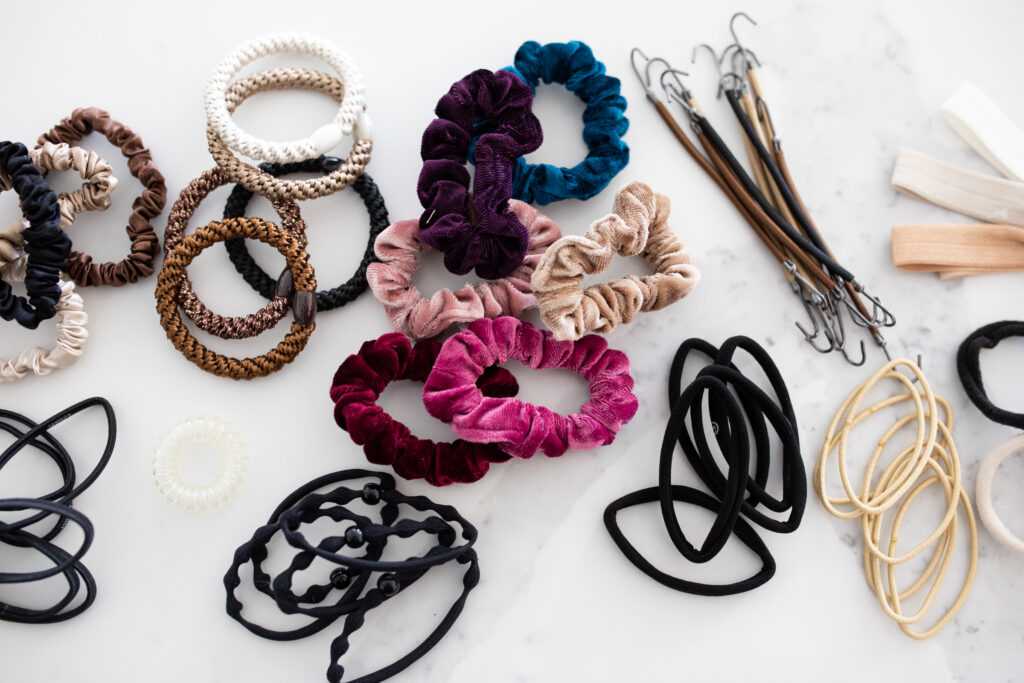 So there you have it! The top ponytail holders for thin hair. Whether you prefer thin ponytails or thick ones, silk or velvet, I'm certain one of these options will be a great option for you. I hope it helps!
Looking for more tips for your thin or fine hair? I've tried it all! Check out my posts on the best volumizing powders, hairbrushes for fine hair, and flat irons for fine hair!