For those of us with thin hair, it can often be a struggle to get that perfect ponytail. You want it to be full and bouncy, but you're often left with a ponytail that's limp and thin.
Even worse, if you have the wrong ponytail holder, you can cause creases and damage to your hair, which can end up making your hair even thinner in the long run!
When looking for the right ponytail holder for you, you'll want to consider a few things.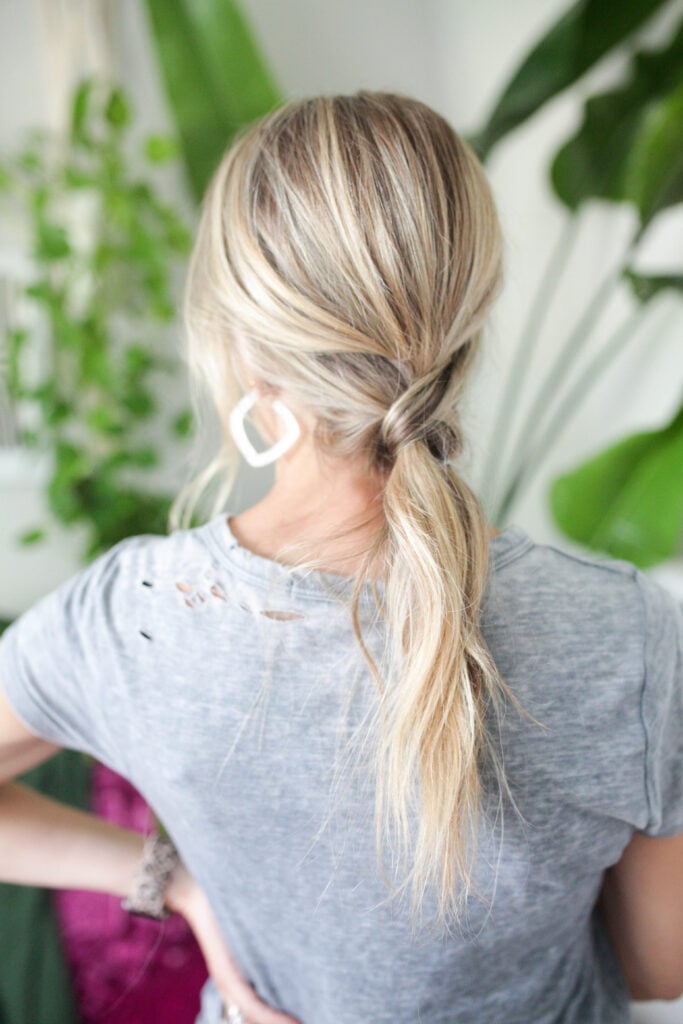 Will the ponytail holder damage your hair or cause hair loss?
Is it going to have a strong hold?
Will it crease your hair?
Is it going to give you some added volume and make your hair look fuller?
I know the struggle, and I'm always looking for the best ways to make my hair look thicker. I'm going to share some of the best hair ties that will work with thin hair!
Best Ponytail Holders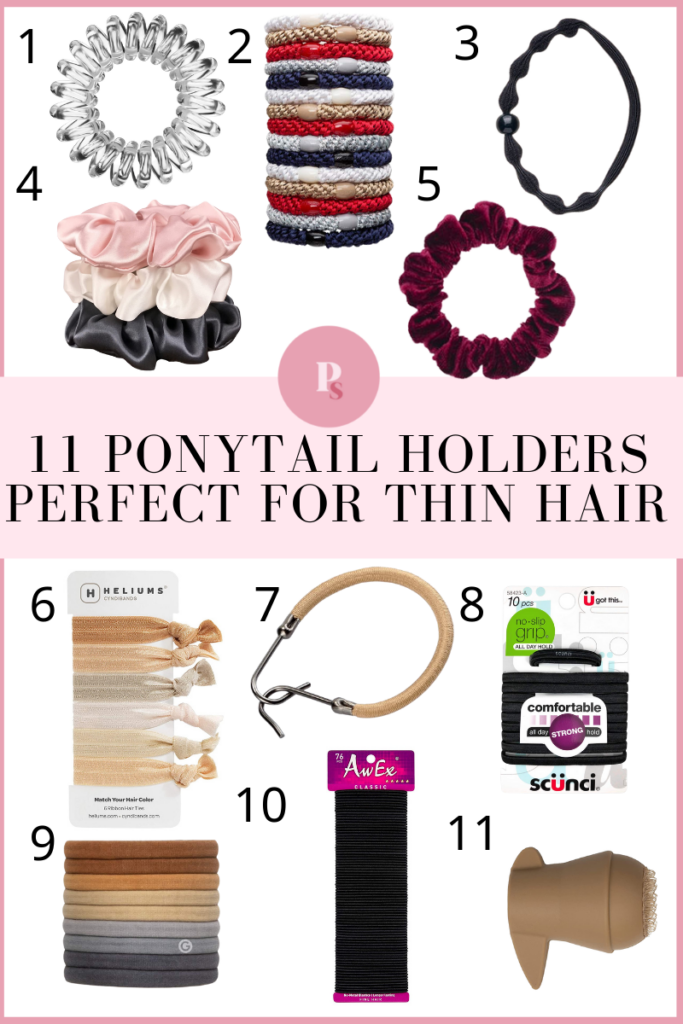 Paisley + Sparrow is a participant in the Amazon Services LLC Associates Program. This post may include affiliate links which means I may earn a small commission if you shop using the links below at no additional cost to you.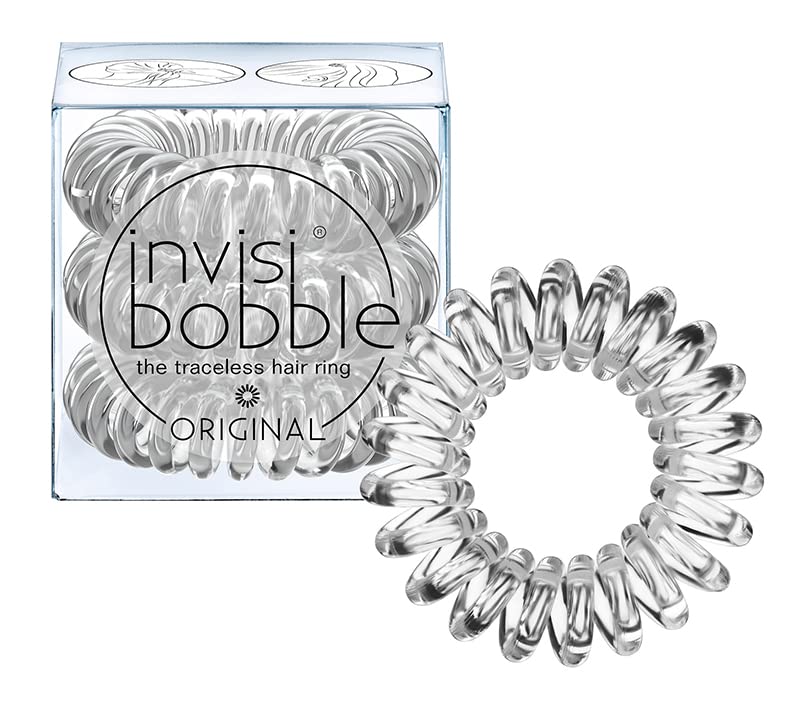 Reminiscent of an old telephone cord, these spiral hair ties have taken off in popularity. They're advertised to result in 31% less pain than a regular ponytail holder, leave 68% less marks, and result in 100% less pain.
Spiral hair ties are inexpensive and come in different colors to match your hair color. They're smaller than some of the bigger cord ponytail holders, which makes them great for thin hair!
Pros:
Strong hold and grip
Doesn't pull out any hair
Cons:
Not much added volume
Not great for buns and high updos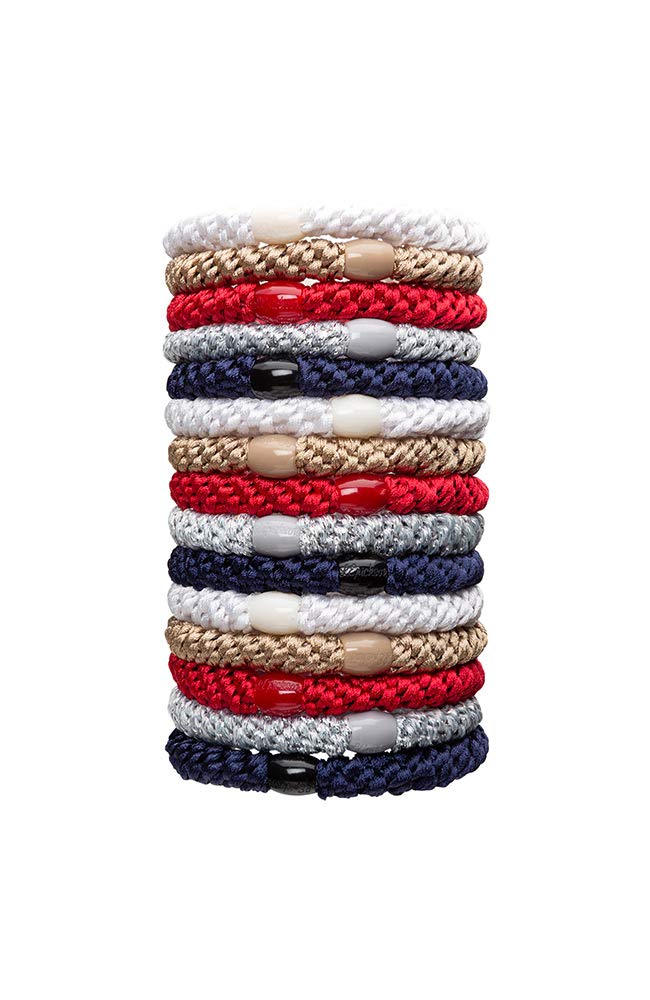 These ponytail holders, which look like woven bracelets, promise to be suitable for all hair types and not damage hair. They come in a variety of all kinds of color packs to best suit your wardrobe.
Pros:
Gentle on hair
Doesn't cause a crease
Cons:
Stretch out quickly
Doesn't keep thin hair up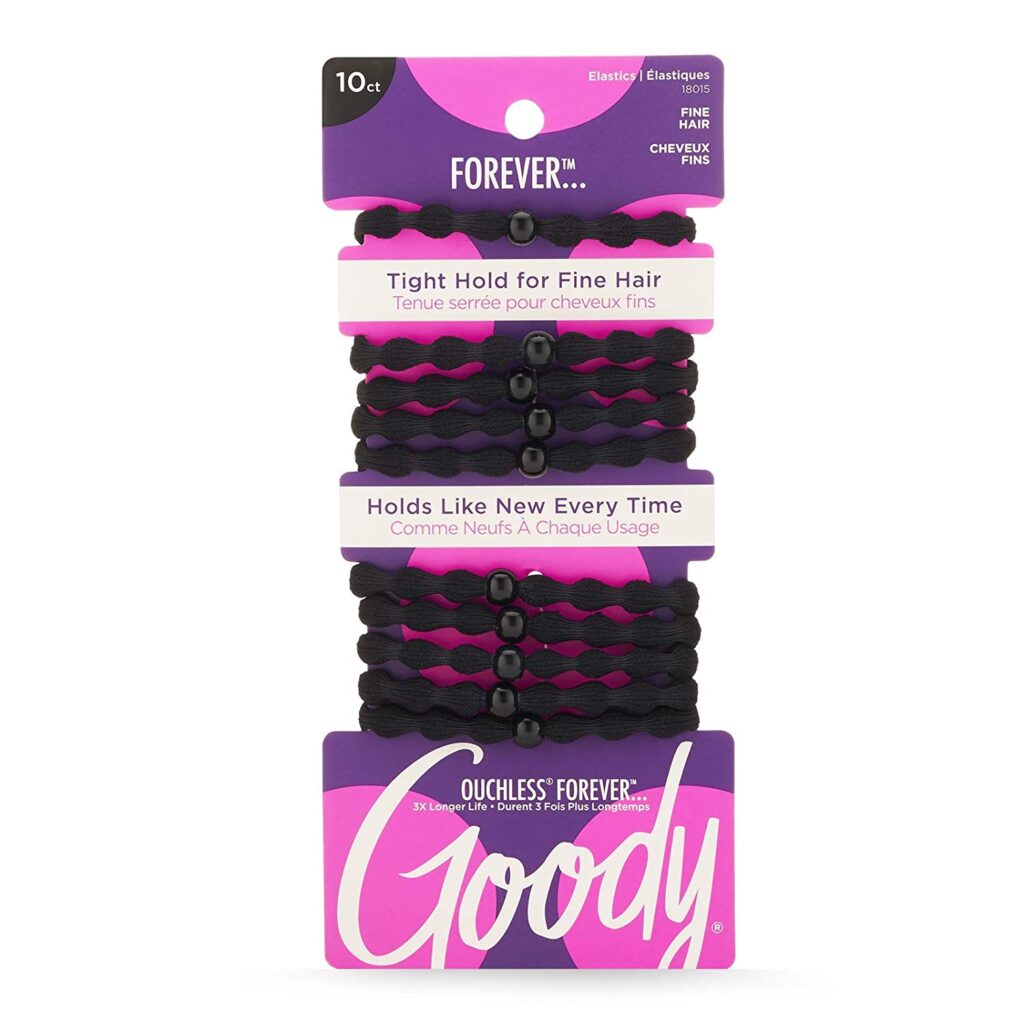 This ponytail holder is specifically designed for all lengths and styles of fine hair. It provides a tight hold and bounces back to its original size so that it's like new every time.
The best part is, rather than just one rubber band on the inside, this hair tie has 16 rubber bands to ensure a perfect, tight hold for both short hair and long hair.
Pros:
Pain and damage-free
Holds hair all day
Cons: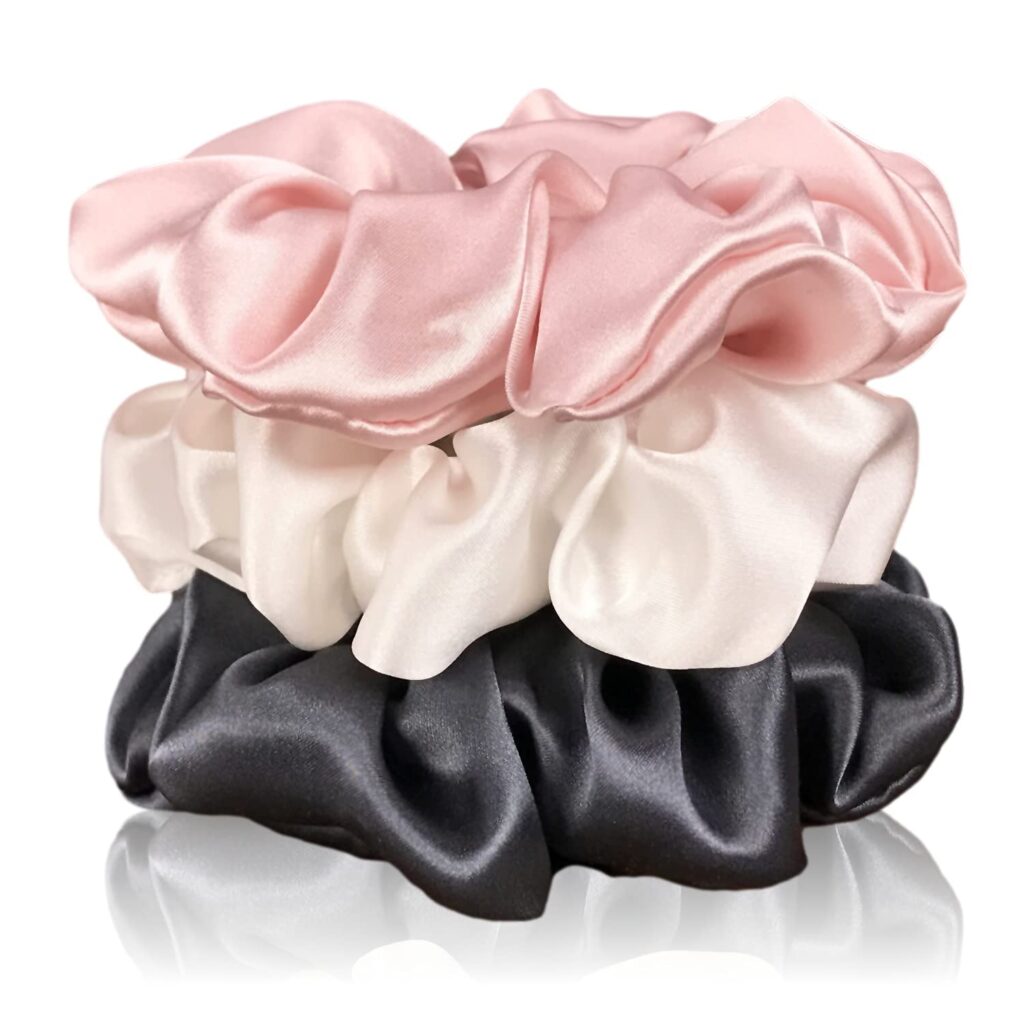 Silk hair ties are wonderful for all hair types since they glide over hair to prevent breakage and frizz. Whether you have curly or straight hair, silk is going to have benefits for you.
They will stay put in your hair while keeping it protected.
Pros:
Gentle on hair
Lightweight to wear
Cons:
Stretchy, will need to wrap around hair multiple times
(I'm also a big fan of silk pillowcases and have a post on how to wash them correctly!)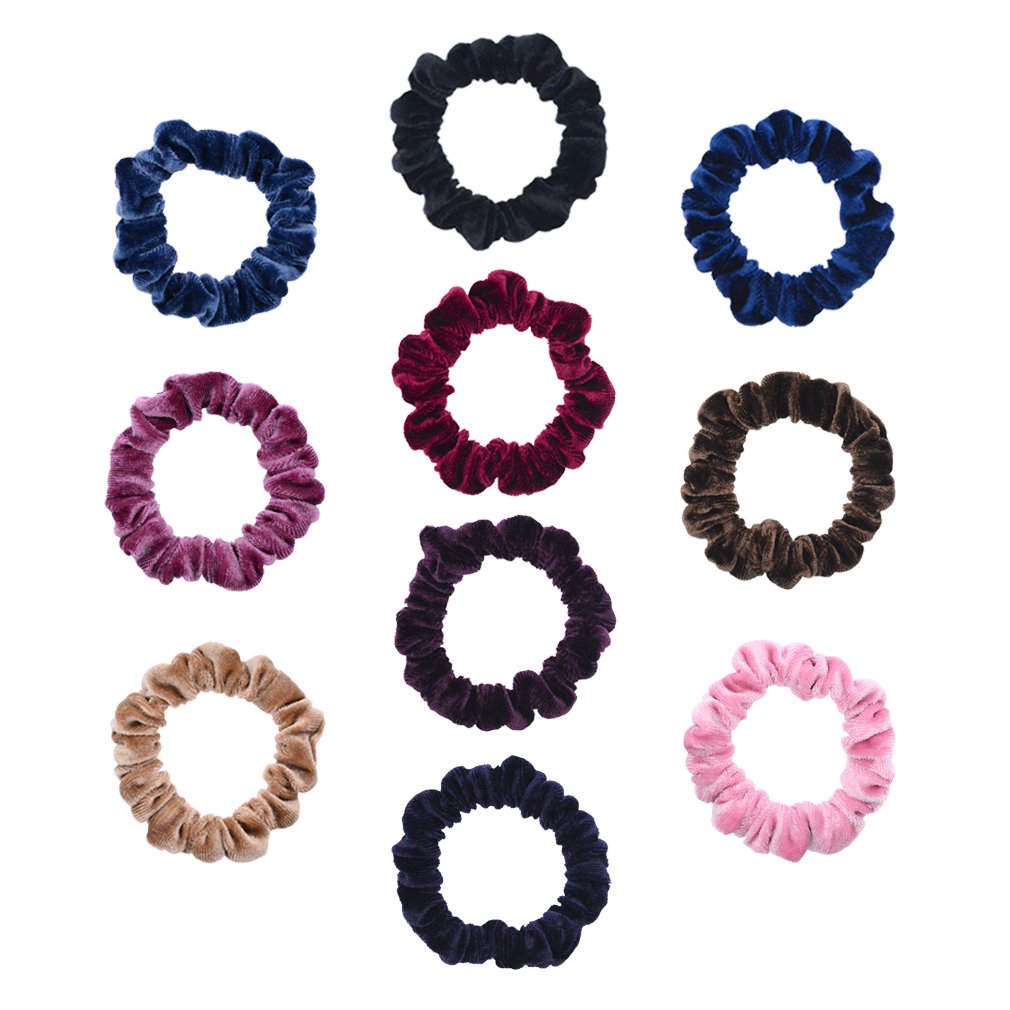 Not only is a velvet scrunchie a beautiful hair accessory, but it's also comfortable to wear and won't damage your hair. These are a smaller scrunchie made of soft material and are specifically designed to hold slippery, thin hair.
Big scrunchies can overpower a thin ponytail, but the size of these is just perfect!
Pros:
Won't slip
Holds a tight ponytail
Cons:
Tight elastic
Won't fit easily around your wrist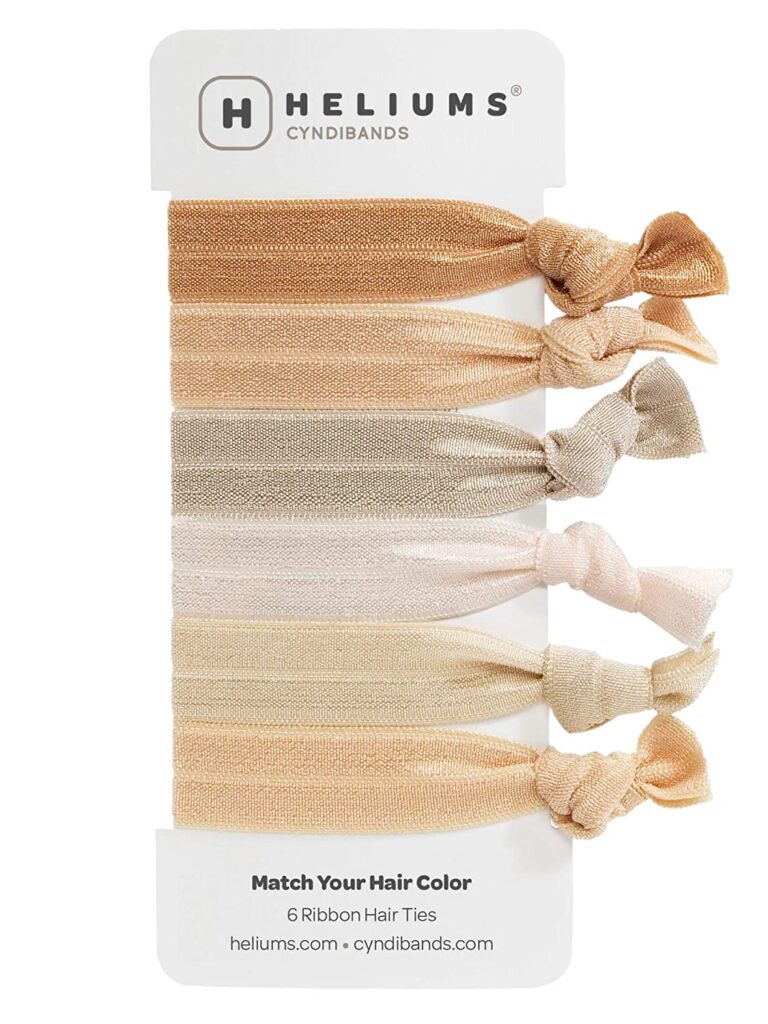 These ribbon ponytail holders come in thirteen colors so you can find the right hair tie for your hair color! This kind of hair tie won't damage, dent, or snag your hair.
Ribbon hair ties are very gentle on hair and won't cause any creases. Also good news — these hair accessories are made by a woman-run business based out of Los Angeles!
Pros:
Cons: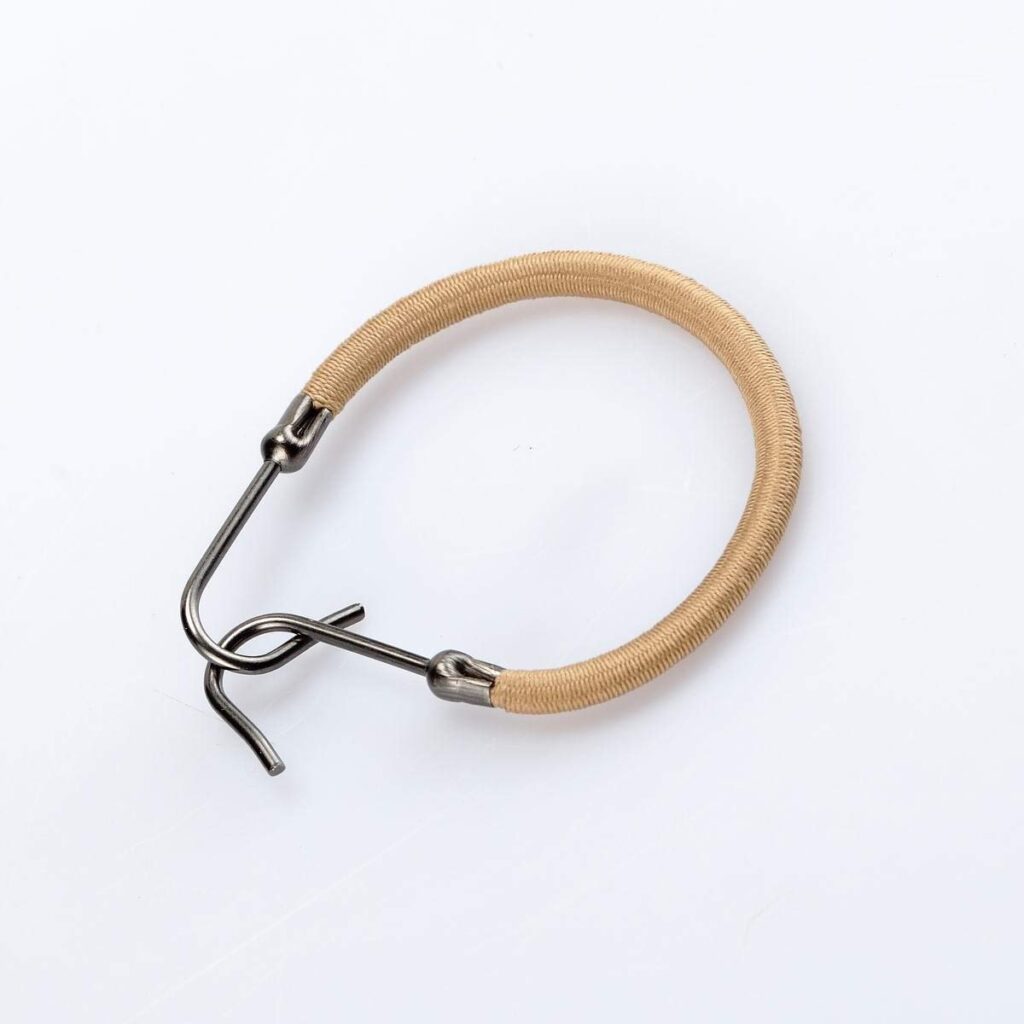 This bungee-style hair tie might look a little funky, but it's perfect since it wraps and unwraps around the hair. This prevents hair from breaking and doesn't pull or tug on hair.
These bungee bands work by creating a custom fit no matter how thick or thin, straight or curly your hair is. It's especially good for curly hair since it won't damage the curl patterns.
Pros:
Cons:
Might be confusing to put in
Best for thicker hair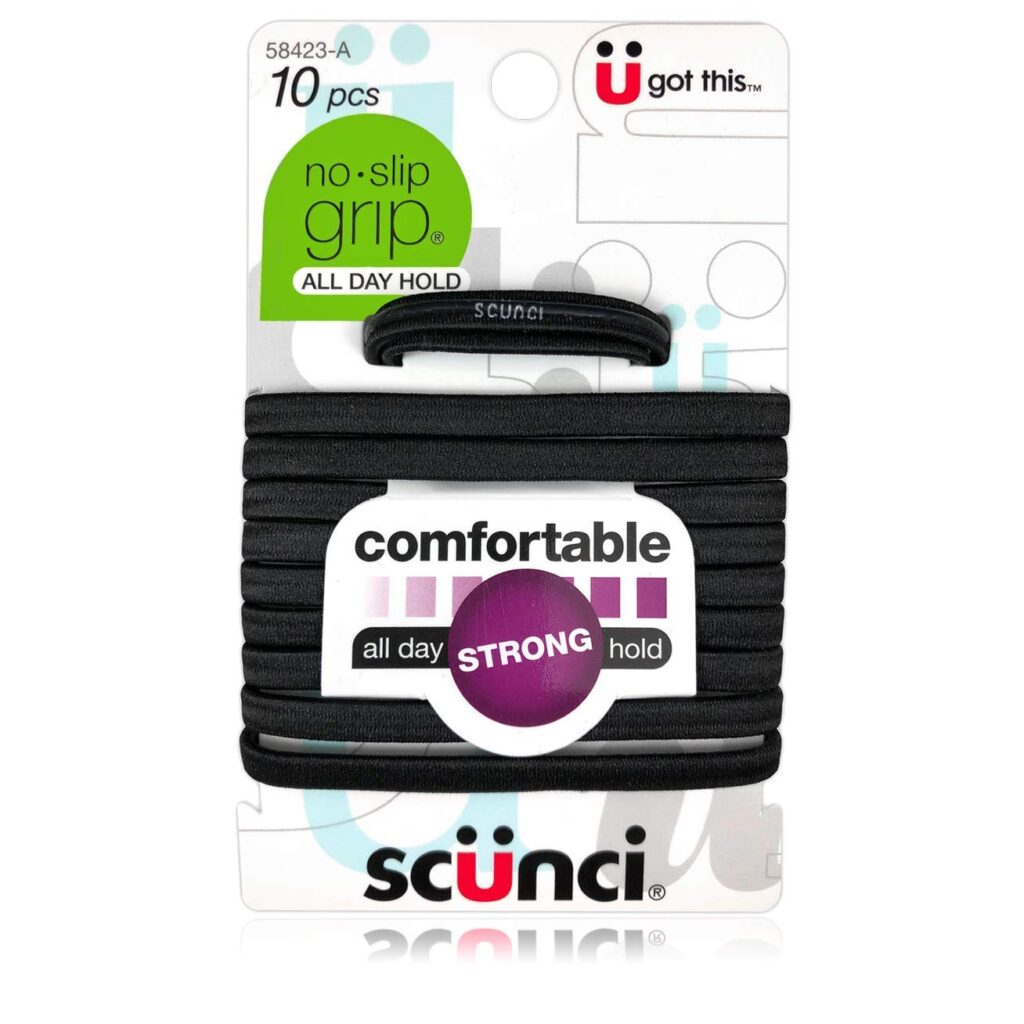 This classic black ponytail holder keeps your hair in place with an all day strong hold. They're simple in their looks, but they get the job done and will leave you with that flawless ponytail.
Pros:
Small hair elastics size makes them great for thin hair
Good grip
Cons:
Break easily
Not the best for curly hair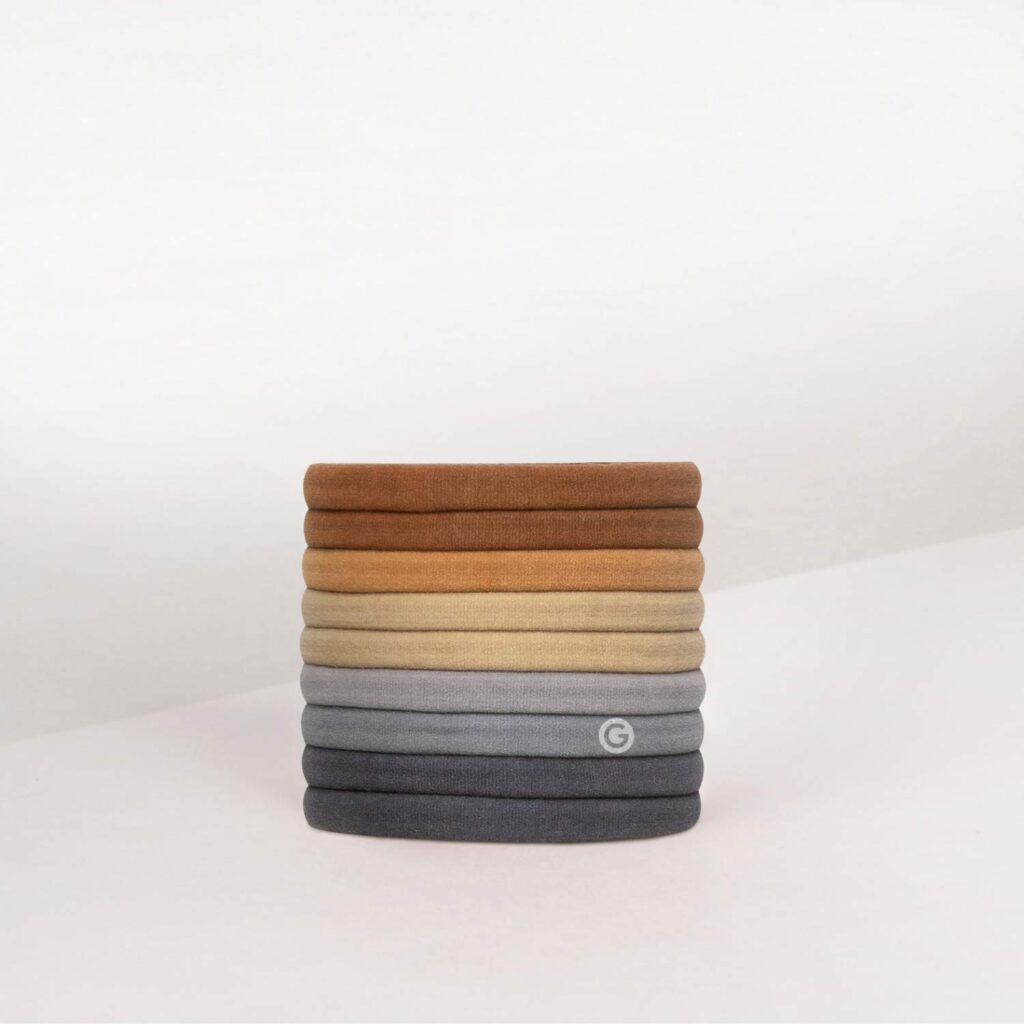 Gimme bands are made out of microfiber elastics that prevent tension and dents. They've been tested to last throughout the toughest of workouts, so this is a great choice if you're active.
These are specifically designed for fine hair and also come in an extra fine version.
Pros:
Won't snag hair
Gentle on hair but firm hold
Cons:
Stretch out quickly
Doesn't give much added volume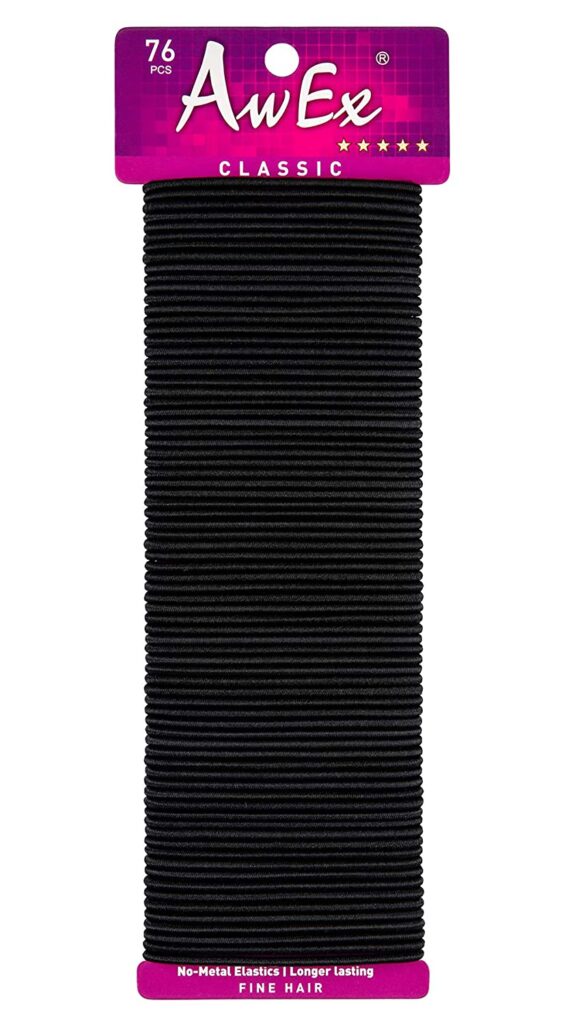 These hair ties are best for thin to medium hair. They're slim but strong and will hold hair comfortably and securely without losing their shape.
Pros:
Highly stretchable
Won't slip
Cons: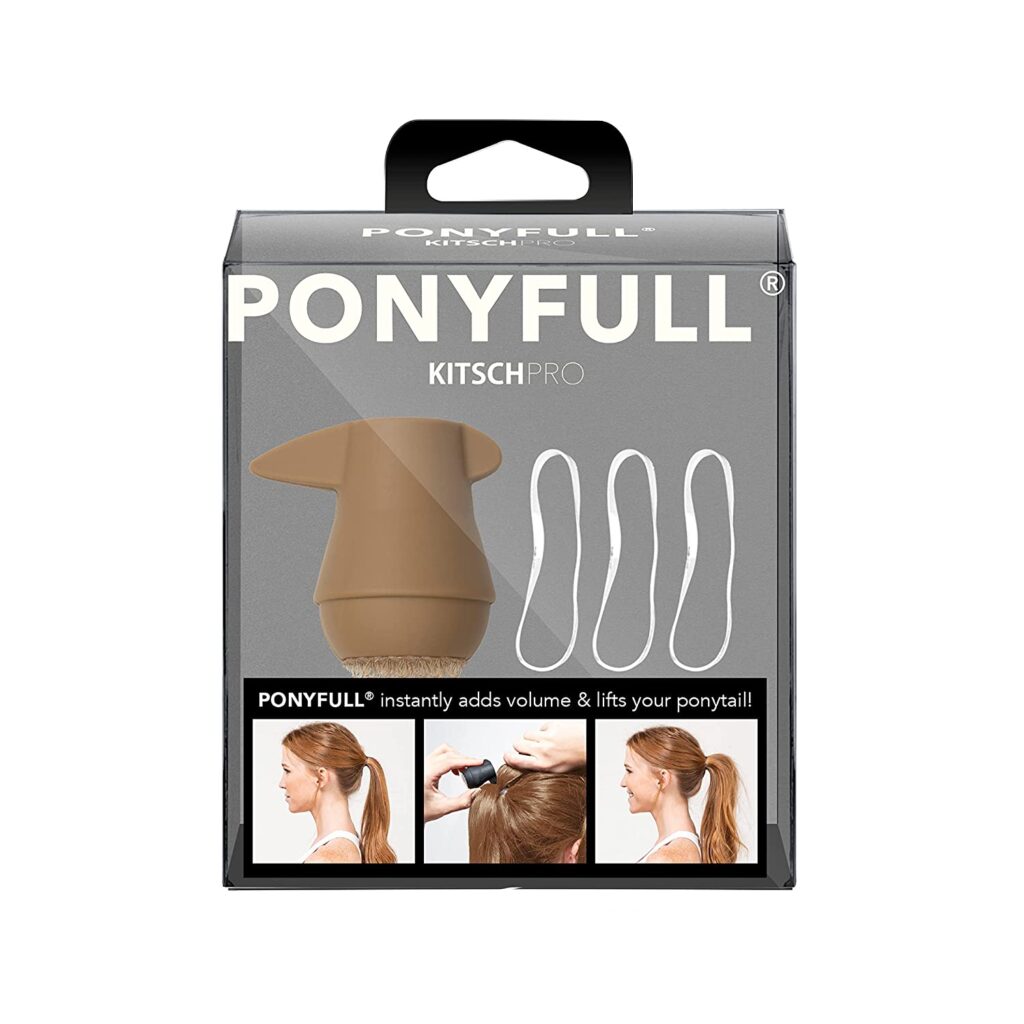 This isn't a ponytail holder, but it's definitely ponytail magic for thin hair!
If you've been dreaming of having a fuller pony tail, this styling tool works with a hair tie to add volume and create a thicker pony tail. It comes in a blonde and a dark brunette/black color.
Pros:
Adds volume
Makes hair seem thick
Cons:
Hard to put in
If your hair is very thin, the tool might show through
FAQ
What is the least damaging hair tie?
To prevent damage to your hair, you'll want to stay away from traditional hair ties made out of elastic with a metal clasp. Instead, opt for a spiral cord hair tie, silk hair tie, or ribbon hair tie.
Which hairstyle is best for thin hair?
Whether you're going for a high ponytail, low ponytail or bubble ponytail, the prep work is the most important! Blow drying your hair and using hair thickening product is a great way to get some added volume.

If you want to get that perfect, effortless updo, try curling your hair, teasing it or using a texturizing spray before putting it up if you have straight hair. That will help add a little extra volume, too.

As far as haircuts go, stylists usually recommend lengths any length between the ears to the collarbone to help thin hair appear thicker. When it's longer, it becomes weighed down.
Are thin hair ties good?
To protect your hair from damage, you'll want to go with a softer and fuller hair tie. A wide hair tie coated in elastic or cord hair tie are best to use to prevent any breakage.
Looking for more tips for your thin or fine hair? I've tried it all! Check out my posts on the best volumizing powders, hairbrushes for fine hair, and flat irons for fine hair!