Confused about skincare? Don't want to spend hundreds on products that don't really do what they're say they do? Well, you're in luck. Enter Maelove!
Maelove is a newer skincare brand that was created to make high-performing, affordable skincare accessible to everyone.
Founded by Jackie Kim and 2 of her friends, Brad and Rishi, who are MIT grads, the team behind Maelove completed over 100 different tests and experiments on our formulations before launching Maelove's first skincare product.
The majority of Maelove products are under $30. The only exception (currently) is the Love 31 serum and the Moonlight Retinal Super Serum. They have beautiful minimalist packaging, a simple products line and high quality beauty products.
One of the main reasons Maelove was started was because Jackie wanted to offer luxury skin care products without the hefty price tag! All of Maelove's products harness the same technology and ingredients as luxury brands, but sell for a fraction of the price.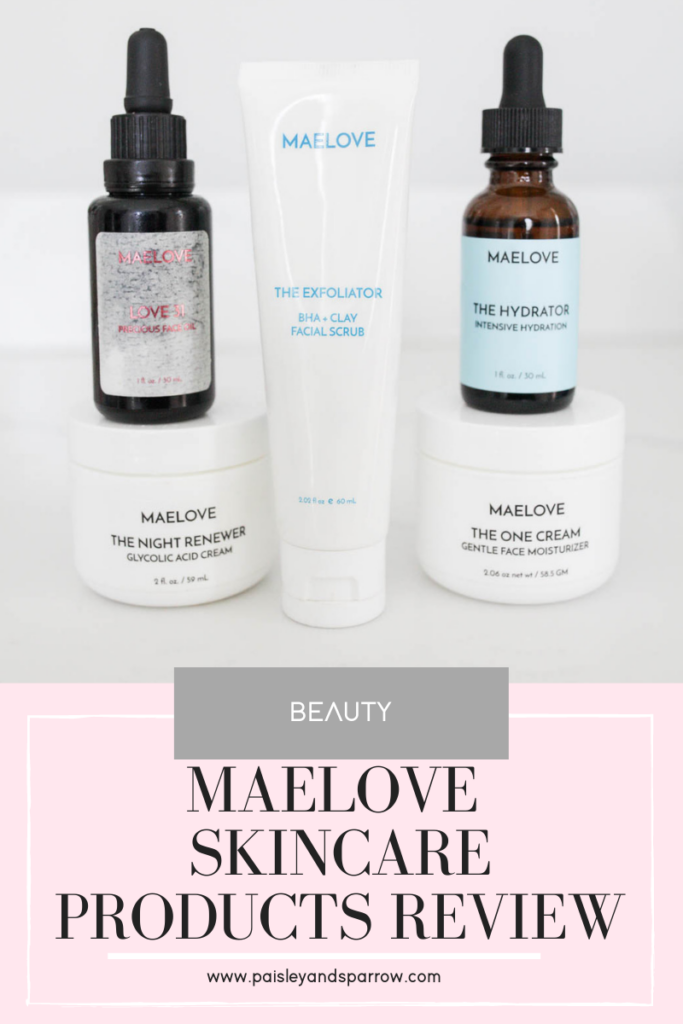 This post contains affiliate links.
Pros of Maelove
1. Cruelty Free
Maelove products aren't tested on animals and are also vegan.
2. Clean Products
All of their products are great for all skin types but especially sensitive skin. They're free of parabens, phthalates, triclosan, artificial dyes and fragrances. They also refuse to use any ingredient that is banned in both the US and the EU.
3. High Quality
Their products are all created in labs that are cGMP-certified and FDA-registered and have approval for over the counter formulation manufacturing. They are also even storied in food grade storage facilities that are also FDA registered! These storage facilities have temperature controlled areas that ensure their freshness.
4. Affordable
As mentioned above, all of their products are extremely affordable – most under $30.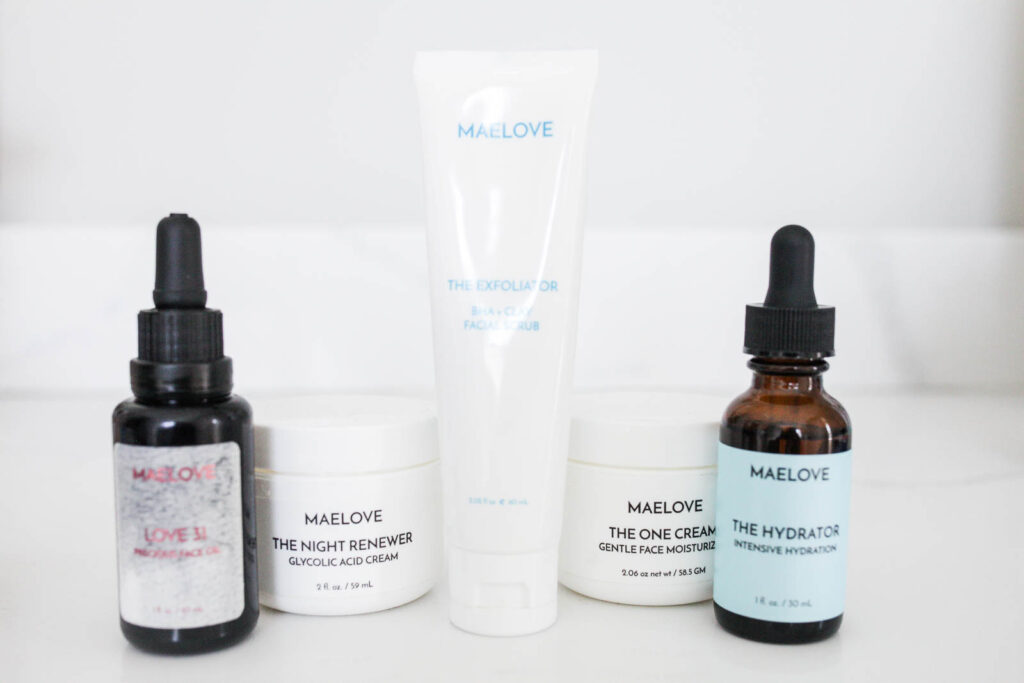 Cons of Maelove
1. No Samples
You can't really test out the product without buying it. You are able to return it if you keep the packaging so keep that in mind when purchasing.
2. Limited Product Line
That, however, is also something they prefer to have to ensure that you are consistent with your skin care routine! No more 20 step process that you can never commit to.
Ok now on to the product review! I've tried 5 different products and will share those as well as some info on a couple of their most popular products.
3. Only in USA
Currently Maelove only ships within the USA.
Maelove Skincare Products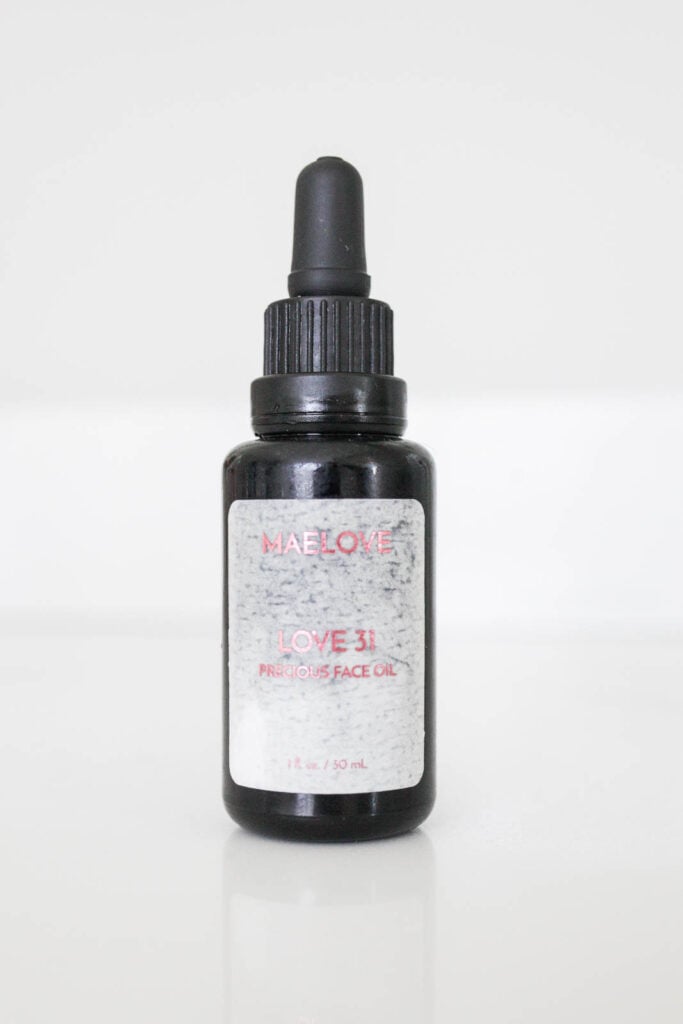 The Love 31 oil is the most expensive product that Maelove carries. And it is by far one of my most favorite products I've ever used!
As the name implies, it has 31 different botanical extracts and vitamins infused into every bottle. There are things such as Vitis Vinifera, Cannabis Stativa, Jojoba, Rose, and so much more. It has a beautiful floral scent that I love.
The Love 31 Oil is hydrating and nourishing. You can feel that the second you apply it to your face. It's light and absorbs quickly, not leaving a greasy feeling to your skin.
It's meant to repair and protect your skin. You'll notice this each time you use it! Fun fact: Maelove tested out 90 different versions of Love 31 before landing on the the perfect blend that you find inside that little bottle today. This is definitely a bit more of a splurge item but worth every single penny.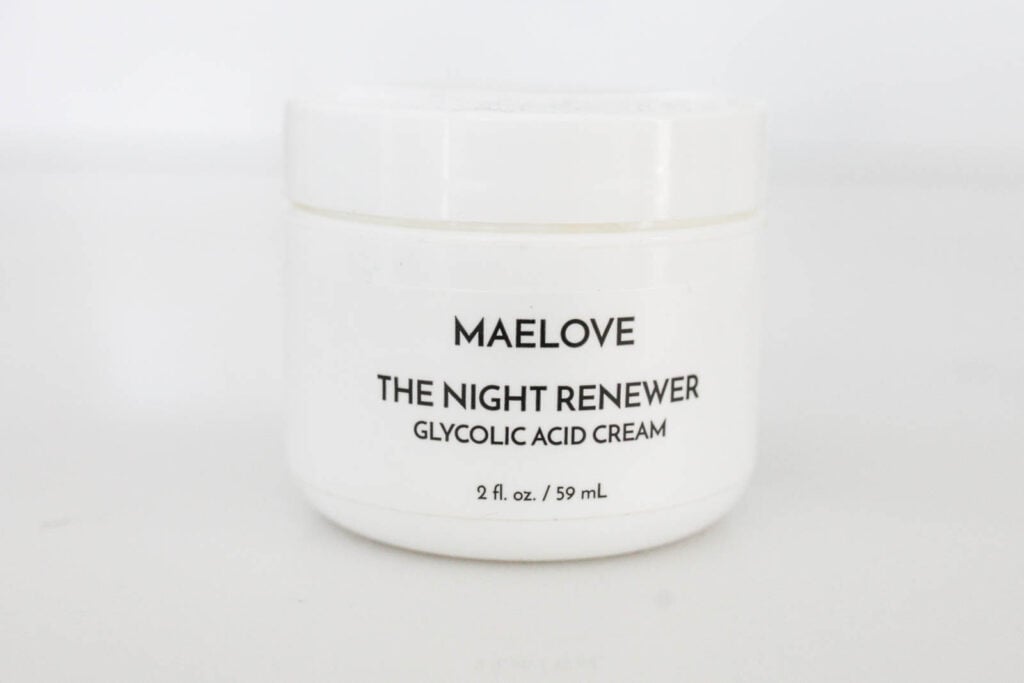 If you have sensitive skin and haven't found a product that includes Glycolic Acid in it, this Night Renewer is a great option for you.
What does Glycolic Acid do? The main things it helps with is reducing the appearance of fine lines and wrinkles as well as improving your skin texture and fading dark spots.
Maelove worked super hard to create a night cream that was able to include 10% medical grade Glycolic Acid to give you all of the benefits of this key ingredient without causing some pretty bad side effects.
I use this every single night and love it!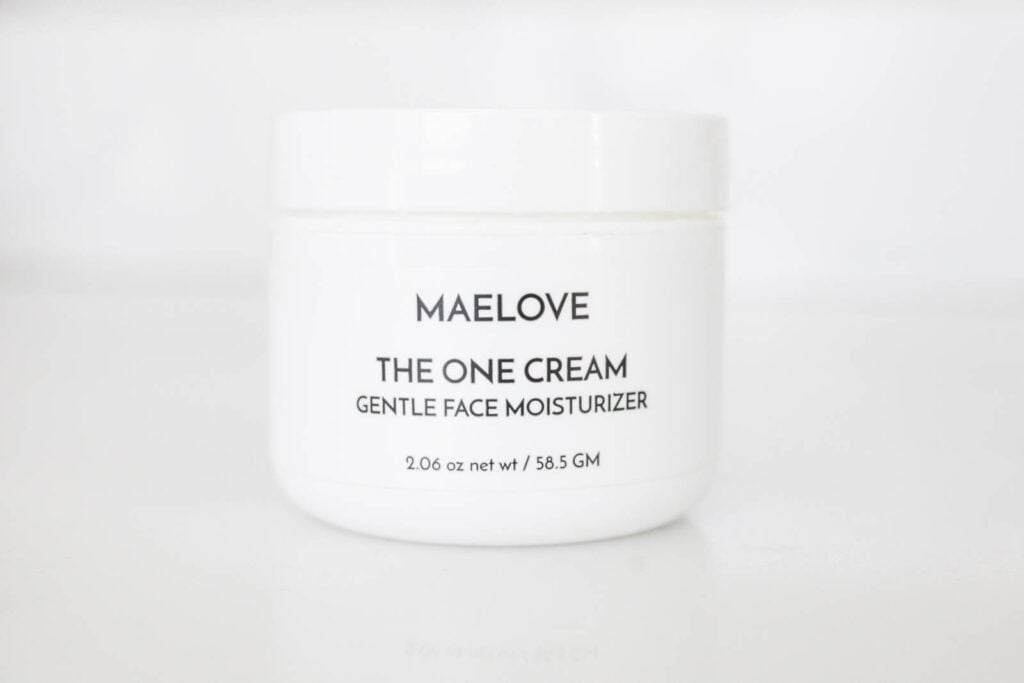 If you need a daytime moisturizer, check out the One Cream! This moisturizer is lightweight and absorbs quickly making it easy to layer under makeup for a smooth finish.
It is made with a mix of squalane, coconut extracts and glycerin. This helps to keep your skin nourished and hydrated and also ensure that the active ingredients in your serums are sealed in.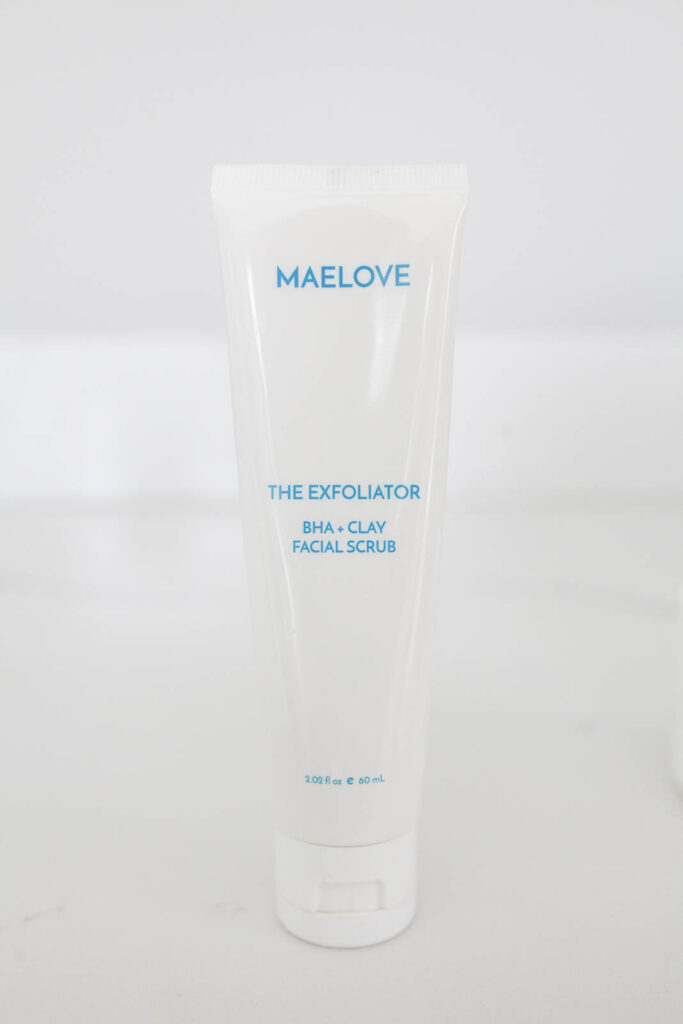 Let's chat facial exfoliators! Something we could all benefit from is exfoliating our skin from time to time and Maelove has a great Deep Exfoliator product to do just that.
I love using this a couple times a week to hep unclog my pores and clear out dead skin cells. I notice that my makeup goes on smoother and my face feels softer after using it!
This product has BHA (Salicylic Acid) and Pulverized Clay as well as Niacinamide (Vitamin B3), Glycerin, Allantoin and Vitamin E inside it. All of these ingredients work together to give you radiant, beautiful skin all while moisturizing and leaving your skin refreshed.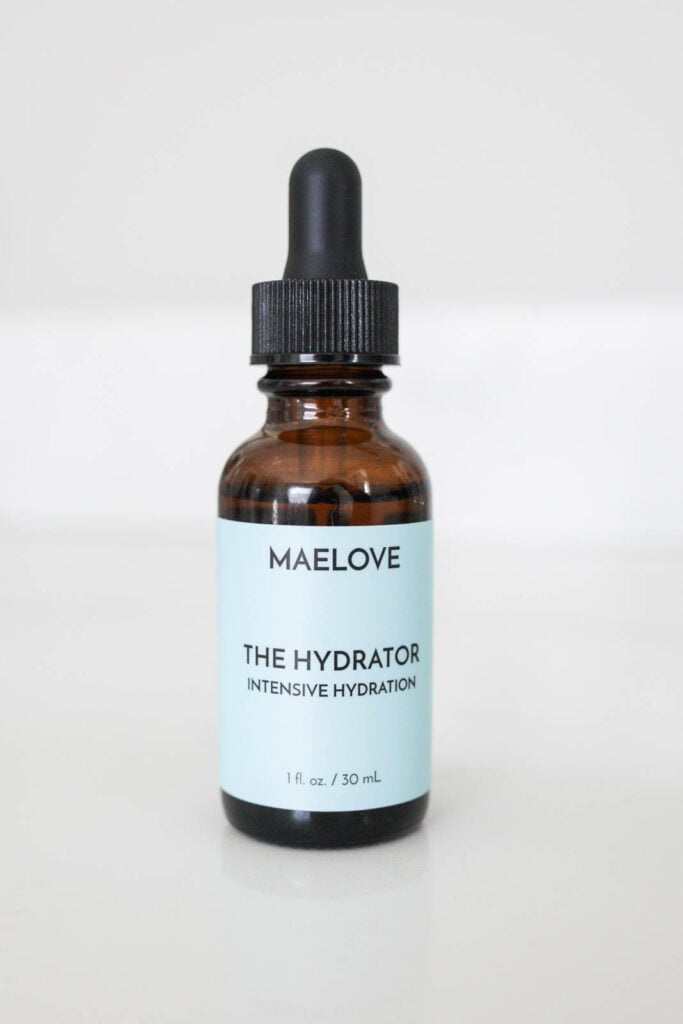 If you're new to facial serums, this Hydrator Maelove serum is a great one to start with! It comes in a gel form which makes it super easy to apply to your skin and layers easily.
The Hydrator is especially go for anyone with dry skin but it's great for everyone to use! It's filled with Hyaluronic Acid, Panthenol (Vitamin B5) and Resveratrol to both hydrate as well as deliver nutrients to your skin.
Maelove reviews on this product are all 5 stars. Everyone raves how it is a game changer for their skin care routine!
Ok, those are the 5 products that I've used and loved. Now on to a couple other products that are fan favorites!
One of the most popular product on the website is the Maelove Glow Maker Serum with over 10,000 reviews. If you don't already have great Vitamin C products in your skin care routine, then I have just the thing!
Vitamin C Serums are something that everyone should use daily no matter your skin type. The Glow Maker Formula is a mix of Vitamins C, E, Ferulic Acid and Hyaluronic Acid.
It's been said to be perfect for applying makeup, it also provides antioxidant protection to repairs damages and long lasting hydration. It's the perfect product to add to your skincare routine!
Clean SPF that actually works? Yes please! The Maelove Sun Protector is formulated with non-nano 18% Zinc Oxide and is a good option protect your from UVA and UVB rays.
The best part is, it's doubles as a makeup primer! Gone are the days of excuses as to why you're not wearing sunscreen anymore! This protects and primes, two in one! It's also fortified with Vitamins C and E making it that much more enticing.
FAQ
How long does Maelove Glow Maker last?
The Glow Maker should last you around 3 months or so if used daily. It has a shelf life of 2 years so just be sure to use it up before then.
What are Maelove Love 31 Face Oil's ingredients?
Love 31 Face Oil contains 31 botanical ingredients. They include things like Vitis Vinifera, Grape Seed Extract, Cannabis Sativa, Jojoba, Rose, Argan, Hazelnut and Baobab.
What is Maelove's return policy?
Maelove has a 100% satisfaction guarantee. You can return it within 100 days for a full refund.
How long does Maelove take to ship?
Maelove takes minimum of one week for processing and transit.
Does Maelove ship to Canada?
No, only to the U.S.A.
Is Maelove a good brand?
in my opinion, Maelove is an excellent choice for those who want good luxury products without the expensive price tags!
Is Maelove Vitamin C good?
As one of the most highly rated products on Maelove's sites, yes, the Glow Maker Serum is a good vitamin c serum.
Is Maelove Glow Maker as good as SkinCeuticals?
A lot of people who try Maelove Glow Maker notice it's very much like SkinCeuticals. I think the biggest difference is that the Glow Maker contains more oils and extracts than SkinCeuticals so it has a lighter consistency and milks into your skin better.