Do you have a 1-year-old in your life? It's such a fun age — starting to outgrow the baby phase, learning and playing more and more, but not quite full-blown toddlers yet.
This is a great age to introduce a baby doll for 1-year-olds to start developing pretend play, fine motor skills and cognitive skills. Dolls make a great first birthday gift for both girls and boys! Your little one will love mimicking mom and dad and take care of their new babies.
These are the 12 best baby dolls to make your baby's first birthday and the whole year more fun!
Paisley + Sparrow is a participant in the Amazon Services LLC Associates Program. This post may include affiliate links which means I may earn a small commission if you shop using the links below at no additional cost to you. 
Want the quick version? Here's our list!
If you want more details on a baby doll, keep scrolling!
Considerations for Their First Baby Doll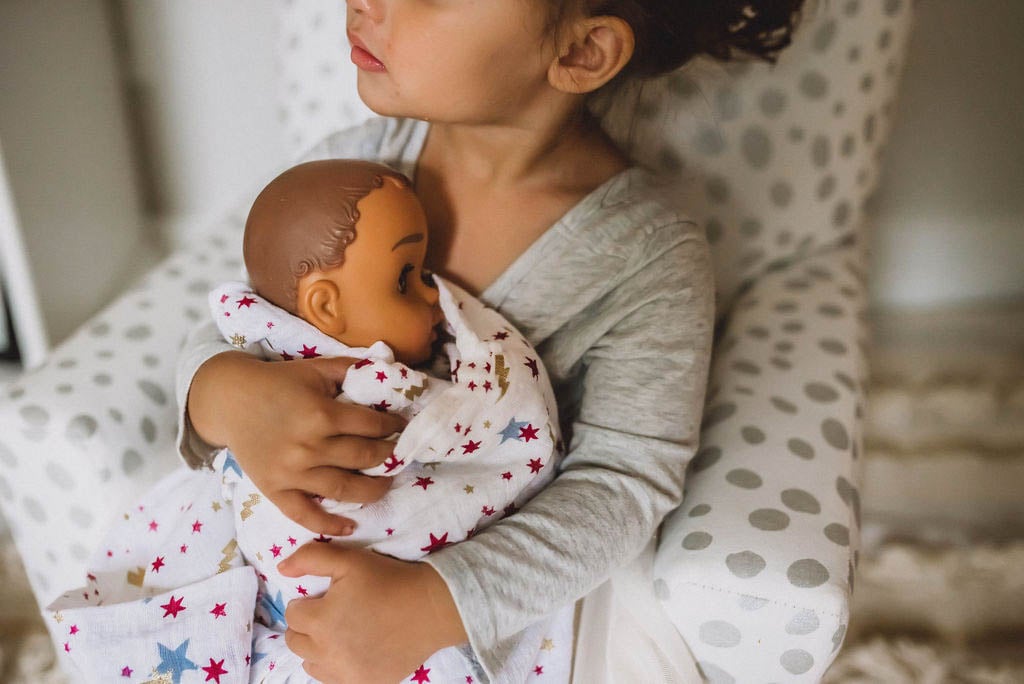 Before I delve into the list, here are some considerations to keep in mind when buying a baby doll for your little girl or little boy. You want to make sure you buy an appropriate, safe toy that will be fun for this age group.
Size
When looking at baby dolls, you should consider smaller size options so it's not too big to carry. The average 1-year-old is less than 2.5 feet tall and hasn't been walking very long, so a big doll is going to be hard to carry around.
Safety
Safety is your top priority, so make sure you're thinking through what dolls and accessories are safe for little children. The baby doll shouldn't have any hard , small, or sharp parts that can put your child at risk.
According to Nemours Children's Health, toddlers' toys should be at least 1.25 inches in diameter and 2.25 inches in length so they won't be a choking hazard.
The Consumer Product Safety Commission's guidelines on toy safety are a good place to find other safety rules.
Accessories
Baby doll accessories may include products like blankets, pacifiers, hats, and more. Many are sold separately, but check if the doll you're considering comes with any small parts.
Not only can small parts be a choking hazard for small children, but they can also be difficult for tiny hands to use. Toddlers can get frustrated easily, so you don't want to introduce accessories that won't be useful (and will just lead to meltdowns!).
Hard or Soft
A lot of baby dolls come with a soft body as they're made for toddlers. But you might find some whose heads, limbs or even whole bodies are made of hard plastic. It might not be a safety concern, but you might want a doll that can be cuddled and be a comfort item.
I tend to think the best option is a doll that is soft all over.
Washable
Another important factor that has nothing to do with the toddler's preference but everything to do with the parents' is washability.
There are several dolls available on the market that can be washed in different ways. Some are spot wash and others can be thrown in the washing machine. If you're hoping your 1-year-old will sleep with the doll or they're likely to drag it all over the place, I'd go with a machine washable doll!
12 Best Baby Dolls for Your One-Year-Old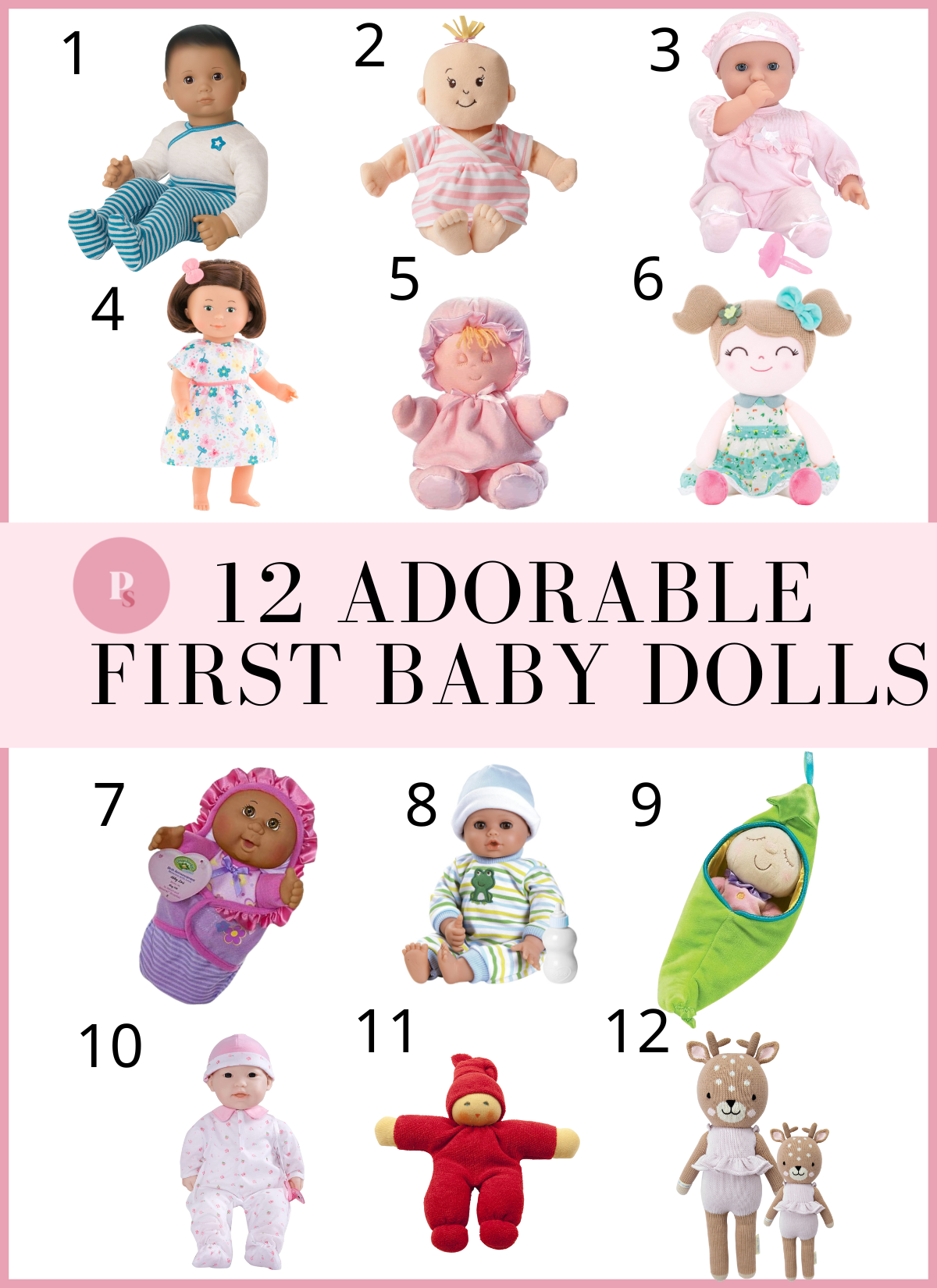 Now that you know what type of toy to look for, it's time to choose one of the top baby dolls that fits what you have in mind. Your toddler and their new doll will soon be best friends!
If you're willing to spend a bit more money on the perfect doll, my first choice is the Bitty Baby Doll from American Girl! The American Girl doll is too big and hard for toddlers, but the Bitty Baby is a great baby doll.
This toy has a soft cloth body with the head, limbs, and legs made of vinyl. The clothes come in three colors — pink, blue, and gray. It is available in various skin tones, hair, and eye colors and can come with a plush toy and board book.
What's more, their eyes open and close!
Pros
Variety of skin tones, hair color, eye color, and bodysuit color options.
Lots of accessories available
Cons
Vinyl head, limbs, and legs
Expensive; starts at $60
What we love about Baby Stella dolls is the magnetic pacifier that attaches to its mouth. This is an absolute favorite with a lot of kids I know.
Baby Stella comes in a range of skin tones and hairstyles to choose from. The removable outfit, diaper, and pacifier are sure to give your toddler lots of babysitting opportunities.
If you're looking for a smaller doll, there's a Wee Baby Stella doll that is a good size for 1-year-olds. There is also a Sweet Sounds version of the doll that makes various giggling and sucking noises and says "mama."
Pros
Removable diaper and outfit
Magnetic pacifier
Boy and girl dolls and variety of skin tones
Cons
Melissa and Doug toys are always the best! The Mine to Love baby doll from Melissa and Doug is an adorable addition to your family.
The doll comes dressed in a removable smock outfit and cap, can suck her thumb, opens and closes her eyes, and has a pacifier.
Pros
Smells sweet
Adorable features
Cons
Wipe clean hands and legs
The My First Corolle baby dolls are the best starter dolls for babies from birth up to 8 year olds.
These dolls are 11 inches tall, super light, wear hooded pajamas, and smell like vanilla. Their body is made of soft-touch vinyl. They come in a range of styles and dress types that your child is sure to love.
The best part? You can simply wash the surface using a damp washcloth soaked in diluted baking soda.
Pros
Cons
These soft dolls are the perfect first baby doll. It's 11 inches with a satin peek-a-boo belly and fleecey soft clothes! And you don't have to worry about keeping the doll clean as it is machine washable.
If you look at the Amazon reviews, you'll see story after story of these being a favorite doll of people who are now grown!
Pros
Machine washable
Very soft
Cons
Not as appealing to older toddlers
If you aren't looking specifically for a doll that's a baby, this soft doll with pigtails and the cutest dress makes a good doll for all kinds of imaginative play.
This girl doll is a safe option with its soft fabric-embroidered hair, eyes, and mouth. The doll is fragrance-free, 16 inches tall, and machine-wash friendly. You can even personalize the doll and place a name or message on it.
There are lots of outfit variations, from ballerinas to animals, and you can buy it with a toddler backpack that holds the doll for easy carrying.
Pros
Machine washable
Personalizable
Fragrance free
Cons
On the more expensive end
Not a baby
I loved Cabbage Patch dolls when I was little, and I'm so happy they're still around, because they are great for little kids. The bodies and limbs are soft, and the heads are a not-too-hard plastic.
This particular doll is 9 inches, making it a perfect size for a 1-year-old. While the clothing is not removable, the swaddle can be removed.
The specialty of the Cabbage Patch dolls is that they come in different genders with a range of hair color, eye color, skin tone, and size options.
Pros
Easy for one-year-old kids to carry around
A large variety of options
Different skin tone and gender options
Cons
Give your loving toddler a baby doll they will truly cherish with this 13-inch thumb-sucking Adora doll.
It comes with a baby bottle, silky smooth body, and smells like baby powder. The eyes open and close, the clothing is removable, and you can machine wash the doll too!
Pros
Machine washable
Gentle-touch vinyl
Boy and girl dolls
Cons
Some reviewers complained the scent was too strong
Expensive
This is another cuddly doll for ages 6 months and above that your toddler will love snuggling. The whole thing is plush, so there's no uncomfortable bits to poke them or hurt if they fall on them.
Your little one will enjoy tucking these babies into their pods lined with silky satin. The tiny baby dolls come in fun designs, sizes, colors, and matching pods.
Pros
Cons
If your toddler prefers realistic-looking toys, then they're going to love the La Baby!
This one is for ages 12 months and above, is 16 inches long, and comes with vinyl head, limbs, and legs. The doll has a pacifier attached to it and is fragrance free.
Pros
Fragrance free
Machine washable
Variety of skin tones
Cons
When you buy a Cuddle+Kind doll, you're not just helping your child but also one in need. In line with the company's fight against hunger, with every plush doll or stuffed animal sold, they are able to offer ten meals to children in need.
They sell hand-knit dolls made by artisans in Peru. Each doll is made with non-toxic, high-quality cotton, and no hard parts.
Pros
Hand-knit
Non-toxic
No hard parts
Cons
Expensive
Mostly animal options
Got a teething baby on your hands?
Get them this 6.7-inch doll made of certified organic cotton terry cloth and filled with pure organic Bioland wool. The doll is hand washable and available in 2 skin tones and 10 color options.
Pros
For teething toddlers
100% cotton and pure bioland wool
Cons
Benefits of Playing With Baby Dolls
Playing with baby dolls can be a great source of entertainment and learning for both boys and girls. Have you ever heard the quote, "Play is the work of childhood" (sometimes attributed to psychologist Jean Piaget, Mr. Rogers or Maria Montessori)? Kids are developing so many skills through play, and playing with dolls is no different, no matter your child's gender.
Here are a few benefits of playing with baby dolls:
Develops motor skills
Teaches kids to be empathetic, nurturing, and compassionate
Encourages imaginative play
Teaches kids how to take on responsibility and be more independent
Develops their communication skills
Helps with the development of social skills
Did you have a special doll that you carried around during childhood? Or one that you loved to take care of?
It's amazing how they can be part of so many memories, so pick out a great first baby doll for your little one to make some lifelong memories with!
Need ideas for what to bring to the beach for your baby? Here are the 20 essential pieces of gear!
Want more fun for your little one? Check out one of these!