I'm sure you've seen Olaplex Hair Oil everywhere from TikTok to Instagram but is it actually worth it? After using it for over a year now, I'm finally ready to give you my full Olaplex Hair Oil review!
If you're newer to Olaplex and the Olaplex Hair oil, you're in for a treat. I'm going to share some background info on Olaplex and their cult favorite Nº.7 Bond Building Oil.
Let's get to it!
Olaplex History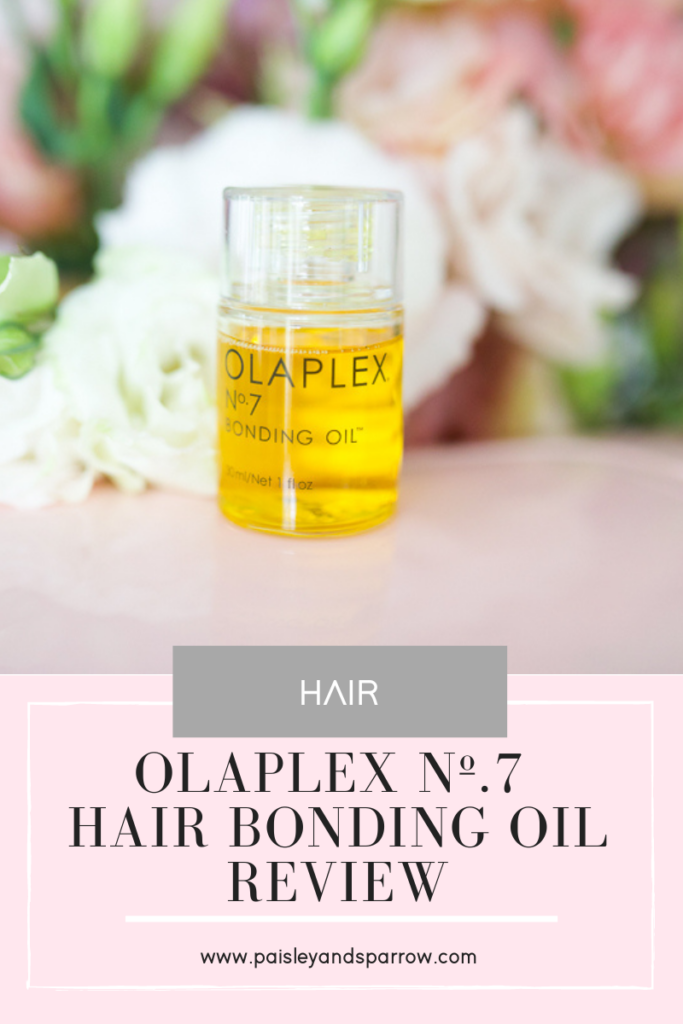 Paisley + Sparrow is a participant in the Amazon Services LLC Associates Program. This post may include affiliate links which means I may earn a small commission if you shop using the links below at no additional cost to you. 
Olaplex was started by Dean Christal in his garage in California back in 2014. Dean came from a family in the hair business – his mom ran a hair salon out of their home, his brother launched 2 haircare brands and his father was a beauty distributor.
Dean hired scientists to create a dye that would work better than all the existing brands out there without causing damage like many of them do. It took 3 years until finally one of the chemists discovered a solution.
Lucky for Dean, he got a meeting with Tracey Cunningham who is a celebrity colorists who used it on Gwyneth Paltrow and Jennifer Lopez and said she would never color again without it.
The rest, as they say, is history!
Olaplex has come a long way since that first product and now has a robust line of hair products from shampoo to condition to oil and more. I've used a variety of Olaplex products including their daily cleanse and condition duo and the Nº.3 to repair and prevent damage. More on those in future posts!
They are the best of the best when it comes to repairing hair and reducing damage in your hair.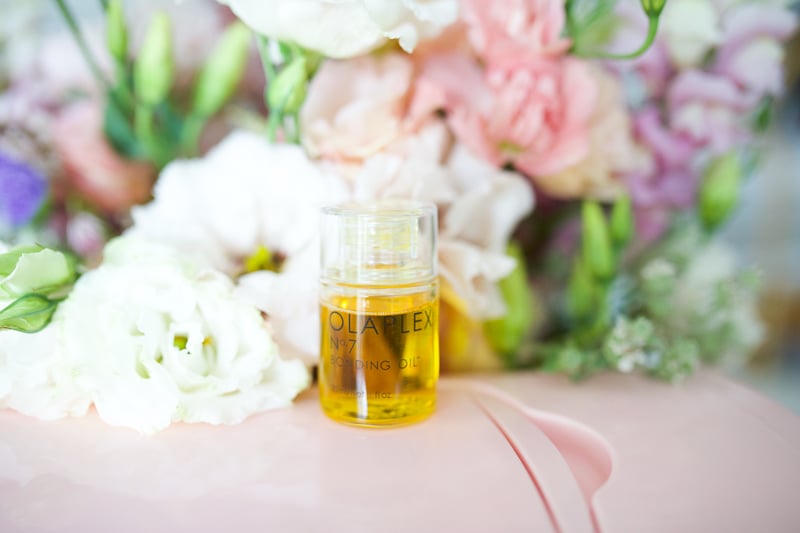 Olaplex Hair Oil Review
First let's start with my hair and my daughter's hair since we both use it. I have color treated medium length hair that's blonde. I dry my hair with a blow dryer every time I wash my hair which is usually around 2-3 times a week.
My daughter (who is 5), has incredibly long wavy dark brown hair. We never use any heat on her hair and let it air dry whenever we wash it. I typically cut her hair every 3-6 months and we do a lot of braids, high buns and ponytails. We both have fine hair.
What is the Olaplex Hair Nº.7 Bonding Oil?
As it says on Olaplex's website:
"The Nº.7 Bond Building Oil, infused with patented OLAPLEX Bond Building Technology, is a weightless, reparative styling oil that dramatically increases shine, softness and color vibrancy while providing heat protection of up to 450º F (232º C)."
The main things that it does is help combat frizz, strengthen and protect your hair, add shine and serves as a heat protectant. I personally use it for all of the things. I use it on my daughter's hair to strengthen and protect it since we are so often doing hairstyles that can be tight and cause damage.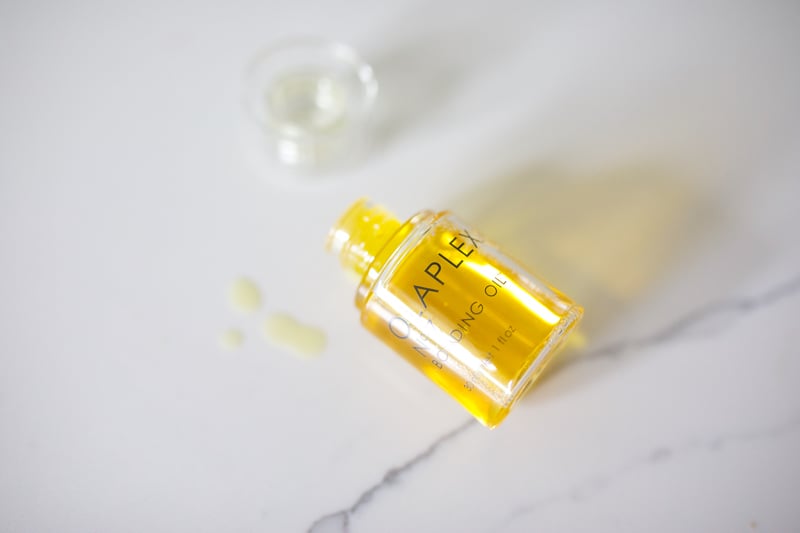 How to Use Olaplex Hair Nº.7 Bonding Oil
It's super easy to use the Olaplex bonding oil. You can use it on both damp hair and dry hair (I use it on my wet hair and use it on my daughter's dry hair). You simply unscrew the lid, hold the bottle upside down and tap the bottom of the bottle with your index finger so a metered drop goes into your palm.
You don't need to use a ton of oil, a small amount will do. Always remember, you can add more later but you can't take it away! Apply to the length of your hair followed by the crown.
Olaplex Hair Nº.7 Bonding Oil Ingredients
Here's everything that's in this hair oil.
Dimethicone, Isohexadecane, C13-14 Isoparaffin, Coco-Caprylate, Phenyl Trimethicone, Bis-Aminopropyl Diglycol Dimaleate, Propanediol, Zea Mays (Corn) Oil, Beta-Carotene, Helianthus Annuus (Sunflower) Seed Oil, Moringa Oleifera Seed Oil, Punica Granatum Seed Oil, Water (Aqua/Eau), Morinda Citrifolia Fruit Powder, Fragrance (Parfum), Hexyl Cinnamal, Eclipta Prostrata Extract, Ethylhexyl Methoxycinnamate, Limonene, Tocopherol, Citral, Linalool, Melia Azadirachta Leaf Extract, Citronellol, Pseudozyma Epicola/Camellia Sinensis Seed Oil Ferment Extract Filtrate
The key ingredient is their patented Bis-Aminopropyl Diglycol Dimaleate which can literally repair damage in as little as 3 minutes.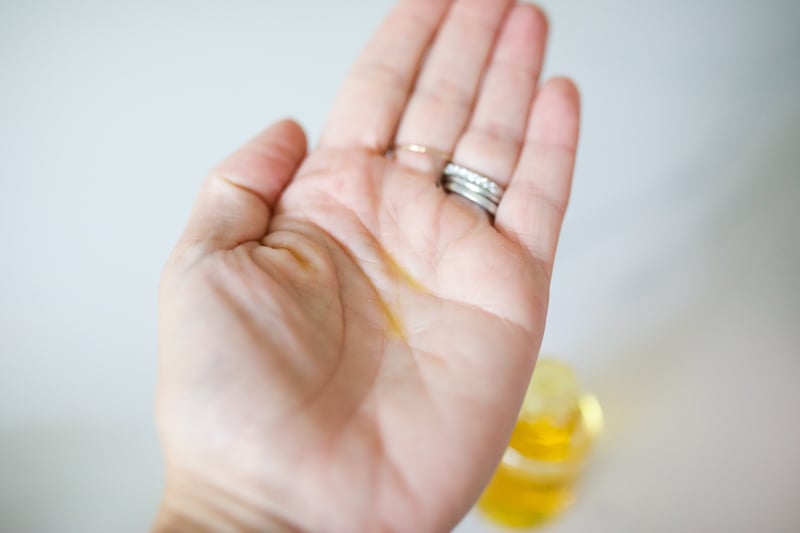 How Does Olaplex Hair Nº.7 Bonding Oil Work
Ok time for a little science less (thanks to the Olaplex website!). Your hair contains millions of disulfide bonds which work to give our hair its structure, strength and stability. When your hair is damaged from using heat, coloring it or putting it in too tight hairstyles for example, your disulfide bonds are now broken.
The ingredient Bis-Aminopropyl Diglycol Dimaleate helps to restore your damage hair and bring it back to it's strong, beautiful state. And yes, this works for all hair types!
In addition to getting your disulfide bonds repaired, the hair oil also protects your hair from heat. This is one of the main reasons why I love this product – because it's basically a 2 for 1! You get a heat protectant AND a hair strengthener/smoother in one.
Pros and Cons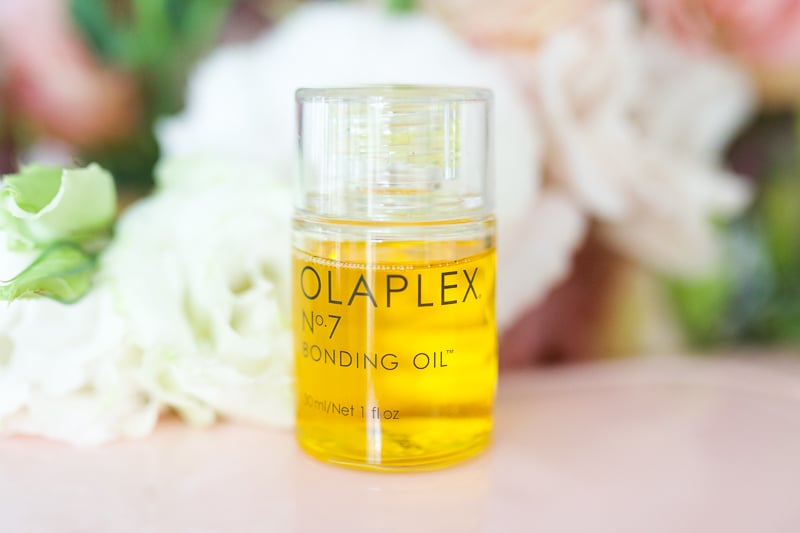 Pros
Light scent that doesn't linger
Easy to use
Doesn't make your hair greasy or feel oily
Cons
Application can be confusing
Price can be a factor (but once you realize how long it lasts it this isn't really a con)
Is it Worth It?
I've been using Olaplex for about 6 months now on both of our hair and have really been loving the results. When I use it on my daughter's hair I immediately notice how much smoother and healthier it looks.
I will put just a little bit of this hair treatment in her hair prior to doing things like bubble ponytail braids or top knots to give it a bit more protection. I also use it near the top of her head when I do styles like double french braids to smooth out any frizzy hair at the top of her head.
I use this on my own hair every time I wash my hair. I love how it protects my hair from my hair dryer and curling wands and iron (despite using really nice heat tools) and that it helps strengthen my hair at the same time. I will also sometimes add it to the ends of my hair after styling it to smooth out any rough ends.
This product really does help my hair feel softer and smoother and gives it an overall healthy appearance.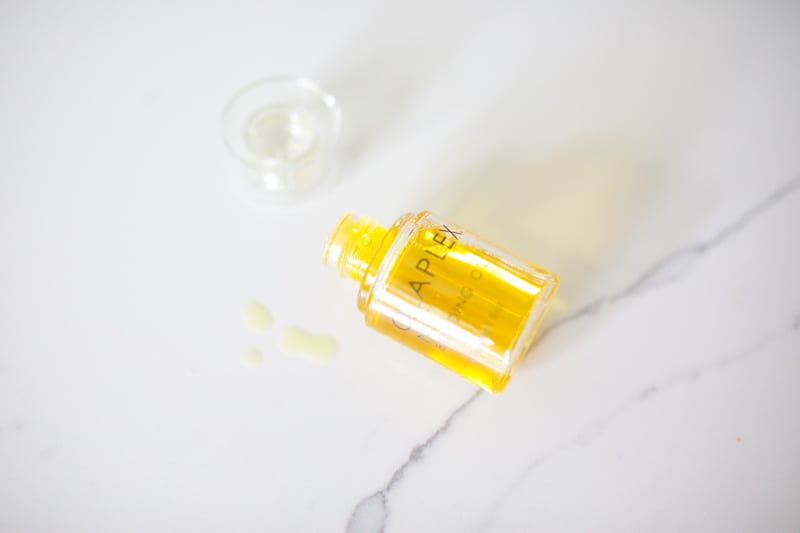 Would I recommend it?
​So do I recommend you try this out?
​100% yes!
This is truly one of the best hair old products you'll find on the market. Not only will it help your look and feel amazing but it will also help protect it from all of the heat styling we do day in and day out.
Other Reviews
I had the kindest reader reach out and wanted to share her experience using Olaplex N○7 Bonding Oil. I asked her if I could share her email and she gladly said yes! I love being able to share more than just my experience using a product!
Vicky said: "I stopped coloring my hair in 2017 & embraced my silver/ white curly hair…however the texture changed & became more unruly/ frizzy. I have tried numerous products, more than I care to admit 😅, yet the * first time I used Olaplex # 7. . .Wow!
Literally, game changer, WOW!
My hair instantly felt better, less coarse, & the curls held up nicely, even in humidity. *photo sent, as the old saying goes 'proof is in the pudding'"
And here is her hair – isn't it stunning? Thanks for sending Vicky!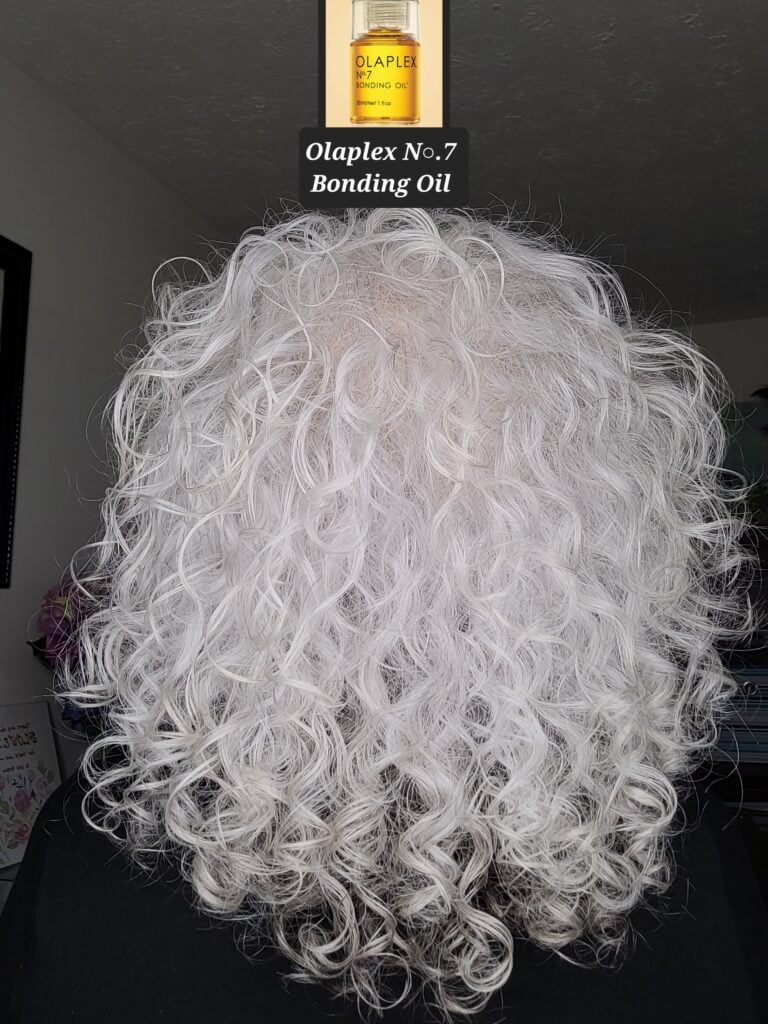 Where to Buy
You can buy the Olaplex Nº.7 Bond Building Oil a variety of places!
FAQs
When should I use my Olaplex oil?
Use this oil before styling your hair either on dry or damp hair.
Can Olaplex oil be used everyday?
Yes, it can be used daily. We recommend using it prior to styling your hair.