As your baby grows and develops, one thing is certain. Ride on toys are a great way to not only keep them busy but also helps your kids explore, enhance their physical skills and grow their cognitive skills. It enables them to be a bit more independent and have some fun!
There's tons of different options for ride on toys for 1 year old kids so today I'm going to share some of my favorite ones for young children.
How I Review
As a mom of 3 little ones, we have personally used and tried out most of the ones I'm sharing below. They have been toys that we've personally owned or used at preschool or friend's homes.
I will note, though, that kids are all different and what my kid likes may not be the same thing as what your kid likes! Heck, there have been things that one of my kids has LOVED that another one of my kids won't go near.
Nothing is foolproof when it comes to kids but hopefully this little guide can help take out a bit of the guesswork and hopefully find a great ride on toy for one year olds.
Best Ride On Toys for 1 Year Old (2023)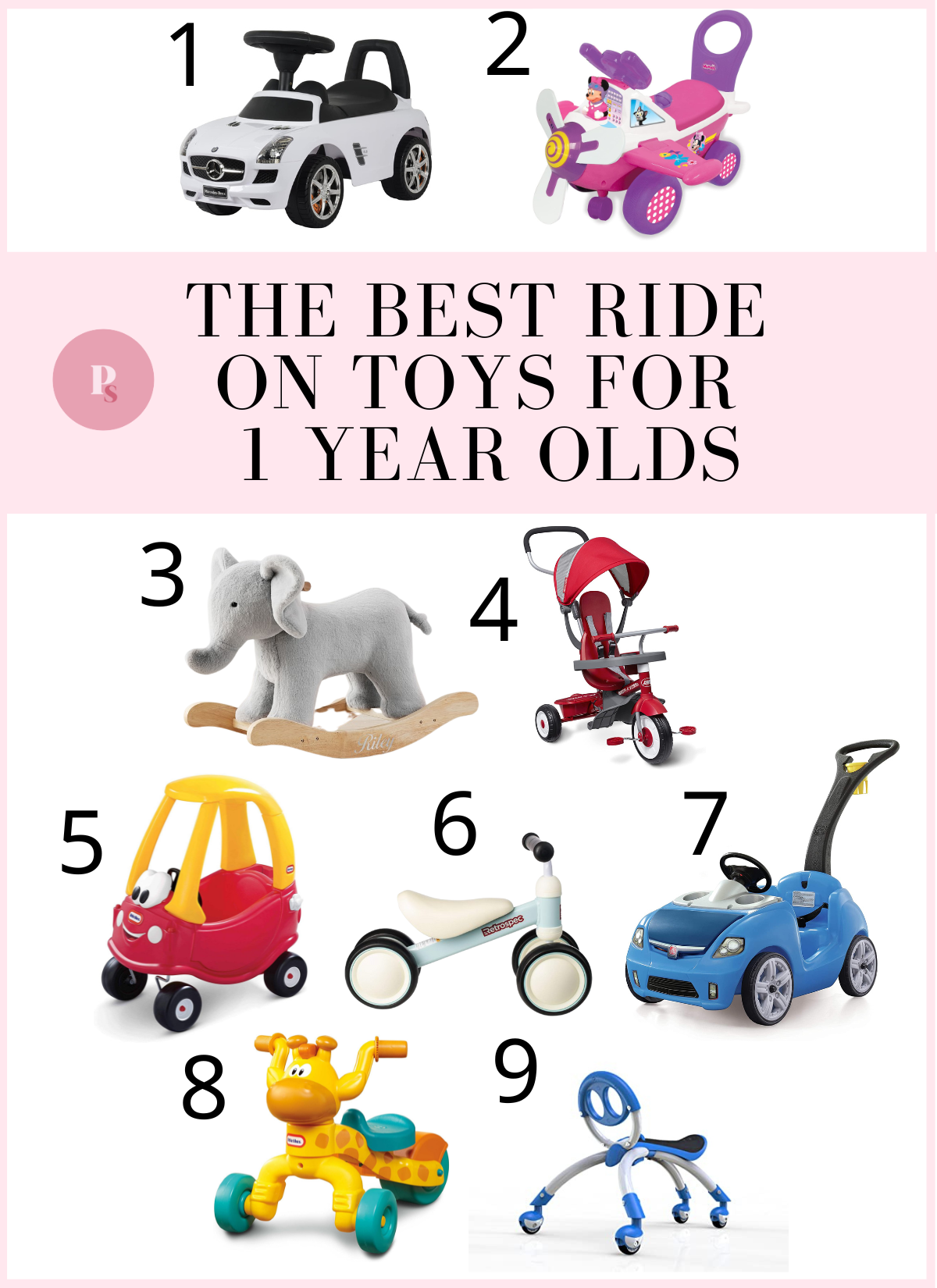 This post may include affiliate links which means I may earn a small commission if you shop using the links below at no additional cost to you. Paisley + Sparrow is a participant in the Amazon Services LLC Associates Program.
Best Ride On Cars Mercedes Benz Push Car, White
Your child will love driving in this fun officially licensed Mercedes push car
Features a steering wheel that plays music and horn sound and extra storage under the seat
Incredibly detailed Mercedes toy right down to the orange brake caliphers
Includes push car handle at the back for when your little one is to tired to push
Recommended for kids ages 1 to 3 years old who weigh under 40 pounds
Non-battery powered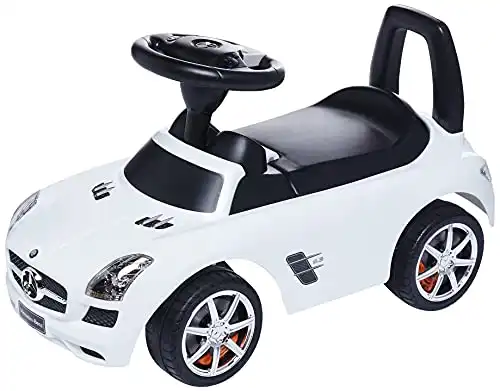 We earn a commission if you make a purchase, at no additional cost to you.
Does mom or dad have a Mercedes? Is it a favorite car of yours? Now you can twin with your little one in this cute Mercedes Benz Coupe that looks like a real car! One of our kids' grandpas sent us this adorable Mercedes Benz Coupe and it's been well loved by all of our kids!
The rear handle is great for keeping your little one safe and secure and also helps mom or dad push with a bit more ease. There's an easy to open compartment under the seat and the car has fun sound effects – music and car sounds – that will keep your kids entertained.
Promising Review:
I purchased this car in white for my nephew. He turned one-year old. It is the perfect first ride-on car for a child. It has an interactive horn and plays music. If the child doesn't desire to ride s/he can push from behind. This can assist little ones whom are trying to grasp walking as well. Moreover, kids of all ages will gravitate towards this little Benz as it is irresistible. Oh, don't forget the storage compartment – it is great for little ones that want to store other toys. Well, as you can see I'm just a big kid myself, but would recommend this Benz for birthdays, Christmas or other occasions for that special little-one in your life. Moreover, the price/value of the product was certainly worth the joy it brought on my nephews special day.
-Bunny
Disney My First Minnie Plane
Hear Minnie play her favorite music with flashing colorful lights! see propellers rotate to changing light-up patterns as you drive around. Press to hear realistic lift-off & landing sounds. Steer wheel and honk horn for great driving fun. Plane can make full 360˚ turns as you steer around.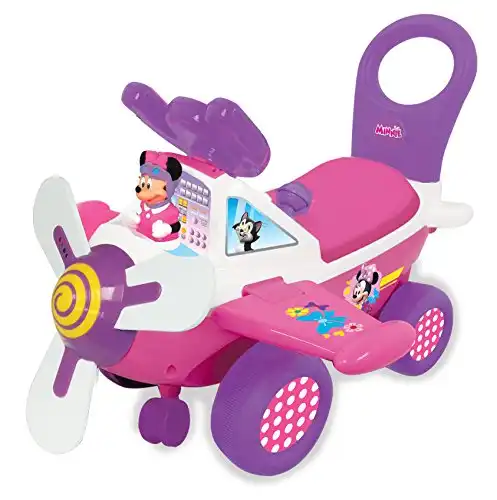 We earn a commission if you make a purchase, at no additional cost to you.
If you have plane obsessed little boys and little girls this fun plane is the perfect thing! It comes in both Mickey Mouse theme and Minnie Mouse theme to fit your child's preferences.
It features a full cockpit with tons of different sounds, lights and more. The propeller actually works! It lights up and spins with the button is pressed (don't worry – it won't hurt if a hand or foot gets near it).
Wings can fold up or stay out depending on what your child wants. It has textured wheels and a rear bumper to prevent sliding and tipping. The handle can be used to help kids get on and off safely or get a little assistance from mom or dad!
My Disney obsessed dad got this for my daughter and she used it nonstop!
Promising Review:
Best infant ride on toy! Purchased for my 6 month old to grow into and it's one of his favorite toys (he is now 8 months so we've had it for about 2 months) The propeller with lights is a great touch to the standard ride on toys. The only thing I wish was that the seat opened up like other ride on toys do. This would be a great present for ages 8 months – 18 months as it is on the small side!
-Bri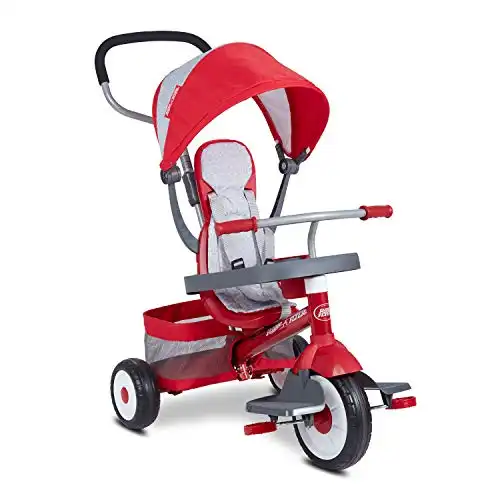 We earn a commission if you make a purchase, at no additional cost to you.
If you're looking for something that will grow with your younger toddler that will grow with them as the age, the Radio Flyer 4-in-1 Stroll N Trike is a good idea! This will last for a long time, not just while they're super young.
This ride will convert from a toddler trike into a steering trike to a learn to ride trike and finally a classic trike. The accessories can be removed to make it more age appropriate. This one is great for outdoor use because of the UV protection canopy (which can be removed) and high density foam tires.
This is a great ride for parent assistance! The push handle can be adjusted to fit the height of the adult pushing and it can also be removed when your child is ready to use on their own.
Our neighbor's owned this and my kids were always wanting a turn in it!
Promising Review:
Some of the negative reviews on Amazon really had me doubting this cute trike. But I ABSOLUTELY LOVED IT. I find that most of the reviews are just nit-picking at everything. I bought this for my nephew's 1yr birthday gift and its great! he's getting older now and this is a great way to introduce him to riding a bike! We love going on walks in the afternoon and this trike has been such a pleasure on walks.

ASSEMBLY WAS EASY! – I was mind blown at how easy it is. I think it took me about 30 – 40 minutes to assemble. The box it comes in is just a plain brown box with no images and all the pieces are in the box with instructions. If you are giving this as a gift, I suggest you assemble it first and stick a big bow on it or find a box big enough.

QUALITY – IS GOOD. I know some people were complaining about the tires being plastic, but I find that they tread well on grass, road, cement sidewalks. I did take it on dirt/ rocks as well and its also good. Though the gravel /rocks may damage the wheels, but that's just normal wear and tear. The wheels have some rubber on them for better traction.

ADULT STEERING is such a breeze. Its easy to maneuver around tight corners. I find zero wrong with it. The frame of it is metal. There are other parts that are plastic. Not a cheap trike. Canopy is lovely, I like that I can move it wherever I please. I love that this stroller will turn into my nephews first trike! The only thing I could see improvement on is the seat, I wish it were a little bigger. Overall I am very satisfied! and looking forwards to getting much use out of it.
-Alma
Unicorn Jumbo Plush Rocker | Pottery Barn Kids
Bring some magic to the nursery with this plush rocking creature. With its kind eyes, soft mane and beautiful horn, it appeals to little ones and encourages their physical coordination.
DETAILS THAT MATTER
Runners are crafted of solid wood for a smooth, secure and gentle rocking motion.
Surface is made of a soft modacrylic/polyester blend.
Firmly stuffed with polyester fibers.
Wood handles make steady grips.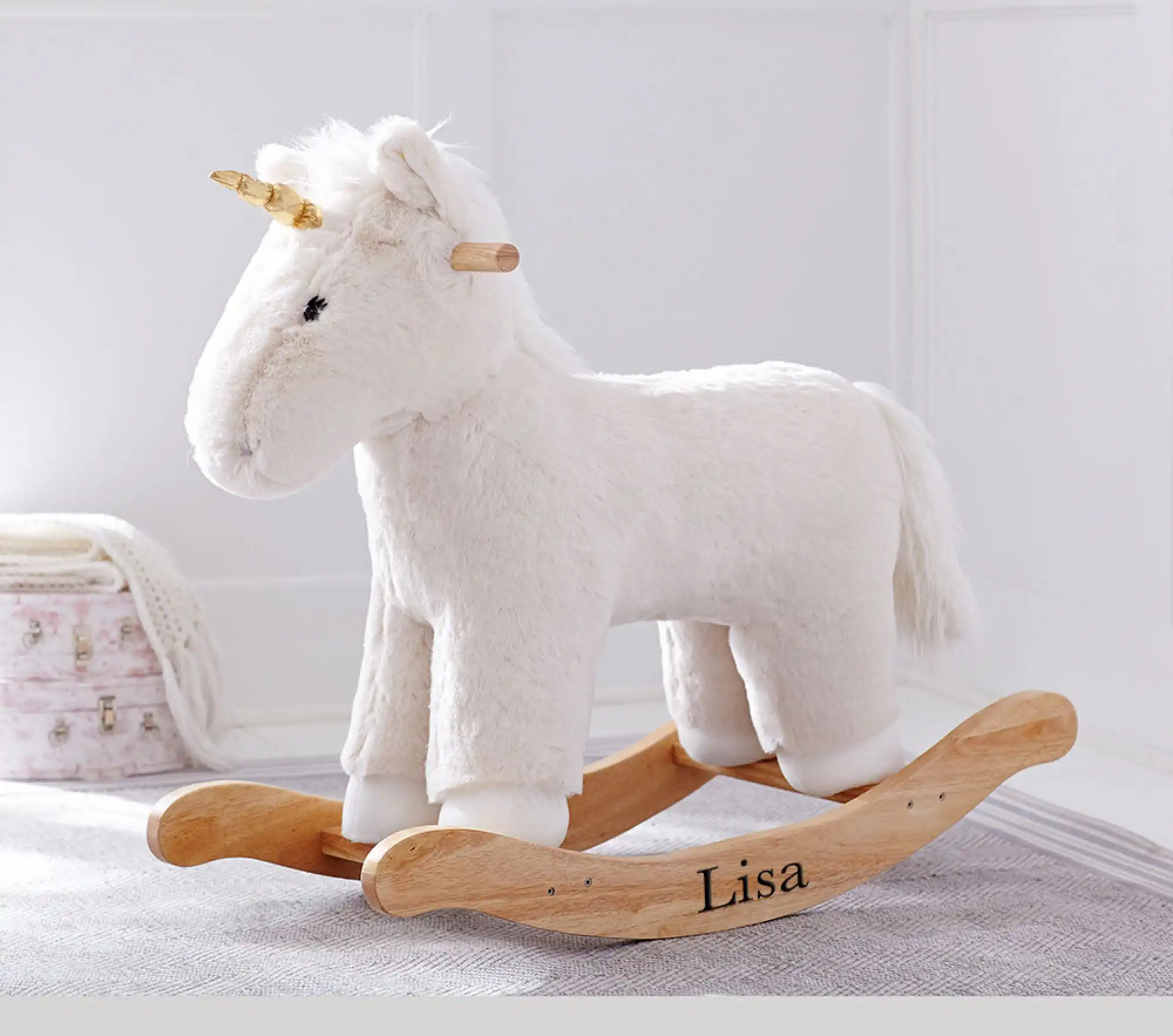 We earn a commission if you make a purchase, at no additional cost to you.
A rocking horse is a classic that I'm sure we all have used at some point in our life! There are tons of different options out there, but this Rocking Elephant from Pottery Barn Kids is my favorite. We've had this since our oldest was a baby and it's still in great shape!
It has easy-grip handlebars, perfect for small hands to grip securely. The rockers and handles are made out of 100% solid rubber wood while the animal is made from 100% polyester.
These rockers are incredibly soft and cozy, come in a variety of animals and can be personalized as well! This was a baby shower gift for our oldest and all 3 of our kids loved it. Seven years later it is still in amazing shape!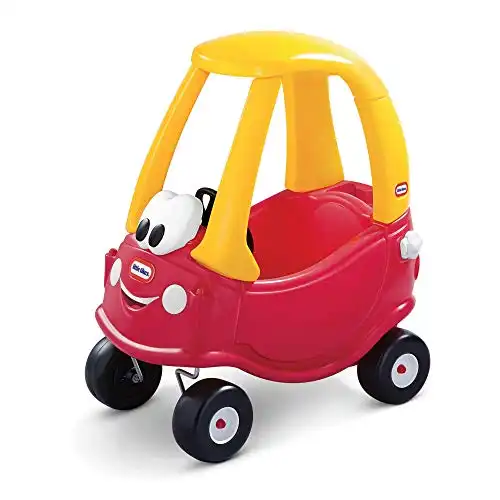 We earn a commission if you make a purchase, at no additional cost to you.
The Little Tikes Cozy Coupe 30th Anniversary car has been around for over 30 years! I don't think you can walk through a neighborhood with kids without seeing one! Many parents will still remember riding along in their little cars and will be able to reenact photos from the childhood with their kids!
This ride on toy has a removable floor which is great to grow with your child. Keep it in when they're smaller and not able to push themselves and remove it when they've learned how to get their car to move!
The Cozy Coupe Car has a high seat, steering wheel, rugged, durable tires and front wheels that spin 360 degrees. The back has cup holders and space for snacks or other treasures your little ones find!
It even has a handle on the back for easy pushing for adults and comes in different colors. It's one of our top picks for one of the best riding toys around!
Promising Review:
This little item has now become a family tradition. I received my cozy coupe back in the late 80s for christmas and it was my favorite present. Now my niece is 1 and what perfect present than this little number. Installation was not as bad as some people made it sound, i actually thought it was quite ingenious is some ways, just the engineering in general, overall took me 20min or so. All worth it when I wheeled it in and when my niece saw it. It was the only present she got that she knew was for her and its been hard enough to keep her out of it! Little Tikes, keep up the fine work. American made.
-Jordan
Retrospec Cricket Baby Walker Balance Bike with 4 Wheels for Ages 12-24 months
BEGINNER BABY BIKE: Retrospec Cricket is designed for toddlers ages 12-24 months of age to develop the motor skills needed to walk and eventually ride. Great first birthday gift for boys and girls!
SAFE & DURABLE: Sturdy, comfortable, and safe. Cricket's design ensures your child's feet are always touching the ground, so they stay in control of their speed, stopping, and movement. Teaches advanced motor skills at a young age!
SCRATCH RESISTANT WHEELS: Its non-slip, no-scratch wheels prevent scratched floors and provide a secure grip both indoors and outdoors. Keep them safe while improving their balance and motor skills.
EASY TO CONTROL: Soft handlebars, a cushy seat, and a steering limit keep your child safe, comfortable, and in control the entire time. The first step in learning how to ride a bike!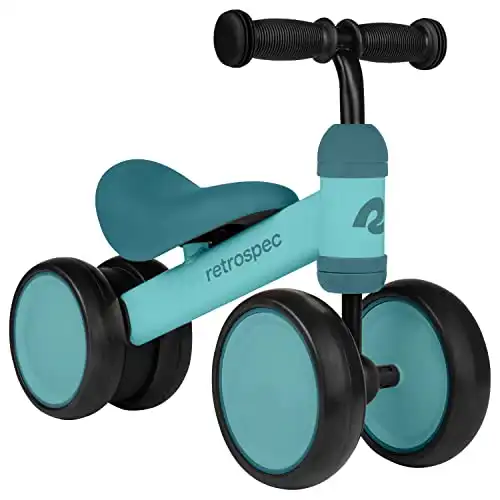 We earn a commission if you make a purchase, at no additional cost to you.
Looking for something sleek and chic? The Retrospec Cricket Balance Bike is the perfect bike for your little one! It's easy to climb on and has a comfortable seat that your little one will easily be able to balance on while riding.
This bike has 4 wheels to keep your little ones safe and secure. Balance bikes are a great place to start before transitioning them to balance bikes with 2 wheels for future bike riding!
Promising Review:
Love this! We had a different kind of balance bike and my 16 month old was about 2 inches too short but wanted to ride it so we got this and she loves it! Very light weight, she can pick it up. Easy to put together. Seems very well made. It is very small but perfect for the short time she will need it and a good starter for active young toddlers!
-Wille
Step2 Whisper Ride II Ride On Push Car, Blue
TODDLER RIDE ON CAR: The Step2 Whisper Ride II Push Car turns a stroll into an adventure! The toddler car toy will keep kids comfortable with the large, roomy interior and secure with included seat belt. They'll love the steering wheel & working horn.
A QUIET RIDE: Parents will appreciate that the outdoor toy keeps everyone active and features Whisper Wheels to offer a smooth quiet ride!
SLEEK, AUTOMOTIVE DESIGN: This sleek toddler ride on toy is unlike anything you've seen! It features a cool car design, has two cup holders for the rider and one for parents, plus under hood storage and a safety belt. Maximum weight for riding is 50 lbs.
EASY TRANSPORT: Toddler car toy features an easy to fold handle for easy storage and quick transportation to the next adventure. Riding toys make great gift choices, too!
UNMATCHED DURABILITY: This toy for toddlers is made with durable, double-walled plastic construction with molded-in colors that won't chip, fade, crack, or peel so it will last through generations. Plus, it's low maintenance – just wipe down as needed.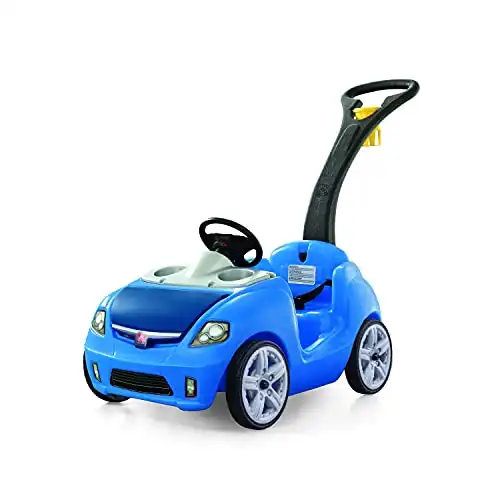 We earn a commission if you make a purchase, at no additional cost to you.
Another fun car option is the Step 2 Easy Steer Sportster! Go for walks with ease in this fun push car. This is the best ride for littler kids who may get tired from pushing themselves easily since the parents can easily help!
The car includes a seat belt to help keep young toddlers safe and secure, two cup holders – one for the child and one for the parent, and a kid powered car horn! The hood opens up to a storage compartment to hold your little one's treasures!
This car includes a handle for an adult to easily help push and steer the car. The handle also folds up under the car for easy storage and transport. The maximum weight for this car is 50 pounds (22.7kg).
Promising Review:
I bought this for my 10 month old son for his month day/block party. This HAS TO BE THE GREATEST thing I've ever purchased since he's been born! He loves to go anywhere in it even to just ride around in circles. He loves this SO much I was so surprised exactly how much. Even his sister loves it even though she's over the weight limit at 50 lbs herself it held up GREAT minus some wear on the rubber tires. I would recommend this to anybody with a baby who doesn't walk or even if they walk it's a great way for parents to get around fast when you have little legs by your side and what's great is they love the openness of the car so they won't mind being in it because they can see everything. The seat belt is great my son has no problems sitting and being pushed while he steamed and honked his horn. Thank you for such a great product!
-Krystal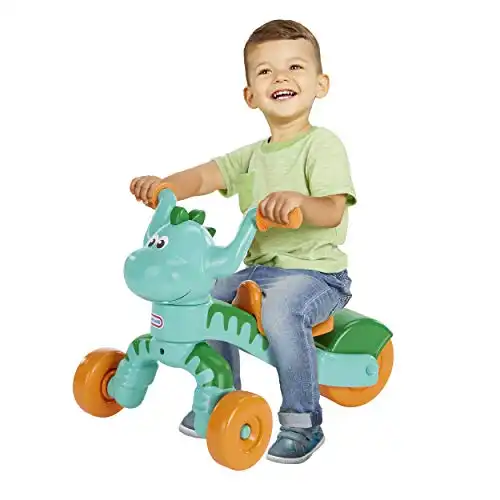 We earn a commission if you make a purchase, at no additional cost to you.
For the animal loving toddler in your life, check out the Little Tikes Go and Grow Dino! This adorable ride-on toy is a fun way for your kids to practice their balance and coordination!
There is an adjustable seat to grow with your child. There's also an oversized back wheel for safety purposes so your child doesn't tip over. Kids are able to steer themselves. It has a weight limit of up to 50 pounds.
Promising Review:
I saw this and I thought my nephew would love it. He was turning one. I saw a few like this and they all said 12-18 months old. I wanted to get him something that'll last longer.
He absolutely loves it!! He was trying to play while daddy put it together. Yeah he's a little bit tiny for it and as long as we keep an eye on him he'll be fine.
I'm glad he likes it and it was a great price. Can't wait to see what I'll grab next for my lil guy.
–Stefanie
YBIKE Pewi Walking Ride On Toy
TERRIFIC RIDE-ON: The Pewi is YBIKE's enhanced educational and developmental ride on "walking buddy" push toy for children age 9 mo. to 3 yrs. For indoor and outdoor play on smooth, level surfaces.
FUNCTION: For riding, pushing, sitting, and supported walking; this versatile design accommodates your child's developmental stages. Provides lasting fun and functionality.
CREATIVE: Award-winning design helps toddlers develop important motor and cognitive skills such as balance, coordination, strength, confidence, and spatial awareness, all while at play.
FEATURES: Lightweight durable aluminum frame, molded plastic seat with soft foam pad, easy grip handle, leg clearance for free movement, multi directional 360 non-marking caster wheels.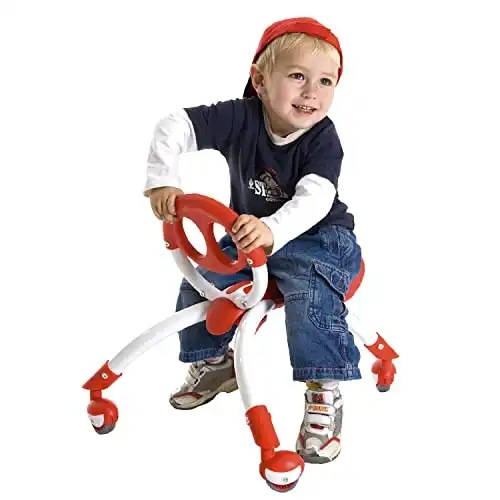 We earn a commission if you make a purchase, at no additional cost to you.
Is your 1 year old starting to walk or cruise? The Pewi Ybike Ride On Toy is the best option for both encouraging kids to walk, as a walking buddy, as well as giving them a fun option for riding on!
Little kids will have fun practicing taking their first steps with this toy while older kids who have mastered walking will love riding on this fun ride!
The Pewi can be used for riding, pushing, sitting and supported walking. We love that this is one toy that will truly grow with your child! It has a lightweight durable aluminum frame and a molded plastic seat with a soft foam pad for comfortable riding. It also has 360-degree wheels that are non-marking.
Promising Review:
This little contraption is amazing! My little one is still getting used to it but at 10 months he's walking with it to get places. The description says it's great to help little ones learn to fall which I agree. Our little guy has spent so much time in his traditional walker not having to worry about balance and although he will make a pouty face when he falls, I know it's good for him to learn balance. Assembly was quick and easy with good directions and pieces are numbered. Love the amazon price! It was $25 less than the price at our local toys-r-us. The wheels have a rubber padding so it won't mess up your hardwood floors and rolls VERY smoothly. However, it does make it go a little fast sometimes so I like to be close to my little guy so he doesn't face plant while he's still learning. Overall a great buy that I am very happy with!
-Sarah
What to Look for When Buying Ride On Toys for 1 Year Old
Safety
Obviously one of the key things to look for is how safe it is! Even if your little one is walking, chances are they're still a bit clumsy so you want to make sure that what you get is a safe option.
Is it easy for your child to get on and off with little difficulty? Are there straps or seat belts that would keep them where they're supposed to be? Is it battery operated?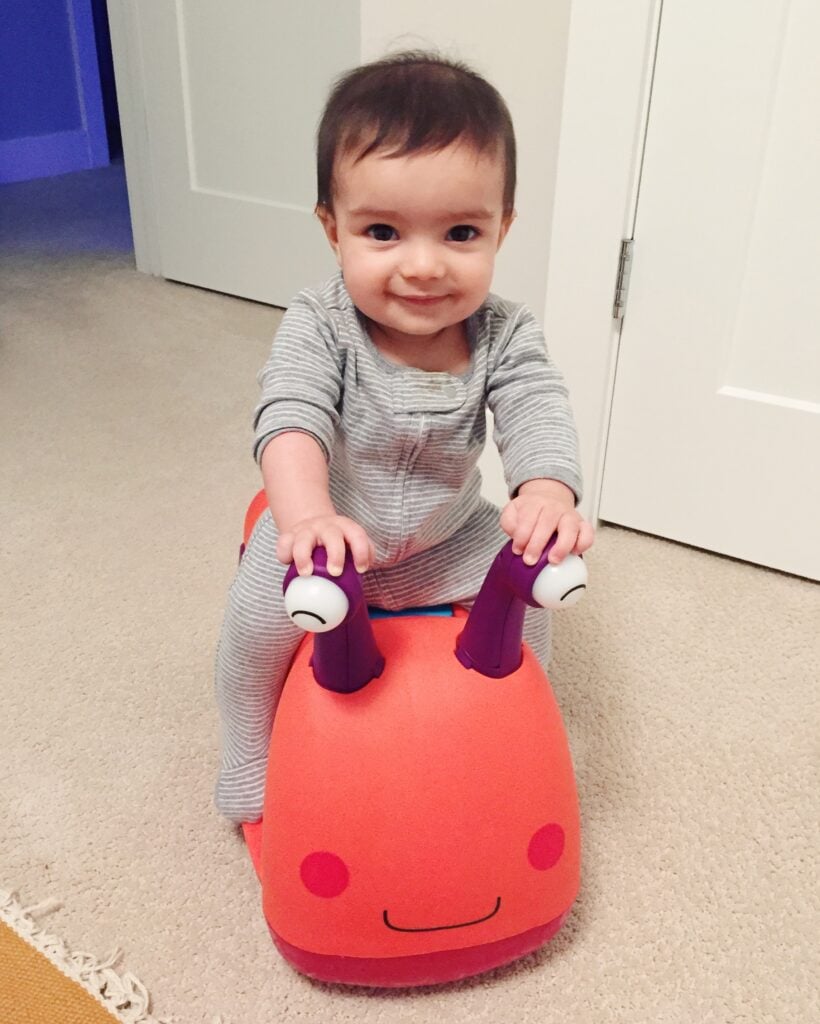 Also ensuring that your child has a helmet is a great idea especially for outdoor play.
Indoor vs Outdoor
Where do you plan on using your ride on toy? Is this meant for outdoors or indoors? Pay attention to the type of wheels and if there's any canopy or sun protection.
Size
Along the same lines as indoor vs outdoor, is the size! If something is extremely large make sure you have ample space for your child to use it and that you have a place to store it when it's not in use.
Longevity
Some ride on toys have the ability to grow with your kid! For example a bike that turns into a scooter will make the toy last longer than just a bike.
I hope this helps you in finding the best ride on toy for your one year old! Ride on toys are such a great way to encourage your little one to use their muscles, explore their surroundings and develop their large motor skills!
And when they're ready to start walking, check out this post for some of my favorite baby walking toys! Or if you want to work on some fine motor skills, these puzzles are favorite options for my kids!