There is nobody sweeter or sassier than a 3-year-old girl! They're at the best in-between stage where you can still see the toddler but also get a glimpse at the big kid they'll be.
And shopping for 3-year-olds is so fun! They know what they like and are just starting to transition into big kid toys, which means you can buy some gifts now that they can grow into!
If you need some ideas for where to start your holiday shopping for a 3-year-old girl, try one of these 33 gift ideas. They are all sure to bring a smile to her little face. Many of the items on this list are ones that mine own daughter loved at the age of 3 and others are ones that one of my 5 girl nieces loved at that age!
And of course, toys aren't gender-specific, so any of these would be great for a boy too, and you can find more ideas on my 3-year-old boys gift guide!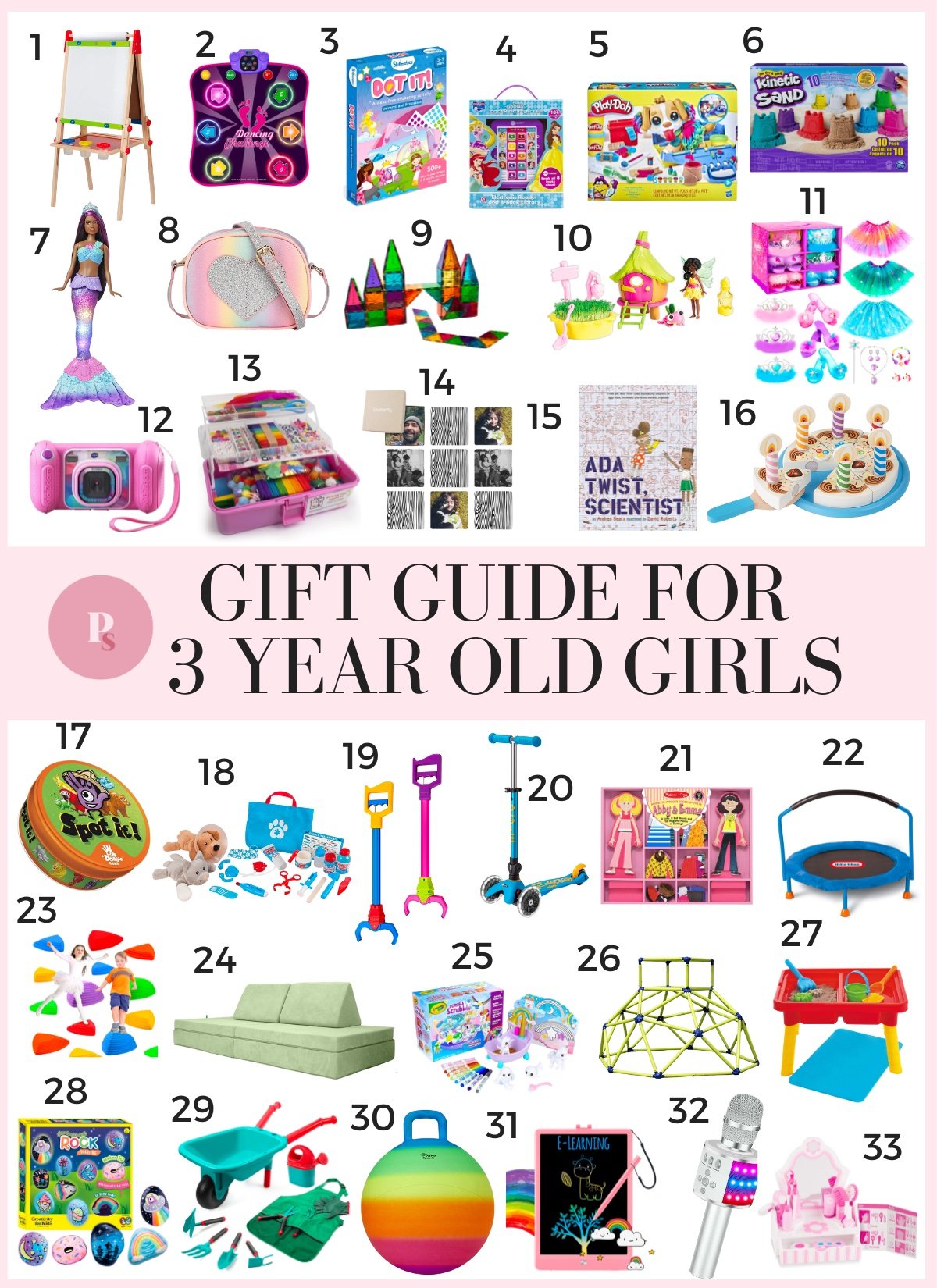 This post contains affiliate links.
33 Top Gifts for 3-Year-Old Girls
Give your little artist the perfect place to draw and paint with an easel that has a paper roll, whiteboard and chalkboard. We got my daughter an art easel and she still uses it!
Get those wiggles out with this dance mat. She can practice her moves (and coordination!) while dancing along to included music or hook the mat up to Bluetooth to provide your own soundtrack.
Looking for a mess-free art activity for your little one? Kids love Dot It! sticker books because they get the fun of peeling and placing stickers combined with the fun of art.
While 3-year-olds typically can't read on their own yet, you know they are dying to! These electronic readers come with 8 books and one electronic reader so they can push buttons to read through the books without a grown-up around to help.
If princesses aren't her thing, there are lots of other stories to choose from.
Help develop her motor skills and her creativity with fun Play-Doh sets. There are options for every interest, like this vet/grooming play set with a cute puppy.
Bring the beach home with some Kinetic Sand! It feels so good in your hands and is perfect for sensory play. Add whatever kinds of accessories your kids will like or use it in seasonal sensory bins.
Mermaids are having a big moment with little girls — I can't tell you how many mermaids I saw out trick-or-treating this year! Tap into that interest with this mermaid Barbie doll. Her tail lights up in the water!
Every girl needs a purse! She'll love carrying around her "essentials" just like the grown-ups in her life.
These are one of my absolute favorite toys to keep around the house for all my kids. They are easy enough to build with that preschoolers can build tall towers without frustration. Go ahead and get one of the bigger sets — you're going to want plenty of tiles to build with.
Pretend play is so important for preschoolers (and it's so fun to hear what comes out of their imaginations!). This set will last for years and bring some fairy magic into your home.
3 years old is about the age when many girls start getting really into playing dress up! If your does, buy a set of dress-up clothes that includes tutus, fancy shoes, tiaras and jewelry.
I love this gift for two reasons: you get to see the world through your little one's eyes, and she'll stop asking you to take pictures of everything because she can do it herself! This camera is easy enough for a 3-year-old to use, but has so many features it can grow with your child.
Have a little artist in your midst? Give them all the supplies they need to create whatever comes to mind! This set comes with a fun storage box too, so you can keep refilling it for the perfect art station.
Whether you use photos of just your kid, your family, or relatives who live far away, this custom photo memory game is both fun to play and fun to look at. My daughter is always pulling out family photo books to look at photos – this is the perfect gift for anyone else who does the same!
This book is great for helping your little girl see all the possible interests in front of her. Ada Twist is a great role model who asks questions, like any great scientist does.
Already have this book? Try one of the other Questioneer books: Iggy Peck, Architect; Rosie Revere, Engineer; Sofia Valdez, Future Prez; and Aaron Slater, Illustrator.
Every tea party or stuffed animal birthday party needs a cake! 3-year-olds LOVE talking about their birthday (even when it's months and months away), so this gift gives them a way to celebrate even when it's not time for the real celebration.
Let your little one take part in family game night with this fun game. If they can spot different animals and notice similarities between cards, they can play this junior version of Spot It! We keep this in our car and use it at restaurants! It is always a family favorite that is great for killing time.
Help her cultivate her nurturing side with this veterinarian set, complete with two stuffed animals. Great for animal lovers and any kid who loves pretend play. My daughter loves her play vet set! She is constantly doing check ups on all her animals.
Every kid would love to get this grabber! Great for hand-eye coordination, for reaching far-away items and for bugging siblings. 😂
This scooter is perfect for a 3-year-old and will grow with her until she's about 5. The two front wheels keep her stable while she works on her balance and practices turning with the lean-to-steer design. All 3 of our kids used (and still use) this scooter. They are incredibly long lasting and durable. I also love that the wheels light up so they are easy to see when it's darker out!
Better than paper dolls, these magnetic wooden dress-up dolls can be used over and over again without falling apart. She can change each girl's clothes and accessories as much as they want.
She's got a lot of energy, so give her an easy way to burn it off! This small trampoline doesn't take up too much space and she can use it when she's bouncing off the walls. The grab bar keeps her from falling off! My kids all loved this trampoline and I loved how much energy they got out using it!
These plastic stepping stones turn any rainy or winter day into instant indoor fun. It helps with balance, coordination and of course, the floor is lava. Even adults can use them! My kids love creating obstacle courses, playing "hot lava" and more with these. We've used these when my youngest was 2 and still use them today (my oldest is 7).
The Nugget play couch can be arranged in so many different configurations that your kids will never run out of uses for it. They can build tents, houses, fences, hammocks, slides, whatever they can think of!
They can color their new magical pets, then wash them off to do it all again! I love that these toys can be used for expressing their artistic side and also for pretend play. My daughter got this when she was 3 and still uses them at 6!
If you're looking for a big toy to add to your yard, this jungle gym fits the bill. Your 3-year-old can hang from it and start to climb it, and grow into it over the next few years. Level it up by hanging a kids size hammock underneath!
Kids will love this sensory table — fill it with sand and water, or anything else you can think of! Let them dig and play and get messy to their hearts' content.
Put your little helper to work in the yard with this fun gardening tool set! She'll have everything she needs to plant flowers, pull weeds and make sure everything grows nice and tall.
Your 3-year-old will love painting something other than paper! Whether she paints a pet rock to keep in her room or some decorative stones for your garden, she'll love looking at her creation over and over. My kids have been doing this since they were 3 and still love doing it at ages 6 and 7! This is a fun gift that any kid would love.
I love giving my kids gifts that keep them active, and this classic childhood staple makes it fun to move. The hopper ball is the perfect size for 3-year-olds and can be used inside or outside.
You'll want to keep this fun drawing tablet handy for road trips, restaurants or doctor's office visits. Your 3-year-old will love how easy it is to use and how many drawings she can make without running out of paper! I bought all of my kids this when they were 3 and it's still a favorite toy at 4, 6 and 7! This is a must have!
Is your little girl a performer? Does she love singing songs from her favorite movie? Give her a microphone that will play whatever music she wants while she sings along.
Little girls love watching their moms get ready in the morning. Give your 3-year-old her own set of (pretend) makeup, nail polish and hair products! She will love following along with her mom's morning routine or looking at herself in the mirror.
The Ultimate Gift Guide List
Want even more gift ideas for everyone on your list? Head to one of these!
Gift Guides for Grown Ups
Gift Guides for Kids, Tweens & Teens
Age Specific Gift Guides
Product Specific Gift Guides for Babies & Toddlers
Special Interest Gift Guides