As you start making a list and checking it twice, there's a lot to consider: how to find just the right gift for just the right person, one that's both thoughtful and original, as well as how you use your dollars to support business owners and companies you believe in.
If you're committed to supporting BIPOC-owned businesses – I know I am – here are 25 BIPOC-owned brands and products I think you'll love.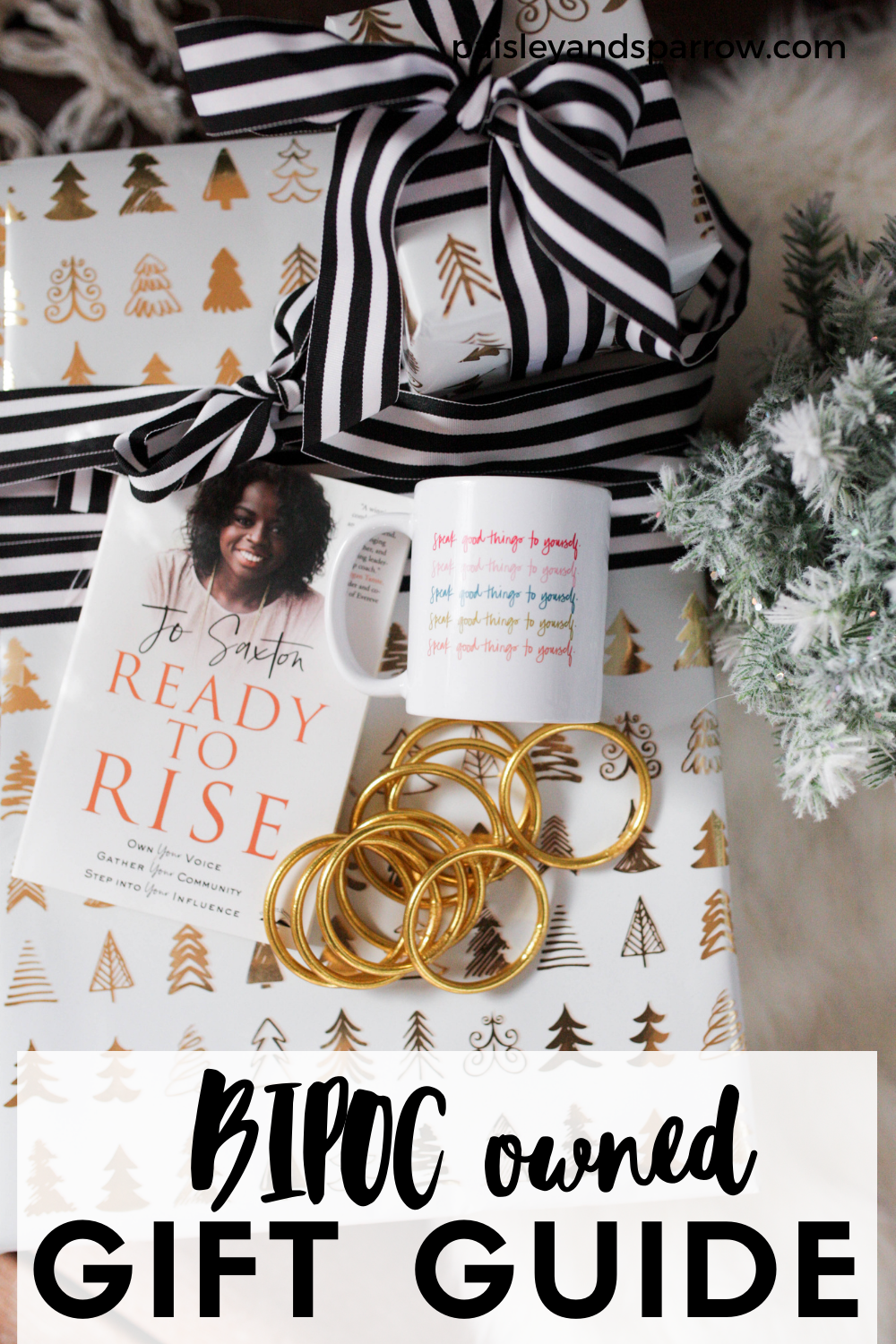 Gift Ideas from BIPOC-Owned Businesses
This post may include affiliate links, which means I may earn a small commission if you shop using the links below at no additional cost to you. Thank you for supporting me and this blog!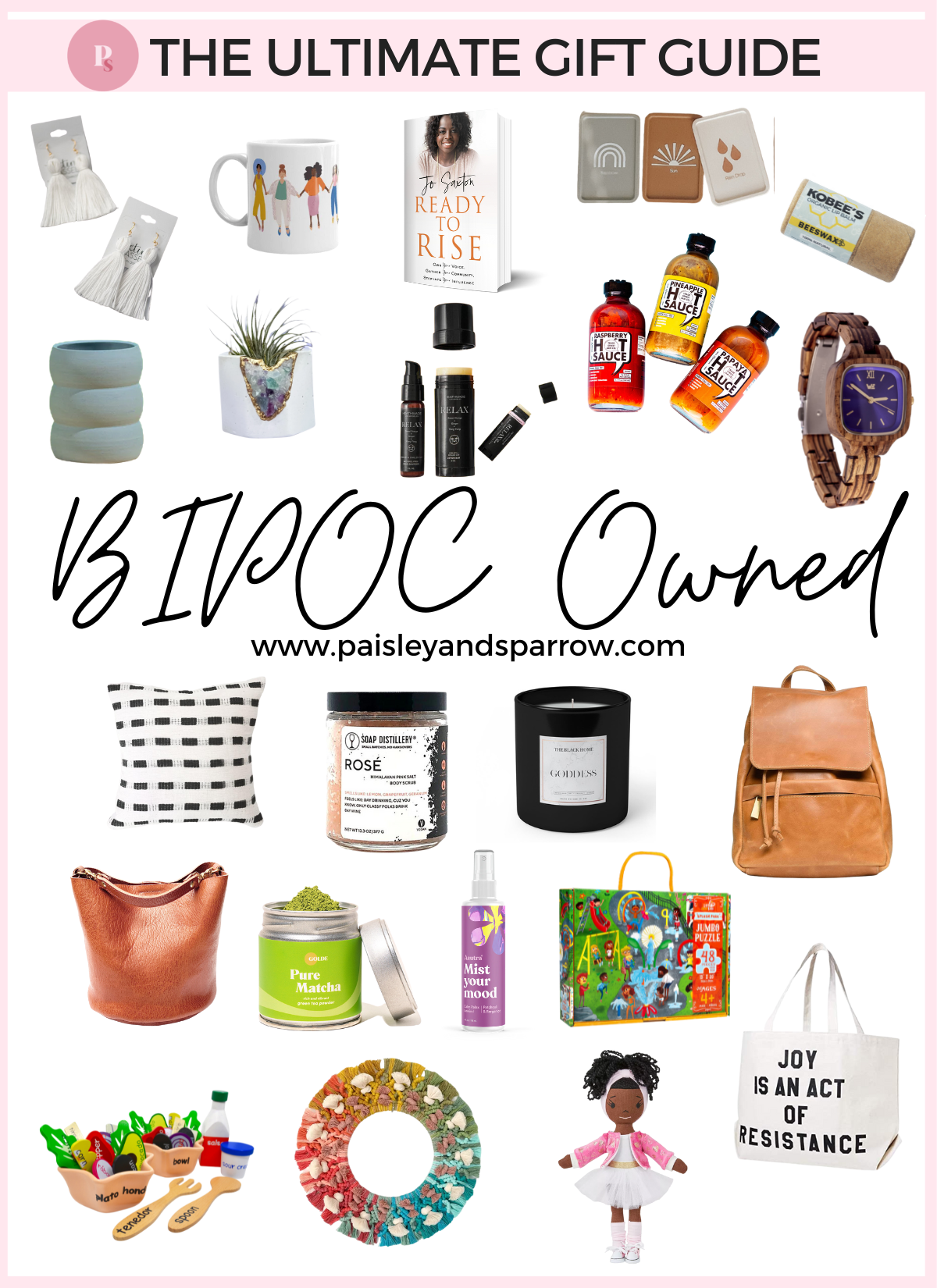 Note: there are countless amazing BIPOC-owned companies and BIPOC-led non-profits to support. As a way to give back from any additional revenue I receive from this post, I will be making an extra donation to a non-profit we support monthly, Urban Ventures, who works to address opportunity gaps in academics, nutrition, physical activity, parenting resources and more to youth, with the goal of preparing and sending them to college or postsecondary education.
The founders of HarperIman are a mother and daughter duo who saw the lack of dolls of color and decided to give kids today the dolls they wish they'd had. They create beautiful soft dolls with different skin tones and hair textures.
Their mission: "to create dolls that help reinforce how beautiful our children are by providing them with positive affirmations of themselves through dolls that they can actually identify with."
Lemlem is an international brand made in Africa, originally founded to preserve the art of weaving in Ethiopia while supporting job opportunities there. They've expanded into creating different pieces in Kenya and Morocco as well.
Even cooler, 5% of online sales go to the lemlem Foundation, which supports training of women artisans in Ethiopia and Kenya.
The Tiny Tassel, a bright and cheerful jewelry company, was started by Mimi Striplin in 2015. She was inspired by a pair of earrings she received on her birthday, which got her to start putting her own spin on her earring collection through tassels.
Since she's based out of Charleston, South Carolina, many of the items in her collection are named after some of her favorite local spots!
Meet my friend Jena Holliday, the brains behind Spoonful of Faith. She creates gorgeous illustrations that are found on a variety of products: art prints, calendars, tees and mugs, just to name a few.
Jena is known for her warm, joyful drawings of women and mothers, as well as her floral work and hand-lettered inspirational quotes.
Jo Saxton is an author, speaker, podcaster and entrepreneurial coach. She was born to Nigerian parents, raised in London and now lives in Minneapolis!
I've had the joy of hearing Jo speak in person. What a wonderfully witty, insightful, positive breath of fresh air. Both her podcast and her books are worth checking out.
Pretty Please Teethers started with one mom's mission to find safe, stylish, natural items for her babies. Kelli Ulrey and Pretty Please Teethers have been designing beautiful, hand-made teethers and teething loveys since 2017 using eco-friendly silicone and organic materials.
Asutra is a women-led and women-owned brand that creates products to help women. What's better than women empowering women?
They believe in active self care because as we all know, when we take care of ourself we can take on everything else so much better. Fun fact: one of their owners is Venus Williams!
Kobee's is an all natural lip balm packaged in a cardboard biodegradable tub, eliminating one more single-use plastic from being stuck on this world. They create super affordable products that are all plastic free. Because, as we know, every little bit helps.
Ray and Val Talbert started Pittsburgh-based Tal and Bert in February 2020, creating gorgeous pieces of art and decor out of hand-poured concrete and raw natural materials. They're inspired by the minerals they mine themselves and the cracks in the concrete.
Heathmade has the most inspiring (and cutest) origin story — it was started by Heath himself when he was just 4 years old. Now 11, Heath and his business believe in crafting alcohol-free skincare products out of simple and plant-based ingredients.
Heathmade also donates skincare products and makes contributions to organizations that help homeless families rebuild their lives, and supports schools with entrepreneurial programs for kids.
Brooklyn-based Rayo and Honey is run by Roachele Negron, who was inspired by all of the many affirmations her mom had around her throughout her childhood. She creates pennants by hand-cutting, pressing and sewing 100% cotton canvas and hand-laid laser-cut felt letters, creating a soulful piece with a timeless aesthetic.
The company also sells inspiring totes, keychains, pins and more.
Run by husband-and-wife team Natalie and David Akerele, Wooden Element is an Illinois-based artisan company that handcrafts wooden jewelry and accessories. With an eye on sustainable fashion, they use eco-friendly resins, ethically sourced or recycled natural wood, repurposed wood and biodegradable materials when possible.
They have styles for men and women, some featuring wood heavily and others with small wood accents to fit whatever look you're going for!
Bolé Road Textiles is a New York-based design studio that creates vibrant home decor. Vibrant home decor is something you see all over Paisley + Sparrow so yes, these are going on my own wish list!
All of their pieces are handwoven in Ethiopia. (Fun fact: my niece is from Ethiopia!) They create sustainable work for artists in Ethiopia while helping client create spaces they love.
Frustrated by the lack of variety in soap scents, Danielle Martin started Soap Distillery in 2012 and came up with the idea to make unisex soaps scented like cocktails and other alcohol. She learned how to make soaps and layer the smells to create a luxurious experience that doesn't leave you smelling like a bar.
All the products are plant-based, and this small woman-owned company focuses on sustainability — most products are plastic-free and they don't use essential oils that are unsustainable to produce.
The Black Home, created by celebrity designer Neffi Walker, is all about home decor that's full of tradition, culture and style.
Neffi is a mother of five, showing all of us mamas that being a mom and business owner is possible. Shop The Black Home for everything from candles to some of the most beautiful tableware I've ever seen.
UnoEth, which means One Ethiopia, was started by a father and daughter! Dagne Tedla and Xiomara Rosa-Tedla partner with leather artisans and cotton weavers in Ethiopia and jewelry makers in Tanzania to create gorgeous, high-quality bags and accessories.
Tree Fairfax is a shop full of leather goods that are handmade to order. If you love slow fashion then Tree Fairfax is for you with each item cut, burnished and sewn by hand!
*Orders placed in October will ship late December into January.
Chef Ashley Rouse started Trade Street Jam Co. in her apartment 10+ years ago to create the freshest tasting vegan jams you've ever tried. You can use them in almost anything: glazes, craft cocktails, barbecue sauces, yogurt and more. Or just eat them with a spoon…
She's expanded into other sauces and mixes too, so there's something for everyone on your list!
It's not a gift guide from Paisley + Sparrow without a plant! Flora Culture is a plant design center that's based out of Texas. They started their brand out of a love for plants and floral design and want to make plants accessible to everyone whether or not their good plant people or not!
The Flora Culture provides a variety of plant-y services, from workshops to home plant consultations, as well as an online plant shop.
Kemi Tignor created Little Likes Kids to make sure her son (and all his wonderful and diverse friends) were represented in their toys! The company's puzzles, match games and cards are illustrated with recognizable and joyful scenes of childhood, representing the colorful world around your kids.
Philadelphia-based Yowie is a home and life shop that curates colorful collections from small business. If you're not based in Philadelphia, no worries; their online shop is just as colorful and inspiring.
You'll find a little of everything a home needs at Yowie, from mugs to greeting cards, pots and even bathmats! Founder Shannon Maldonado also consults on interior design for those who want more of her upbeat style.
Wordy Toys is built on the idea of environmental print — that seeing words on everyday items builds a link between letters and words and gives kids a leg up on literacy.
By offering high-quality wooden toys with words (in multiple languages), Wordy Toys hopes to instill a love of language, words and cultures in children.
Use code "paisley" for 20% off.
Strand Texture makes beautiful fiber art and modern macrame. I love adding fiber art to my home decor for the beautiful texture and warmth it adds to my space. You can get ready-made pieces as well as custom made items!
The owner, Aja Smart, is based out of California. The cotton cord and rope she uses is made of eco-friendly recycled materials.
Golde was started by Trinity Mouzon Wofford and Issey Kobori in 2017 with the intent to bring good vibes to the wellness industry. They believe that being well should feel good so they create products that not only look good and feel good but also help you feel like your best self.
All of their products are natural, easy to use and fun! Bonus – Get $5 off your order when you use my link!
Effortless Composition is a collection of hand-selected home decor pieces to help you create a home you love. The owner, Brittiny Terry, believes that creating a home you love should be effortless.
Her shop is full of beautiful pieces rich in aesthetic and high in quality. You even get a free virtual styling session with each purchase!
I hope this gift guide introduced you to a new brand or two and that you'll consider supporting one of these amazing brands this holiday season!
The Ultimate Gift Guide List
Want even more gift ideas for everyone on your list? Head to one of these!
Gift Guides for Grown Ups
Gift Guides for Babies & Kids
Special Interest Gift Guides
Want FREE Christmas gift tags? I created 64 beautiful gift tags that can be used not only for Christmas but every holiday! They're free to download!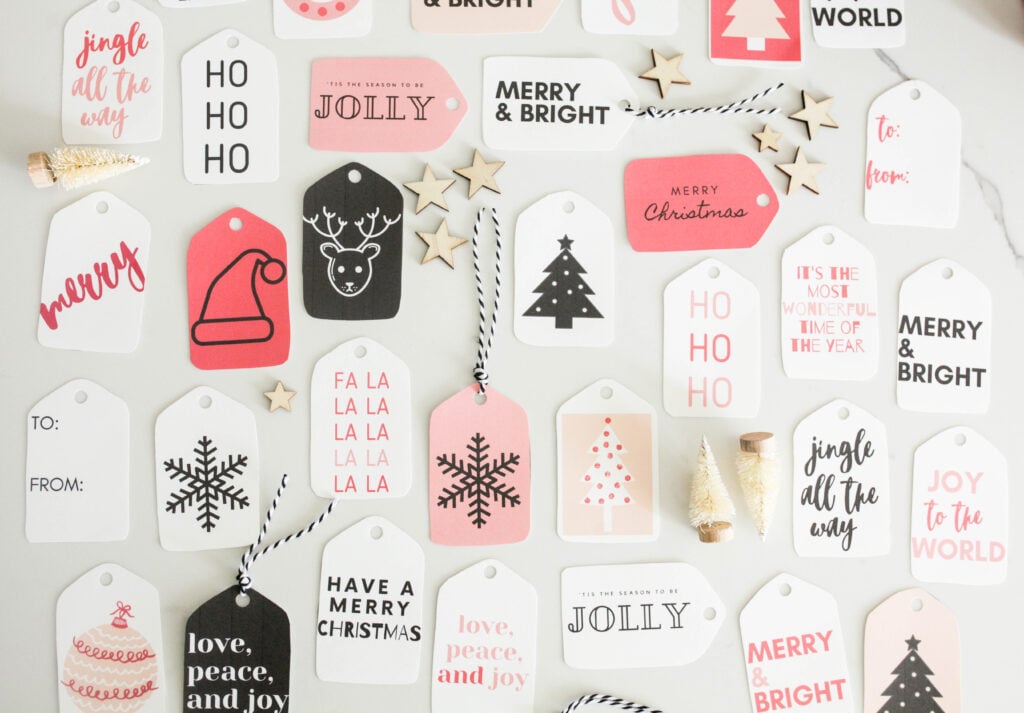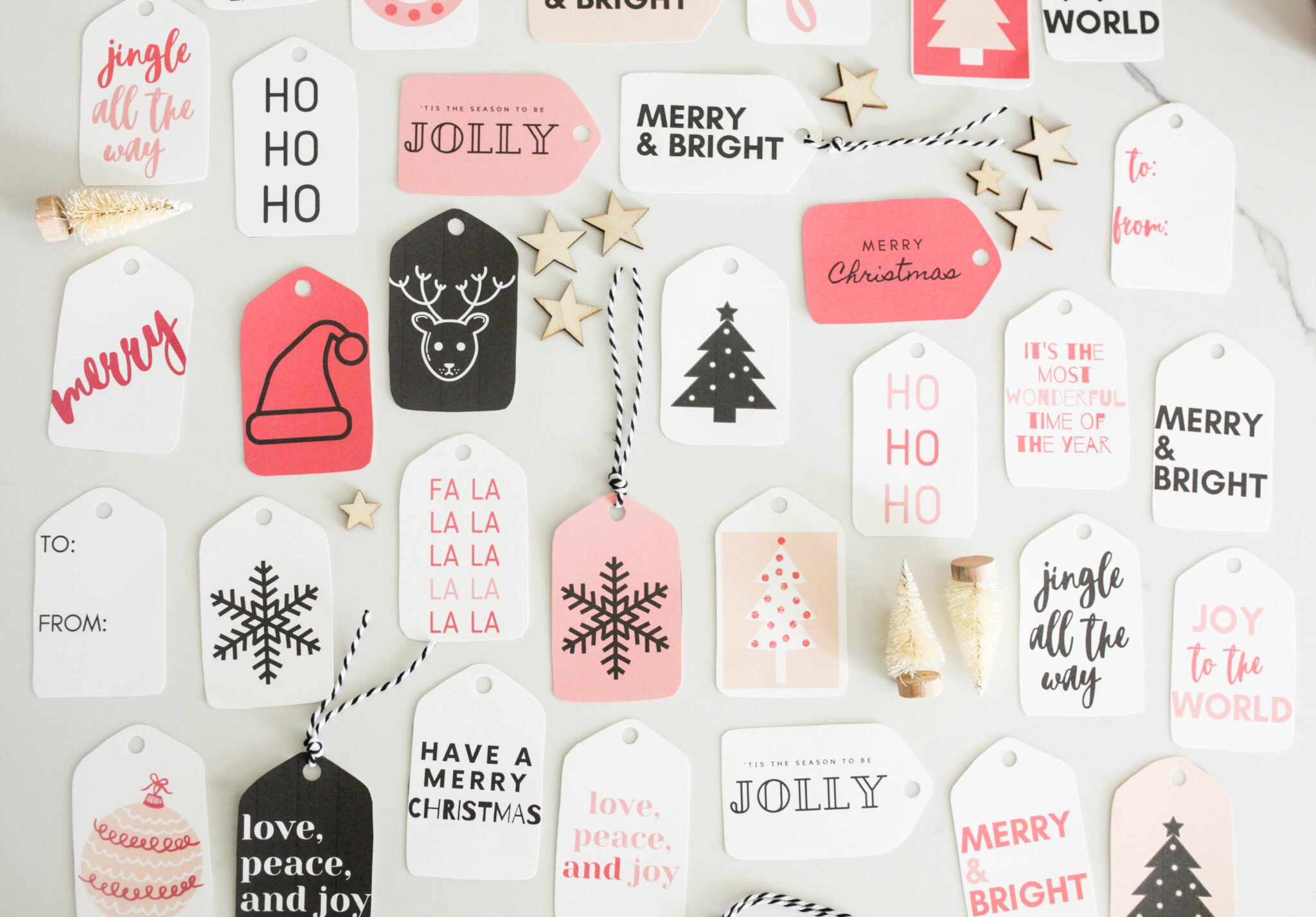 Get your gift cards in your inbox!
Enjoy!
You may also find my fair trade gift guide or baby brands that give back useful as well!