Is Olive and June worth the hype? I wondered this for months before seeing for myself! I finally tried out this Instagram-loved at home manicure nail polish to share with you!
I'm a nail polish junkie. I go through spurts when I paint my nails a new color a week and am constantly buying ALL the shades of every color! It's so fun trying out new beauty products and I've had my eye on Olive and June for a while after spotting them on Instagram.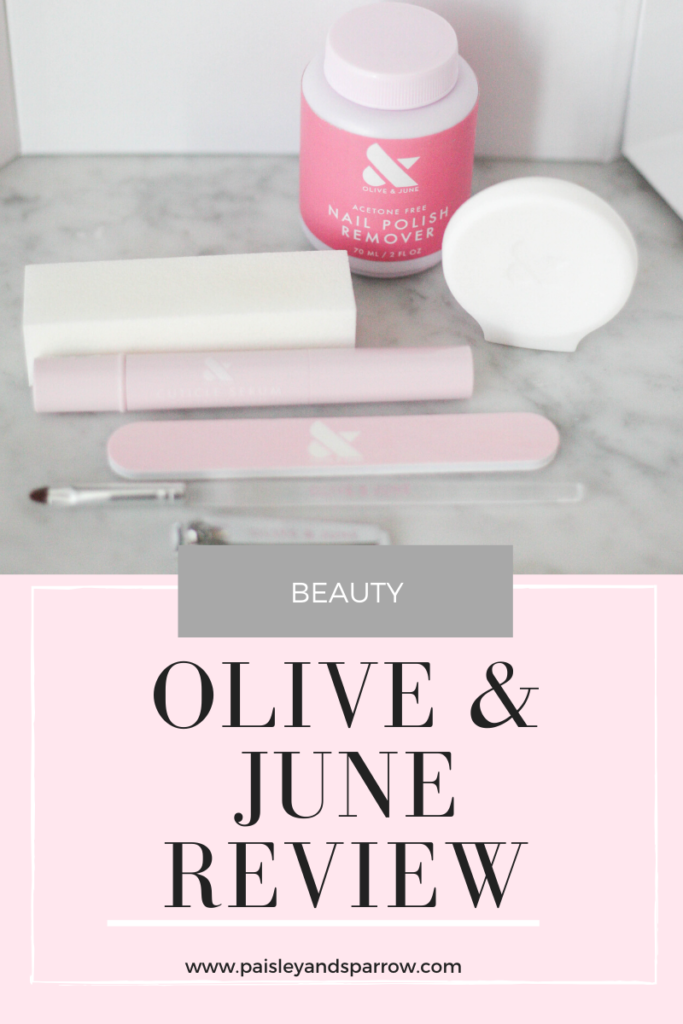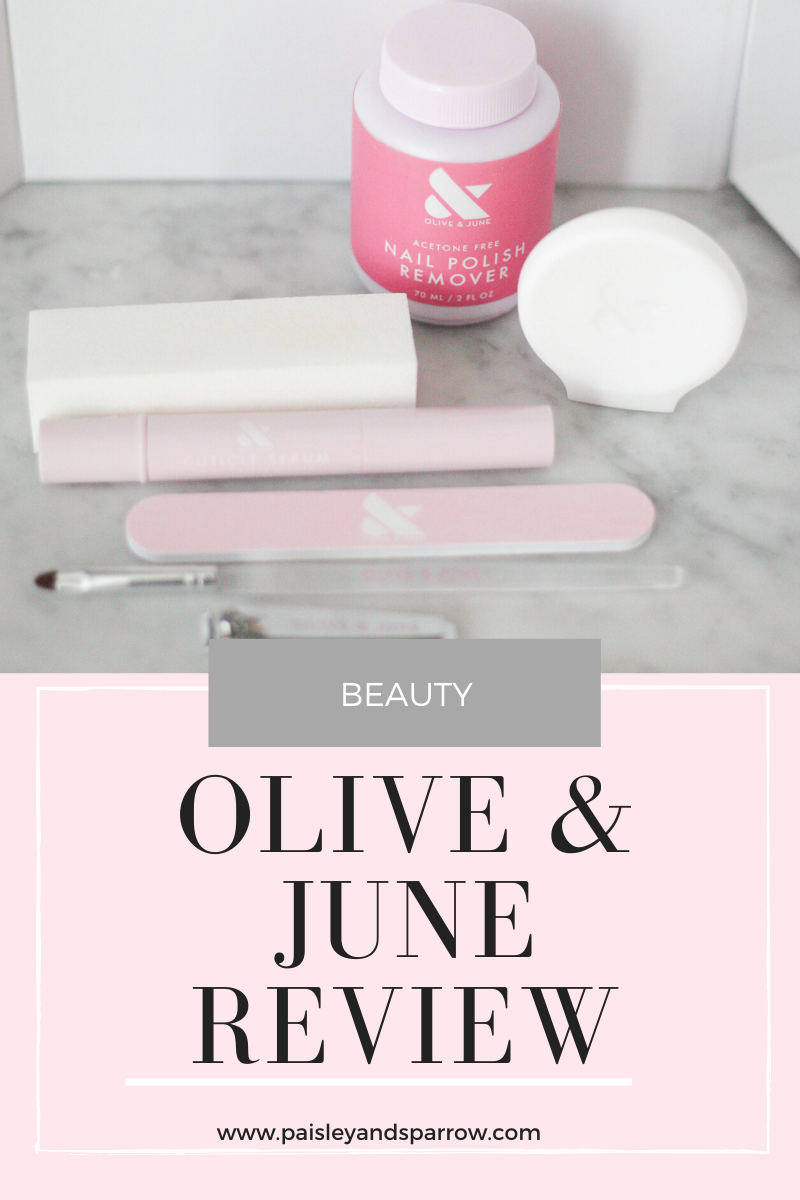 They so sweetly sent over a "Treat Yourself" box to try out so I wanted to share a full Olive and June review for you!
One thing that immediately caught my eye about Olive & June is their impeccable style. They're always showing amazing manicures (that I always thought was done by a pro until I discovered their DIY section on both their blog and Instagram.
Yes, there are professionals out there creating some of their designs but they also teach you how to do it yourself!
If you're ever in Beverly Hills, Pasadena or Santa Monica, there's Olive and June salons located in each of these spots! They even keep your preferences on file for future visits! Genius!
Olive and June Review
When I got my box I immediately dove in, ready to tackle my first at home mani with Olive and June. We had just finished a date night and one of our sitters has basically become part of the family so while we sipped wine I busted out the box, declaring that we shall be painting our nails together!
There are 4 different boxes available from Olive and June. I was sent the "Treat Yourself Box" which included: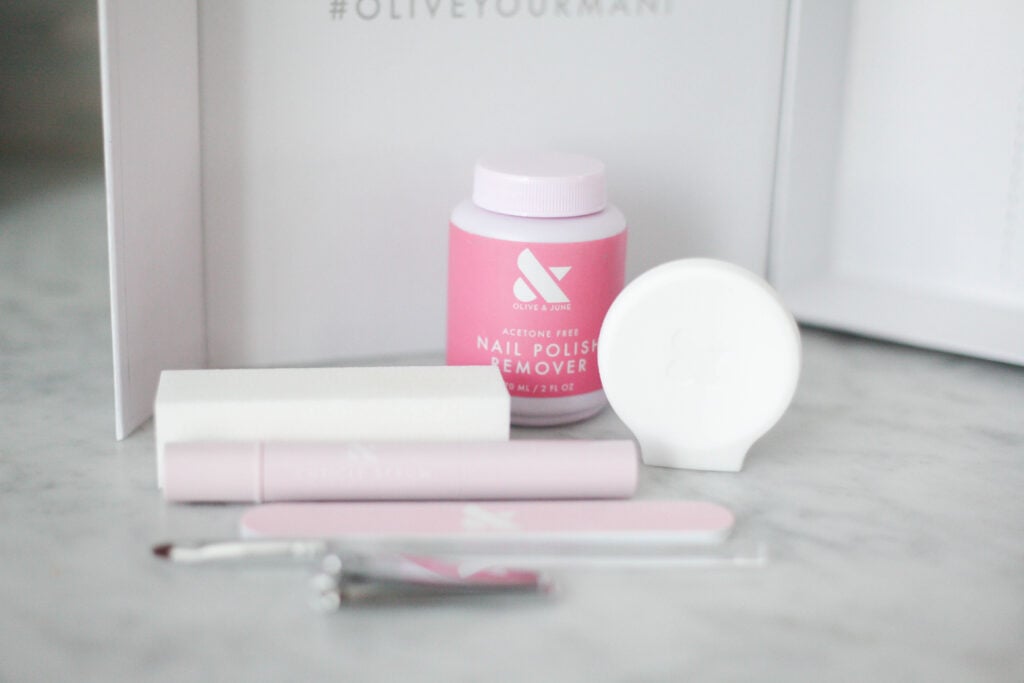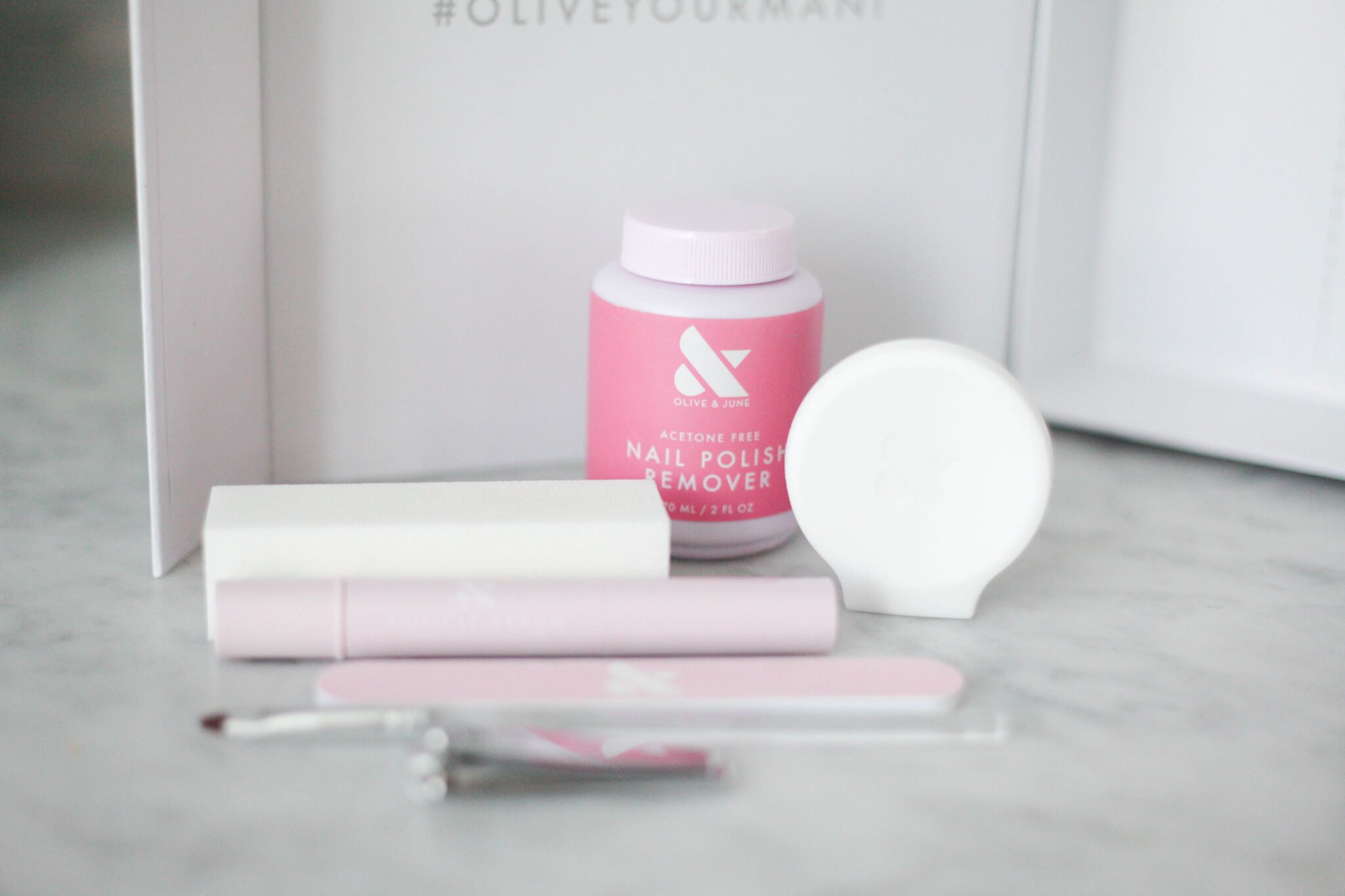 Limited edition Poppy polish bottle handle in white
9 Shades of Polish
The Top Coat
Cuticle Serum with Cactus Flower
Clean-Up Brush
Polish Remover Pot
Flat-Edge Clippers
Dual-Grit File
Nail Buffer Bar
They also have the "Everything Box" includes almost all of the above but only 6 colors instead of 9. The "Studio Box" has all the tools and just one color and the "Tool Box" includes just the tools! There are lots of options for you!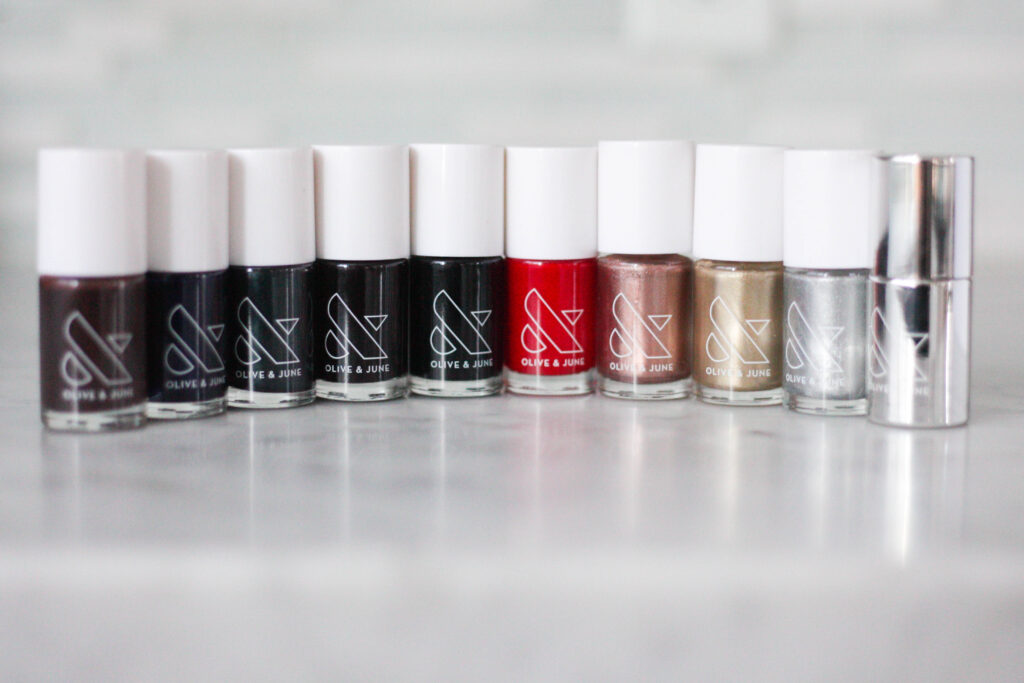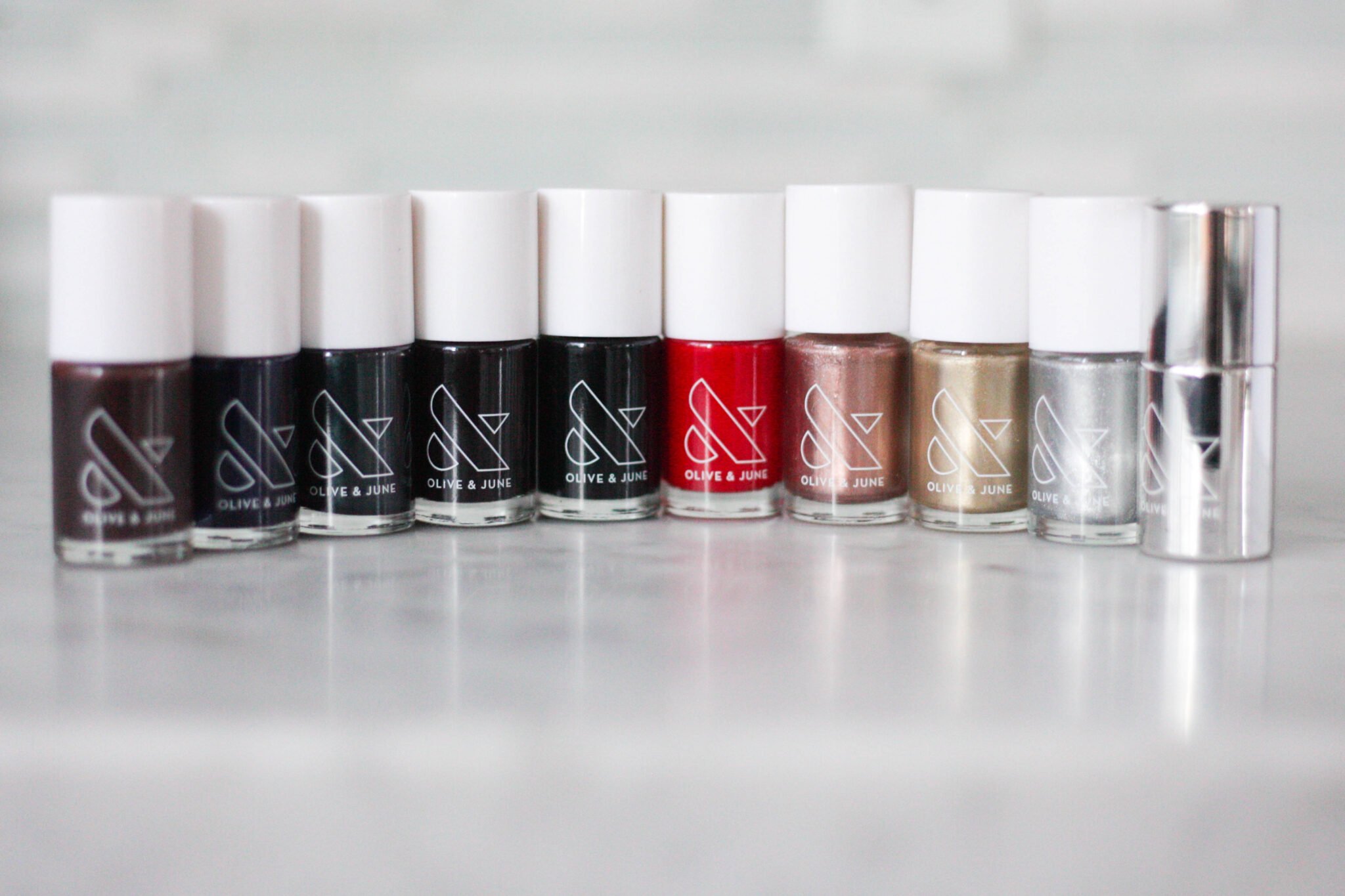 The Poppy
If you're new to Olive and June, you need to know about the Poppy. The Poppy is Olive and June's "secret weapon" to salon worthy nails without the salon! (Side note – you can even buy the Poppy at Target!)
It's a unique bottle handle that makes painting your nails easier! You can even use it on any nail polish bottle, not just Olive and June's.
Quick funny story – when we attempted to use the Poppy we couldn't figure out how it fit! I assumed my 20-something babysitter would know exactly how to do it but we ended up googling it to discover that the top of the polish comes off so you can apply the Poppy.
The first time I used it I made a mess out of it. I didn't follow their tips, I did it while the lights were dimmed and I just overall did it wrong. Just because Olive and June is amazing polish doesn't mean you don't have to apply it well! 🙂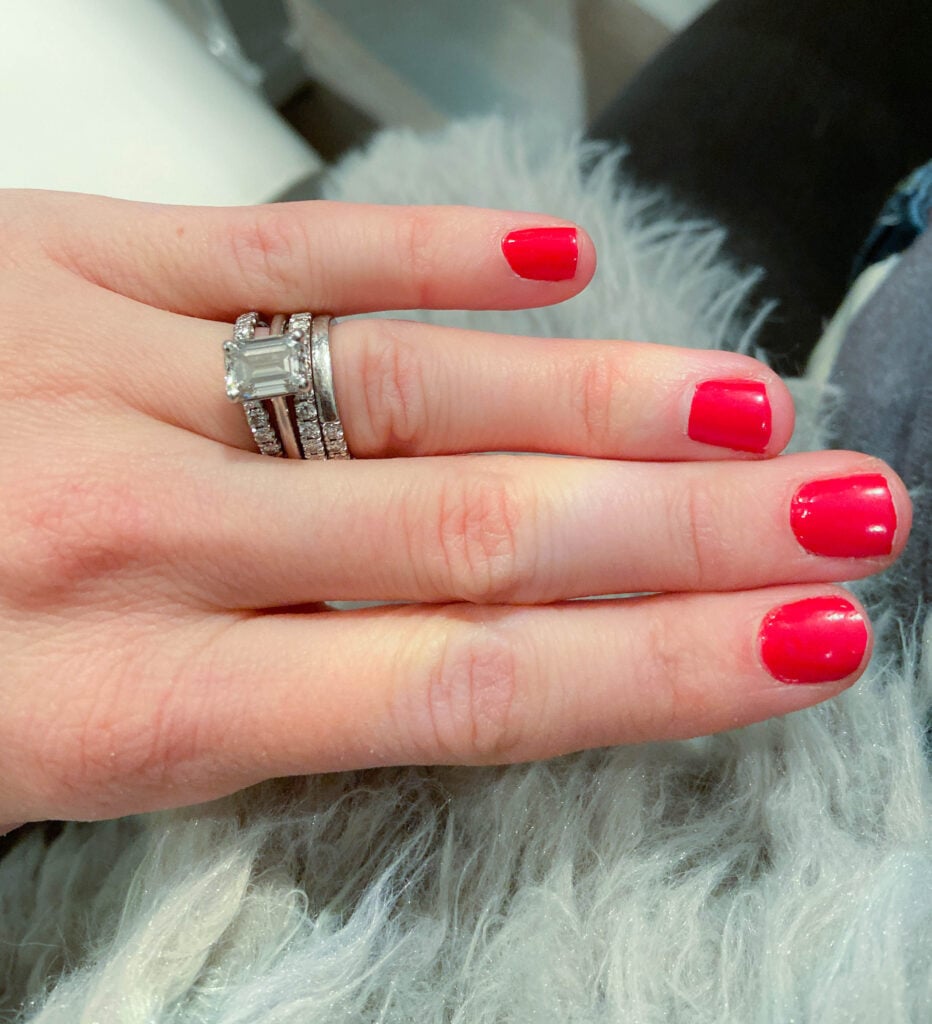 Olive & June Cuticle Serum
One thing I especially love about Olive & June is their cuticle serum! It makes your cuticles look refreshed and hydrated with the simple swipe of the brush.
It's mess free and fast drying and full of avocado and jojoba oil. And it's so easy to use – just take off the cap, twist the pen 2-3 clicks and apply on your cuticle!
Olive & June Pedi System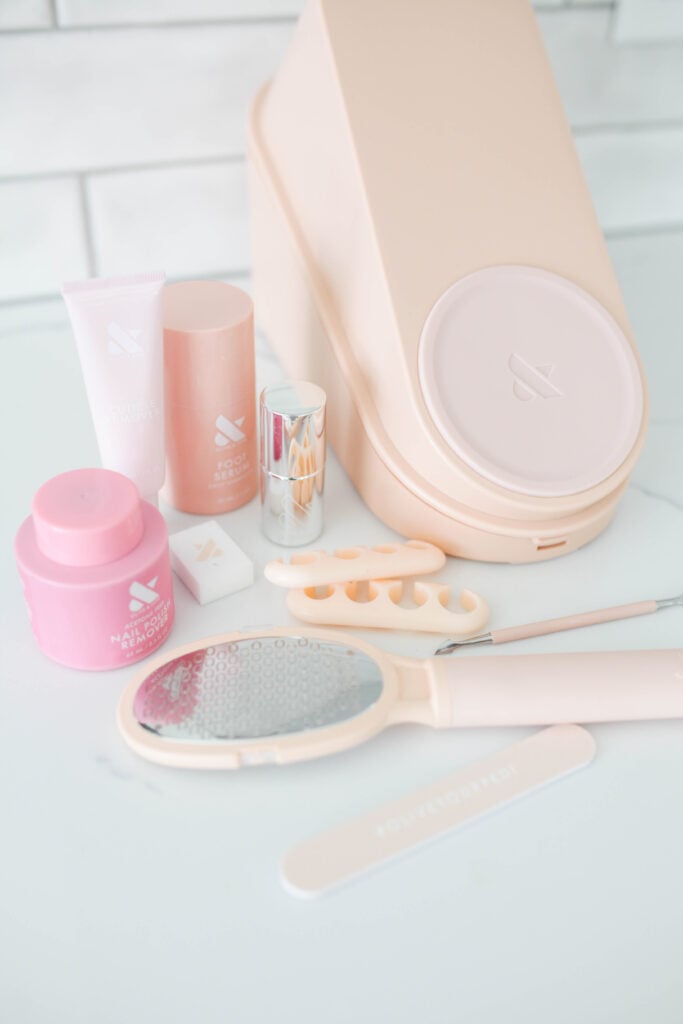 Olive and June just came out with the first ever, all-in-one pedicure system! It has everything you need for the perfect at home pedi with tools, foot care and of course, polish!
Like the manicure box, they have a pedi kit. Here's what's inside it:
Foot file
Nail polish remover pot
Large flat end nail clippers
Nail file
Cuticle remover
Cuticle pusher
Mini buffer
Foot serum
Silicone toe separators
Clean up brush
Nail polish
Super glossy top coat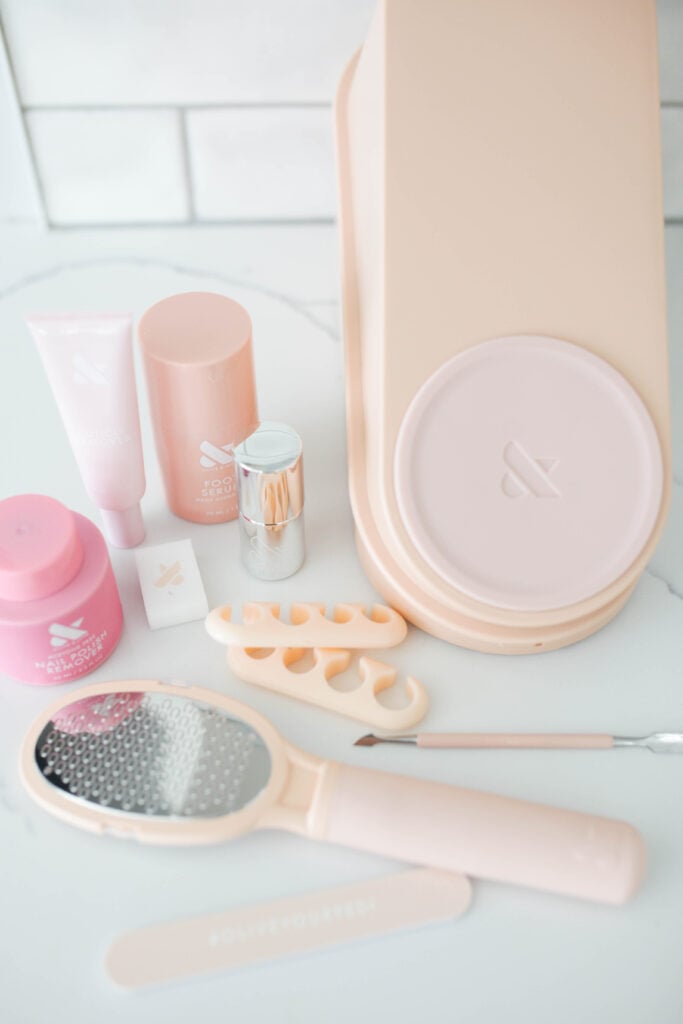 The also have a new tool – the Posey! Not only does the Posey hold all of your pedicure tools but it's also a foot rest that's perfect for doing your pedicure!
They even have a full tutorial on how to get the perfect Olive & June Pedi at home.
Olive University
One of the best things about Olive and June is Olive University. Want to know how to actually have a beautiful mani? Start there.
You'll see amazing tips and tricks for at home manis that look like the salon and last!
Olive and June polish isn't gel so it's not going to last weeks and weeks but with the right prep and proper maintenance it will last a while! They have tons of different tips on their site but one of the biggest things to note is to prep your nails well!
(I got my nieces involved in the Olive and June fun on Christmas morning!)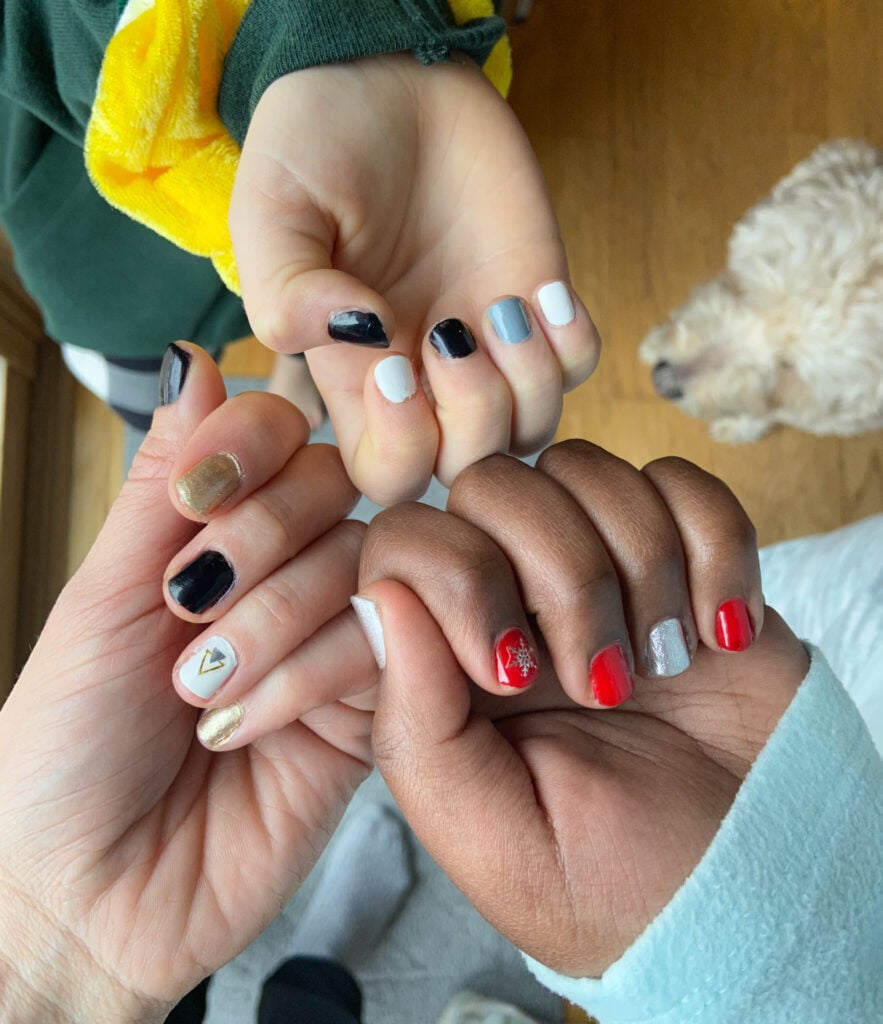 Prep Tips
So what are some of their prep tips? Be sure to check out this post for all of their details but here's the main idea.
1. Shape
Using the nail clipper and file, shape your nails! I'm really bad at this but it makes such a difference. I saw on one of their posts that you should have this be the first step and do it while your previous polish is on so you can see what it will be like in the end. I love that tip!
2. Clean your nails
Always use nail polish remover and get all of the previous polish off as well as excess oil which helps the polish stick and not chip.
3.Trim and buff cuticles
Using the buffer, glide it across your cuticle to get rid of dry skin and smooth everything.
4. Use the polish remover again!
This is my favorite tip and makes such a difference! Often times I've been touching my nails, getting them dirty or oily while I'm prepping them. Doing a quick dip in the polish remover pod will clean everything up for your first coat!
Other Tips
You don't need a base coat!
The brush bristles aren't round – there's a flat side so be sure to hold it the correct way when applying the polish.
Give your nails time to set in between coats. This will help it to not bubble.
Take your time! Don't just rush through it, carefully apply the polish to each fingernail.
Clean up at the end. Using the nail brush (or a small paintbrush) clean up any mistakes you made along the way.
Reapply your top coat daily! This is something I'm terrible at but it's so helpful to do.
Nail Tools
I finally picked up this super inexpensive set of nail tools from Amazon and I love it! Olive and June doesn't have any sort of tools and this is a great way to make some fun designs. The one below was my first try at it!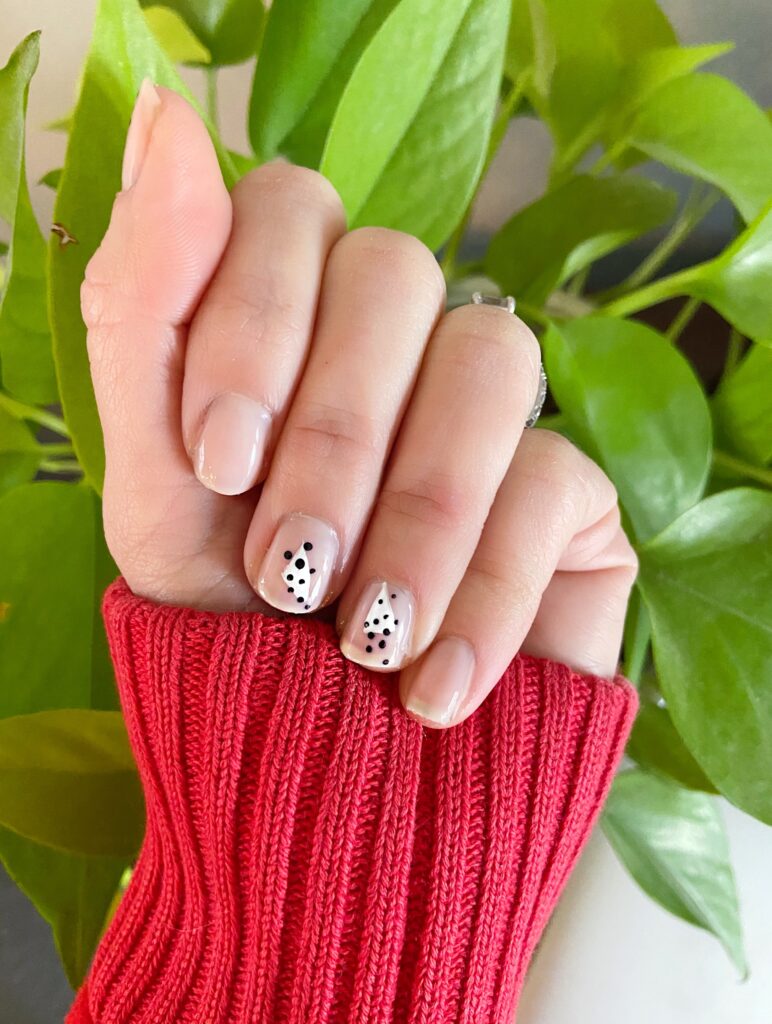 It's also worth mentioning that Olive and June is always cruelty-free & vegan which is a big win in my book!
Summer Studio Box – The Into You Box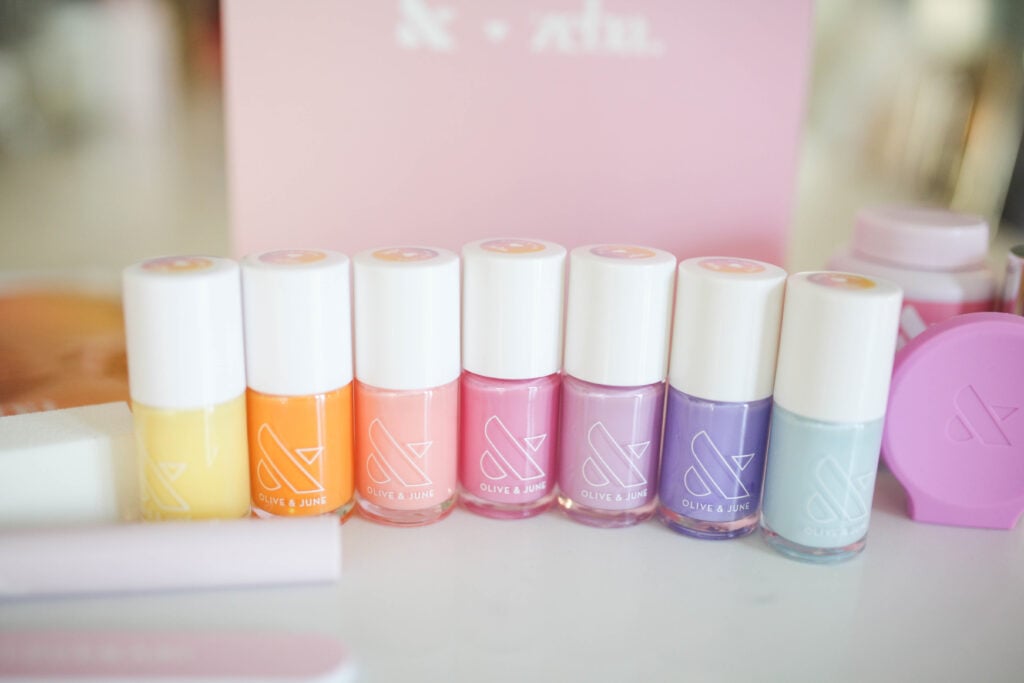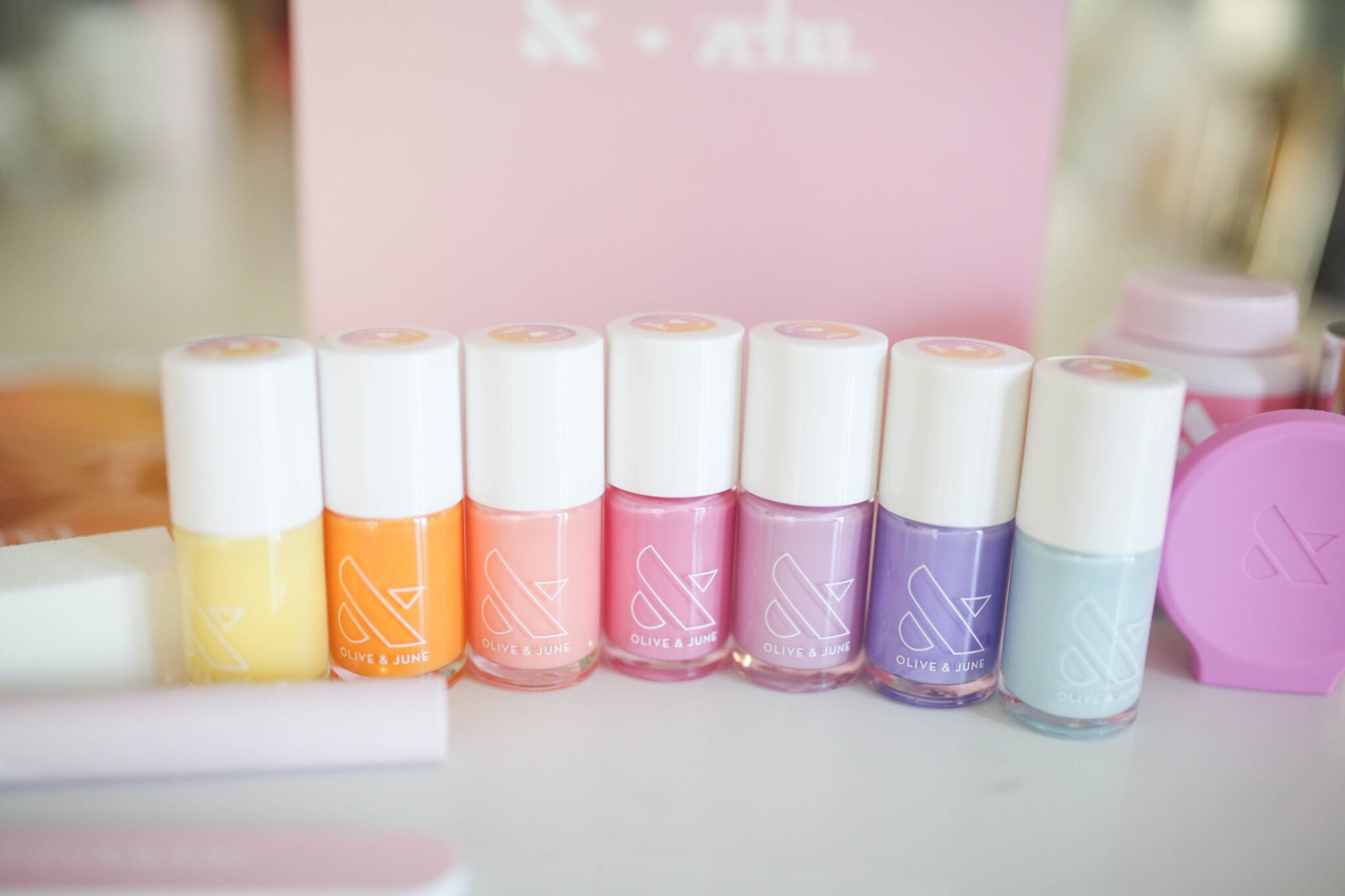 I also got to try out the Into You Box which was a collaboration with beauty activity Nabela for a self-love celebration in mani form!
The colors were so gorgeous ranging from purples to blue to orange and ideal for summer.
My niece and I tried out a few of the new colors (do you sense a theme? I give my nieces a manicure every time I see them ha!). I love how how our Olive & June nails look and we had such pretty nails!!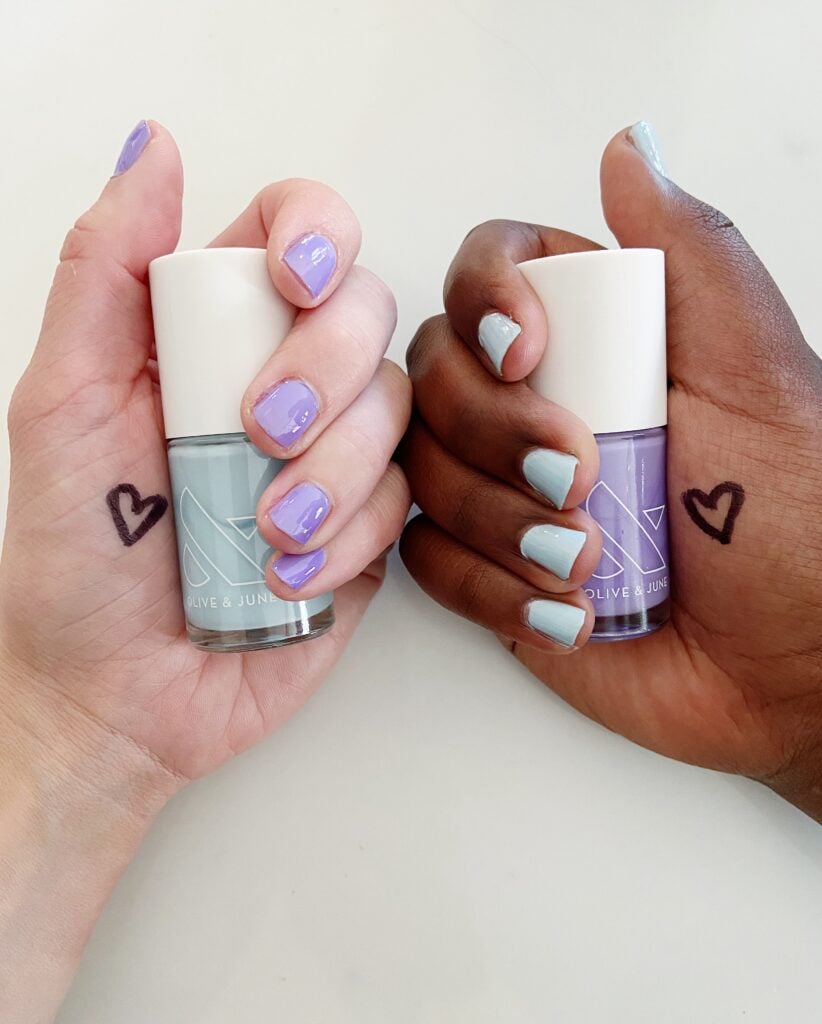 I hope this Olive and June Review as beneficial! Overall, I'm a big fan! Their polish is beautiful, their tips make a huge difference and it's a fun way to change up your nail game without having to go to the salon!
Now head on over to one of my very own DIY manicures that you can do with a q-tip or why not make your own balloon garland and have an at home mani party with your besties!
Thanks so much for reading!