Facial steamers are the latest trend to amp up your skincare routine. A facial steamer is a machine that works by producing a warm mist. It's like a spa treatment or sauna but from the comfort of your own home!
I've personally used a facial steamer for a few years and absolutely love it. While yes, hot showers can give you the same benefits, too much hot water isn't ideal for your whole body as it can dry it out. And the cost of professional facials can add up.
Facial steamers target skin issues like clogged pores and are an easy way to plump and hydrate your face at home. If you have oily or acne-prone skin, a facial steamer is worth adding to your beauty routine.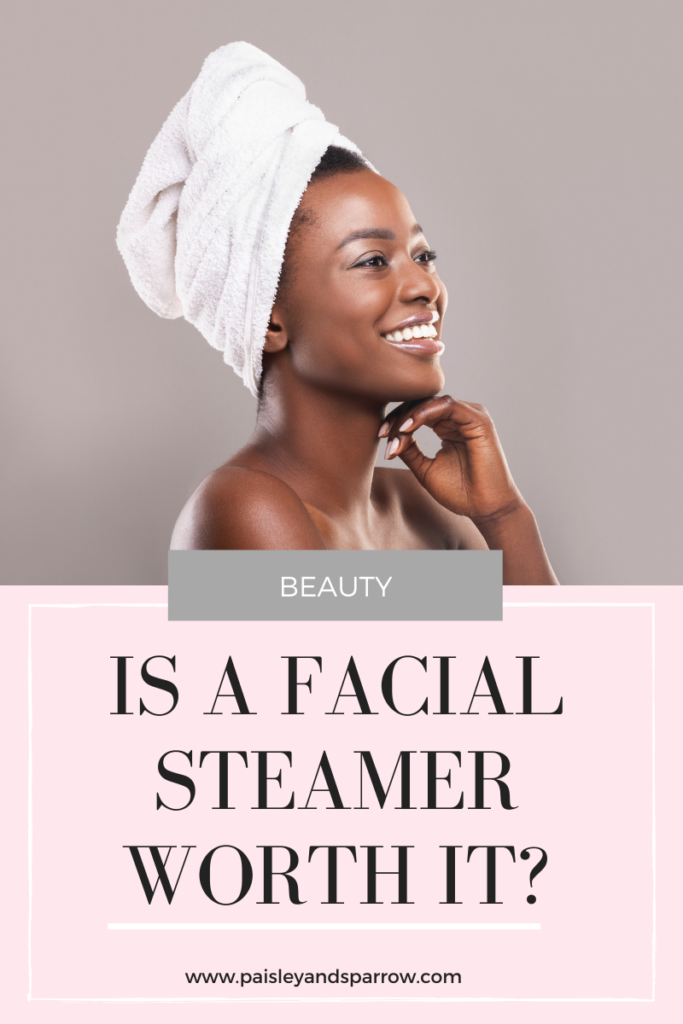 Benefits of Facial Steaming
Steaming your face has amazing skin benefits like increasing blood flow, giving you a dewy complexion, helping product absorption such as serums and topical treatments, boost circulation and helping to slow signs of aging by targeting the skin's collagen and elastin replenishment process.
It's also a great way to give you that beautiful healthy glow we all want!
Here are some potential benefits when using facial steaming devices.
Dilates blood vessels and increases blood circulation.
Cleanses your face and open pores, which helps release acne-causing bacteria.
Releases trapped sebum which is a breeding ground for bacteria which also causes acne!
Allows skincare products to be absorbed better.
Promotes collagen.
Gives your skin extra hydration.
Helps with sinus congestion.
How Does a Facial Steamer Work?
The steamer heats a water reservoir until steamy. Once it's heated up, you'll let the machine emit hot steam onto your face. For best results, you'll want to steam for your face for about 15 minutes.
This procedure to use steam helps soften and moisten any oil or debris in your pores. Once all the nasty stuff is loose, it's easier to remove when cleansing your face.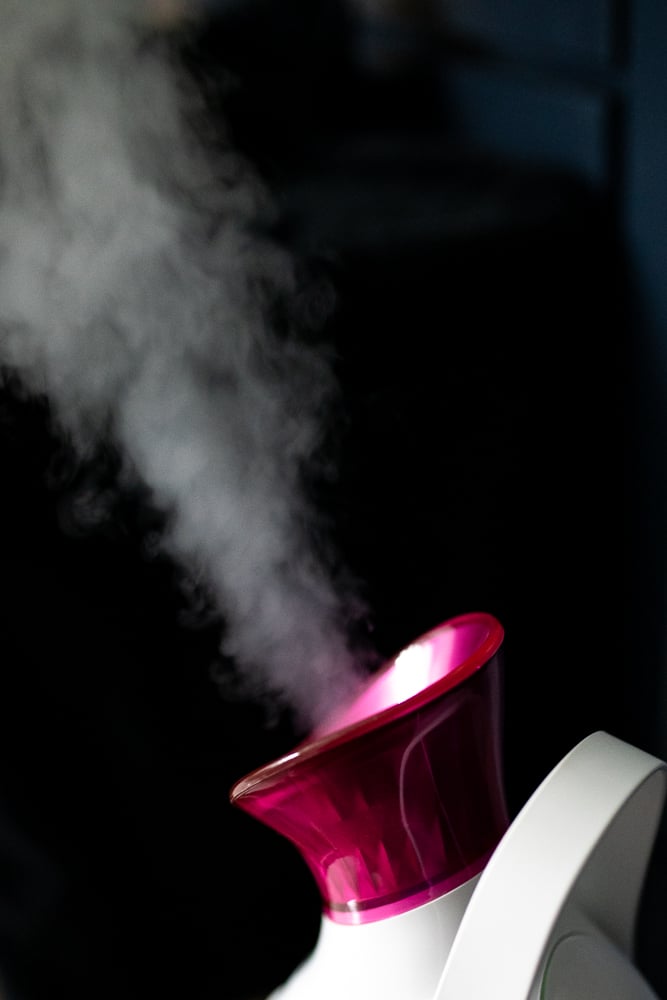 Is a Facial Steamer Worth It?
It all sounds good, but is a facial steamer right for you? The answer depends on your skin type.
Using a facial steamer is a good idea if you have oily, acne-prone skin or blackheads. You'll want to pass if you have sensitive skin, dry skin types or inflammatory skin conditions like rosacea. This type of facial treatment could actually make things worse if you have these skin concerns.
How to Use a Facial Steamer
Adding a facial steamer to your skin care routine is easy. The first step you'll always want to do is wash your face.
If you want, you can exfoliate your skin and then use your steamer. After, you can finish with a face mask or your favorite serum and moisturizer to help bring some moisture back to your skin.
It doesn't matter if you steam in the morning or night, just make sure you're steaming on clean skin. And always stay a safe distance away from the steam! Nobody needs steam burns.
For your first time using a facial steamer, you may want to only do it for 5-10 minutes to allow your skin to get used to it. After that you can add in more time.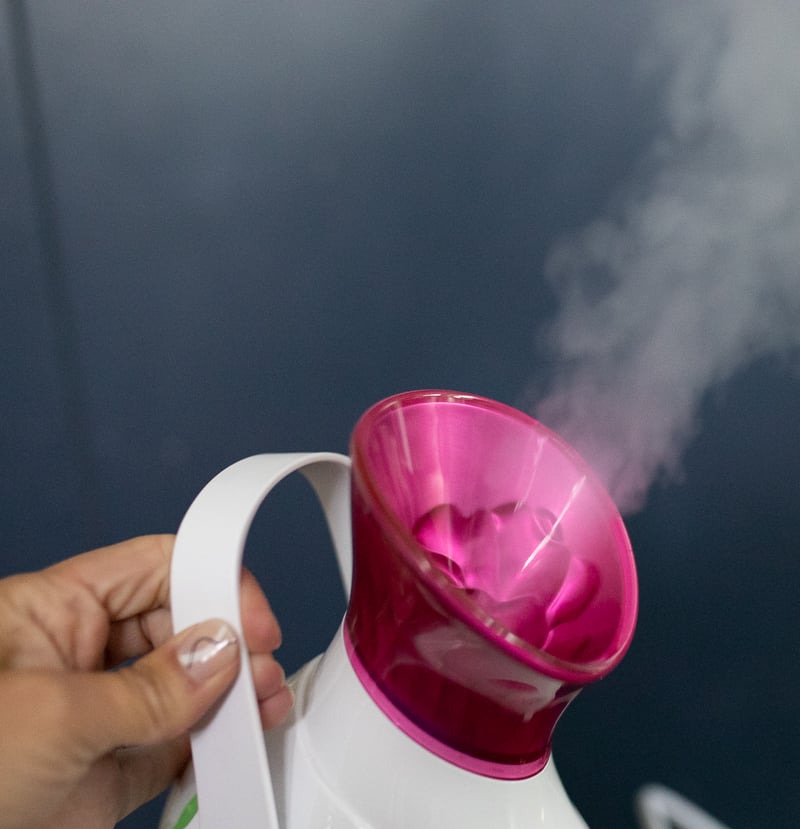 Do you need a steamer to steam your face?
If you're not ready to commit to a facial steamer, there are two methods you can easily try at home.
The first is the bowl method. You'll bring water to a boil and transfer to a glass or ceramic bowl. Put a clean towel over your head and the bowl to trap the steam. Hover your face over the bowl for five to 10 minutes.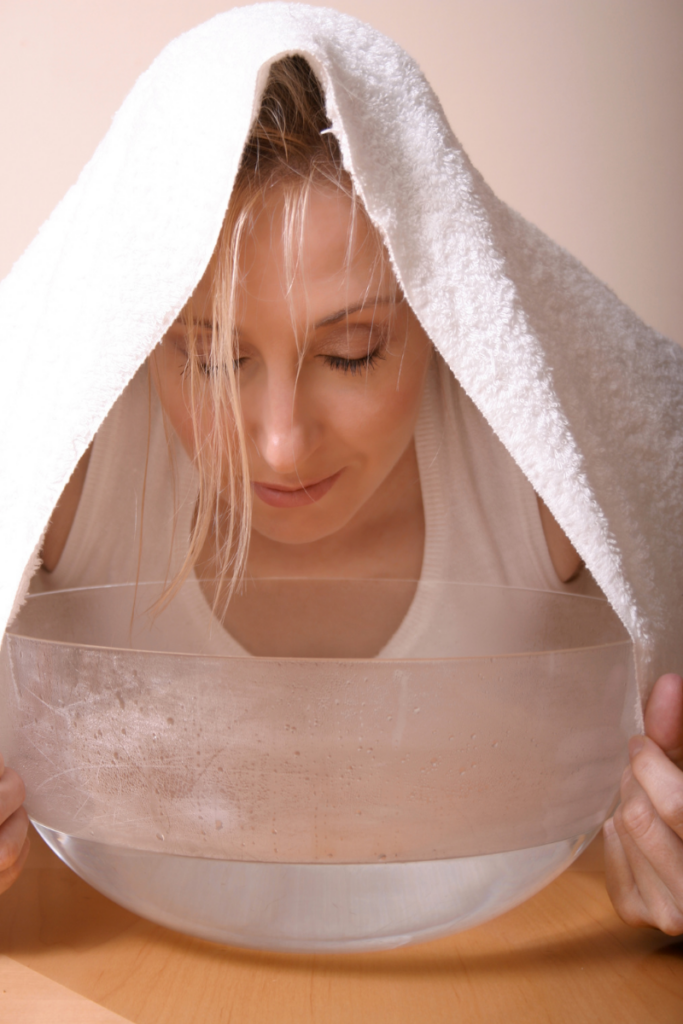 Your second option is the hot towel method. Boil water and place a few towels in the water.
Remove with tongs, let cool until you can safely touch, and place the towel on your face for five to ten minutes. You can swap out towels if it starts to cool down.
You could also use a steam room but that would require going to a gym or spa which doesn't allow you to do this at home.
Best Facial Steamers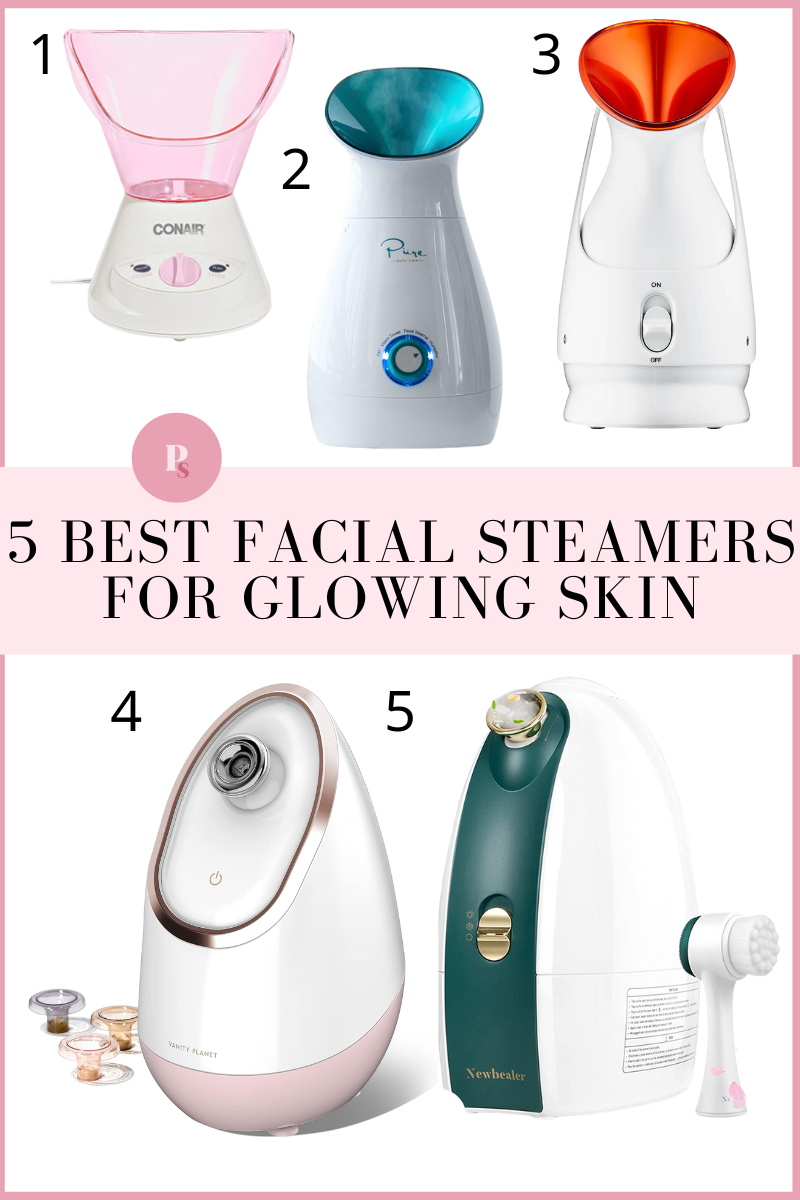 Paisley + Sparrow is a participant in the Amazon Services LLC Associates Program. This post may include affiliate links which means I may earn a small commission if you shop using the links below at no additional cost to you. 
If you've decided that a facial steamer is right for you, here are seven of the best facial steamers to help pick the best for you.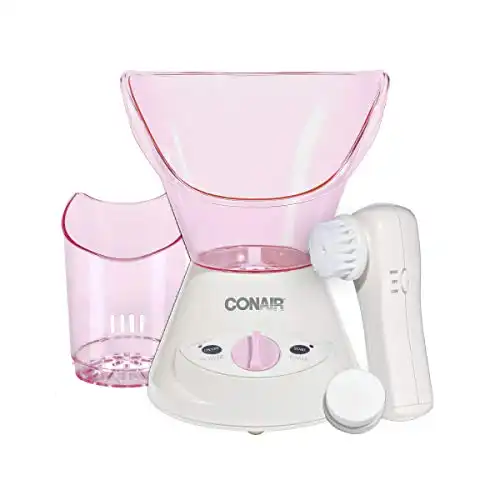 We earn a commission if you make a purchase, at no additional cost to you.
This is the best bang for your buck when it comes to a value steamer. Conair's facial steamer comes with an exfoliating brush that includes two attachments and moisturizer sponge.
Another great feature is that it comes with an additional narrow cone to steam your sinuses.
NanoSteamer Facial Steamer
A Bonus 5 piece stainless steel blackhead and blemish extractor kit is included with every Nanosteamer.

NanoSteamer is the only full size device with a larger 200ml water tank allows for 30 minutes of working time with a completely silent operation.

9.84 x 5.91 x 1.97 inches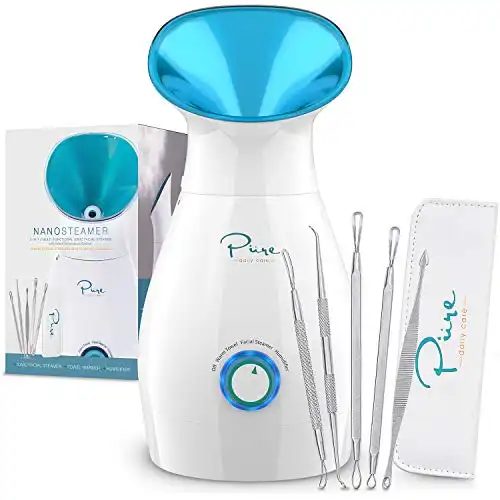 We earn a commission if you make a purchase, at no additional cost to you.
This Amazon top-rated steamer uses nano-ionic steam, which is 10 times more effective at penetrating the surface of the skin. It also includes five skin tools to help with the extraction of blackheads and whiteheads.
The steamer also has two other amazing functions, which makes DIY facials a breeze. It can work to humidify a room and has a chamber for warming towels.
Dr. Dennis Gross Pro Facial Steamer
Look like you've spent a weekend at the spa in as little as nine minutes. This device uses micro-steam technology to hydrate and visibly clarify and detoxify your skin for a healthy, radiant look. An ideal way to begin any at-home facial, the steamer also decongests clogged pores, leaving your skin primed for accelerated absorption and effectiveness of any products that follow.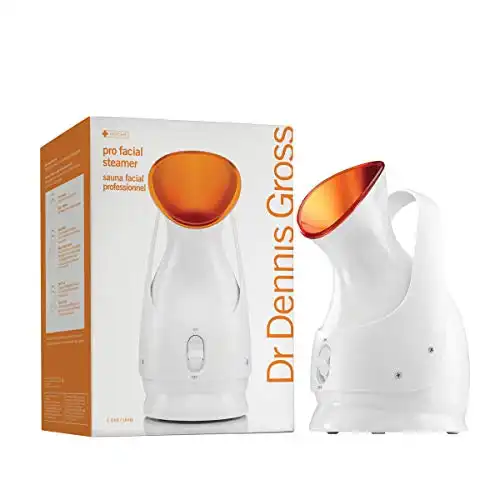 We earn a commission if you make a purchase, at no additional cost to you.
This luxury brand steamer has quite the price tag but if you're taking your skin seriously or want to up the ante when it comes to your facial steaming, it's worth it! It's fast working, claiming to complete a full cycle in nine minutes.
It has a wide nozzle that will ensure full steam coverage, and it'll purify and hydrate your complexion. Reviewers love this one, with one person stating "I haven't had a clogged pore since I bought this. I use it 3 times a week. It heats up super fast, is blowing out steam in under a minute. I LOVE IT!"
Vanity Planet Aira Ionic Facial Steamer
Detoxify and cleanse your face like the professionals, no matter your skin type, with Aira, the facial steamer designed to clear pores and stimulate circulation.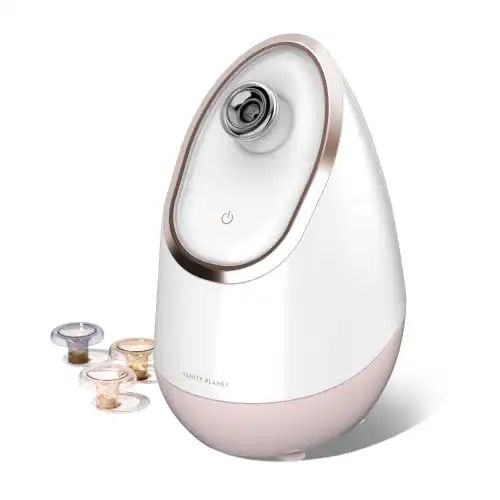 We earn a commission if you make a purchase, at no additional cost to you.
This is one facial steamer you will frequently hear from experts that they love! It has an easy to fill reservoir and an added mini bucket to add essential oils for a spa like treatment.
The steamer lasts for 20 minutes and can help with less breakouts and more hdyrated skin. One reviewer said: "Previously, I would frequently visit my dermatologist for acne treatments and this has completely lessened if not practically abolished any cystic breakouts I would normally get."
Newbealer Facial Steamer, 3in1 Aromatherapy Face Humidifier, 20 Min Hot & 60 Min Cold
The facial steamer is equipped with advanced PTC ceramic heating elements with new ultrasonic vaporizer that helps produce 0.3µm, ultra-fine nano mists that allows absorption at a faster pace by your skin or hair penetrating deep in your pores.

The steamer allows 20mins of hot or 60mins of cold steam that helps open the pores maximizing the moisturizing effects and shrink once the pores are clean.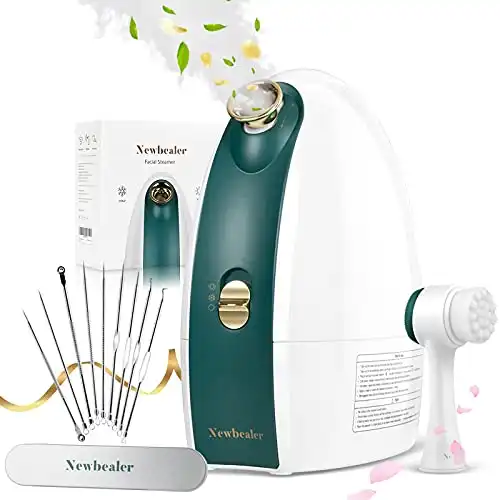 We earn a commission if you make a purchase, at no additional cost to you.
All this simple steamer requires is flipping a switch, waiting thirty seconds, and then you're good to go! It has two settings for hot or cool mist to target different skin issues.
There is a spot on the top to add any essential oils if you choose. It also comes with a facial brush and extraction tools.
Frequently Asked Questions:
What are the disadvantages of steaming your face?
Steaming your face isn't for everyone. Steam may aggravate sensitive skin and lead to "facial flushing," causing redness. It can also dry out your skin if you're skin doesn't have excess oil.
Is it good to steam your face every day?
No! You should steam your face once or twice a week for no more than 15 minutes.
What type of water should you use in your facial steamer?
It's best to use distilled water over tap water in the water tank. Tap water has heavy metals and minerals that will cause bacteria to grow in your facial steamer, meaning you'll have to clean it more and it may not work as long. The tap water may also leave mineral deposits on your face.
Should you wash your face after steaming?
No, it's not necessary to wash your face. Immediately after a steaming session is the perfect time to apply a facial mask (find some of my favorite facial masks here) or skin care products such as topical creams.
Facial steamers have some wonderful benefits if you have oily skin or acne. Steamers won't zap away all your pores but can help to nourish, hydrate, and moisturize your skin. Using a steamer is part of the process of helping you get clear and radiant skin.
Want more beauty tips? Here's how to have a spa day at home and how to use a jade roller!