If you're new to Mott & Bow and wondering what all the hype is with them, you're in for a treat! Both my husband and I got some jeans and shirts from Mott and Bow & we're here to give you our full Mott & Bow review so you can know if they're right for you.
I'm a gal who loves fashion and has tried everything from from the more expensive denim brands like Good American, Rag and Bone, and Paige (to name a few), to the less expensive jeans like Levi's, Gap and Madewell.
My go to jean brands are Good American (because hi, they make your butt and legs look amazing) and Levis (my Levi's Wedgie Straight to be specific).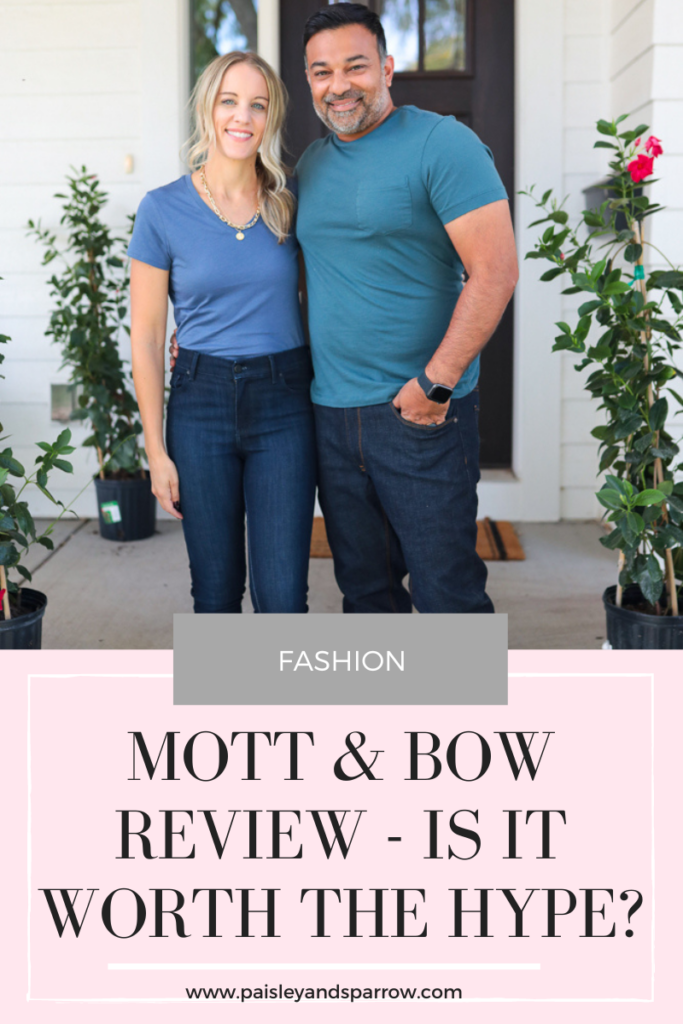 My husband, on the other hand, mostly buys only quality items. His go to denim brand is Rag and Bone and only just recently picked up his first pair of Levi's.
We're not afraid to spend money on quality pieces that will last a long time but also seriously love finding quality items at a more affordable price point.
That's why we wanted to try Mott & Bow! We've both been targeted for quite some time by their ads which have piqued our interest on these so called premium jeans at a reasonable price.
Mott and Bow sent over a few items for us to try but other than that hasn't sponsored this post in any way. You can be certain that this is an honest review – our opinions are our own!
Mott and Bow History
To begin, let's go back to how Mott and Bow got started! The short story is, Mott & Bow was created to answer a simple question:
"How can we get people premium grade jeans at a reasonable price?"
The longer (but still short) story is that the brand's founder, Alejandro Chahin grew up around denim. He lived in Honduras where his family started a denim manufacturing facility. He quickly mastered every aspect of the art of jean making.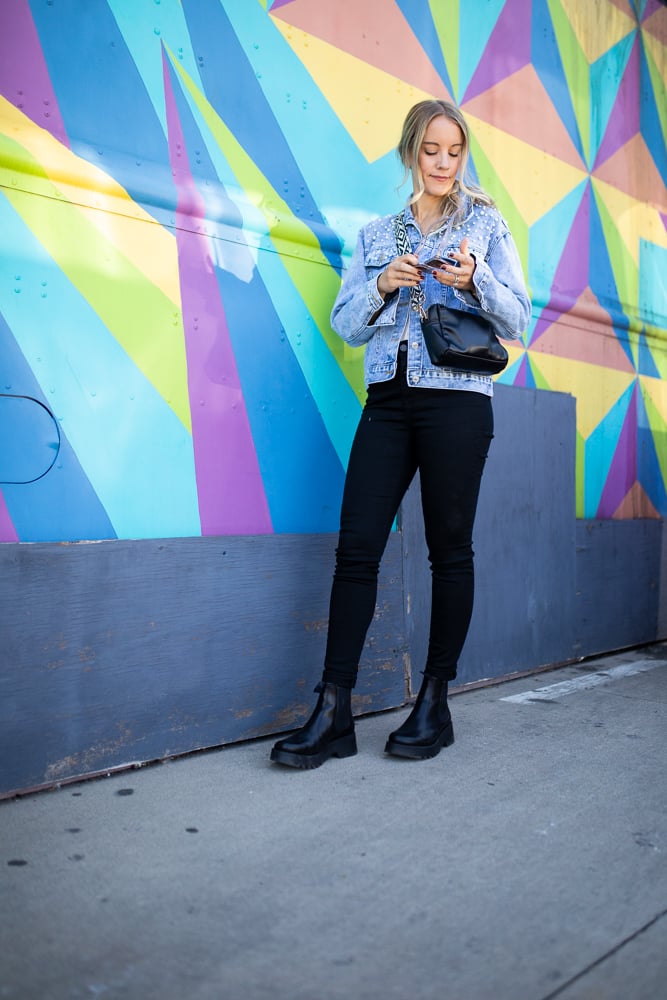 After moving to New York he quickly realized that there was a price inefficiency when it came to denim. Given what he knew about making jeans, he decided to create a brand that sold premium denim at a fair price. And that's the history!
*One thing to note – you may have hard of people talking about the Mott & Bow Try-On Program. You used to be able to order the same jeans in 2 different waist sizes and then return the one that didn't work for you. Unfortunately they have gone away from that program.
Denim Science
One thing to note before getting to our review, is Mott & Bow's Denim Science! As it says on the Mott & Bow website, "it's not just denim, it's denim science".
All of the Mott & Bow jeans go through of resin application (either sprayed or immersed for different looks and feels) followed by oven curation. It's pre-cured and then cured again after in an oven.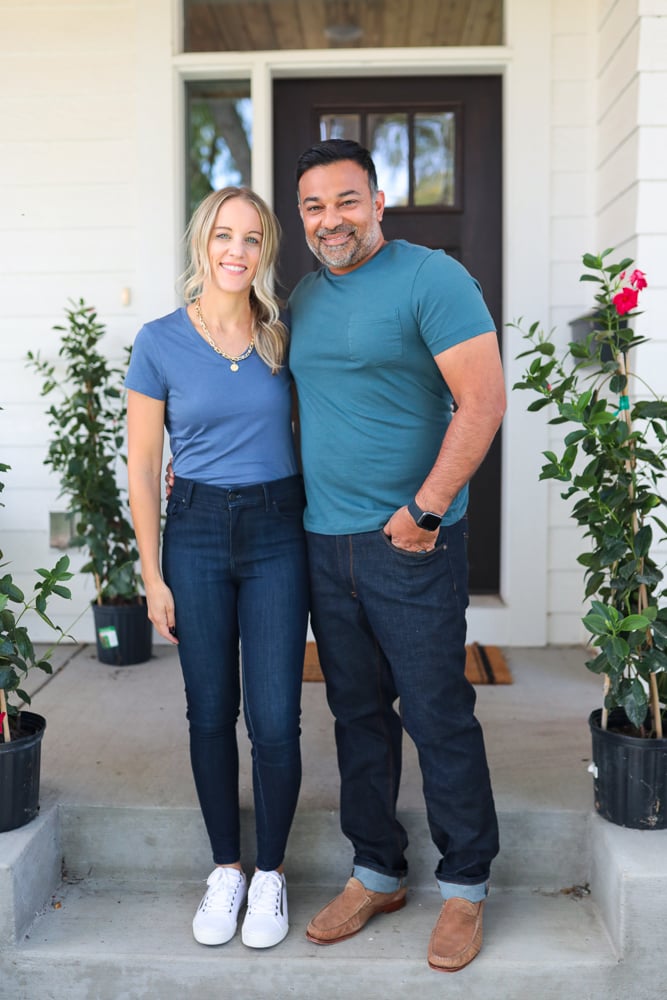 They're then scraped by hand for a natural look which is extra cool since no two jeans are alike! They're then pinned and tied in various ways before they go into the wet process to create subtle contrasts.
Then they're washed and dried with items like pumice rock or silicone balls to get the desired look.
After all that is done, they put the finishing touches on with the buttons, Mott & Bow branding on the jacron and the inside of the jeans.
Mott and Bow Review
Here are the different Mott & Bow products we'll be reviewing!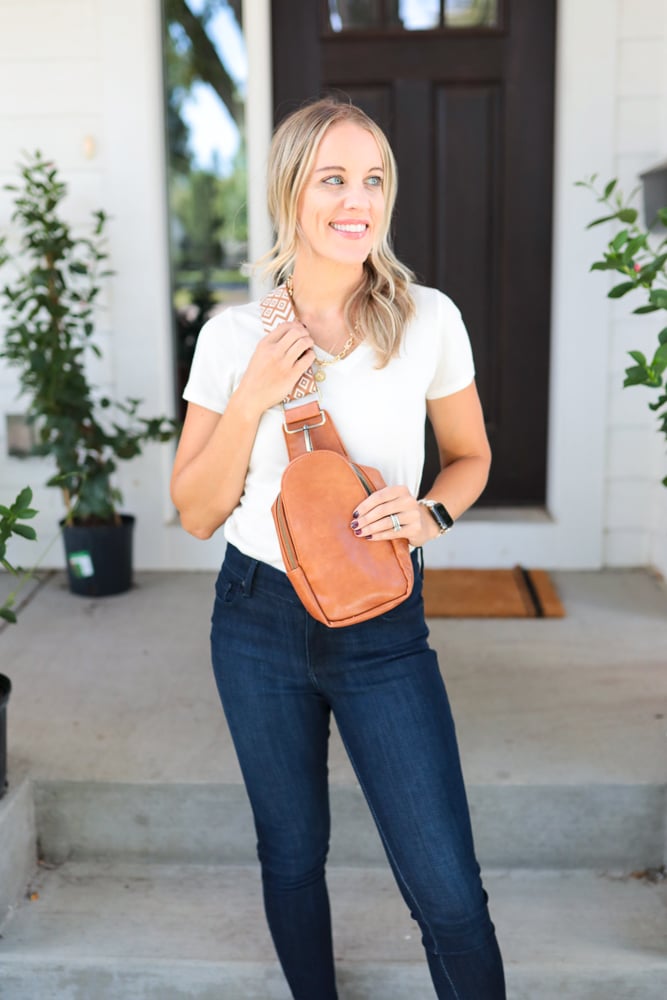 Womens:
French Terry Sweatshirt
High Rise Skinny Bond Jeans
High Rise Skinny Jane Jeans
Fitted V-Neck Crew Marcy tee
Mens:
Slim Benson Jeans
Slim Crosboy Jeans
French Terry Sweatpants
Classic Crew Driggs Tee
Mott and Bow Review – Women's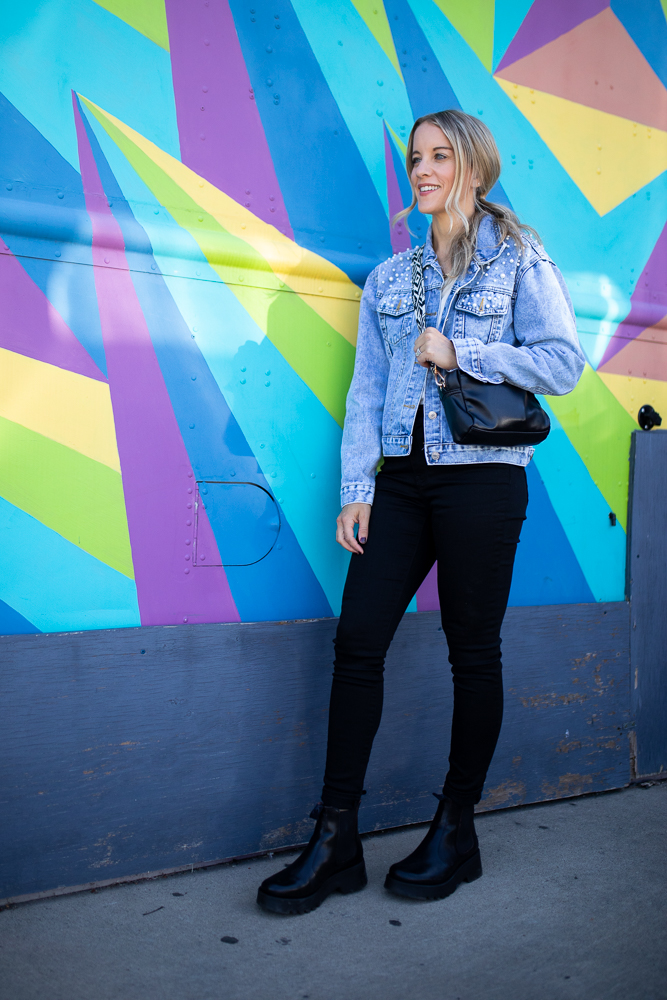 When I first put on these jeans my initial thought was to how similar they were to my Good American jeans which honestly is hard to find. They squeezed in all the right places with just enough stretch.
They're made with fade-resistant technology to keep it's deep black color in tact. They are made with 43% elasticity to give it some stretch but also keep it's shape.
They're high waisted, almost like built in shapewear! 😉 When wearing these with boots like above, I have to cuff these once. When pairing them with sneakers they're the perfect lenght. These are the perfect pair of jeans for dressing up since they look so chic!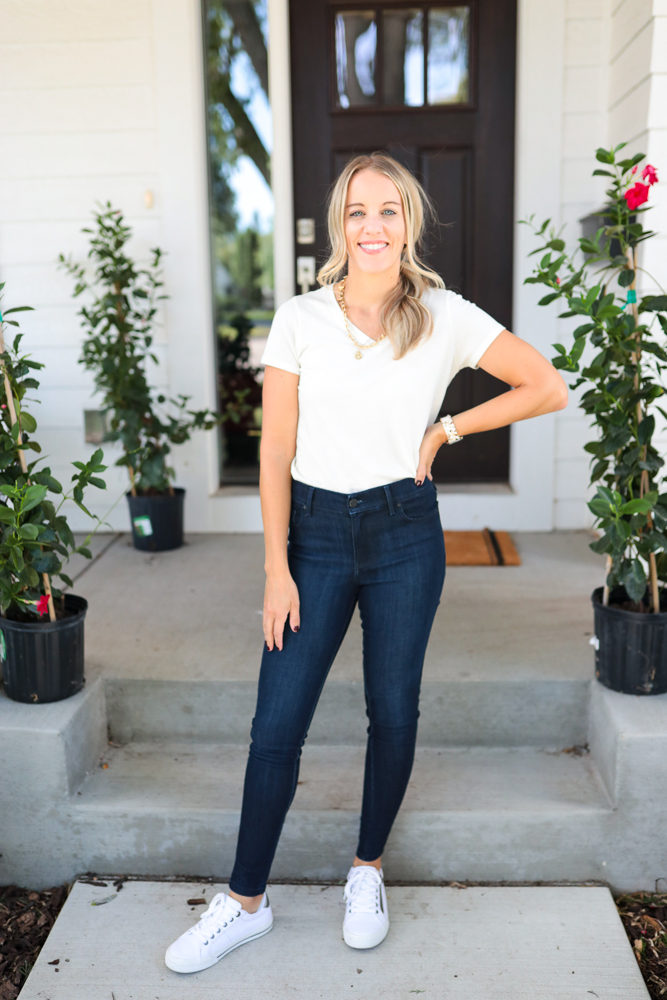 The second pair of jeans I got were the Jane Jeans in a medium/dark blue. Again, I truly love them. These have a bit more stretch than the Skinny Bond jeans (made with 45% elasticity) which is great for everyday wear.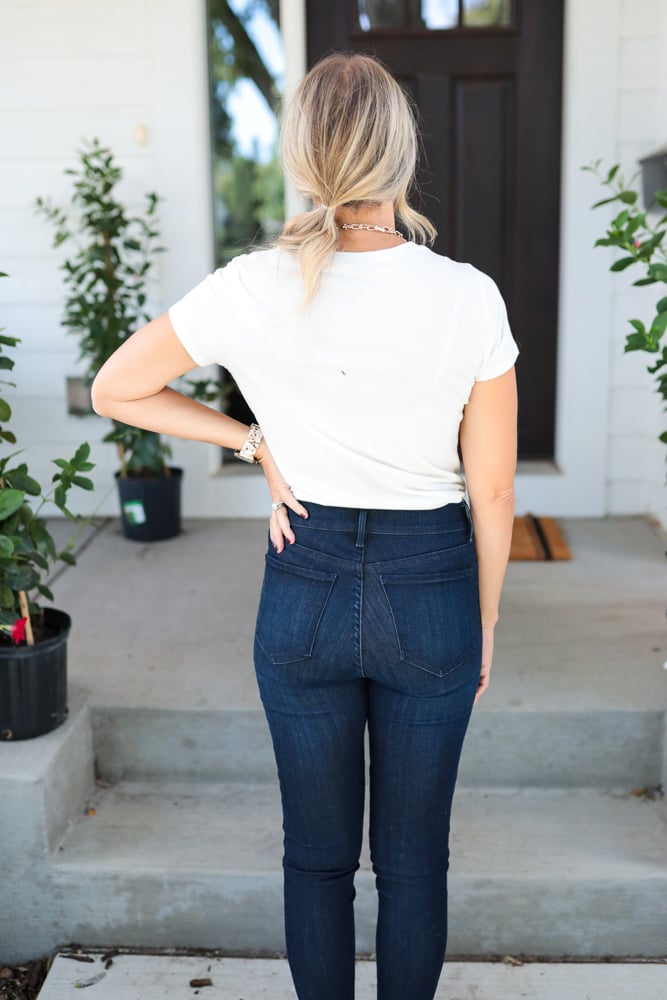 These come in a variety of different colors (medium blue, light blue, medium/dark blue, faded medium/dark blue with raw hem and and dark blue) and they come in 2 different inseams – 28 and 30.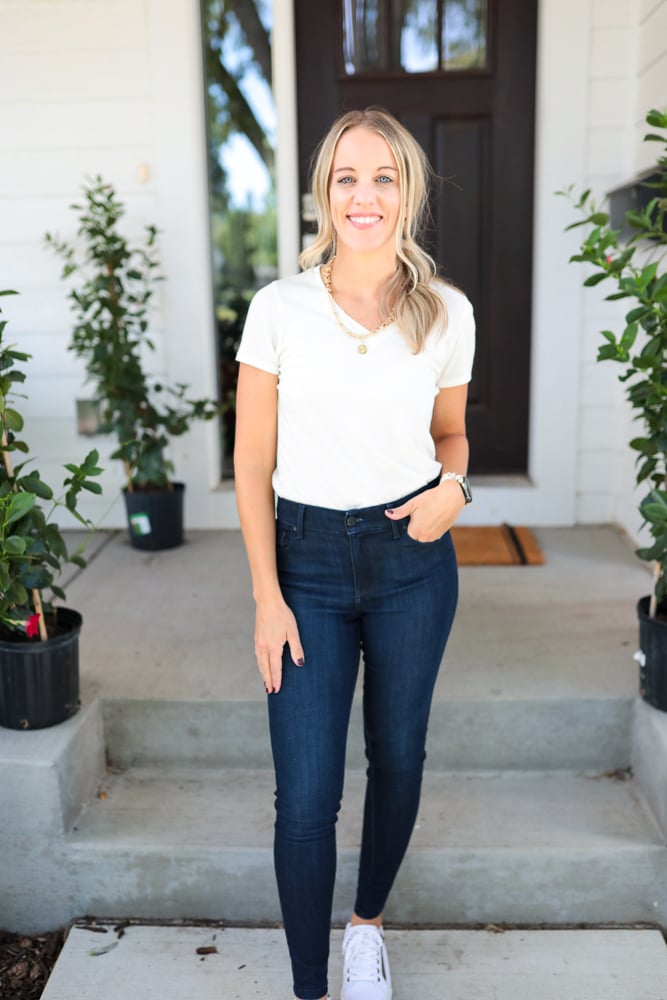 One thing I really loved about the v-neck fitted Marcy tee is how soft the material was! It was delicate and slimming and great for not only layering but also to wear on it's own. It fits more fitted which gives it a more classy look, perfect for pairing with Mott & Bow's Skinny Jeans!
These shirts come in a ton of different colors and even different styles. You can also get the Fitted Crew Marcy Tee if you want a crew cut vs a v-neck. They're made out of 50% pima cotton and 50% modal. They're also tagless (yay!).
Honestly, if you're looking for high quality stapes, these casual shirts are worth every penny! I really love them!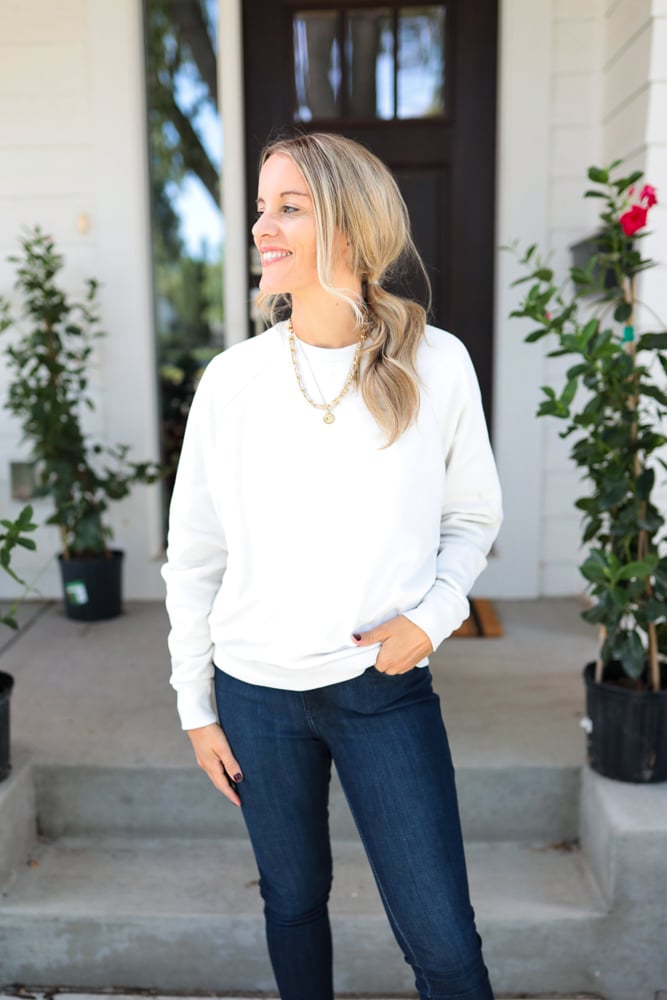 I loved the long sleeve french terry sweatshirt but I will say it isn't as soft as a regular cotton sweatshirt. It has a bit more of structured feel to it which does help it look more styled and less frumpy.
If you're looking for that chic comfort vibe in a sweatshirt, this is a great option. However, if you want that perfectly cozy sweatshirt that is so soft you could sleep in it, this isn't it.
Now on to the mens!
Mott & Bow Review – Men's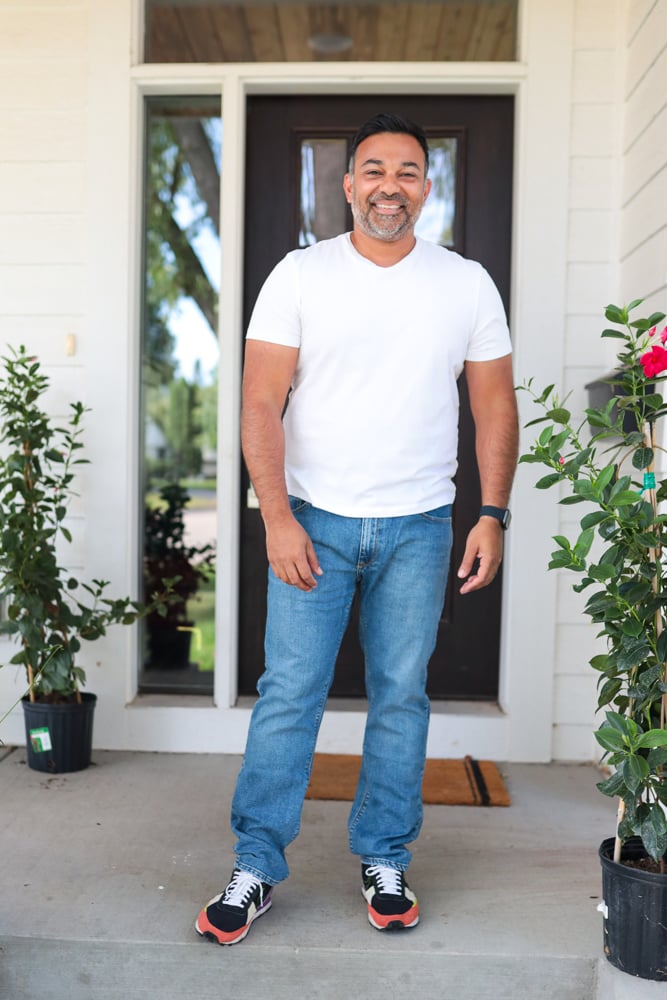 These are a fantastic everyday slim jean especially in the light blue. The denim is soft to the touch. They're comfortable with just the right amount of stretch.
The cut is ideal—not too tight or too loose for my stout and strong but should lose weight build… I'm working on it.
The pockets are oversized and they fit well in the seat. The end of the pant legs are washed in a way where you'd want to get to preserve the original hems if altering.
I like the fact that there are no sort of embellished stitching or anything of the sort. Just a great simple jean that looks and feels great.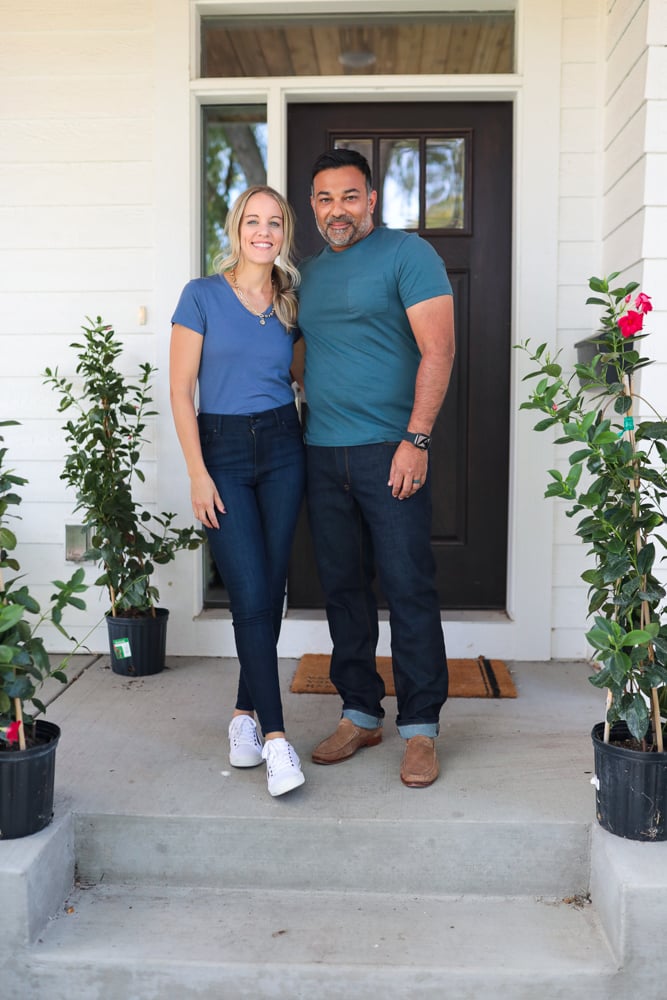 I got the dark blue style of these men's jeans. This slim fit denim is a great date night option. The denim is more raw than that of the Benson, but I'd say it has a typical denim feel, not an overly raw feel. I appreciate the contrast stitching.
The fit, again, is great for my body type and I suspect most body types. Not too tight, not too loose. Properly fit in the seat. If you alter these, no need to preserve the original hem. An all around great cut that looks and feels great.
These come in 2 different colors – the medium/dark blue and the dark blue which you see here.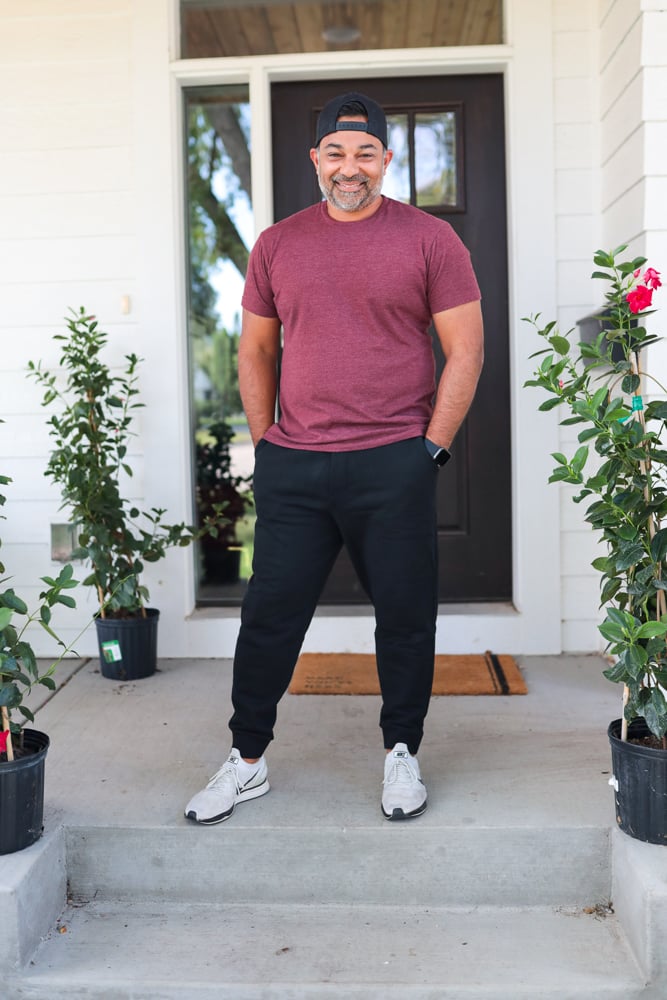 I might live on the French Terry Sweatpants come come fall and winter. They've got that typical jogger cut that has a lot of room in the crotch and tapers down the legs.
I'm short, so these aren't immodest ankle displayers for me. Just the right length, which I prefer to the too short look. The fabric is a very nice cotton that's upscale from typical sweat pant material and seems durable. I really like these.
These come in a ton of different colors!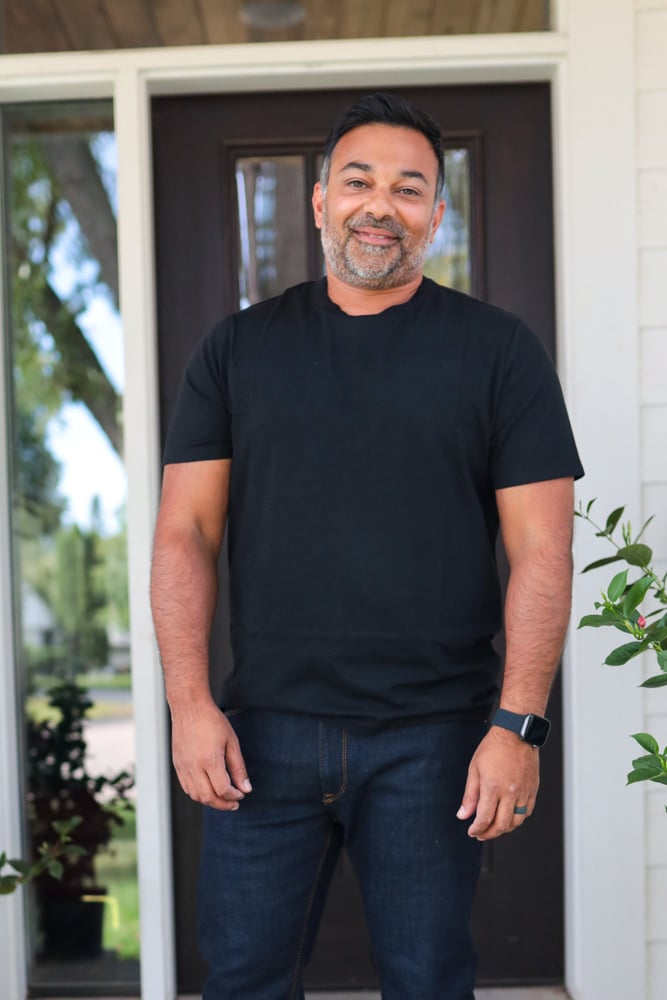 Mott & Bow's size calculator got this one wrong. It said I needed a Large, which was oversized. That said, the feel of the tee is great. It's very high quality cotton that feels smooth to the touch.
It feels more like a high quality poly blend than a cotton tee. It's lightweight and breathes well. Mott & Bow did a nice job with the stitching, making the thread hidden in places like the shoulder. I suspect a medium may also be too long for me. I'm in the minority at 5'7″ so this is a common issue for me.
We ordered a size medium to see if a different size will give us a better fit. We'll update this once we get it!
Mott & Bow Pros & Cons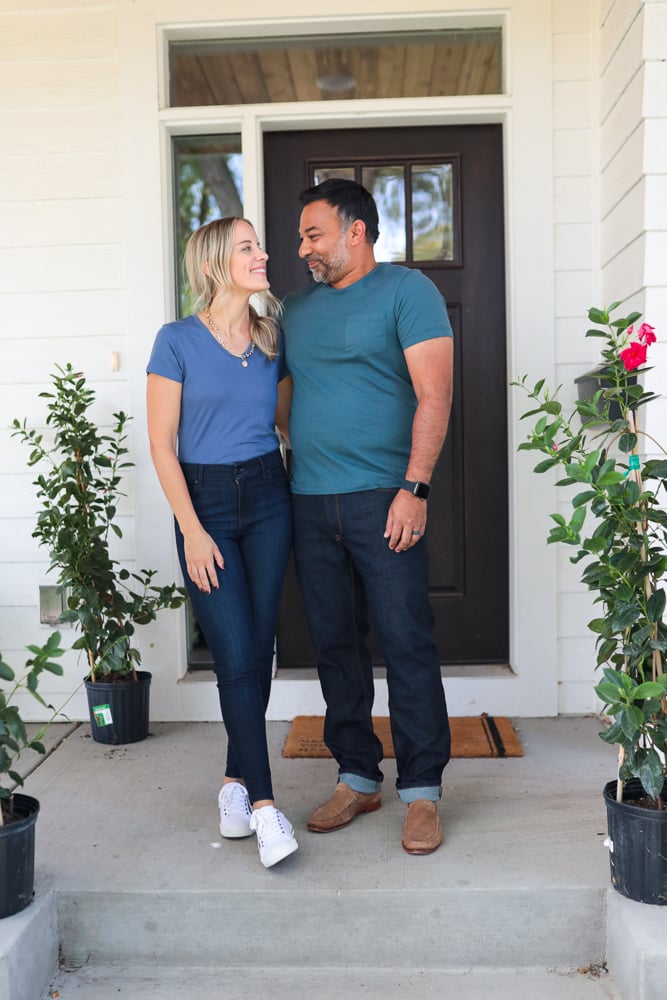 Pro – Timeless Style & Impeccable Design
Mott and Bow honestly has just a really great timeless style that's classic and professional. These denim are ones that you'll be able to wear to work (if jeans are acceptable!) and are easy to dress up or dress down.
They also have amazing design and construction of their clothes! When comparing t-shirts, you can tell the quality of the Mott & Bow by the stitching and the cuts on the jeans are just impeccable.
Pro – Tons of Styles for Men
My husband was thrilled with all of the different options when it came to jeans for him! They have everything from slim jeans to skinny jeans to straight leg jeans and more.
They also have a variety of colors from black to shades of blue and even dark gray and medium gray! We were very impressed by this. There's even Mott & Bow chinos!
Con – Limited Styles for Women
On the contrary, the women's styles are limited! I've been wearing less skinny jeans and more straight leg jeans lately but unfortunately they don't really have that option for women.
There is a pair of mom jeans as well as a boyfriend jeans which are both great options but I would love to see a true straight leg jean.
Pro – Price
While yes, the prices of Mott & Bow's jeans used to be under $100 and now they're slighter more expensive, the cut, fit and style are on par with more premium denim that cost well over $200.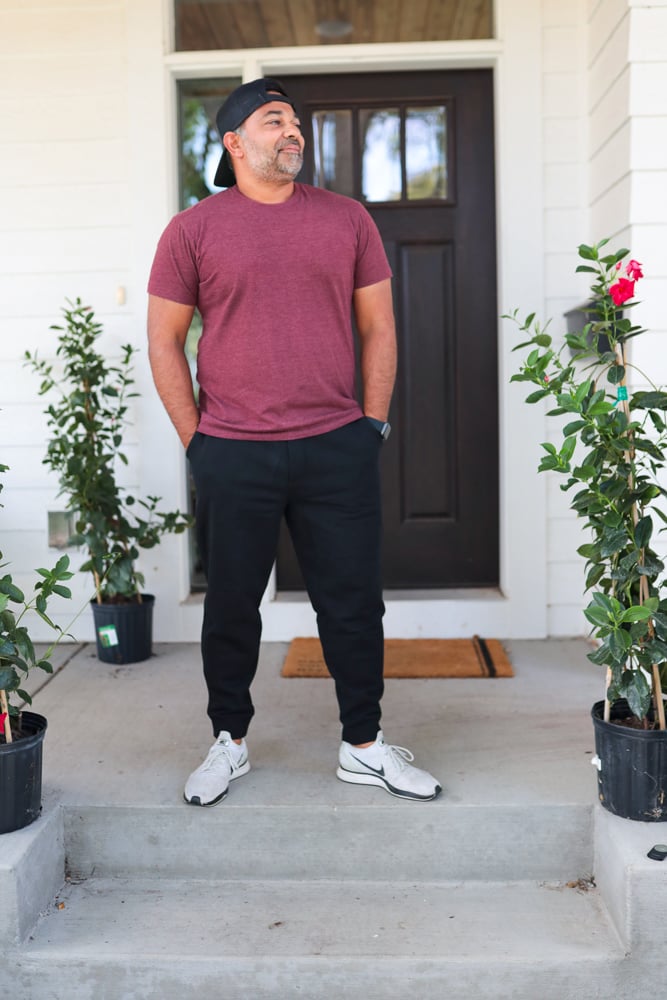 Final Thoughts
At the end of the day, do we think that Mott & Bow is worth the hype? In a nutshell, yes!
We both love the quality of their clothes – the jeans look and feel really good, the shirts are soft and beautiful and they're all at a great price point for the quality.
We do hope they start to have more styles for women though! We'll update this post in the months to come to share more about durability, how well they wash, etc.
Check out Mott & Bow here!
Mott & Bow FAQs
Where is Mott & Bow clothing made?
Mott & Bow jeans are made in Honduras. The tees are made in Peru and the sweaters in China.
What is the return policy for Mott and Bow?
You have 30 days to return your unwanted items. You will not get reimbursed for shipping.
Want other fashion brand reviews? Check out my Levi Ribcage jeans review or my review on ChicWish!