A new home is worth celebrating! Whether it's a family member or a friend that has just moved, it's nice to give them a housewarming gift as they settle into their new home. But we all know men are notoriously hard to shop for!
No matter your budget, there are all kinds of great options for you to give the new homeowner a thoughtful welcome gift.
We've rounded up some of the best housewarming gifts for the men in your life, whether your brother just bought a house, a male friend is moving into a new apartment, or you want to buy a gift for a couple that you know the man will love too!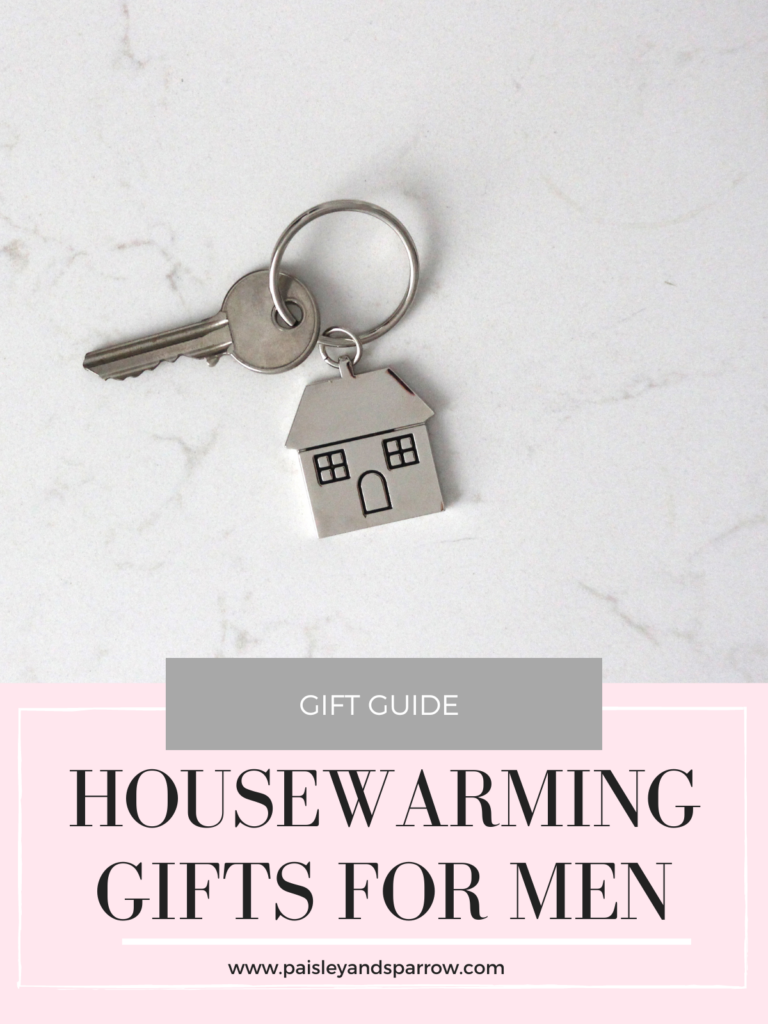 How to Pick the Perfect Housewarming Present
When you're looking for the perfect gift for a new homeowner or someone moving into a new place, there are a few things you should keep in mind.
First, consider whether he has a lot of space to fill or he's going to be working with small spaces. A person moving from an apartment to a big house is going to have a lot more storage space and new needs than most apartment dwellers.
Also think about the stage of life he's in. If he has lived alone for many years or is moving to a similar place, he may not need as many practical gifts or essentials.
If he's young and living alone for the first time, you may consider a useful housewarming gift rather than something more unique but unnecessary!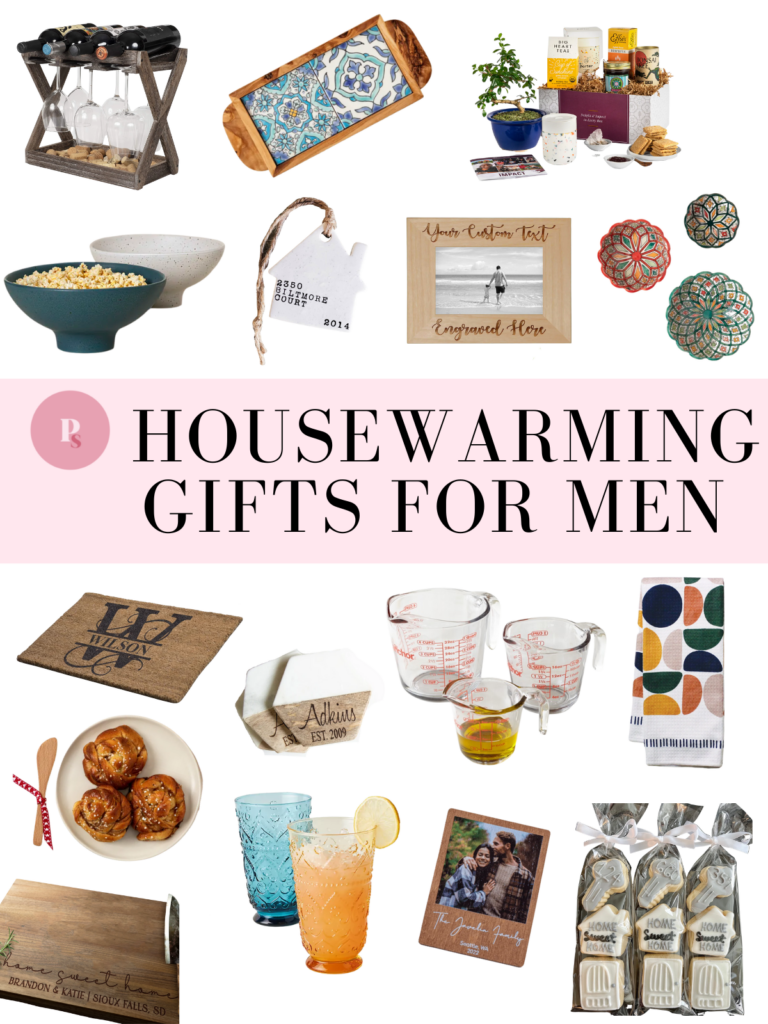 Paisley + Sparrow is a participant in the Amazon Services LLC Associates Program. This post may include affiliate links which means I may earn a small commission if you shop using the links below at no additional cost to you. 
Best Housewarming Gift Ideas for Men
This is a beautiful gift that would work well for a single man or a couple's first home. It will definitely be put to good use. You could even bring the cutting board with a charcuterie spread for a housewarming party!
If you're looking for a little bit of everything, give this gift box that has all the little touches! It includes herbal tea, tea biscuits, strawberry jam, and a ceramic mug with silicone sleeve.
Oh, and a bonsai tree grow kit (you know how I firmly believe houseplants are essential to brighten up a home!).
Another great personalized gift is a set of coasters. This simple gift will be a great addition to a living or dining room. Have it engraved with his surname for a personal touch.
I love the minimal but masculine look of these marble and wood coasters, but there are lots of other options to make sure you find the perfect set for your favorite guy — leather, slate, silicone, or something else.
Even if your friend isn't moving during the Christmas season, an ornament is a nice way to commemorate a new home. He'll get it out each year to display and think of this milestone (and you!).
Personalize this ornament with the homeowner's new address so they can always have a memory of their new home with them.
There's something about that new home smell! Help the smell linger just a little bit longer with a new home scented candle. Throw in an Amazon gift card or a gift card to a home store as a bonus for the new homeowner to pick up any small things they might need as they get settled in.
A new home means a new kitchen. Give the gift of new recipe ideas with a cookbook! A basic recipe book is great when you're not sure what kind of food the homeowner likes to make or you can narrow in with a more niche recipe book if you know he's a more experienced cook or likes specific cuisine.
A cookbook along with a cookbook stand are great housewarming gift ideas.
A houseplant is one of the greatest housewarming gifts, in my opinion (but I'm admittedly a bit of a crazy plant lady). It's sure to brighten up any space, and what's a new home without some greenery!? Give him a plant that's very easy to care for, so you know it'll live a long time.
This gift is fun if you're looking for unique housewarming gift ideas! He can use it as a pitcher to serve his favorite drinks or as a vase for a funky table centerpiece. It also comes in lots of different colors so you can find the right one for his new space.
A nice cozy blanket can elevate a new living room space, even a man cave! If you know the homeowner's furniture colors or home aesthetic, pick a pattern or color that will match their decor. If you're unsure, you can never go wrong with a classic knit or weighted blanket in a neutral color.
A nice mug set is an easy housewarming gift. Give a mug along with a few other small gifts, or find a mug gift set that comes with coffee or tea, depending on the homeowners preference.
A new home is a celebration! What better way to celebrate than with a bottle of wine? Gift a nice bottle of wine as a gift on its own, or grab a cheaper (but still delicious!) bottle to pair with some other smaller gifts or a gift card. A wine opener and wine foil cutter would be obvious (but helpful!) items to add to the gift.
A new home might feel fresh and clean, but eventually, life happens and messes get made. A cordless handheld vacuum will make cleaning up crumbs, tight spaces, and stairs so much easier. This is great gift since it's something he might not buy himself, but he'll use it all the time!
He may already have some measuring cups, but elevate those with these classic glass measuring cups that will make cooking and baking all that much better!
Some cute glasses can be a nice gift, especially if the new homeowner is still gathering all the essentials. Pretty glasses will help their space truly start to feel like theirs, all the way down to the littlest touches.
With a new house comes hanging up decorations or, eventually, repairs. Gift him with a tool set so he's prepared for everything and anything that may come up.
A new home needs a nice welcome mat to feel fully complete! You can pick up a basic welcome mat, a fun design that matches the homeowner's vibe, or you can even purchase a custom welcome mat with the family's last name!
A cast iron skillet is a great gift for a homeowner that loves to cook or wants to learn! It is a gift that keeps on giving as it will be used over and over to create delicious dishes.
A card and some fun dish towels can make for an easy and fairly inexpensive homeowner gift. These geometric towels can help add a pop of color to any kitchen!
Perfect for a kitchen, this soap and lotion set is a great simple gift for a homeowner. It's something everyone, no matter who they are, will need and use!
If the new homeowner is a wine drinker, gift them with this storage rack that can hold wine glasses and six bottles of wine. It doesn't take up too much space and will keep all things wine organized!
Customize a picture frame with the family's last name for them to add a nice family picture. Or, customize it with the new address, the date they moved into the home, and add in a picture of the new house.
Spice up the fridge with some photo magnets! You can select the wood finish, the number of magnets you want, and the photos.
This beautiful gift is perfect for a snack or a coffee break! It's a unique gift that the new homeowner will be sure to treasure, and will make him feel like he's on vacation somewhere warm and sunny!
Let the new homeowner enjoy a relaxing movie night with some popcorn. This popcorn bowl even filters out the kernels, making sure he only gets the good pieces. I'd love this for movie nights at my house!
Cinnamon buns are a great way to celebrate a successful move. It makes whipping up a delicious breakfast super easy, especially when he may not have stocked his kitchen and baking supplies yet since his move! This kit has everything the new homeowner needs to make a tasty treat.
If you know your friend or family member loves to be out by the grill all year long, gift him a new grilling set. This set has everything he will need and is easy to clean and use again and again.
Serving dishes can always be put to good use! These mixed Moroccan serving dishes are handmade and a beautiful option for everyday use or something more special like dinner parties.
Who doesn't love cookies? Get some custom new home cookies to help the homeowner celebrate!
Sometimes, you don't know what to get the new homeowner but still want to give a gift. There's nothing wrong with grabbing a card and sticking in a gift card to a home store, grocery store, or even for Uber Eats! Anything to help make the move easier.
Moving costs a lot, so he'll be appreciative for the funds!
This inexpensive gift will help any home to stay smelling fresh and clean. Pair it with some other home gifts if you want a higher price range, or just stick with this gift on its own.
Give the homeowner some new decor for their place! You can find all sorts of different styles to match their taste and furniture. A great basic piece is this mid century print that would look good with almost anything.
Your friend will really appreciate this if he has lots of extra wall space to fill now!
A new home means experimenting with new recipes! As a kitchen housewarming gift, pick out a fun apron for the new homeowner.
While moving into a new house, it can be hard to find a place for everything. A big basket perfect for blankets or anything else in a linen closet can make the perfect addition to a new house.
Having an aesthetically pleasing olive oil dispenser is a win-win. It can sit out on the counter and makes for easy access while cooking!
This is a perfect housewarming gift for wine lovers! Gift it with their favorite bottle of wine or a set of wine glasses and you have the perfect gift!
Help spruce up their new front door with a simple wreath! It will help to pull some final touches on the new home and may be something a man won't prioritize.
Moving calls for a celebration! Gift a cocktail and martini shaker to help get the party started!
It's the little things that always get forgotten! Give this kitchen sink caddy to help keep the sink area organized in the new home.
Perfect for entertaining, this wine chiller keeps wine cool all night long. No more back and forth trips to the fridge!
A fun coffee table book can add a nice finishing touch. Pick one that is colorful and meant to be displayed, or grab one that matches the homeowner's style.
This fun plant set makes for a fun gift! It'll add a nice touch of decoration in a corner of the house.
Nothing is worse than scrambling to find your keys! A key holder is the perfect way to make sure everything stays in its place.
This inexpensive gift is a beautiful addition to a home. It will create a scattering of rainbows, brightening anyone's mood.
Grocery bags can get in the way. This plastic bag holder makes for a stylish way to store them!
And remember, whatever you choose, the new home owner will appreciate your thoughtfulness!
If you want more gifts for men, head here! Want self care gifts? We have those too!