Crossbody bags are the perfect bag for the woman that's always on the go! They're typically smaller bags designed to be worn diagonally across the body.
This design allows you the freedom of unrestricted movement without having to worry about dropping or losing your purse!
Many crossbody bags are available on the market in a wide range of styles, sizes, colors, and materials. You can find cute ones to fit whatever price point you're comfortable with.
But if you're looking for an investment piece (or you're just a big fan of luxury bags), there are lots of designer brands that make the functional crossbody style.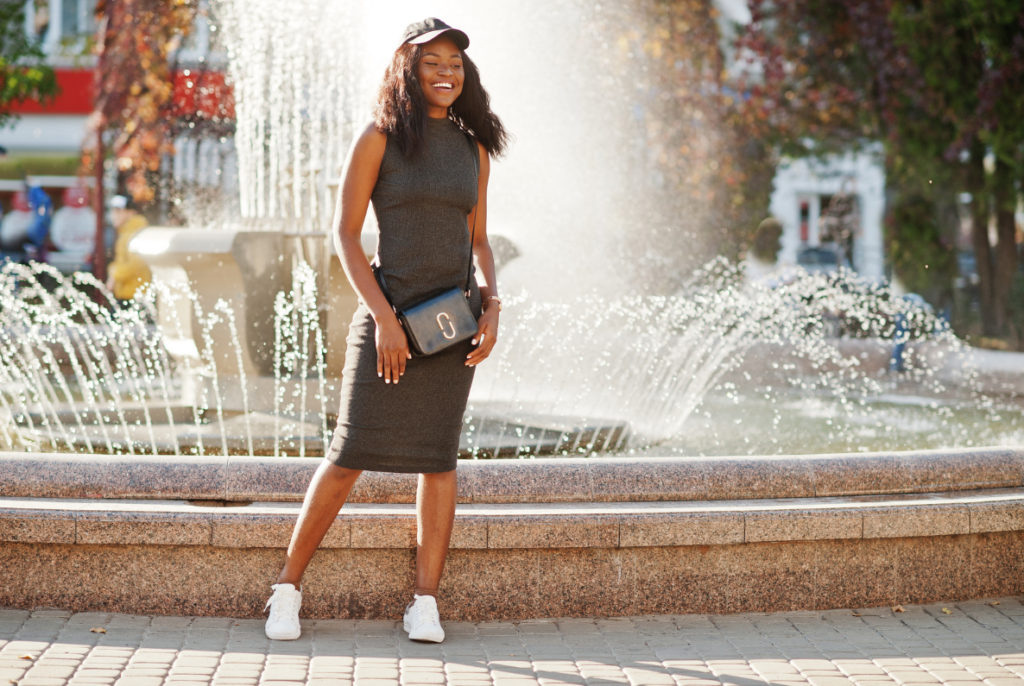 Here are some of the best designer crossbody bags!
Top Designer Crossbody Bags
Whether you have a collection of designer bags or just want a high-quality crossbody bag, these are all great options for you. These 20 high-end bags are great for all kinds of occasions and come in lots of shapes and sizes so you can find exactly what you need.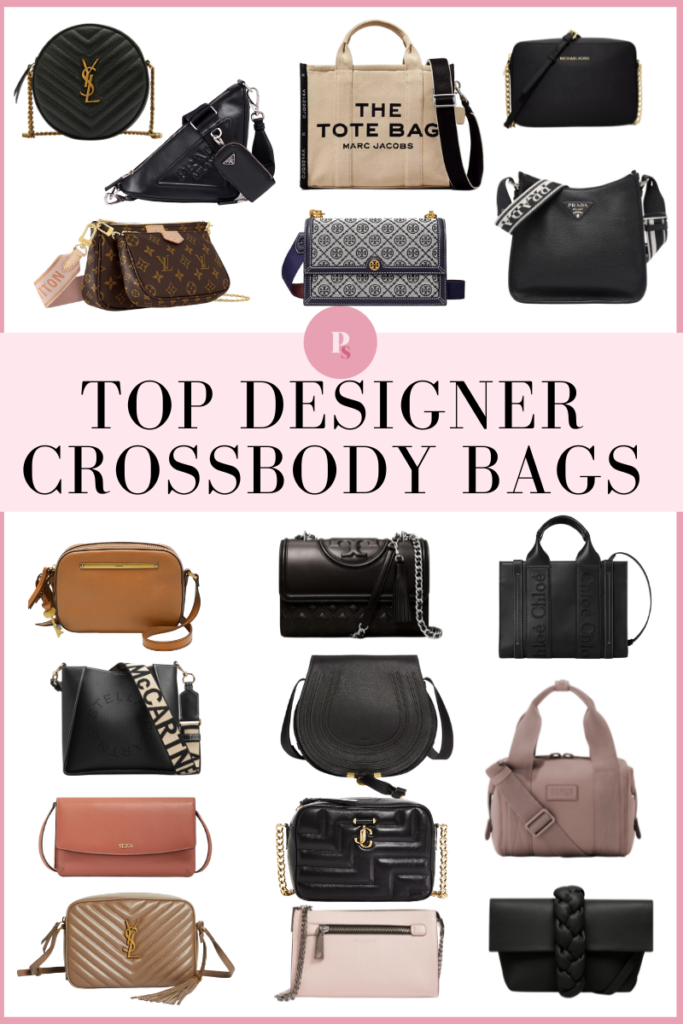 This post contains affiliate links.
Best Wide Strap Crossbody Bags
Wide strap crossbody bags are not only cute, but they're super functional! If you're planning on carrying many things, or if you suffer from back or neck pain, a wide strap can make it easier to carry your bag around. Here are some of the best wide strap crossbody bags.
This unique wide strap crossbody bag by Marc Jacobs is super versatile and great for everyday wear. It's convertible so you can carry it as a clutch, over the shoulder, or crossbody. It also has a wide, detachable guitar strap, making it super easy to carry!
The bag is structured and functional, with two main compartments to store your items, exterior slip pocket to fit a license or credit card, and an inside pocket. It's the perfect size for your cell phone and other essentials without being bulky.
This gorgeous bag by Stella McCartney is a beautiful wide strap crossbody bag! It's made of smooth faux leather with a minimalist perforated logo on the front.
It has an open top with a snap enclosure and two slip interior pockets. The additional wide strap is attachable, so you can easily convert this bag from a shoulder bag to a crossbody bag in no time.
Prada's leather hobo bag is a perfect wide strap crossbody bag for the fashionista who enjoys a more casual-looking bag that's still very elegant. It's made of soft pebbled leather, has a magnetic top closure, and comes with a Prada logo-print wide strap that will make it easy and comfortable to carry!
It'll be one of your favorite leather bags for regular (but stylish!) use.
Tory Burch's T Monogram crossbody bag has a beautiful monogram print with the double-T logo resembling Moroccan architecture. It's a fashion-forward look that will turn heads as you wear it.
It's made of printed canvas that's easy to clean and has beautiful gold hardware. The top flap has a magnetic snap closure that makes it easy to open the bag with one hand while you're on the go.
Best Leather Crossbody Bags
Because you wear crossbody bags diagonally across the body, they can tend to look a bit more casual. However, choosing a crossbody bag in very high-quality leather easily upgrades the look into something more fashion-forward and elegant. Here are some of the best leather crossbody bags.
This beautiful crossbody bag by Chloé has a unique silhouette that stands out from the rest. It's made of textured calve skin that is soft to the touch, and the front is detailed with intricate stitchwork.
The uniqueness of the silhouette is further accentuated with the small golden tassel detail and the saddle-shaped flap.
If you're looking for a statement piece but enjoy the mobility that a crossbody bag offer, DeMellier's Verona Mini crossbody bag is a beautiful piece to add to your collection.
This stunning bag is made of supple calfskin leather and has a unique and elegant braided trim. It has a flap tip with a magnetic closure, and the interior has one zip pocket where you can keep your smaller items.
I love the smooth leather and the modern twist of the big braid — it's a great bag for special events (you can even carry it as a chic clutch), date night or just running around town.
Tumi makes some of the highest quality leather goods on the market, and their wallet crossbody bag is no exception! It is a beautifull little leather crossbody bag that you can use in several different ways. Wear it as a smaller size crossbody, carry it as a clutch, or take off the strap and stick it in a bigger bag as your wallet!
There are slots for 6 cards, an ID window, a zipper pouch and a flap with a snap closure.
If you love unique pieces that are entirely out of the norm, Prada's Triangle Leather crossbody bag is an excellent piece that plays with structure and shape. The unexpected triangular shape is made from sleek, structured lines and creates a fashion-forward, futuristic silhouette.
It also comes with an additional removable leather pouch on the shoulder strap to stow away smaller items for easy access while on the go.
Best Chain Crossbody Bags
Leather is not the only way to elevate the look of crossbody bags. If you're looking to add a little bit of glamour, crossbody bags with luxurious metal chains make a big statement! Here are some of the best chain crossbody bags.
This gorgeous Tory Burch crossbody bag is made of supple lambskin and experiments with texture in a fun way!
The bold diamond quilting along the bottom of the bag, fluttery tassel charm, iconic embossed Double T signature on the flap, and the smooth golden hardware make for a luxurious bag that is not only interesting to wear but to touch as well!
The flap has a magnetic closure that makes it easy to access the inside of the bag, and it has one exterior pocket, a zipper pocket, and two interior slit pockets.
The adjustable shoulder strap has a double shoulder guard for your comfort and can be worn crossbody.
If you're looking for a simple, no-fuss crossbody bag with a simple design, this Michael Kors crossbody bag is perfect for you. It's made of durable cross-grain Saffiano leather and has an adjustable strap that is woven with metal hardware. It has a zip closure to secure your items inside and one external slip pocket to keep your most needed items accessible.
I love this small wallet crossbody bag — the size, the color, and the leather and chain strap. While it's on the smaller side, it can hold your essentials easily with its exterior zipper pouch and eight card slots.
If you're into geometric-inspired silhouettes, this beautiful Saint Laurent crossbody bag is a must! It has a unique circular profile that is gorgeous and playful. It's made of richly grained leather with beautiful matelassé quilting to create some stunning visual and textural interest and is adorned with the signature YSL logo at the center.
The adjustable strap is a luxurious leather and chain combination that will look gorgeous as you wear it crossbody. It has a zip-around top closure and one interior slip pocket.
Best Camera Crossbody Bags
If you love smaller bags with a lot of structure, you should consider a camera bag! Camera bags obtained their names because of their petite size and overtly boxy proportions that were the perfect size for point-and-shoot cameras from the mid-2000s.
If you're interested in adding a new camera crossbody bag to your collection, here are some of the best available right now!
This beautiful bag was inspired by vintage camera bags but with a more elegant and elevated look! It's made of Saint Laurent's signature luxurious calfskin with matelassé chevrons to create textural and visual interest.
The logo monogram sits in the center, and a bold tassel finishes off the look! It has a top zip closure and is the perfect size to carry all your daily essentials!
Though this Tory Burch camera bags comes in more neutral colors, it also comes in fun bright colors too!
There's plenty of room for all of your essentials in this lambskin bag! It's big enough for an iPhone 13 Pro Max as well as a Samsung Galaxy Note 20. It has an adjustable strap and zip closure.
Fossil's Liza Camera Bag is perfect if you're looking for a straightforward camera bag that isn't flashy but high-quality. It has a simple silhouette, an adjustable crossbody strap, and plenty of organizational features and pockets to keep you organized!
The interior contains one zipper pocket and three card slots, while the exterior has one back slip pocket with a magnetic snap enclosure.
This bag is available in 11 different colors, so you'll surely find the perfect shade to suit your unique style!
If you're looking for a beautiful camera bag that's more classic than trendy, this one from Jimmy Choo is perfect. It has a simple silhouette befitting a camera bag.
Its minimalistic design, minuscule designer branding, and simple strap make it the ideal bag for any outfit and occasion. It's made of high-quality lamb leather that is exceptionally durable yet supple. It has a zip top closure to secure your belongings and an interior zip pocket to help keep you organized.
Best Crossbody Bags for Moms
If you're a busy mom, always on the go, then a crossbody bag is perfect for you! It will allow you to carry all of your essentials while keeping your hands free! It allows freedom of movement so you can keep up with your kids. Here are some of the best crossbody bags for moms.
This versatile everyday bag is the perfect crossbody bag for moms with kids! It's a cross between a duffle bag and a crossbody with unique organizational features. It has plenty of room to hold your essentials for yourself and your kiddos.
It has a stretch key leash, so you'll never have to fumble around for your keys, multiple interior slip pockets, and an easy-to-access exterior pocket so you can grab your phone in a flash!
This awesome everyday tote bag has enough room to fit all your essentials without weighing you down! It has a wide removable crossbody strap, so you can easily slip it over your shoulder and go.
It has a top zip closure, one interior zip pocket, and two additional slip pockets to keep everything organized!
This beautiful bag combines high fashion and organization in one! What sets this crossbody bag apart from its counterparts is its incredible versatility and ability to fit your custom needs.
It comes with three miniature purses: a round zipper coin purse, a mini pochette accessoires bag, and a classic pochette accessoires. All three are entirely removable, leaving you with the ultimate freedom to mix and match to suit your organizational needs!
This beautiful tote bag is the perfect day-to-evening wear bag! It's made from supple calfskin and is luxurious and soft to the touch. You can wear it over the shoulder or as a crossbody.
The inside compartment is super spacious with plenty of room for your things and one internal flat pocket where you can keep something smaller such as your cellphone.
Love handbags?
A fabulous handbag is a perfect way to finish off your look! It's best to have several bags so that you can swap out based on what outfit you're wearing or how much you're carrying that day.
Are you looking to expand your purse collection even further? Don't worry; I've got you covered. Check out one of these posts: