Spa days don't have to require going out! Having an at-home spa day can be the perfect way to relax and rejuvenate yourself.
It's great to unwind after a stressful week or to prepare and feel your best for a big event or date!
There are incredible resources and products that you can do right in your own home. And oftentimes spending the money on something now will result in years of use, rather than the one time use you'd get at the spa!
Here's how to have your very own spa day in the comfort of your own home! Pick a day and plan it — you deserve it!
How to DIY an At-Home Spa Day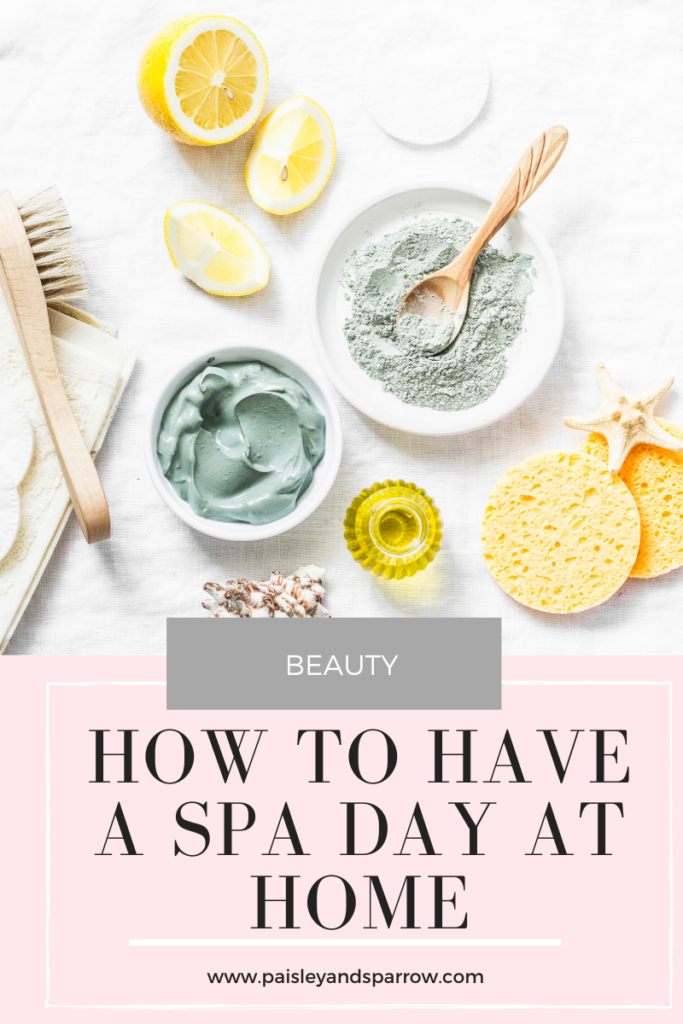 Please note: Paisley + Sparrow is a participant in the Amazon Services LLC Associates Program. This post may include affiliate links which means I may earn a small commission if you shop using the links below at no additional cost to you.
Step 1: Set the Spa Mood
What you need:
1. Water infused with cucumber or fruit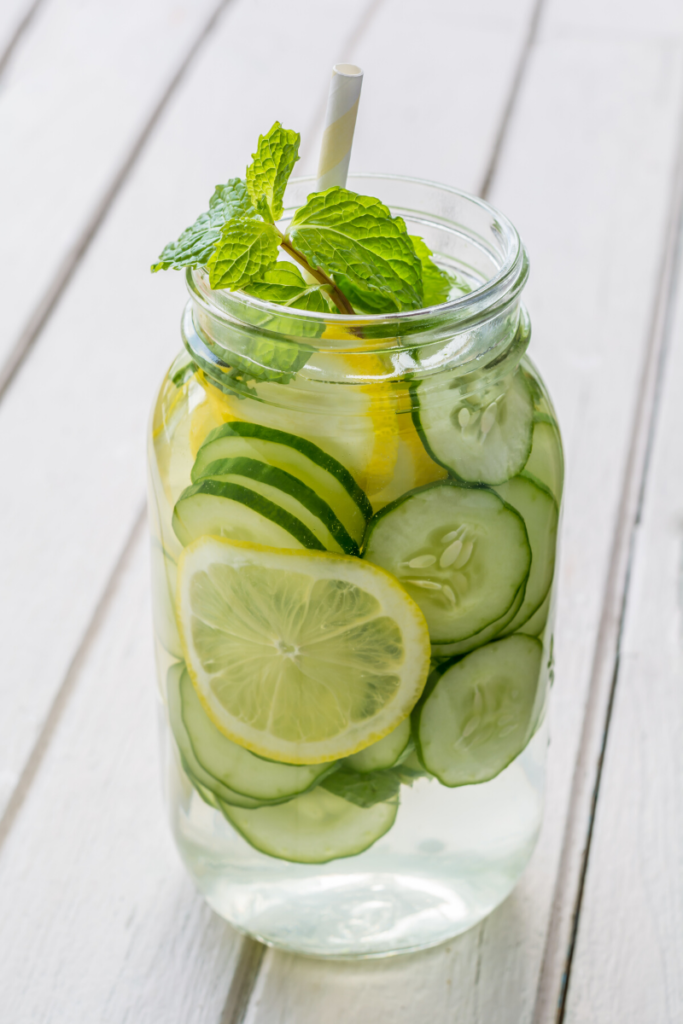 Think about the last time you went to the spa. What made it so relaxing? Often times it's the environment you're in!
The spa does such a great job of making you feel pampered and calm!
Most of the time, you're welcomed with a glass of refreshing water infused with cucumber or fresh fruit. You can do this simply by adding some cut cucumber to a water glass or use one of these fruit pitchers to have an endless supply of cucumber water.
I have one of those pitchers and love to them to feel like I can have "spa day water" all the time!
2. Candles or essential oil + diffuser
Next up, that spa scent! There's nothing better than a soft, calming fragrance filing the air when you're relaxing.
Spas frequently have diffusers with essential oil filling the air in waiting areas and in treatment rooms. Do this yourself with your own essential oil diffuser (I use mine all the time, not just during my special DIY relaxation days!) and some calming scents (I like to mix things like lavender and peace & calming).
Or just light your favorite candle or bring in your favorite reed diffuser into your bathroom!
3. Calming playlist
I like to find a simple "spa playlist" on Spotify or you can turn on whatever music makes you feel relaxed.
4. Robe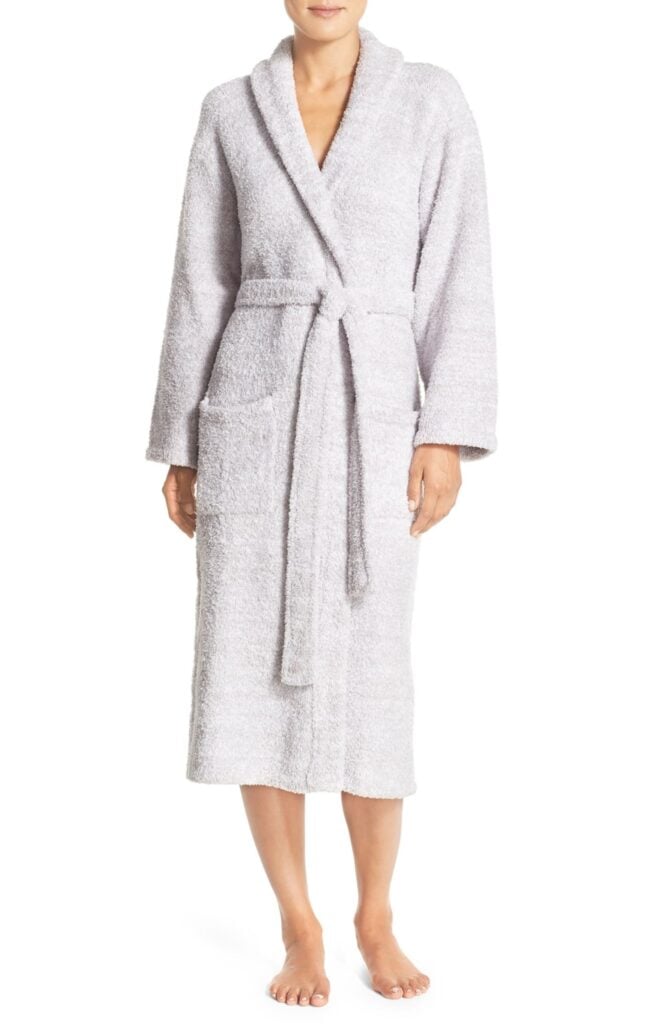 What's one of the first things you do at a spa? Hop into that locker room and change into one of their cozy robes! No constricting waistbands, no annoying bras, just a comfy robe.
This Barefoot Dreams robe is as comfy and cozy and can be and ideal for your next spa day at home!
And don't forget the slippers! Pamper your feet while you do the rest of your spa activities. These comfy slippers make the best little bed for your tired feet.
Step 2: Spa Treatments at Home
Now onto the treatments! Spa like treatments are a necessity for a DIY Spa Day. These can be as simple as a bubble bath with a bath bomb (diy or store bought!) or something more involved like a steamer and mask. Here's a few ideas to get you started (as well as my personal favorites!).
1. Facial for Better Skin
Are you looking to brighten up your skin? Tackle some wrinkles or pesky acne? Start with a facial!
Read on for how to make the skin on your face feel its best and find recipes for specific treatments.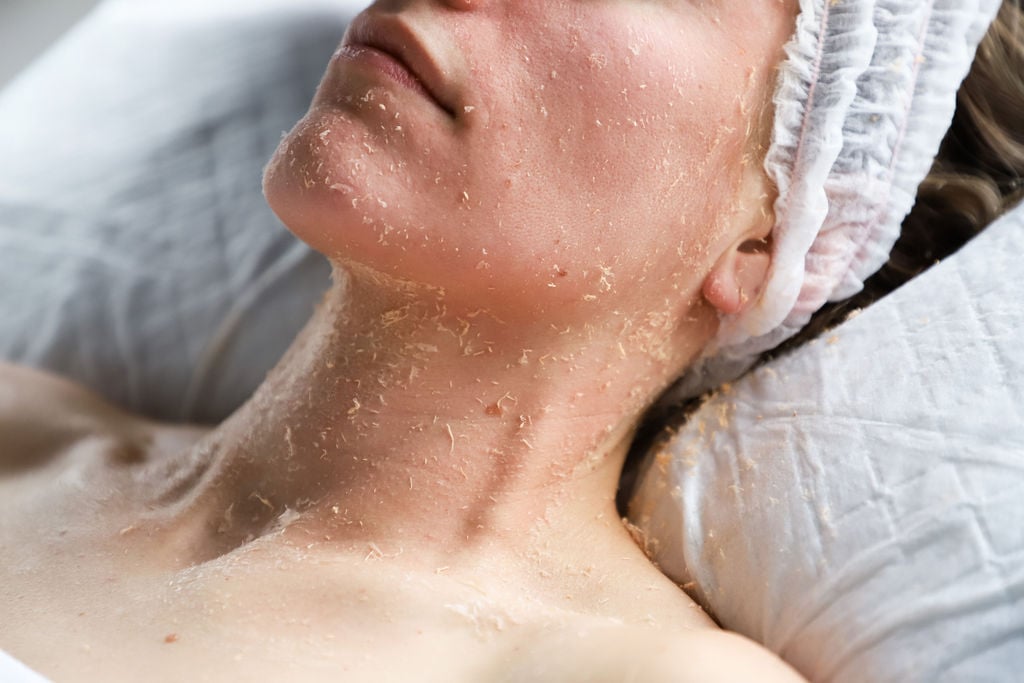 Start with a Steamer
If you have extra time, start out with a steamer! I picked up this simple steamer from Amazon and it's just about as good as the real thing (or as close I can get to it…).
If you don't have a steamer you can always create a steam bath by filling a sink with hot water, placing your face close (but not touching) the water with a mask draped over the back of your head draped across the counter to keep the steam in.
Here's everything you need to know about facial steamers.
Pick a Treatment or Mask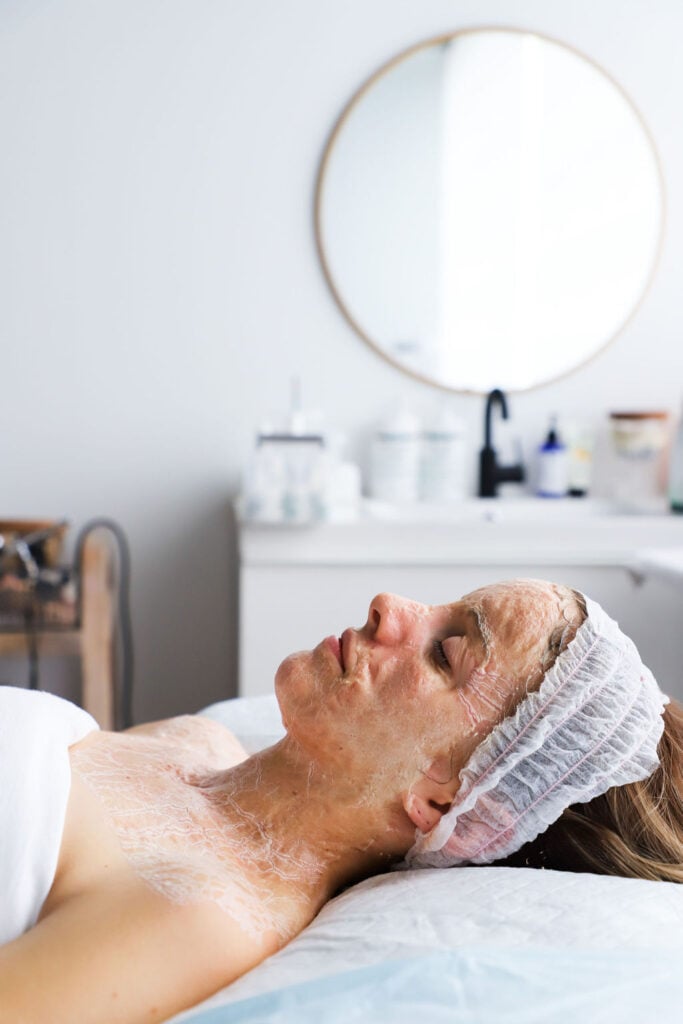 If you're looking to target wrinkles try out on of these masks:
If you want to clear up acne here's a few to help with that:
Lastly, here's just a few simple masks with plenty of benefits.
Here's a whole post about my 4 favorite face masks!
If you don't want to purchase a mask, make your own! Your face will thank you. Here's a few mask recipe options to try:
Green Tea + Honey Mask – Simply seep green tea as you normally would. Cut open the cooled off bags (use 1-2) and mix with honey. Apply to your face and leave on for 15 minutes. Rinse!
Banana – Yep! Just a banana! Mash it up, apply it to your face and let it sit for 10-15 minutes.
Lemon + Oil – Mix juice from a lemon with 1/4 cup olive oil. Apply and enjoy!
Let me know which one you make!
Follow Up With an Eye Treatment
The skin around your eyes is especially thin and delicate, so it's helpful to add an eye treatment to your spa routine. Here are a few great options!
Finish With a Good Moisturizer
Don't forget to treat your skin to a great moisturizer!
My everyday moisturizer is L'Occitane's Shea Light Comforting Cream but I also love Fresh Lotus Anti-Aging Moisturizer. Since you're saving so much money by not going to the spa you could splurge on La Mer's Creme de la Mer Moisturizer!
2. Hands + Feet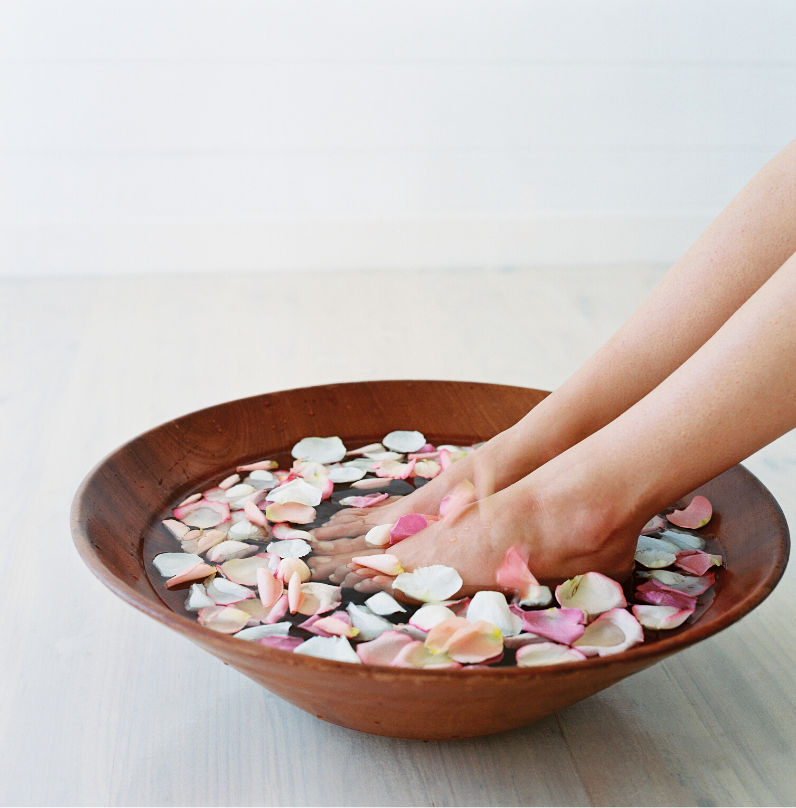 Are your hands or feet dry, cracked and sad looking? Spend a little time on them! A little TLC goes a long way with both your hands and feet.
Your hands are such a hard-working part of your body — give them the beauty treatments they deserve!
In the summer, you want to reap the benefits of good foot care so you can wear those sandals and show off your cute pedicures! In the winter, making foot care part of your routine is important to keep them from drying out too much.
Hands
Give yourself an at-home manicure! I have a ton of tips over on this Olive and June post but here's a few more to make sure you get the longest-lasting, prettiest mani.
File your nails (always do this when they're dry!).
Take off your polish. (If you file your nails while polish is on it's easier to make them look how you want them to look.)
Soak your nails.
Push back your cuticles.
Use a hand scrub to exfoliate your hands. (Try the Asutra Dead Sea Scrub from Amazon!)
Moisturize with a nice hand cream. (I love Aveda's hand relief moisturizer)
Wipe your nails with polish remover (this gives them a clean slate).
Apply your polish (if you're not using something like Olive and June with the base coat already in it then start with a base coat).
Finish with a top coat.
Clean up edges.
Let dry! Ta-da! Spa quality nails!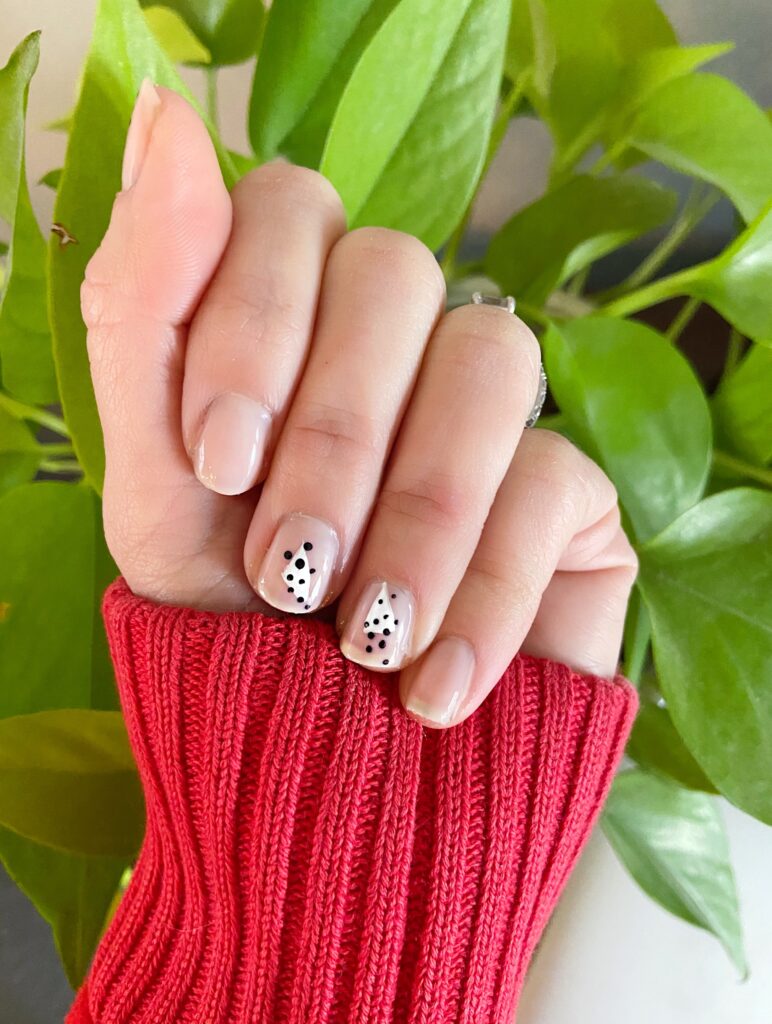 Feet
If you're anything like me, you don't give your feet the attention they deserve. Pedicures follow many of the same steps as a manicure. Here they are!
File your nails (again, be sure to do this when they're dry!).
Take off your polish.
Soak your feet. Add in some white vinegar to clean and tone your toes, tea tree oil to get rid of any stinky bacteria or some Epsom salt to relax and soothe any sore muscles to make it even more spa like!
Push back your cuticles.
Scrub off dead skin. Use a foot file (like this one that gets over 10k amazing reviews) to really clean up those feet!
Use a scrub to exfoliate each foot. (You can use the same one you used for your hands like the Asutra Dead Sea Scrub from Amazon!)
Follow up with a foot peel mask! There's tons of great feet masks like this one for cracked feet from Amazon.
Moisturize with a nice foot cream. (I love Aveda's foot relief moisturizer – really similar to their hand relief!)
Wipe your nails with polish remover (this gives them a clean slate).
Apply your polish (if you're not using something like Olive and June with the base coat already in it then start with a base coat).
Finish with a top coat.
Clean up edges.
Let dry!
3. Hair Treatment
I've never seen a beauty treatment for hair at a spa so this is one perk you can do at home! I've been loving the MoroccanOil Restorative Hair Mask and use it about once a week.
If you want to try a DIY hair mask here's a few great options that I found from Good Housekeeping!
For dry hair: Honey (1 tsp), egg (1) and apple cider (1 tbsp) – mix up and leave on your hair for 30-40 minutes
For dull hair: Equal parts honey + apple cider vinegar + coconut oil – mix together and leave in for 20 minutes.
For hair that won't grow: Equal parts cinnomon and cocunt oil – mix, apply to roots and massage it into your scalp. Let sit for 30-45 minutes.
4. Don't Forget Your Body!
We often focus on just the skin on our face (I mean, we DO see that skin whenever we look in the mirror!), but your skin is your body's largest organ. If you only apply spa treatments to your face, you're missing out on the benefits you can get from expert recommended treatments for your whole body.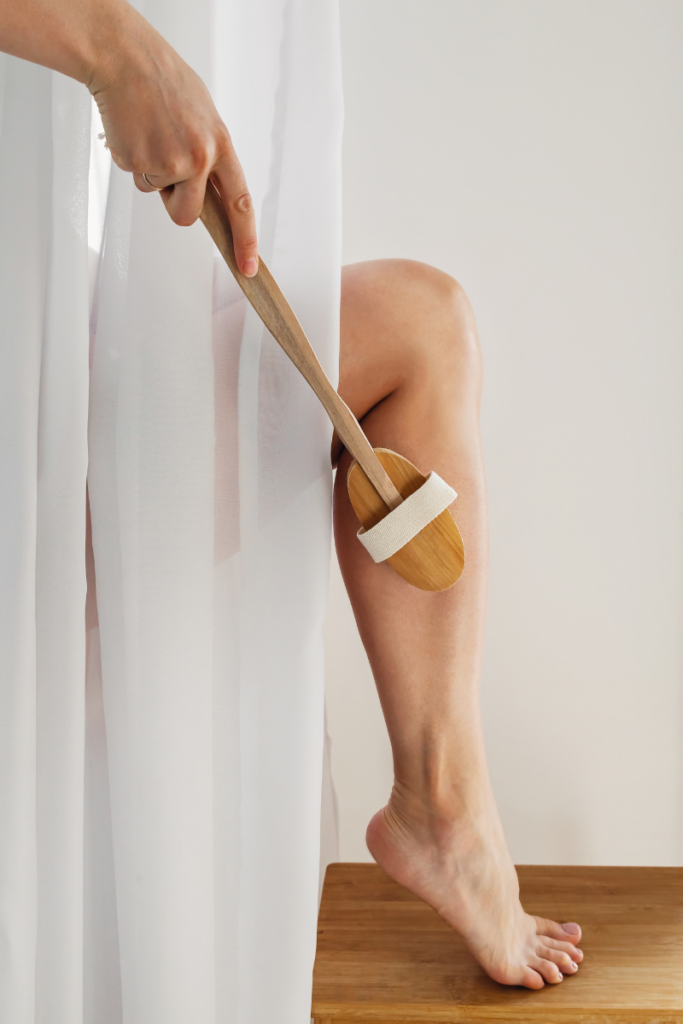 Dry Brushing
Dry brushing is using a brush with stiff bristles to scrub the skin all over your body. It has multiple benefits including removing dead skin, potentially improving the body's ability to remove toxins, boosting elasticity, and increasing blood flow.
Use a brush with a long handle and soft but stiff natural fiber bristles, like this one from Amazon. Start with your feet and then move up using large circular movements. After your legs and body, start at your hands and move up your arms. 
After you're done brushing, take a shower to remove the dead skin you helped scrub off. It's that easy!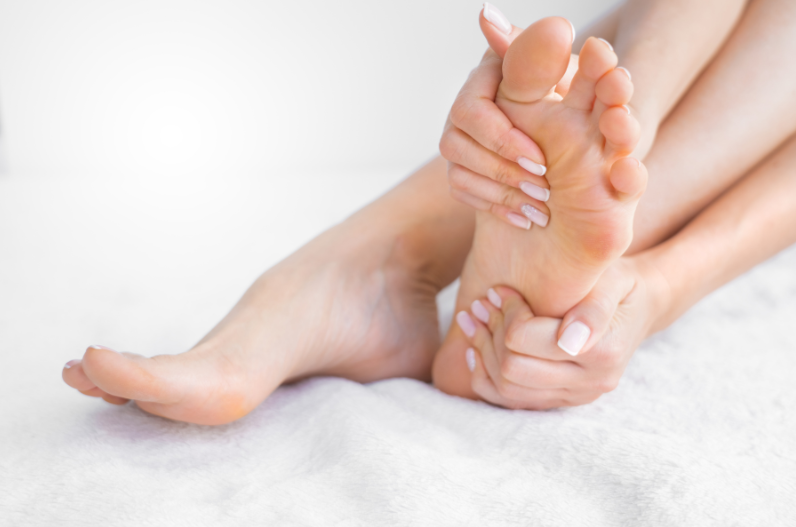 Massage
If your favorite part of the spa is getting a professional massage, don't leave that part out of your day at home when you're planning your spa experience. It may not be quite the same as an expert pair of hands, but you can get a piece of the relaxation all by yourself!
Even better, you can save money and not wait so long between massages when you learn to do massages at home instead of regularly at the spa.
You can use your hands (and oil if you want!) to massage your head, neck, arms, hands, and feet. Use a tennis ball if you're looking for a cheap way to ease tension in your hard-to-reach shoulders and back.
Other tools you can buy for a great massage outside of the spa include foam rollers, massage guns, neck and shoulder massagers, and heated massagers.
Step 3: Soak in the Bath!
Last but not least, end your time with a nice soak in the bath tub. Keep those soothing tunes going, dim the lights and get those candles lit and relax. It's basically like being in your own spa relaxation room!
Even if you don't have time for many of the other spa ideas here, there's nothing like a bath at the end of a long day.
I like to put a healthy pour of Epsom salt in my bath along with some bubbles (I typically just steal my kids' Honest bubbles in lavender but you could always get a little fancier with L'Occitane's relaxing and foaming lavender bath bubbles).
Pick up a bath pillow for even more relaxation and you're ready for some serious chilling out.
Whether it's a quick 20 minute soak paired with a face and hair mask or a full day of pampering, it's so good to take a little time to relax. I hope these simple tips help you with your next do-it-yourself spa day!
What are some ways that you like to relax? Have you created your own spa day, alone or with friends?
Need help turning your bathroom into a personal spa? Start with organizing it so the mess doesn't stress you out!
Want more beauty ideas? Your face isn't the only thing that benefits from a mask — make one of these lip masks! And which oil is best to use on your face with your gua sha?