Thanks to their cute miniature builds, attractive colors, and trending popularity in Tik-Tok, skincare fridges are gaining momentum in the beauty world.
Besides extending the shelf life of your beauty products longer than ones kept at room temperature, chilled skincare products retain their potency, are easier to apply, and can significantly change your beauty routine for good.
If you're looking for the best skincare fridges to keep your creams, face mists, serums, and toners blissfully cool and in place, this list can help you find the right skincare fridge for you.
Why Use a Skincare Fridge?
Keeping your skincare products in a chilled mini fridge has many benefits. Let's take a look at the most important ones.
Cooler temperatures can increase the shelf-life of your products and keep them fresh, clean, and germ-free for longer.
Cold skincare products and water-based products like sheet masks and toners can nourish and soothe your skin, offering relief from itchy or burning or sensitive skin caused by sunburns and breakouts.
Jade rollers, eye masks, eye creams, and eye masks kept in cold temperatures can significantly lessen the puffiness around your eyes and can make skin appear firmer.
Is a vitamin C serum part of your skincare routine? Cosmetics that are high in vitamin C are best stored in the fridge.
Their eye-catching and beautiful designs can motivate you to be more diligent in your skincare regimen.
Things To Consider When Buying a Skincare Fridge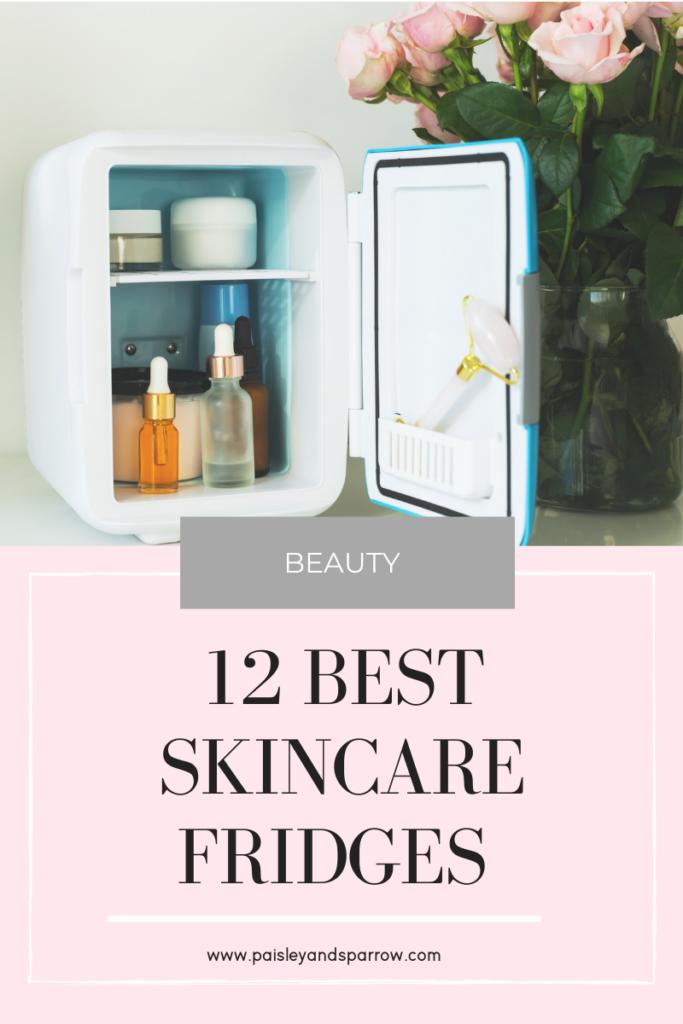 Temperature Range
Skincare fridges function similarly to your regular kitchen fridge, just in a miniature size. Hence, the temperature can range between 30 and 50 degrees Fahrenheit. However, to prevent your cosmetics from freezing and becoming unusable, the fridge shouldn't operate below 32 degrees.
Noise
A loud skincare fridge can be a huge nuisance and can keep you up at night, especially if it's placed in your bedroom. It's best to get a fridge that makes only 25 to 30 decibels of sound.
Size
The ideal size varies from person to person and depends on a number of factors. One factor is where you're planning to put it whether that's your bathroom counter, next to a vanity or any number of different places.
Another factor is how many items you want to store. Usually, a four-liter fridge is enough for storing regularly sized serum bottles and creams. Additionally, it's best to purchase skincare or makeup fridges with adjustable shelves so you can customize them according to your needs.
Portability
If you plan to keep your skincare fridge fixed in one place, this won't matter much. However, if you plan to take it with you while traveling, look for compact options that are lightweight and feature a carrying handle.
Products To Put In a Skincare Fridge
Now that you have great reasons to get a skin-care fridge, here are the types of skin care products and cosmetics you should ideally store in them:
Gel moisturizers
Facial serums
Under-eye creams
Products with vitamin C and SPFs
Jade or pink crystal facial rollers
Face, eye, and sheet masks
Products with food-based ingredients
Liquid makeup like nail polish
Nursing mothers can also use these mini refrigerators for breast milk!
12 Best Skincare Fridges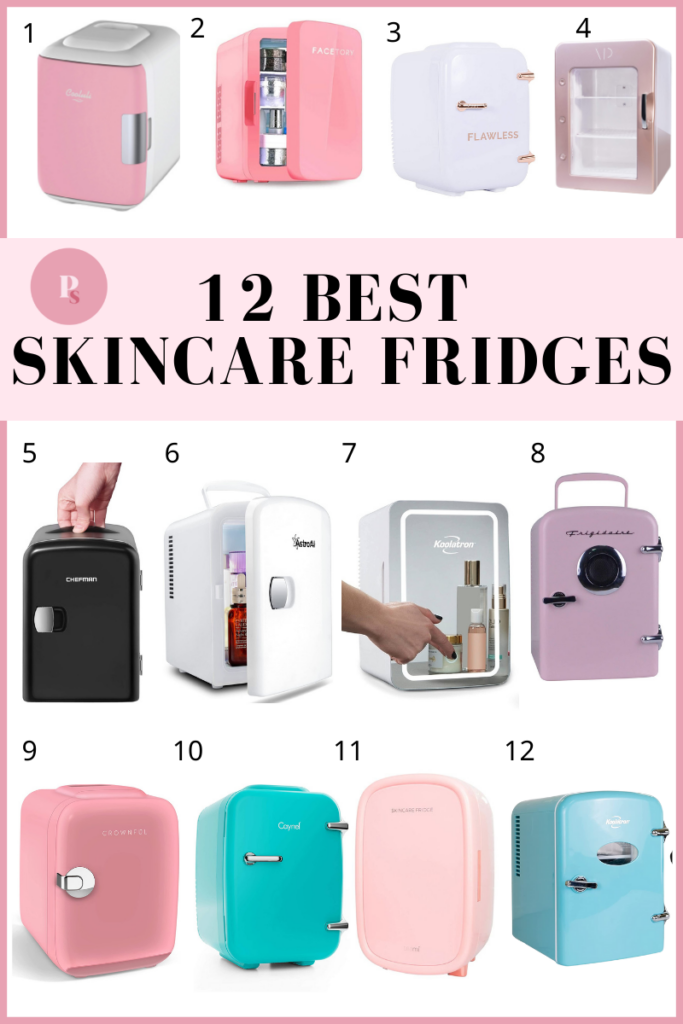 Here's a list of 12 skincare fridges you'll want to take a look at: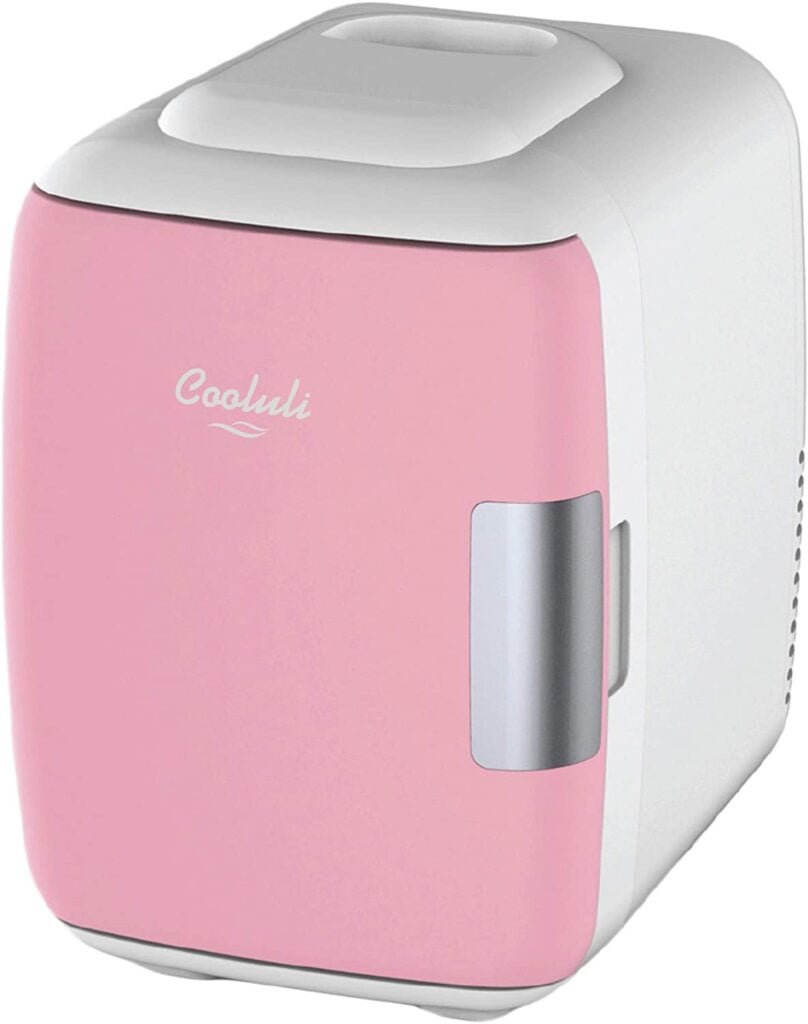 Compact, lightweight, and top quality, the Cooluli Mini Fridge sports a matte finish and a modern profile that'll look great in your bedroom. With a carrying handle on top and the option to power it with a USB, it's easy to take with you on road trips.
This mini fridge has six colors you can choose from and a thermoelectric system that can cool and warm its contents. It has a four-liter capacity, a removable interior shelf and door pocket, and offers energy-efficient, ultra-quiet operation.
Beauty lovers all agree that this is up there as one of the best beauty fridge with over 21,000 reviews on Amazon.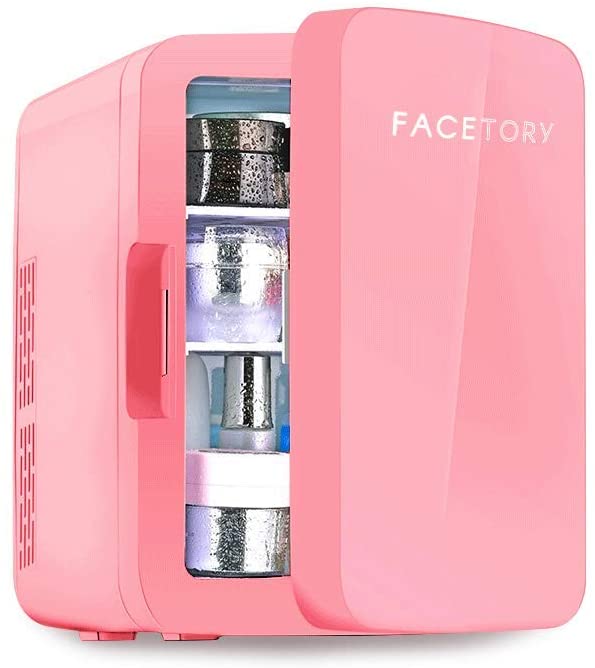 Impressively spacious, this pastel-hued beauty is one of the best skincare fridges for sensitive formulations. Equipped with heating and cooling functions, it features adjustable racks that are perfect for keeping all your toners and serums coolly in place.
You can position multiple removable and adjustable shelves in the main compartment and onto the door.
Their Luxury Beauty Fridge sports a matte finish, a smaller six-liter capacity, a real-time temperature display, and an LED light inside. For a few dollars more you can get the glossy Beauty Fridge that can hold up to ten liters without the temperature display and LED light.
It's ultra-quiet and comes in five beautiful colors: coral, mint, mint cream, strawberry, and vanilla.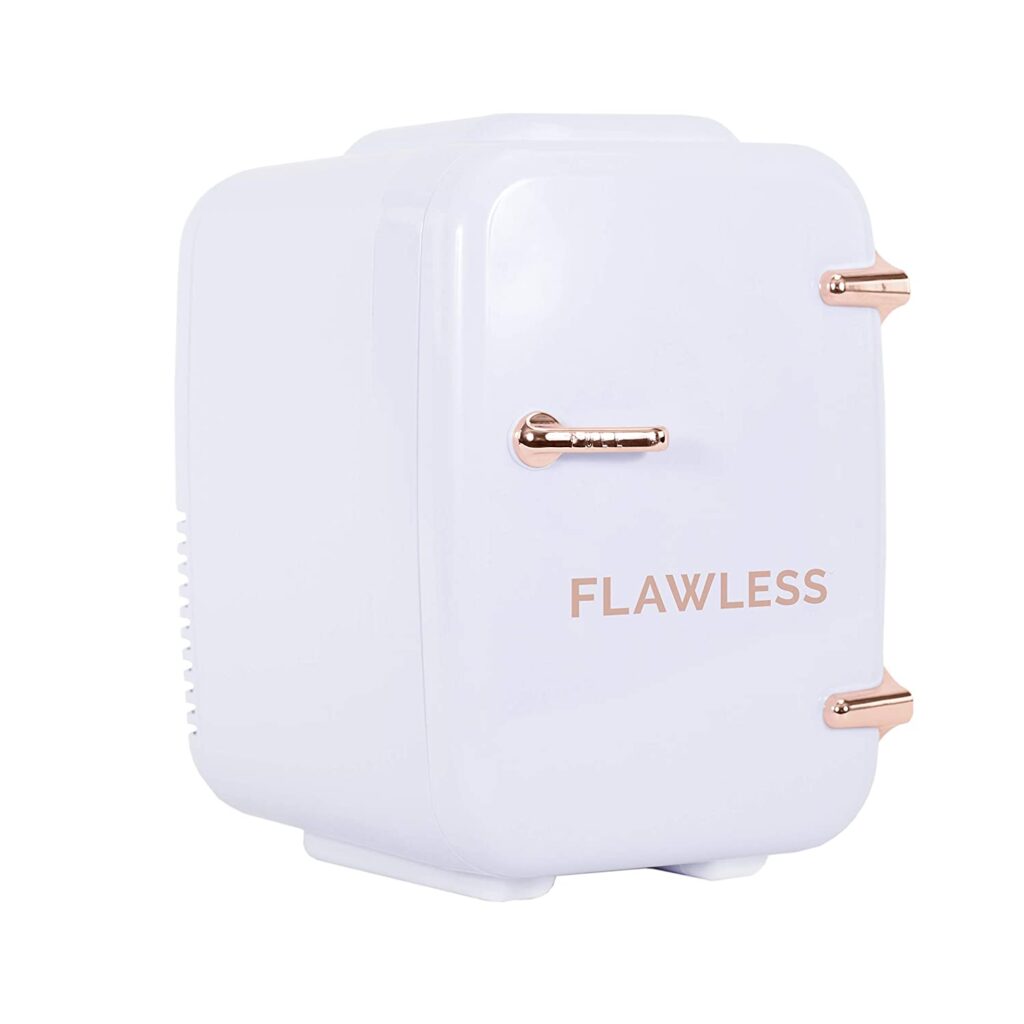 Flawless Finishing Touch Mini Beauty Fridge is one of the best multifunctional skincare fridges. With two shelves, one removable rack, and a slim, but handy door basket, this versatile mini cooler can store your makeup, creams, cosmetics, and rollers.
Lightweight and compact, you can decorate this mini fridge with your magnet collection and the pack of vibrant customizable stickers it comes with. Thanks to its white finish and rose gold fixtures, this looks luxurious and will look great on your countertop and dresser.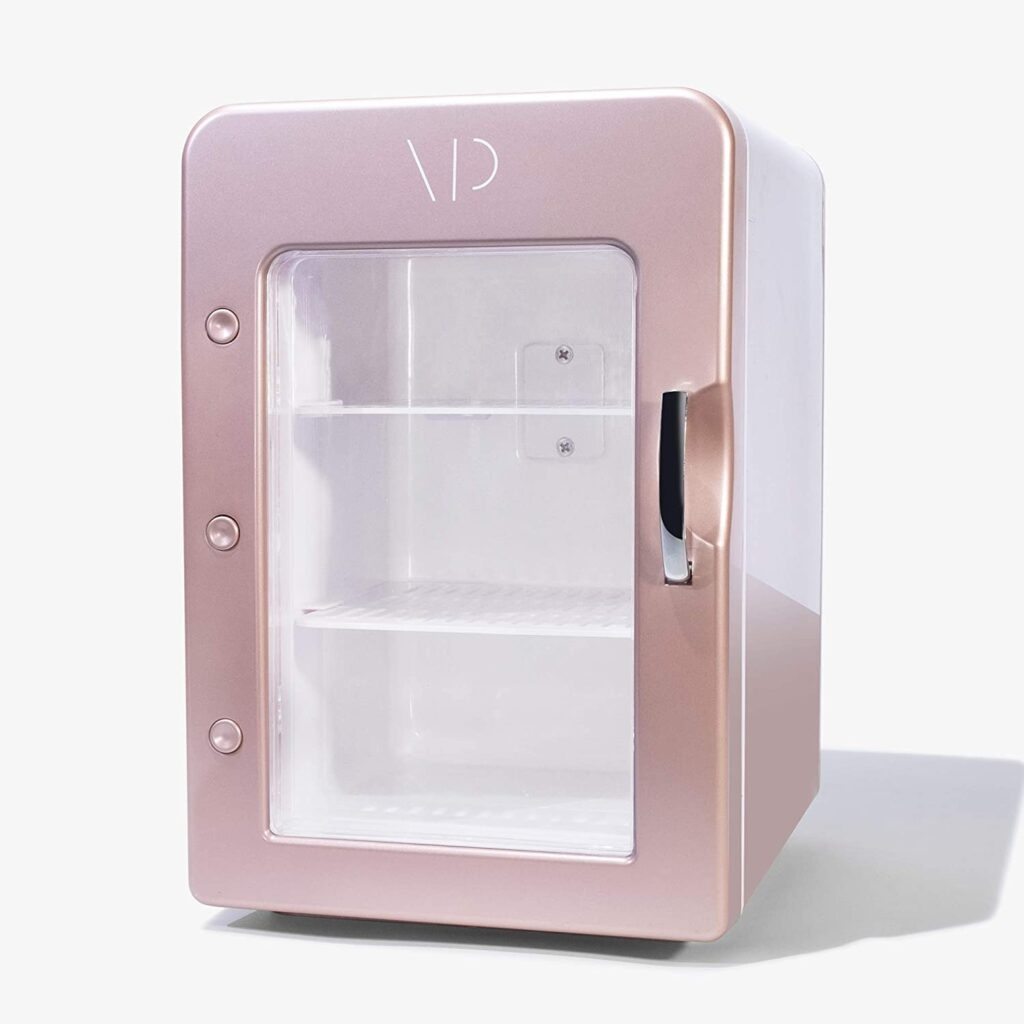 If you're looking for the best eco-friendly version, Vanity Planet's Fria All Skincare Fridge may be the answer. It features a minimalist glass-front design so you can place all your prettiest products on display.
Although compact, it has plenty of space for your stash of beauty products. Its adjustable shelving means you can store all your tall serums and wide cream cases inside without worry.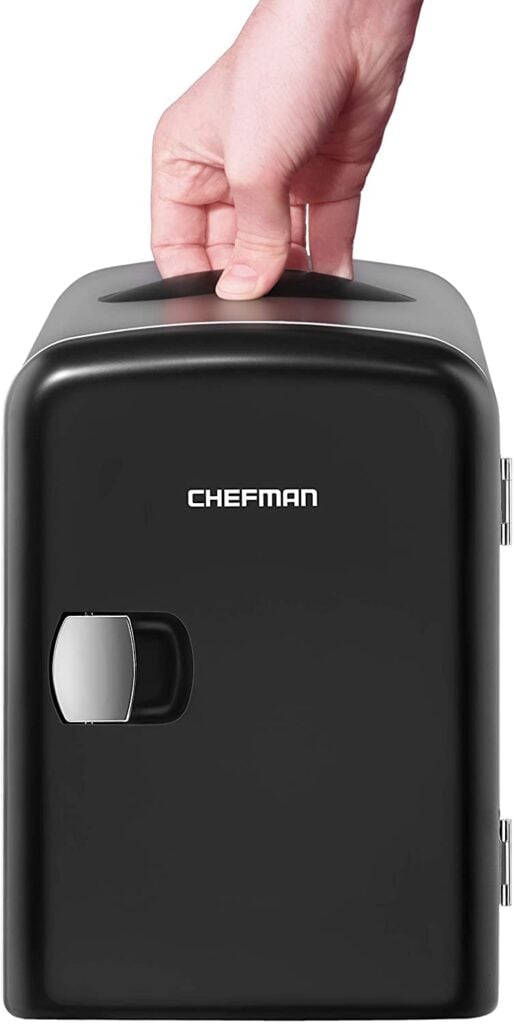 When it comes to the most travel-friendly version nothing can beat Chefman's Mini Portable Personal Fridge. From office spaces and dorms to car seats and picnic blankets, this glossy, sturdy, and sleek equipment can be a great addition to your personal space.
It comes with a car-compatible plug that lets you keep your stuff cool on the road. Eco-friendly and durable, this micro-fridge is 100% freon-free, features a secure latch to keep your items safe, and has a sleek top handle for easy portability. It also comes with a one-year assurance provided by Chefman so your purchase is worry-free.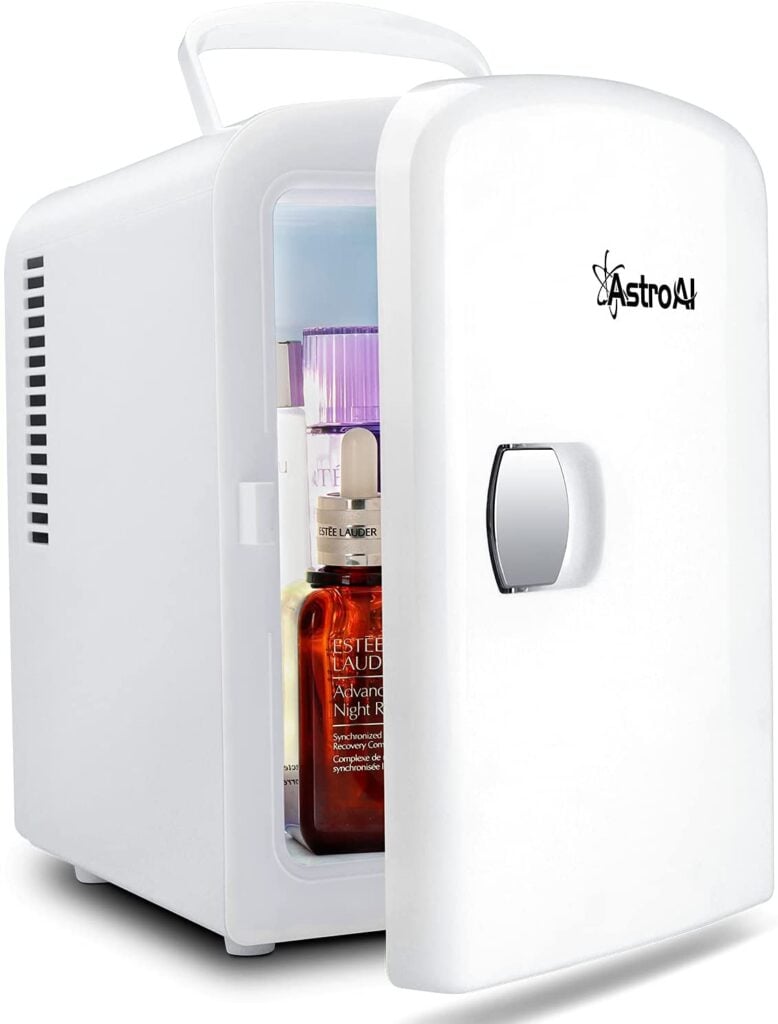 If you're looking for a perfect mini fridge for your next trip to the beach, this is it. AstroAI Mini Fridge packs a lot of features in its 4-liter build and maintains the set temperature for a long time.
It comes in five enticing colors, is lightweight, and features a portable top handle for easy carrying. Combined with a glossy finish and a car-compatible adapter, it's attractive and versatile. Its compact body makes it ideal for people with limited counter space while its quiet, noiseless technology lets you unobtrusively place it in the bedroom.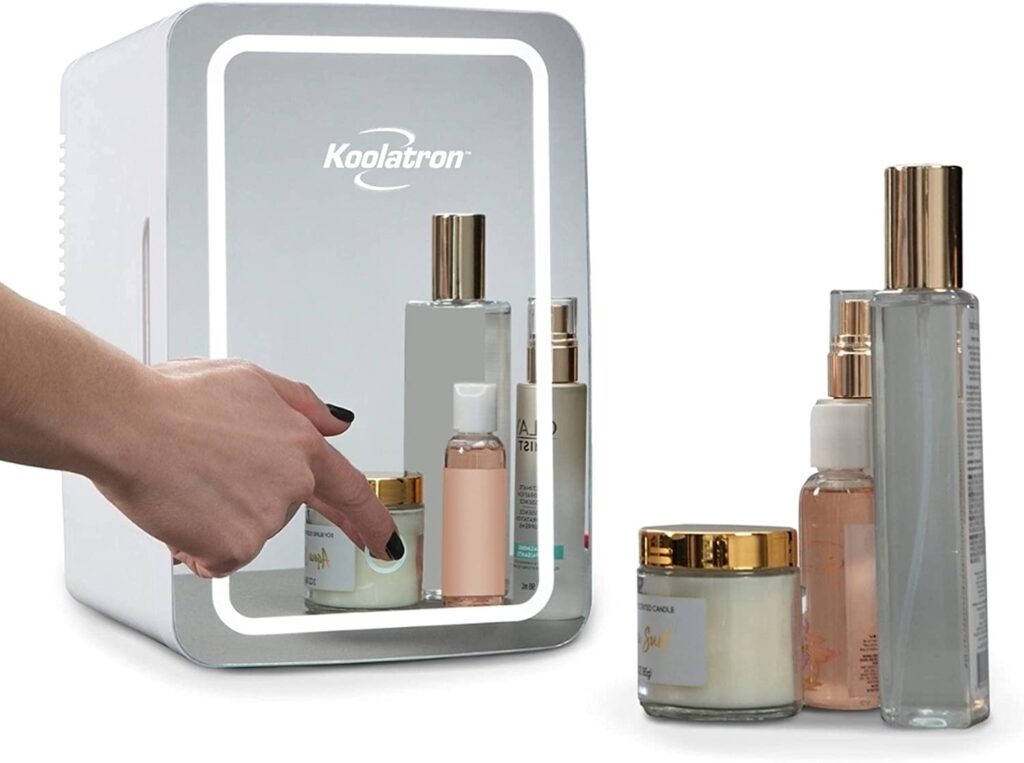 One of the best-looking skincare fridges on this list, the Koolatron Cosmetic Mini Fridge packs several superb features in its small yet solid design. With its illuminated full-face makeup mirrored door featuring bright LED lights, you don't need a separate mirror (or lights) to put on makeup.
Complete with a touch sensor button control, a convenient carry handle, a six-liter interior, and a removable shelf, this unique product is the ultimate partner for your daily beauty routine.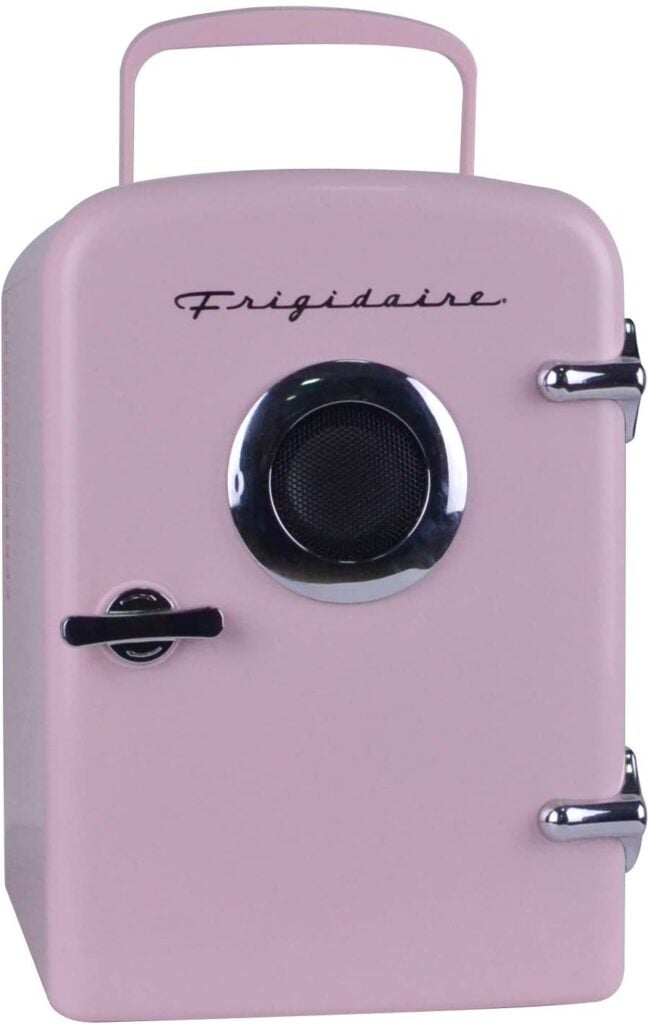 Calling all retro revivalists! Your perfect travel companion is here. This wallet-friendly mini-fridge from Frigidaire is great not just for your car but complements any home aesthetic from the traditional to ultra-modern.
Featuring a shiny metal exterior, a removable shelf, a tiny oval window, plugs for home outlets, and a 12-volt car charger, this adorable skincare refrigerator has plenty of room for your snacks and beauty products.
It's portable, easy to clean, fully insulated, and great for the environment. As a bonus, it features a little Bluetooth speaker for streaming your favorite music and podcasts.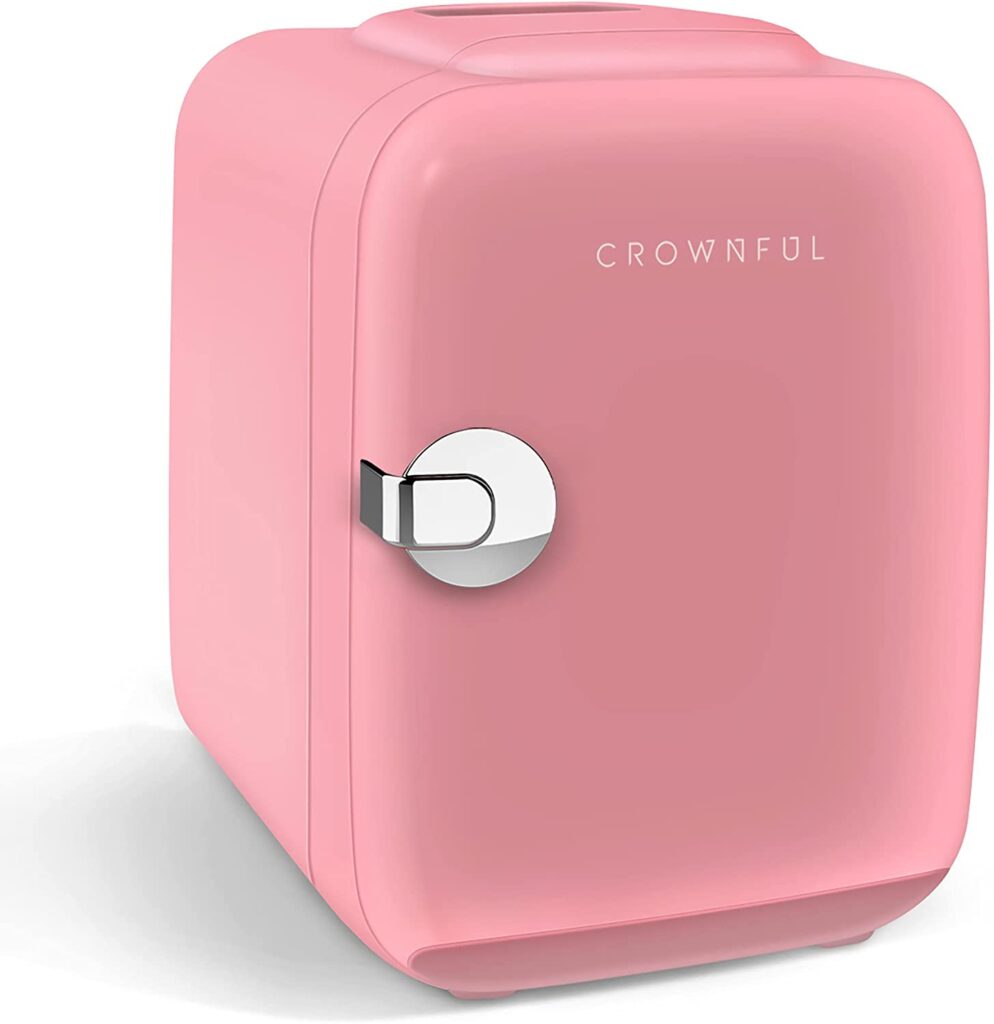 This multifunctional mini skincare fridge from Crownful is a great appliance for storing everything from drinks, food, and skincare products. Reasonably priced and compact, the Crownful Mini Fridge comes in six glossy gorgeous colors.
Featuring a removable shelf, a convenient carry handle, and whisper-quiet operation, this portable electric cooler and warmer is eco-friendly and employs advanced safety technology for utmost durability. It comes with plugs for standard home outlets and 12-volt car chargers.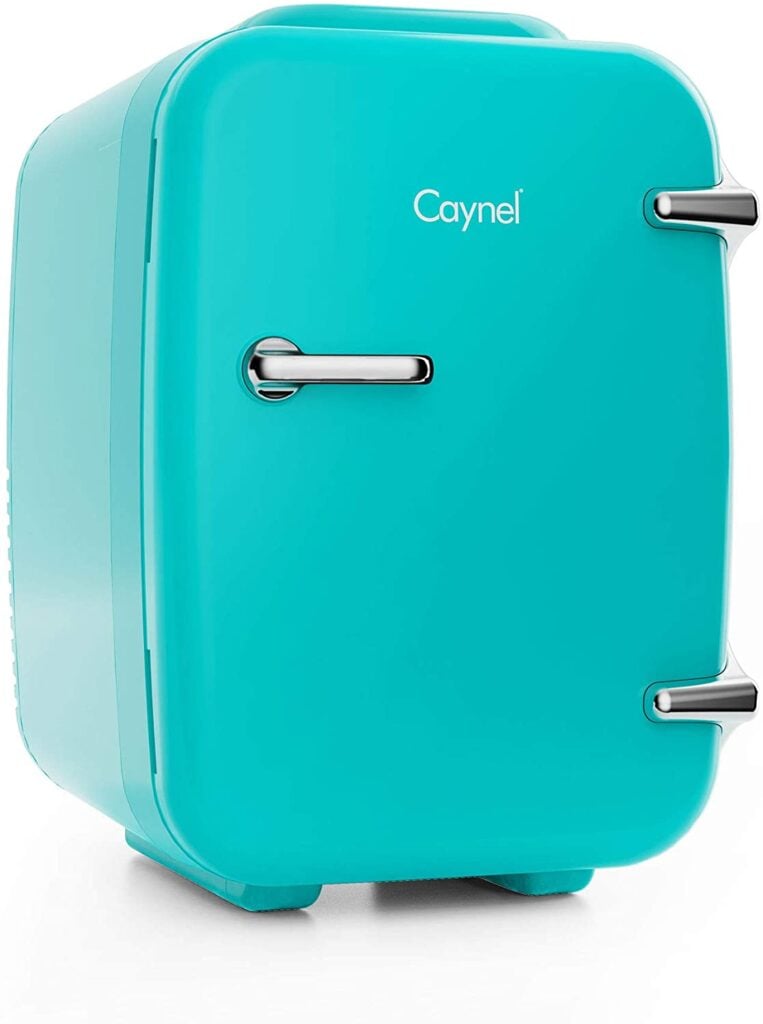 Featuring a cute and compact design, the Caynel Mini Fridge is one of the best eco-friendly skincare fridges on the market today. Offering a gorgeous vintage design that's available in four colors, this portable mini fridge is energy efficient and completely freon-free.
It also features an AC/DC thermoelectric mechanism, a 25-decibel sleep mode, removable shelves, and a convenient carrying handle. The Caynel Mini Fridge is sure to keep up with you whether at home or while traveling!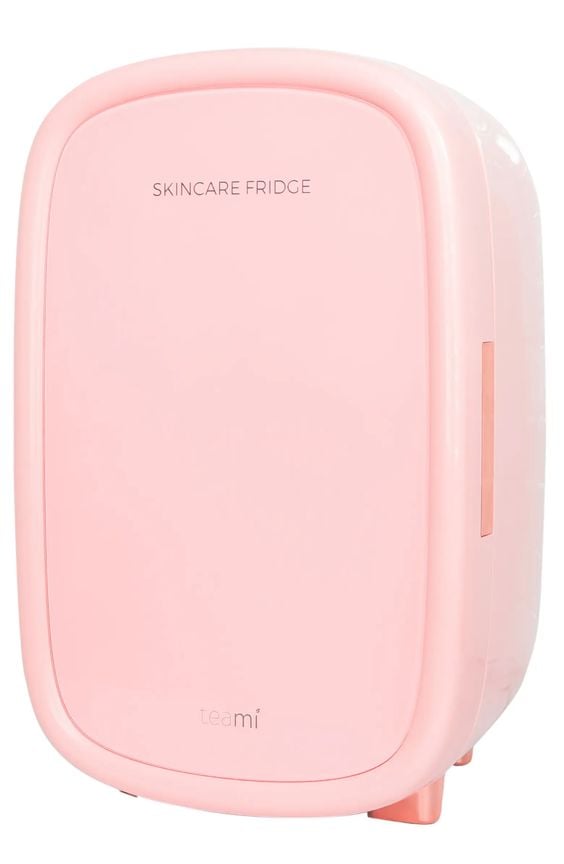 If you're in search of a luxury skincare fridge to splurge on, then this 12-liter minimalist model with a smooth shiny light pink finish is what you're looking for. From extra-large bottles and wide-bottomed creams to face masks and jade rollers, it's large enough to hold all your favorite skincare products in one place.
It features three main compartments, a stunning curved design, a hidden door handle, a glass panel front, an adjustable door shelf, and LED beauty lights. Luxe Skincare Fridge boasts of being able to store over 50 beauty products while extending their shelf-life.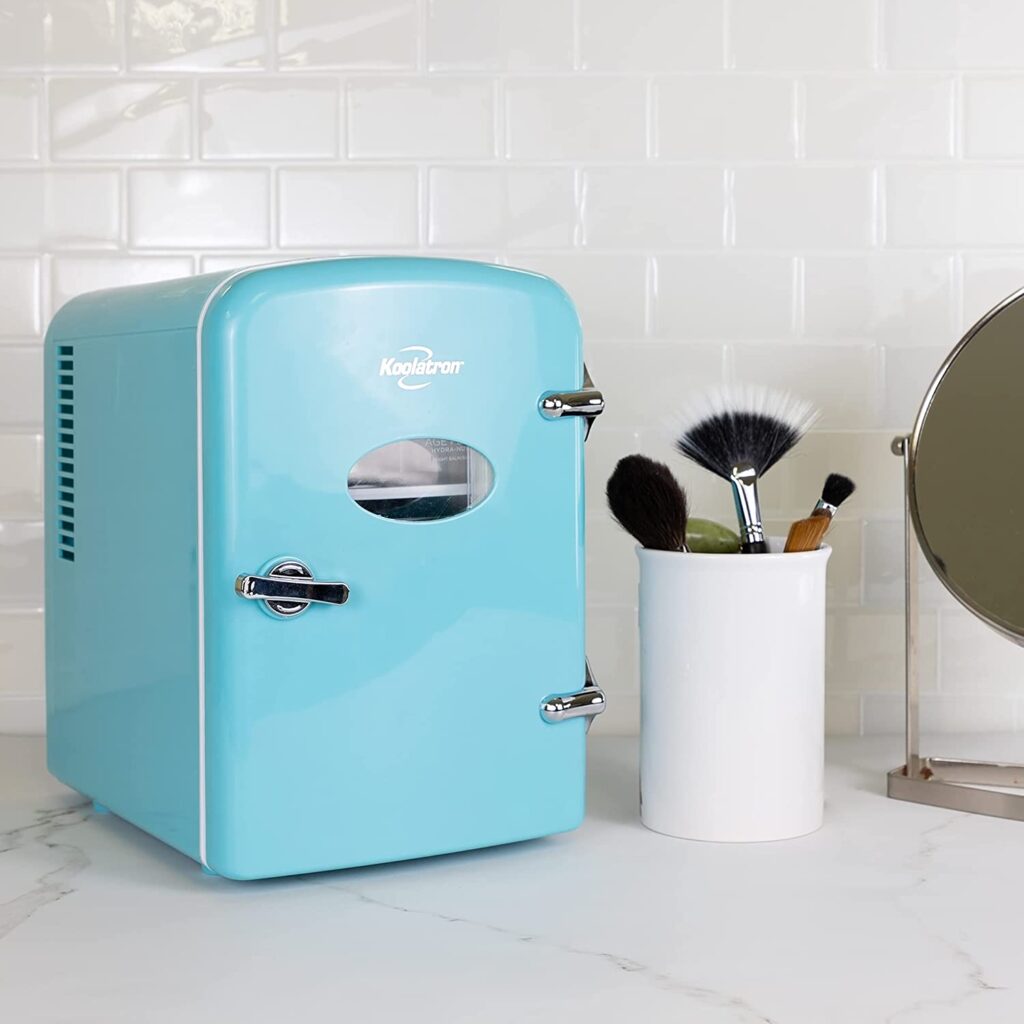 This portable mini fridge offers a unique and stylish finish with rounded corners and a retro silhouette. It also features eye-catching metallic hinges, a small viewing window, and a retractable handle.
Lightweight and compact, its space-saving design includes a removable shelf and eco-friendly thermoelectric cooling technology. You can count on this four-liter mini fridge to keep your favorite skincare products at a cool 32 degrees Fahrenheit.
Conclusion
Apart from making your skincare routine more effective and preserving your cosmetics, skincare fridges come in attractive colors and designs. You'll not only notice improvements to your skin but will also make your personal space more interesting and eye-catching!
We hope this list of the best skincare fridges helps you make a perfect choice. Make sure to consider factors like size, temperature, and noise before purchasing one.
You've got the fridge — now it's time for an at-home spa day! Or check out this gift guide for the beauty lover in your life!
Want some fun skin products? Check out one of these!