It's easy to forget about buying stocking stuffers until the very last minute — and that's when I'd rather be snuggling up with hot cocoa in front of a fire than worrying about shipping times or running around to different stores!
So here are 60 ideas for your kids' stockings. Whether your family does gag gifts, party favors or small but thoughtful gifts in your stocking, I've got plenty of choices for you to choose from.
Buy them now so you can relax come December!
Kids Stocking Stuffer Guide – 60 Ideas for Boys and Girls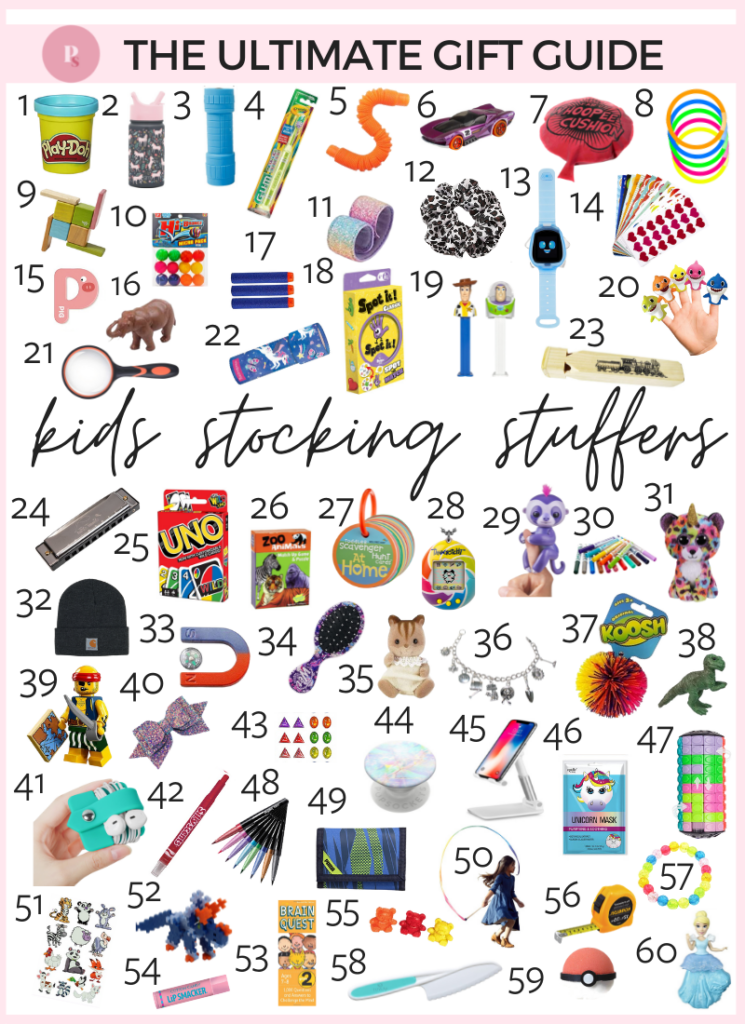 Paisley + Sparrow is a participant in the Amazon Services LLC Associates Program. This post may include affiliate links which means I may earn a small commission if you shop using the links below at no additional cost to you.
1. Play-Doh // 2. Water Bottles // 3. Flashlights // 4. Toothbrush // 5. Hot Wheels // 6. Fidget Toys // 7. Whoopee Cushion // 8. Glow Sticks // 9. Bouncy Balls // 10. Tegu Blocks // 11. Slap Bracelets // 12. Scrunchies // 13. Watch // 14. Stickers // 15. Magnetic Animal and Letters // 16. Animal Figures // 17. Nerf Darts // 18. Spot It // 19. Pez Dispenser // 20. Finger puppets // 21. Magnifying Glass // 22. Kaleidoscope // 23. Train Whistle, Slide Whistle and Kazoo // 24. Harmonica // 25. Uno // 26. Memory Game // 27. Toddler Scavenger Hunt // 28. Tamagotchi // 29. Fingerling // 30. Markers // 31. Beanie Boo // 32. Carhartt Beanie // 33. Magnets // 34. Hairbrush // 35. Calico Critters // 36. Charm Bracelet // 37. Koosh Ball // 38. Dinosaur Figures // 39. Lego Mini Figs // 40. Glitter Bows // 41. Earbuds Holder // 42. Twistable Crayons // 43. Stick-On Earrings // 44. Pop Socket // 45. Phone Stand // 46. Sheet Masks // 47. Rotate and Slide Puzzle // 48. Temporary Tattoo Markers // 49. Wallet // 50. Rainbow Streamer // 51. Temporary Tattoos // 52. Plus Plus // 53. Brain Quest Cards // 54. Lipsmackers // 55. Counting Bears // 56. Measuring Tape // 57. Dress-Up Bracelets // 58. Kids Knives // 59. Surprise Bath Bombs // 60. Disney Princess Toys