On Christmas morning, I know your kids' stockings will be overflowing with candy and goodies. But don't let Santa forget about the adults!
Whether you're looking for stocking stuffer ideas for your husband or wife or you stuff your own stocking, here are 40 ideas of useful gadgets or items, fun games and items they'll love.
Husbands: For more ideas for your wife's stocking, check out my Beauty Gift Guide.
Parents: These also make great teacher presents! For more suggestions, look through my Teacher Gift Guide.
Adult Stocking Stuffer Guide – 40 Ideas for Men and Women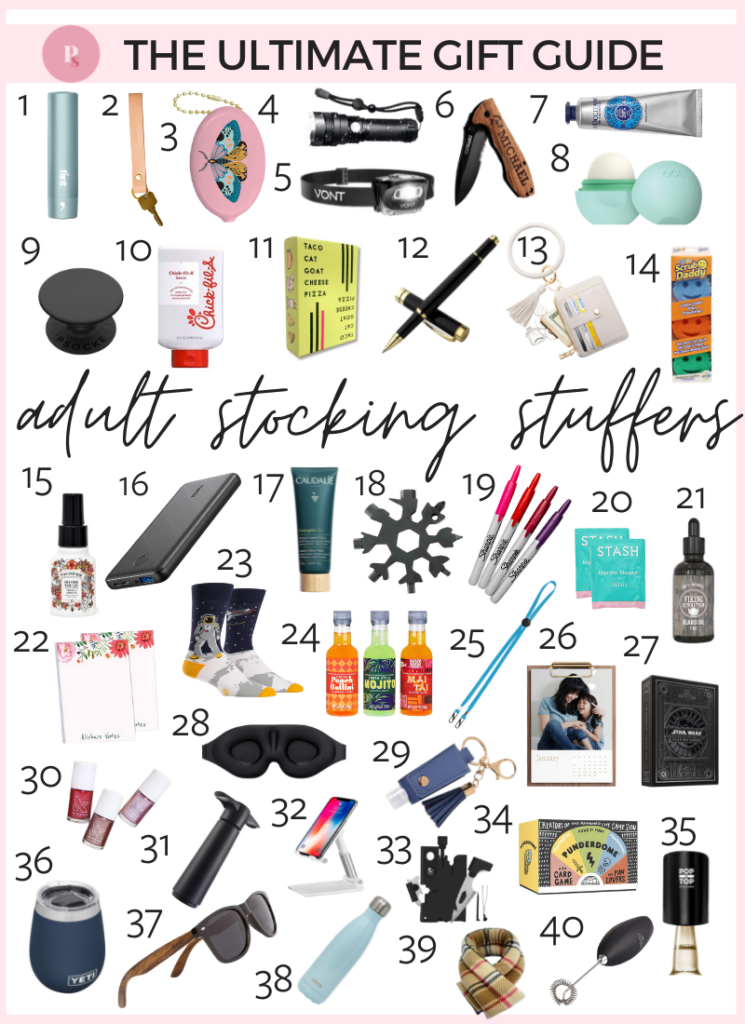 Paisley + Sparrow is a participant in the Amazon Services LLC Associates Program. This post may include affiliate links which means I may earn a small commission if you shop using the links below at no additional cost to you.
1. Retractable Lint Roller // 2. Key Wristlet Strap // 3. Retro Coin Purse // 4. Flashlight // 5. Headlamps // 6. Personalized Pocket Knife // 7. Hand Cream // 8. Lip Balm // 9. Pop Socket // 10. Chick-fil-A Sauce // 11. Taco Cat Goat Cheese Pizza Game // 12. Nice Pens // 13. Wristlet // 14. Scrub Daddy // 15. Poo-Pourri // 16. Portable Charger // 17. Face Mask // 18. Snowflake Multitool // 19. Sharpies // 20. Tea // 21. Beard Oil // 22. Notepad // 23. Socks // 24. Cocktail Mixes // 25. Mask Lanyard // 26. Customized Desk Calendar // 27. Star Wars Playing Cards // 28. Sleep Mask // 29. Hand Sanitizer and Holder // 30. Nail Polish // 31. Wine Saver // 32. Phone Stand // 33. Credit Card Multitool // 34. Punderdome Game // 35. Automatic Bottle Opener // 36. Stainless Steel Wine Tumbler // 37. Woodies Sunglasses // 38. Water Bottle // 39. Heated Neck Wrap // 40. Handheld Milk Frother