As soon as I felt like I "mastered" traveling with a baby (find all those tips here), Roy turned into a full fledged toddler. Now we had to learn how to survive traveling with a toddler! We had one flight with him to California where I almost had a mental breakdown because I was beyond exhausted with trying to keep him entertained and happy. Thank goodness I had my calm-as-a-cucumber husband with me to help out!
We've had a number of flights since that one and I've learned a few tricks to save my sanity and make traveling with toddlers way easier.
Let me preface this with the fact that all toddlers are different so things that work for us, may not work for you. Heck, things that work for us one flight might not even work on the return flight! But the more tricks up your sleeve, the better, in my opinion. 🙂
A lot of the tips for traveling with babies also apply for traveling with toddlers. I've updated these so they make sense for your toddler vs your baby!
25 Tips for Traveling with a Toddler

1. Check as many bags as possible.
Rishi and I are carry on kinda people. We travel light and don't need much when we jet away for the weekend. This all changed when we had kids. When you're traveling with a baby or toddler (or both in our case), you need a LOT more stuff.
Now we carry on one bag with a change of clothes for each of us (2 for the kids because you just don't know what to expect), any essentials we need for our daily life (like my glasses), and diapers and formula for the kids (if necessary).
The less you have to carry, the less stressed you'll be going through security, boarding your plane and during your flight.
2. Buy what you can at your destination.
Depending on where we're going, we put what we need in our carry ons and pick up things like diapers and wipes at our destination! It saves room in your suitcase and it's not like you'll be taking home all of those dirty diapers anyway. 😉
(If your toddler is potty trained this one probably won't apply.)
3. Do the priority boarding for "families and people needing extra time".
I always thought this was a terrible idea since your kids are trapped in a tiny place for even longer but trust me, it's not a bad idea. You can get on the flight and get all organized before it fills up with strangers.
4. Know that not all airplanes have changing tables (if your toddler isn't potty trained yet).
There was a fellow first time mom flying with her baby on my first flight with Roy and she burst into tears at the news that our plane didn't have a changing table.
You'll have to get creative with how to change your kid in the bathroom but as long as your mentally prepared for this, it won't be so bad. 😉 Inevitably your child will have a blow out the second you board the plane so be ready.
5. Have your toddler suck on something during take off and landing.
Whether it's a sippy cup or Mentos, make sure they're sucking on something so they're ears don't pop. (I sent Rishi to buy something for Roy to chew on for the take off and landing and he came back with Mentos haha! I never would have thought of Mentos but they worked and Roy loved them!)
6. Bring your toddler's favorite toy or activity (that's portable).
A play set of keys, they're favorite book or Color Wonder markers (or all of the above). Whatever they're loving lately, bring it!
7. Buy new toys.
A new sticker book or toy can result in HOURS of play time. Or at least 2 minutes. Regardless, every little bit helps!
8. Bring extra everything…
Think you'll need 2 diapers? Bring 6. Have a small 10 pack of wipes? Bring the big one. And definitely pack a couple extra outfits.
Here's the deal with flying. You never know if you'll be stuck in an airport because of a delayed flight so the last thing you want is to be left with pee-soaked clothes or not having enough diapers. Yes, you can always buy some if you're still in the airport but it's like 500% marked up so just bring a few extra things.
9. …but don't overpack.
You don't need to bring extra shoes, bows, etc that your child doesn't actually need. Bring the necessities (food, diapers, change of clothes) and leave the rest at home (or packed in your checked bag).
10. Don't bank on them napping.
I booked our first flight with Roy past the amazing baby stage during his nap time thinking that the loud noise would soothe him to sleep.
WRONG!
He was so excited about the flight and about everything around him that there was zero chance of him falling asleep. Going forward I book flights not during nap time if possible and try to get him to nap after we land instead of him being so overtired by the time we land.
11. Don't feel bad about walking around.
It's hard enough for me to sit in my seat for an entire flight, much less my 2 year old. A short walk up and down the aisle a few times throughout your flight will work wonders than having a giant fit because your toddler is tired of siting in one spot.
12. Get the aisle seat for shorter flights.
There's nothing worse than being trapped by a window and needing to change your toddler or letting walk him to get some energy out. Give yourself easy access and get an aisle seat.
13. Gate check strollers (and car seats if you have them).
It's super convenient having your stroller with you to hold all of your bags, etc. Just check it at the gate when you board!
We use a travel bag for our stroller because I've heard tons of horror stories of checking strollers. This one guarantees your stroller so if something happens to it, they're replace it for free!
14. Rent car seats at your destination.
If you're renting a car I highly recommend renting car seats too. You have so much stuff to bring when you're traveling with a toddler so renting larger things is the best! It's also so much easier than lugging a car seat through the airport!
15. Make sure you add "child in arms" to your ticket (if they're under 2).
Sometimes you have to go back in and add it after purchasing your ticket or even calling the airline. They don't always make it easy to add!
And if you're traveling with someone else, make sure whoever has the child listed on their ticket has that child when going through security. There was a mom ahead of me in line once who didn't have her baby listed on her ticket but had her baby with her. The baby was listed on her husband's ticket and he had gone on ahead of her without the baby. He ended up having to called over the intercom to show his ticket! I'm not sure this would happen in every case but be warned that it could.
16. Call ahead to your hotel to get a crib in your room (if they're still in a crib).
Hotels typically have cribs or pack n plays available for you to use (and if not, it's good to know that!). Some hotels have even left us diaper pails and baby bath supplies!
17. Remember that everything is temporary.
When they inevitably cry for whatever reason, remember this. It's always worse for the parent. And this too shall pass.
Yes, it may be annoying to other people on the flight but they'll live. It's a minor nuisance. And the more stressed you get, the more stressed your baby will get. Relax!
18. Also remember that you know your toddler best.
There will always be "well meaning" travelers who will tell you that your child is hungry or tired and needs xy or z but just remember that you know them best.
Don't let someone else make you feel like you're not doing your job or that you're being a bad parent. By reading this blog post and doing your best to prepare yourself for traveling with a toddler, it's proof that you ARE a good parent and doing the very best you can!
19. Don't plan anything for the day you arrive.
Traveling with a toddler can be really stressful and very draining – for you AND your little one. Don't add to the stress by having dinner plans or obligations the day you arrive at your destination.
20. Buy a toddler size backpack and fill it with goodies.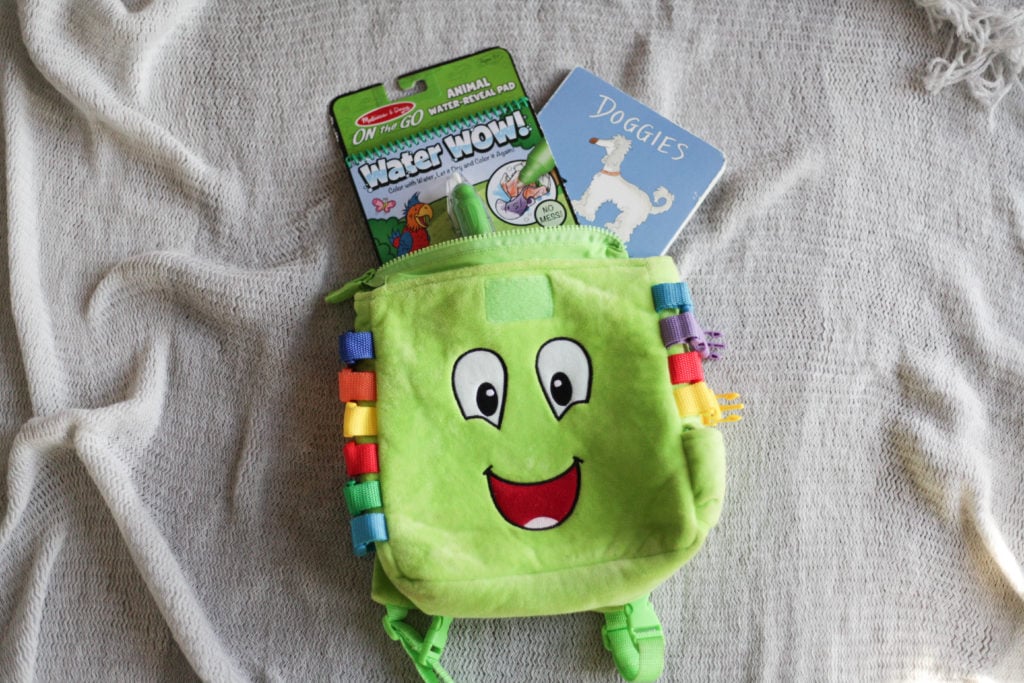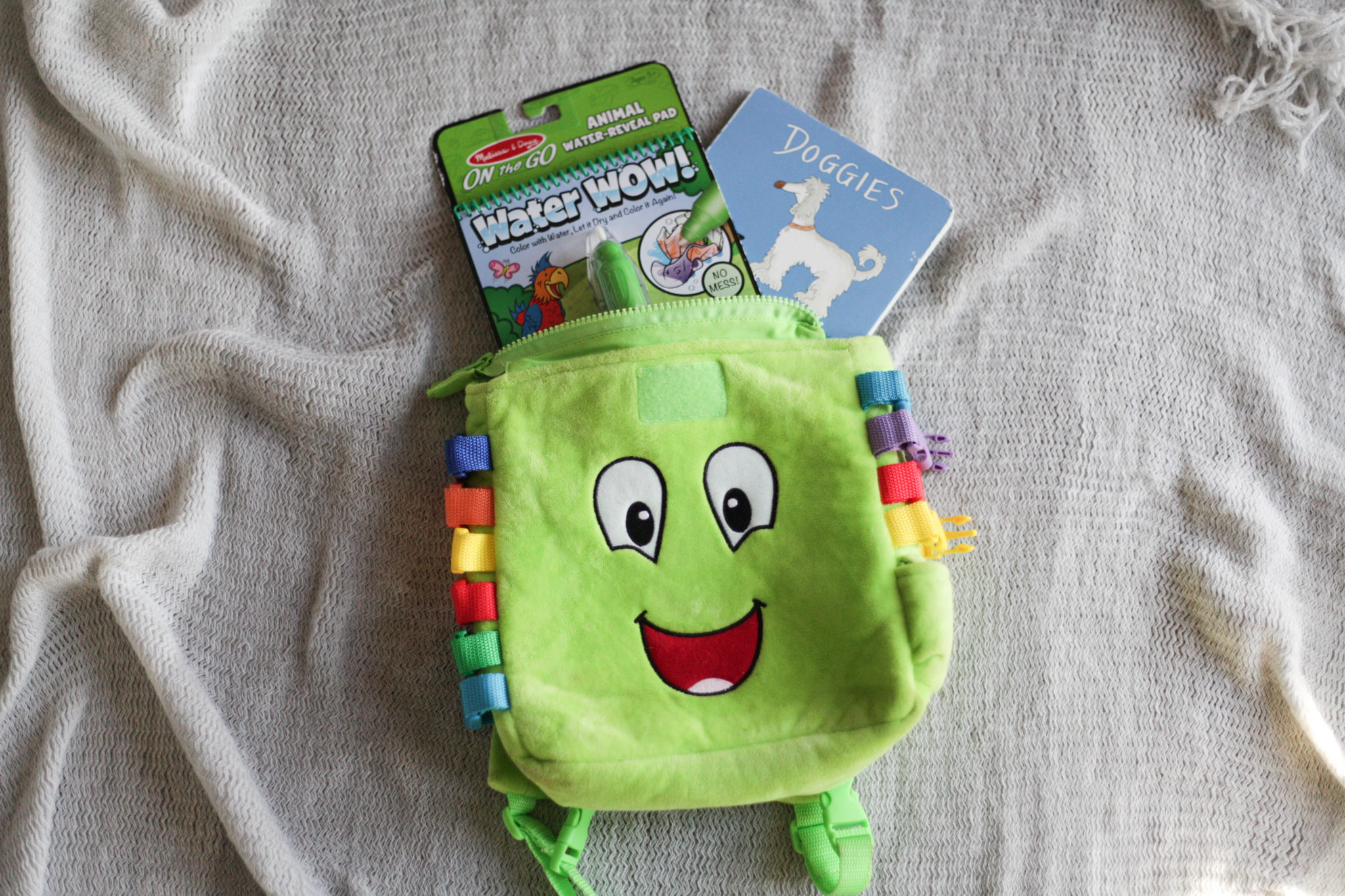 I bought Roy this backpack knowing that he likely wouldn't carry it himself for most of the trip but mainly so I had a place for all of his specific toys and activities. Not only did he LOVE the backpack and spent a ton of time playing with the snaps and buckles, but it was perfect for keeping all of his stuff in one place leaving the diaper bag free for diapers/wipes/clothes and everything we needed for Penelope.
Bonus – the backpack now lives in my car so when we go to restaurants or church I bring in the backpack so he has activities to do in his seat!
21. Pack masking tape.
This will literally be your new best friend. A roll of masking tape has literally resulted in hours of entertainment for Roy on multiple trips. Stick pieces on their chair, your leg, their tray, etc to peel off. Give them a ball of tape to play with. Teach them to peel and rip the tape. This will create some garbage but overall it's amazing how much fun they'll have.
22. Hit up the dollar section at Target.
I bought tons of random toys in this section. Little finger puppets, magnetic puzzles and felt dinosaur books…all things that weren't very expensive (and also not the best quality ha!). I didn't show him anything until the flight and slowly pulled one thing out at a time until he got bored with it.
I also kept a few things packed away for the flight home (don't forget about that!).
23. Bring whatever they sleep with (blanket, pillow, etc).
Roy sleeps with a small pillow, a blanket and a stuffed animal (or 5, depending on the day). Bringing those will help them feel comfortable on the flight in the off chance they will sleep. They're ideal for in the hotel when they're in a new spot!
24. Have a variety of snacks.
I filled a bunch of ziplock bags with snacks (things that aren't high in sugar that would cause a stomach ache!). I also brought along one of Roy's no-spill snack containers (like these) and filled it up with snacks a few times throughout the flight. There's nothing like a kinda challenging container to retrieve one goldfish at a time to keep your kid entertained for a while!
25. Get the wiggles out before boarding.
When you get to the gate and are waiting to board, let your little one run around! We typically have one person sit with our stuff and Penelope and the other one will walk Roy around the waiting are so he can jump, run and dance before sitting for 2-4 hours. Obviously be smart about this and if the airport is packed it probably isn't wise to let your child run but finding a non-crowded corner and dancing around will help your kid get some energy out!
And there you go! Now you have 25 tips for traveling with a toddler for the next time you travel with your little one. What have you done that I've missed? Share them in the comments!
Traveling with a baby? Check out my 21 tips for traveling with a baby!
Thanks so much for reading and sharing!