You've seen Lovevery on Instagram or friends have raved about them. They're brightly colored blocks, adorable strollers and play kits that arrive each month are enticing, but are they worth it?
Let's be real. You're likely up to your ears in baby stuff. You start with just their clothes and diapers and other essentials – bath products, blankies, pacifiers, feeding product – and quickly it becomes every shelf, every room and every spot in your home has something for your little on it.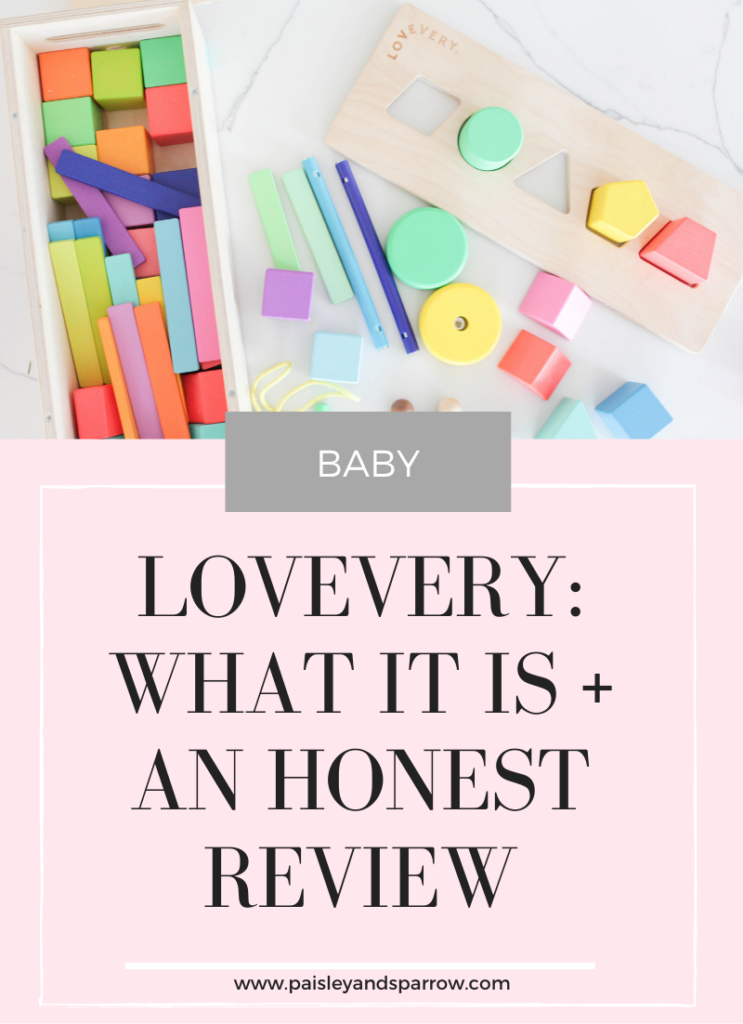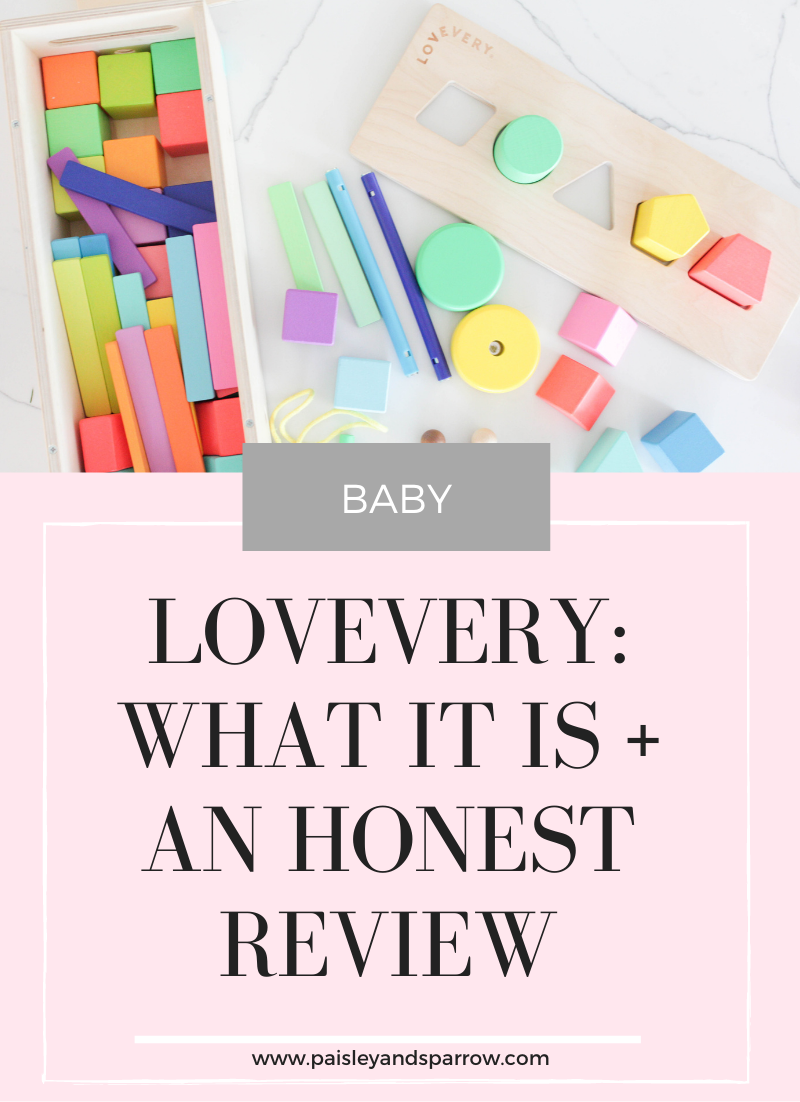 This post may include affiliate links which means I may earn a small commission if you shop using the links below at no additional cost to you. Paisley + Sparrow is a participant in the Amazon Services LLC Associates Program. Thanks so much for supporting me and this blog!
So do you need yet another play thing? Yes, if it's the right kind!
So often the toys our kids have aren't challenging, teaching or developing your little ones in the best way possible. But Lovevery does! I have 3 kids – ages 4, 3 and 1 so you can bet I'm living what I described above. With adoring grandparents, loving aunts and uncles you better believe we have more than our fair share of kid toys.
So when Loveevry reached out and offered to send over their block kit and stroller I thought to myself, do I really need more blocks? Another stroller?
No. But when I saw their products I quickly said yes! And boy am I glad that I did!
Lovevery History
Lovevery was started to help every parent feel confident and take away the uncertainty that can come with knowing exactly how to play with your kids. The play products you'll find at Lovevery are designed by child development experts and are specifically created to support a child at each stage of their early years.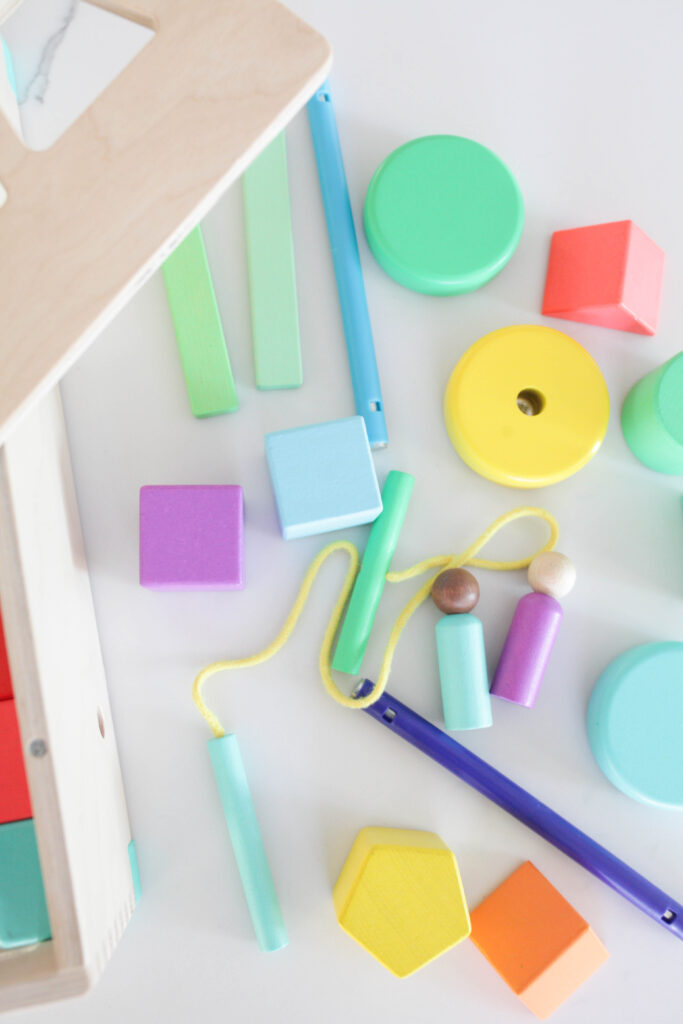 The best part is, Lovevery was started by a mom and a dad so you can be certain they've created products that other mom and das would want! Their team of advisors are a mix of doctors, professors, teachers, psychologists, occupational therapist and more.
Combined they work together to create a collection of products for your child from birth to age 3 with everything from play kits to home goods to blocks, strollers and more.
Lovevery Block Kit
The Lovevery Block Kit is one of the most comprehensive block sets I've ever seen! It's a mix of 70 pieces that all work together in various forms for play time for kids from baby to toddler (and let's be real, adults will find it fun as well!).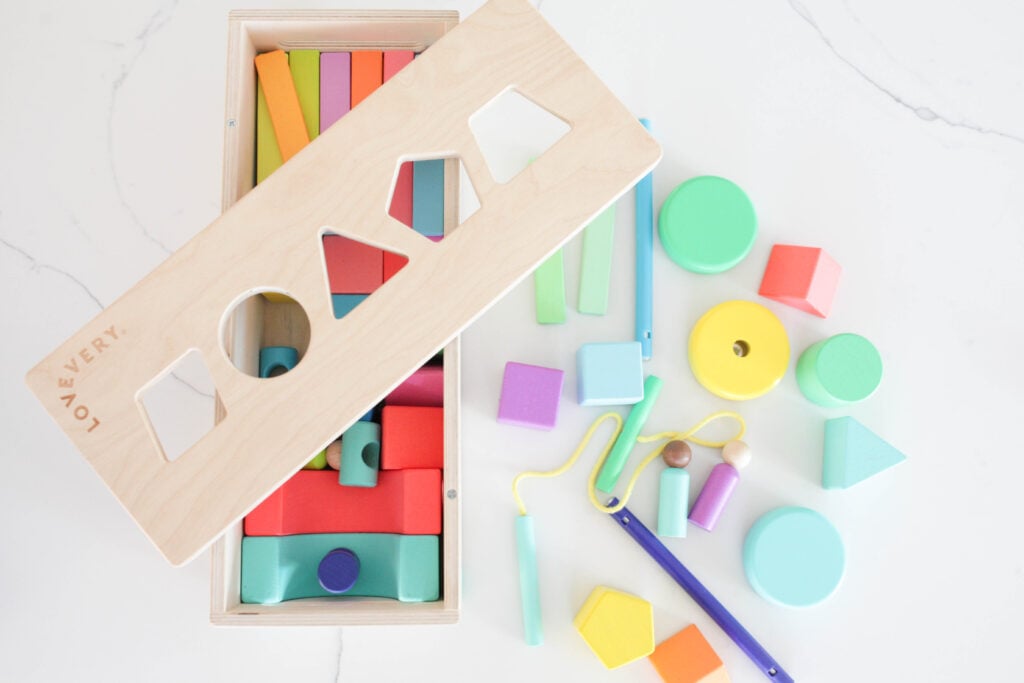 You can do everything from building a pull car out of the box they come in, create castles and towers, practice threading and learn shapes and colors – all in this one kit!
All of our kids adore this block set and love pulling it out to use their imagination and create new things.
Is the Lovevery Block Kit worth it? I would say YES! There are endless ways for your kids to play with it and it truly grows with your kid.
What are the Lovevery Play Kits? They're subscription boxes that are delivered to your door every 2-3 months to support your child's developmental stage through books, play products and guides to help you through each stage.
The Play Kits start at $36 a month (you pay $36 a month if you pay ahead or $40 a month if you pay month by month). This can definitely add up, and the toys can add up, especially if this isn't your first child!
Below you'll see exactly what's in each box to get an idea of what you'll receive!
1. The Looker Play Kit: 0-12 weeks
What's inside: a two sided mobile, a standing card holder (for tummy time), simple black and white card set, a travel card holder, complex black and white card set, black and white mittens, a wooden book, a silicone rattle and a play guide.
2. The Charmer Play Kit: 3-4 months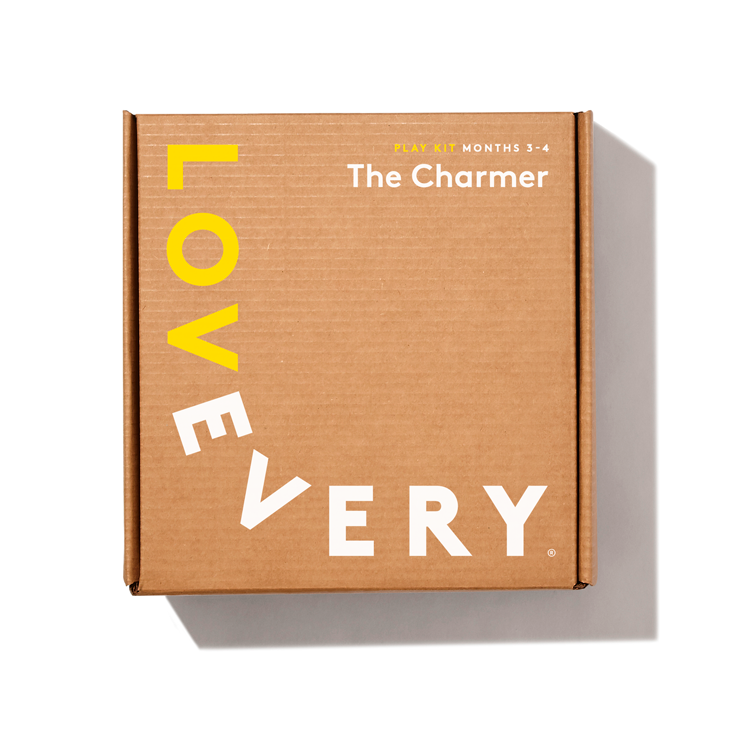 What's inside: a wooden rattle, rolling bell, soft book, mirror card, black and white card set, crinkle bag, silicone beaded teether, rubber triangle teether, hand to hand discs, framed mirror and play guide.
3. The Sensor Play Kit: 5-6 months
What's inside: spinning rainbow, magic tissue box, magic tissues, Montessori ball, "Parts of Me" book, play socks, tummy time wobbler, play guide.
4. The Inspector Play Kit: 7-8 months
What's inside: ball drop box, wood ball set, "My First Signs" board book, "Things I See" texture cards, nesting stacking dripdrop cups, first puzzle, felt ball set, treasure basket, drinking cup, play guide.
5. The Explorer Play Kit: 9-10 months
What's inside: first blocks, clear tube with stacking rings and baby ball, Montessori egg cup, shapes bean bags, zipper pouch, little grip canister set, "How I Feel" board book, "Opposites" board book, peek-a-boo blanket, play guide.
6. The Thinker Play Kit: 11-12 months
What's inside: baby Avery, sliding top box, "Animals I See" mini book, wooden stacking stones, pincer puzzle, first wallet, big spender cards, wood coins, opposites balls, play guide.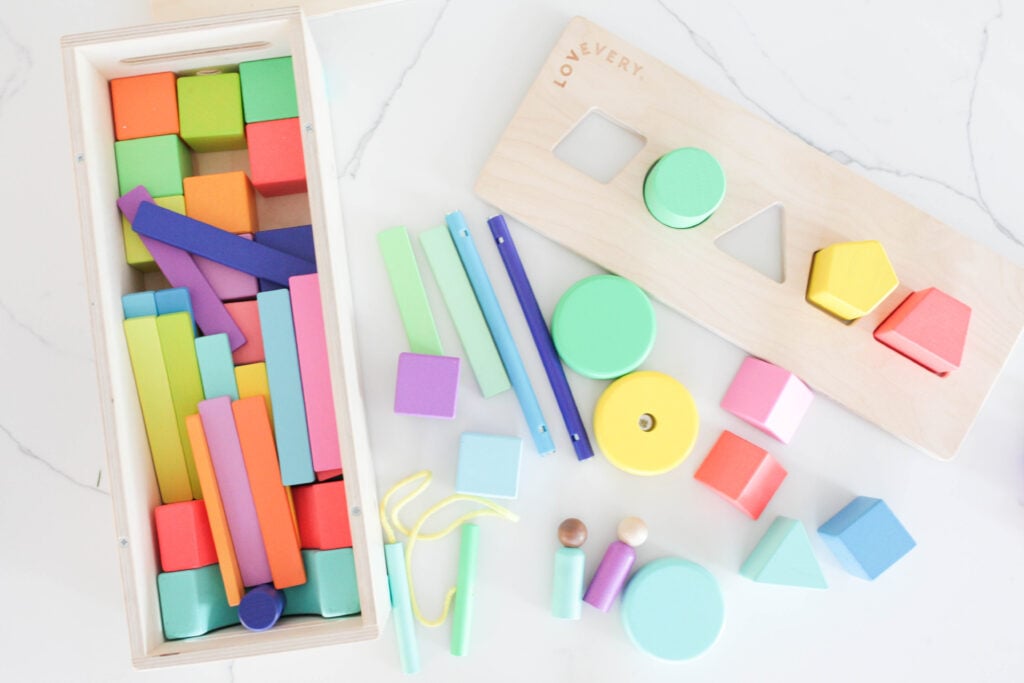 7. The Babbler Play Kit: 13-15 months
What's inside: slide and seek ball run, bunnies in a felt burrow, flexible wooden stacker, circles of friends puzzle, wooden coin bank set, coin lid and coins for coin bank, carrot lid with carrots for coin bank, posting lid for coin bank, "Bedtime for Zoe" board book, play guide.
8. The Pioneer Play Kit: 16-18 months
What's inside: race and chase ramp, community garden puzzle, "Max and Nana go to the park" board book, thread-able bead kit, drawstring bag, wooden stacking peg board, fuzzy bug shrub, play guide,
9. The Realist Play Kit: 19-21 months
What's inside: the lockbox, count and slide ring chute, geo shapes puzzle, "Bea Gets a Checkup" board book, quilted critter pockets, really real flashlight, grooved pitcher and glass, play guide.
10. The Companion Play Kit: 22-24 months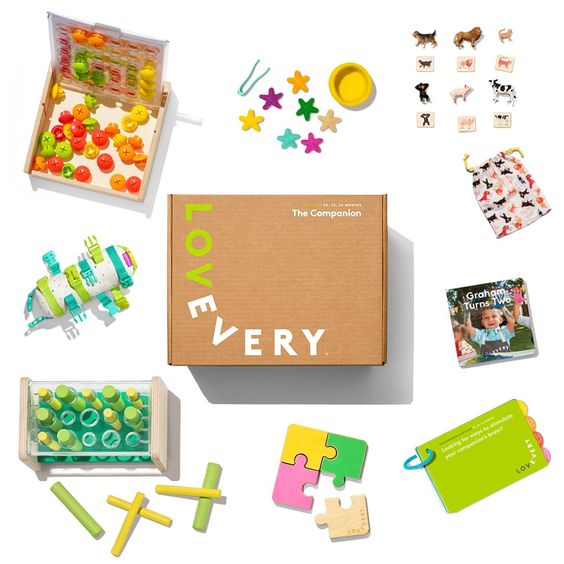 What's inside: wooden posting stand, mosaic button board, "Graham Turns Two" board book, transfer tweezers and felt stars, Montessori animal match, drawstring bag, the buckle barrel, chunky wooden jigsaw puzzle, play guide.
11. The Helper Play Kit: 25-27 months
What's inside: super sustainable sink with bio-based cups and plates, drop and match dot catcher, felt flowers in a row, double sided sunny day puzzle, anywhere art kit with washable tempera paint sticks, let's map it out routine cards, "Making Muffins" board book, play guide.
12. The Enthusiast Play Kit: 28-29 months
What's inside: every which weigh scale and pails, sort and stack peg puzzle, pinkies up picnic set, squeaky clean squeegee set, sticky shapes glue station, "My Favorite Nature Buddy" board book, play guide.
13. The Investigator Play Kit: 30-33 months
What's inside: twist and pivot pattern puzzle, match and tap hammer box, liquid lab, countdown color timer, things that move memory game, jump-in eco hoops and organic cotton bean bags, "The Play Date" board book, play guide.
14. The Free Spirit Play Kit: 34-36 months
What's inside: wooden camper with locking doors, van go outdoor adventure, wooden counting box, land and sky two-part puzzle board, solid wood stacking boulders, reach for the stars matching cards, "Now That I'm Three" board book, play guide.
A few things to note. You can start and stop your subscription at any time so there's really no risk in signing up for at least one box to check them out!
You keep everything in the box! No messing with returning a few items or just borrowing them for a certain time. They're yours to keep.
These Play Kit subscription boxes are especially good for new parents to start off their collection of baby items with quality items that will not only last for multiple children but be ones that will help with each developmental stage!
And since you know what you're going to get before it arrives, you can always cancel your subscription for a few months if there are items you aren't going to need.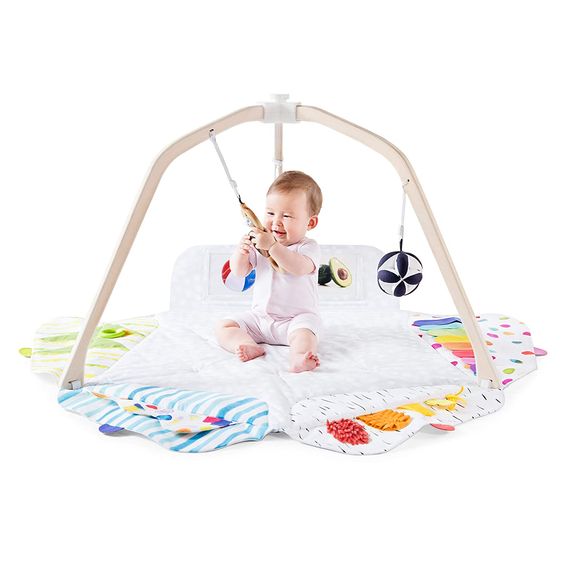 Lovevery also has a play gym which is something that every parent needs! I never knew about the Lovevery Play Gym when my kids were littler but I wish I would have.
Play Gyms are the perfect things for your littlest ones to spend time on especially during things like tummy time! It has everything you'll need from batting rings, to teethers to black and white card sets.
The Lovevery Play Gym will help your baby in their visual development as they learn to focus on the cards. You can help them learn colors (by month 5 they begin to see in color) which will make tummy time that much more fun and they'll especially love all the different textures on the Play Gym.
This is something that will be well loved from the moment you bring your baby home!
Lovevery Home Collection
New to Lovevery is their Home Collection! They have everything from Montessori placemats and utensils, quilts and nap mats and even sheets! Everything is organic and OEKO-TEX certified.
They also have other play things like a play tunnel, buddy stroller, sensory strands and more.
Lovevery Review
Overall I love all of the products I've tried from Lovevery. They're high quality items that my kids LOVE to play with! Their fabrics are made out of natural organic cotton, their wood is sustainable sourced, kits are shipped carbon-neutral.
Lovevery is a great place to start shopping when you're looking for gifts for your or a friend's little one! You won't be disappointed!
Looking for more parenting fun? Check out my Diaper Bag Checklist with 17 essentials you need to pack or some of the best organic baby clothes brands here!