Looking for Minnesota gifts? As a MN girl I have a deep love for my state and all of the amazing brands that are from here!
There's everything from giant well known brands (like Wiley Wallaby) and smaller brands that I can't wait to introduce you to. So today, I'm so excited to introduce you to the Ultimate MN Made Gift Guide!
Whether you're looking for Christmas gifts, birthday gifts or just a welcome to MN gift for a new neighbor or coworker, these Minnesota gifts will definitely delight anyone on your list!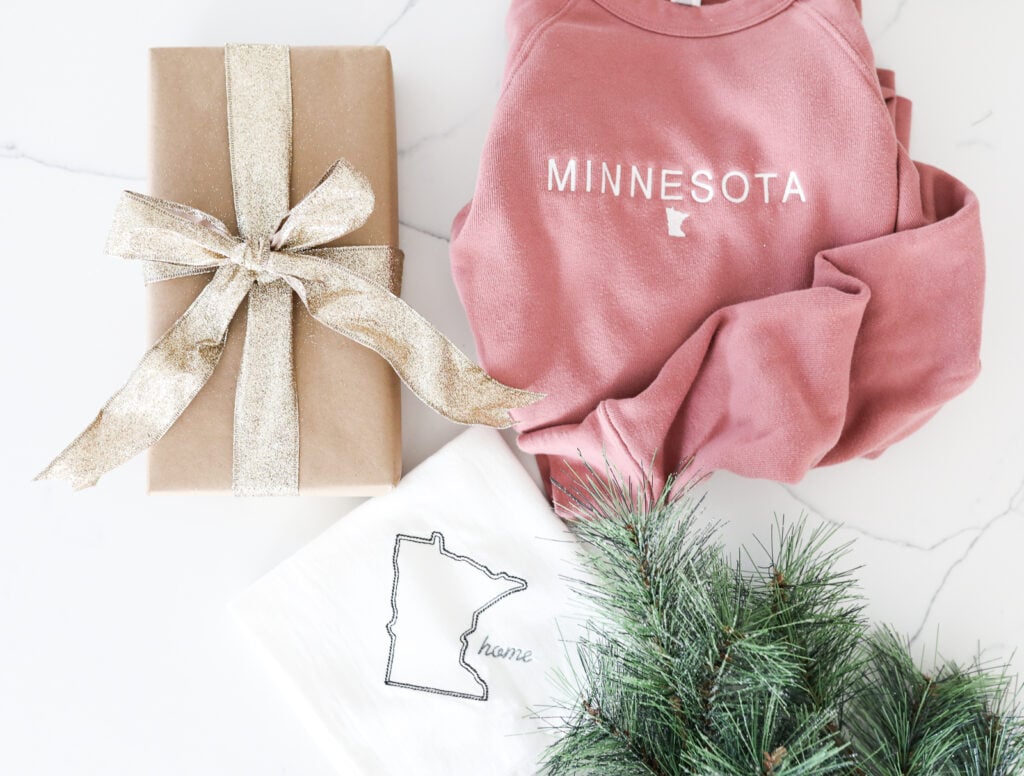 I hope you'll take the time to read their stories, check out their products and shop local! In a year where many events that these makers sell their products have been cancelled, I wanted to do what I could to support these amazing brands and share their stories!
A handful of these brands have sent me product to share with you which I'm sharing more in depth on my Instagram stories. Check out my MN Gift Guide highlight there to check out these brands and some fun Minnesota gifts in more detail!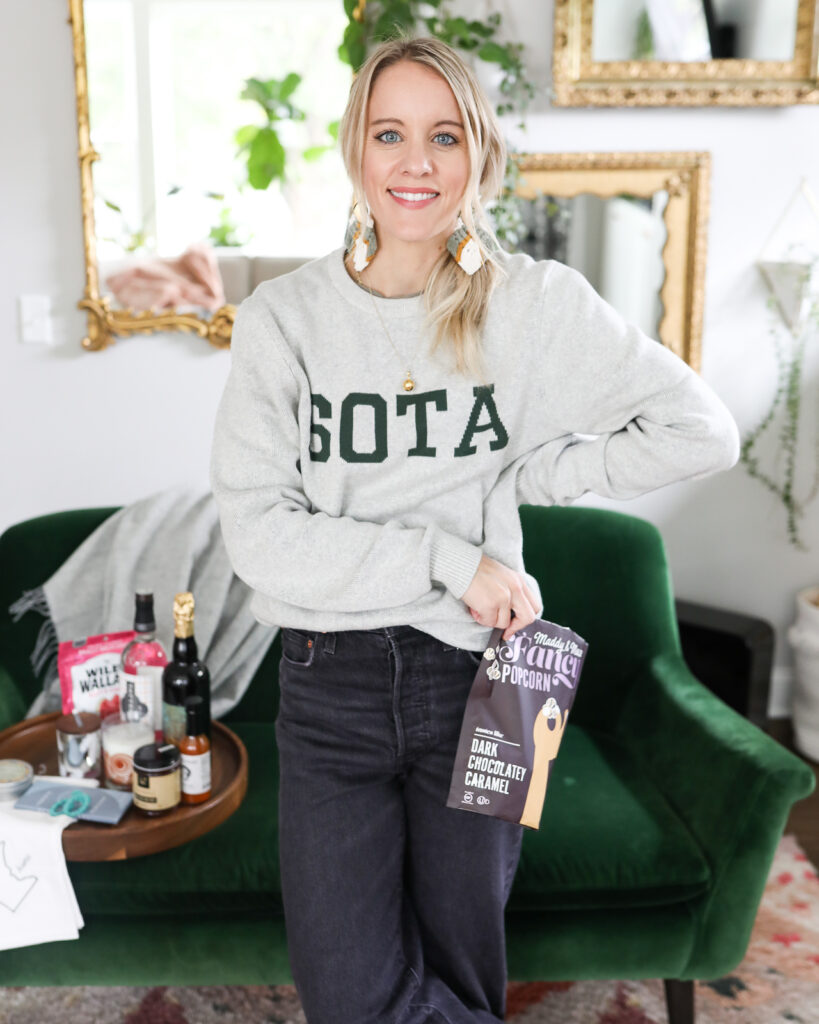 If you love all things Minnesota, be sure to check out my other Minnesota Gift Guides!
There's also many local shops to check out! These are shops that are all locally opened but they source their products from all over.
And without further ado, your ultimate guide to Minnesota Gifts: Clothing!
Minnesota Gifts: Clothing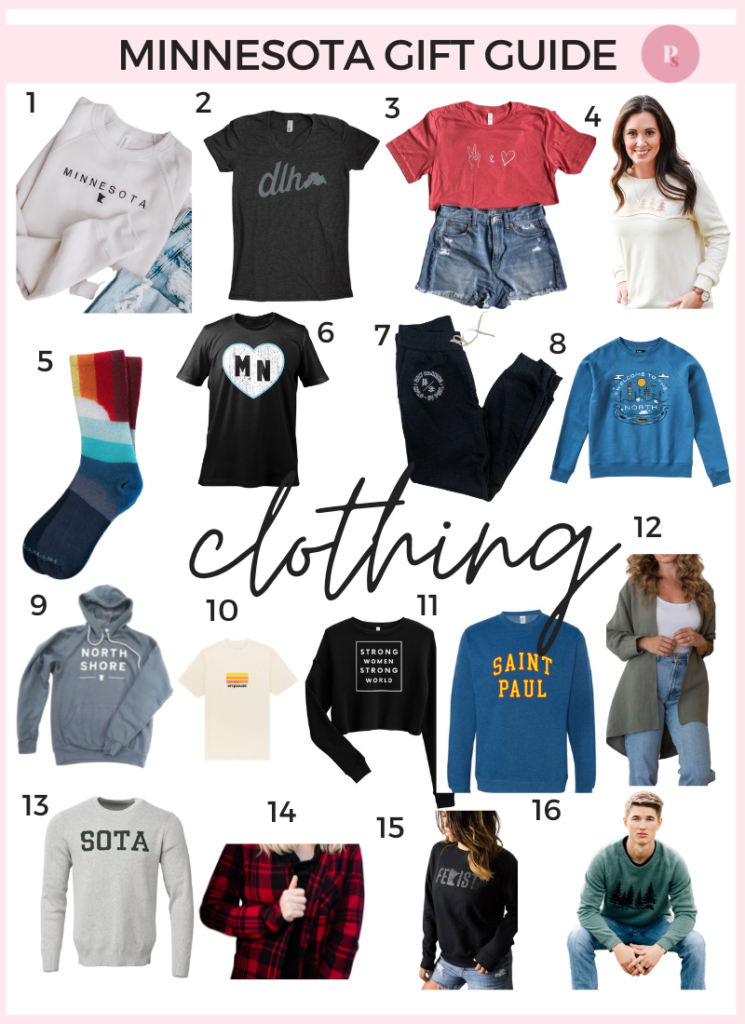 *indicates BIPOC owner
Paisley + Sparrow is a participant in the Amazon Services LLC Associates Program. This post may include affiliate links which means I may earn a small commission if you shop using the links below at no additional cost to you.
Whether you're looking for MN pride tees and sweatshirts, shirts that give back either locally or abroad or just want beautifully crafted apparel made right here in MN, this section has all of it! Here's a small selection of Minnesota gifts in the clothing and apparel category!
I should also note that there are SO many amazing brands that are still out there that I didn't include on this list! I would love for you to share your favorite local MN brand in the comments so we can all be introduced to more brands.
When Made In Minn's founder, Natalie, emailed me, I literally gasped when I saw her products! They were all 100% what I want in MN products – cute but not dorky and something I could wear or use or gift to my friends.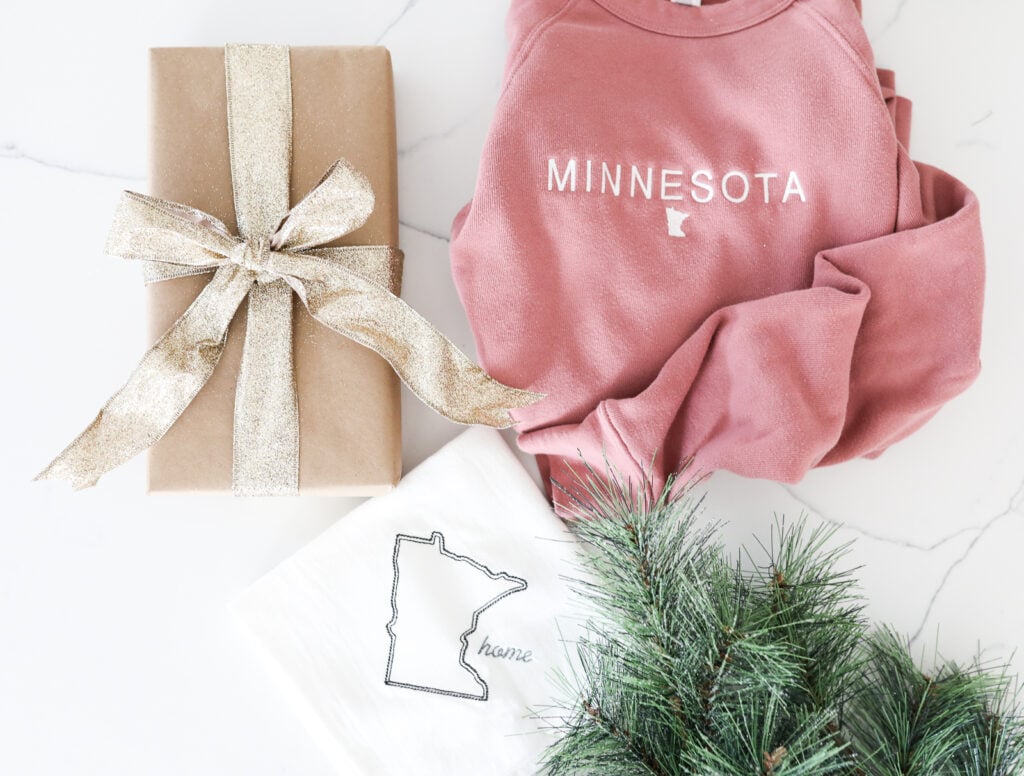 Everything in the Made in Minn shop is embroidered by Natalie! She is someone I totally admire because she left her corporate job after her 2nd child was born to focus on her health after suffering from anxiety and depressions. She found embroidery to be therapeutic and launched her business in July 2020.
She has everything from sweatshirts to hand towels to hats, totes and more. She even does custom work! Definitely check out this brand, I know you'll love it!
DLH Clothing was started by a friend of mine from college and his wife! They wanted a line of apparel that celebrated Duluth without being touristy or gimmicky.
I love how their logo is inspired the the hillside and it's buildings which gradually meets the shores of Lake Superior. All of their products are designed and produced in Duluth and celebrates the lifestyle and culture of the North Shore!
Spoonful was started when Susan, the founder, learned about a 4 year old boy in her preschool class who had been going without a lunch the first 3 months of the school year. She learned there's 13 million kids in the US that face hunger on a daily basis so she's doing her part to help!
Spoonful donated 50% of the profits to an organization in your community that's committed to fighting childhood hunger!
Six Notes creates scripture apparel and accessories to encourage and remind us of whose we are. It was started by Carly — a super sweet mama, who loves Christmas, coffee and is a Disney princess extraordinaire (something we love!).
Carly wanted a way to memorize scripture and the best way she found was to put God's word ON us! Carly creates all of the designs and everything is professional printed or embroidered locally. Her accessories are handmade by local women entrepreneurs!
They also give back! They do everything from coat drives, T-shirt donations and raising money for amazing organizations.
*Use code Jen10 for 10% off!
If you're looking for cute socks that do a TON of good, check out Hippy Feet! Hippy Feet has an employment program that provides transitional jobs to young people who have been affected by homelessness.
Their goal is to play a pivotal role in getting young people into stable housing and transitioning them into full time work. They have the cutest socks, apparel and more!
This family owned business is a small batch MN supply company who's goal is to spread love! The owners started their business with the thought of teaching their 3 kids how business works and how to get a business growing from the ground up.
They're continuing to grow and learn how to keep growing with the call to CHOOSE LOVE!
I was first introduced to Mill City Running when they first opened up. I fell in love with their no frills approach to running and truly welcomed everyone in to their store whether they had never run before or were training for the Olympic Trials.
It was started by a husband and wife team, Jeff and Bekah who love running and love community building! I highly recommend checking them out if you need a new pair of running shoes
Askov Finlayson was started in 2011 by Eric and Andrew Dayton. If you live in MN, it means that you know and embrace winter (according to them, at least!).
Askov Finlayson started out with a run of North Hats and it snowballed into what it is today – parkas, clothing and so much more.
Epimonia was created by a refugee, Mohamed Malim, with the mission to support refugees. They upcycle material from life jackets that were worn by refugees on the Mediterranean Sea and discarded upon arrival in Greece.
Epimonia collaborates with sports teams, artists, refugee organizations and more to share inspiring stores of refugees to create awareness.
Lake State Co was started by Jamie, a graphic designer who loves all things outdoors and MN! She creates clothes that are comfy, in style and perfect for your next outdoor adventure.
10% of the profits from her BWCA collection to to Save the Boundary Waters!
This amazing brand is a Mother Daughter duo which spans from Minnesota all the way to Nigeria (fun fact – my grandparents lived in Nigeria fora quite a while when I was little). MOLARÁ Brands creates super soft shirts with inspiration statements but even better, they donated apparel to empower and cheer on cancer patients and NICU babies. They also provide employment to artisans in Nigeria!
10% of the profits from her BWCA collection to to Save the Boundary Waters!
We've turned into a soccer family this year with our older 2 starting up soccer so it's fitting I add Talisman & Co to the guide! This brand started from an idea to create the perfect cap to support the football (aka soccer) team that everyone loves!
Another husband and wife team started this one (Dustin and Bethany). Dustin is a former professional soccer player and Bethany is a serial entrepreneur.
Hackwith Design House started in 2013 with just one design and a goal of making long-lasting and versatile clothing. Fast forward to today and they're still continue with limited edition designs with no more than 25 of each made.
Everything is made in-house in Minnesota (woohoo!) and they're working hard toward a waste-free future.
Sota Clothing is another brand that was started by a former UMD student! Spencer Johnson sketched his initial designs as part of a class project and while the objective was to create a fictional brand, Spencer created a clean, finely designed Minnesota apparel brand he felt was lacking.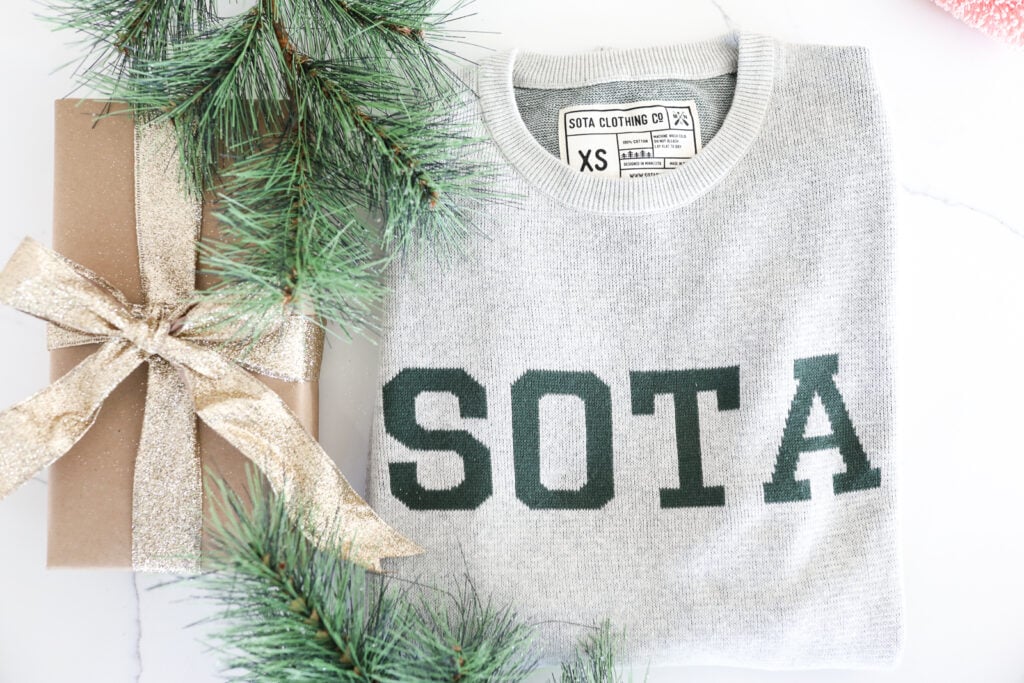 Sota Clothing deputed to a classroom back in 2011 and has been making strides ever since! He has everything from clothing to accessories to prints for all of us MN loving people show our state pride in a cool way!
My family owns everything from onesies to toddler sweatshirts (Roy loves to match me!) to adult sweatshirts and we love it all!
Use code paisleysparrow for free shipping!
SHEMA is an ethical lifestyle brand that makes apparel made out of eco-friendly, high performing fabrics like organic bamboo and organic cotton. Their collection is made with love in sewing centers in SE Asia by survivors of sex trafficking, labor trafficking, and those most marginalized by society.
As they say on their site "We wanted to start a business that would bridge these two types of stories: that would produce ethical clothes but that also would be a part of the solution to human trafficking. Our impact might be small in scale – but we believe changing one life matters, we believe going after even just one is worth it. This is for them. This business is for them."
This Fem was started by my friend Sara as a gentle reminder that being a feminist isn't a bad thing — it just means you want men and women to be treated equal!
She uses high quality apparel printed in Minnesota and this brand of hers was born out love and positivity and the believe that together women and men can create an equal world.
Minnesota Made is a locally owned and operated apparel company rooted in the St. Croix River Valley. Each design is designed and screen-printed in Minnesota with every T-shirt having a hidden quote made to empower and inspire and all of the apparel is proudly using sustainable and USA apparel.
And there you have it!! I hope you loved getting to know some local brands and found some Minnesota gifts to give this holiday season! Here's all the other MN Gifts Guides to check out even more:
Want more gift guides? Check out this gift guide page for all my gift guides with more to come for 2020!
Want FREE Christmas gift tags? I created 64 beautiful gift tags that can be used not only for Christmas but every holiday! They're free to download!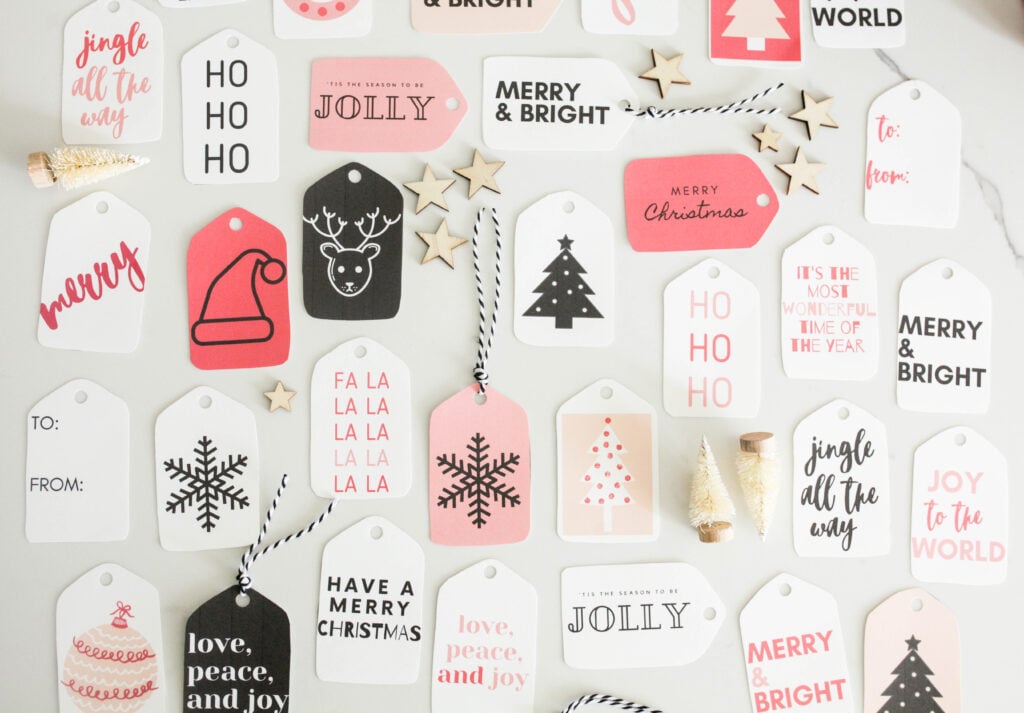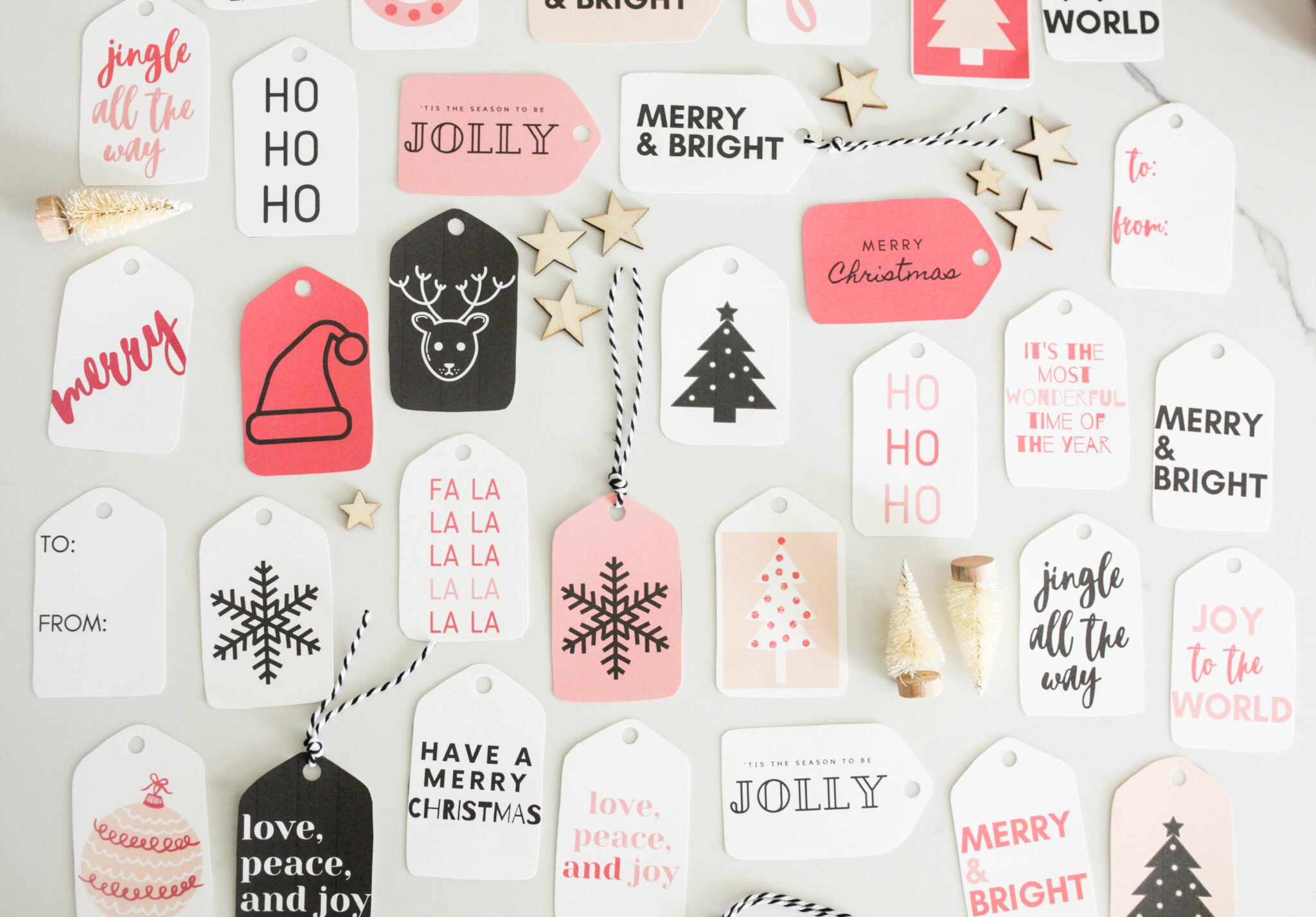 Get your gift cards in your inbox!
Enjoy!
Thanks for supporting me and supporting all this amazing Minnesota Makers!