Honoring someone special in your life with a good gift can be a challenge sometimes! Who doesn't love (and deserve!) a little bit of self-care? Next time you need to pick up a gift for someone, grab them something that will let them feel truly special.
Here are some of the best gift ideas to help you find the perfect self care gift for everyone.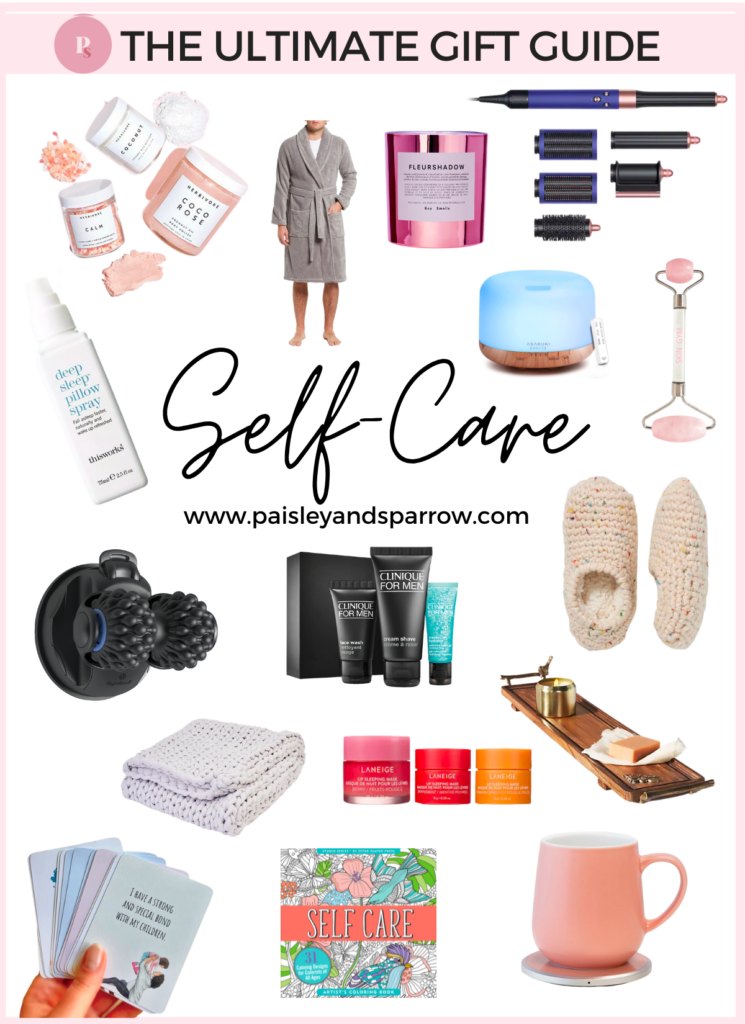 I've got ideas for every type of person on your list — all your gifts could be self-care themed this year if you wanted! Find ideas for her, for him, for friends, for moms, and for employees.
There are two ways to shop this gift guide. Scan the quick list of ideas below, or scroll down farther for more in-depth descriptions of each product.
Self Care Gift Ideas for Her
Treat her with a relaxing spa kit! It includes everything she'll need to have a relaxing night in all packaged up nicely. This package contains bubble bath, bath salts, candle, back scrubber, skin reviving hand mitts and more.
Another type of prepackaged care package, only this one contains different things! It includes a mug, tea, fuzzy socks, a lavender soy candle, and a mini honey jar. Perfect for a relaxing evening full of taking care of herself!
Nothing feels better than fresh skin, so get some essentials that hydrate and plump. This three piece set includes a cleanser, a plumping hydration serum, and a moisturizing cream. It's made for neutral to dry skin, but will work well with all skin types!
Skin-care products can be perfect for your favorite woman! This set includes a toner, moisturizer, and serum. It's great for all skin types and will leave you with fresh dewy skin!
Available in three colors, this lounge set could make the best gifts for enjoying a comfy night in! She'll never want to take it off!
What's a more perfect gift than the Dyson Airwrap set? This set includes the multi styler with attachments, along with a travel case. It's a cult favorite for a reason!
This mental health self-care package includes all sorts of gifts! It'll come with a candle, bath bomb, lip balm, bath salts, diamond crystal ballpoint pen, and a patterned box of matches. You can also add some additional gifts if you want! The seller can also include a round crossbody bag, keychain, face towel or more.
There's nothing better than a nice scent in your house. That alone can brighten anyone's mood! Surprise her by already having it burning after she gets home from a long day out.
Self-Care Gifts for Him
Let him have an evening of relaxation and self-care! This set includes all the gifts he will need. It comes with shower gel, bubble bath, body lotion, body scrub, bath crystals, a sisal sponge, and a reusable bag.
This skin-care package has it all! It includes aftershave, a butter body soap bar, shaving soaps, a muscle therapy organic salve, two shower steamers, an organic lip balm, a face towel, and a nail brush. It's all packaged up nicely in a kraft box with a personalized message.
A simple bathrobe can go a long way when it comes to self-care. Gifted him with this luxurious robe so that he can truly relax.
This is a great skincare set for men with dry to combination skin. It comes with a face wash, cream shave, and a maximum hydrator.
If the man in your life has a beard, gifting him with a beard grooming set can be the best act of self-care! This kit is packed full with eight perfect items for him. It includes beard wash/shampoo, beard conditioner, beard oil, beard balm, stainless steel beard scissors, a boar bristle beard brush, a beard comb, and a beard care ebook.
Men can enjoy skincare too! This is the best set that includes a foaming cleanser, facial scrub, face moisturizer, and an eye cream.
This journal is crafted specifically for men. Journaling every day can be a great way to practice self-care, and this journal will help to guide him through it with its prompts.
Is your man into fitness and wellness? Help him reduce muscle pain and relax with a massage roller. This one mounts to the wall or any flat surface, making it easy to reach all spots.
This gift box has all the perfect self-care items a man would need all in one spot! This box contains a leather bound journal, the best 6-in-1 ballpoint pen (it also functions as a ruler, level gauge, stylus, and screwdriver), shaving soap, an adjustable leather cuff bracelet, a stainless steel survival wallet tool with a leather holder, and an essential oil shower steamer.
Self-Care Gifts for Friends
This self-care gift idea would make for the perfect care package to help a friend relax. It comes with a potted succulent, soy candle, a sachet of dried lavender, an organic soap bar, bath salts, a bath bomb, lip balm, a shower steamer, and a personalized greeting card.
Give a friend everything they will need to relax! This box includes a candle, bath bomb, soaking salts, fuzzy socks, a heart shaped chocolate chip cookie, and a box of matches. The seller also has some fun add-ons that you can include: a tea and honey pack, eye pillow, lip balm, aromatherapy diffuser necklace, and an air plant.
Help your friend create a relaxing environment every day with an essential oil diffuser. This one works as a diffuser and a humidifier. It's super easy to use and can be used without oils.
Nothing says self-care quite like curling up under a cozy blanket! This one from Sunday Citizen comes in seven color choices, so you can pick out the one your friend would like best!
A nice pair of slippers can easily make a night feel so much more relaxing. These slippers will do the trick! They are soft, cozy, and cute!
Grab your friend a nice scented candle! This candle has a luxurious scent and is great for men and women. What could be better?
We can't function without our beauty sleep! Give the gift of a good night's sleep with this gift set. It includes a face mask and lip mask that will give intense hydration while you sleep.
Adult coloring books are a great stress relief. Give the gift of relaxation and creativity with this coloring book that's filled with affirmations.
Self-Care Gifts for Moms
These are great self-care gifts to give to a mom to be or a new mom! It comes stocked with a coffee mug, two essential oil roller blends, epsom salts, relaxation spray, an oversized scrunchie, and bar soap.
Sometimes, we need an extra boost of positivity in our lives. These affirmation cards are geared towards moms and are a great way to help someone practice daily self-care!
Moms spend all day caring for everyone else. This book will teach mothers how to find time for themselves and ways to incorporate self-care into their lives.
All moms need a little bit of time to relax! Treat her to a wonderful at home spa day with this gift set. It comes with soap, lip balm, bath salt, muscle rescue balm, and skin rescue balm.
As moms, sometimes the best form of self-care is a good night's sleep. Help make that happen with this pillow spray from Anthropologie. It helps to reduce anxiety and improve sleep quality.
Take bath relaxation to the next level with a bath tray. It's the best for a candle, some bath products, or a place to prop up her phone/iPad so she can relax with a show or some calming music.
Weighted blankets are the best at promoting better sleep and can be calming. Plus, it's soft and pretty. It'll be great for naps, late night relaxation, or in bed.
Using a facial roller has tons of benefits. It helps with lymphatic drainage and reduces puffiness and wrinkles. It's the best addition for a mom to add to her skincare routine
Again, sleep is golden when it comes to self-care for moms. Help her sleep well (and protect her skin and hair!) with a silk pillowcase.
Self-Care Gifts for Employees
Work can be stressful at times! Gift your employees with a stress relief dough. They can easily keep it on their desk for when things get hard and they need a little bit of self-care time at work.
Gift your employees with a mini set of products to help take away stress. This seller on Etsy has thirteen different mini box options with different product combinations. You'll be able to pick which option will be best for each employee.
Great for at home or at work, a loose tea sampler will introduce your employees to teas that they might not have tried before. And what's more relaxing than having a nice warm cup of tea?
This gift set has a little bit of everything! It comes with a deep cleansing cream, hand salve, body lotion, lip balm, and foot cream. It's great for everyone, and all your employees will have a use for it!
Having your life organized can help make work feel much less stressful. Gift your employees with this amazing planner from Amazon so they can keep track of everything going on. This one includes motivational quotes and also has space for employees to keep track of things going on in their lives outside of work including dinner ideas.
If you have an employee that works so hard that their coffee goes cold every day, buy this mug warmer set for them! Their coffee will always be warm, no matter how long it takes them to finish their cup.
If your employees work from home, buy them one of these soft blankets to make their work day a little more comfortable. Or, they can use it to cuddle up and unwind after a long day at work.
A pleasant scent can make any desk or work from home area so much more relaxing. This wonderful volcano scent is well loved by many, making it perfect for all of your employees.
There's no better self-care than a face mask. Get your employees with this face mask mini kit that they can use at home. It's great for all skin types and concerns, so everyone can benefit from this kit!
No matter who you are shopping for, everyone can use a little bit of self-care. It's the best kinda of gifts to give!
The Ultimate Gift Guide List
Want even more gift ideas for everyone on your list? Head to one of these!
Gift Guides for Grown Ups
Gift Guides for Kids, Tweens & Teens
Age Specific Gift Guides
Product Specific Gift Guides for Babies & Toddlers
Special Interest Gift Guides