Has your 2-year-old developed a newfound love for scooters? It's amazing how quickly these little guys can pick up how to use one!
Scooters are a great way to get your kids outside, playing in the fresh air. They also help develop their sense of balance and independence, and most importantly, gets their energy out!
With so many different options out there, it can be hard to find the right toddler scooter that won't frustrate your child, gives them a smooth ride and can grow with them. Get one that's too small, and they'll lose interest. Get one that's too big, and they won't be able to use it!
To ensure that your child gets the most out of a scooter, it's important to get the right kind of scooter! As a mom to 3 kids, I've done both my fair share of researching scooters AND seeing my kids love (and hate!) their scooters. Learn from my mistakes and my success when it comes to choosing the right scooter for your kid!
Whether you have younger kids who are trying to keep up with older kids or just introducing your first child to the joys of scooters, you've come to the right place. These are the 14 best scooters for your toddler.
In a hurry? Here's our top picks! Want more details? Keep scolling!
Paisley + Sparrow is a participant in the Amazon Services LLC Associates Program. This post may include affiliate links which means I may earn a small commission if you shop using the links below at no additional cost to you. 
What to Look for in a Scooter for a 2-Year-Old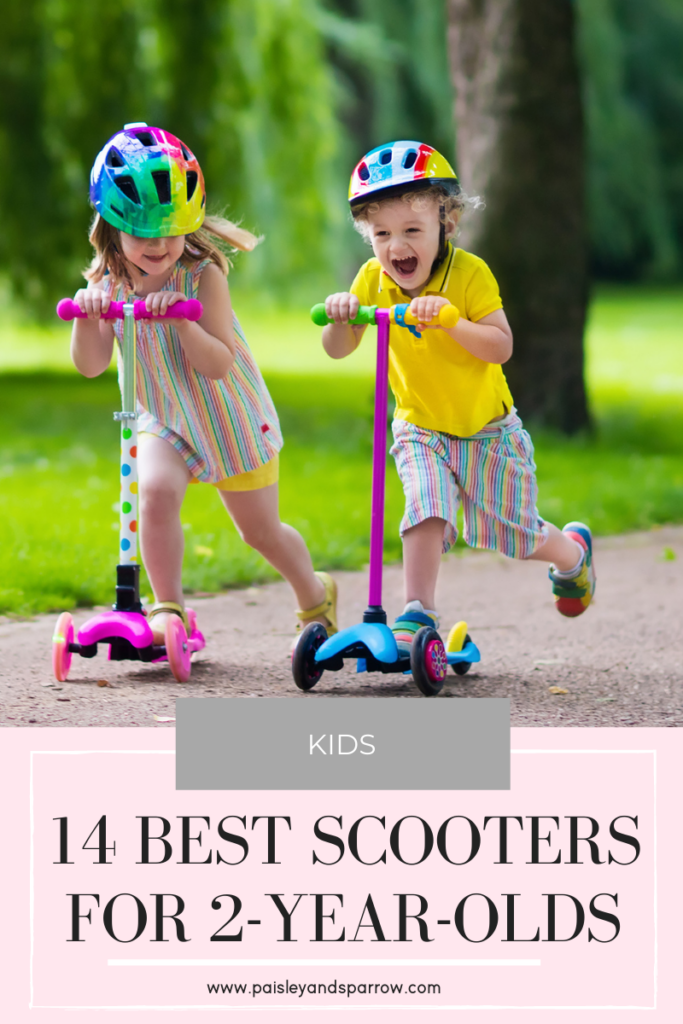 To find the best scooter for your kid, there are a few considerations to keep in mind.
3 Wheels
You can choose between 2-wheel and 3-wheel scooters, but three wheels is a better and more accessible option for toddlers. Kids get to have more control over their movement, and the scooter is easier to handle. A two-wheel scooter is much more likely to tip over!
When buying a 3-wheeled scooter, you can choose between two configurations — two front wheels and one rear wheel, or one front wheel and two rear wheels.
If this is your child's first scooter (even if they're older than 2), I suggest getting a 3-wheeled one before advancing to a 2-wheeled scooter for older children. Starting with a 3-wheeled scooter will give small children who don't have the skill level for a bike or big scooter a confidence boost.
Optional Seat
For young riders who get tired quickly, it's a good idea to pick scooters that have the option to add a seat. Most scooters do not come with a removable seat, so you'll probably have to buy it separately.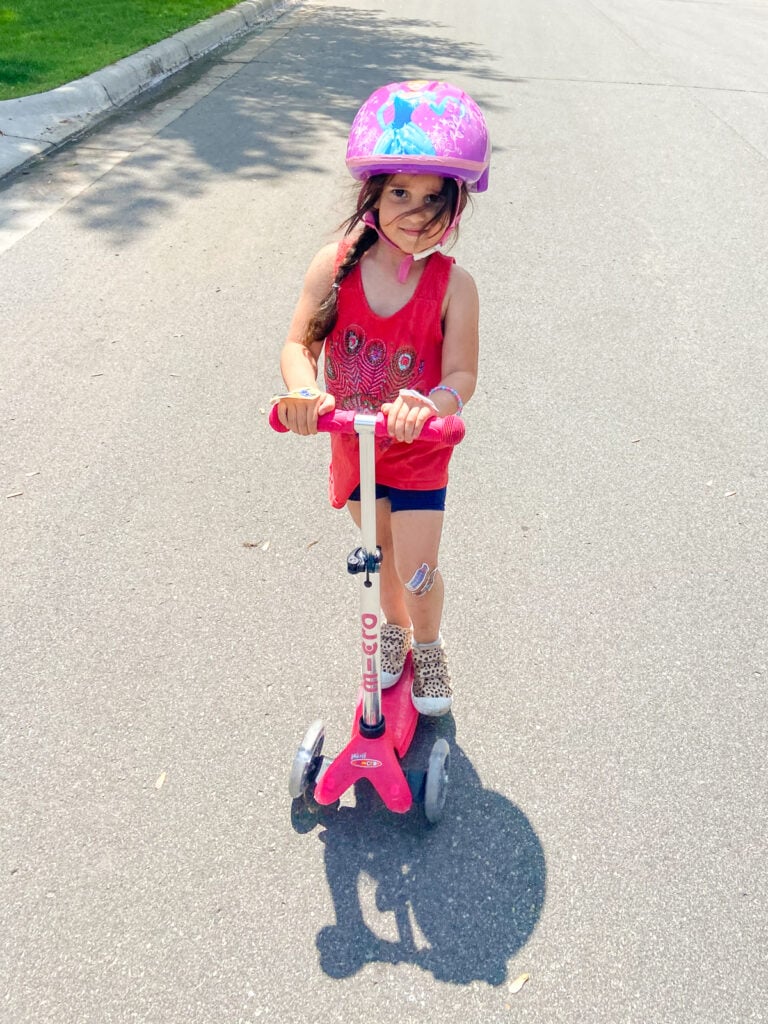 A low-maintenance seat with easy attaching and detaching mechanisms would be a great option if you have older kids and you're going for lots of family rides. Most seats require a single screw to attach to the scooter, so you can remove them easily when you're not using them.
A seat helps when a kid gets too tired to ride and also eliminates the risk of your child tumbling and falling while riding the scooter, so for two-years olds and beginners, a seat is a super helpful.
Wide Deck
A wider deck (the part of the scooter you stand on) gives the comfort and option of standing comfortably on the scooter while riding it. It also allows the child to have more control, not fall off, and keep the scooter balanced even while taking sharp, sudden turns.
A big deck will also allow your child to conveniently get on and off the scooter every time they want to ride it without your help — that's key when you have a toddler who wants to do everything themselves!
Adjustable T-Bar
If you are looking to get your toddler to share a scooter with siblings of varying heights or you want the scooter to last a long time, height-adjustable handlebars are a must-have feature. The handlebar height should be at the child's waist. This will ensure that your child is in control of the scooter while riding.
An adjustable T-bar allows you to alter the height of the handles according to the rider, an important feature for different kids ages. The only drawback is that scooters with T-bar height settings tend to be a bit frail and shaky in comparison to scooters with solid T-bars that cannot be adjusted.
Best Scooters For 2-Year Olds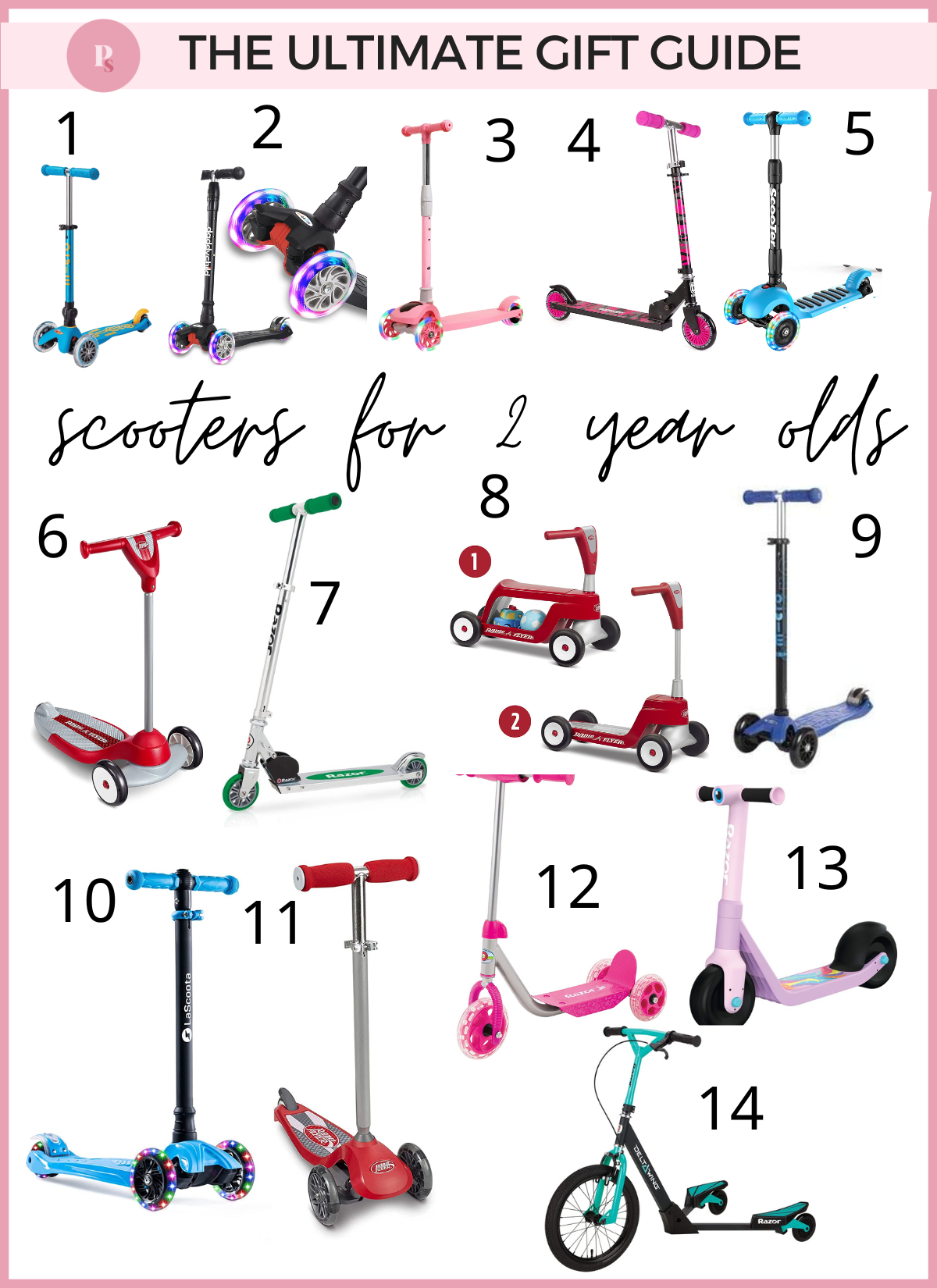 There is a reason why Micro scooters are so well-known as the best kids' scooters. Parents and children alike love them. They offer the smoothest rides, optimum balance, and coordination. The best thing about these scooters is that they are durable and last a very long time. Not only does the scooter's Swiss design make the ride stable, but it also ensures that the quality of the scooter is unlike any other scooter on the market.
We personally own two of these Micro Mini scooters — one for our oldest son and one for our daughter. After seeing our daughter struggle to keep up with her brother on her very inexpensive (but very cute!) unicorn scooter, we knew it was time to upgrade her ride!
One thing we really love about these is the fact that the wheels light up! While yes, our kids think it's just super cool, it's actually a big safety feature for us! We live in Minnesota and love to do walks in the evening. In the fall and early spring it's often times darker out and our kids' scooters allow other people to see them (along with their reflector vests, of course).
Pros:
Adjustable handlebars to accommodate different heights
Helps improve motor skills
Lightweight and portable
Cons:
Height limit: 43 inches tall
Weight limit: 77 lbs
Slightly expensive
A fantastic option for children up to 14 years of age, this 3-wheeled mini scooter by Daddy Child is suitable for most kids. This durable scooter comes in four colors, has a rear fender brake, and uses lean to steer technology.
The wheels have built-in LEDs to give the scooter a deluxe finish and make the kids excited about riding their new gear.
Pros:
Inexpensive
Sturdy frame made out of aluminum and alloy steel
Expansive decks to ensure stability
Easy to assemble
Lightweight
Cons:
Only lights up when the wheels are spinning very fast
This 3-wheeled scooter by SWEET DREAM makes a great gift for a second birthday. It has reliable and safe steering technology, which makes the scooter easy to balance.
The wheels of the scooter are luminous with LED lights. This not only makes it easy to spot your kid in a crowd or as it gets dark, but also makes the scooter more fun.
Pros:
Cost-efficient
Comes in 4 colors
Foldable scooter is easy to travel with
Three adjustable handlebar heights
Cons:
Made out of plastic and not very sturdy
Some kids have great balance already by the age of 2. If you've got a little daredevil on your hands, the Bopster 2-wheeled kick scooter comes to your rescue.
This one can fit in your car and can be put away in your garage since it folds up for easy storage. The scooter is stylish, easy to ride, and is an all-around favorite for smaller 2-wheel scooters.
Pros:
Foldable and easy to store
Robust frame
The handles are adjustable up to four heights
The grips are covered with detachable foams for added comfort
Cons:
Not suitable for very tall kids
The lean-to-steer scooter by Banne is another crowd favorite. It comes with all the right features that you look for in a scooter for a toddler or a first-time rider.
The handlebars are made out of rubber for comfort. The board can bear heavy weights. Applying the lightest pressure will get the scooter moving in the desired direction.
The scooter is available in plenty of quirky and bright colors like blue, yellow, green, and pink.
Pros:
Adjustable and foldable handlebar
No assembly required
Adjustable scooter height from 24.7 inches to 35.3 inches
Anti-slip and wear-resistant wheels that contribute to noiseless gliding
Cons:
Some pieces might need to be re-installed
If you're looking for an easy way to teach your kids about balance, coordination, and directions, while making them feel confident and motivated, this scooter by Radio Flyer can be a great start.
The scooter is available in red and pink. It comes with two wheels in the front and one at the back for maximum stabilization. The base is also relatively broad and significant so that your kid does not worry about standing on the scooter all by themselves.
Pros:
Great design for toddlers
Extra wide base to promote stability
Textured deck
Cons:
Not foldable or adjustable
This Razor A Kick is another incredible scooter for more coordinated kids manufactured by Razor. The scooter is made of aluminum. So besides being lightweight, the scooter is also sturdy, robust, and long lasting.
You can easily pass it down to younger siblings without worrying about getting damaged or looking worse for wear. The handles are foldable, so you can easily store the scooter in any place without it taking up a lot of space. You can also adjust the handlebars according to the rider's height.
Pros:
Inexpensive
Multiple color options
Foldable
Adjustable handlebars
Cons:
Handlebars cannot be adjusted to a very high height
This is a great scooter for a brand new 2-year-old. The Radio Flyer Scoot 2 Scooter is portable, compact, and has a two-for-one design.
First, your toddler can ride the scooter in a sitting position. Later, the scooter's deck can be flipped to convert it into a proper 4-wheel scooter. When the scooter is in the "ride-on" mode, your kids can keep their toys in the storage space provided.
Pros:
Adjustable handlebars
Sturdy frame
The conversion of the scooter to a ride-on scooter is straightforward
High stability
Cons:
Micro Kickboard's Maxi Original scooter is touted to be one of the smoothest rides for your toddler while they are growing up. Once they manage to have a smooth-gliding ride, they feel encouraged to become more active, confident, and to ride more.
The T bar is adjustable so your child can ride the bike well into their late childhood years. The maximum recommended age to ride this scooter is 12 years.
Pros:
Lightweight
Max weight: 110 lbs
Adjustable handlebars
Easy to put together and dismantle
Cons:
Lascoota has come up with this cute, certified scooter for kids. Made out of aluminum, the scooter is sure to last your child a good couple of years. Because the handles are adjustable, the scooter can be shared among siblings of different ages and heights.
One of the best additional features of this scooter is the removable wide seat; you'll only need a screw to attach it.
Pros:
Light-up wheels
Adjustable, comfortable seat
Extra wide deck for stability
Cons:
Your child will instantly fall in love with the Lean 'N Glide Scooter by Radio Flyer. Not only do the wheels guarantee kids a fast ride without compromising on their safety, but the wheels also light up when the scooter is ridden very fast.
The scooter also has a lean-to-steer technology — something all scooter-producing companies swear by — for added comfort and safety.
Pros:
Adjustable handlebars.
High-performing, light-up wheels
Foot brake
Cons:
A little scooter for the little buddy in your house. This Jr. Lil' Kick Scooter by Razor fulfills all the parameters of a good scooter for a toddler.
This scooter is an easy way to teach your child the importance of directions and encourage them to include some movement and exercise in their day. There is one wheel in front and two wheels in the back. Your child can use the single brake positioned in the front of the scooter to bring it to a halt.
Pros:
Compact and portable
Inexpensive.
Alloy steel
Cons:
Max weight: 44 lbs
Handlebars are not adjustable
Limited color options
Razor never disappoints when it comes to producing one-of-a-kind, premium-quality scooters for toddlers and adults. Although it is a 2-wheeled scooter, the Jr. Wild One's scooter by Razor makes the ride easy enough for a small child.
Even if this is the first time your child is riding a scooter, they shouldn't have any trouble with this Razor scooter. You can also choose from three fun 3D prints of unicorns, sharks, and dinosaurs. This is a great gift option!
Pros:
Easy to use
Compact and portable
Extra wide wheels for comfort and safety
Cons:
Max weight: 44 lbs
Limited color options
The DeltaWing is one of Razor's latest developments and looks like a cross between a scooter and a bike! This is definitely one that your little one might need to grow into (they actually recommend it for ages 6 and up), but if you have a very athletic and fearless kid, they will love this!
It is a 3-wheeled ride with a big wheel in front and two small wheels spread out in the back. This arrangement lets your kid do simple stunts, including spinning and drifting.
Pros:
Made out of alloy steel for durability
High weight limit: 143 lbs
Cons:
Expensive
For more skilled riders
Two years old is a great age to introduce a scooter. They'll feel like a big kid, have a bit more independence, and you'll be able to move a little faster with them!
The best part about getting a toddler their first scooter is that you won't have to spend hours training them how to ride one. With consistent riding, they get the hang of it themselves.
Looking for ride-on toys for a smaller child? Here's my round-up of the best ride-on toys for 1-year-olds. Or maybe you're interested in something even more active — try these climbing toys!