Warm weather, bare feet and long days. What more could you want?
If you want to add some summer vibes to your nails, here's some great summer themed nail ideas!
Many of the designs below use Olive and June nail polish colors. Check out my Olive and June review and find a code for 20% off your order.
37 Summer Themed Manicure Designs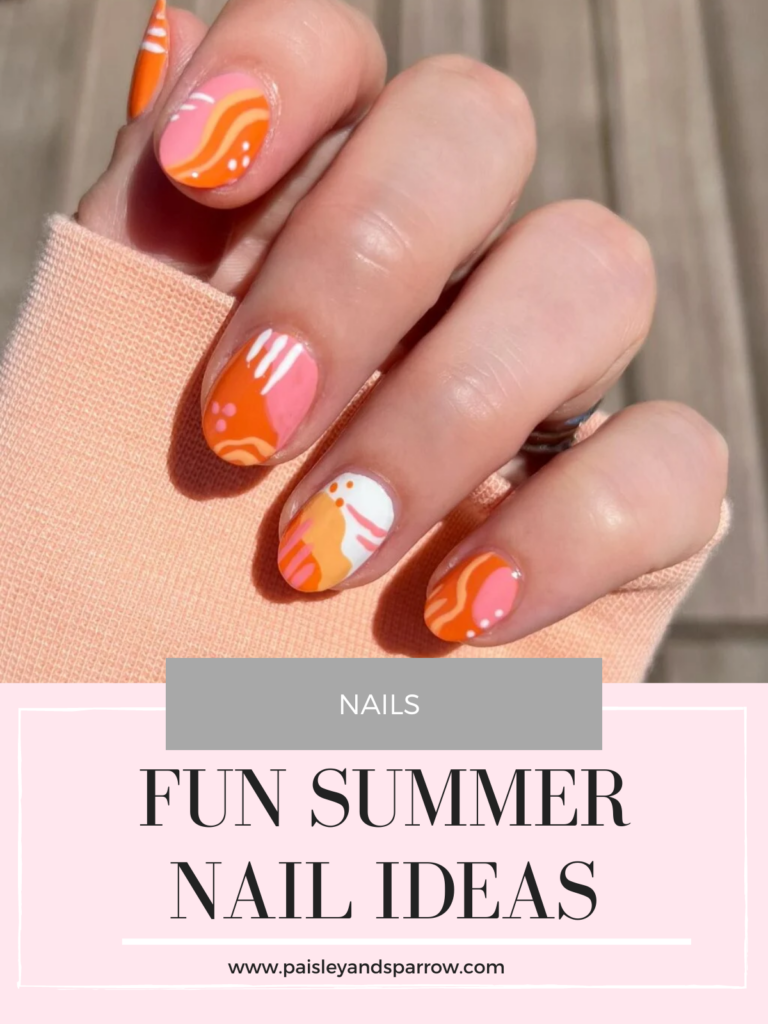 1. Bumble Bee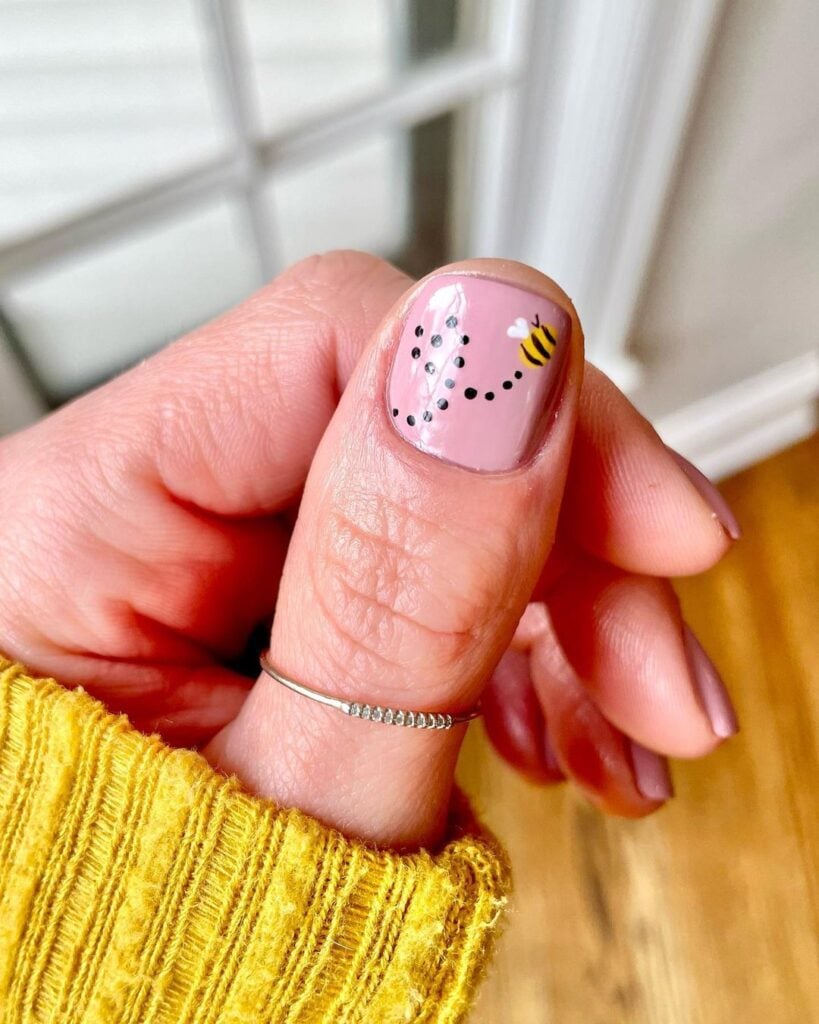 I'm all abuzz about this cute bee manicure! These pink nails are a nice neutral backdrop for this adorable bee, but you could do whatever different colors you'd like! Incorporate some hearts in the bee's wings and trail, and you've got a great option for summer time.
Colors: Pink Chawkulit Base color: sophisticated
💛:Is there egg in it?
🖤: 101
🤍: Dalmatians
2. Festival Nails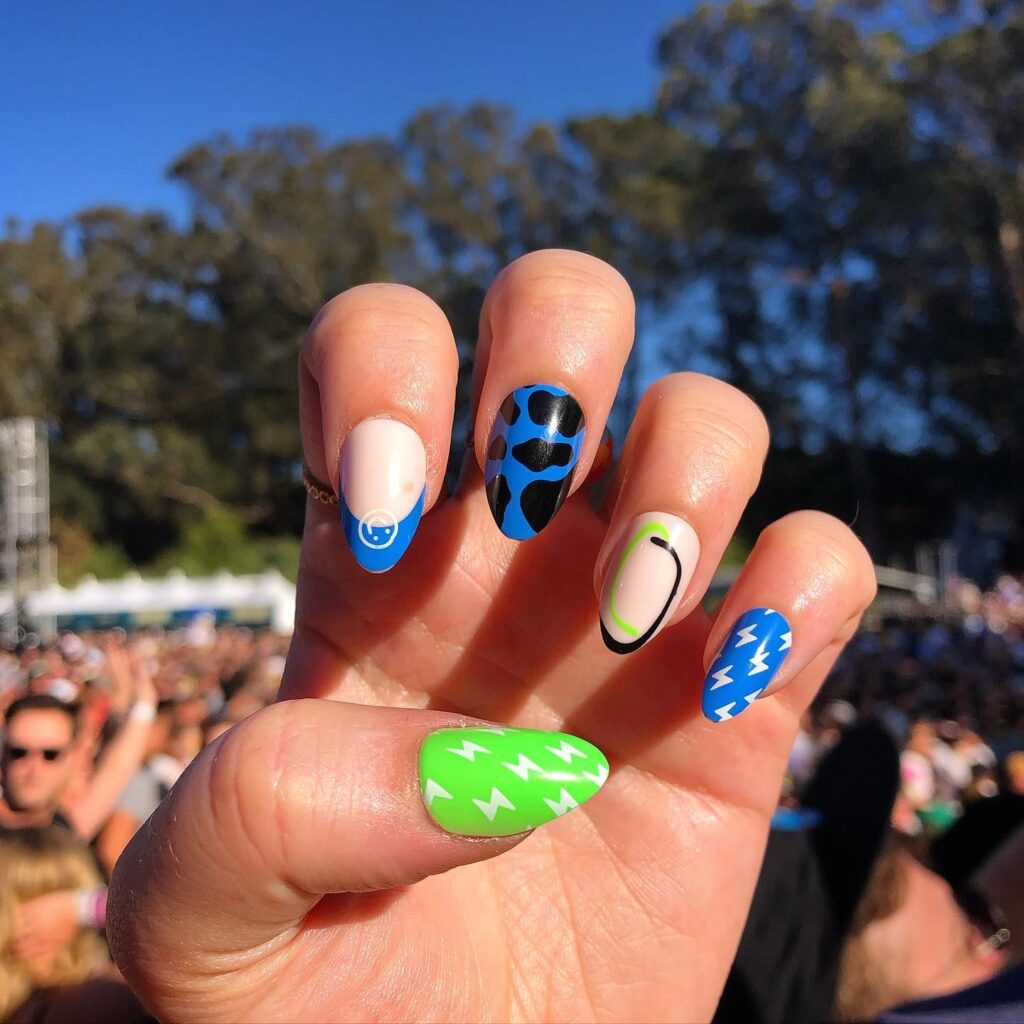 Bright nail polish screams summer! These press-on nails come in colorful summer nail designs that you can mix and match. They're the perfect choice for all those music festivals you're heading to this season!
3. Seashell Art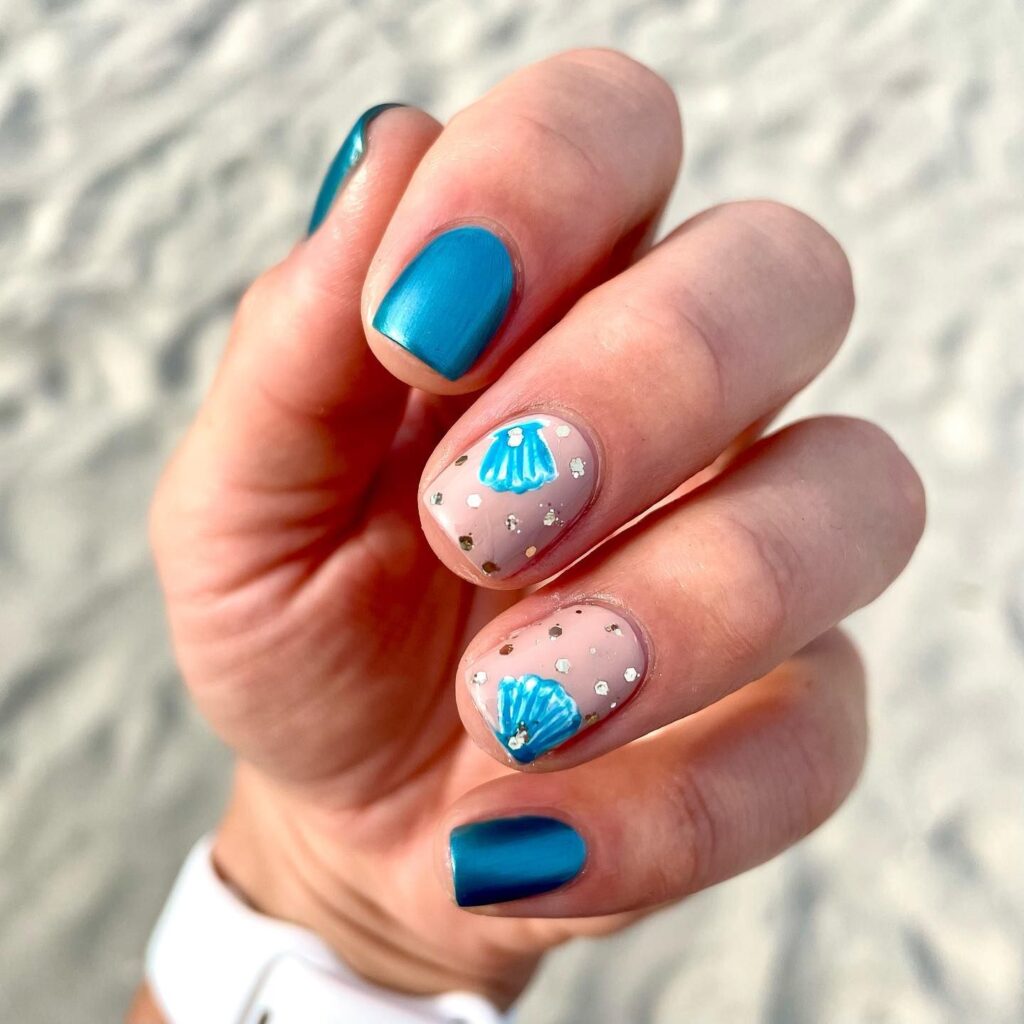 Summer time is beach vacation time! Bring the beach to your nails with a nude base and some seashells on accent nails. Add some gold details to make it pop, and paint the other nails a gorgeous shade of blue that makes you think of the ocean!
4. Flower Yellow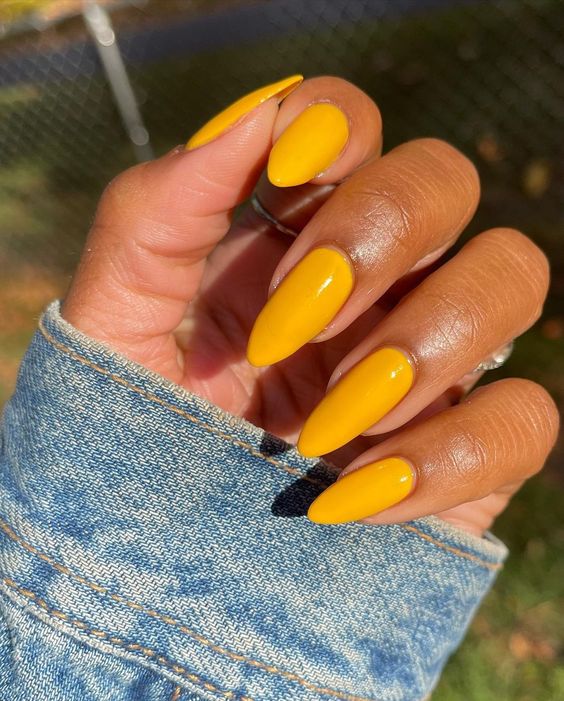 You don't need a complicated design to get cute summer nails. These long nails look great with bright colors during the summer months. This yellow gives sunshine and wildflower vibes.
5. Line Fizz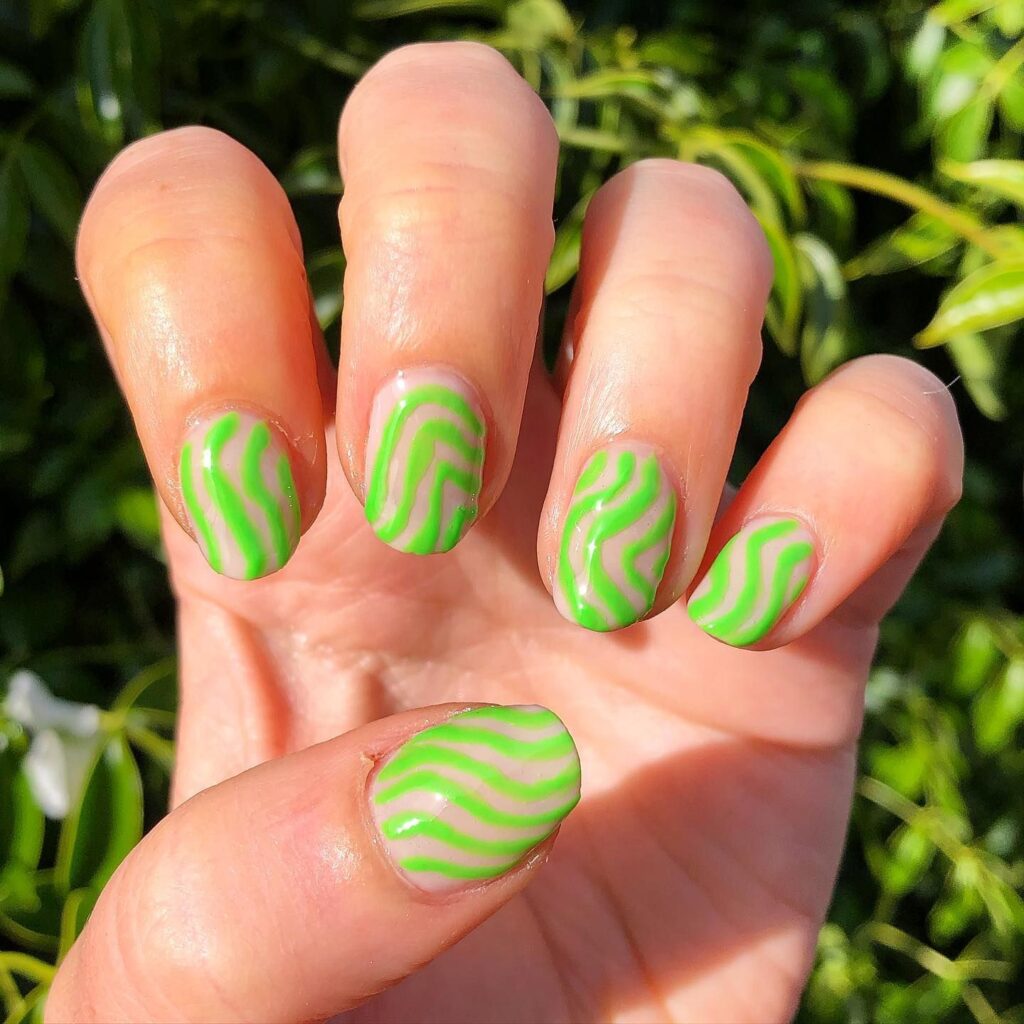 Try bright neon colors in an abstract design to get a cool look for those summer nights.
Colors from Olive and June: Lime Fizz, The Queen Takes Her Tea With Milk
6. Strawberries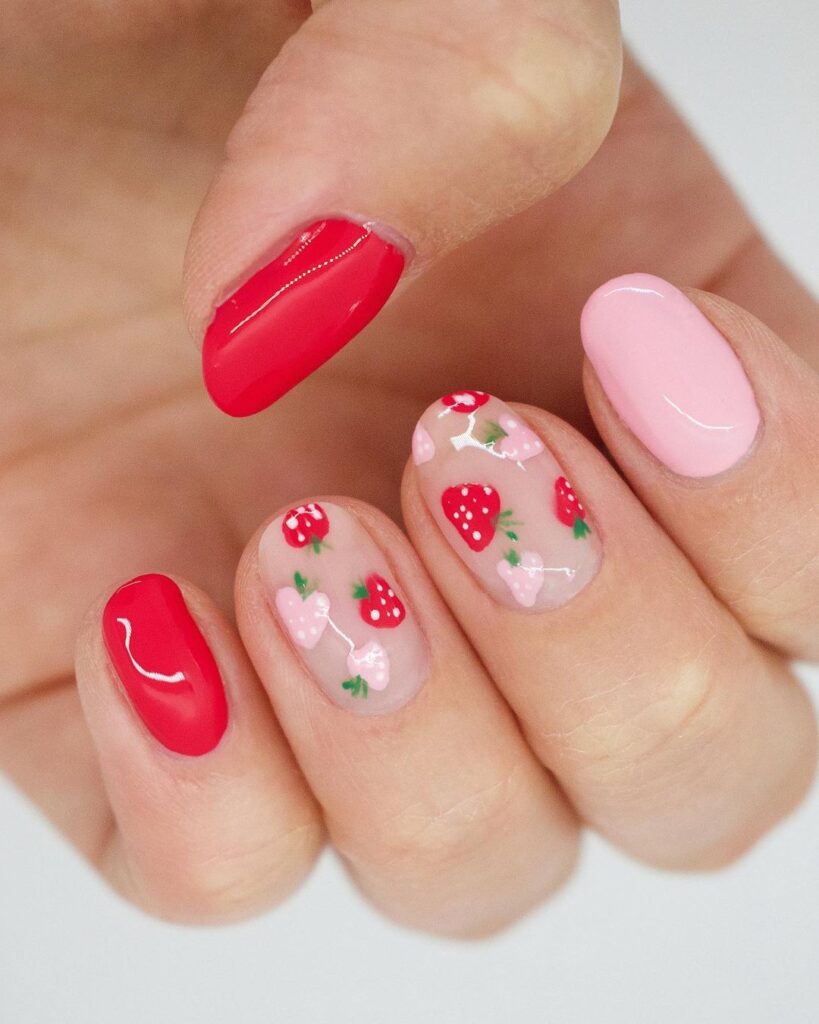 Oh sweet summertime! Try some cute nail designs inspired by your favorite fruits or berries. These sweet strawberries are perfect for accents among solid pink and red nails.
7. Lemons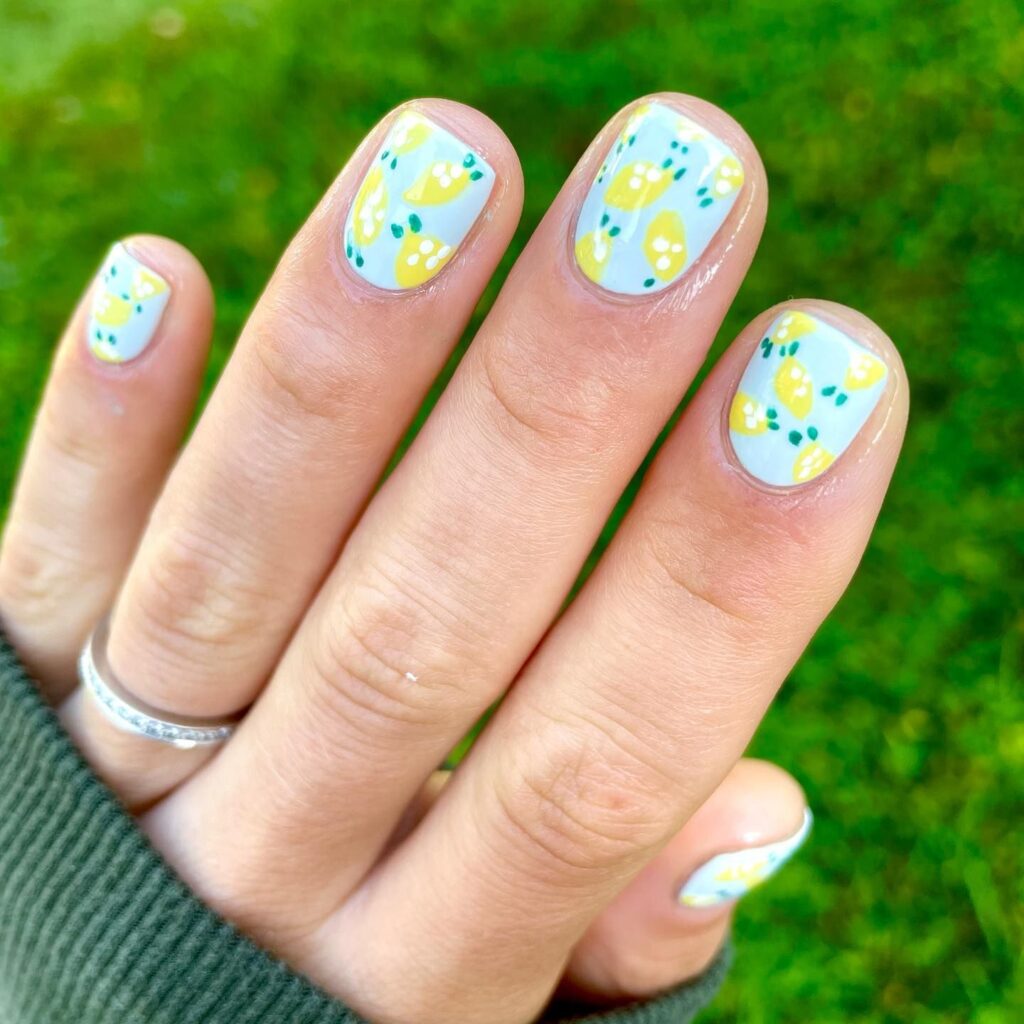 What's better than some lemonade on those hot summer days? These cute lemon nails are simple enough for beginners. They don't need to be perfect to give you that summer look you're after.
8. Neon Green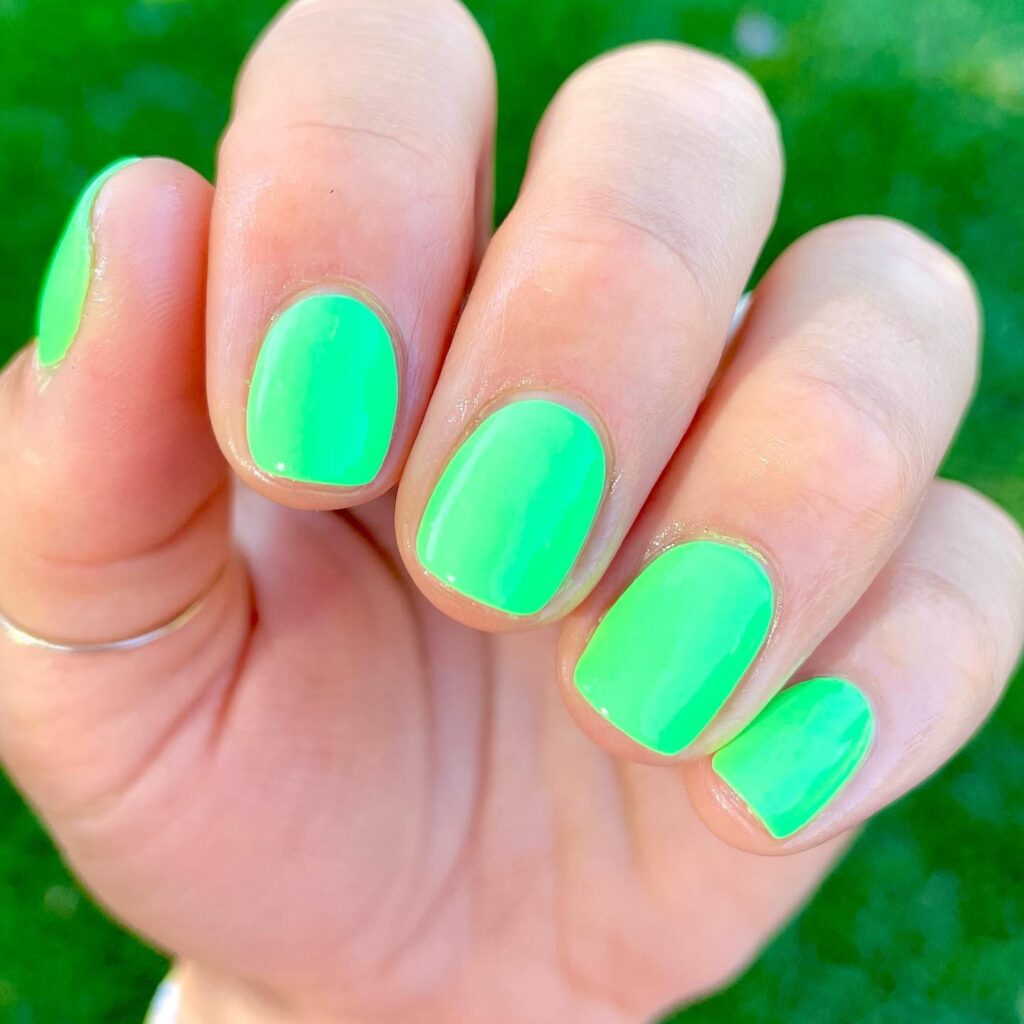 Pick out the most vivid colors in your collection and use them for some solid bright summer nails. This green is the perfect way to make your mani pop!
"It's All In The Attitude" by @colorclubnaillacquer
9. Summer Fridays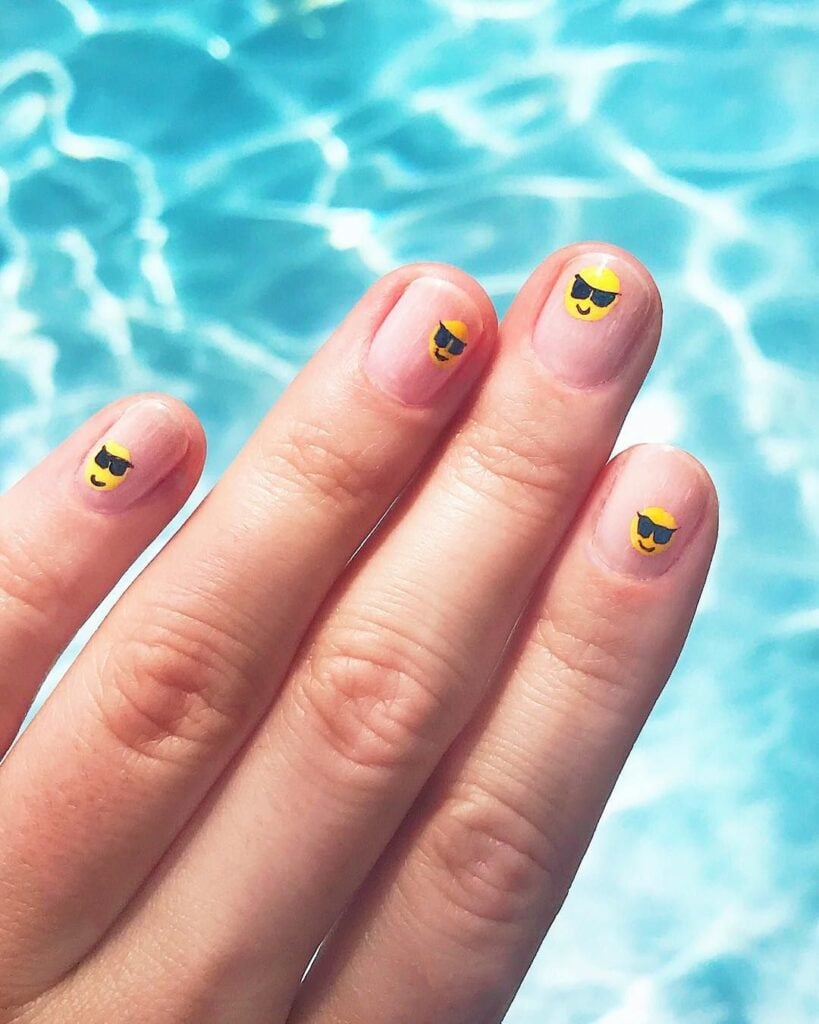 Sunnies on your face and sunnies on your nails! These cool smiley faces are ready for summer and are a great addition to natural nails.
10. Pearl Flowers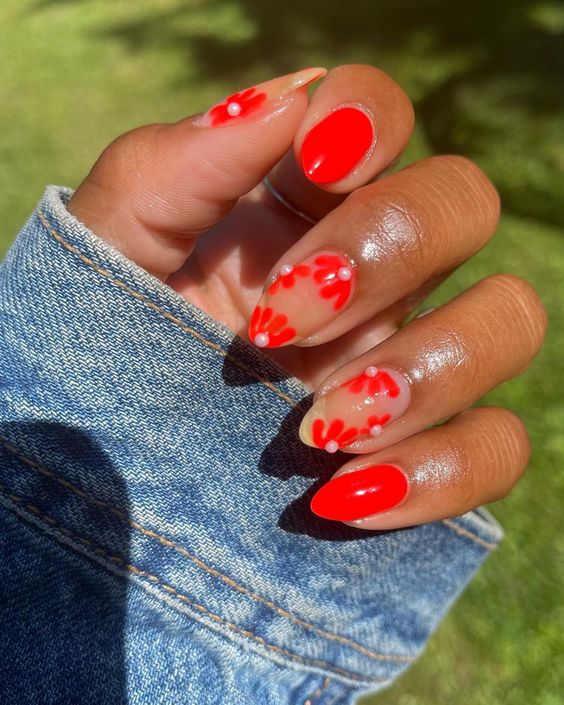 The best summer nails have a little unexpected surprise — like this manicure with little pearls as the center of the flowers. Customize them with whatever color or colors you like!
11. Pink Flamingo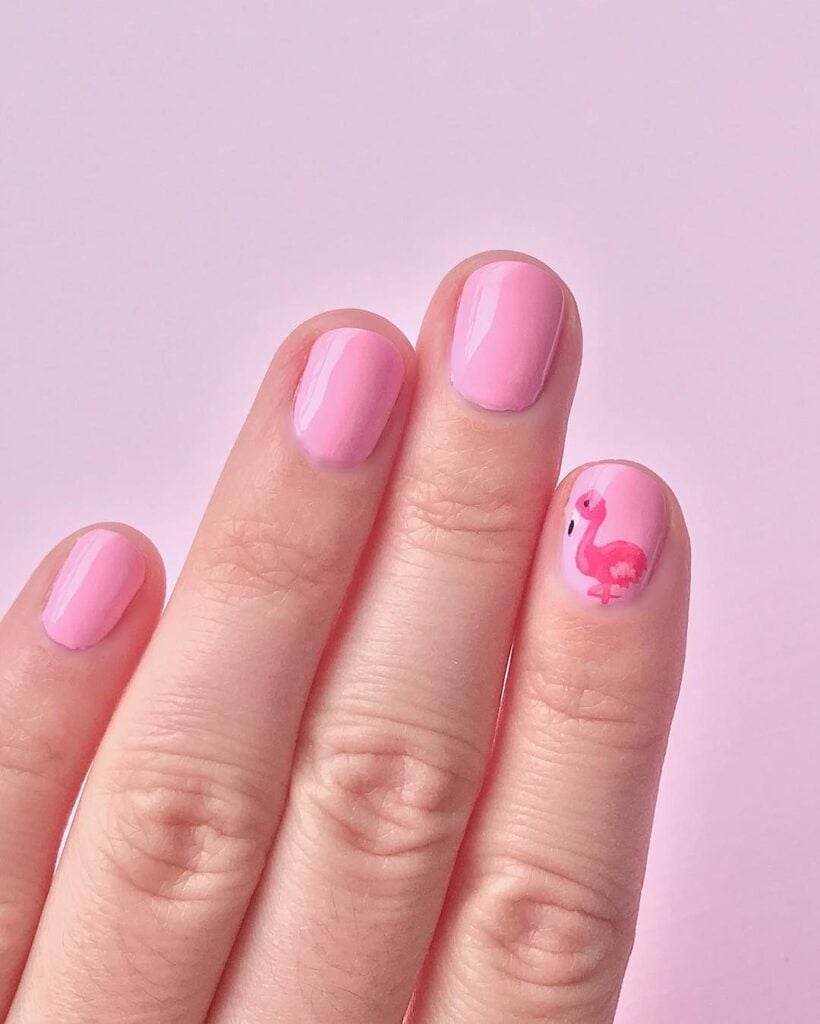 If you're thinking of getting a solid pink mani, why not dress it up with pink flamingos accent nails?
12. Sun Burst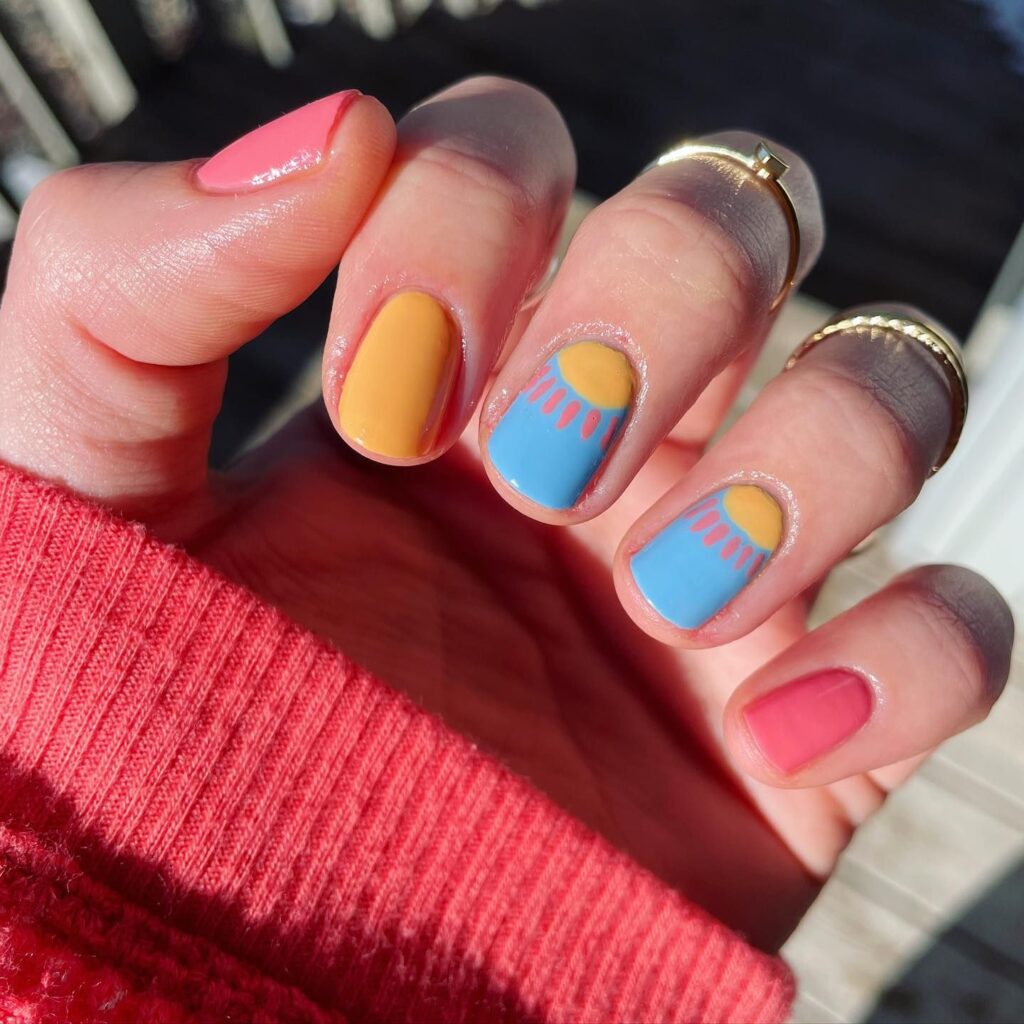 There's nothing I love more than feeling that sun all summer long! Bring that feeling to your nails with this subtle sun design. I love the color combo!
13. Neon Flower Nails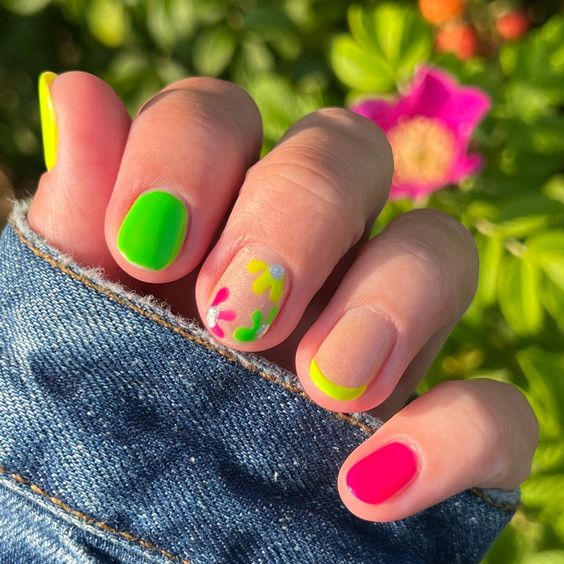 Mix up your neon nails with french tips and flowers. Use a glitter or metallic for the center of the flowers for a really unique look.
If you love neon nail designs check out more neon nails here!
14. Ombre Palm Trees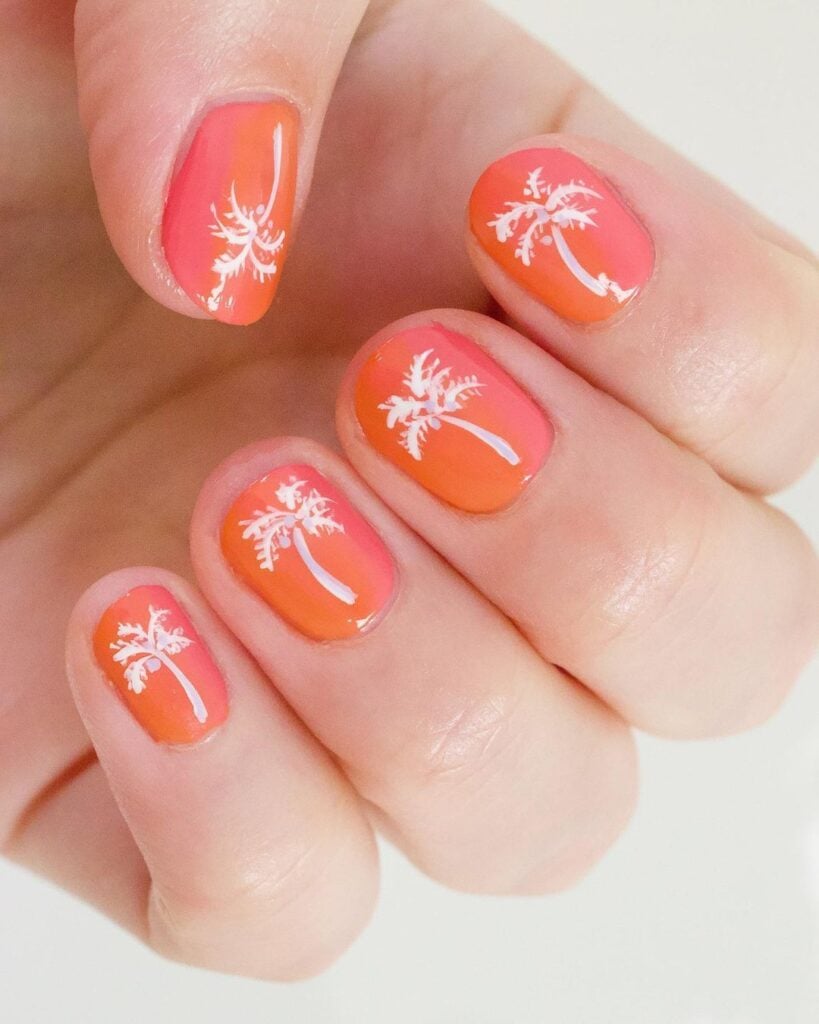 You can't go wrong with bright ombre nails in the summertime. This mani idea feels like instant summer vacation with simple little palm trees painted on top in white.
15. Beach in a Bottle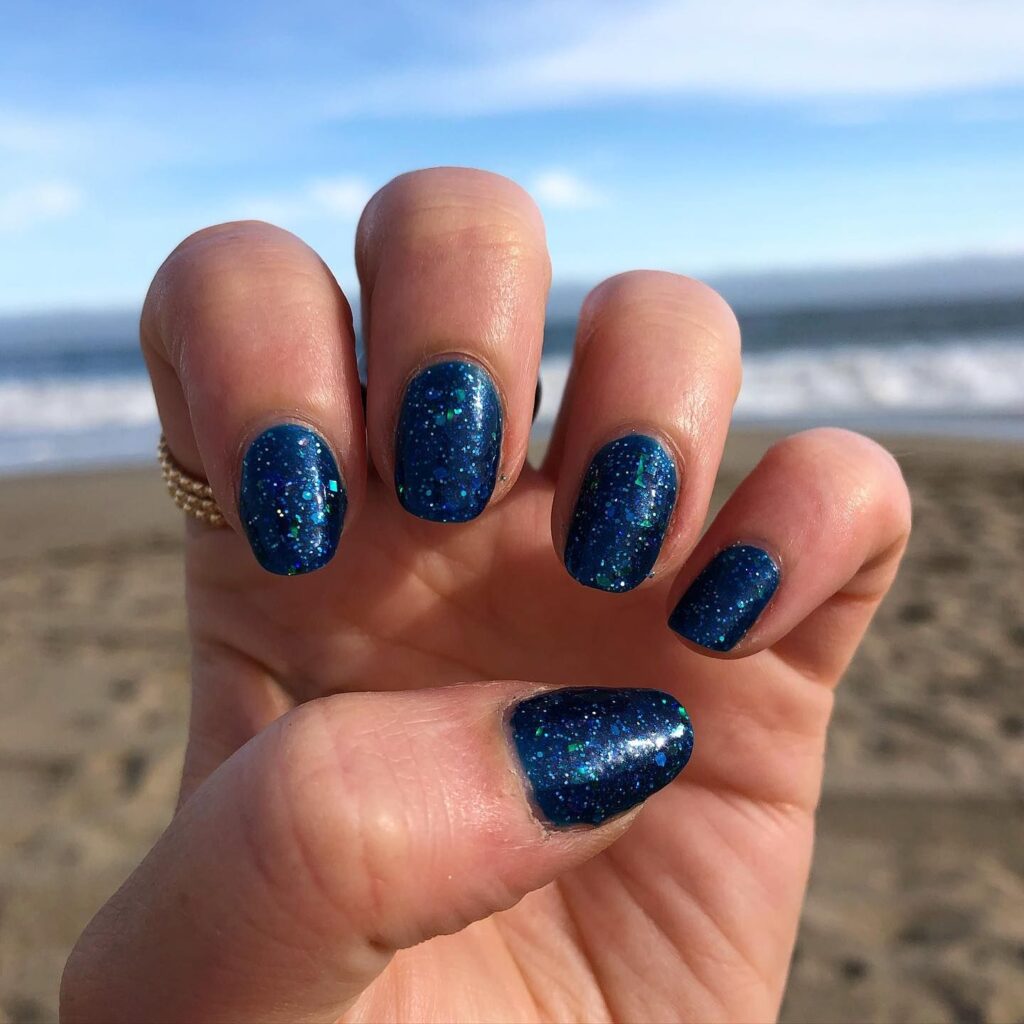 Not all the summer nail art designs have to be bright. These blue glitter nails are dark and mysterious, just like the ocean.
Colors: @fomo_lacquer Beach in a Bottle
16. Tennis Nails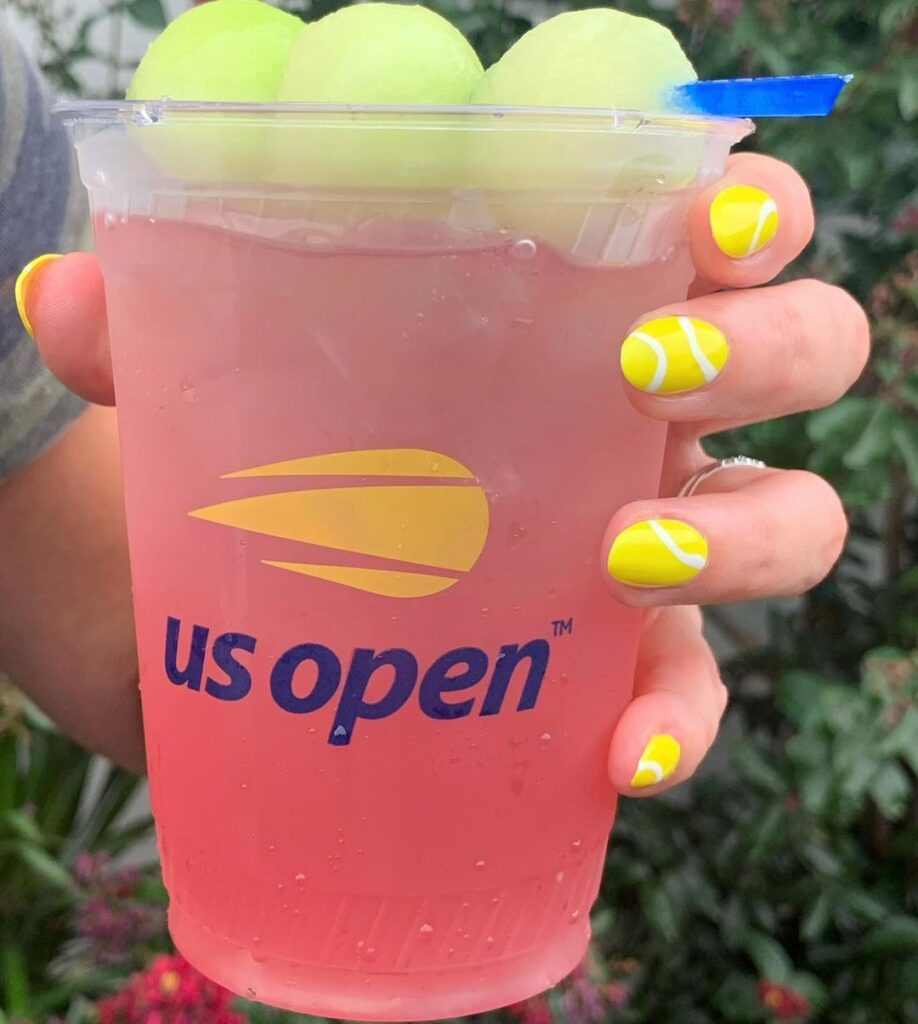 Love a good themed nail! Pick a summer event and run with it, like these adorable US Open tennis ball nails.
Colors Olive and June – Lemony lemon, HD
17. Sunshine Nails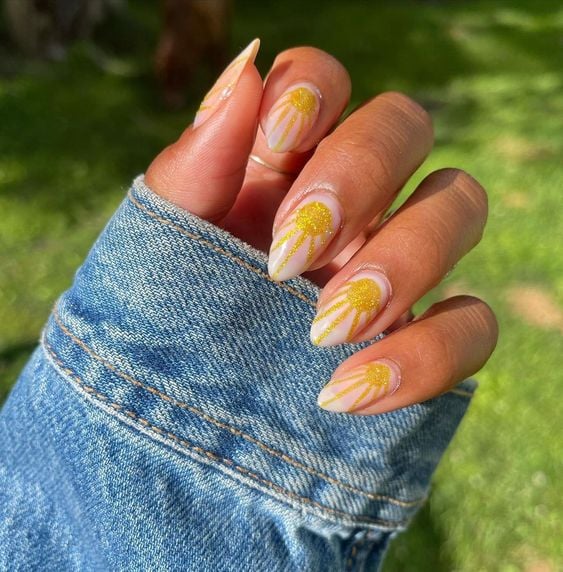 Suns make cute designs for all nail shapes. Find your favorite metallic gold, and paint a sun and rays on a nude base.
18. Cactus Nails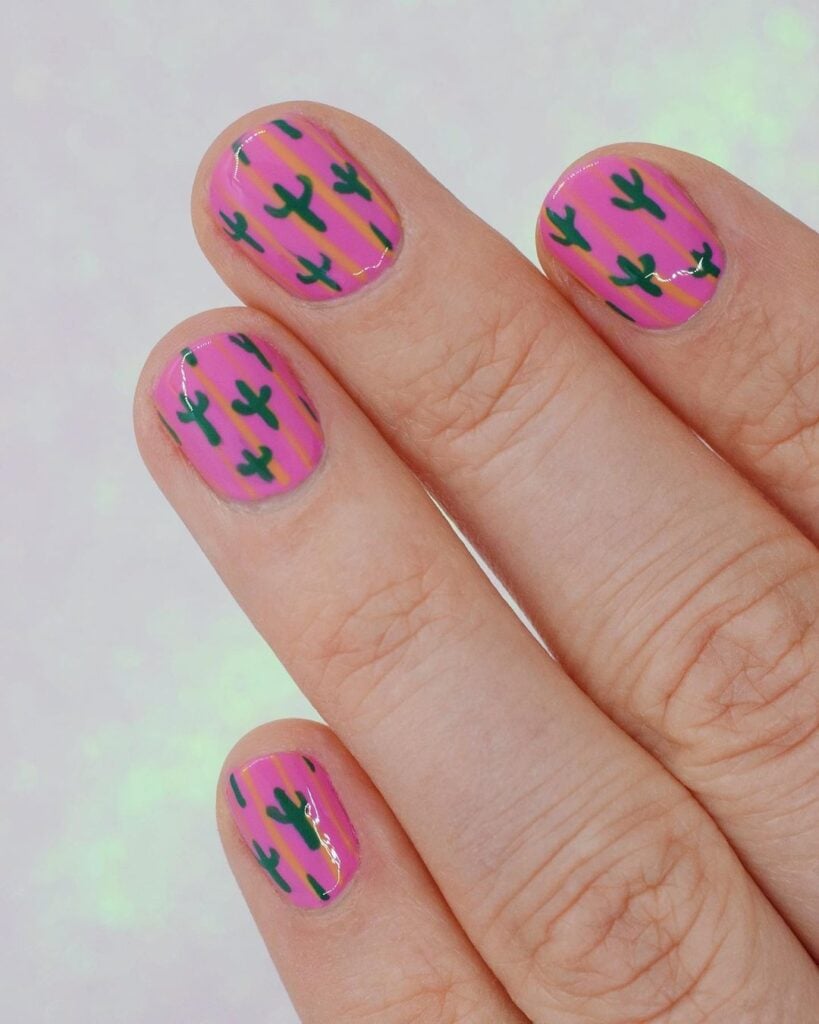 Looking for a hot pink summer nails design with a little twist? Make it the backdrop for a desert scene! With a hot pink base and orange stripes, you've got an abstract sunset for your easy cactuses.
19. Summer Sunset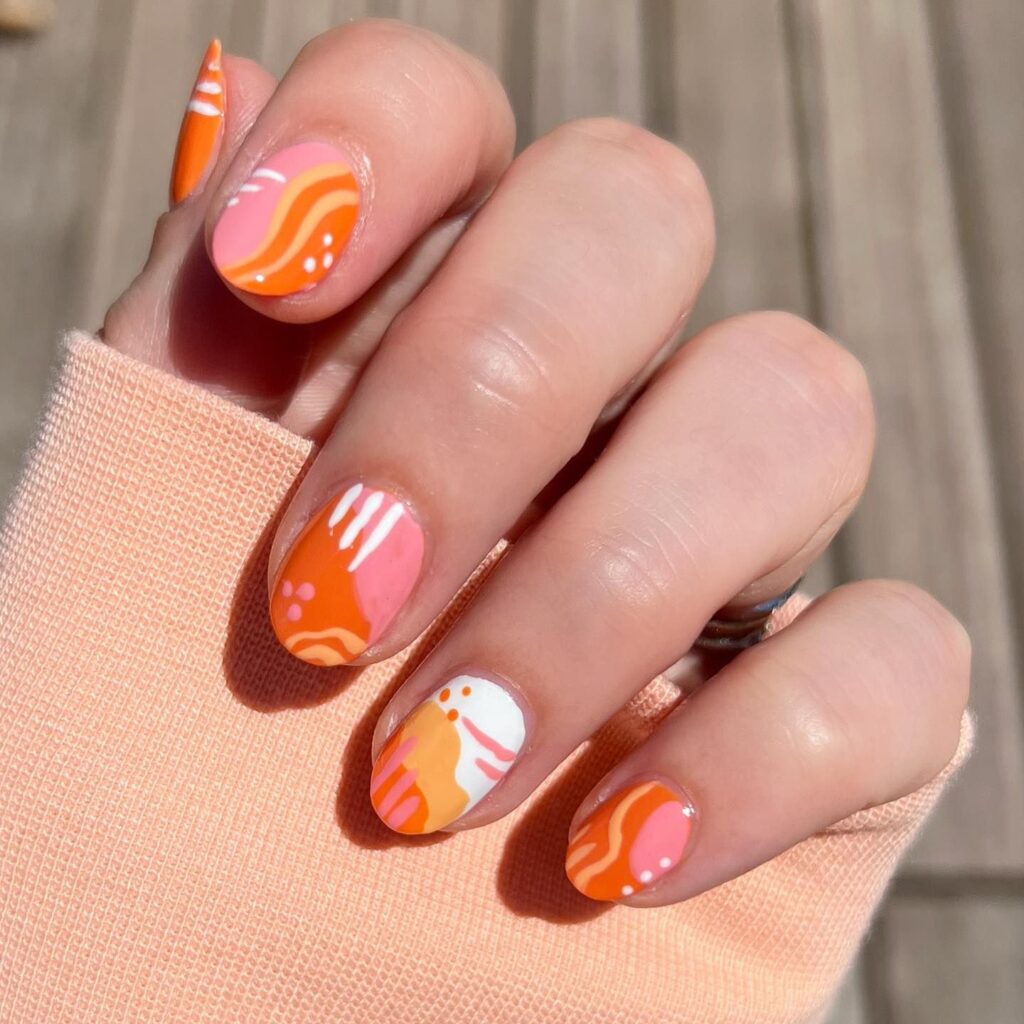 One of my favourite summer nail designs, this one is easy to do and hard to mess up (as long as you let each layer dry before moving onto the next)! Pick a bright and warm color palette for those summer vibes, then layer on different designs.
20. Flower Art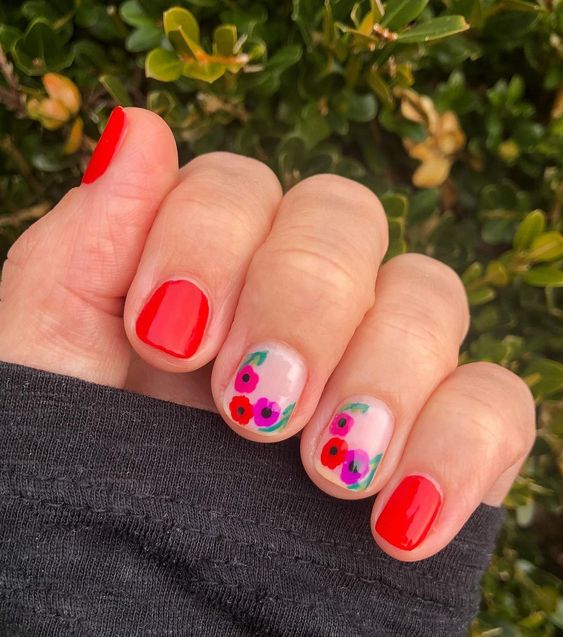 Bring a bouquet of bold poppies to your nails for the summertime. Paint some nails solid and then create some easy flowers with coordinating shades and a black dot in the middle.
Nail polish colors from  Olive and June: Base: CV (red), BEB (sheer white)
Art: CV, Grape Soda, Wild Orchid, Besties, WKF, E&M
21. Ocean Blue Nails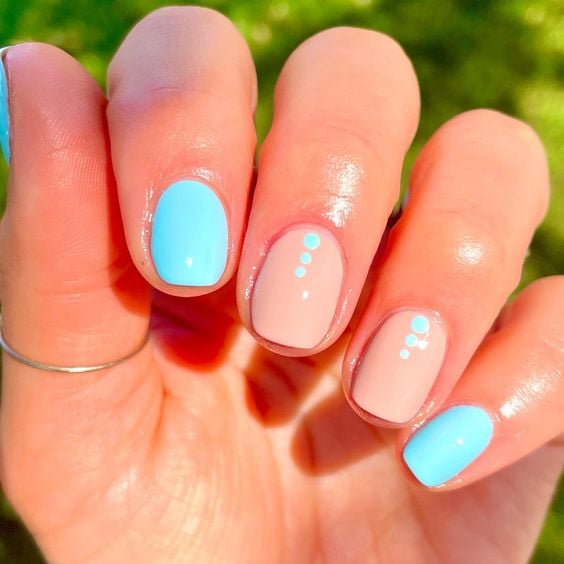 The perfect easy beach nails! Use a nude tone and a light blue to create a simple pattern to evoke feelings of the ocean on your cute nails!
Colors: Huella Beauty
22. Pink and Purple Color Block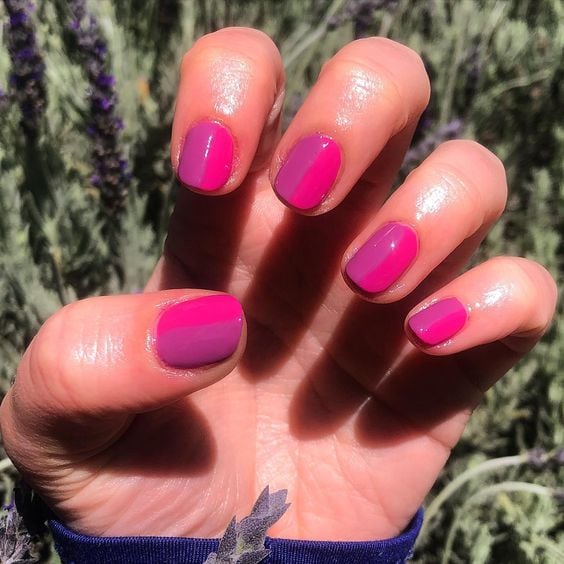 Color block nails can be done with any summer hues! This manicure in the image is sweet berry-colored, but you could do any bright color combination.
Colors from Olive and June: TLG and Wild Orchid
23. Summer Decals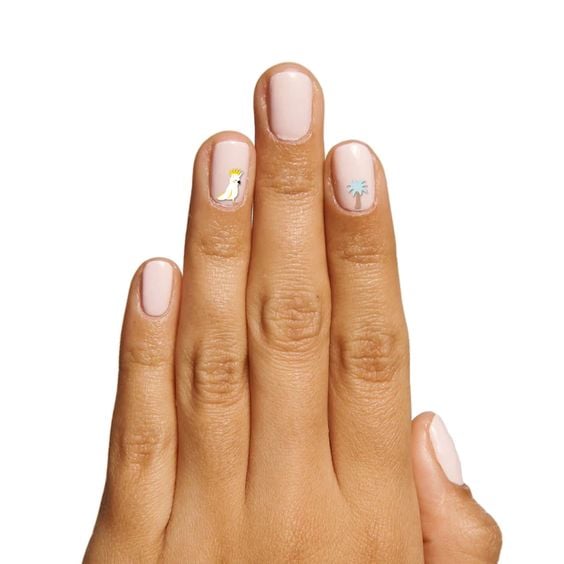 Nail stickers are an easy way to get the perfect mani and get out the door to your summer adventures!
Color and stickers: Olive and June
24. Simple Flowers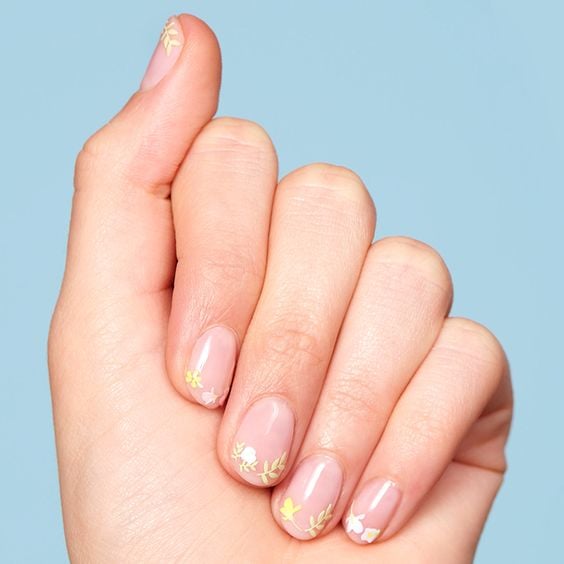 Create a sort of floral French tip with Olive and June stickers. Nice and fresh!
Color: Olive and June Stickers
25. Hot Pink Waves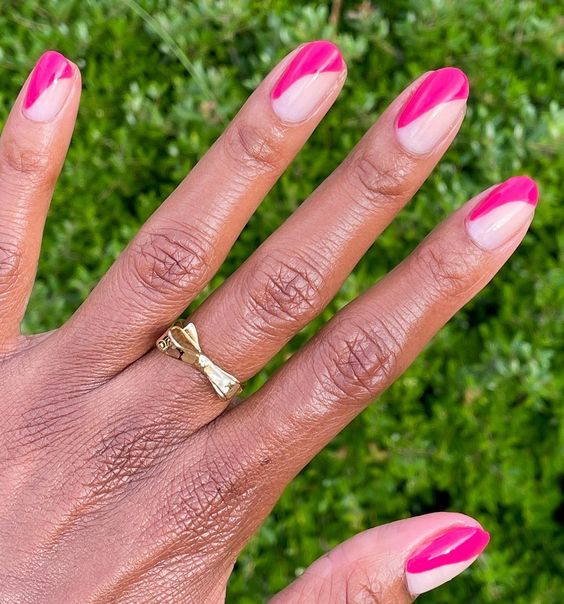 You can't go wrong with a bright pink for summer! Whether you go with a straight line or curve it down, you've got an easy graphic nail.
Color: Olive and June CCT + XOXO
26. Ombre Pink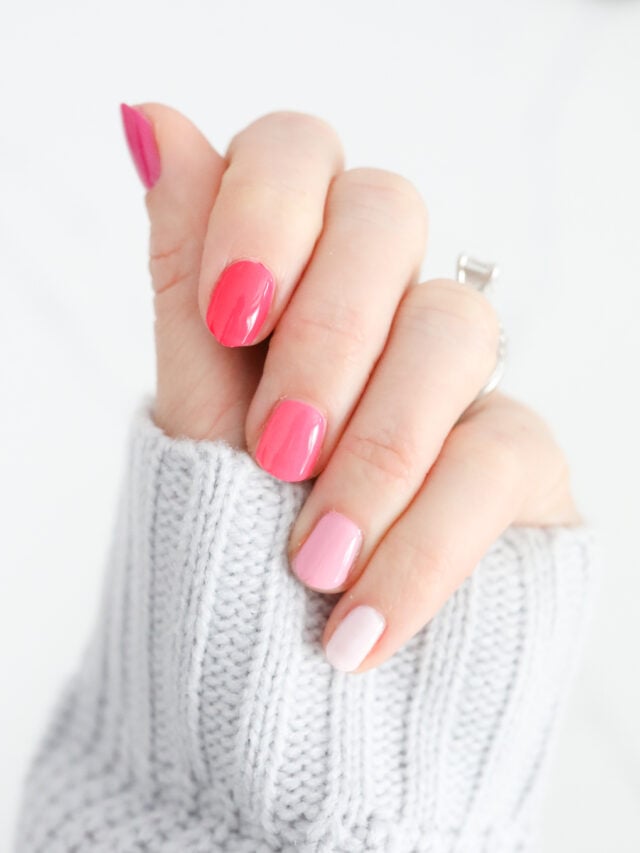 The perfect ombre for summer is this pink mani. If you have a handful of pink shades of polish on hand, you can create this look!
Colors from Olive and June: Pink Sands, JM, Grateful & Kind, Hibiscus and Wild Orchid.
27. Sherbert Nails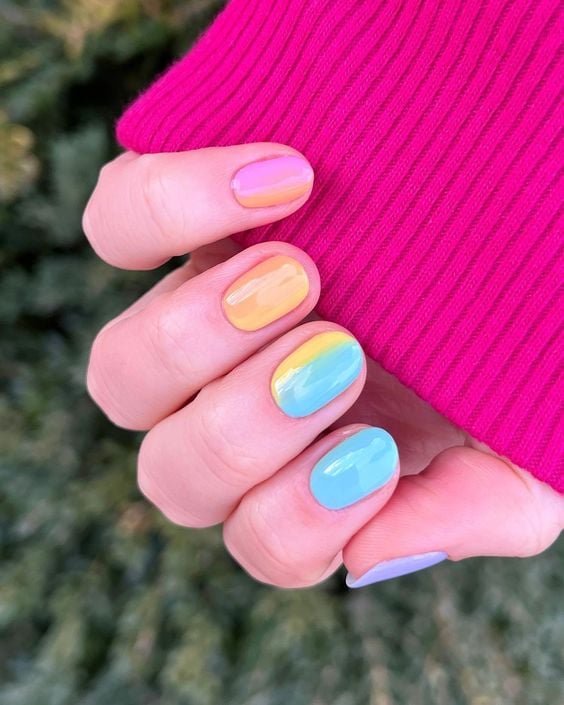 Nothing will brighten a summer day like a rainbow (or a rainbow sno cone!). Instead of doing one color per nail, turn it into an ombre!
28. Blue Tips With Butterflies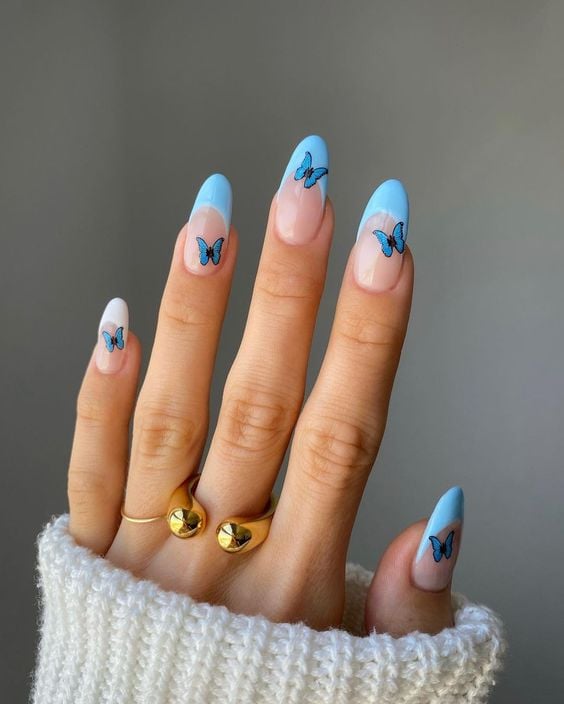 These beautiful long French tip nails would be great on their own, but the butterfly stickers really take them to new heights.
29. Mermaid Ombre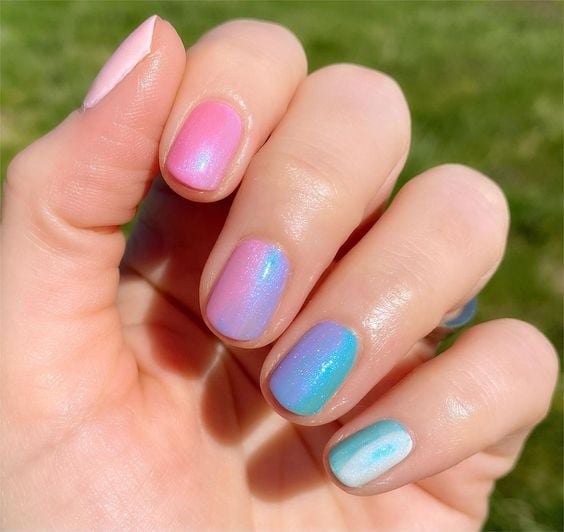 Image via @nails.by.hnelson
Get your mermaid on this summer! These shimmery ombre nails will look perfect poolside.
Colors by Olive and June: Grateful & Kind, Rosy Tips, Fierce & Loving, Bold & Unshaken, Yes Please, Angelfish, Cosmic, Pink Goldfish
30. Flower Crown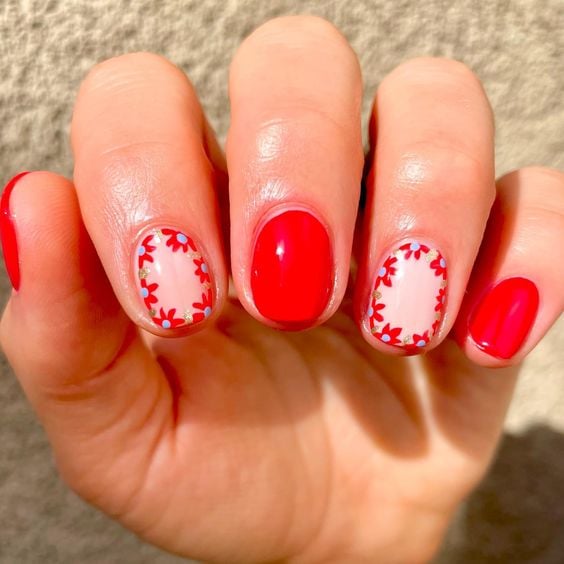 Too many flowers can be a bit overwhelming (not to mention, tiring to do), so try little halos of cute flowers on just one or two accent nails.
All colors by Terra Beauty Bars : No. 30 Pitanga Red, No. 9 Creamy Sheer Beige, No. 28 Super Gold Foil Shimmer, No. 31 Morning Dew
31. Watermelon Nail Art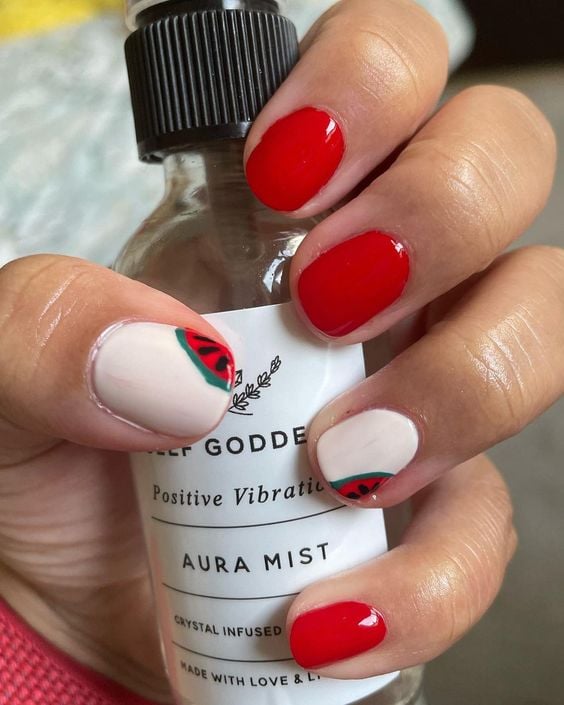 Watermelon screams summer time — what else do you eat at Fourth of July picnics? Give just a peek of melon on your accent nails and paint the rest solid red.
Colors from Olive and June: CV, HGC, EM, Besties
32. Orange Ombre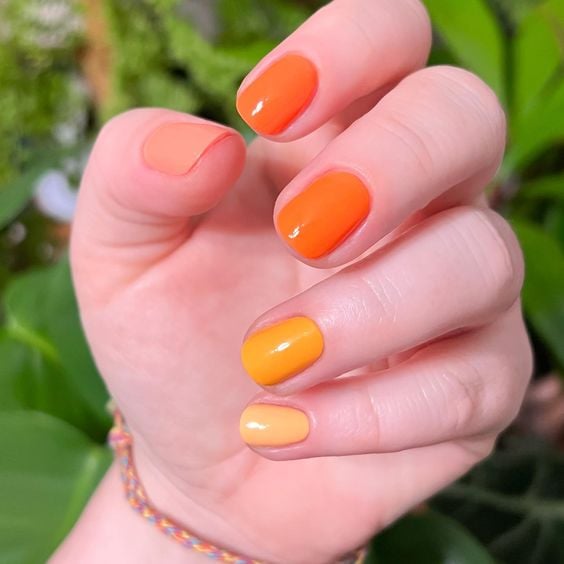 Image via @mani.of.the.moment
These orange nails in ombre feel like warm summer sunshine. Go from bright to pastel for some depth to the look.
Colors from Olive and June: Thumb to pinky: Glow, You're a 10, Orange Wedge, Sweet & Gracious, Citrus Squeeze
33. Fruit Art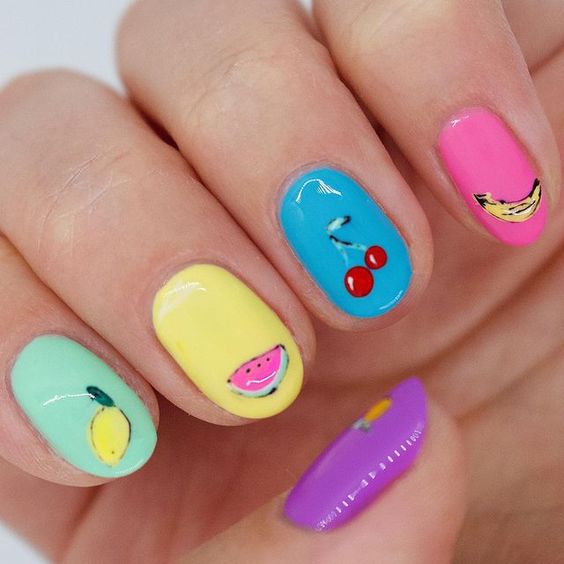 It's a fruit salad! Break out your brightest colors and paint a different tiny fruit on each fingernail for a fun, fresh manicure.
Colors from Bio Seaweed Gel
34. Neon Rainbow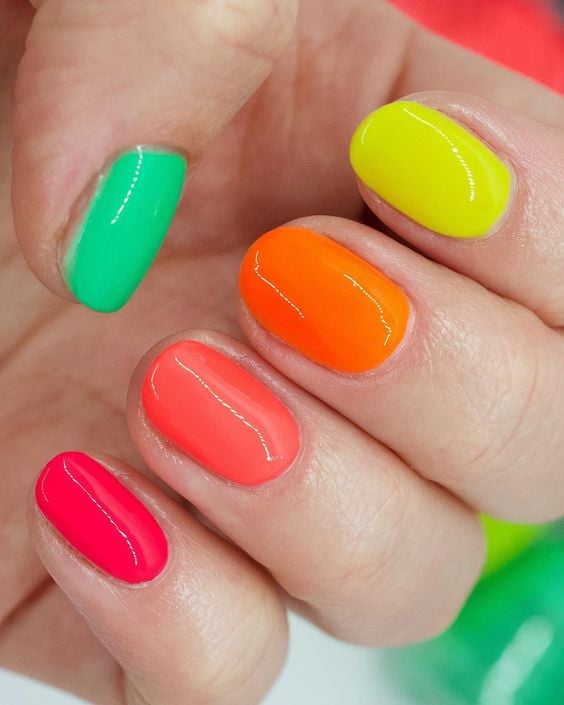 Image via karanailedit
Neon is definitely one of the hottest trends for summertime. Treat yourself to a rainbow set of neon polish to complete this look.
35. Blue Tips With Daisy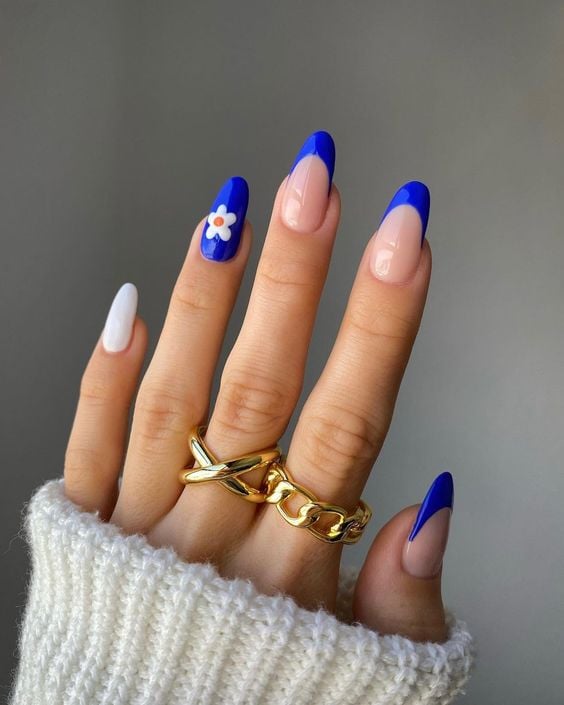 Make a retro flower stand out by using a rich blue for the background. (And then use that same blue for a fun french tip!)
Colors from Le Mini Macaron: Blue Raspberry, Papaya Sorbet, Milkshake, Creme Brûlée
36. Sky Blue Background with White Daisies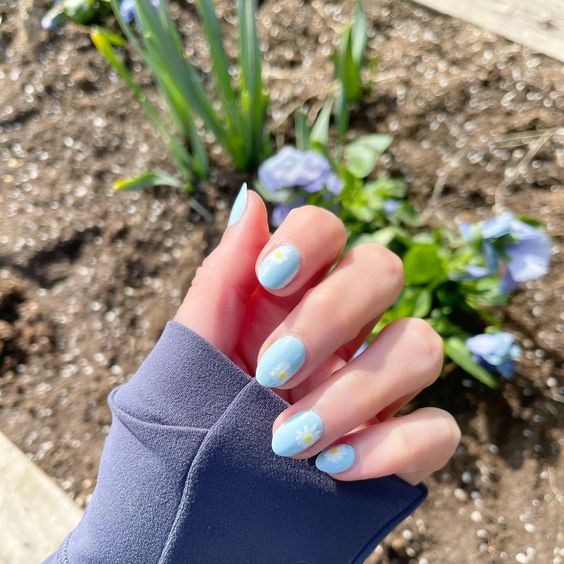 Blue skies and white daisies! It makes me want to go lie in the grass in the sun! Choose a pastel blue and use a nail tool to draw some easy flowers.
Colors by Olive and June: Honest & True, HD, Bright & Focused
37. Checkered Flowers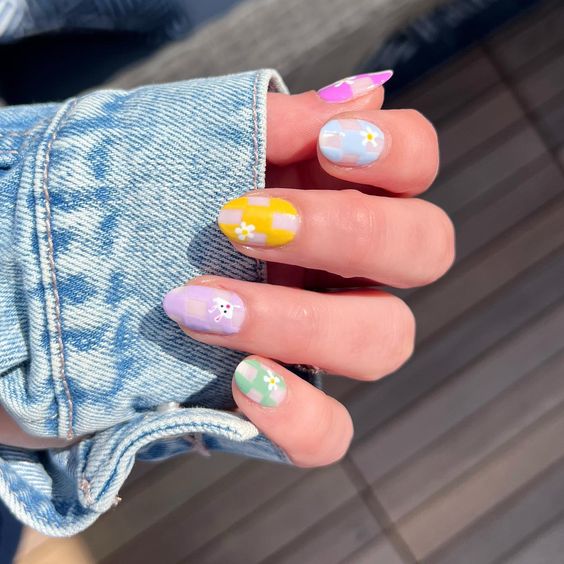 Create a pastel checkerboard on your nails. It takes a little finesse, but just use a tool to create a square in the middle of each nail and then draw a square at each corner. Once it's dry, add a tiny flower to take it to the next level.
Colors by Olive and June: Strawberry Scone, Cucumber Sandwich, You're Invited, Golden Afternoon, BP, Jam Please
You've gotta try Olive and June! It's my favorite. Read my Olive and June Review or my blog post on how to use a manicure system at home!
Looking for more nail design ideas? Try these: