Picking the perfect nail color and design is one thing, but picking the best nail shape is another decision! Thankfully, it doesn't have to be a difficult one. Changing the shape of your nails can drastically change up your manicure and style!
Whether you do your nails at home or are heading to a salon to let a professional nail technician create your nail designs, it's good to know all the different kinds of nail shapes out there!
There's no perfect nail shape out there but after I introduce the different nail shapes, I'll share some tips on picking a good shape for you!
11 Different Nail Shapes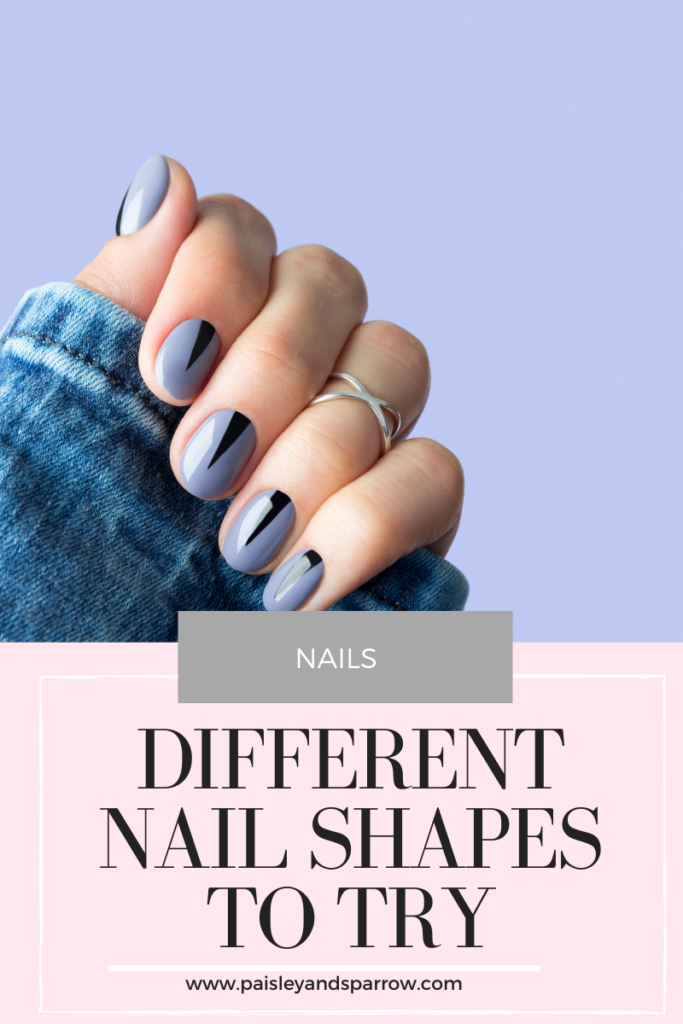 Here are eleven different popular nail shapes that you can try out next time you want to switch up your look!
1. Round Nails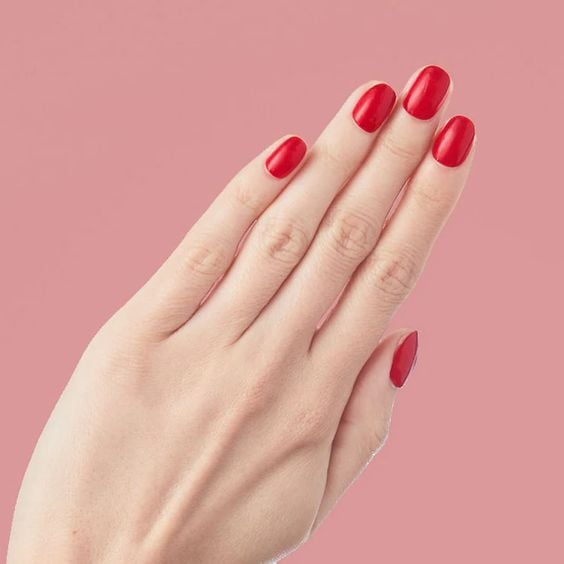 This classic, tidy shape is easy to achieve. Your nails don't have to grow out at all! All you need to do is file along with your natural nail shape.
This simple tidying up will help to elongate shorter fingers. This shape works well with all colors and even looks good unpainted.
2. Square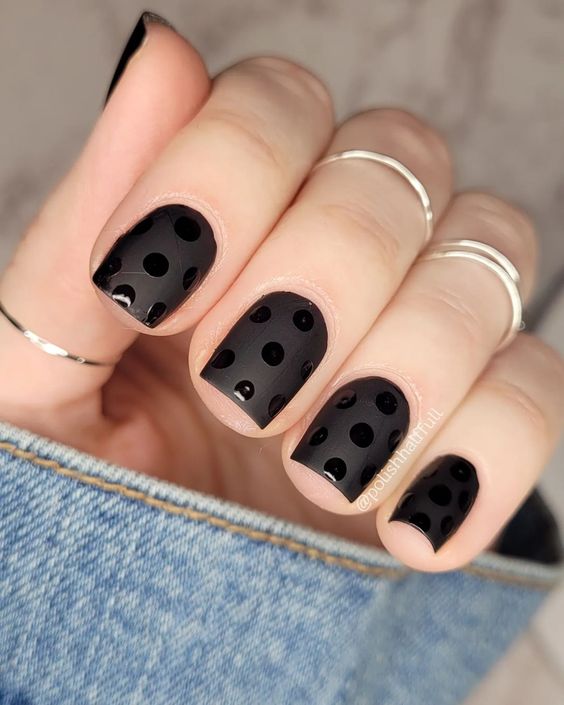 This nail shape will have your nails looking like a square, with a flat top and straight sides, and ninety-degree sharp edges. File down the sides, and paint your nails with bold or solid dark colors, or try out a geometric design!
If you're hoping to achieve the illusion of slim fingers, steer clear of short square nails as this make them look shorter and wider.
3. Oval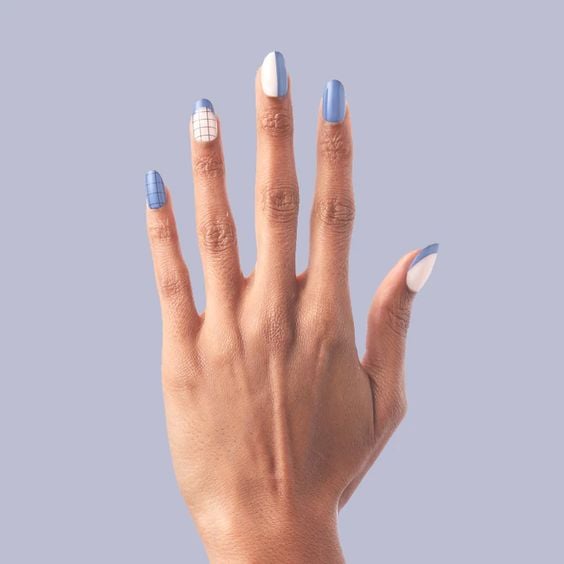 An oval shape helps to keep your nails looking natural, only they're filed on the sides to help elongate your nails. To achieve this shape at home, you'll just need to grow your nails a little bit above your fingertip so you have room to file and make your nails appear longer.
Oval nails look great with nail art or reds, metallics, or bold colors.
4. Squoval Nails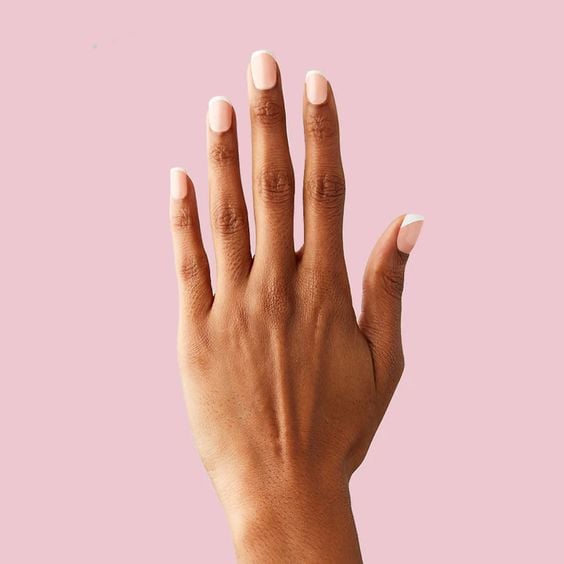 A hybrid of the square and oval shape, the squoval shape gives you the best of both worlds. It's a square-shaped nail with a rounded edge, and it's flattering on all nails.
As someone who has shorter nails, I love squoval nail shape on my nails! This shape looks best with geometric nail art or dark shades.
If you love short nails, here's 53 nail designs for short nails!
5. Almond Nails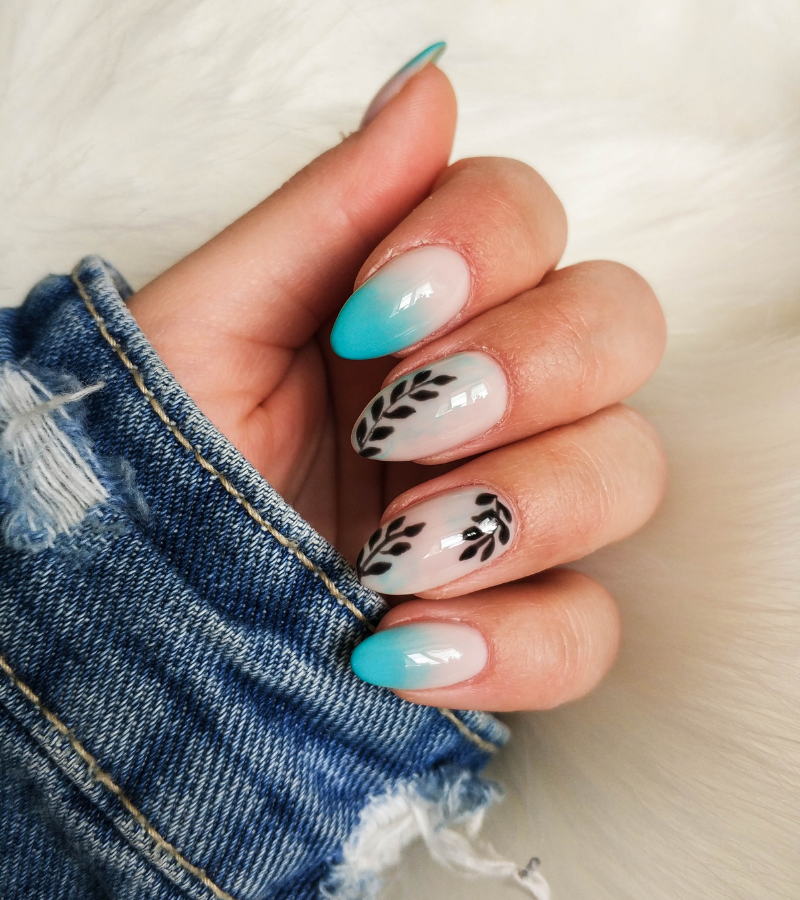 Almond shaped nails help to elongate your nail with rounded tips, resembling the shape of an almond. Usually, this shape is too weak for natural nails, so you'll need gel or acrylics.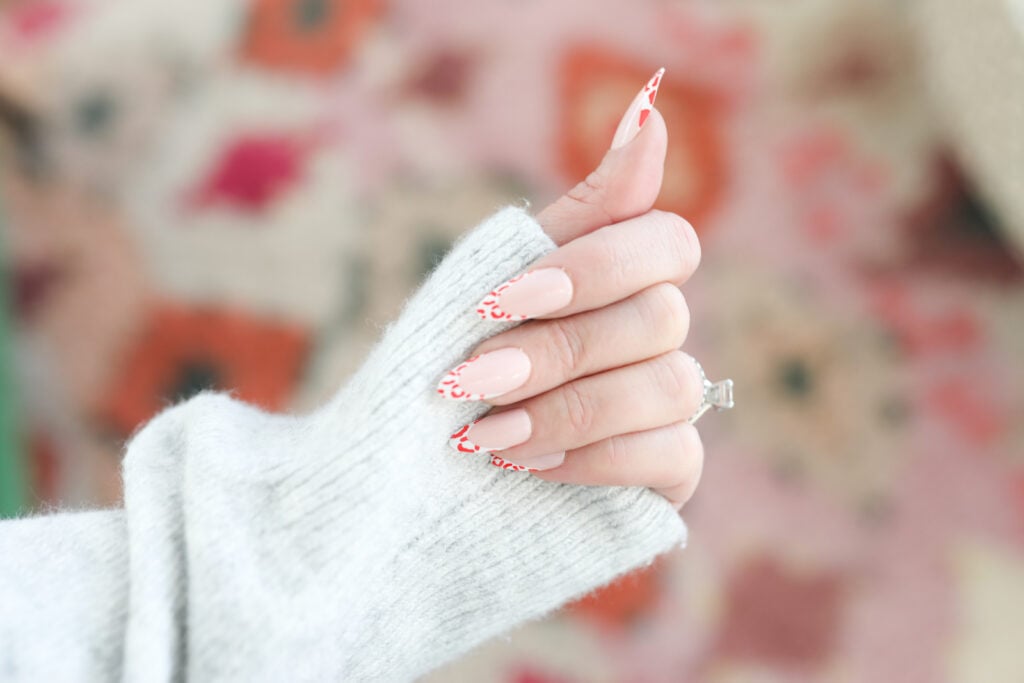 You can also achieve this look with press on nails like I did here. Press on nails are incredibly easy to test out a nail shape to see if you like it! This shape looks good with plain, shiny, or metallic colors.
*Check out my Olive and June Press On nail review here!
6. Stiletto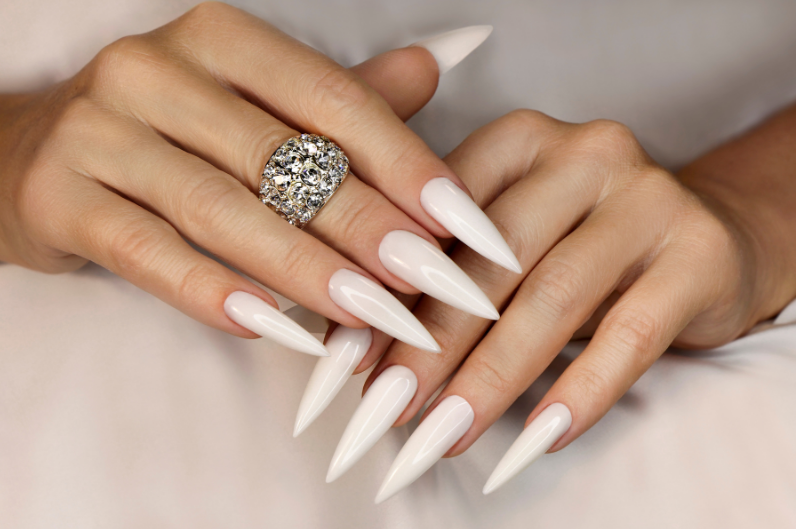 If you're hoping for drama and flair, stilettos are great for you! This shape is long with a sharp point, almost like a claw. Because of the length, you'll likely need gel or acrylics to hold this shape. With stiletto nails, go bold with gems or glitter.
7. Coffin/Ballerina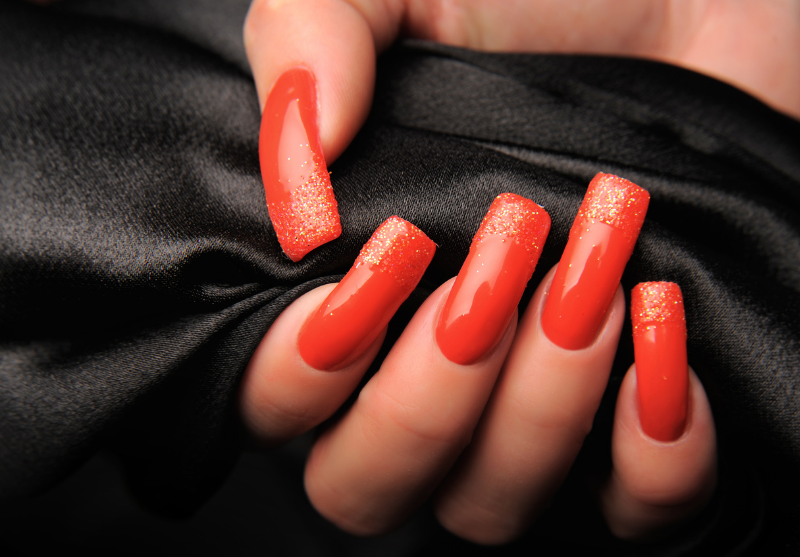 Kylie Jenner's signature nail shape takes its name since it resembles the shape of a coffin or ballerina's pointe shoe. Ballerina nails are similar to a stiletto nail, except it has a square pointed tip with a straight edge. You'll also need gel or acrylic nails to achieve this shape. Solid colors with a matter finish and pale shade look best on this shape.
8. Lipstick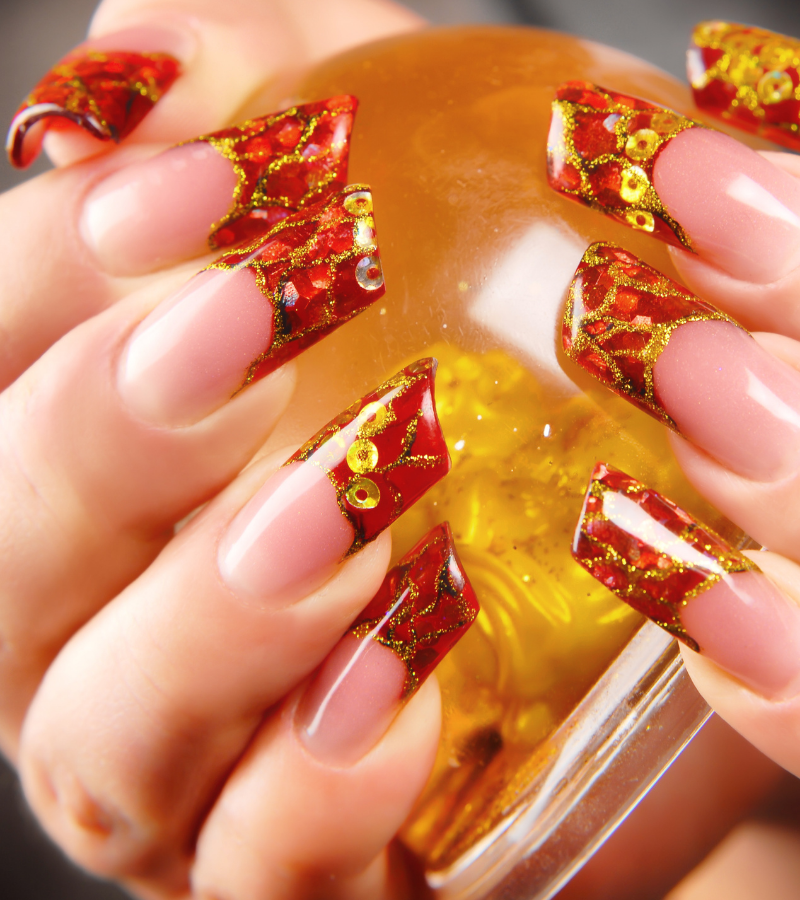 This unique new trend looks just like cut lipstick. The lipstick nail shape is a square-shaped nail with slant cut. Solid colors and designs work on this shape, or you could experiment with slanted colored tips!
9. Flare
Another new trend! Flare nails, also known as a duckbill, are the opposite of coffin nails in that they get wider at the top. The square shape of the nail flares up and out, making this shape truly unique from the rest! With this extreme shape, you can experiment with patterns, designs, and glitter.
10. Edge
Like a stiletto nail, only a less aggressive point. Edge nails grow straight and have the tip edges filed. The center of the nail is actually raised, making this shape three dimensional. It's best to ask for this shape at a nail salon. Solid colors or colored tips look great on this shape!
11. Mountain Peak
Another mini stiletto, only shorter and pointier. This is the favorite of many celebrities, and one you can achieve at home with some filing! You will need to begin with a little bit of length on your nail though. File from where your nail leaves your skin up to a point and then repeat on the other side. Soft, subtle, muted nail polish colors look best on this shape.
What's the Best Shape for Me?
You may be wondering, how do you know which nail shape is best for you? Part of your decision comes down to maintenance.
Do you want something that you could easily do on your own? Go with round, oval, almond, square, or squoval– these shapes work well with short nails are can easily be achieved with some strategic filing.
If you're willing to grow out your nails, try the mountain peak shape.
Wanting something bolder? Head to a nail salon for stiletto, ballerina, lipstick, and flare– these shapes will require more maintenance and acrylics.
What to Consider
You'll also want to consider your fingers, cuticles and nails as a whole. Different shapes will do different things.
If you have short fingers and wide nail beds, a round nail will be best for you.
Wide nail beds and long nails look great with an oval shape.
If you're hoping to lengthen and slim your fingers, try an almond shape.
Long, narrow nail beds and short nails can rock a square shape.
Longer nails requiring acrylics will lengthen your nails and add some dramatic flair.
Also try to match the shape of your cuticles to the shape of your nails. For example if you have straight cuticles you could try a square nail shape or if you have rounded almond shape cuticles an almond nail is the right nail shape to try!
Really not sure at all? Squoval is the "universal" shape as it's flattering on long and short fingers. Nails grow fast, so you can always experiment and see which shape you like best or switch it up with different polishes.
No matter how you shape and paint your nails, they're bound to look amazing!
If you want more nail fun, head here for my Olive and June Review or how to use a manicure system at home!
Looking for nail ideas? Try these:
And try out one of these different nail shapes while you're at it!