Pink is everywhere lately! Whether it's bubblegum pink, hot pink or somewhere in between, I'm a fan. It's perfect for spring, summer or any time of the year when you want to lift your mood!
So pick your favorite shade, and use one of these cute pink nail designs for your next manicure. It'll brighten your day!
Which of these fun pink nail art designs is your favorite?
A lot of the manicures below use Olive and June nail polish colors – find my review here! You can also find a 20% code there!
24 Cute Pink Nail Ideas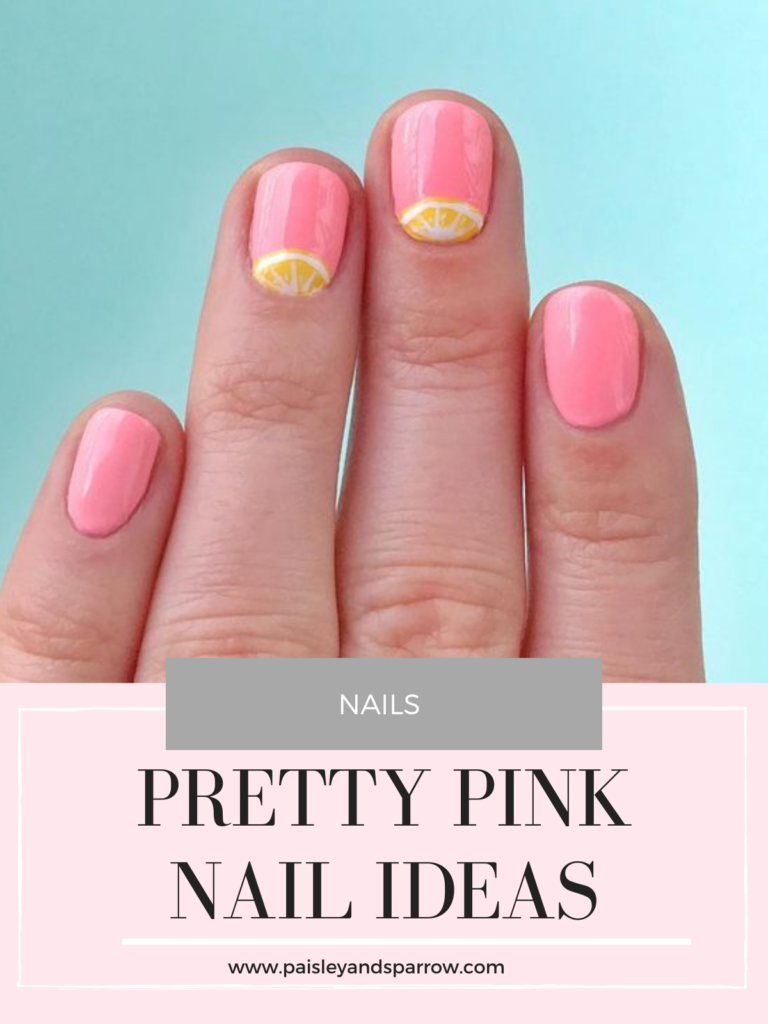 1. Pink Sparkles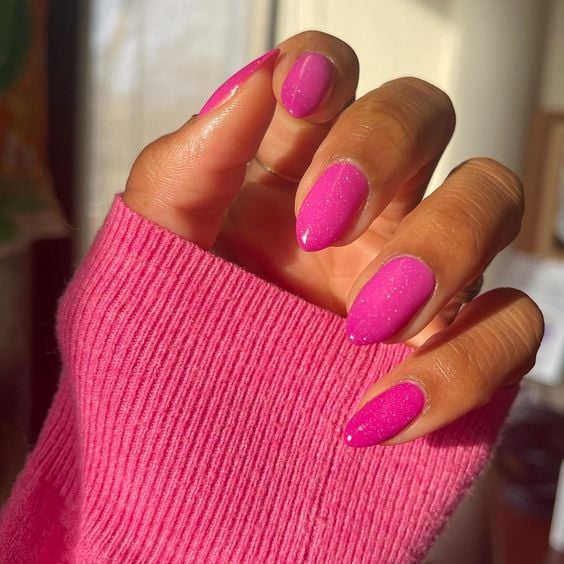 Image via @lecame.shesaw.shepainted
Pink and a little sparkle go hand in hand! Dazzle with these hot pink glitter nails. This manicure is perfect year-round, whether it's Valentine's Day, summer time, or you just love Barbie!
2. Pink Skittles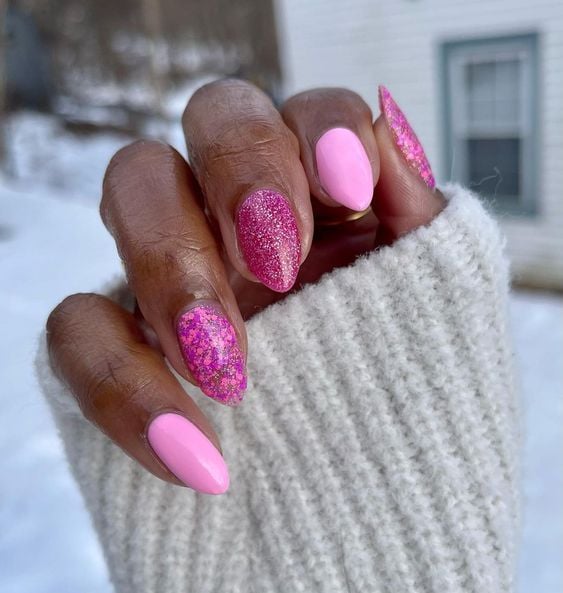 Image via @lecame.shesaw.shepainted
Paint each nail a different nail polish color or design for this standout Skittles manicure. Use a lighter shade and a darker or brighter shade — and then use them both in a splatter pattern on one of your nails!
3. Bright Pink Nails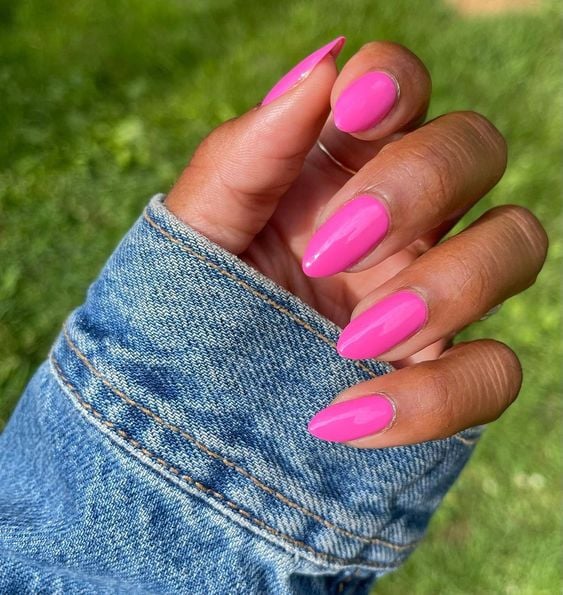 Image via @lecame.shesaw.shepainted
There are so many beautiful shades of pink nail polish, you are sure to find one to suit your mood. These neon pink nails are just perfect — dress it up or down and wear it with your spring and summer wardrobes or as a pop of color during the cooler months.
You can find this exact shade from I Scream Nails; it's Sickly Sweet. I love Wild Orchid from Olive and June.
4. Light Pink Nails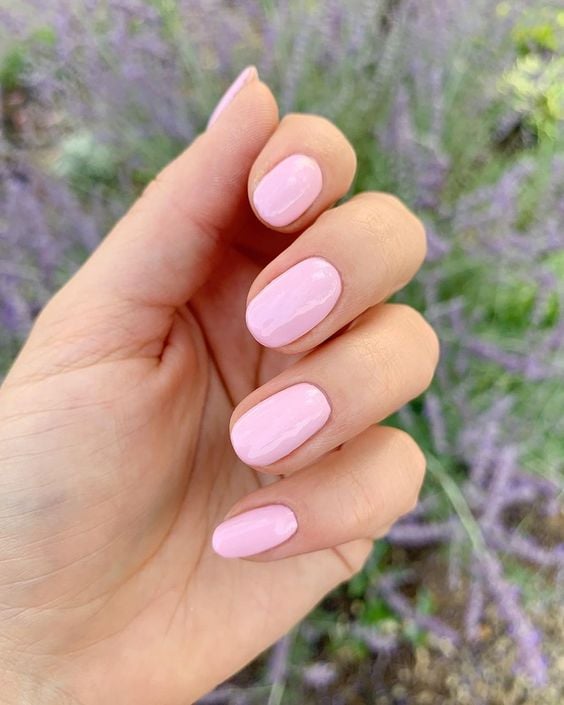 Go sweet with a pale pink. This is a great choice if you want something closer to a neutral but still want a bit of color. You can wear it to formal events without taking away from your overall look, or choose this pink color for your everyday look because it goes with everything.
Olive and June: SCL
5. Strawberry Milk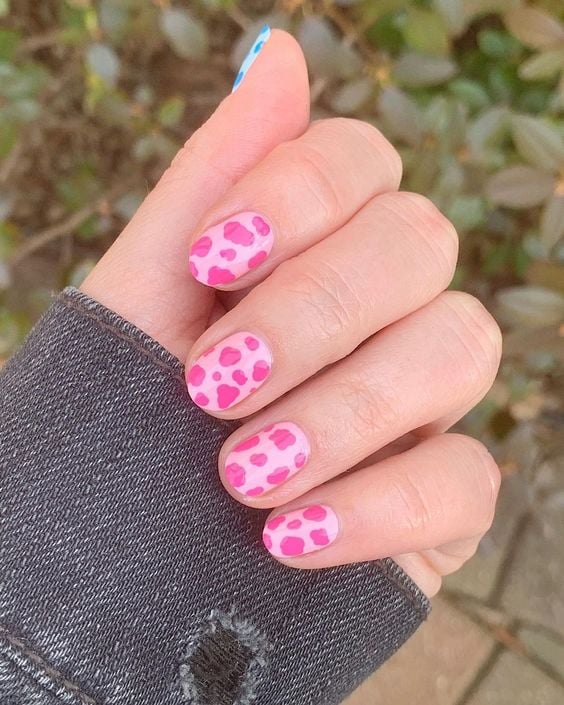 Image via karanailedit
If animal prints are too plain for you, amp them up by painting them in a shade of pink! Start with a simple design like this cow print. Even a beginner can paint them: paint a light pink shade as a base coat, then add blobs in a darker shade. Voila! Done.
6. Edgy Pastel Pink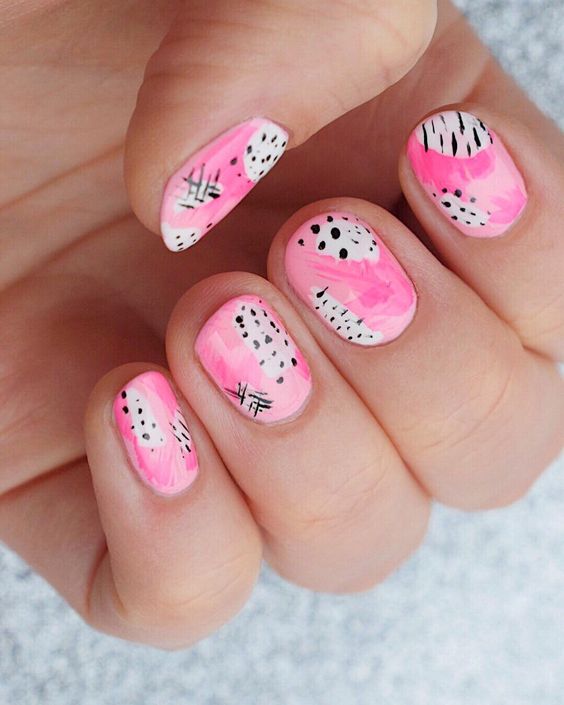 Image via karanailedit
The best part about this abstract pink manicure? You can't mess it up! Use whatever pink shades you want, add some white areas, and then use a dotting tool to make black dots and lines.
7. Pink Lemonade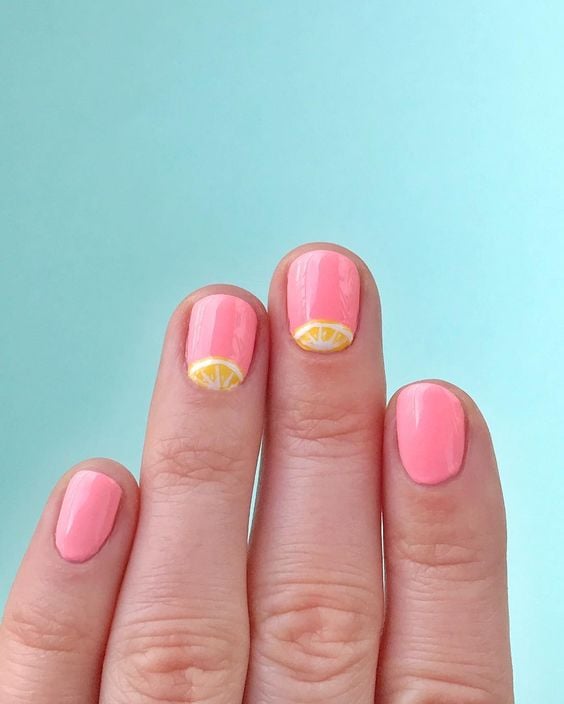 Image via karanailedit
The perfect summer nails! Nothing is as refreshing on a hot summer day than some (pink!) lemonade. Paint your nails a fun, bright pink and then add lemon slices to the bottom of a couple nails.
8. Pink Clouds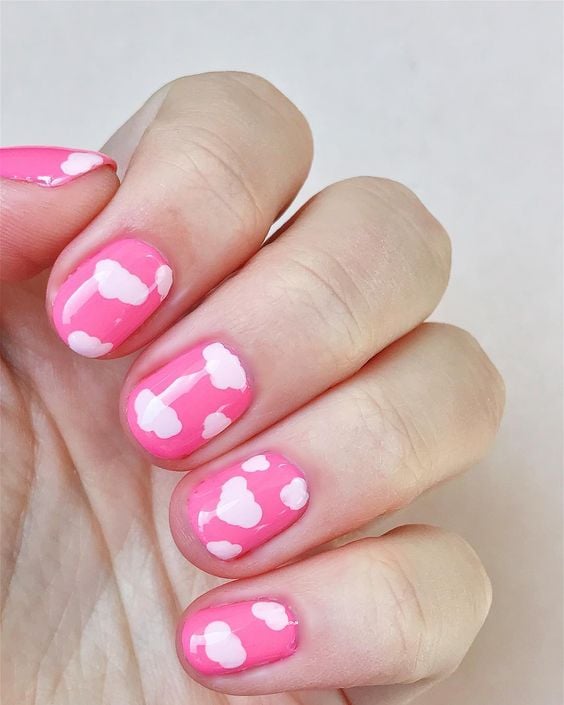 Image via karanailedit
Cloud nails but pink! Who says a sky can't be pink and not blue? You do you boo and if you want a pink sky with puffy white nails we say go for it! You can use a Q tip or dotting tool to make the perfect amount of fluff for your clouds.
9. Speckled Pink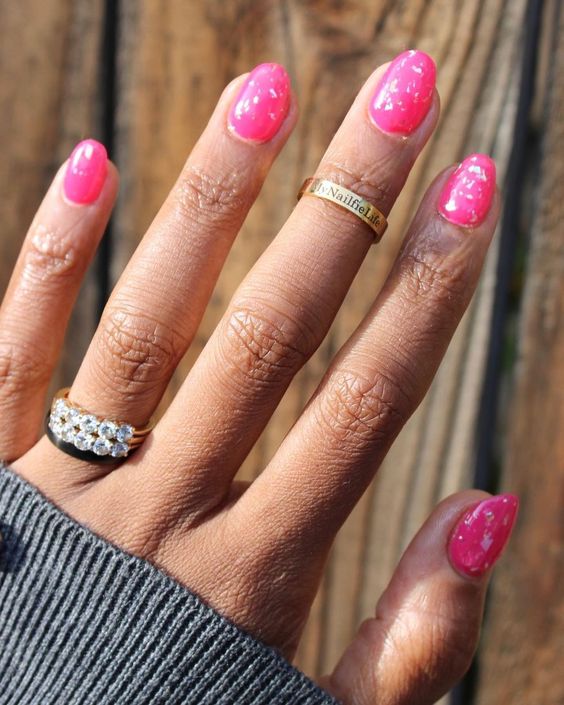 Image via @mynailfielife
A great way to take your solid manicure up a notch is to add a jelly topper like this one from Olive and June! It gives it a big dose of gloss and chunky glitter with just a swipe!
Olive and June: Jelly Baby and XOXO
10. XO Flowers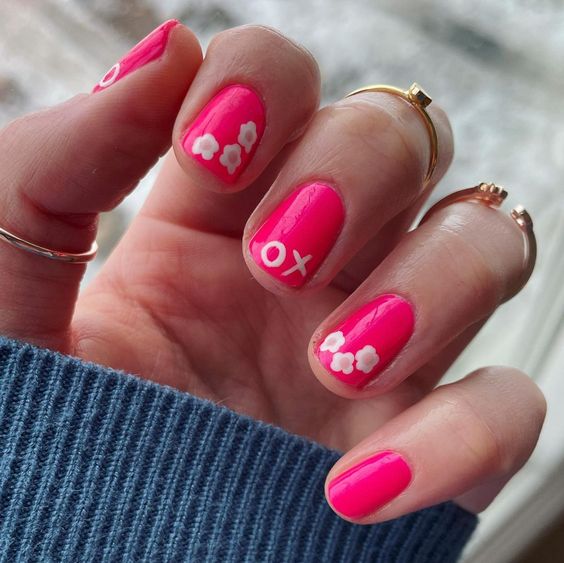 image by emjpolished
Neon pink nails with adorable white flowers is the ultimate girly manicure. Make these easy flowers with a dotting tool — four or five dots in white with a baby pink dot in the middle.
Find more neon nail designs here!
11. Pink Marble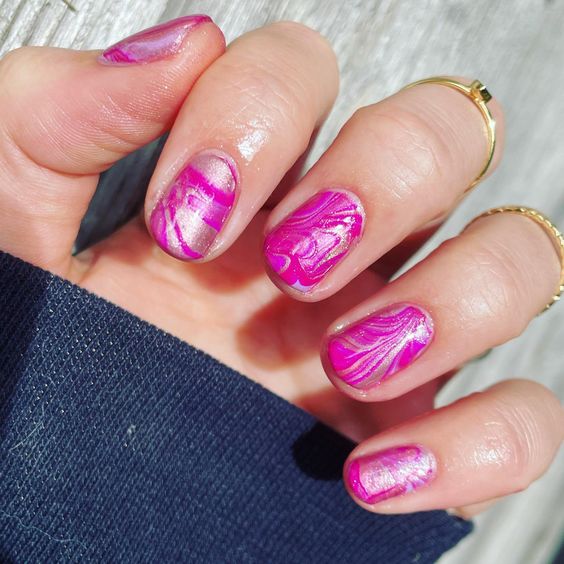 image by emjpolished
If you're looking for a new technique to try on your nails, try your hand at water marbling (or see if your local nail salon can do it for you). You'll get this beautiful mix of colors and you can choose whatever shades you want!
12. Pink Red Nails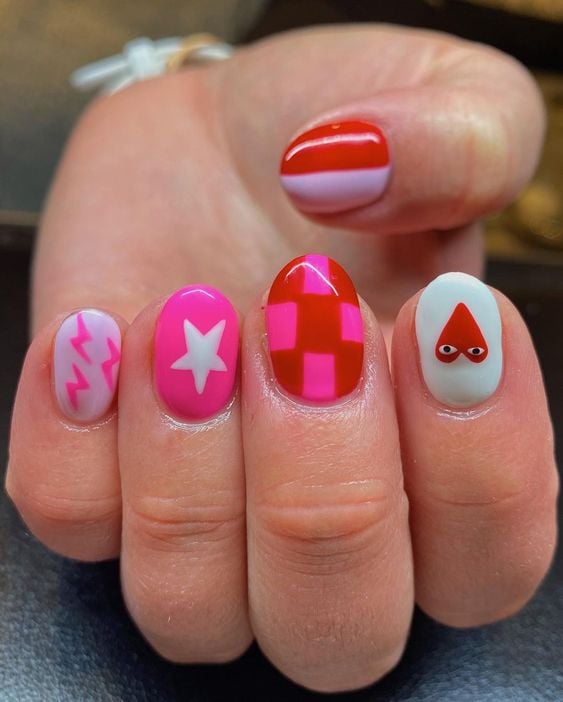 Image via @estheticsbyjayde
I love a pink and red moment — it's not just for Valentine's Day! Pick one design you love for all your nails or go with a different design on every finger like this bold mani.
13. Pink and Orange Nails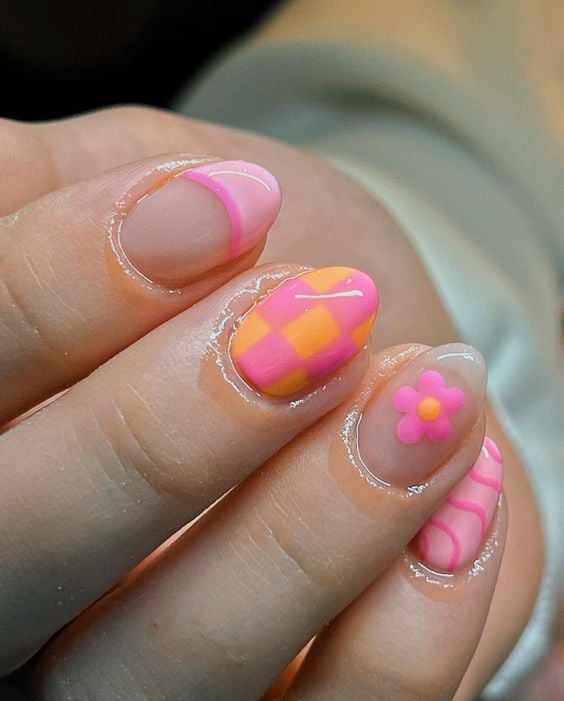 Image via @estheticsbyjayde
These sherbet colors make a fun color palette for your spring or summer nails.
14. Cherry Pink Nails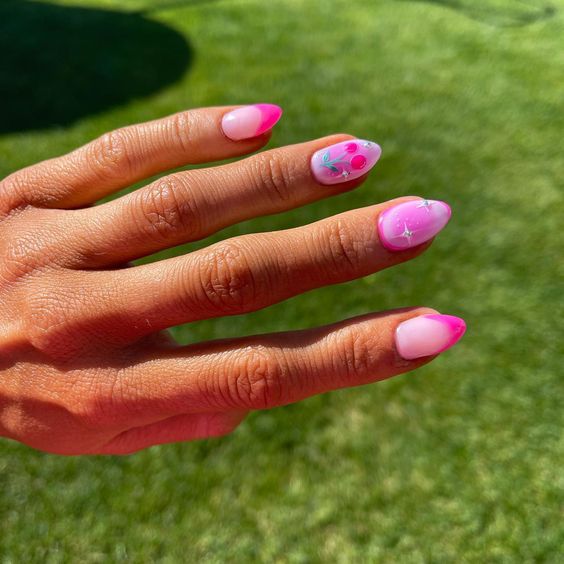 Image via @nailsby.hails
Don't shy away from adding a little sparkle to your manicure with some rhinestones! These sweet cherry nails are perfectly accented with rhinestones and pink french tips.
And here's a secret: if you're painting a detailed design on your non-dominant hand, don't feel like you have to replicate it on your dominant hand (and get frustrated with the results!). This manicure has solid nails on the other hand!
15. Pink Tips with Sparkles
Image via @nailsby.hails
Glitter base plus hot pink French manicure? Yes please! This gives off some real Barbie vibes and is a great summer look!
16. Pink Halloween Nails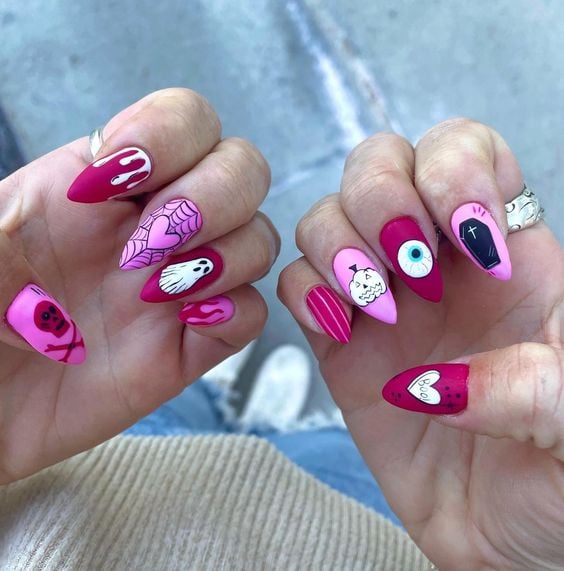 Image via @nailsby.hails
Halloween isn't just orange and black anymore! These fun pink Halloween nails incorporate ghosts, eyeballs, skeletons and more. Give it extra pizazz by using different color base coats.
Find more unique Halloween manicures here!
17. Pink Plaid Tips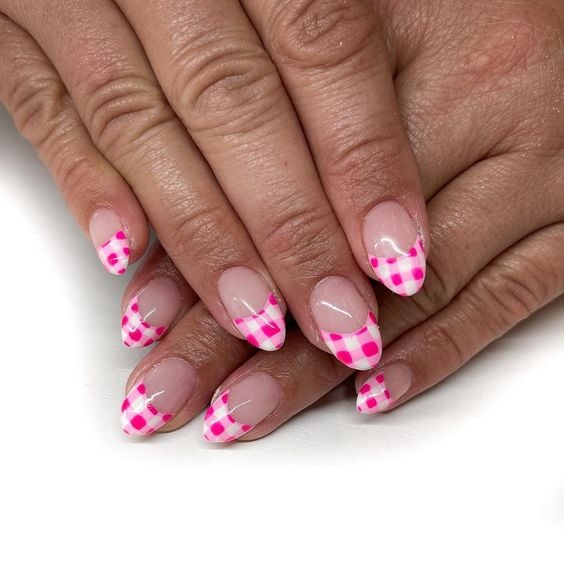 Image via @nailsby.hails
You can't go wrong with checkered nails right now — they're so on trend. If you want to give it an extra flair, just do the tips! The coordinating pinks make the perfect pattern.
18. Pink Paint Splatters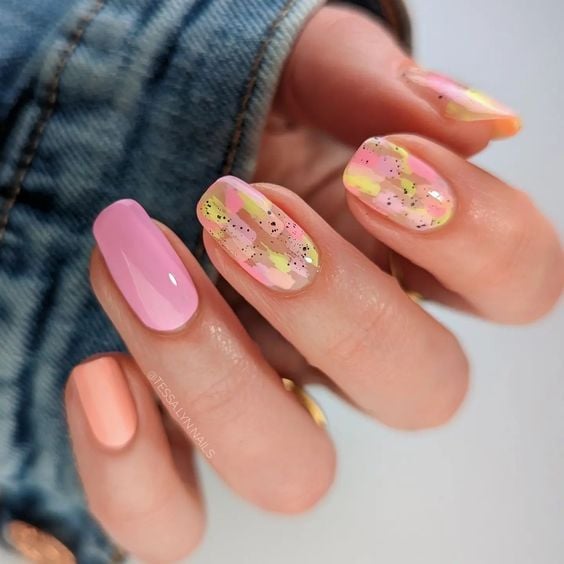 Image via @tessa.lyn.nails
Give your fingers a little dimension with this fun abstract nail design. Grab some neon colors and paint some rough lines. Then splatter a little black on top!
19. Pink Heart Tips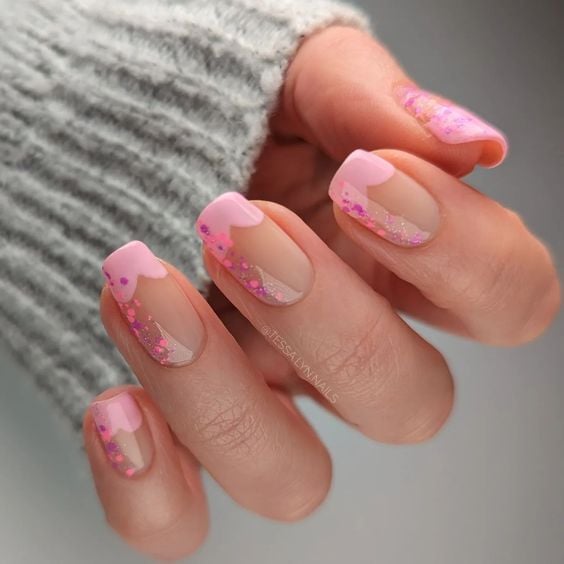 Image via @tessa.lyn.nails
Look at this adorable twist on the French tip! Use a sweet pink to make the top of a heart instead of a half moon, then add a little glitter and some dots. I love this look!
20. Pink Splatter with Smiley Faces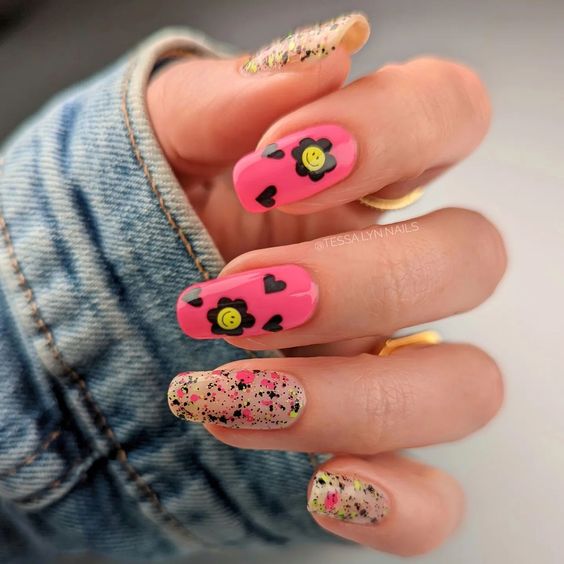 Image via @tessa.lyn.nails
If you're looking for hot pink nail designs that aren't too sweet or Barbie, this fun twist is good, slightly edgier option. By introducing different colors like black and yellow and doing a messier design like these splatters, you get a fun smiley manicure you can rock.
21. Pink and Gold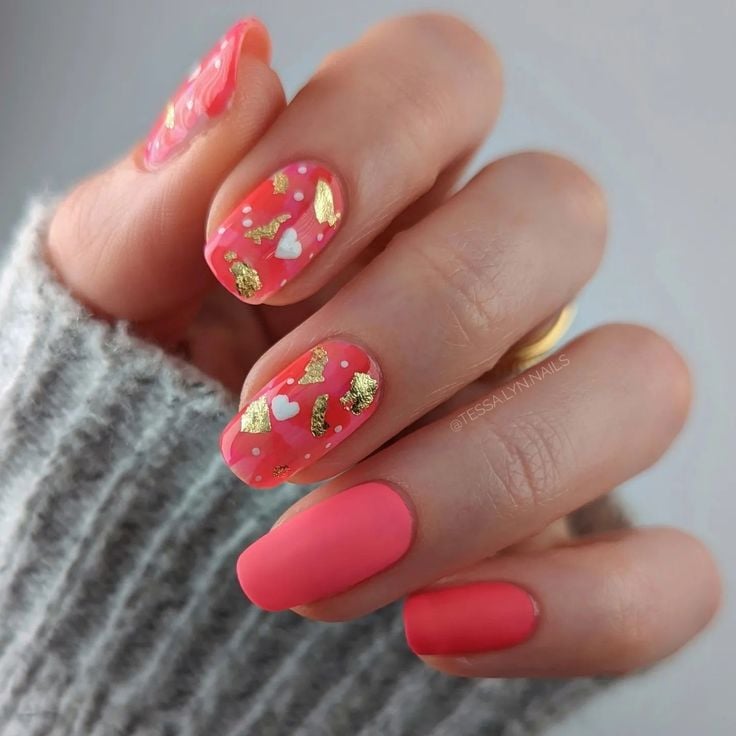 Image via @tessa.lyn.nails
This manicure is a fun way to play with different finishes. You've got the shimmer of the gold foil and the gloss of the top coat next to bright pink matte nails. It's an easy ideas to add another level of interest to your nails.
22. Pink Summer Nail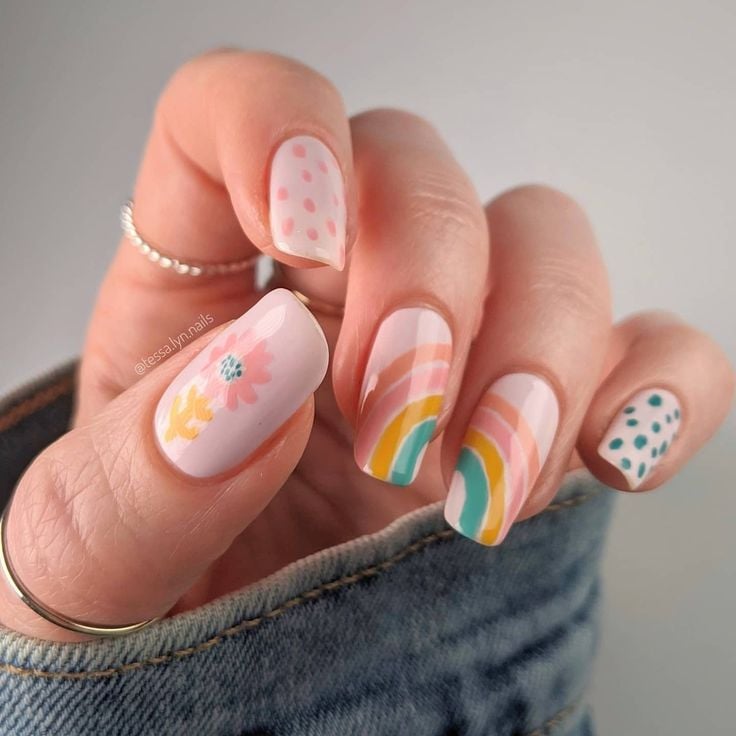 Image via @tessa.lyn.nails
Take this photo to your nail salon to get this extremely sweet manicure — one your daughters are sure to envy!
It has cute designs on each fingernail, including the rainbow that spans two of them.
23. Pink Abstract Nails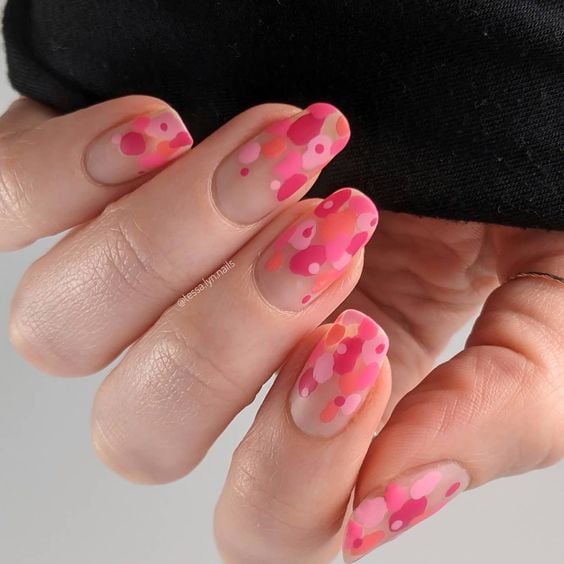 Image via @tessa.lyn.nails
​This abstract pink design comes together quick, and you can do as much or as little as you want. Just gather all your favorite pinks and a dotter and go to town!
24. Pink Fruit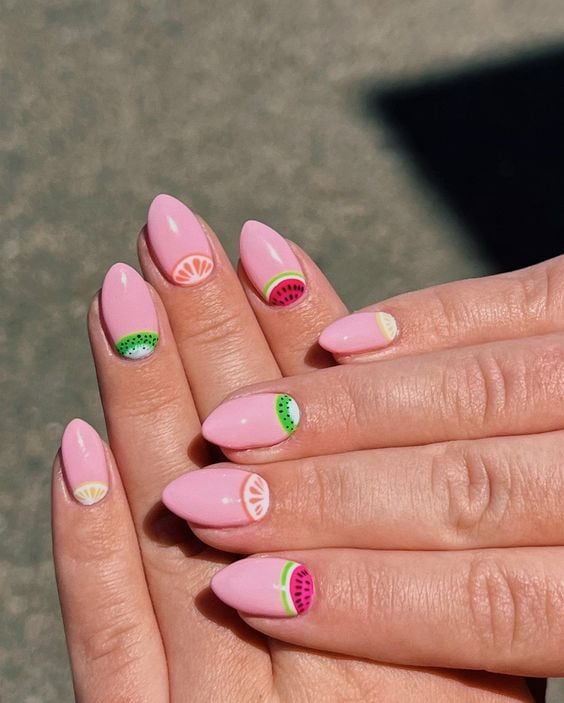 Image via @estheticsbyjayde
These summer nails are so fun! Pick a light pink base color and then add small semi-circles of different fruit. Since the fruits are on the base of the nail, this cute nail idea works for all nail lengths and shapes.
Don't forget, you can get 20% off at Olive and June using the code Jenb20! New to Olive & June? I have a complete review on O&J here.
Looking for more nail ideas? Try these: