Nude nails are great, but sometimes you're in the mood for something bright! That's where neon colors come in. They really make your manicure pop (and make you look tan!).
I love them for spring and summer, but they're really suitable for any time of year. Whether you have a colorful wardrobe or just want a pop of color with your look, take these ideas to your next nail appointment.
I've got dozens of the best neon nail ideas for you to find the perfect look for you.
Many of the designs below use Olive and June nail polish colors. Use this Olive and June link and the code jenb20 for 20% off your order of any of their systems.
Bright Neon Nail Designs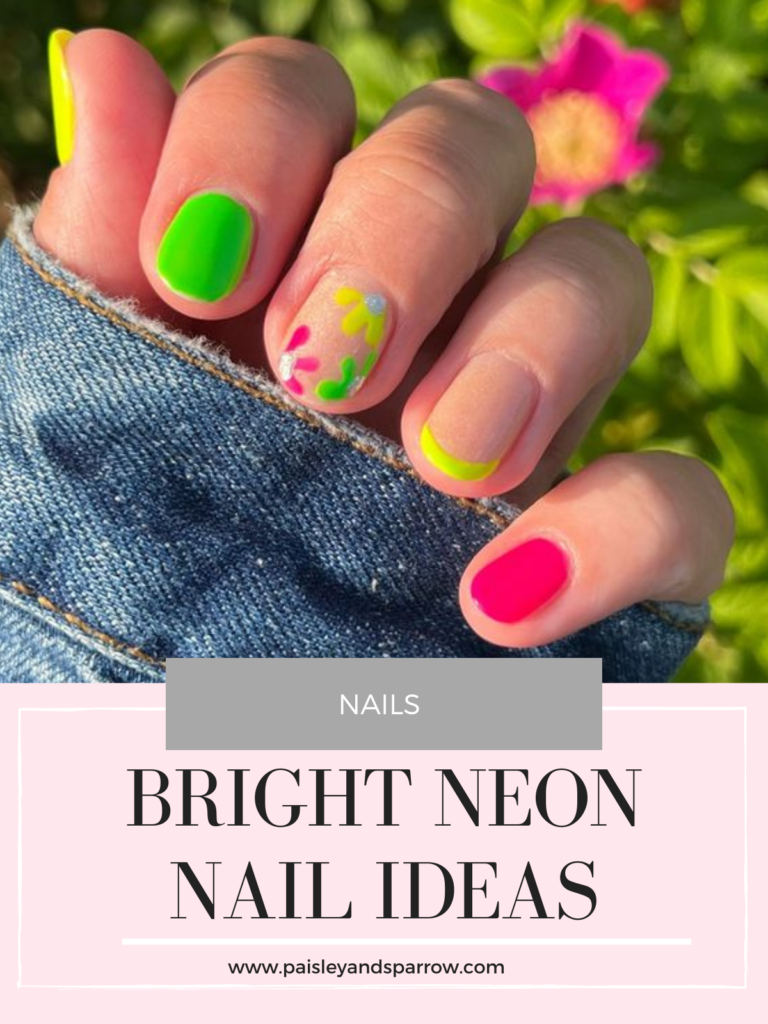 Paisley + Sparrow is a participant in the Amazon Services LLC Associates Program. This post may include affiliate links which means I may earn a small commission if you shop using the links below at no additional cost to you. 
1. Neon Yellow-Green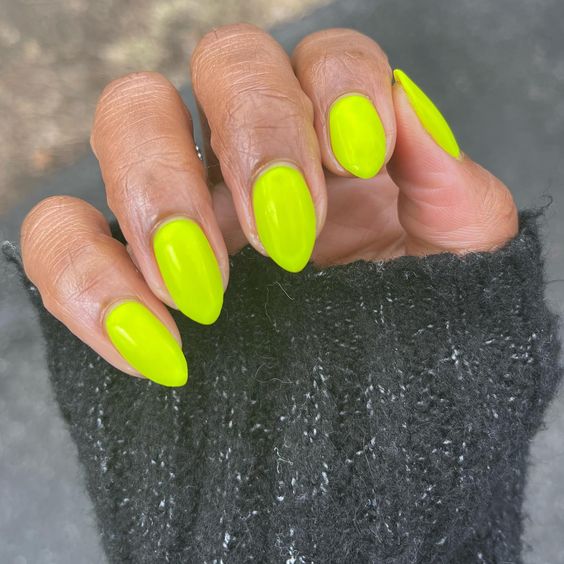 Image via @lecame.shesaw.shepainted
Starting this list off strong with these highlighter yellow nails! This bright neon color can't be missed and is the easiest way to jump on the neon nail trend.
Just pick the brightest neon you can find and paint a solid manicure.
2. Green and Pink Neon Nails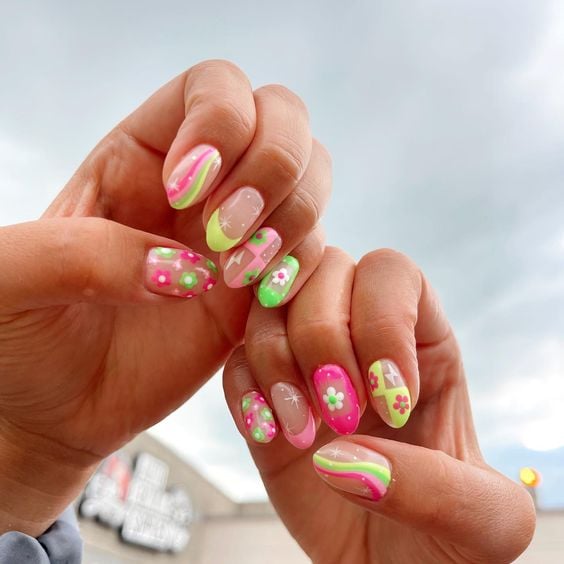 Image via @nailsby.hails
This neon manicure has a little bit of everything! You've got green, yellow, and shades of pink, as well as flowers, squiggles, checks and stars.
You could take all these ideas or just use one for an accent nail.
3. Neon Hearts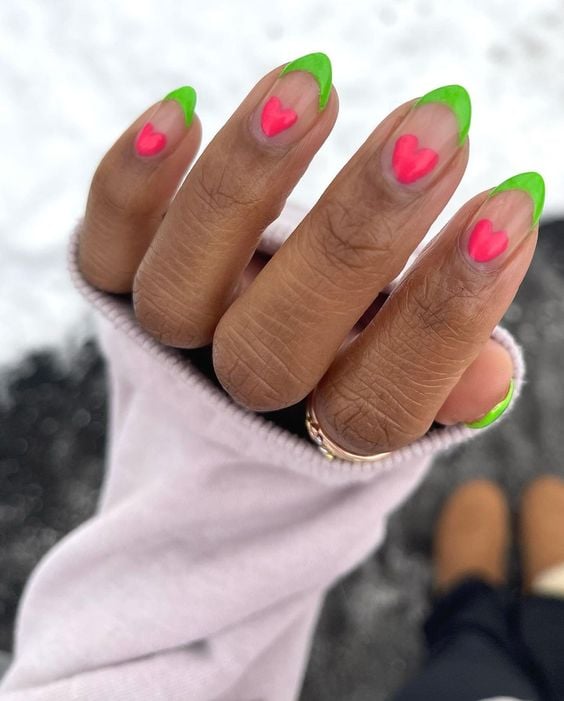 Image via @lecame.shesaw.shepainted
I love this simple nail look. Great for beginners, it doesn't require any fancy tools — you could just use a Q-Tip or the polish brush. You could also switch it and do it with pink tips and green hearts!
4. Neon Squiggle Nails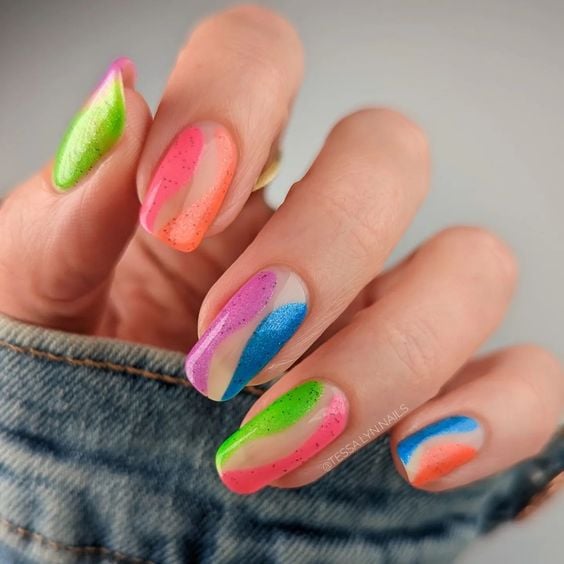 Image via @tessa.lyn.nails
Paint a nude base color and then add wavy stripes of your favorite bright colors for a fun mani. This one uses Red Eyed Lacquer's Neon Hi Chew Collection, which has dark flecks, giving this set of nails a little extra dimension.
5. Hot Pink Watermelon Tips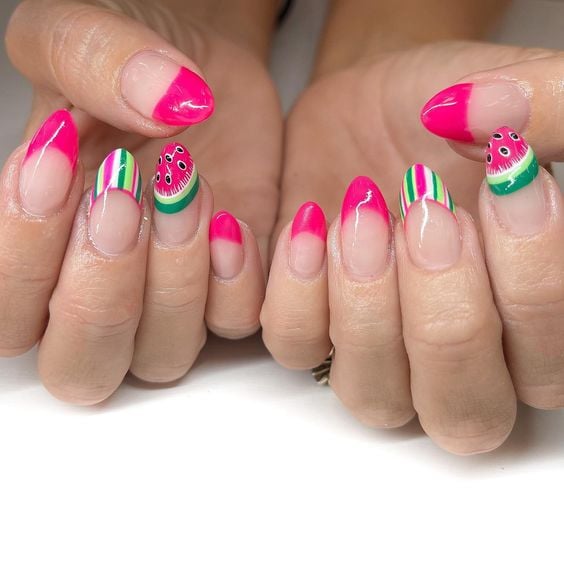 Image via @nailsby.hails
Bring some juicy watermelon to your nails for the summer season! These clever French tips use neon pink and green to create a cohesive look.
6. Eclectic Neon Orange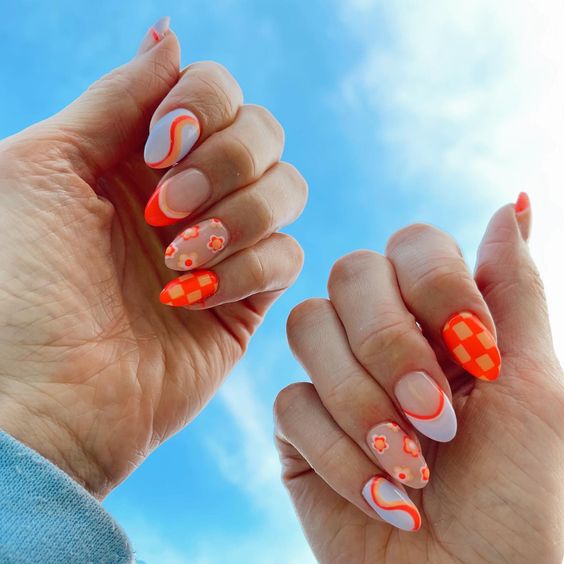 Image via @nailsby.hails
How fun and retro are these neon orange nails?! They make me want to go roller skating on a summer night! Two shades of orange and a bright white make this manicure stand out.
7. Smiles Faces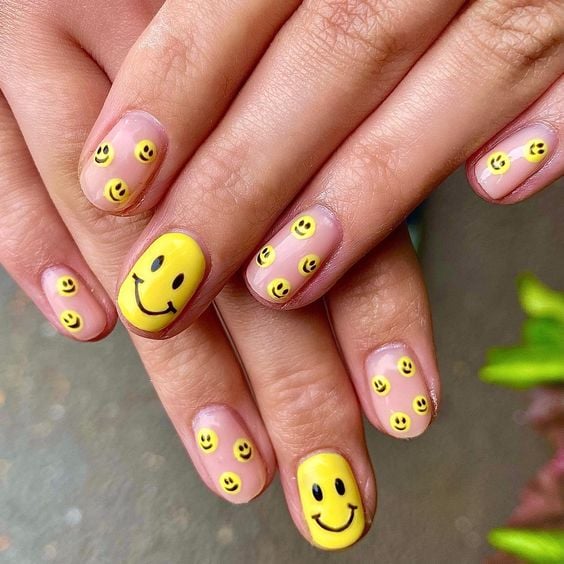 Image via @illustrated_nails
Brighten your day in more than one way with these bright yellow smiley nails. Use a dotting tool for an easy-to-achieve manicure.
8. Orange on Orange Nails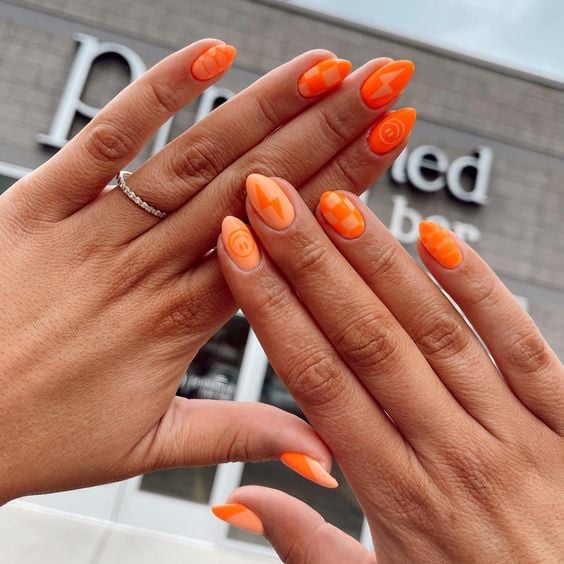 Image via @nailsby.hails
Reverse, reverse! This genius idea uses two different shades of neon orange, but flips the colors on each hand so it's a little more interesting.
9. Pink Splatter with Smiley Faces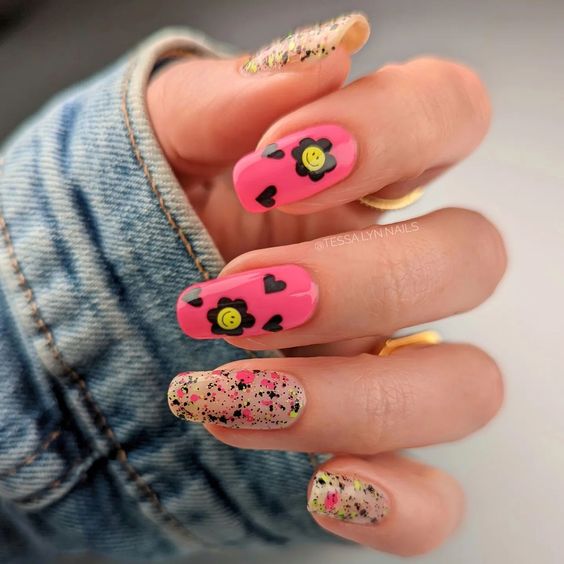 Image via @tessa.lyn.nails
Splattering neon nail polish is a great idea if you're worried about too much neon on one hand. It helps break it up a bit, and creates a really cool aesthetic.
10. She's Electric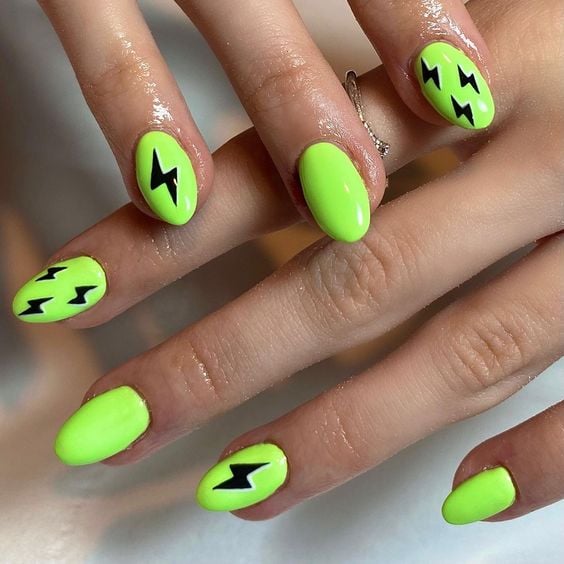 Image via @illustrated_nails
This is a high-voltage manicure! The color reminds me of a glow stick. Add these easy lightning bolts for an electrifying look.
11. Neon Green Crocodile Tips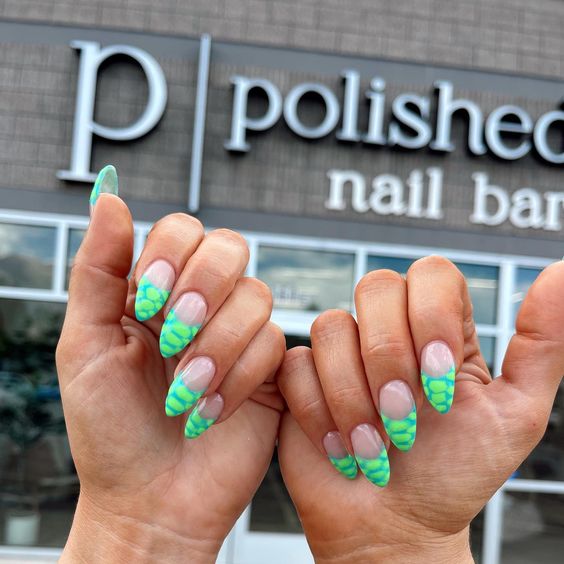 Image via @nailsby.hails
Leopard prints aren't the only easy animal print for fingernails! This crocodile print is such a fun pattern, you can do it in any color — including these bright neon green nails.
12. Pink Red Nails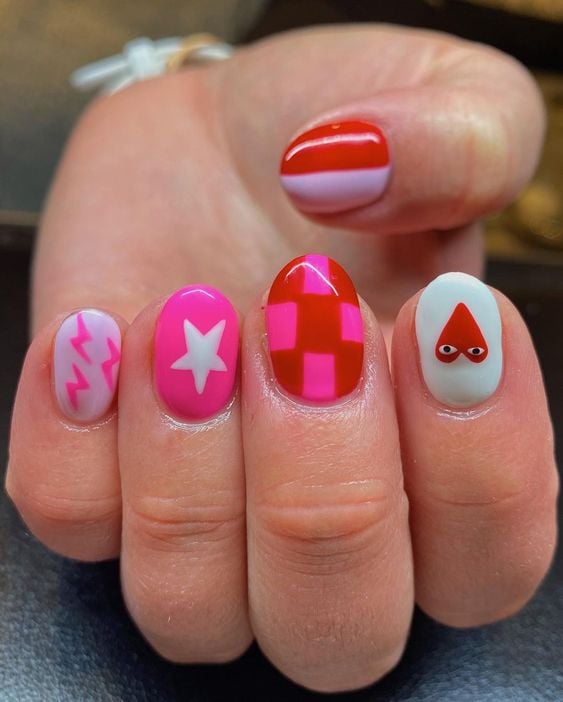 Image via @estheticsbyjayde
Want to feel sweet with a little bit of an edge? This neon pink and red manicure is fun and feminine, but a little bit punk with checkerboard, lightning bolts and stars.
13. Neon 3D Tips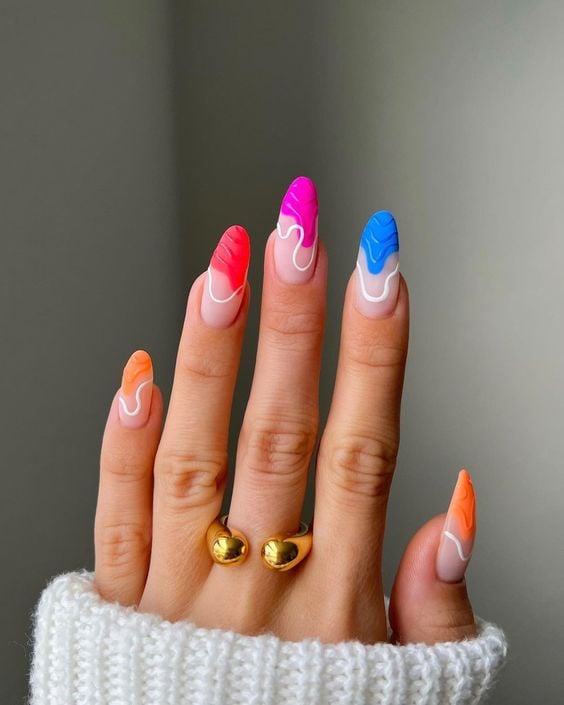 Image via @nailsbysmf
People with long nails can really take advantage of the space to create some fun designs. These neon squiggles are so playful, and the mix of matte and glossy polish really adds some sophistication.
14. Neon Smiles and Swirls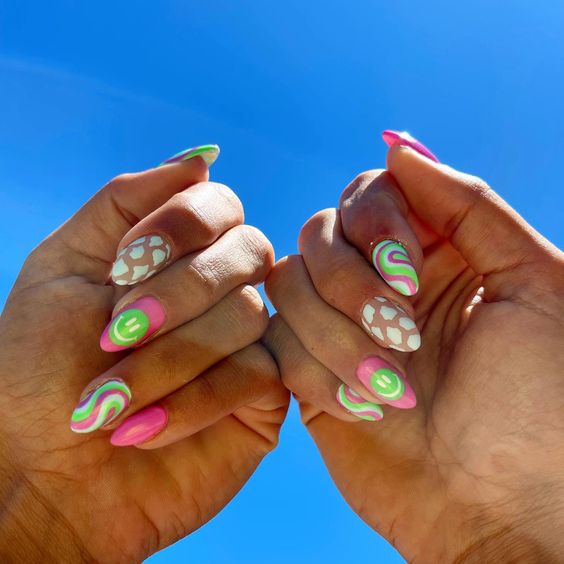 Image via @nailsby.hails
How cute is this neon pink and green manicure? You can't go wrong with smileys, swirls and clouds.
15. Double Layer Rainbow Tips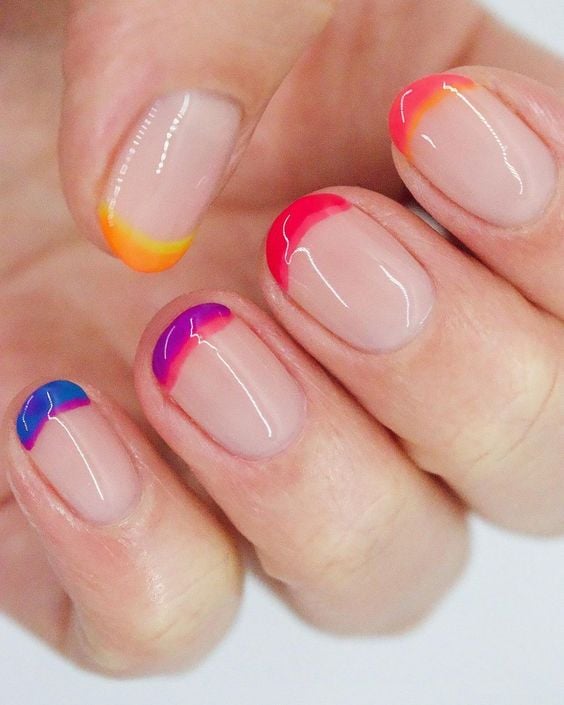 First off, shout out to these perfect neon nail colors. This is my kind of neon rainbow manicure! Carry one color from each nail onto the next to keep it cohesive.
16. Neon Dots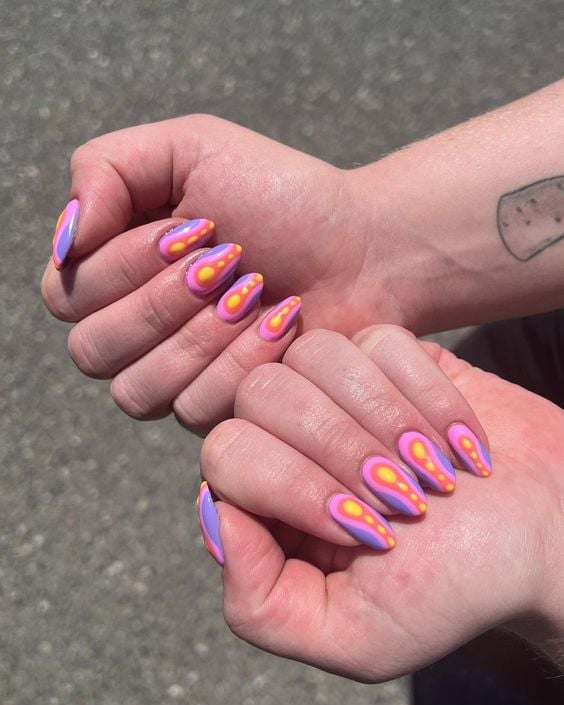 Image via @estheticsbyjayde
Lava lamps have nothing on this manicure! I love the unique look of the cascading dots. Use whatever neon colors you want to match your style!
17. Neon Pink Crocodile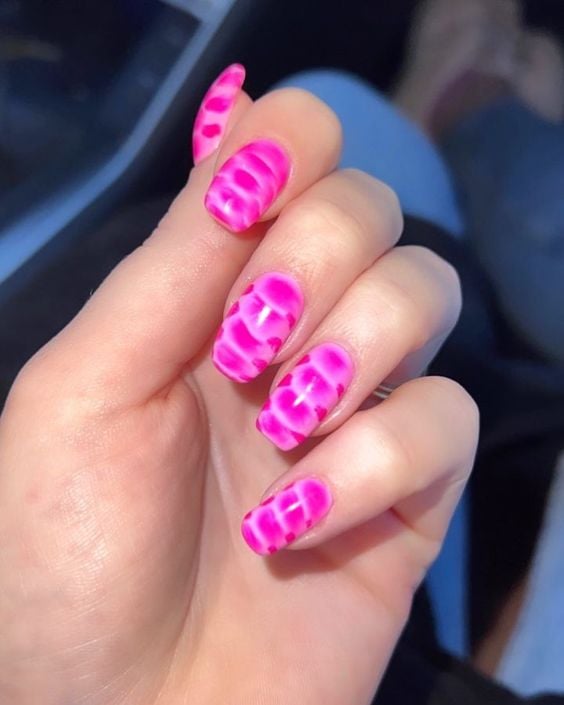 Image via @nailsby.hails
The magic to this neon pink polish mani is bloom gel! It makes the crocodile pattern simple to do, even on your non-dominant hand.
18. Neon Pink Flowers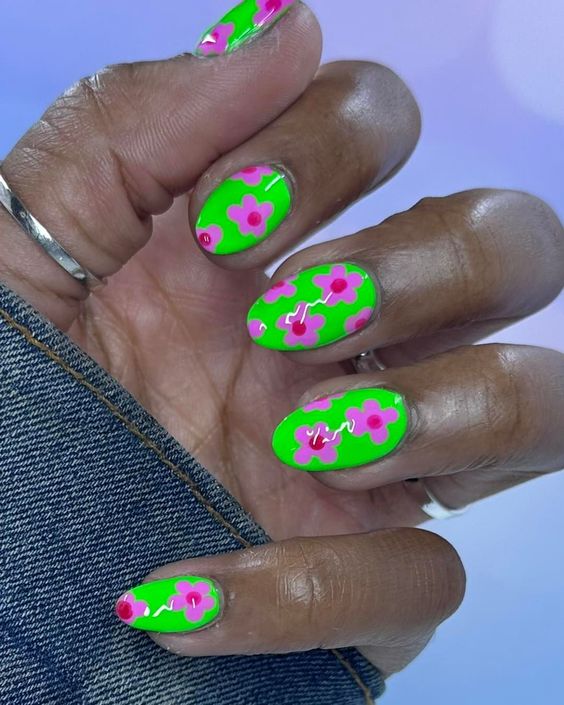 Image via @mynailfielife
There's no arguing that this is a NEON manicure. It's practically glowing! The vibrant color of the base coat really makes this set pop.
Cirque Colors: Kushy, Socialite, Mushroom Kingdom
19. Festival Nails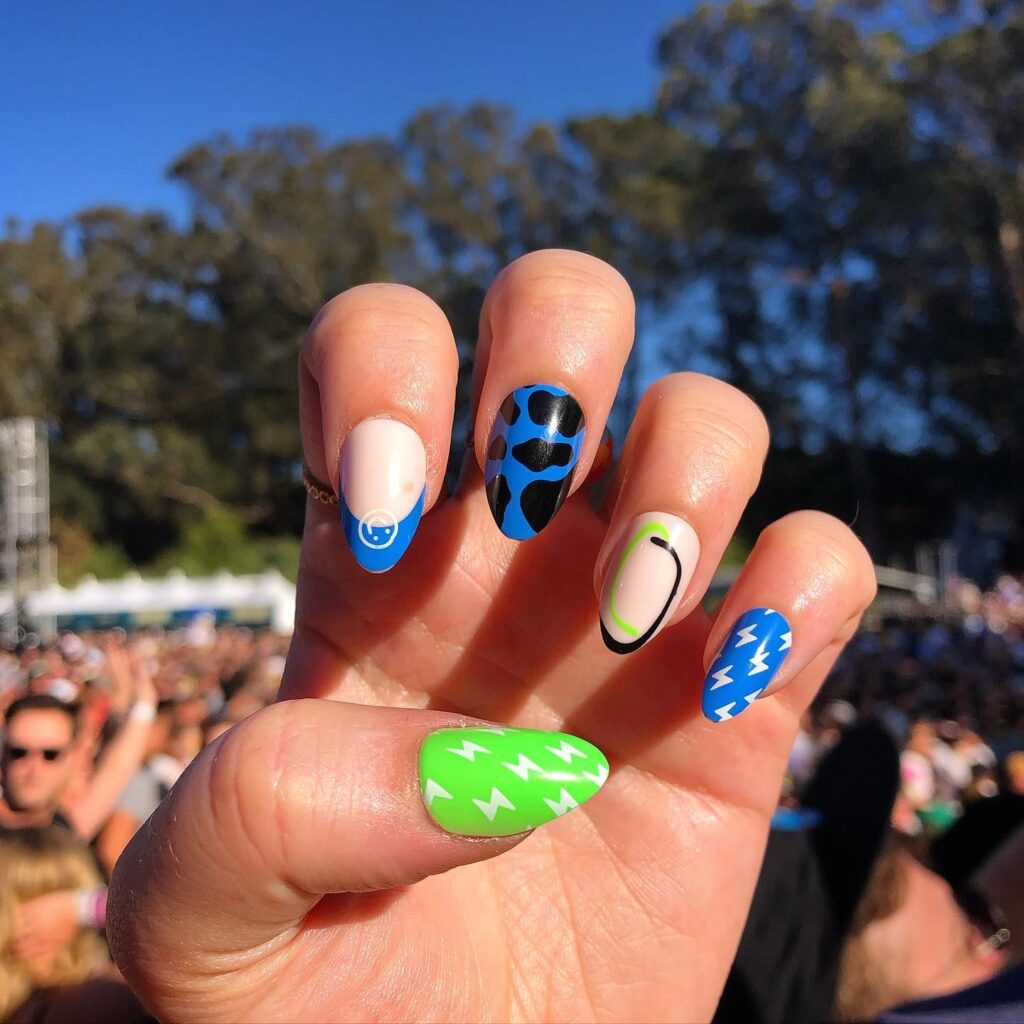 Do you like press-on nails? They're the perfect way to get precise designs no matter your skill level. This set lets you put different designs on each nail to keep it interesting!
20. Line Fizz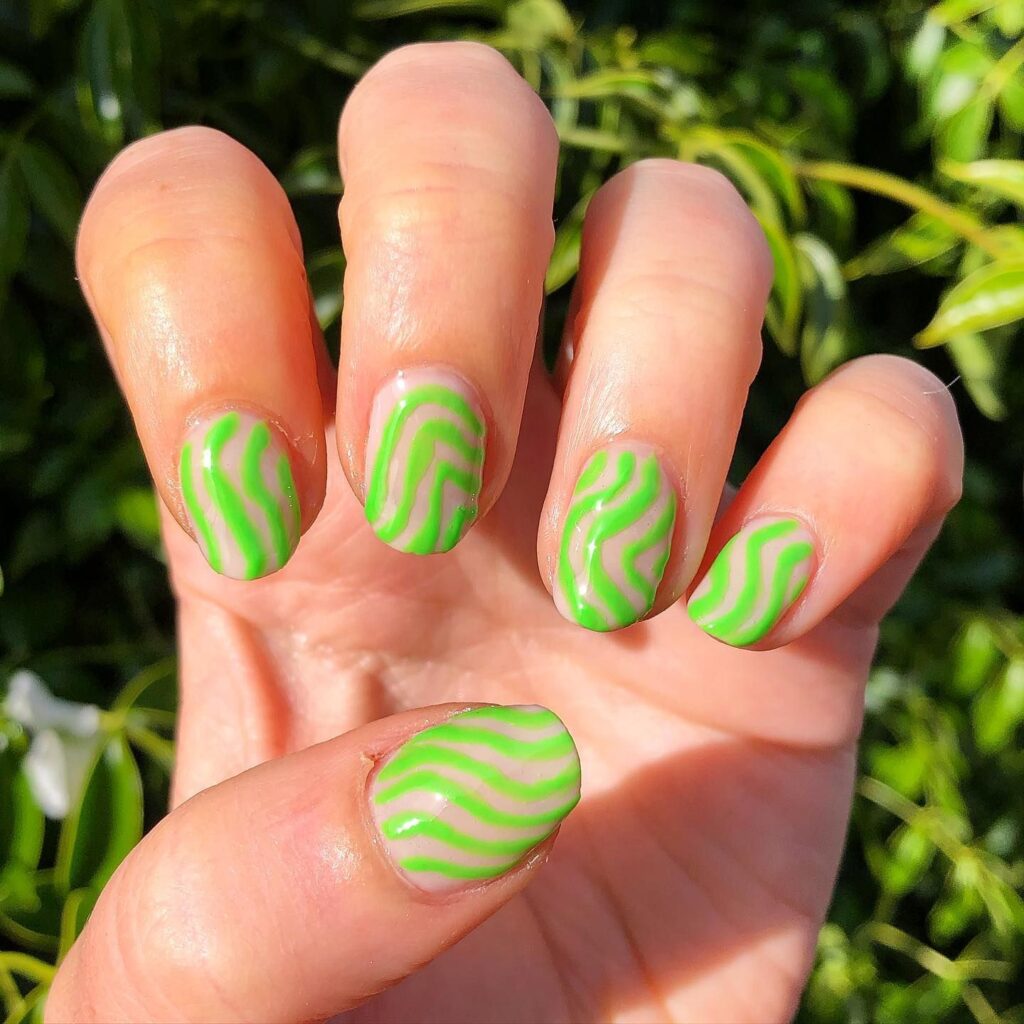 Colors from Olive and June: Lime Fizz, The Queen Takes Her Tea With Milk
21. Hot Pink Daisy Tips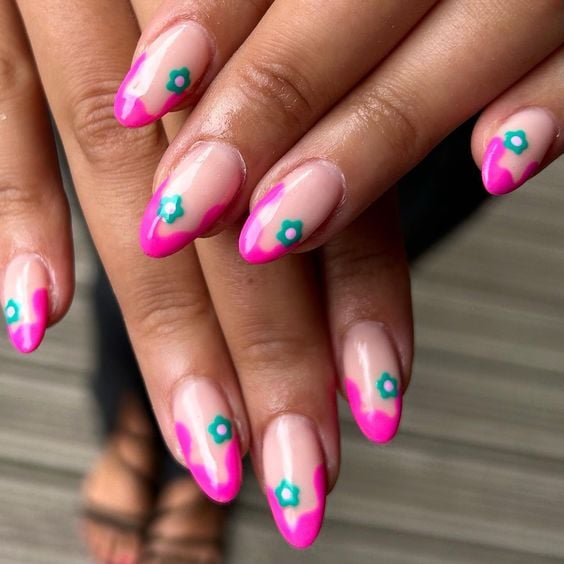 Image via @illustrated_nails
Gotta love a twist on a French manicure! Switch out the traditional half moon style on the tip with these wavy lines that hug the top of your nails.
22. Neon Green Fire Tips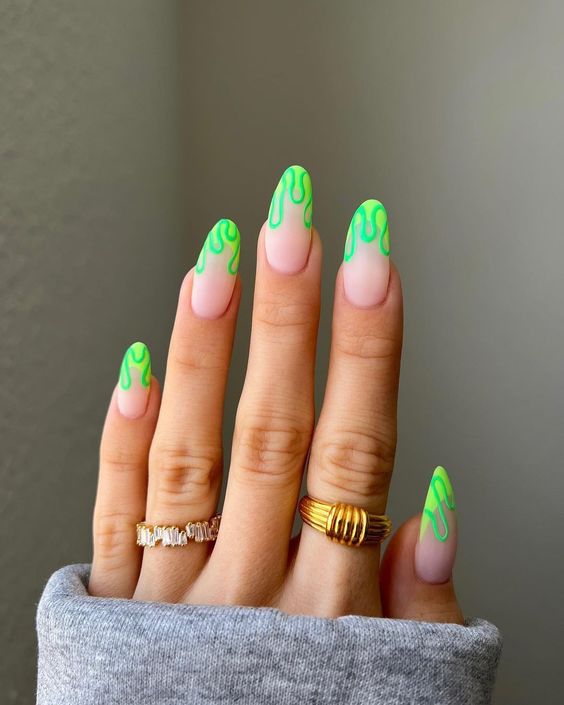 Image via @nailsbysmf
French tip nails don't have to be plain! These neon greens and flame-like lines really kick this mani up a level. You could use this inspiration on any nail length, but it works best on long nails.
23. Neon Smile Nails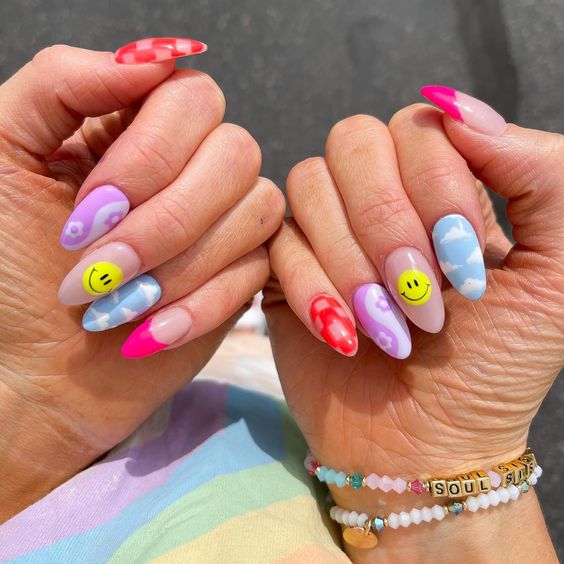 Image via @nailsby.hails
You can do different colors on every nail — and they don't all have to be neon! Try a neon smiley face on one, a neon pink french tip, and a sky blue with clouds.
(Love cloud manis? I've got a whole list of inspiration for you!)
24. Neon Green and Black Abstract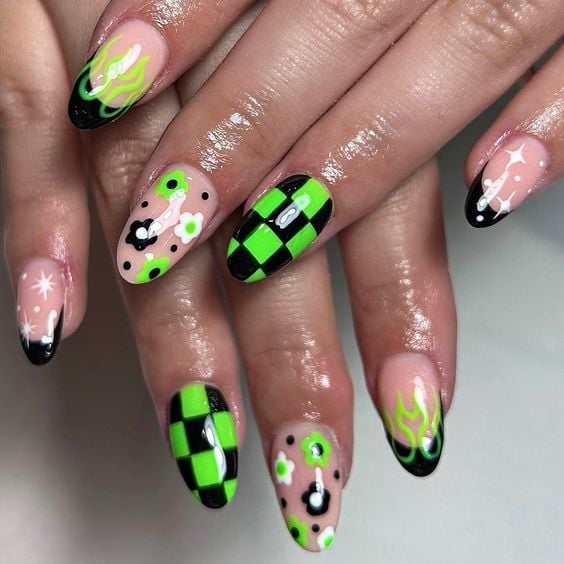 Image via @illustrated_nails
Bring black into your neon design for a bold look! Flowers, flames, checkers, and stars are always good ideas for a mixed mani.
25. Green and Pink Squiggles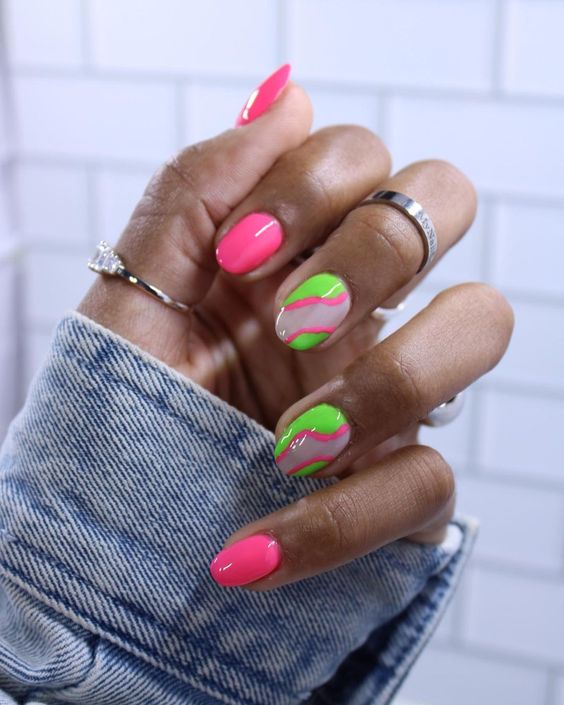 Image via @mynailfielife
Neon pink and green give me big '80s vibes! This squiggle design is great for beginners and would be great for a throwback party!
26. Tie Dye Nails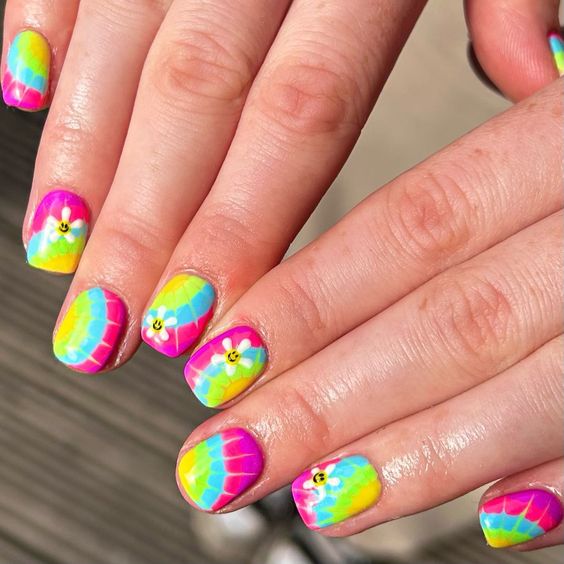 Image via @illustrated_nails
It's not as hard as you might think to achieve these colorful nails! To get the tie-dye effect, use gel polish to create the rainbow lines and then pull the lines out from the smallest one. Cure them (one at a time is best) and you're done!
27. Neon Rainbows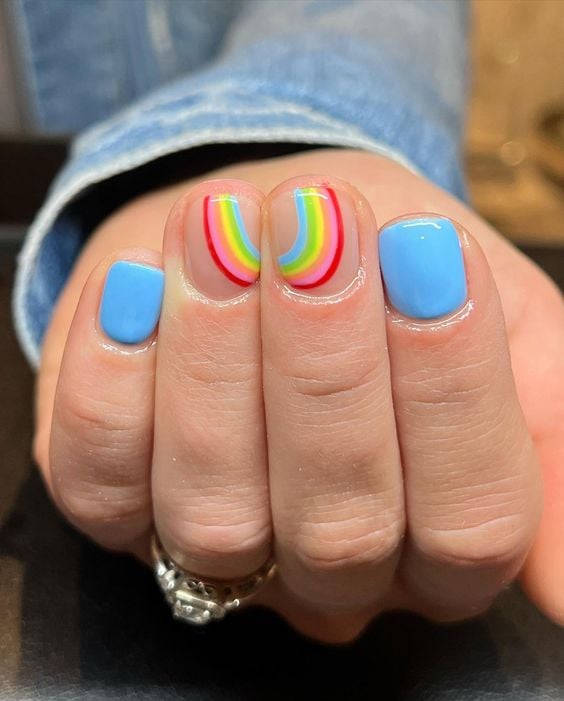 Image via @estheticsbyjayde
Find your pot of gold at the end of this neon rainbow! So cute to make the two nails feature one continuous image.
28. Neon Tips & Lightning Bolts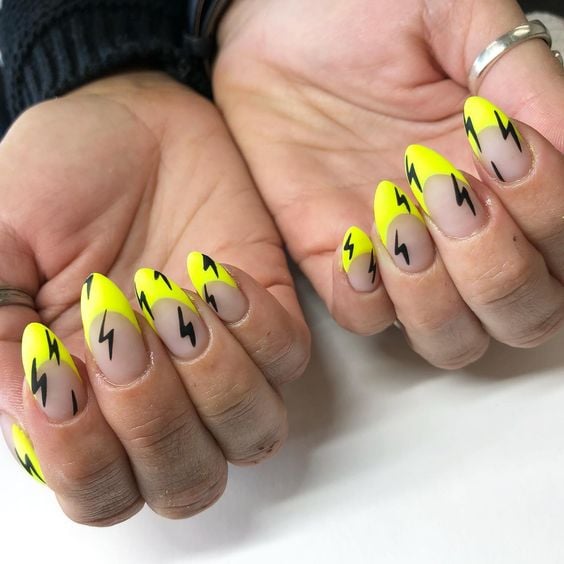 Image via @nailsby.hails
Add something extra to a neon French mani with these black lines for lightning bolts.
29. Neon Smiles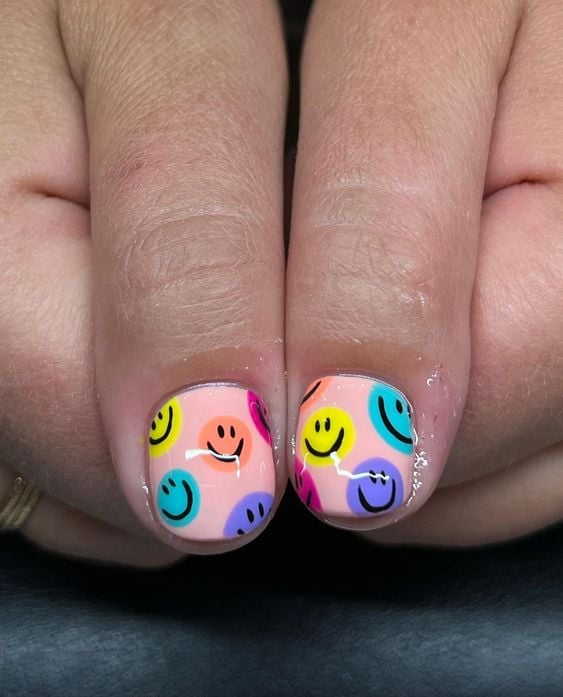 Image via @nailsby.hails
If polka dots aren't enough for you, make them into sweet smiley faces. This is one of my favorite ideas to easily use all your favorite colors in one manicure!
30. Neon Jungle Paradise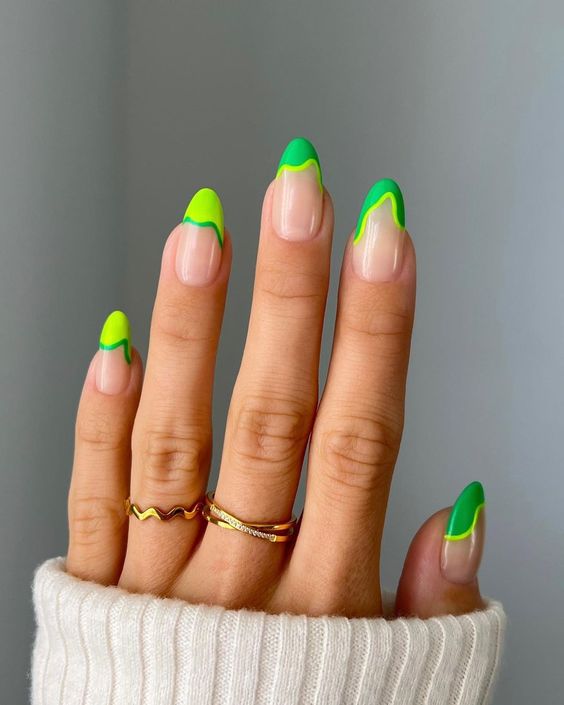 Image via @nailsbysmf
Slime nails are perfectly themed for the new Teenage Mutant Ninja Turtles movie! These are easy to do, but you can keep them from looking amateur by swapping the colors on the last two nails.
31. All Over Color Neon Nails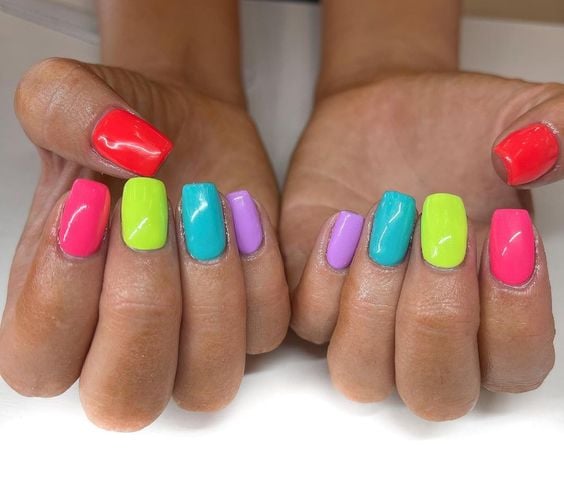 Image via @nailsby.hails
An easy neon rainbow! Find your favorite shades and paint one per fingernail. Quick, simple, and eye-catching!
32. Trippy Pink Neon Swirls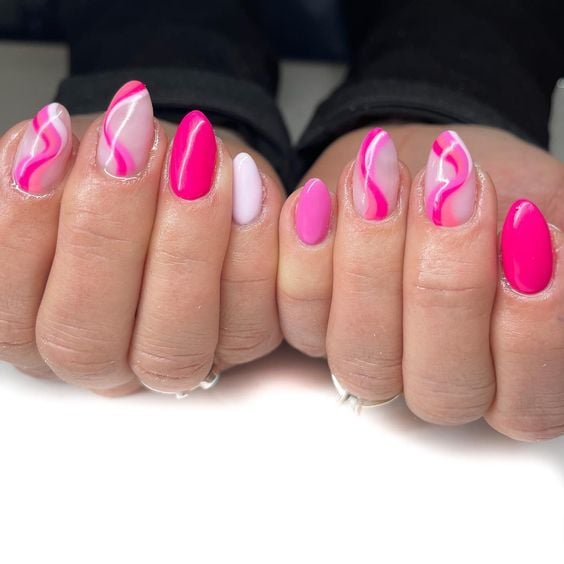 Image via @nailsby.hails
You can of course go for solid neon pink nails (hi Barbie!), but this combination of light, medium and hot pink gives the mani a bit of depth!
33. Highlighter Yellow Nails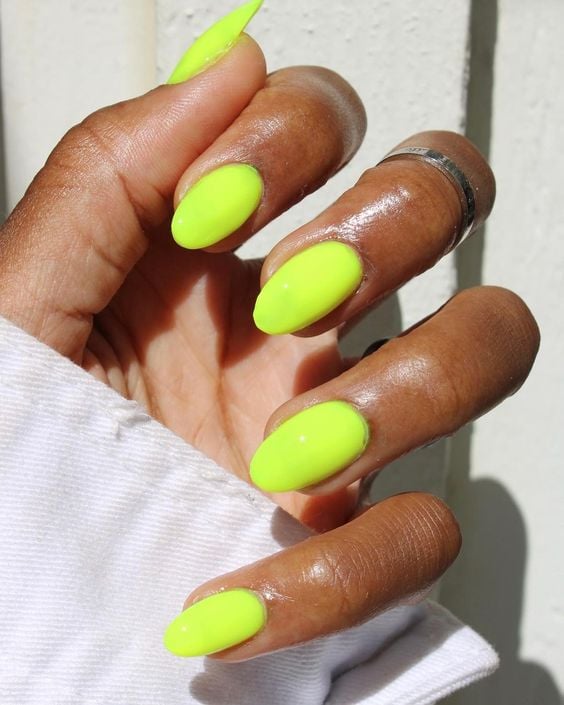 Image via @mynailfielife
If you have to pick one neon, why not going with the brightest you can find: highlighter yellow! Let your nails show your bright personality and style.
34. Neon Flames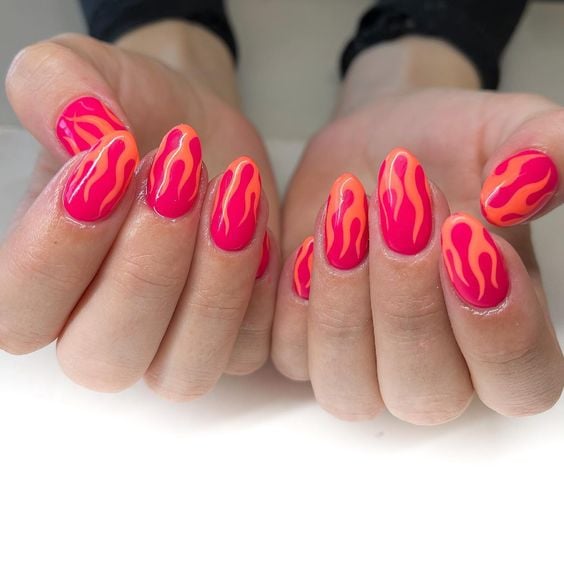 Image via @nailsby.hails
Feeling hot! Flames are a fun, edgy design, but basic red, yellow and orange may not be your style. Try neon pink and orange for different take on fire.
35. Green and Pink Hawaii Nails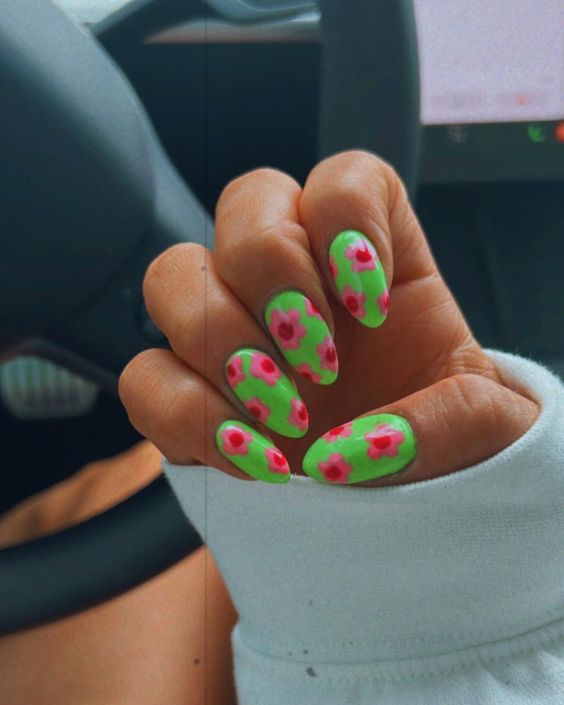 Image via @nailsby.hails
Say aloha to these fun floral nails. Paint on your favorite bright base coat, and then use a dotting tool or Q-tip to create these easy flowers.
36. Cactus Nails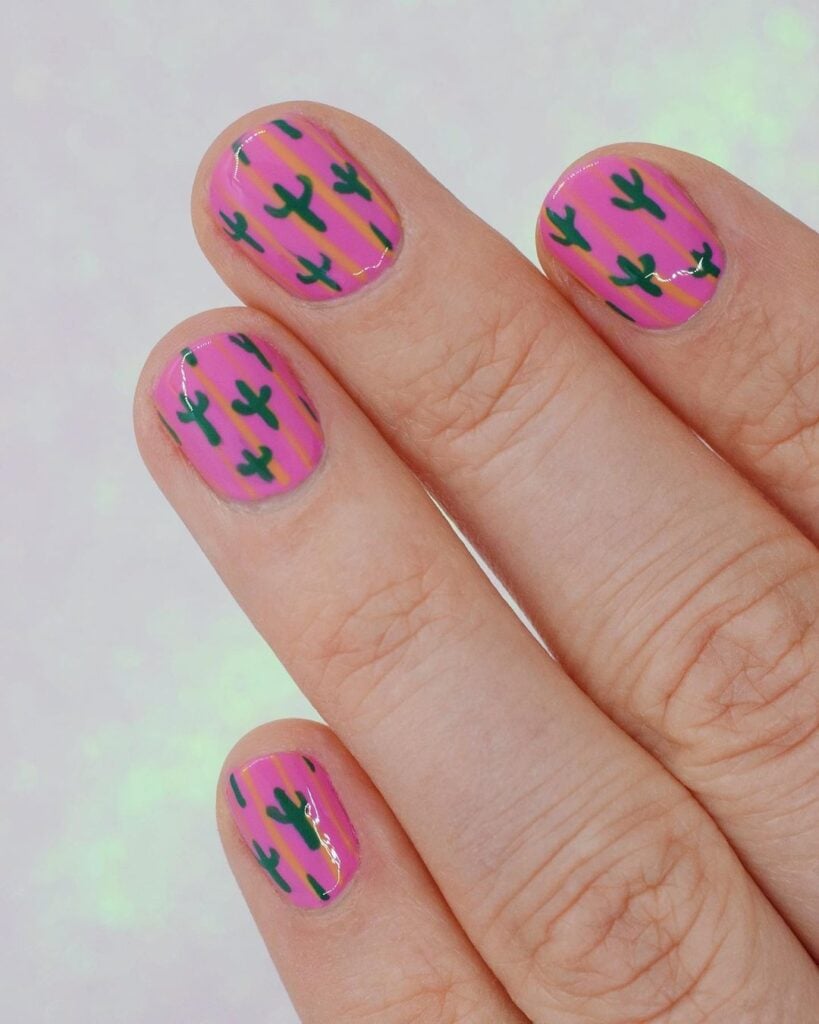 ​A Southwest motif doesn't need to be drab and boring. Jazz up some cactuses with a neon orange and pink striped background!
37. XO Flowers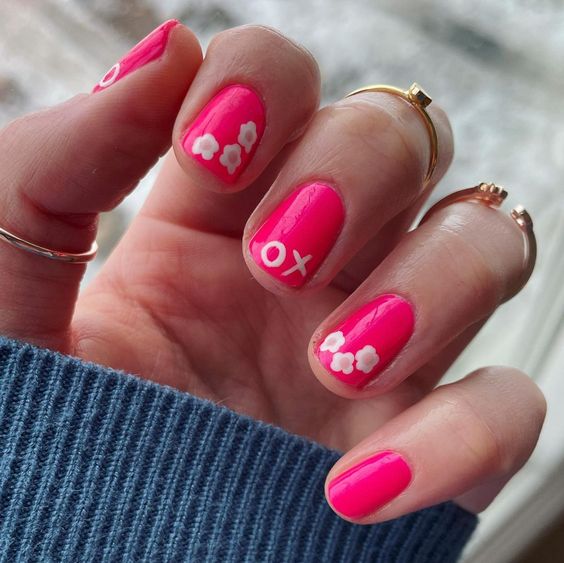 image by emjpolished
Feminine and flirty, this bright pink mani is a great place to start for beginners trying their hand at nail art. Simple flowers and letters can easily be done with your non-dominant hand!
38. Neon Blue Waves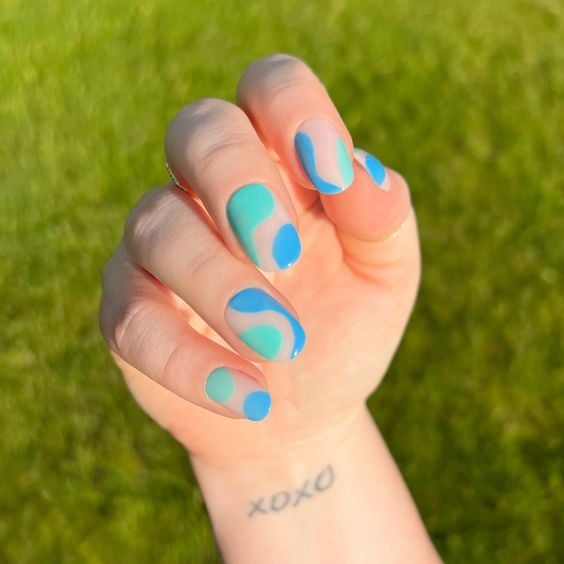 Image via @mani.of.the.moment
You can go cool with your neon colors too. These blues are giving ocean wave vibes — and better yet, they're nearly impossible to mess up!
Color: Olive & June Potpourri, Parakeet, Not a Cloud
39. Neon Tangerine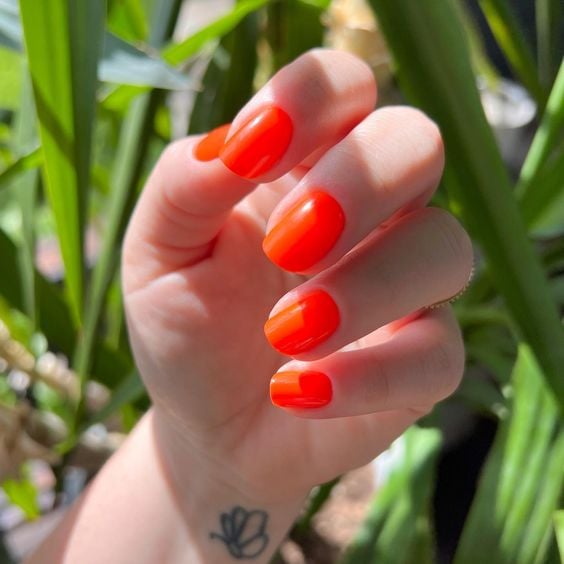 Image via @mani.of.the.moment
No one will be able to miss your new manicure with these bright color. Tangerine is a hot color this year, so you can't go wrong.
Colors: Olive & June Neon Tangerine
40. Tennis Nails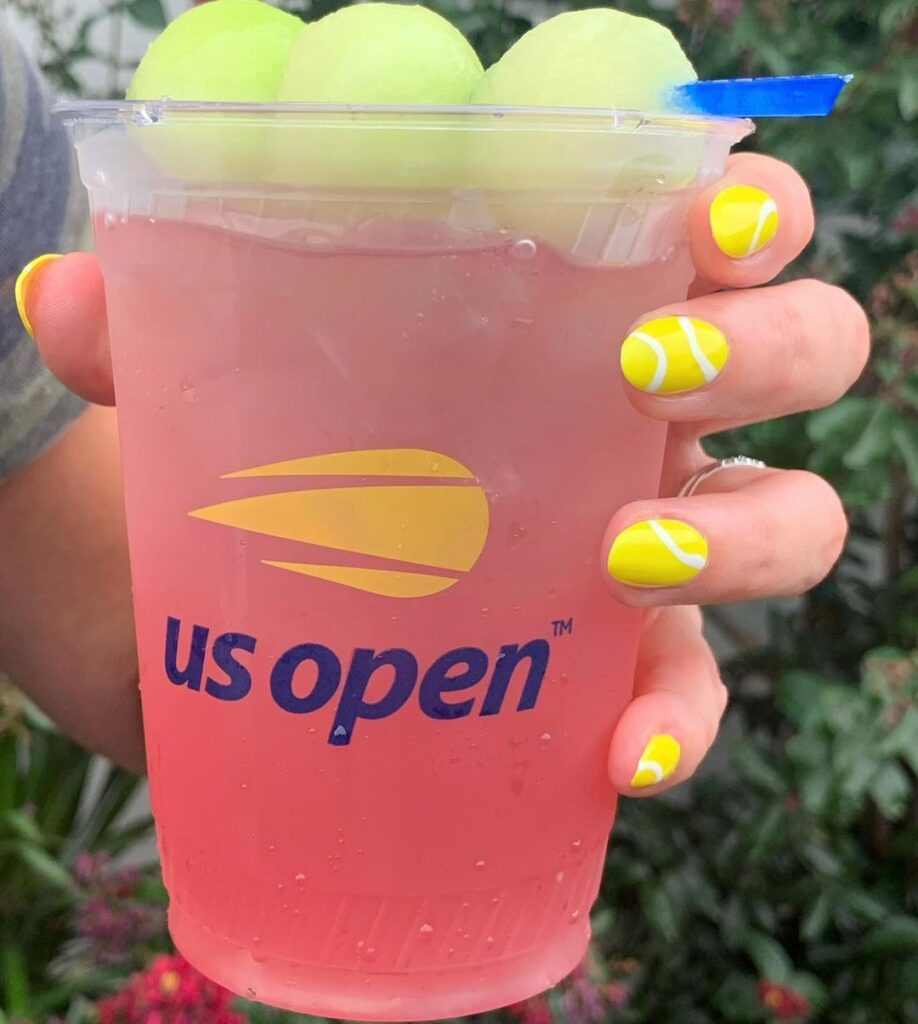 ​Who doesn't love a theme?! If you're a tennis fan and attending (or playing!) a match, don't miss the chance to paint these cute tennis balls on each nail.
Colors Olive and June – Lemony lemon, HD
41. Neon Flower Nails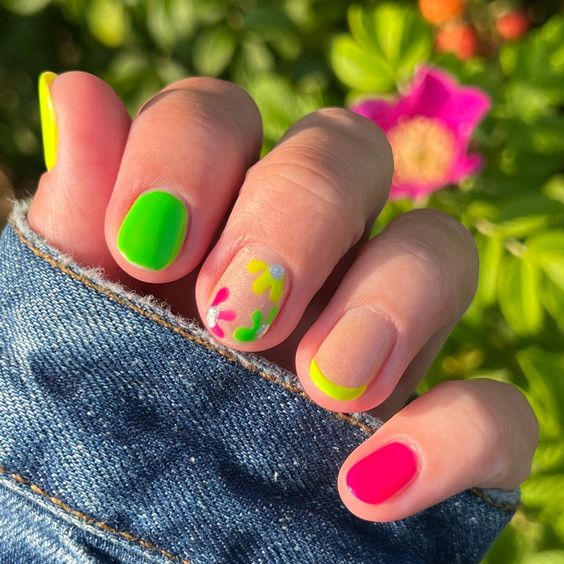 Formula for one adorable mani: 3 solid nails in different colors, one french tip accent nail and a floral nail that combines all the colors. The pop of glitter in the center of the flowers make this set special.
42. Pearl Flowers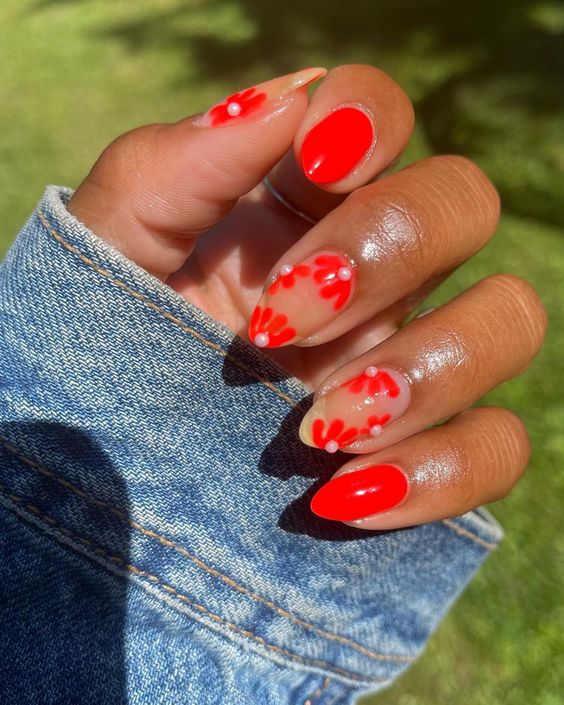 Level up a red mani with a neon red polish and pearls. The pearl as the center of each daisy makes these nails unforgettable.
43. Neon Green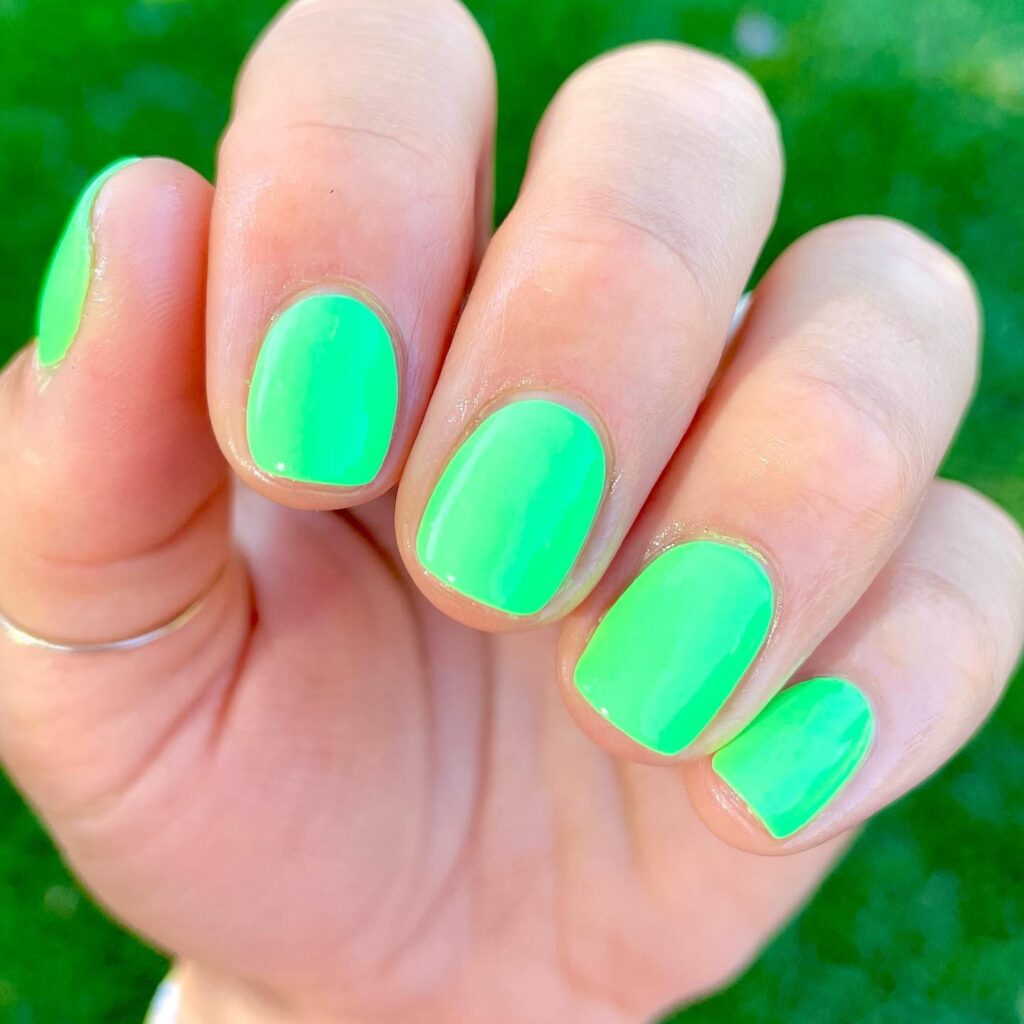 Every time I see a different neon polish, I think I couldn't love another neon color more. But this green is currently in first place. It stands on its own as a solid mani — it does't need any intricate design!
"It's All In The Attitude" by @colorclubnaillacquer
44. Neon Rainbow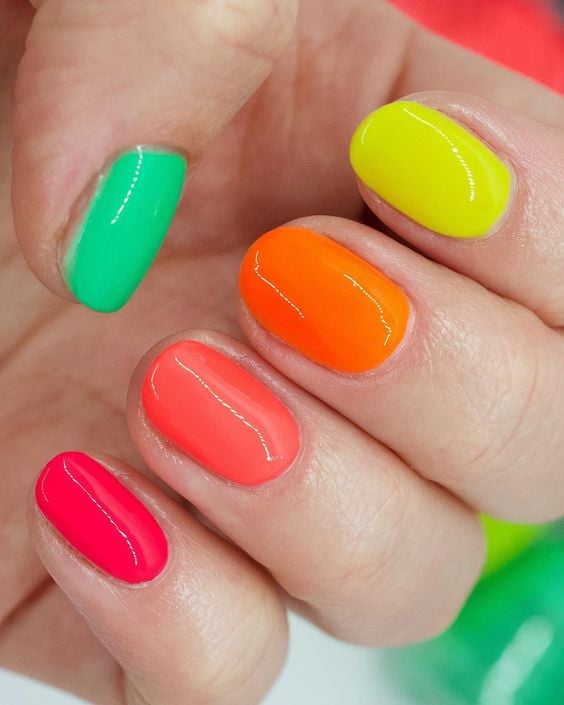 Image via karanailedit
Whether it's summer time or you just wish it was, this bright set will give you all those warm sunny feelings.
45. Summer Clouds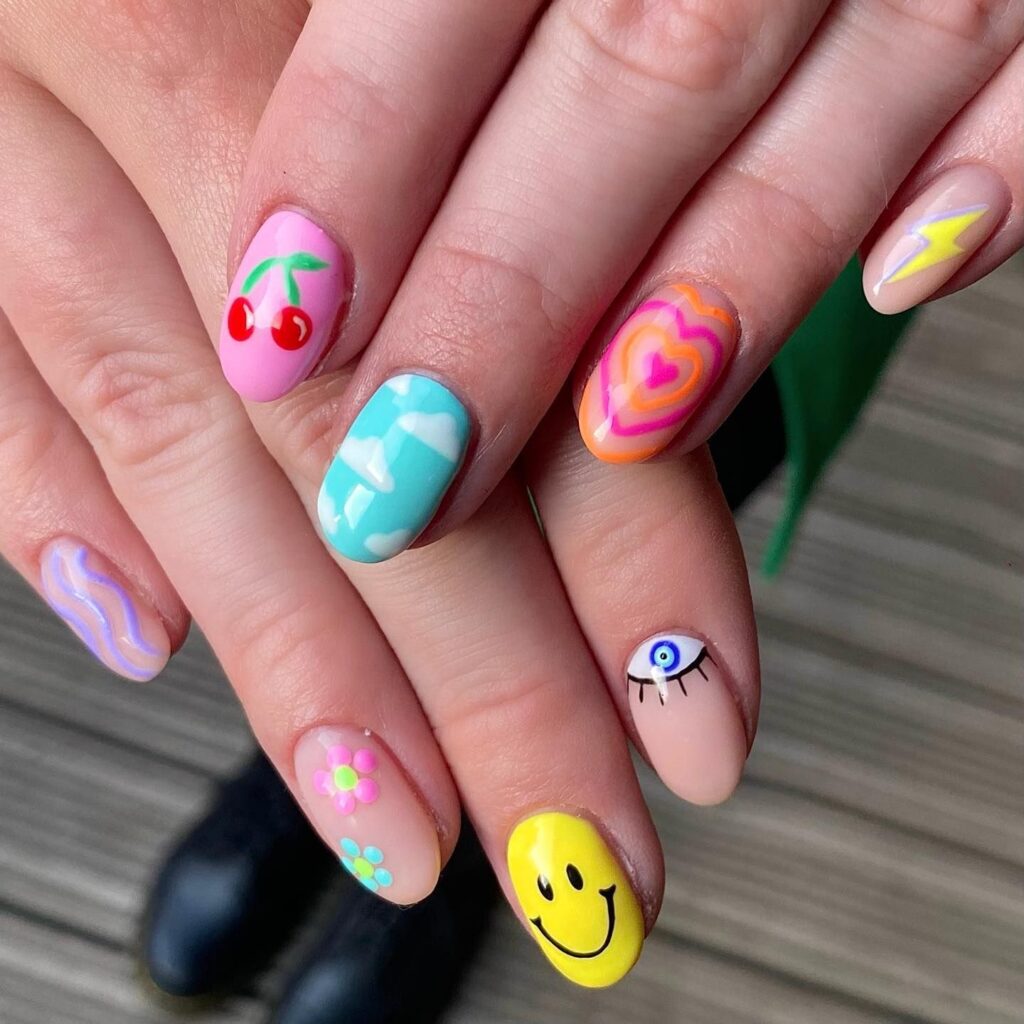 Make all your neon dreams come true with a different design on every nail! Neon sky with clouds, orange and pink hearts, bright purple squiggles, lightning bolts — whatever your heart desires.
46. Color Block Heart Art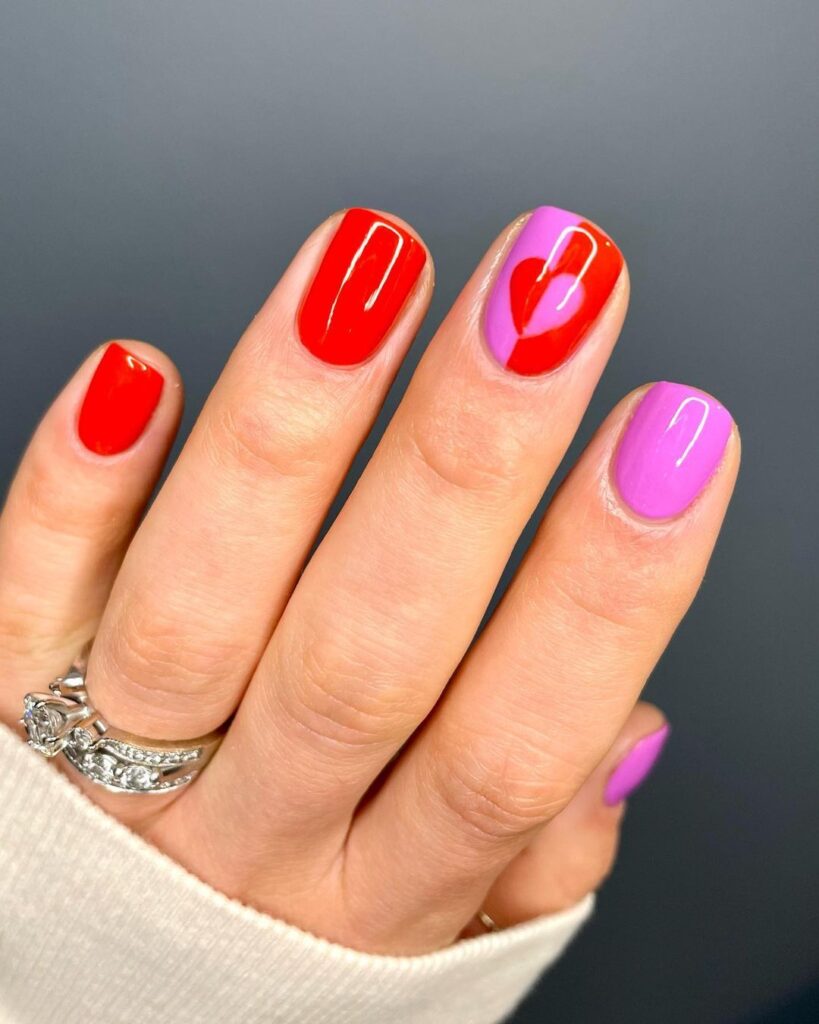 You only need two colors for this simple but sweet manicure. The middle finger acts as a transition accent nail, taking you from two solid nails of one color to two solid nails of the other.
Colors Used: Olive and June Lava and Jam, Please
47. Color Block Heart Tips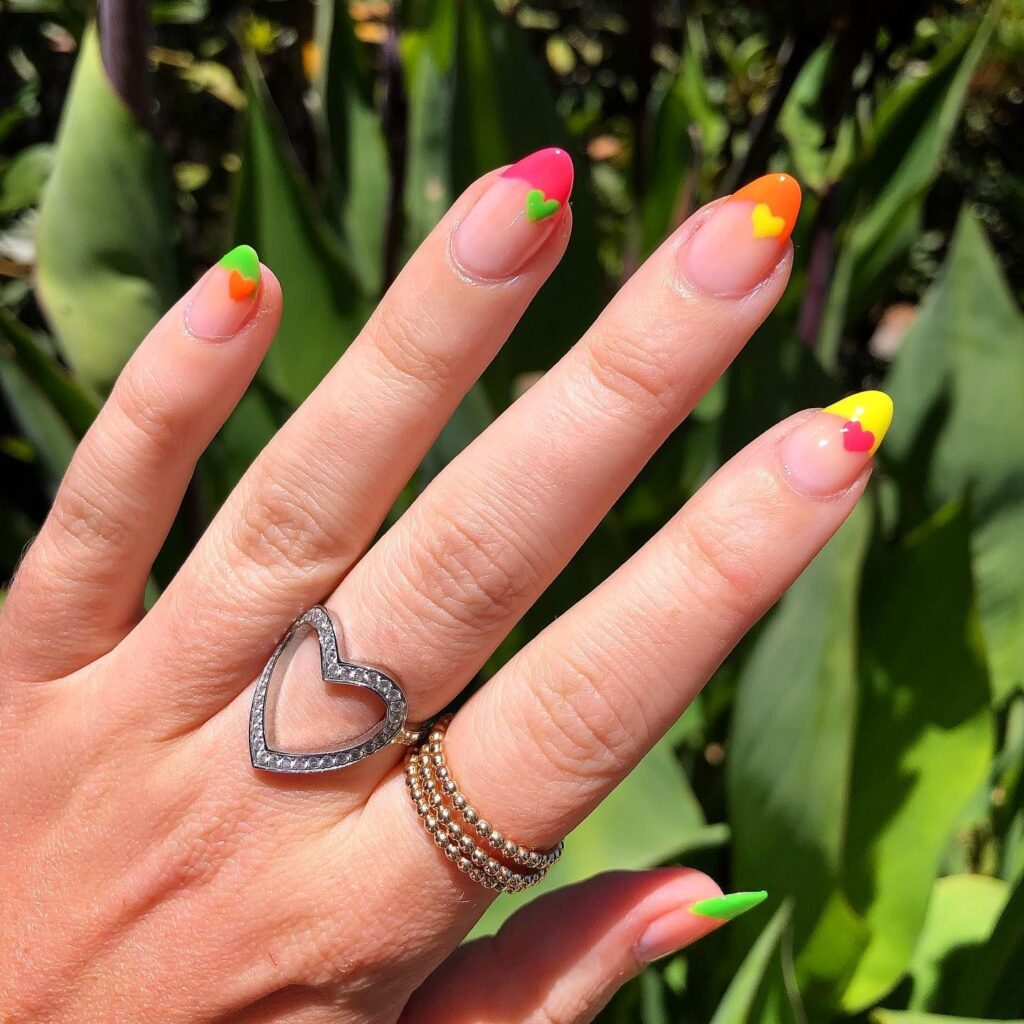 ​French manicures don't need to be boring or stuffy. Take this neon version for example! Try a different neon color on each tip and then use a dotting tool to create tiny hearts.
Colors Used: Olive and June Orange Wedge, Lime Fizz, Lemony Lemon, Hot Strawberry, BEB
48. Lime Green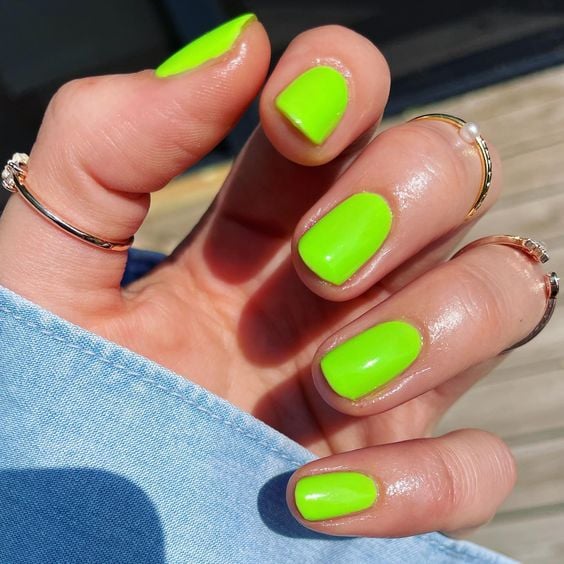 Image via @emjpolished
Bold colors can make a great impactful manicure on short nails. You don't need to worry about having enough space; if the color is good enough, solid nails can stand on their own!
49. Heart Cut Out Nails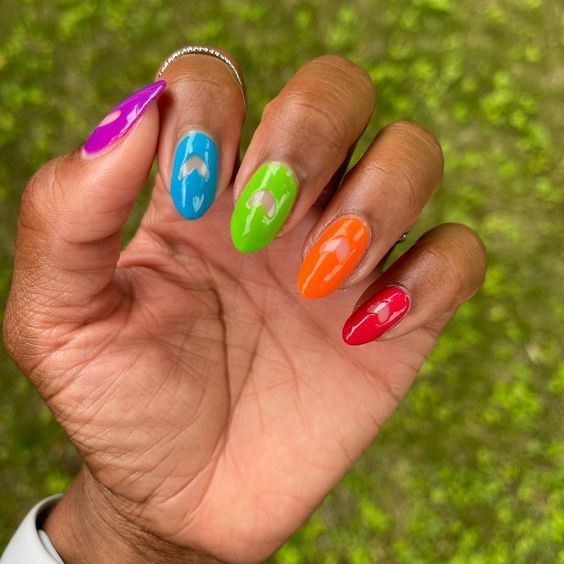 I've seen lots of people paint hearts on their nails, but this set turns that idea on its head and leaves a heart-shaped spot blank! You could paint over a sticker and then remove it to get the outline, or carefully draw the outline and paint around it.
If you haven't tried out Olive and June yet be sure to check out my full review here! And don't forget – you can use this Olive and June link and the code jenb20 for 20% off your order of any of their systems.
Want more summer nail inspiration? Check out these ideas.
If bright colors aren't your thing, try these blue and black designs.