French tip nails were everywhere in the '90s and early 2000s — that pink or neutral base and perfect white tip was the best style to go with any outfit.
While the classic white tips manicures aren't as prevalent anymore (though they're still cute!), French tips with a twist are fun and on trend.
If you're looking for a more modern version of this style, try one of these 31 ideas for your next mani.
One of my favorite nail polish brands and one that's used for many of these designs is Olive and June! Read my review of Olive and June and get a 20% off discount code here.
31 Best French Tip Nail Designs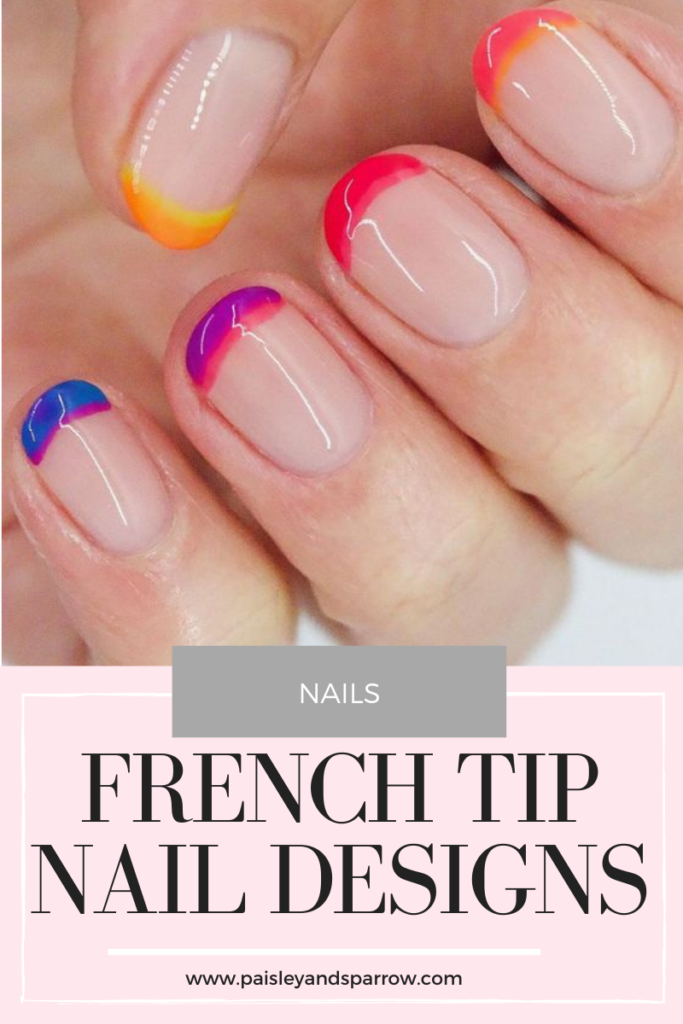 1. Rainbow French Tip Nails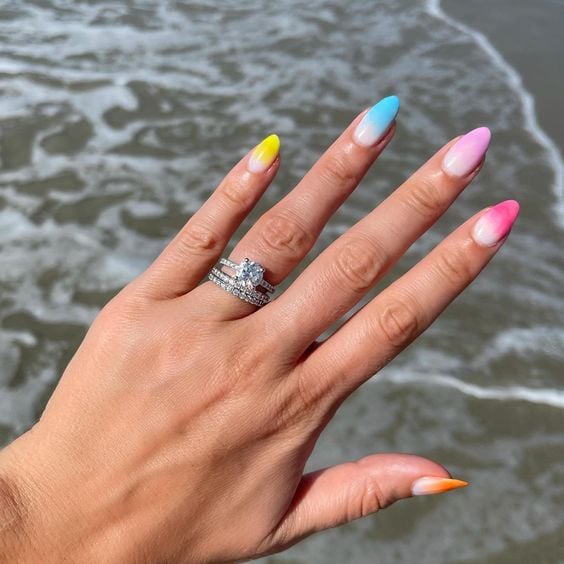 Bright colors on your fingertips are perfect for summer! To get this faded effect, rip up a makeup sponge and use it to apply the polish in the middle. Hold the sponge with tweezers to keep the rest of your nails looking good!
Colors from Olive and June: BEB, Orange Wedge, Hot Strawberry, Fierce & Loving, Megababe Blue, Lemony Lemon
2. Polka Dot French Tip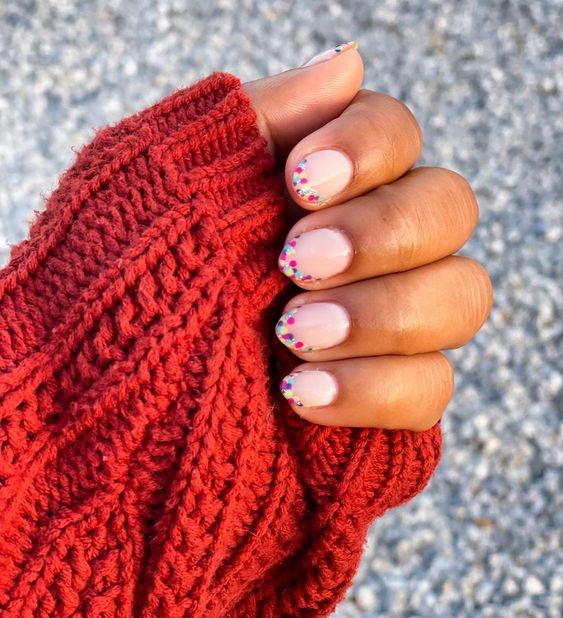 A French tip with a twist! Rather than perfecting that straight line, try dots! A collection of tiny dots gives you such a unique look. It's easy enough that you'll even be able to do it on your dominant hand!
3. French Tip with Silver Glitter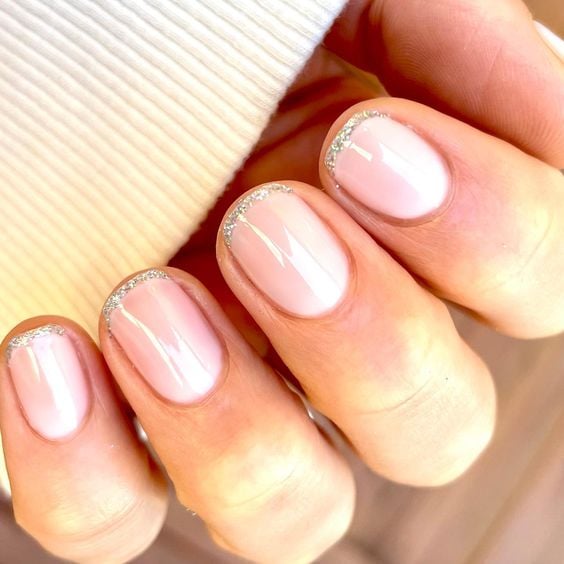 The perfect french tip variation! This beautiful manicure could be worn for your wedding, shower or even New Year's Eve! This is made with just 2 colors.
Colors from Olive and June: two coats CCT plus one coat BEB with Exclamation Point
4. Gold Tips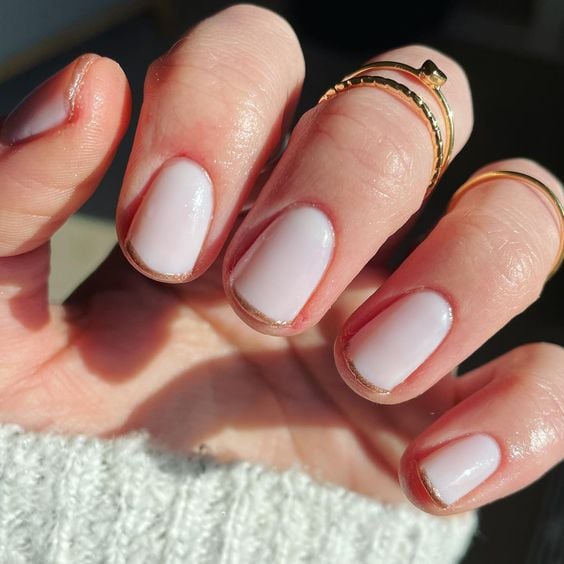 This design gives just a wink to the classic French tip, with a tiny sliver of gold at the end of your fingernail. If you're worried about a typical white French tip looking dated, you'll love the subtlety of this manicure.
Colors from Olive and June: 4 coats of BEB
OJSM gold tips
5. Messy Glitter Tips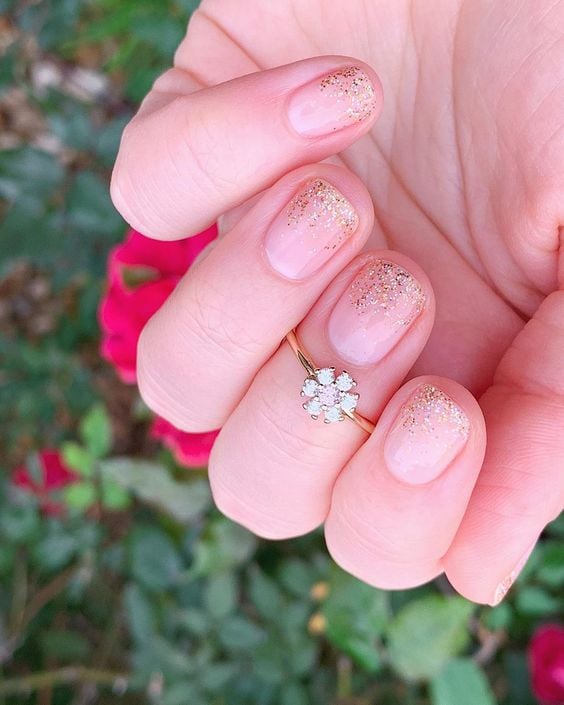 It is hard to get the perfect straight line for a good French tip. Luckily for you, there are lots of cool ways to get around that problem. Use glitter polish for your tips. You can make the tip as thin or thick as you want!
Colors from Olive and June: CCT, Obvi
6. Red, Black and Green Tips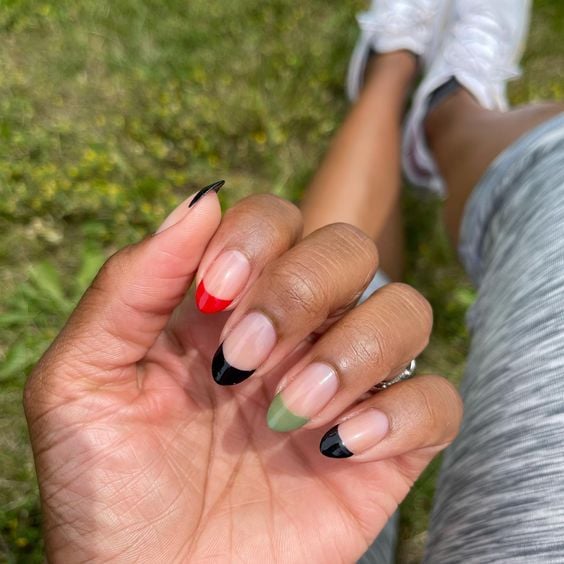 You can paint a classic French tip style but with your favorite colors or colors to celebrate a special occasion or holiday!
This manicure is perfect for Juneteenth, with the colors of the Pan-African flag. You can be celebratory without having to create any complicated design!
Colors from Olive and June: E&M, CV, WKF, HD and CNH
7. Double Layer Rainbow Tips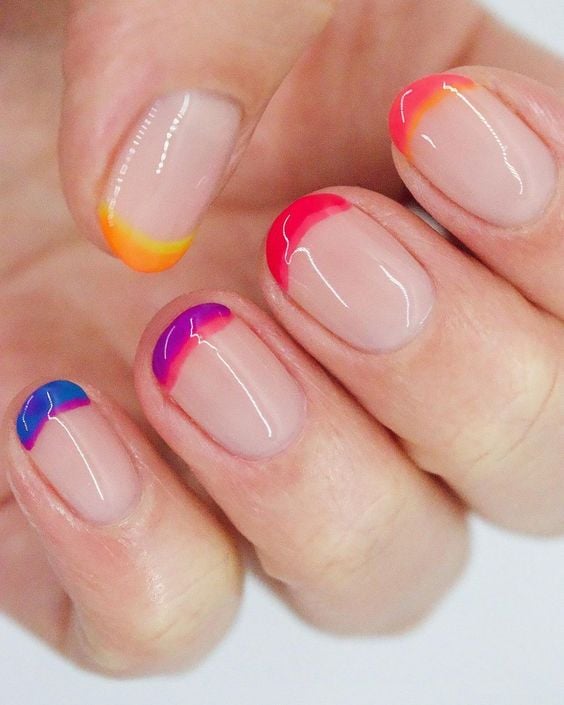 Bright colors are a great French tip on their own, but you can elevate the look by adding two colors to each tip! This rainbow manicure starts the rainbow colors on the thumb and then gradually moves through rainbow order toward the pinky.
8. Pink Marble Tips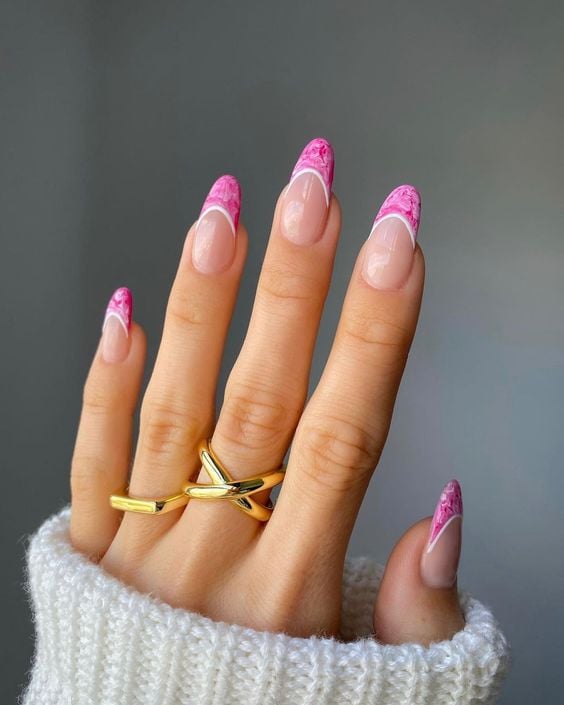 If you're an advanced nail artist and want to try something new, marbled nail polish on your French tip is a super cool effect. You might want to try marbling on your whole nail first to get the hang of it.
You can try marbling by hand with a paintbrush — you'll put your colors together first on a surface. Or you may want to do water marbling where you marble the colors in water and then dip your nail.
9. Pastel Rainbow Mani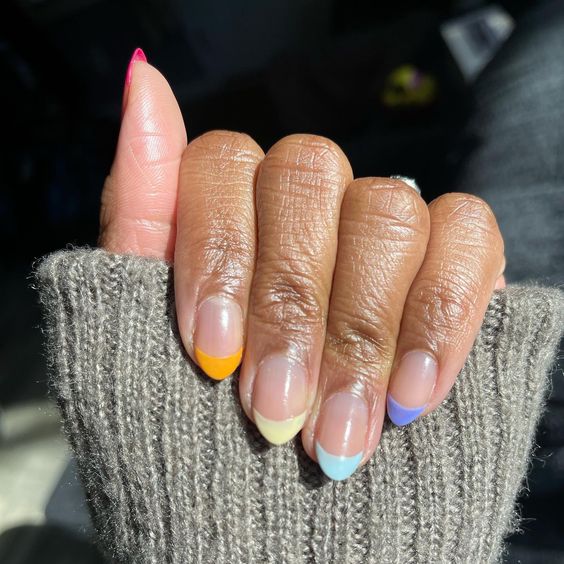 Rainbows come in all shades, and this pastel rainbow mani is perfect for spring or summer!
10. Neon French Tips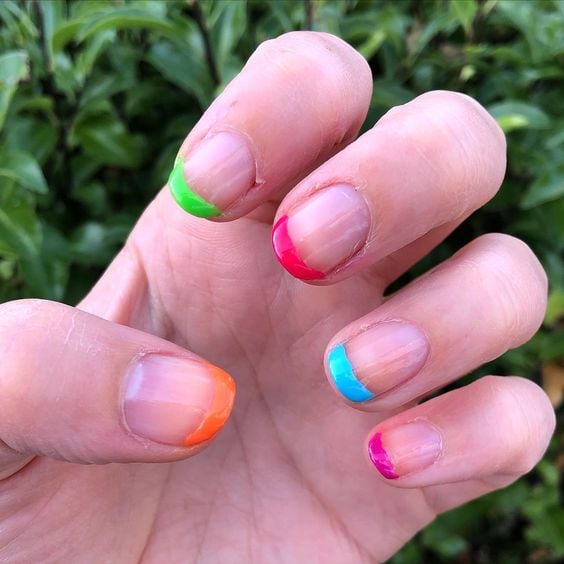 Another twist on a French Tip is this one! Give it a rainbow vibe with colorful tips over a neutral base.
Colors from Olive and June: Your'e A 10, Lime Fizz, Cherry Crush, Mega Babe Blue, Wild Orchid
Check out even more neon nail ideas here!
11. Smile Face French Tips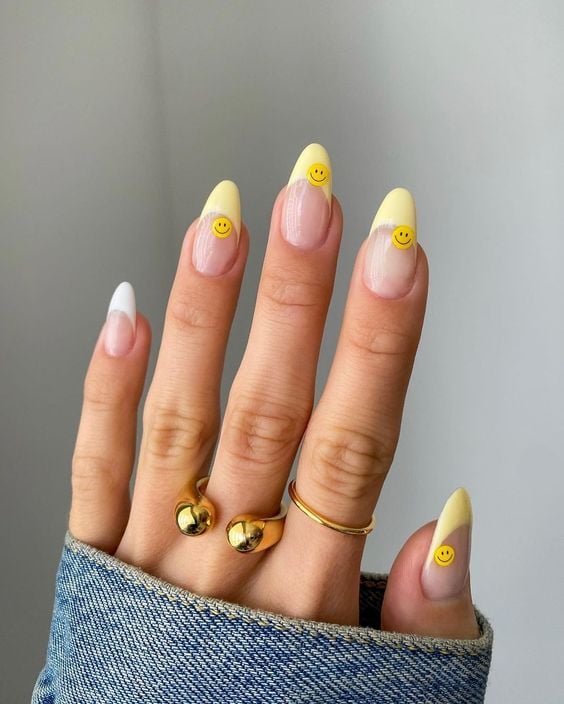 Don't worry; be happy! Smiley faces are on trend and add such a cheerful element to your French tip nails! Choose your favorite shade of yellow for the tips for a sunny mani.
Using Le Mini Macaron Chamomile
Decals from Deco Miami
12. Polka Dot French Tip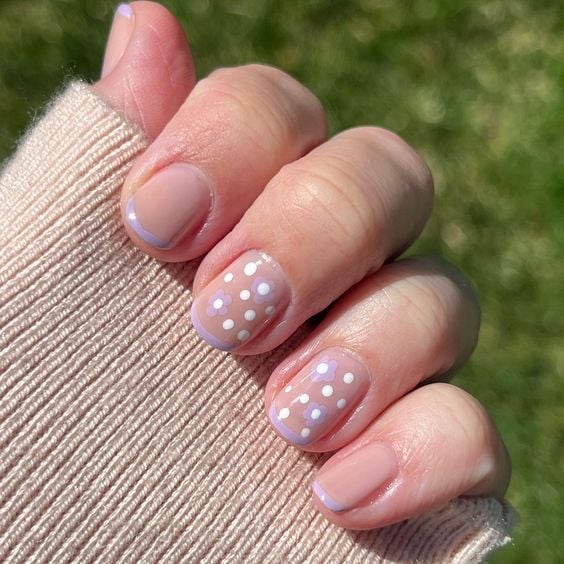 Once you feel confident with polka dots and french tips and flowers, take them to the next level and combine them!
Start by painting your nails a neutral color. Next paint your french tip with a different color. Add polka dots with a 3rd color that pops. Around a few of the dots add fun abstract flowers.
Colors from Olive and June: The Queen Takes Her Tea With Milk, You're Invited, HD
13. Rainbow Daisy Tips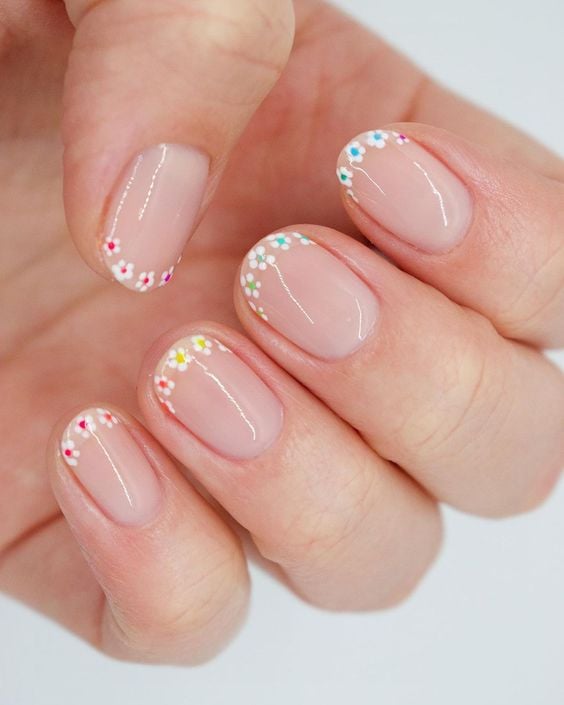 I am obsessed with these adorable little flowers on your fingertips! It's like your fingers are wearing a flower crown.
With a dotting tool, make the centers of the flowers all along the ends of your nails — this artist made them rainbow shades! Then use white to make dot flowers around the colorful centers.
Find more floral design ideas here!
14. White Iridescent Tips with White Heart Accent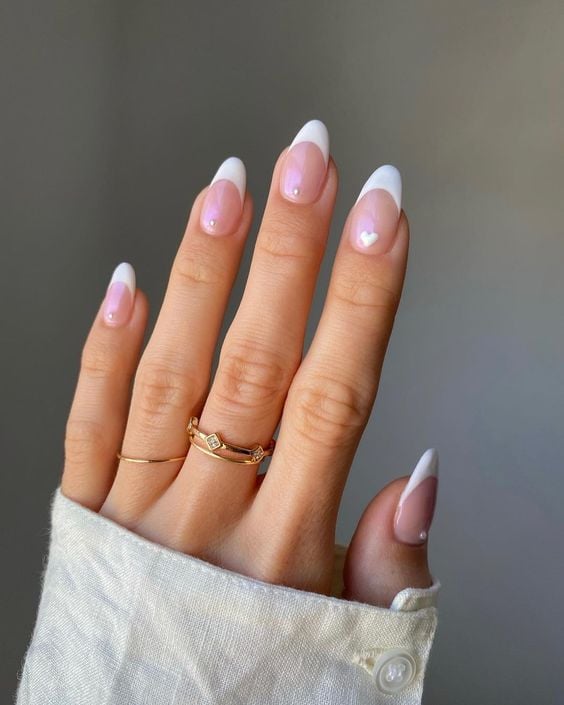 Elevate the classic white French tip with small dots and a heart at the base of each fingernail. Top it off with a very pearly top coat!
Using Le Mini Macaron Pearlescence
15. Valentine's Press On Nails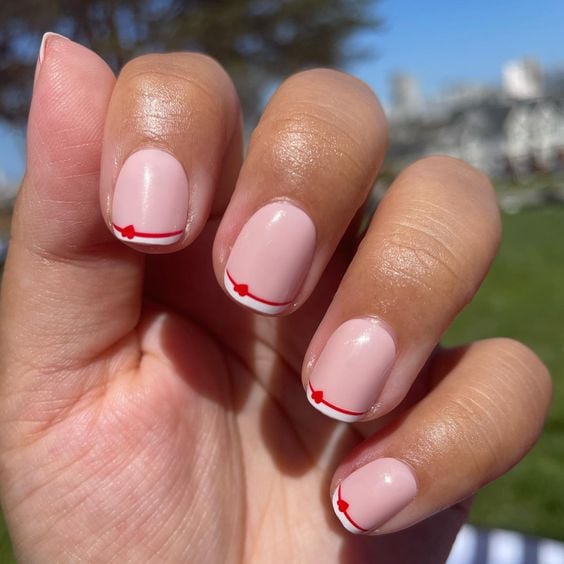 If your hand isn't steady enough to draw the straight line for a perfect French tip, there are tons of fun press-on nails to try instead! These sweet press-ons are pink, white and red with a tiny heart for a very romantic look.
From Olive and June: Valentine French Press-Ons
16. Floral French Tips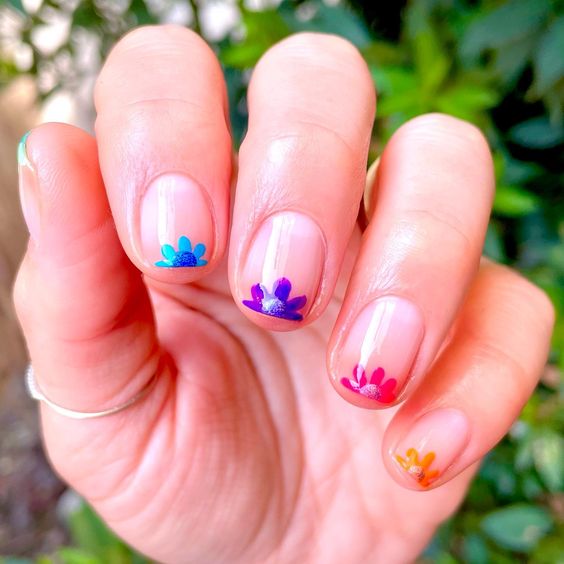 Brighten your day with some bright flowers at your fingertips! These little half flowers are easy to do and make a big impact.
colors by Color Club
It's All in the Attitude
Star Light, Star Bright
Seas the Day
What a Gem
Island Vibes
Under Pressure
Jackie Oh!
Miss Bliss
Jamaican me Crazy
Cosmic Fate
Sheer Base from Olive and June: (The Queen Takes Her Tea With Milk)
17. Black French Tip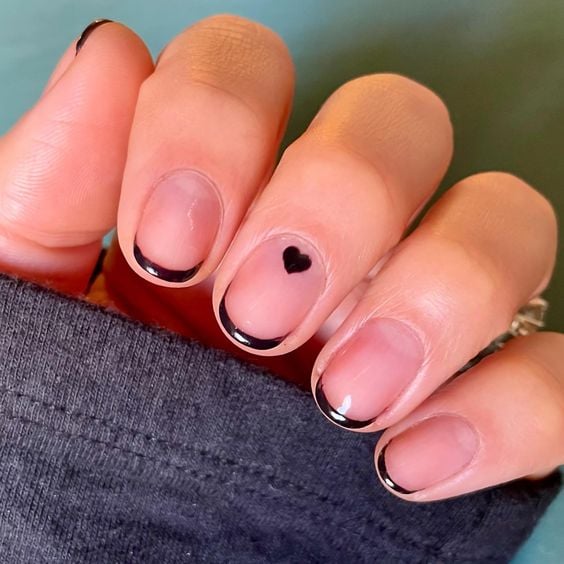 Who knew that just flipping the color of your French tip from white to black could make such a huge difference? Add a heart and a shiny top coat, and you're done!
Colors by Olive and June: SD and SGT
18. White and Purple Floral Tips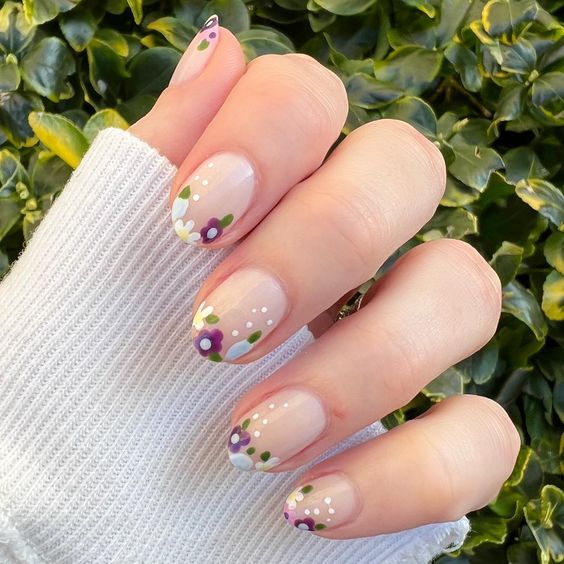 This manicure is perfect for spring! Bright colored flowers at the tops of your nails pop on the nude nail polish!
19. Blue Tips With Butterflies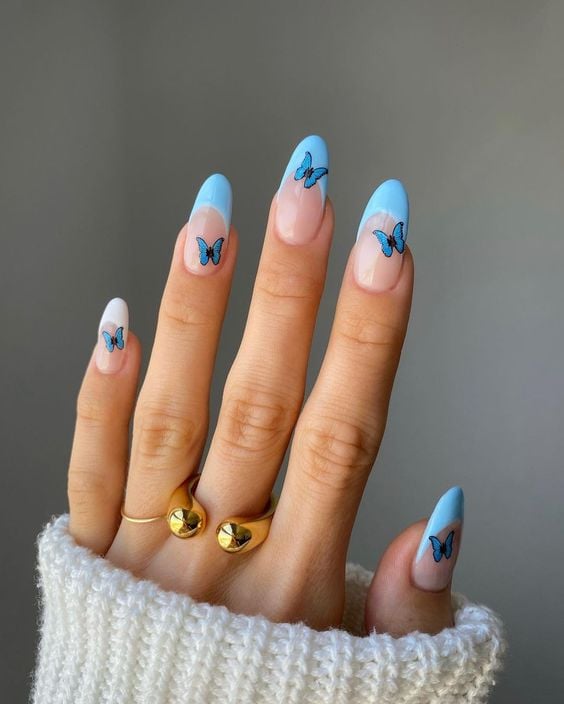 Bright blue is a great color for French tips on both long and short nails! Add stickers, like these butterflies, to instantly change the look to something fun!
Cutest stickers from Deco Miami
Using Le Mini Macaron Blue Vanilla
*Find more blue nail designs here!
20. Pink Yellow Polka Dot Tips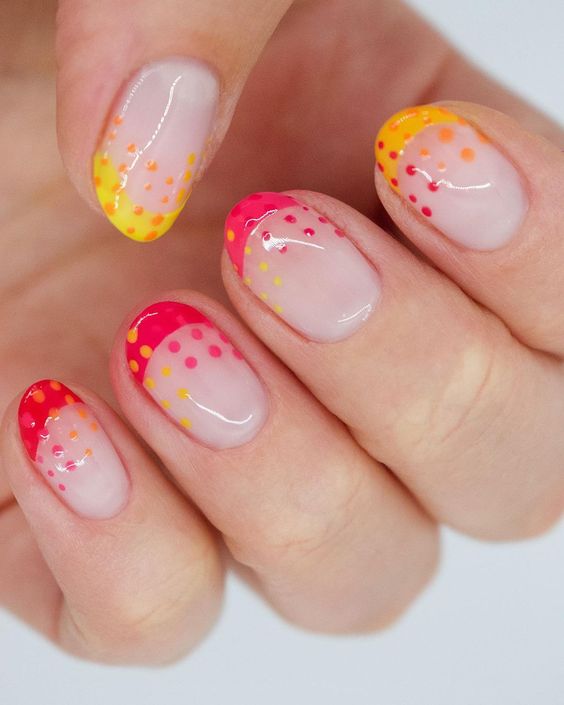 Once you have the technique for French tips down, all you need is a dotting tool for this intricate-looking manicure. It looks so much more impressive than it is! Just pick your bright colors, paint the French tips, then make lines of vertical dots.
Base – strawberry milk by Kokoist USA
Colors from Olive and June: Sweet & Gracious, lemony lemon, orange wedge, hot strawberry, cherry crush and hibiscus
21. Polka Dot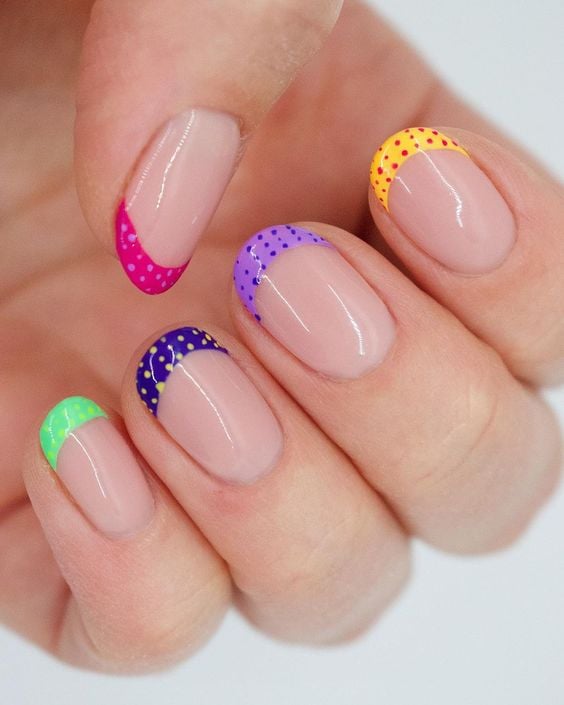 Here's another take on the dotted French tip! In this one, use a very small dotting tool and keep all your dots on the painted tip!
22. Zebra Tips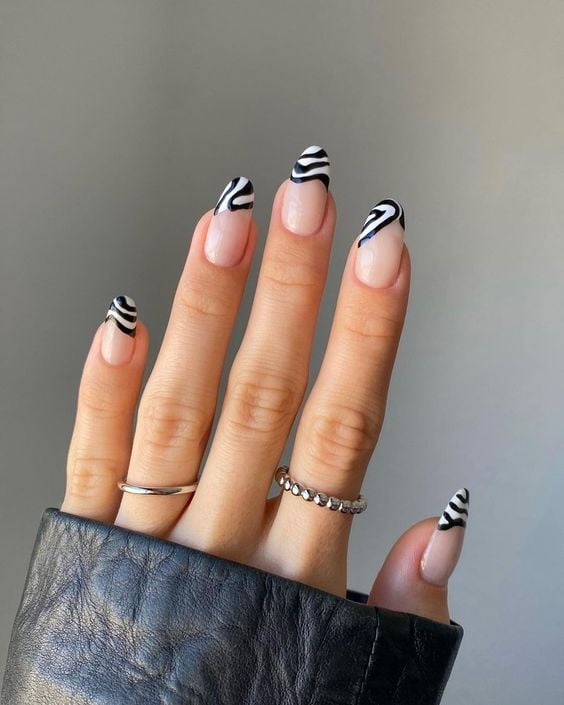 This is such a cool way to incorporate animal print on your nails. Paint the white tips — you don't need straight-across lines for this design. In fact, it's better if it's a little slanted on some nails.
Then paint the black stripes. Do each nail a little different for the best effect.
Le Mini Macaron licorice and milkshake.
23. Black and White Checker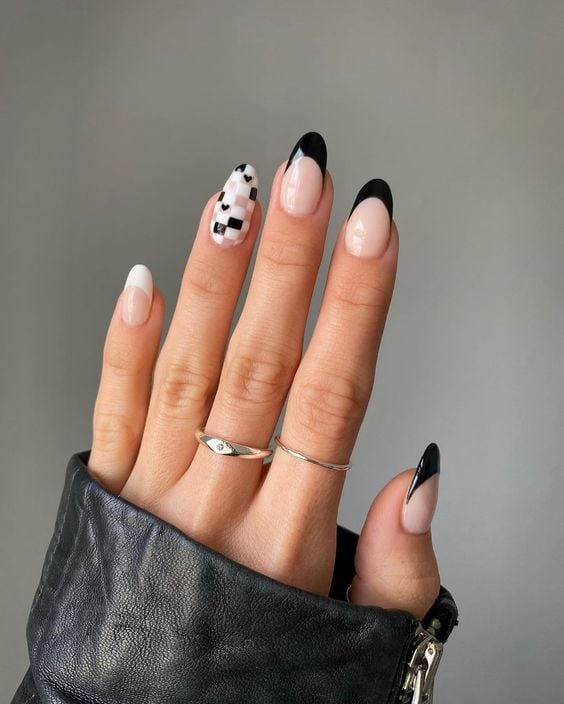 Dress up a French manicure by doing a really fun design on your ring finger. It's a smart way to try your hand at an intricate design like checkerboard without having to repeat it on every fingernail.
Check out other fun black nail designs here!
Le Mini Macaron licorice and milkshake.
24. Cheetah Tips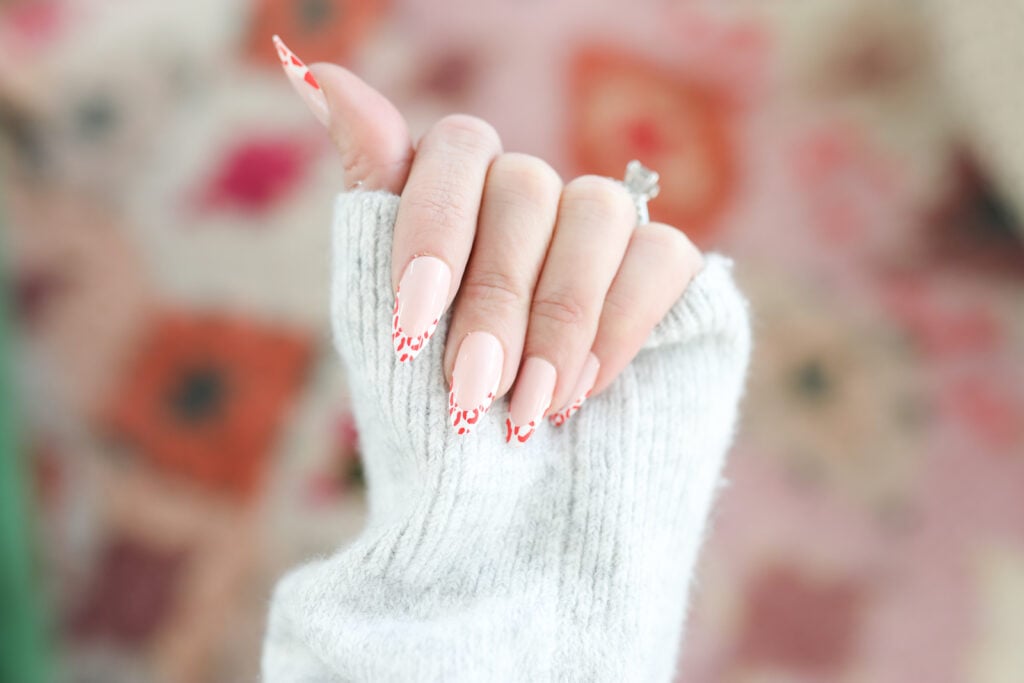 When you use Olive and June press-on nails, you have tons of options to choose from, like these red and white cheetah print French tips! They are so easy to apply and don't damage your nails.
25. Spring Tips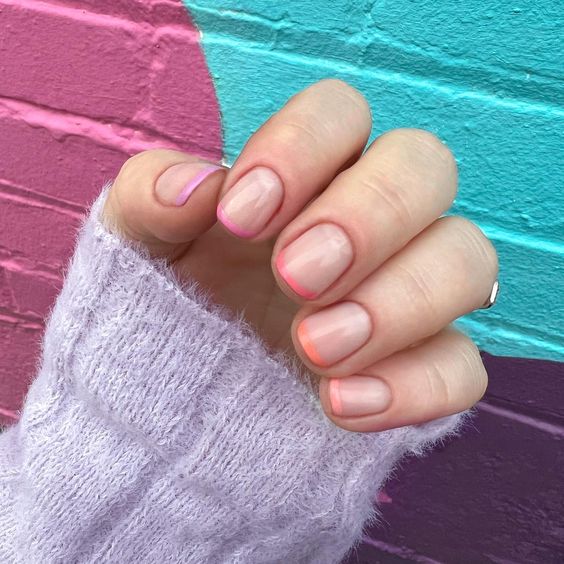 We all have our favorite color palettes, so use yours for an easy French tip mani! These fun colors are perfect for springtime!
Colors from Olive and June:
CCT base
French (thumb to pinky): Fierce & Loving, Grateful & Kind, Stinson Sunset, Glow, Wild & Free
26. Blue Tips With Daisy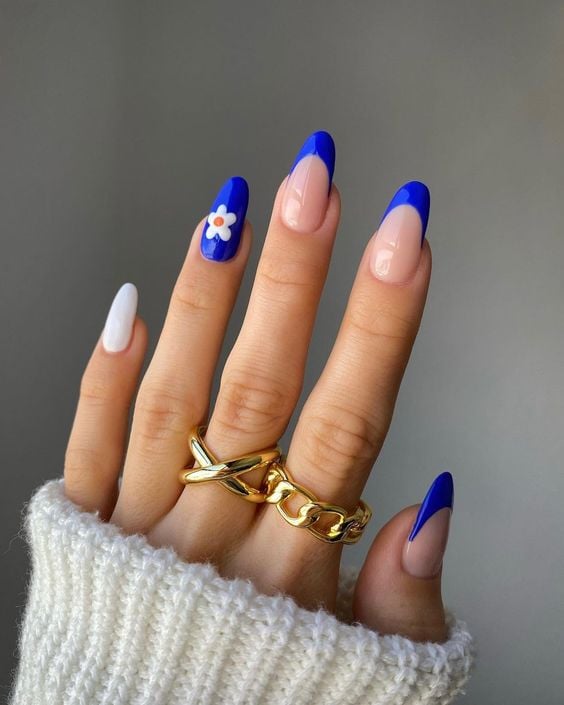 French tips and flowers: the perfect combination! Go bold with bright blue tips and a single large flower on your ring finger.
Colors used Le Mini Macaron: Blue Raspberry, Papaya Sorbet, Milkshake, Creme Brûlée
27. Eclectic Tips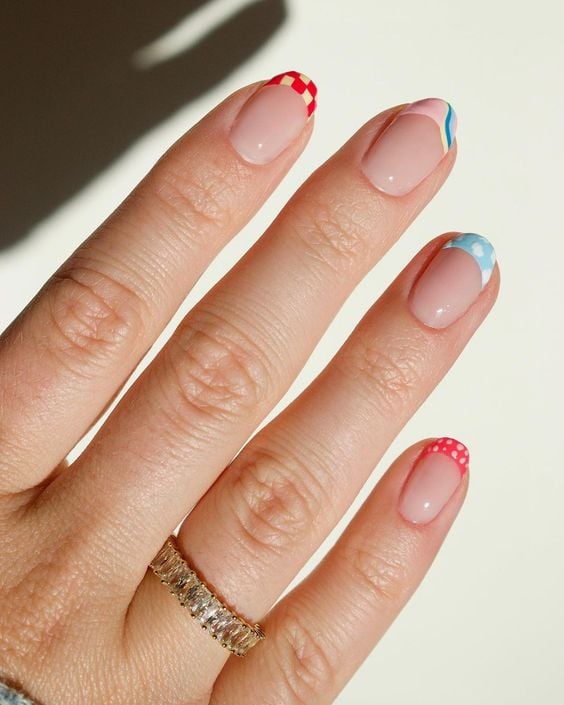 Who says you have to stick to one design? You can copy this wild combination of designs on each tip, or come up with whatever you want. Let your tools and tips inspire you!
28. French Tip with Flower Accents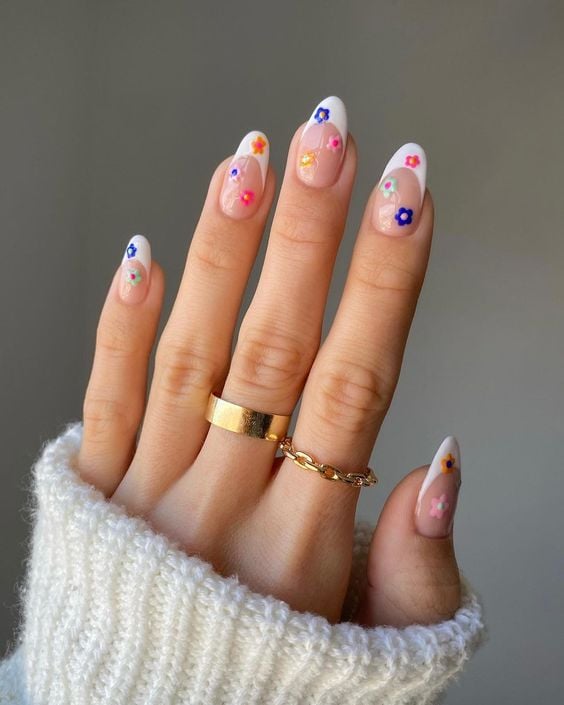 Get a retro look with this classic white French tip topped with fun '70s flowers. Choose your colors, and then switch up which ones you use for petals and the centers.
29. Press On French Tip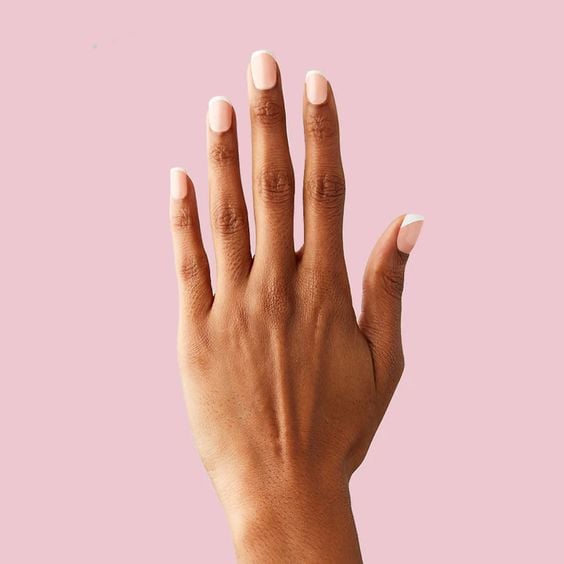 Fun fact — you don't actually HAVE to paint your nails to get the perfect French tips! These French nails are created with press ons! I've used Olive and June press on nails and love them!
Find my full review of Olive and June press on nails here!
30. Fall French Tips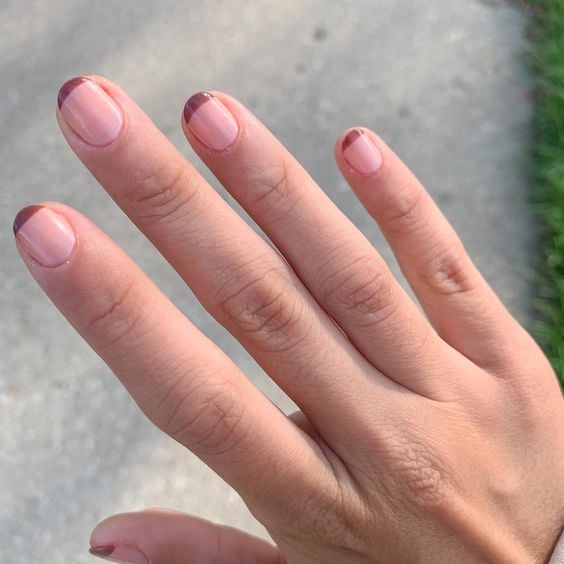 Warm up your look with some darker, autumn colors. They'll go perfectly with your Pumpkin Spice Latte ?
Colors from Olive and June: CHM for base, JJ for tip
31. Purple Green Stripe Tips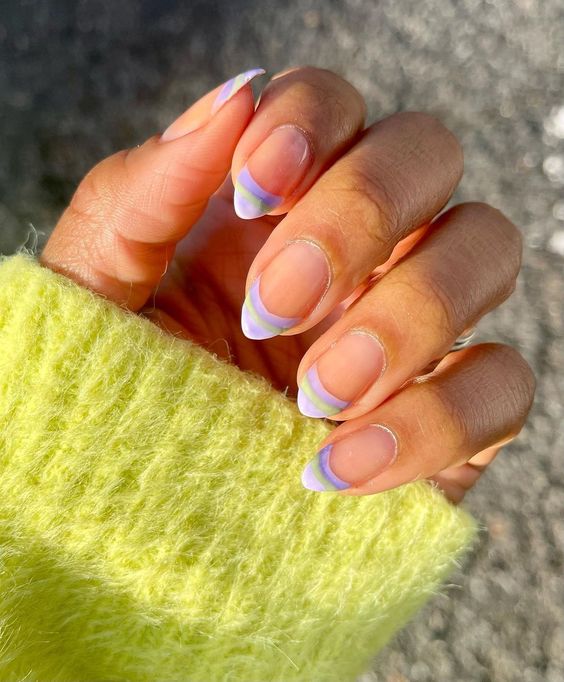 If plain white tips are too boring for you, try this cool design! This neon green and pastel purple give an electric vibe with little effort. Paint a thick purple tip. Once it's dry, paint a line of green in the middle for that striped effect.
Don't forget, use this Olive and June link and the code jenb20 for 20% off your order of any of their systems!
Need more nail inspiration and opinions? Check out my review of Olive and June's mani/pedi systems and press-on nails here. You'll also find a 20% discount code on the reviews.
Looking for nail ideas? Try these: